I often get certain questions about our kitchen because people read one post, but don't necessarily follow exactly what happened and in what order. So I've been feeling like I need a post that lumps everything that we've done to our kitchen, thus far, together.
That's why I'm sharing our kitchen makeover process. We still have some things to do in the kitchen, but most of the heavy duty stuff is behind us.
Alright, let's go back to the very beginning. When we bought the house in June, 2009 to be exact.
Our entire house was painted the color you see on the walls. I had it color matched to Sherwin-Williams China Doll, in case you're wondering.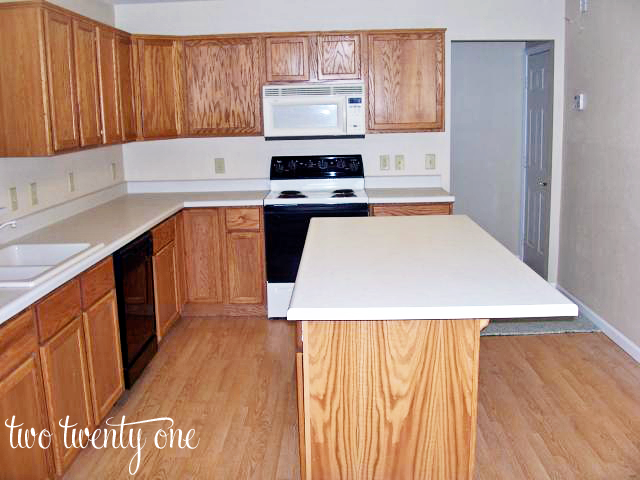 Before moving into the house, I decided to paint the kitchen. I went with a rather vibrant green– Valspar's Emerald Isle. It's a choice I came to regret a couple years later.
We decided to put some of our First Time Homebuyer money toward new appliances (fridge, dishwasher, range, microwave). We went with black because they're cheaper than stainless steel and stainless steel appliances aren't really a requirement in the houses in our neighborhood.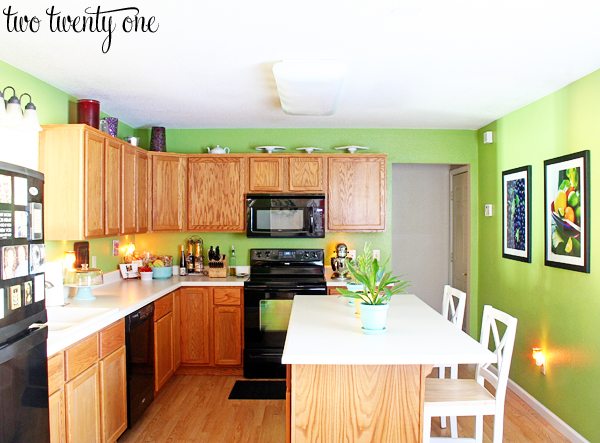 I saw the light in 2012 and, on a whim, painted the kitchen a more muted mint color (Sherwin William's Mint Condition) one weekend. I listened to B.o.B's Strange Clouds album, which is very good, on repeat while I painted. And whenever I hear a song from that album, I think about the work out that was painting the kitchen.
Better, right?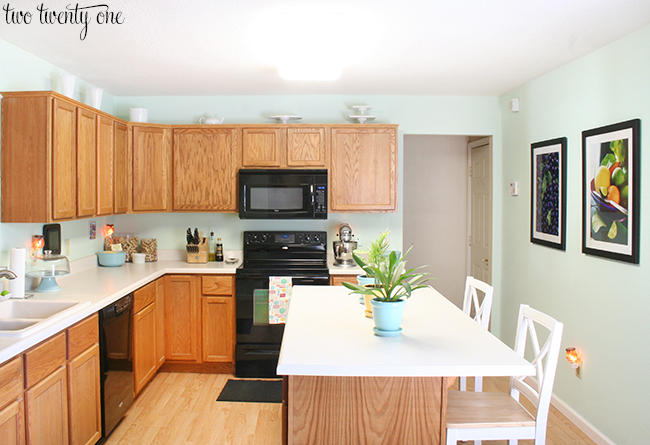 In the fall of 2013 we had the kitchen cabinets extended to the ceiling and refaced. You can read more about that process and how much it cost here.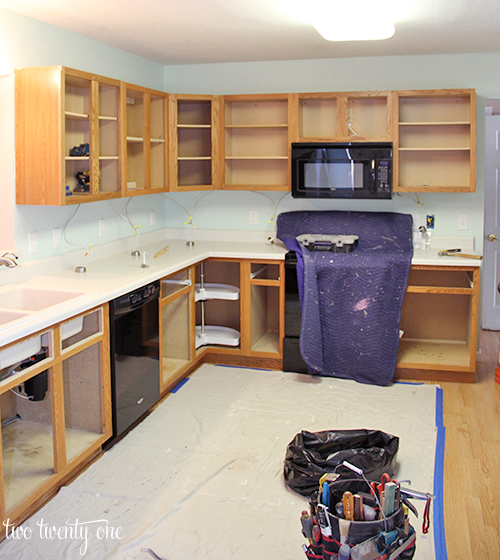 Extending the cabinets to the ceiling was my idea, and I'm SO GLAD I made that choice. The one foot of space on top of the old cabinets was wasted space, and it made the kitchen look shorter. See the difference between the photo above and the one below? It's crazy how the toppers completely changed how the space felt height-wise.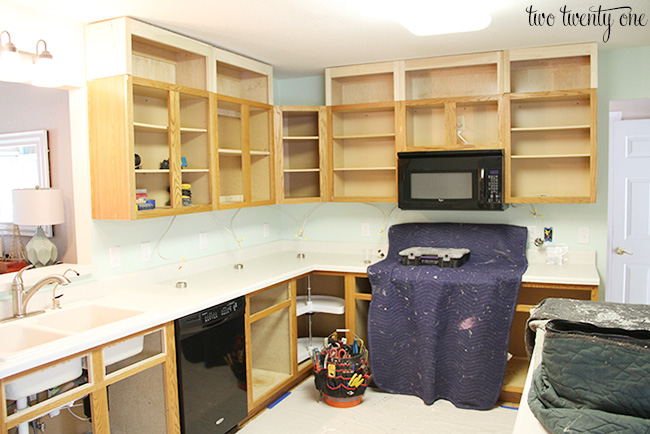 We also had a bookcase added to the end of the island and the island refaced to match the cabinets. Crown molding and hardware was also added to the kitchen cabinets.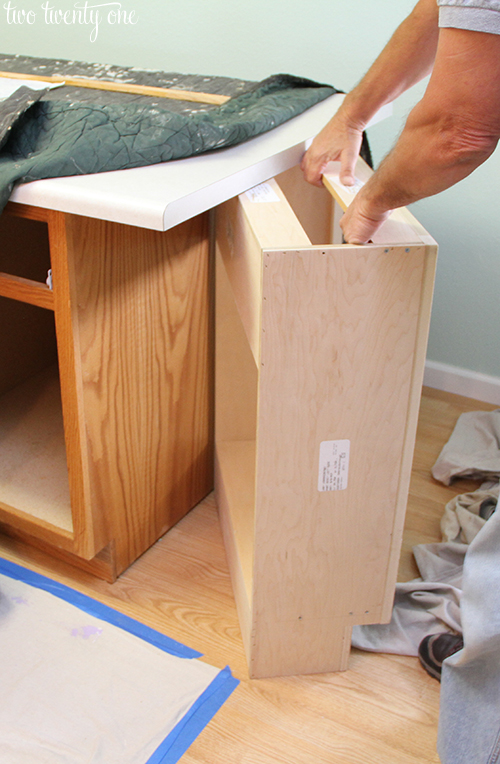 After extending the cabinets and refacing the cabinets and island, the kitchen looked bigger and taller.
When in doubt, take those cabinets to the ceiling, my friends.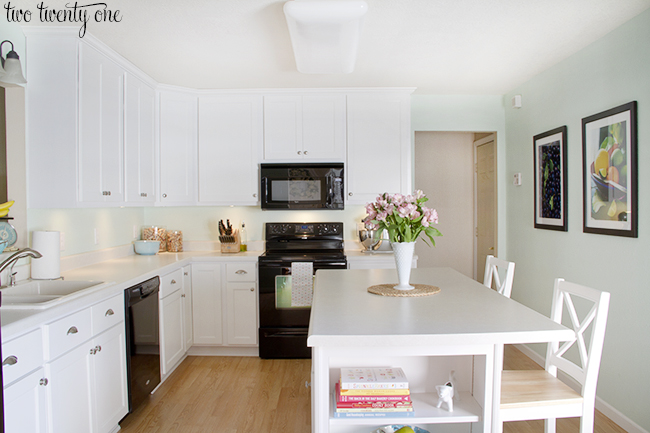 In early 2015 we got new laminate countertops. You can read all about that experience and why we went with laminate over stone countertops, like granite, here.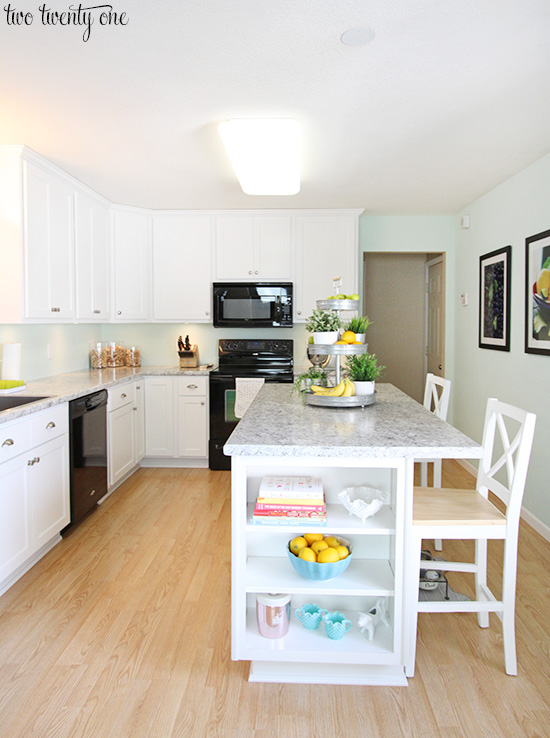 Looking at the countertops, you can't really tell they aren't real stone because laminate has come a lonnnnngggg way.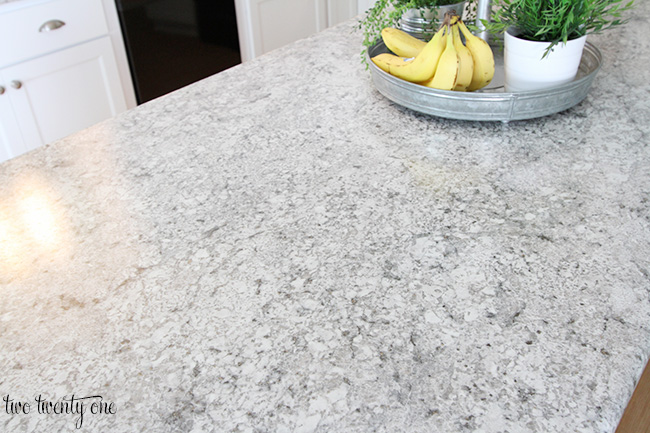 We also installed a new single basin stainless steel sink and kitchen faucet.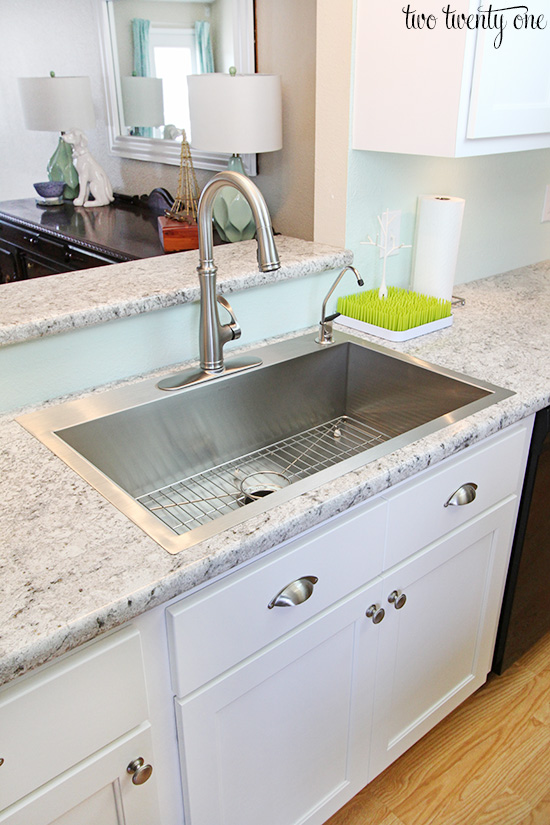 At the end of 2015, we got a "fancy space fridge", as my best friend refers to it. But we plan on taking that with us whenever we move. She's too pretty to leave behind.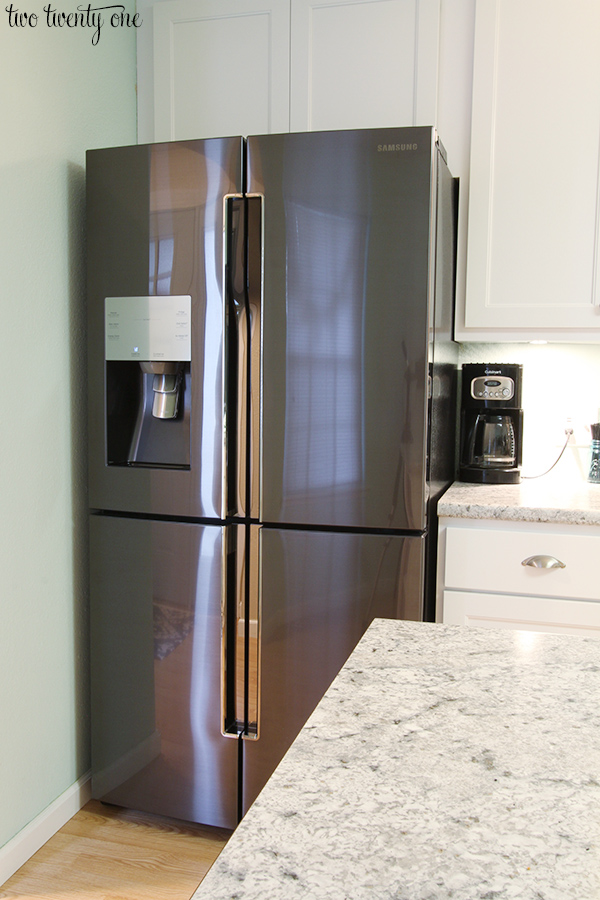 In the spring of 2016, we said "peace out" to our ugly florscent light and "hel-lo" to five recessed lights. The difference was amazing. You can read more about that here.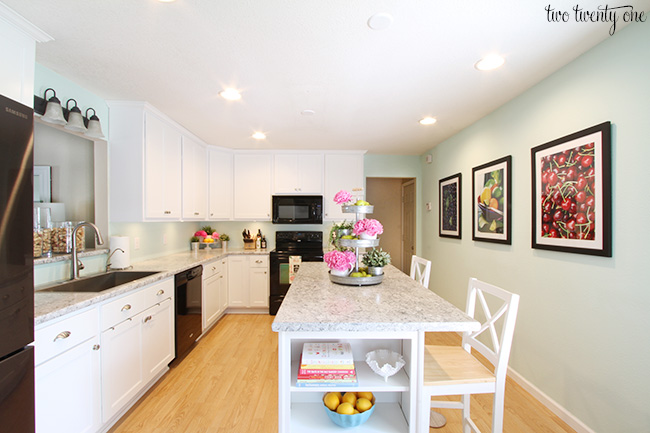 Which brings us to today. A year later and the kitchen still looks the same as it did after we had the countertops put in. People have been asking for a kitchen countertop update so I did one in the spring of 2016. You can read about that here.
Some may wonder, why the heck has it taken us 5.5 years to make these changes to our kitchen. Well, it's because we're real people with real bills and real debt. We've been working hard the past couple of years to pay off Brad's undergraduate and graduate school student loan debt, which is a lot of money. Like when I tell people how much they usually say, "Ohhh." (And not in a good way.)
We've tackled things, like replacing all of the outdated outlets, light fixtures, painting, landscaping, etc, bit by bit throughout our entire house when we've had the extra money to spend on those updates and maintenance. Not to mention the unexpected costs of being a homeowner, like needing a completely new heat pump system after just having (and paying for) a baby.
So if you ever find yourself feeling down because you don't have a Pinterest-worthy or magazine-worthy house, just remind yourself that, for most people, full-fledged home makeovers don't happen overnight. I'm going to sound like your grandma right now, but Rome wasn't built in a day.
I'm kind of glad that we've taken things on at a snail's pace in this house because it's given me time to really think about my choices.
What's next for the kitchen? Lighting. I've been saying it for YEARS how much I hate the florescent light. We plan on adding recessed lights throughout the kitchen and a couple pendant lights over the island, and I need to figure out what to do above the kitchen sink because the current fixture is a bath fixture that is mounted on the wall above the sink. I'm dreading taking the florescent light down and seeing how large the hole in the ceiling is because it'll need to be professionally patched (the florescent light isn't directly over our island because the island was added after the light).
You can read all of my kitchen-related posts here.