New Great Room Wall Color
Remember back when I showed off our beautiful new wood laminate floors, and I said I was thinking we should change the wall color because I thought it didn't mesh well with the floors? AND the fact that this room hadn't been painted in nearly 9 years?
Welllllll, the walls have been painted, my friends. Sherwin Williams Repose Gray to be exact.
Here's what the walls looked like before. I had the color matched to Sherwin Williams China Doll in case you'd like to know. It's not an awful color, but it does read pink, especially at night.
And I'm just noticing that the floors look really orange in this photo. But that might be some coloring casting from the beige walls.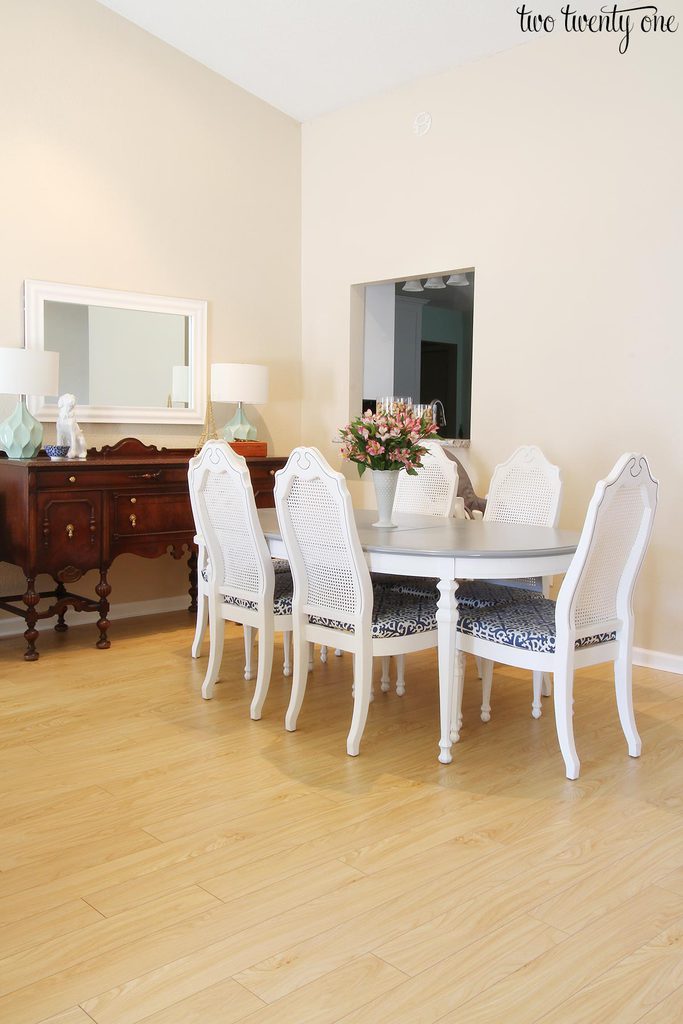 Tadaaaaahhhh!
(Also, let's take a moment to appreciate the fact that I took a photo from almost the exact same angle for the before and after without looking at the before pic first. #talent)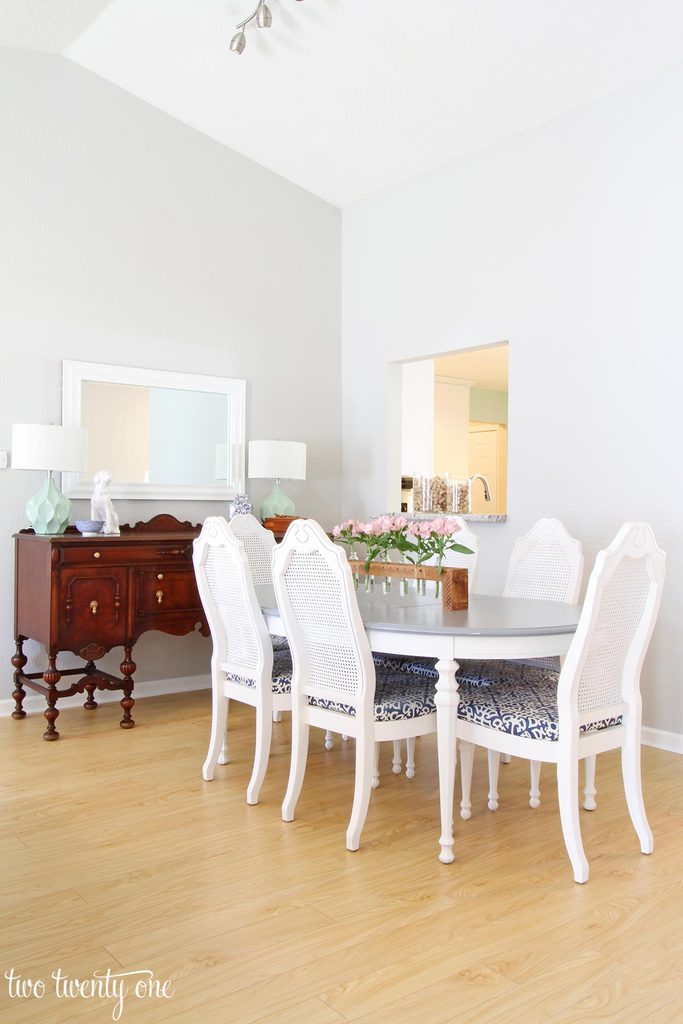 I went with Sherwin-Williams Repose Gray (flat)– the same color I used in our guest bedroom. And I'm in love.
Doesn't it brighten up the room well? It also looks great with the flooring.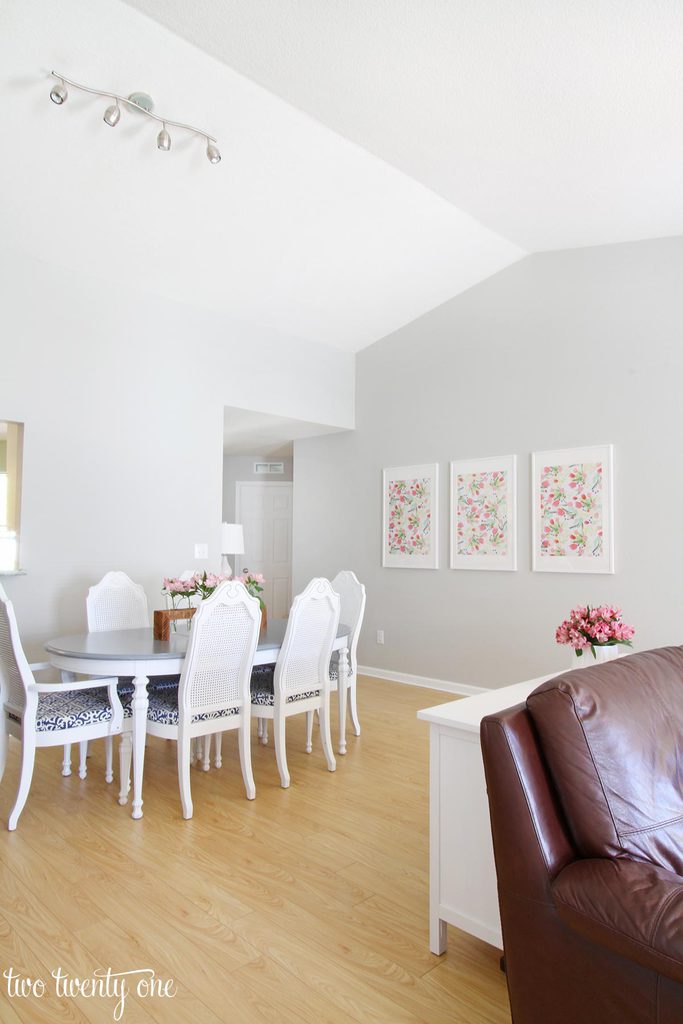 I decided to take my $4 wrapping-paper-as-art project and ran with it for some easy and inexpensive spring/summer wall art.
But let's stop and talk about the gorgeous wood bud vase on our dining table.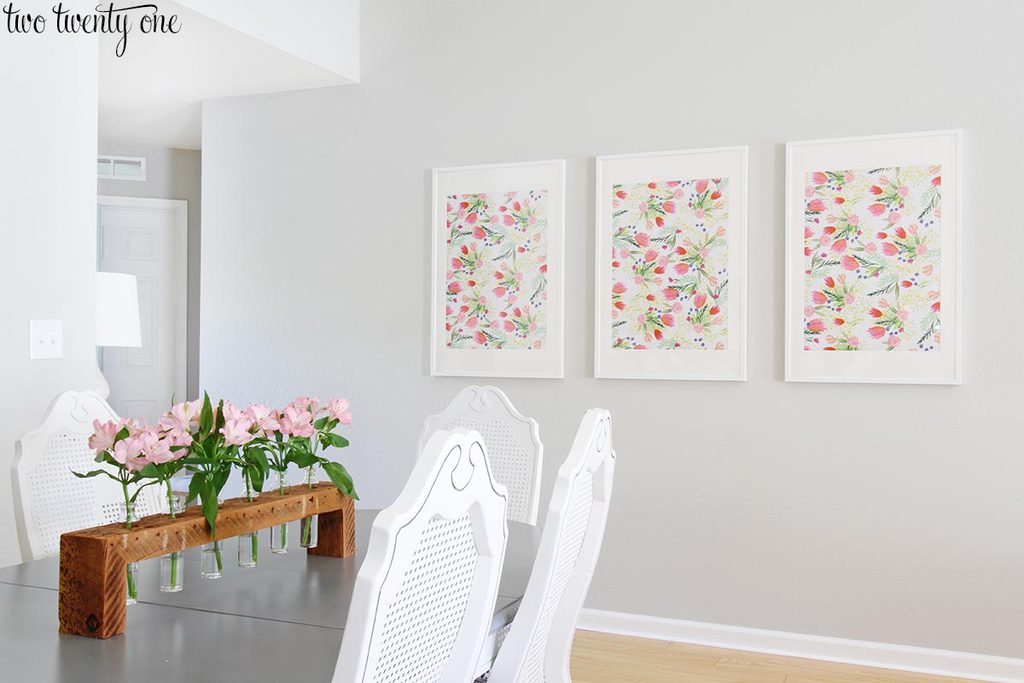 The wood vase is made with century-old wood that's salvaged from Chicago homes that are set to be demolished. Seriously how cool is that? A little piece of Chicago history is sitting on our table.
The vase is made by Brandi and Andy who've built their furniture line, Vault Furniture, from the ground up. They make the wood vases in six different sizes, along with other furniture like bar carts, tables, shelving, and even dog bowl stands.
Definitely check them out if you're looking for a unique, handmade gift idea– for yourself or someone else.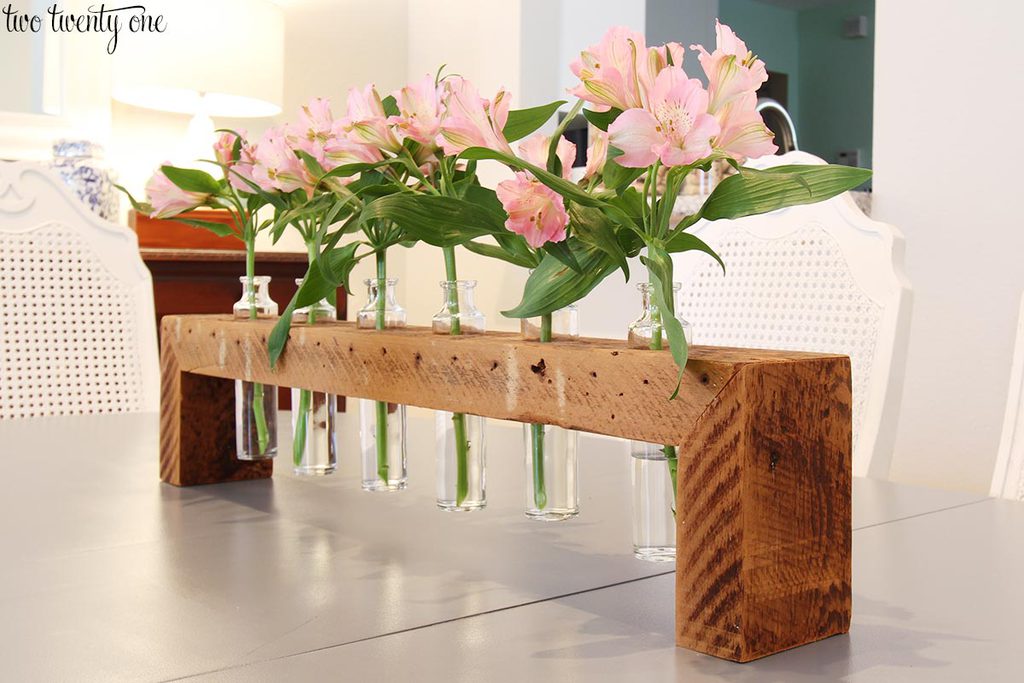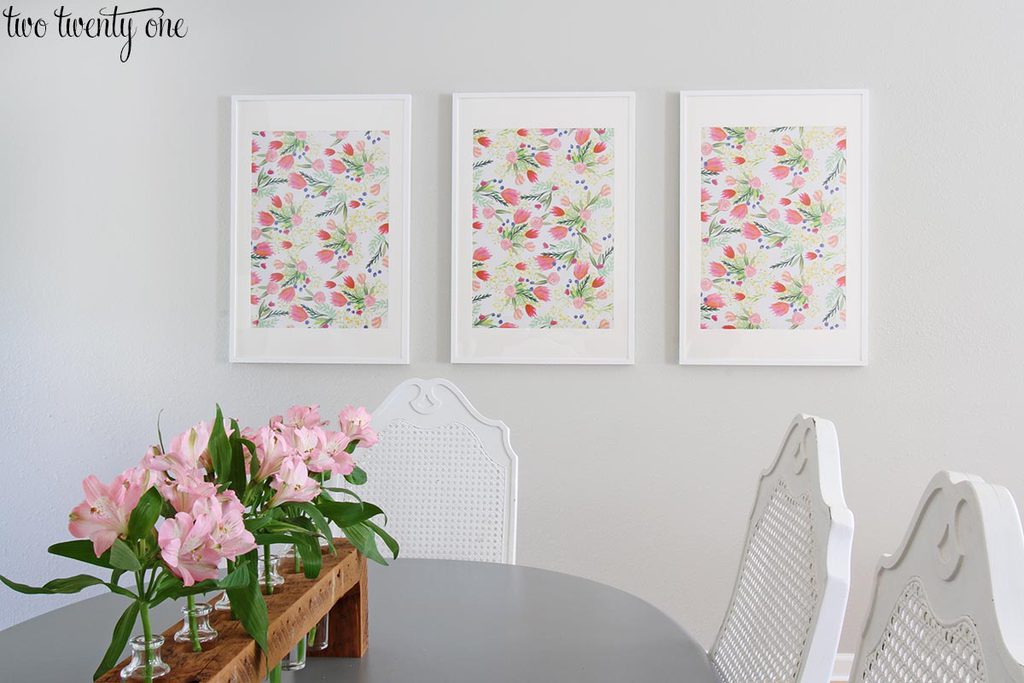 I put pieces of the Thimblepress floral wrapping paper in IKEA Ribba frames.
Total amount spent for the frames and gift wrap paper: $60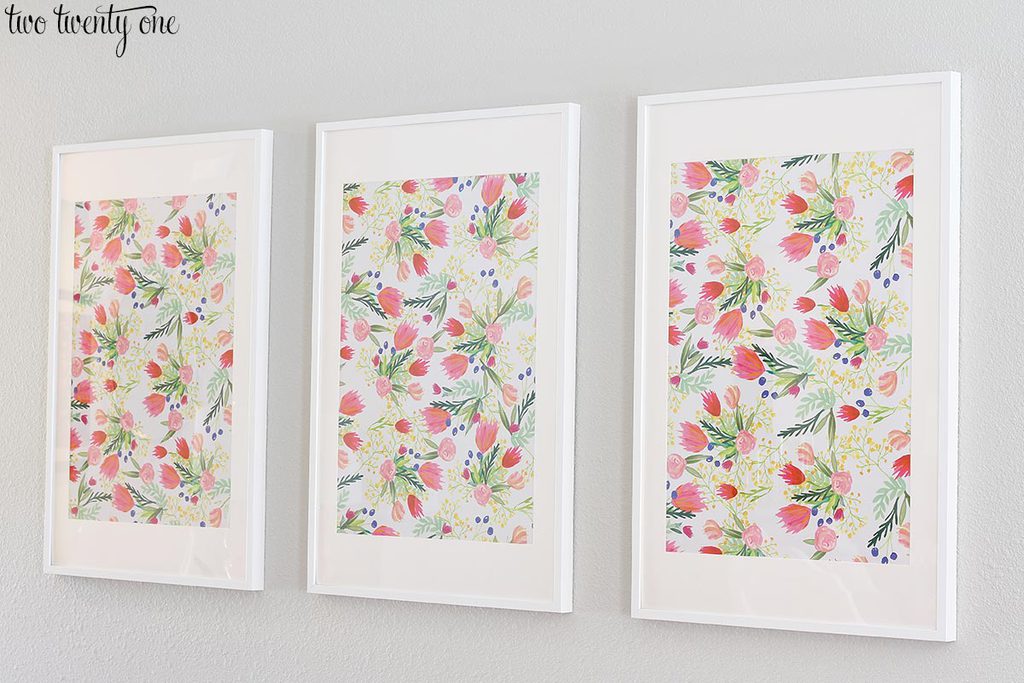 I've said it a million times, if you're looking for an inexpensive flower that lasts forever, check out alstroemeria. They typically come in a bundle of 10 stems for $4.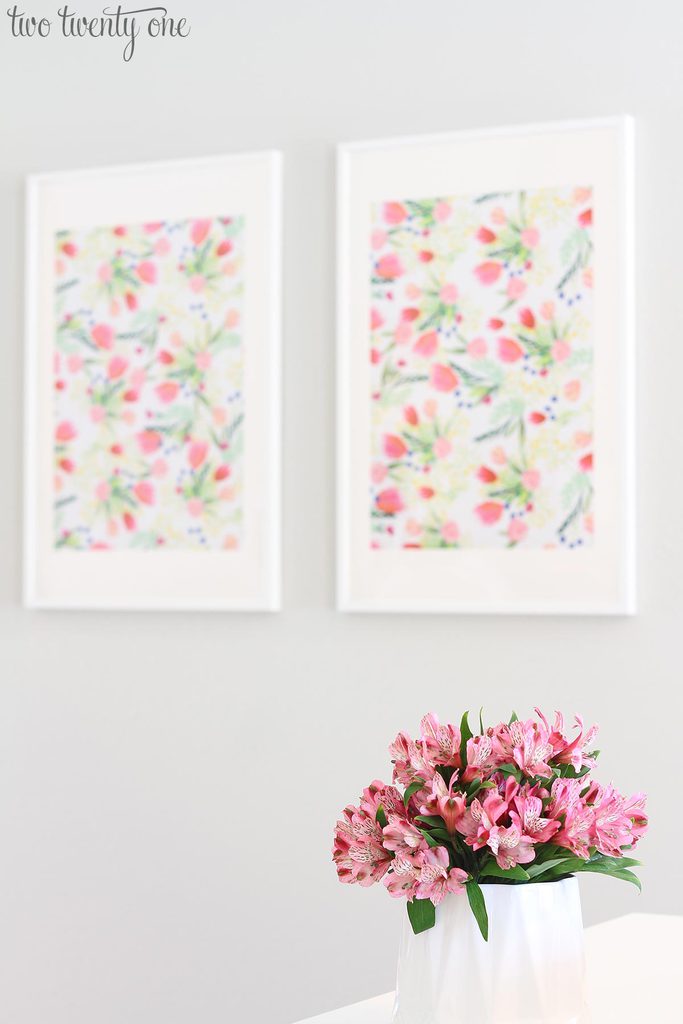 What do you think about the new wall color?
THIS POST CONTAINS AFFILIATE LINKS.
FUNDS FROM AFFILIATES HELP PAY FOR WEB HOSTING, DOMAIN REGISTRATION, EMAIL DELIVERY, THE OCCASIONAL BOTTLE OF WINE, AND OTHER FEES TO KEEP TWOTWENTYONE.NET UP AND RUNNING. THANKS FOR YOUR SUPPORT! I APPRECIATE IT!