A Loft-y Makeover – Charly Sectional Sleeper Sofa Review
I came up with that very punny title of this post all by myself. That's right, we're talking about our loft today. And in case you don't know where that is in our house, it's the open space to the right when you get to the top of our stairs. It's not a room that we needed, but it came with the floor plan so here we are.
I've been wanting to tackle the loft because it's going to serve as our second guest space because sometimes we have multiple sets of people who want/need to stay at our house. Because while our new basement sectional is nice, I'd rather give our friends and family an actual bed to sleep on. The plan has always been to get a sleeper sofa so the room can function as an upstairs sitting area and bedroom when needed.
I'm not going to lie, I have approximately 20 projects going right now– loft, deck, Owen's bedroom, Emmett's nursery, playroom, our bedroom, guest bedroom. I feel like there are 55 tabs open in my brain right now. I know I do it to myself, but I've found that I need to dabble around and give myself time to think about stuff. So while I'm marinating on what bed/headboard to get for the guest bedroom, I'm searching for curtain rods for the loft. It also doesn't help that we've been out of town every other weekend for the past 6 weeks so it's hard for me to work on stuff on the weekdays when Brad isn't home to help with the kids. Two kids is no joke, you guys. Preschool started last week though. Praise be.
And instead of giving you radio silence, I figure I'll take you along for the ride as I work on this room instead of sharing one big room makeover post. Don't worry, this won't be a long, drawn out thing. And if you absolutely hate this format, I can go back to doing reveals for all the other rooms I'm working on. I'm flexible.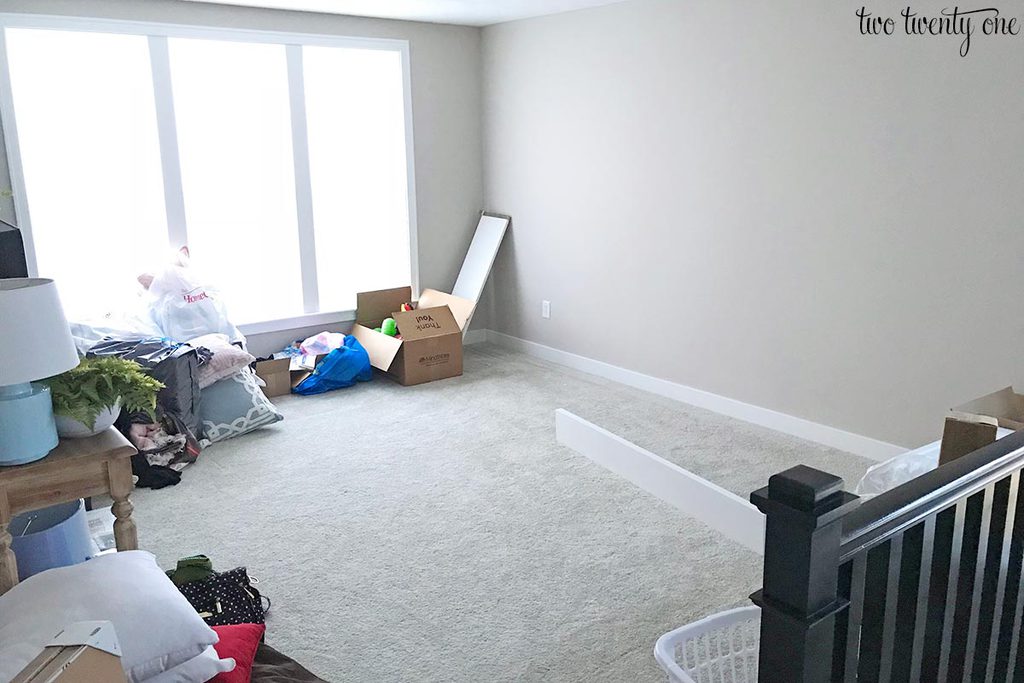 I played around in Photoshop and came up with this mock up for the main wall in the loft. The plan includes a sectional sleeper sofa with a chaise. I've always wanted a sofa with a chaise. I think it'll be nice for lounging while watching TV or reading. Plus, if we have friends who stay with us, one of their smaller humans can sleep on the chaise while they sleep on the sofa bed. I decided a gray sleeper sofa was a safe, neutral choice– something we can keep around for years.
And since we've spent a small fortune on professional photos, I figure it's best to start printing off those puppies and throwing them up on the walls. To keep everything cohesive, I'm going to do black and white photos in brass frames with white mattes. A satin gold side table will tie into the brass frames.
To break up the greige wall color and carpet and gray sofa, I'm going with a blue rug. I bought the two navy buffalo check ottomans when they were on sale months ago, not knowing where I'd put them– I just knew I had to have them. I don't know if I'm 100% sure about them in this space but I'm going to try to make it work. Maybe add in some more navy?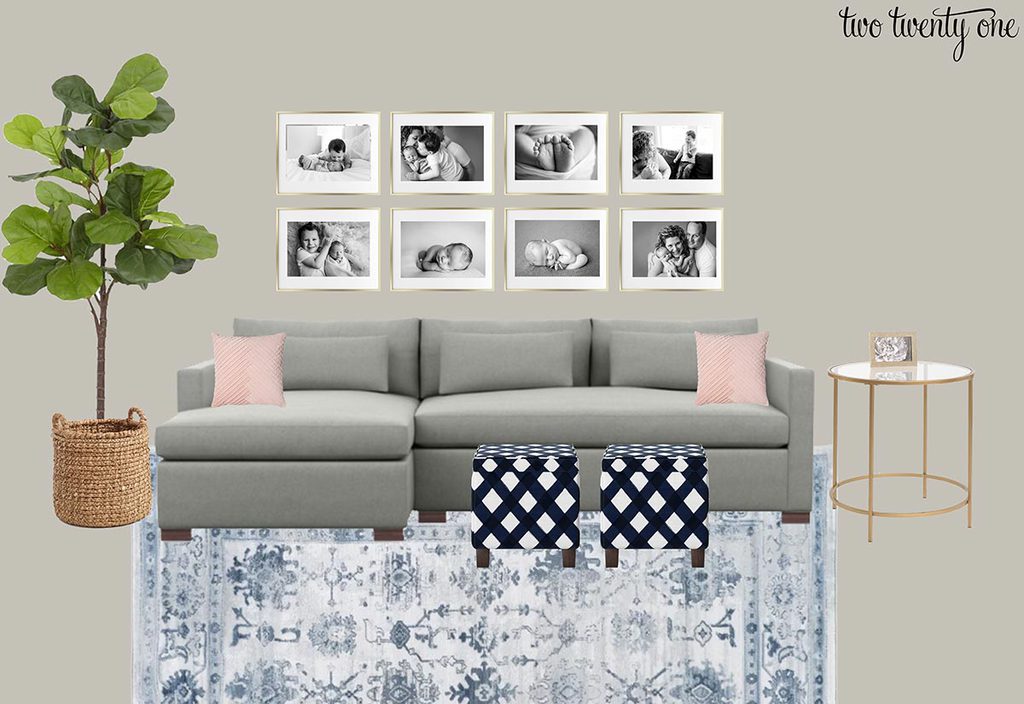 The amazing people at Interior Define graciously partnered with me on the Charly sectional sleeper sofa with left chaise in Ecru monochromatic plush fabric. It's beautiful in person. The monochromatic plush is very soft, and it's one of their kid-friendly fabrics. Like with any sleeper sofa, the part of the sectional with the bed is firmer than the chaise, but that's to be expected. Plus, with any couch, I'm sure it'll get a little softer with use. The chaise is very comfy– I've already spent a couple evenings camped out there while working on my laptop. And get this– the bottom cushion of the chaise velcros to the sofa structure so it doesn't slip off. It's the little things, you guys.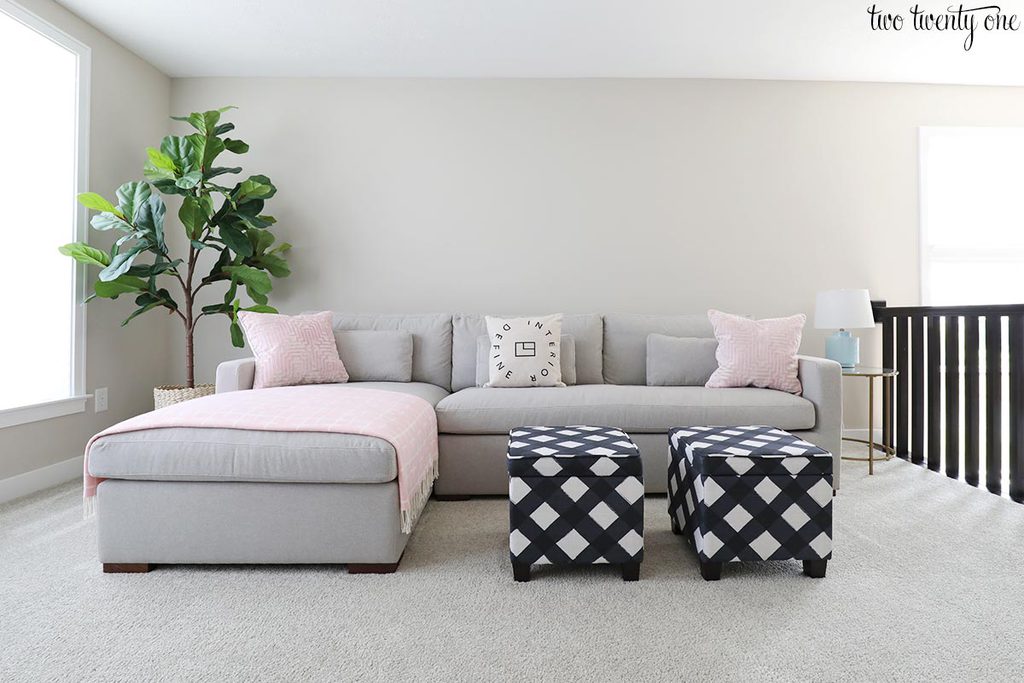 Did I mention that the tops come off of the ottomans for added storage? Or, in our case, a place for Owen to hide his toys.
On the wall opposite of the sectional, I have a foyer table with a small TV flanked by pale pink lamps I found at HomeGoods back in early 2017. I need to style the table some more and hide the lamp and TV cords. And if I'm being honest, my original plan was to use my late grandparents' buffet in place of this table. But that sucker is hea-vy, so it currently lives in my office because Brad refuses to attempt to move it up into the loft. I guess I'll have to hire a couple a guys to do that for me when I start working on my office and the buffet will have to get the boot.
I probably won't keep that chair in the loft. It doesn't match the table wood or the wooden feet on the sofa or ottomans.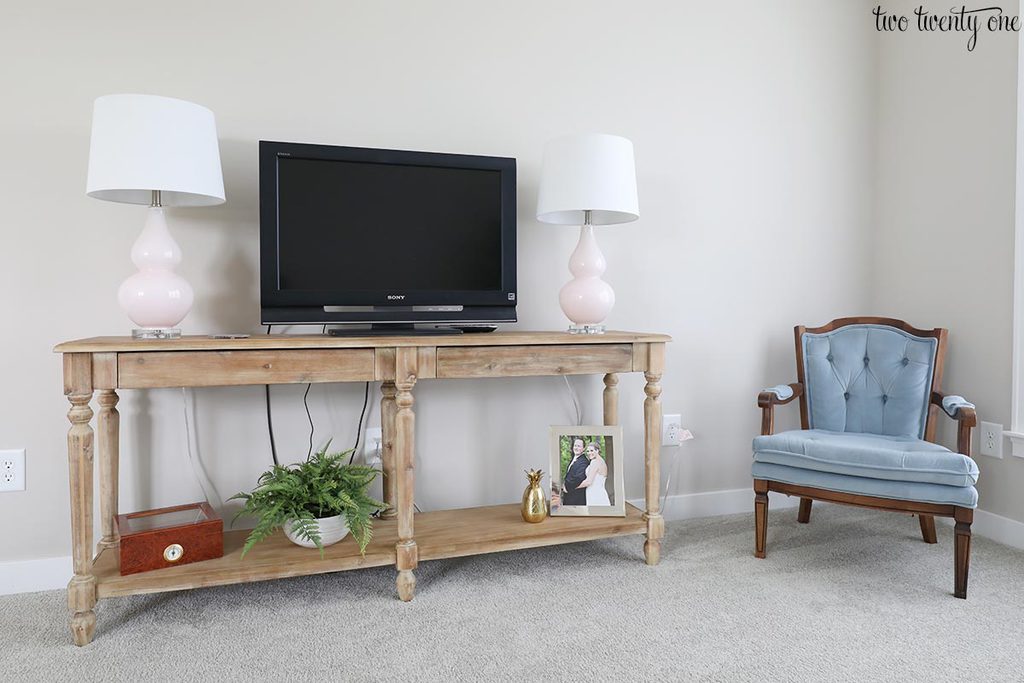 Here's my list of things I need to finish the room:
• rug
• picture frame wall
• curtains and curtain rods
• permanent window treatments
• ceiling fan
• accessories for table
• chair?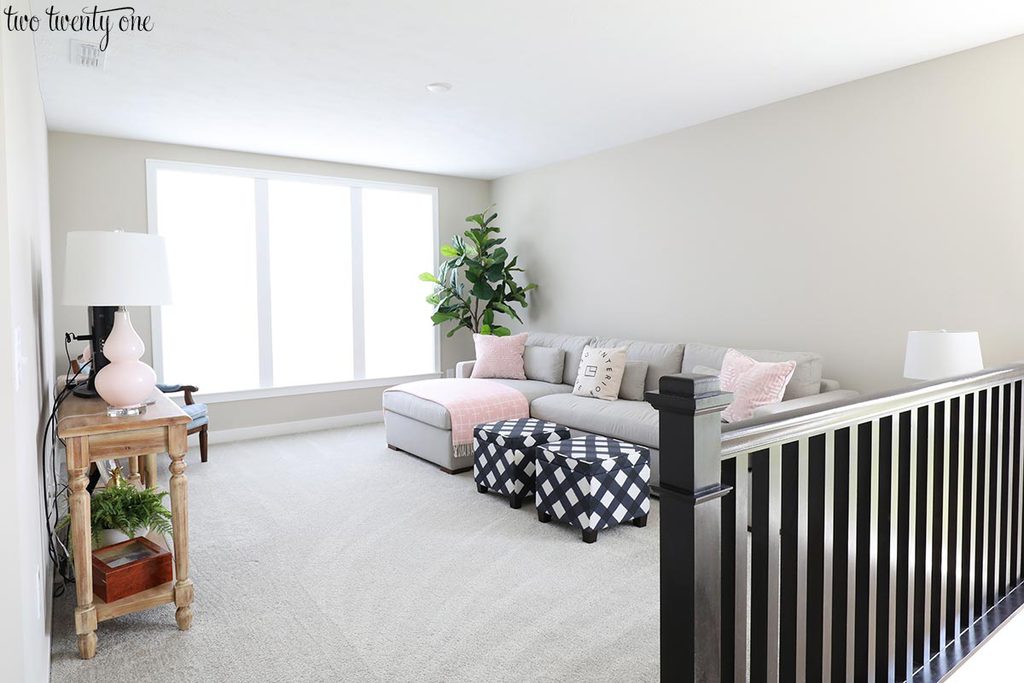 SOURCES
sectional … Interior Define
ottomans … Target
side table … Target
foyer table … World Market
blue chair … Craigslist
faux fiddle leaf fig … Pottery Barn
basket … Target // similar
pink pillows … Target // similar // similar // similar
pink throw … Target // similar // similar
light pink lamps … HomeGoods // similar // similar
light blue lamp … HomeGoods
faux fern … Target // similar
brass pineapple … Paper Source