Guest Bedroom Spring Refresh
I've been meaning to give our guest bedroom a little refresh. And when Camila reached out to me asking if I wanted to partner with Crane and Canopy on some new bedding, I took it as a sign to do a little update.
Since the guest bedroom isn't used all that often, it's low on my priority list for a full makeover. But I also don't want it to feel like a room that's been haphazardly thrown together.
This is what the guest bedroom looked like before I gave it a refresh last March: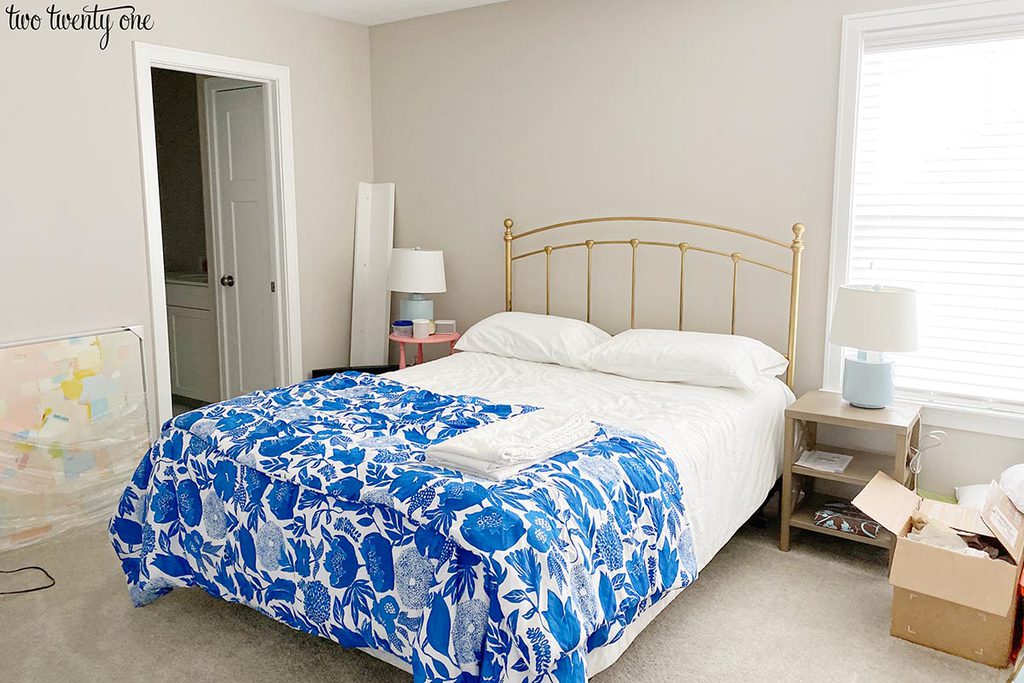 Here's what it has looked like the past year: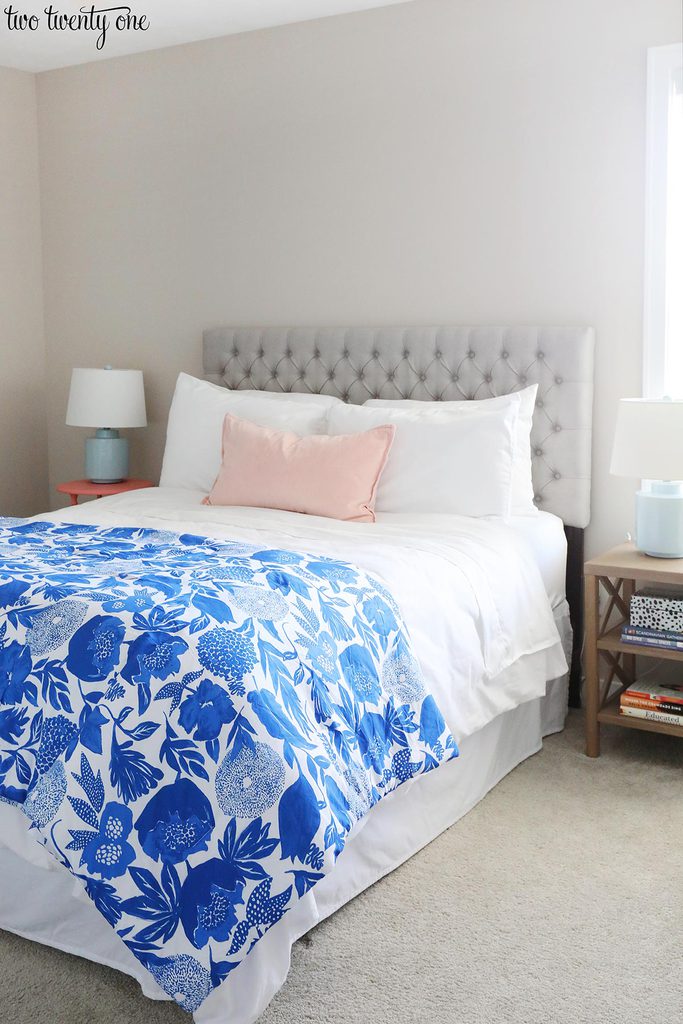 And here's how it looks now: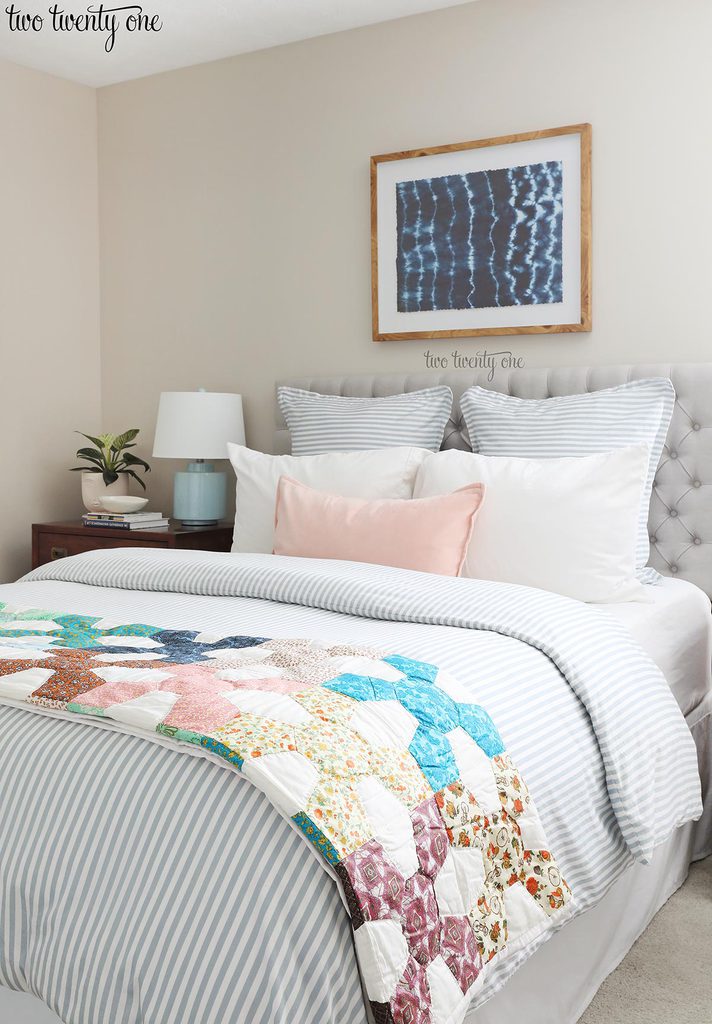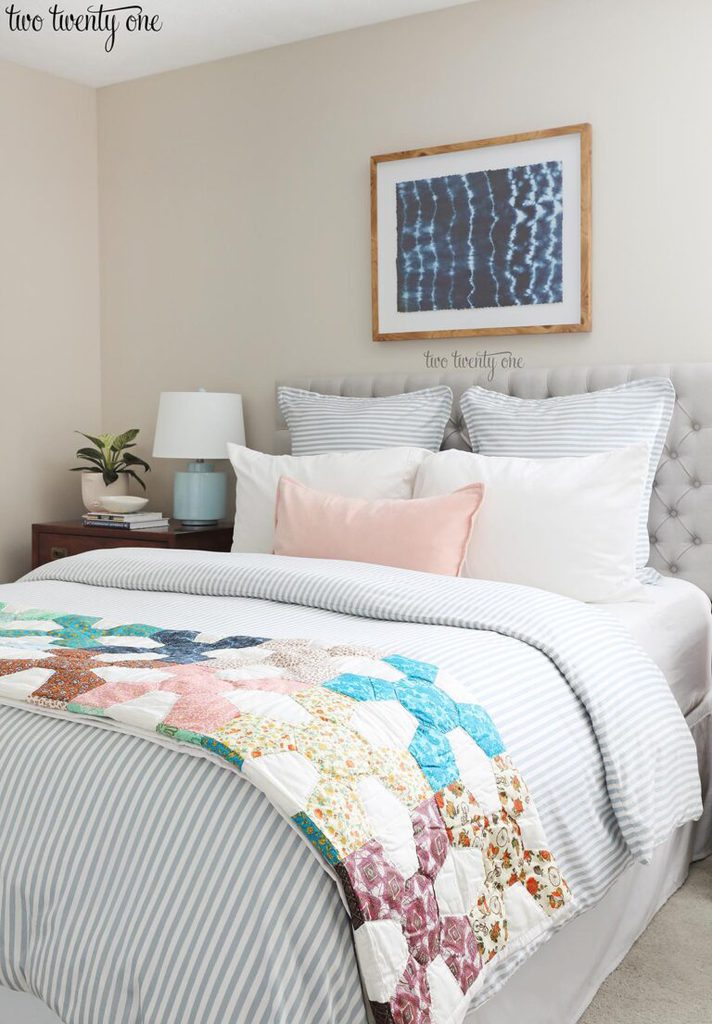 I went with The Larkin Blue duvet cover with two euro shams. It's the perfect shade of light blue, and it goes well with the gray, tufted headboard. Plus, the fabric is incredibly soft. I may need to get a Crane and Company duvet for my bed. I love the zip closure of the duvet cover. Because, zipper > buttons. I paired the duvet with white sheets and a pink throw pillow. And if crisp-looking bedding is important to you but you're not about to iron your duvet, I was able to get any minor wrinkles out with some crease release spray.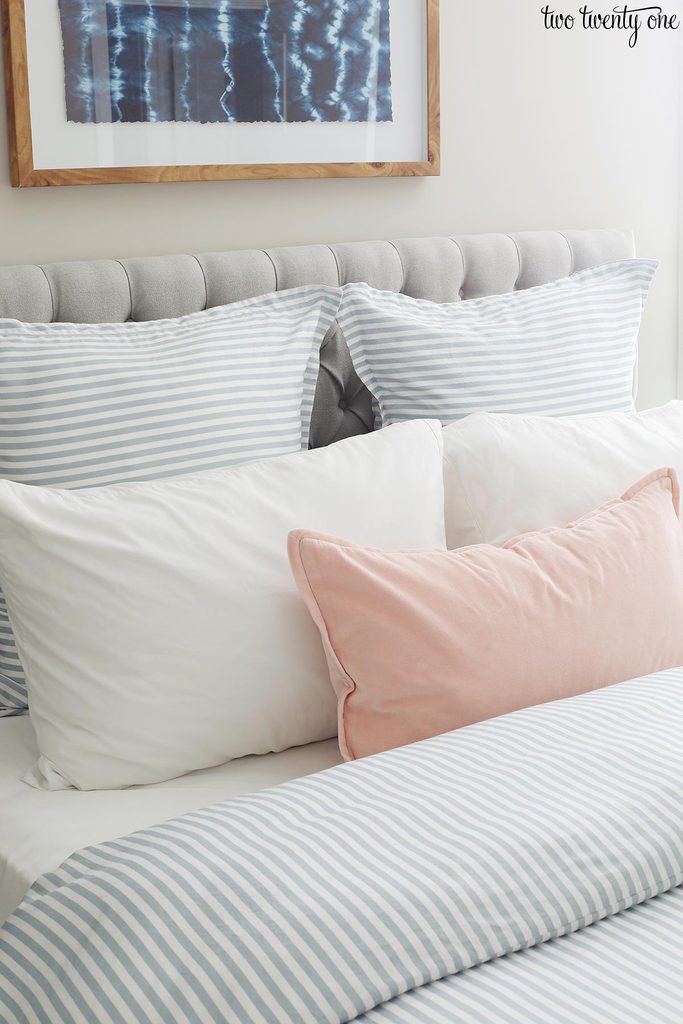 After putting the bed together, I thought the quilt my great grandma Pleasant made would look pretty on top of the white and blue stripes. A fun pop of colors for spring/summer.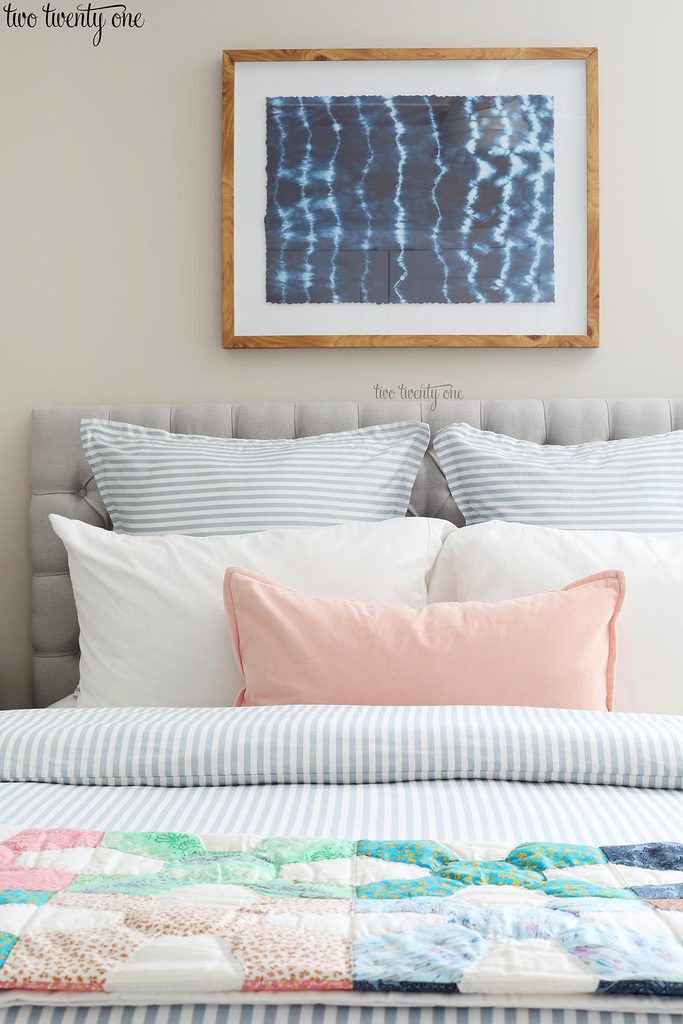 I'm trying to get better at displaying and using family heirloom items instead of keeping them tucked away and safe. Since the kids don't go in the guest bedroom much, I feel comfortable displaying the quilt on the bed. That way I can steal peeks at it when I walk past the room.
I love how she chose different kinds of floral prints.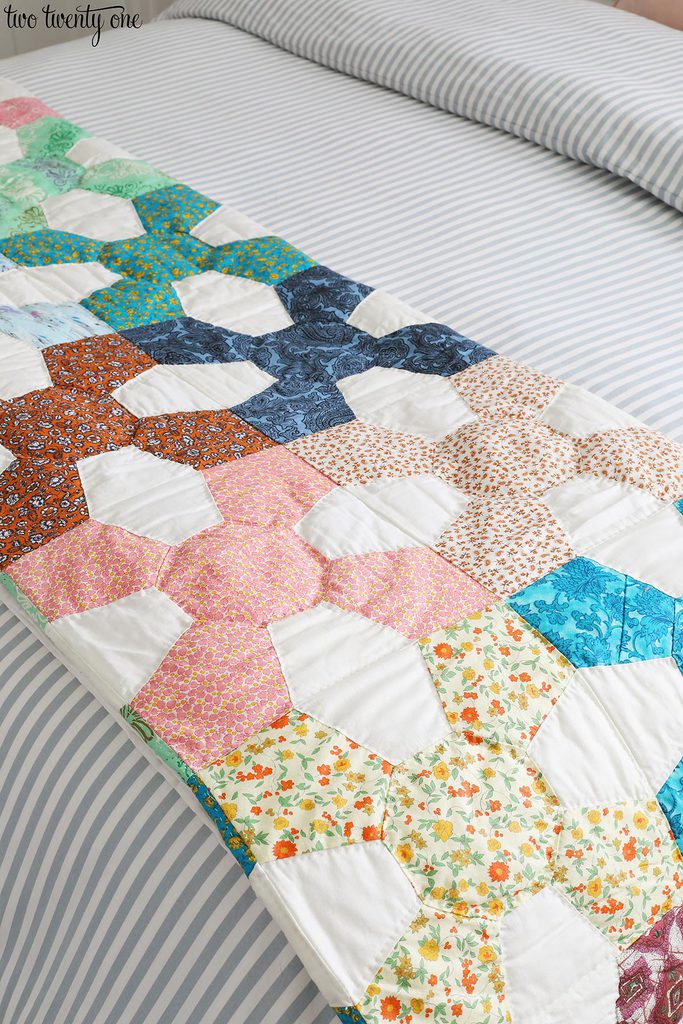 I moved the 1980s Ethan Allen campaign nightstands I recently fixed up into the guest bedroom to try them out. They're a good size, but I'm not entirely sold on them in this space. For now, I styled the nightstands with some plants, books, and matching blue lamps.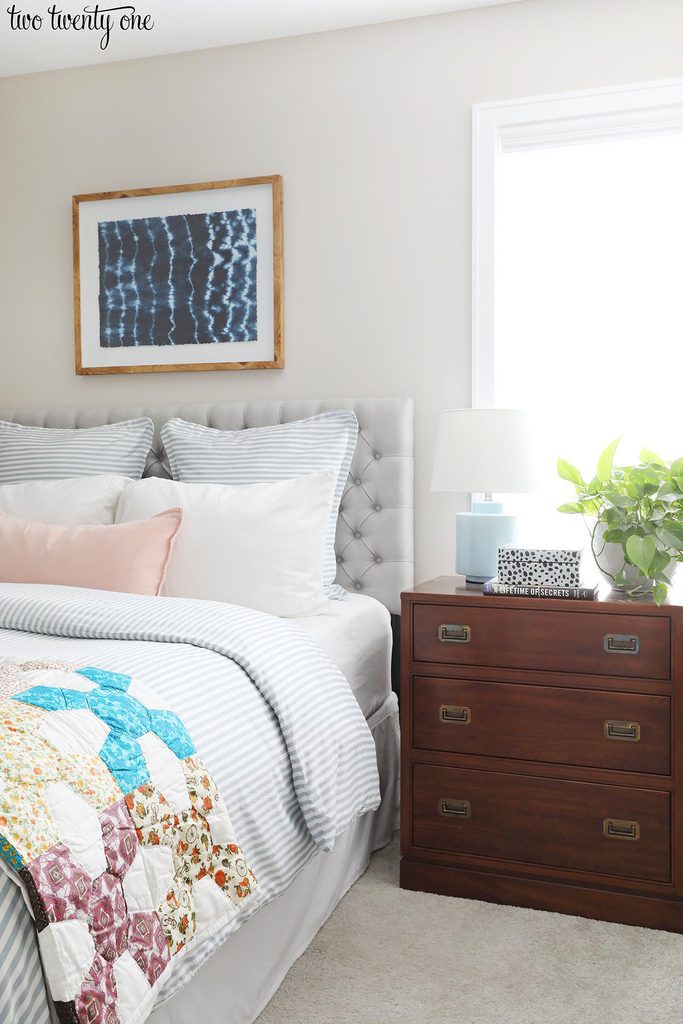 One day I'll do a whole room makeover in this room. For now, I'm focusing my time and money on rooms we use everyday. But I don't think it looks that bad for the time being. I mean, Bon has never complained.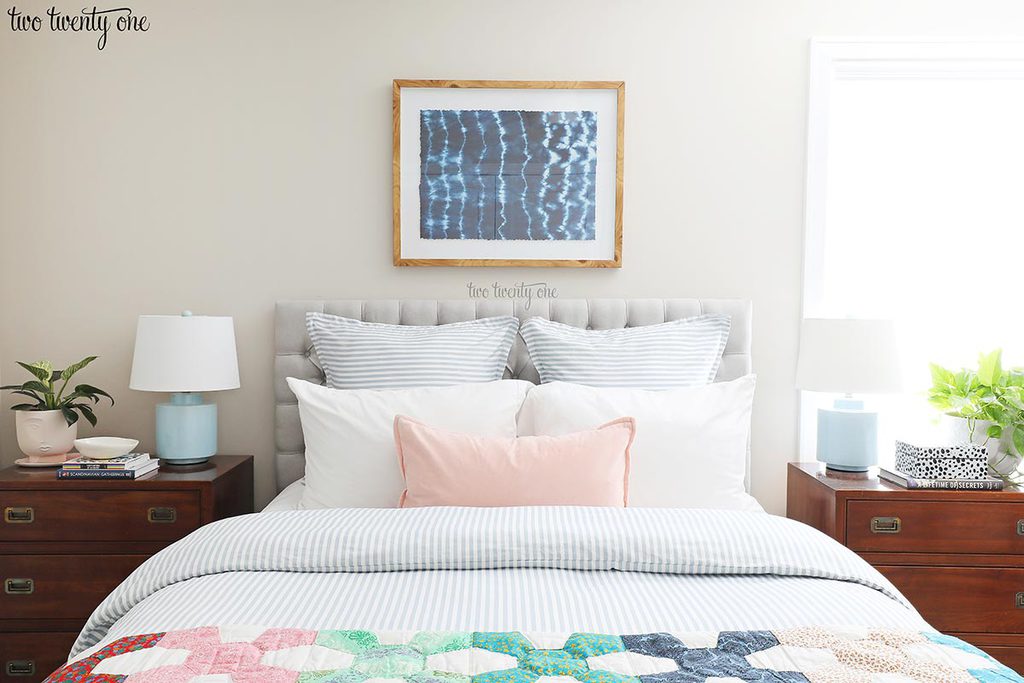 A huge thank you to Camila for including me in this bedroom refresh tour. And thank you to Crane and Company for gifting me this gorgeous bedding.
Be sure to check out the other talented bloggers participating in the tour!
Camila from Effortless Style
Kate from Kate Decorates
Ashley from At Home with Ashley
Carmel from Our Fifth House
Tiffany from My Eclectic Nest
Jenna from Rain on a Tin Roof
Tasha from Kaleidoscope Living
Yuni from Love Your Abode
Katrina from Katrina Blair