Me: *texts photo of framed floral art to a friend*
Friend: So pretty! Is that from Minted?
Me: No, girl. That's $4 wrapping paper.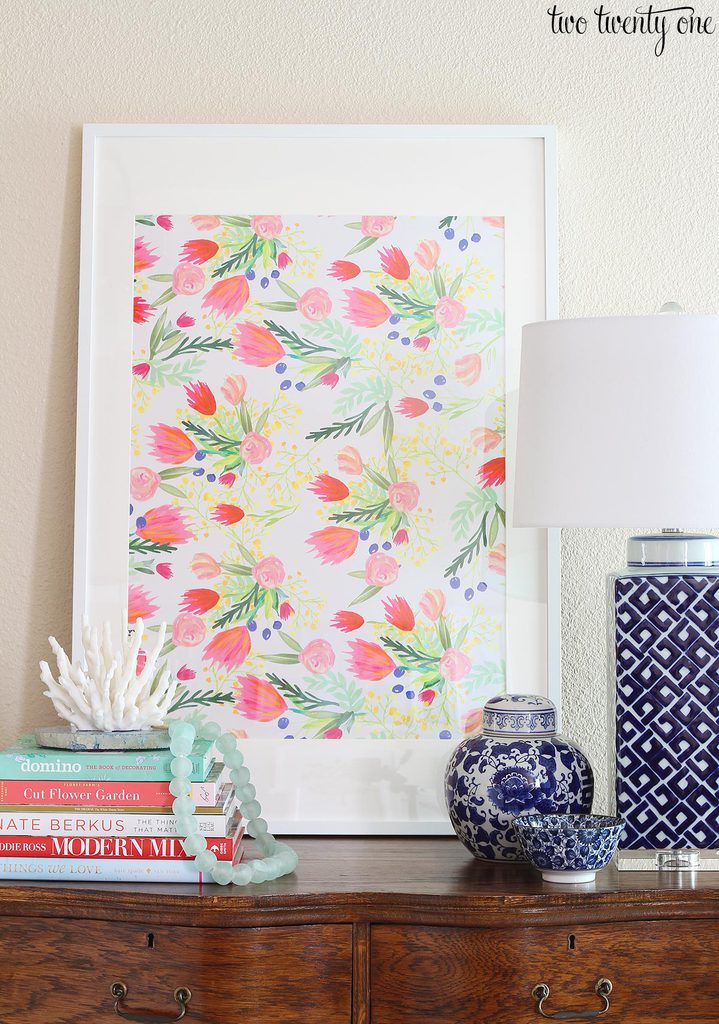 Yep, my obsession with pretty gift wrap paper continues.
Here's the story: last week I was cruising through Target when I spotted the prettiest floral wrapping paper by Thimblepress. And then the thought hit me, "This is perfect for spring/summer. I should frame it!"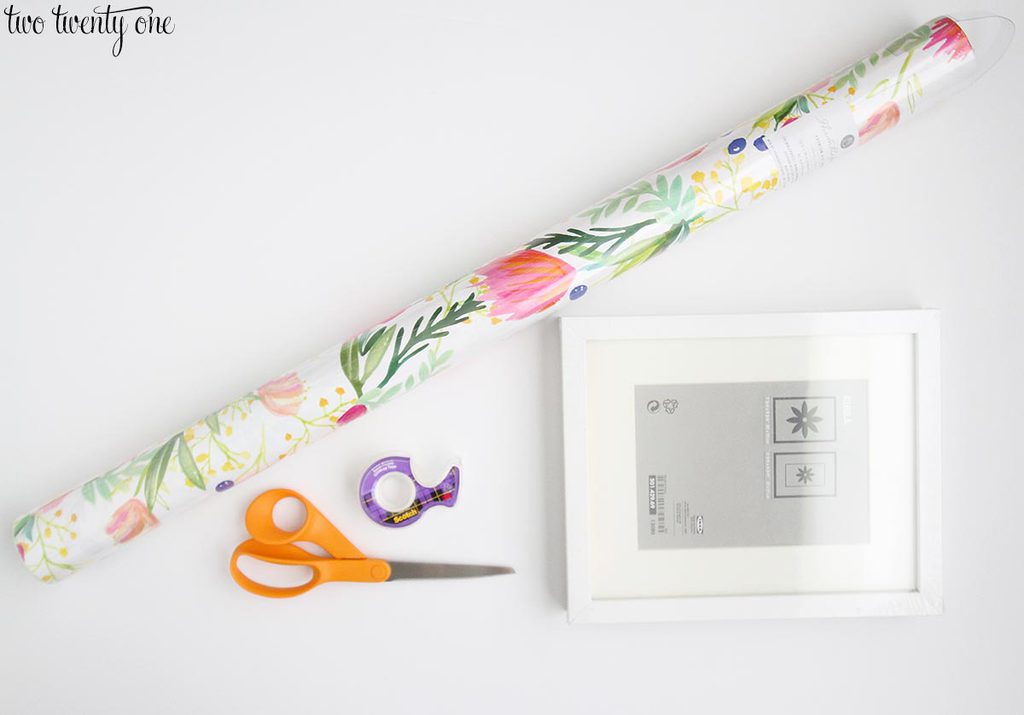 This is pretty self-explanatory, but I figured I should include at least one 'how-to' photo.
To execute this, all you have to do is cut the wrapping paper to size and tape it to the matte, pop it back into the frame, and voila.
If your frame doesn't come with a matte, take out the glass or plexiglass and trace it over the gift wrap. Then, cut along the line and put it in the frame.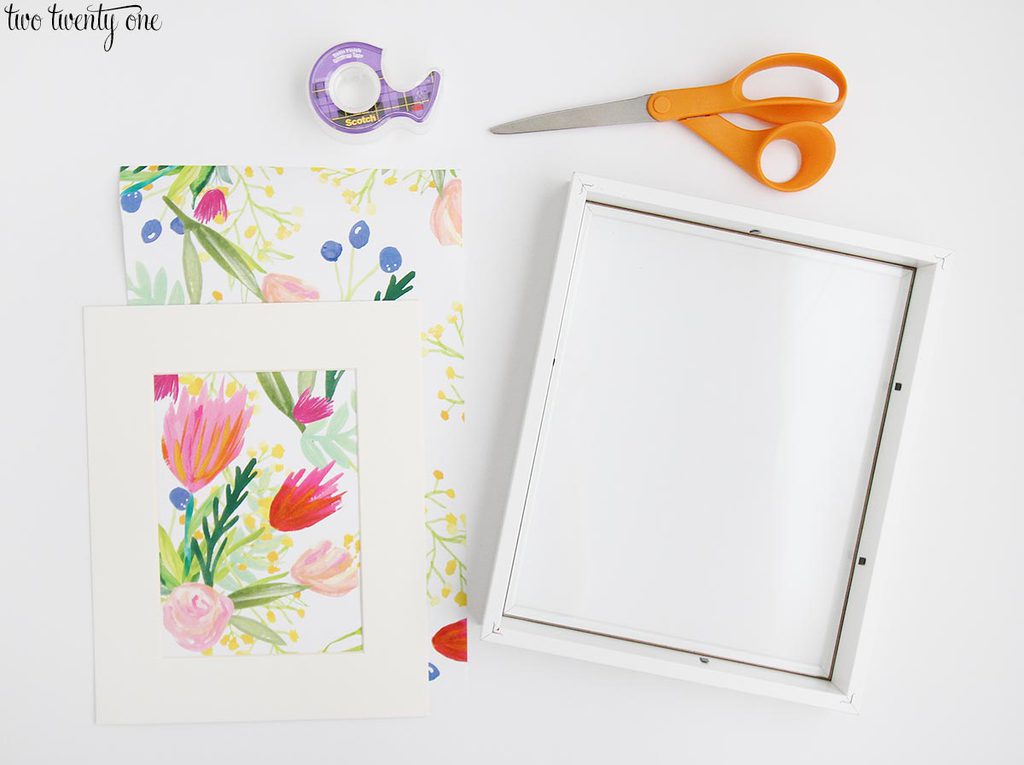 I used a $18 24″ x 35-3/4″ ribba frame from IKEA for my specific work of art. But you can find giant frames like these at craft stores like Michael's or here.
I positioned it vertically, but you could also orientate it horizontally.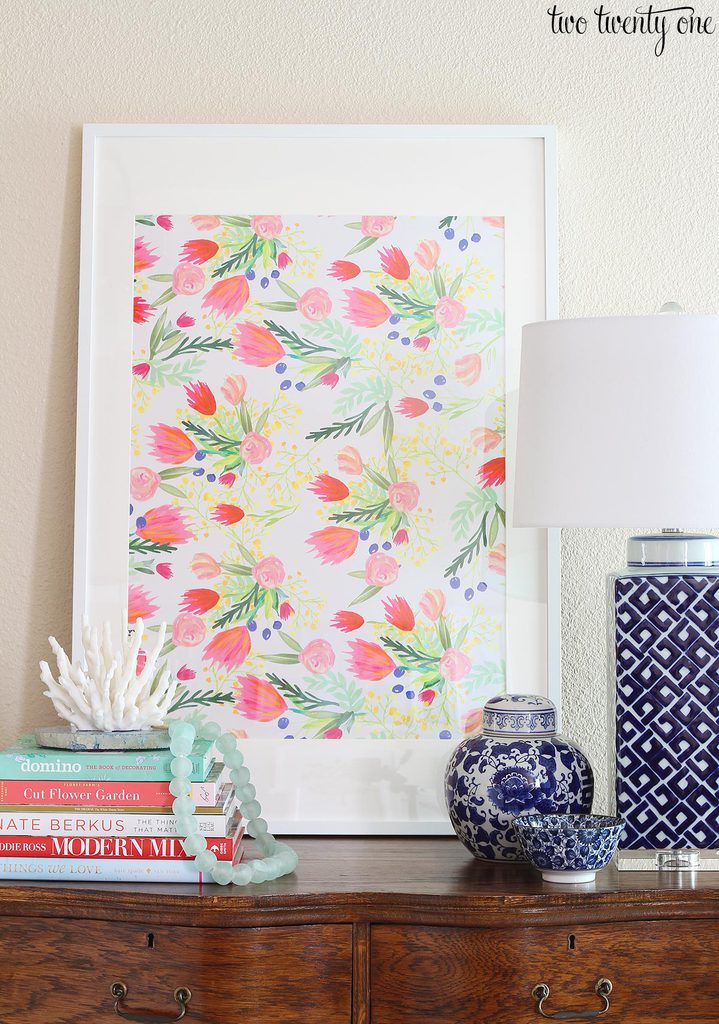 These recycled glass beads are all the rage right now. They're like flare for your tabletops. Since they're pretty, I'm all for jumping on this trend train.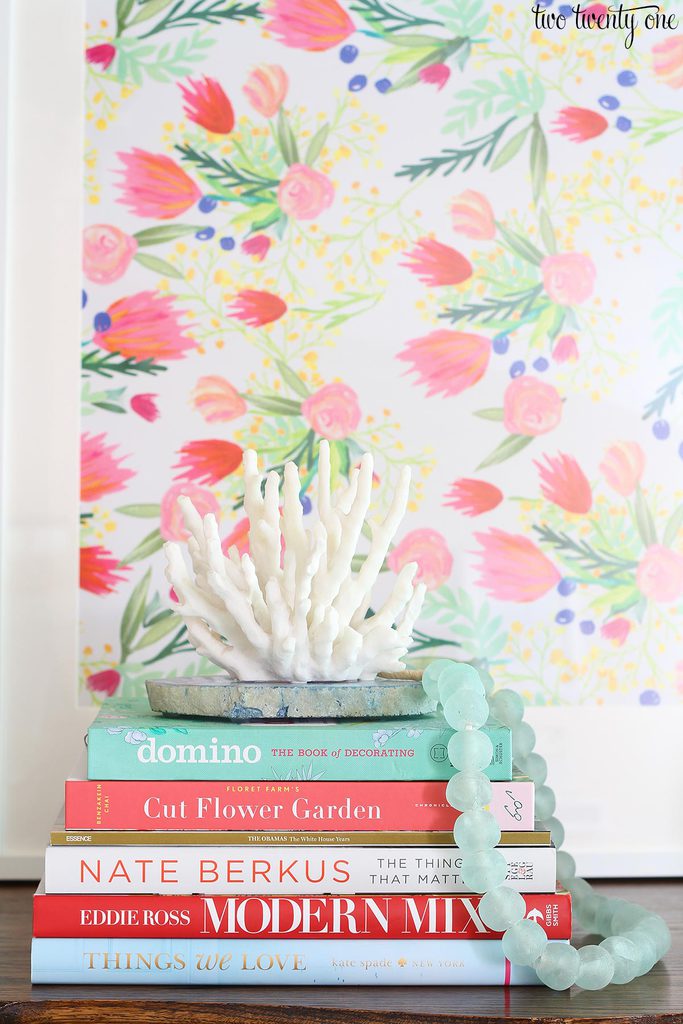 Photos don't do the beauty of this wrapping paper justice. The glare on the picture frame plexiglass distorts the color of the wrapping paper in these photos. But this angle shows the coloring pretty well.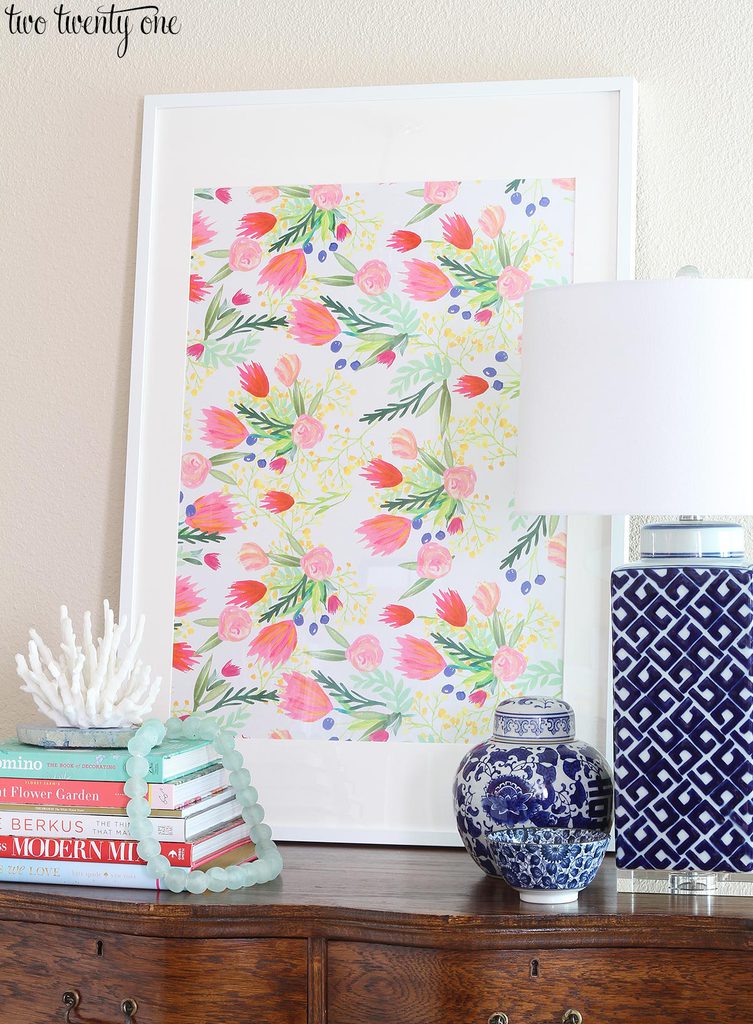 That's my new lamp. I saw it in the clearance section of HomeGoods and couldn't pass it up.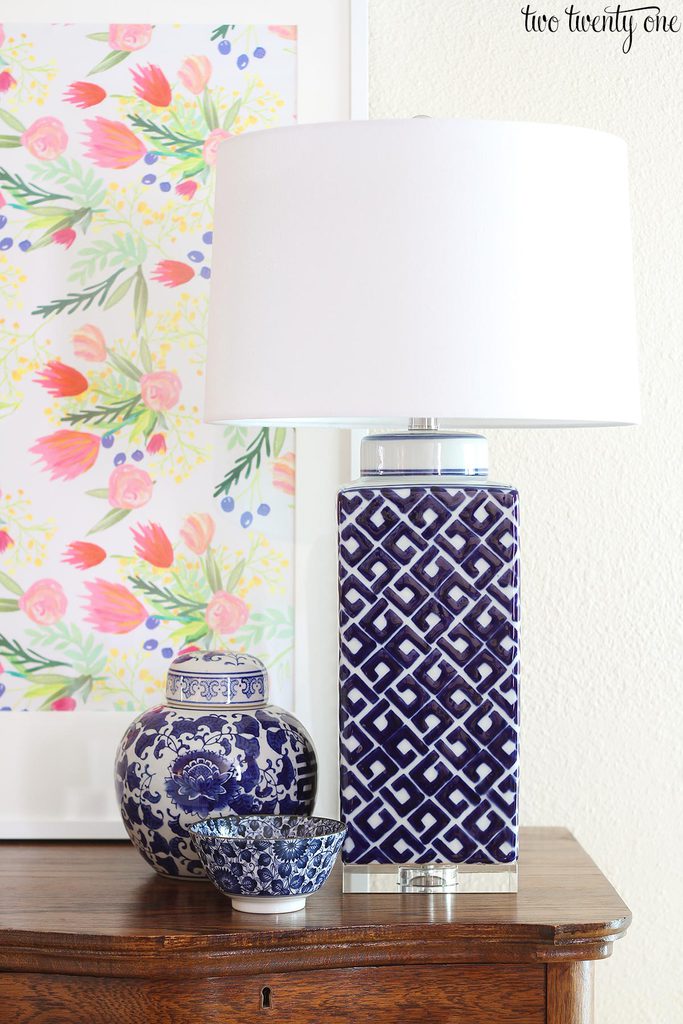 I photographed the $4 gift wrap art on top of my antique dresser (my mom and her twin sister used it as little girls).
But the art isn't here very long because I have other plans for it. Stay tuned!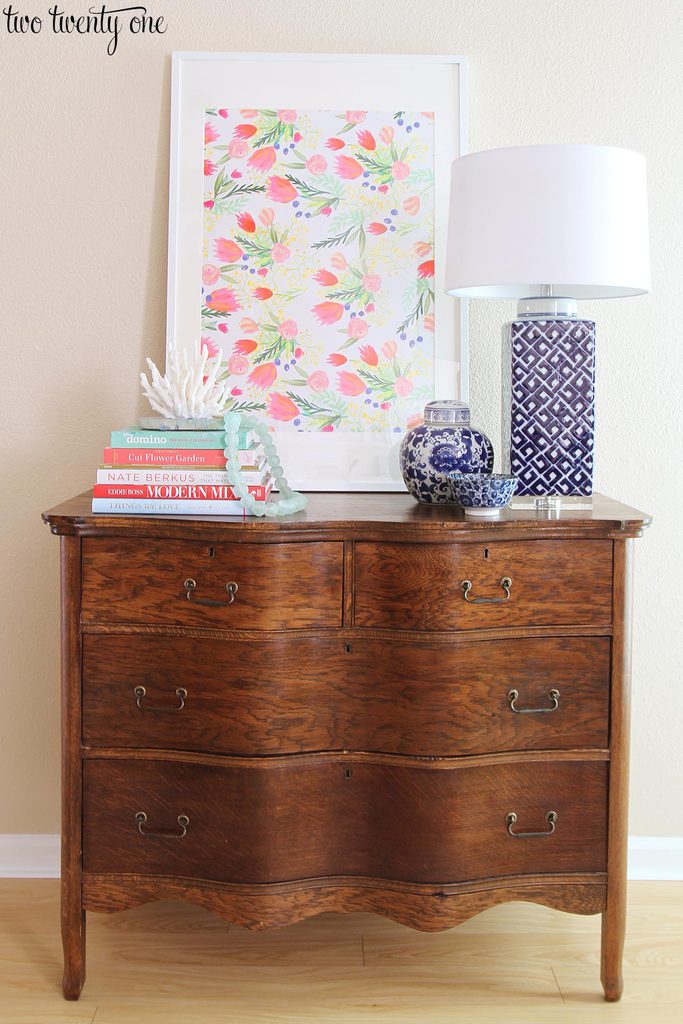 What do you think about the framed wrapping paper? Think it's something you'd try?

THIS POST CONTAINS AFFILIATE LINKS.
FUNDS FROM AFFILIATES HELP PAY FOR WEB HOSTING, DOMAIN REGISTRATION, EMAIL DELIVERY, THE OCCASIONAL BOTTLE OF WINE, AND OTHER FEES TO KEEP TWOTWENTYONE.NET UP AND RUNNING. THANKS FOR YOUR SUPPORT! I APPRECIATE IT!