Toddler Craft: Easter Egg Wreath
It's no lie that I'm sentimental. I love things that have meanings, things that are handmade. So it only made sense to get Owen involved and do a toddler craft, specifically an Easter egg wreath.
And let me tell you, you haven't lived until you've handed your two year old some paintbrushes and paint and let them go to town.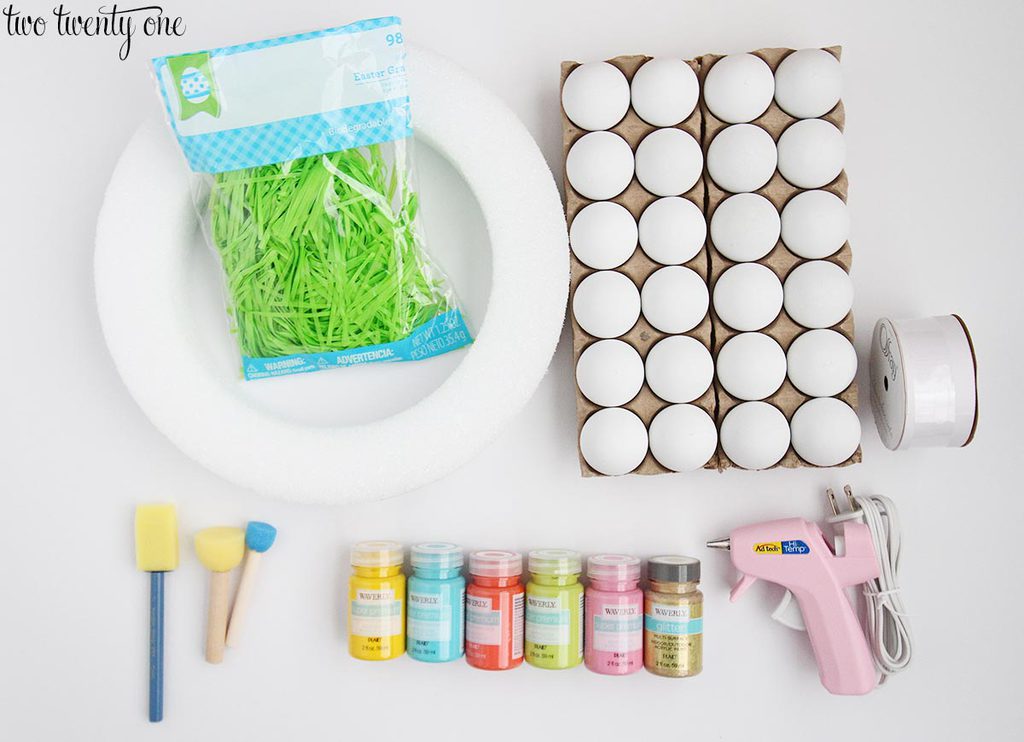 Here's what we used:
Waverly Inspirations paint… Walmart
36 plastic eggs … Walmart
Easter basket grass … Walmart
12″ Styrofoam wreath … Walmart
foam brushes … Walmart
1-1/2″ ribbon … Walmart
piece of 1/2″ ribbon … Walmart
hot glue + gun
scissors
plastic to cover the painting area
One of the things he said while painting was, "Paint the dinosaur eggs!"
Note: my kid equates eggs with a nonexistent reptiles. Dinosaur Train FTW.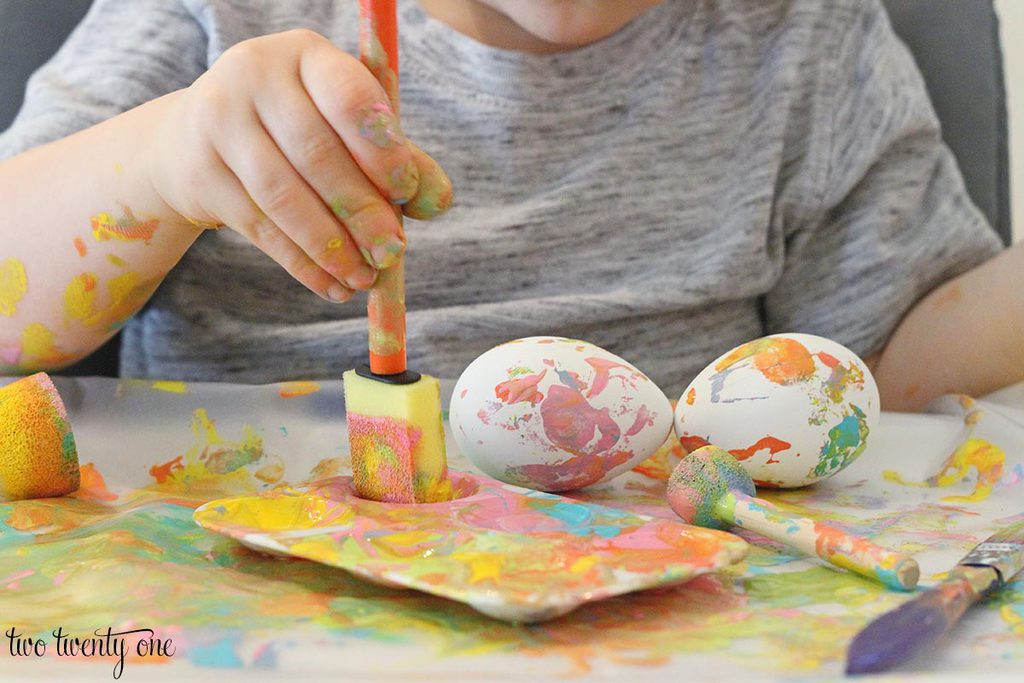 Check out that color mixing. Owen told me he was going for a marbled look*.
*He didn't say that because he's two.
When Owen was losing interest toward the end, I painted his hand, had him hold an egg, and then release it.
He's a pro at the painted-hand-grab-an-object hand release now.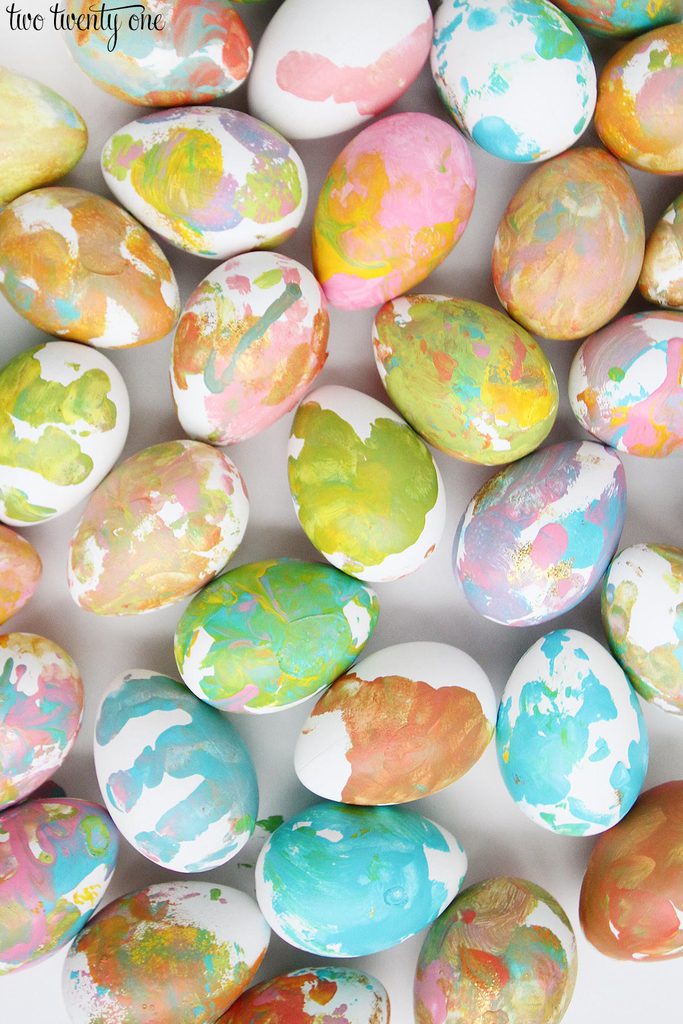 After the eggs dried overnight, it was time to construct the wreath.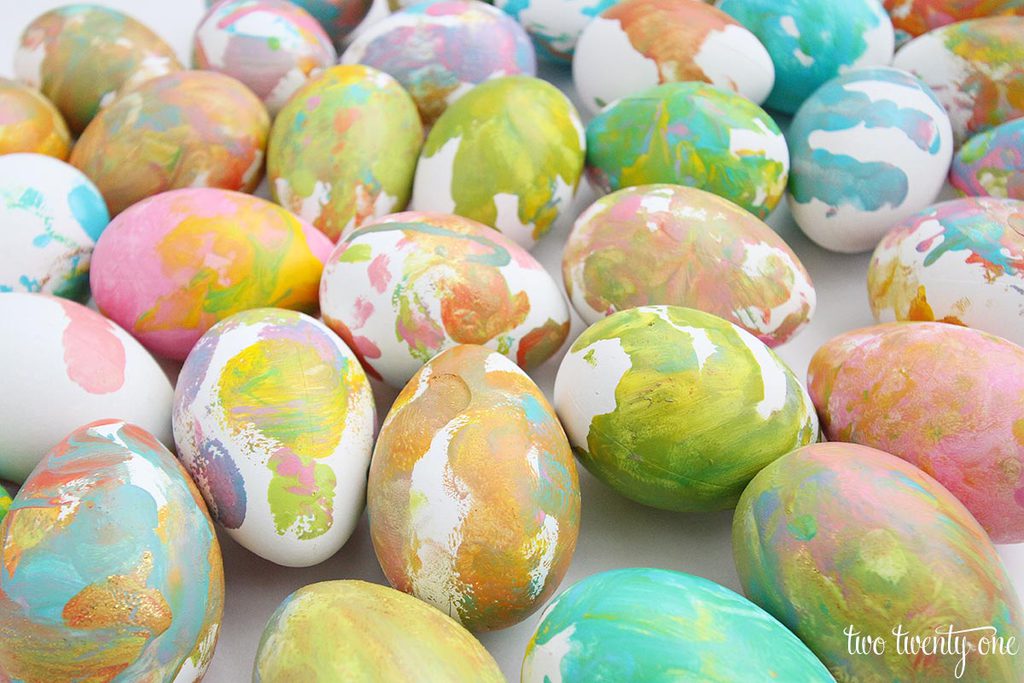 I wrapped the Styrofoam wreath form with 1-1/2″ white grosgrain ribbon, securing it at the start and end with hot glue.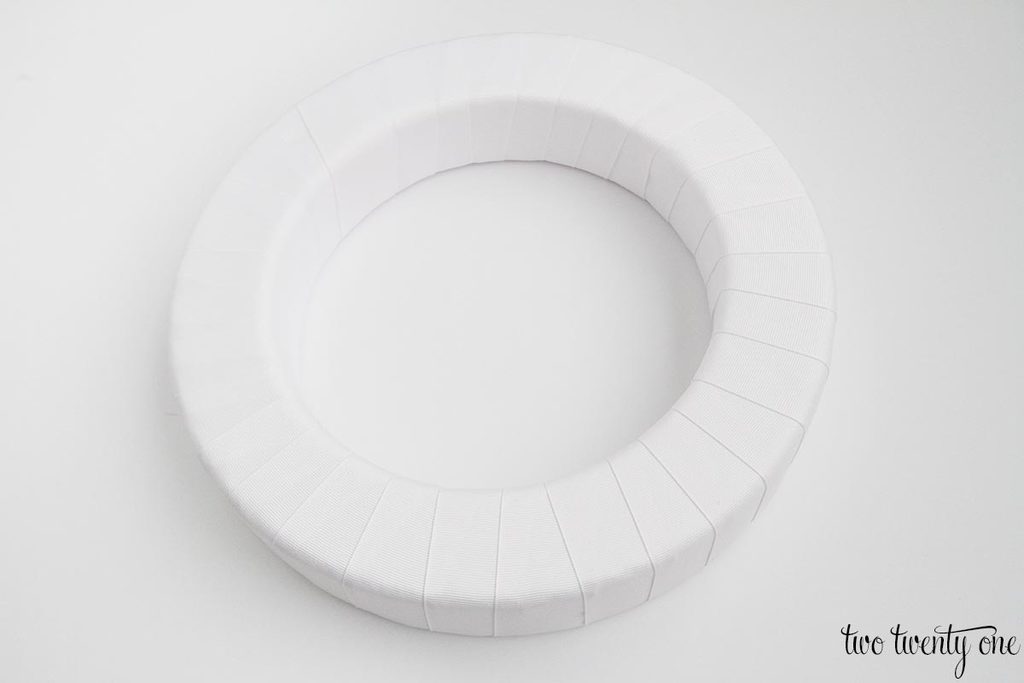 After gluing all the eggs (I used 32 total) onto the wreath, I added the Easter basket grass.
I took a handful of strands, tied them in the middle, and then trimmed them down to about 2″ long on each side.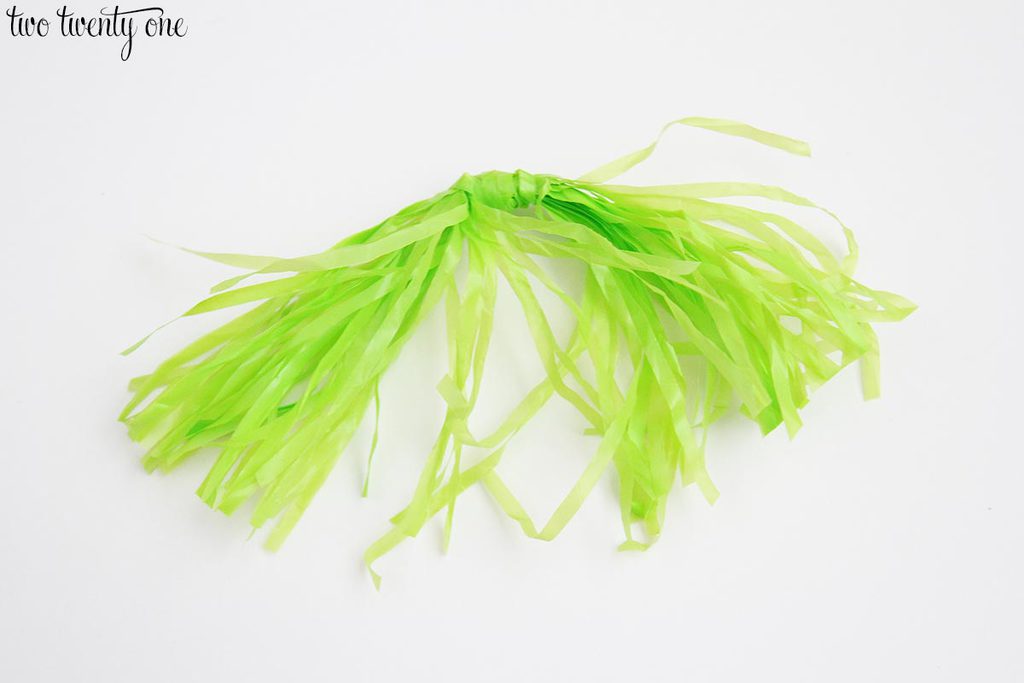 Using the hot glue gun, I put a dollop of glue on the knot, and then shoved it down into the space between the eggs. I kept doing this until the bare spots were filled.
To finish the wreath, I used a random piece of 1/2″ ribbon to make the hanger on the back.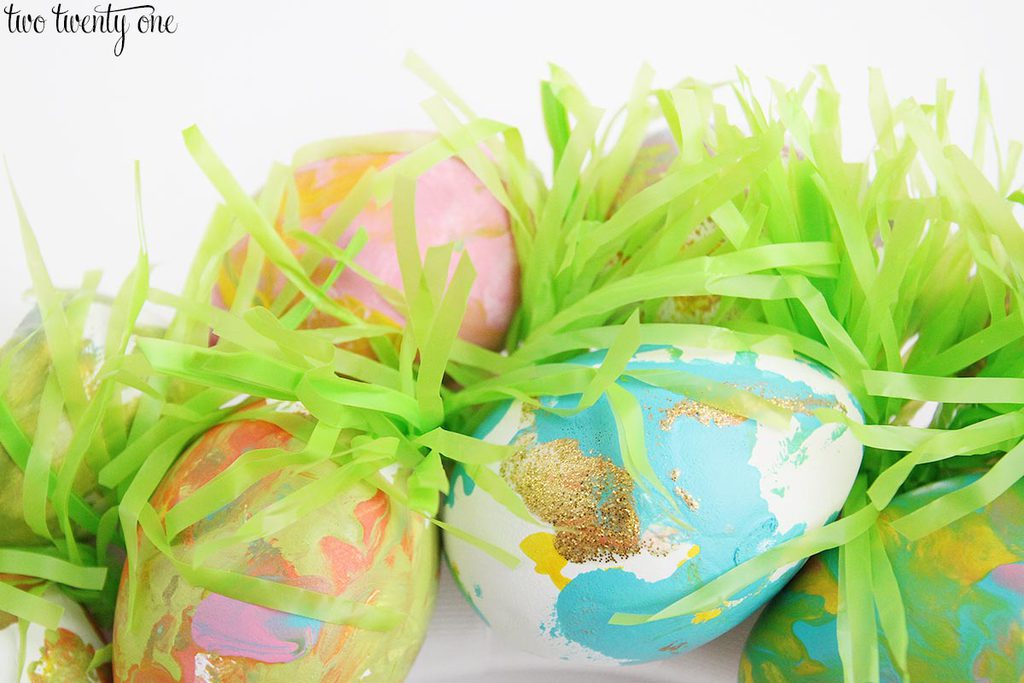 I didn't go crazy with the grass because I didn't want to cover too much of the eggs.
That wouldn't be doing justice for the arteest.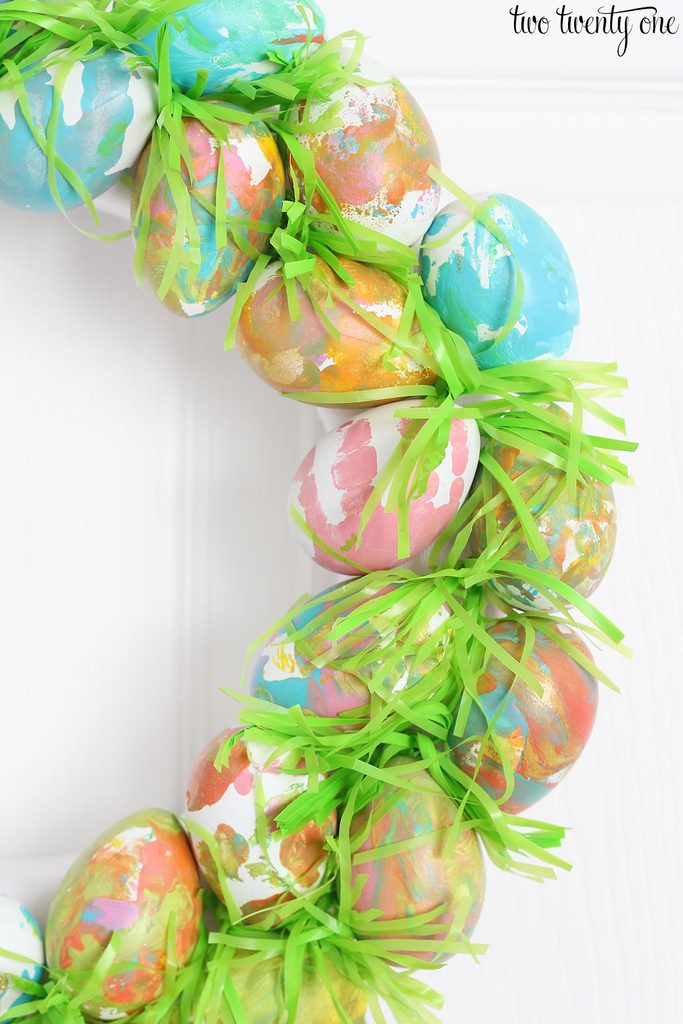 I looove how it turned out.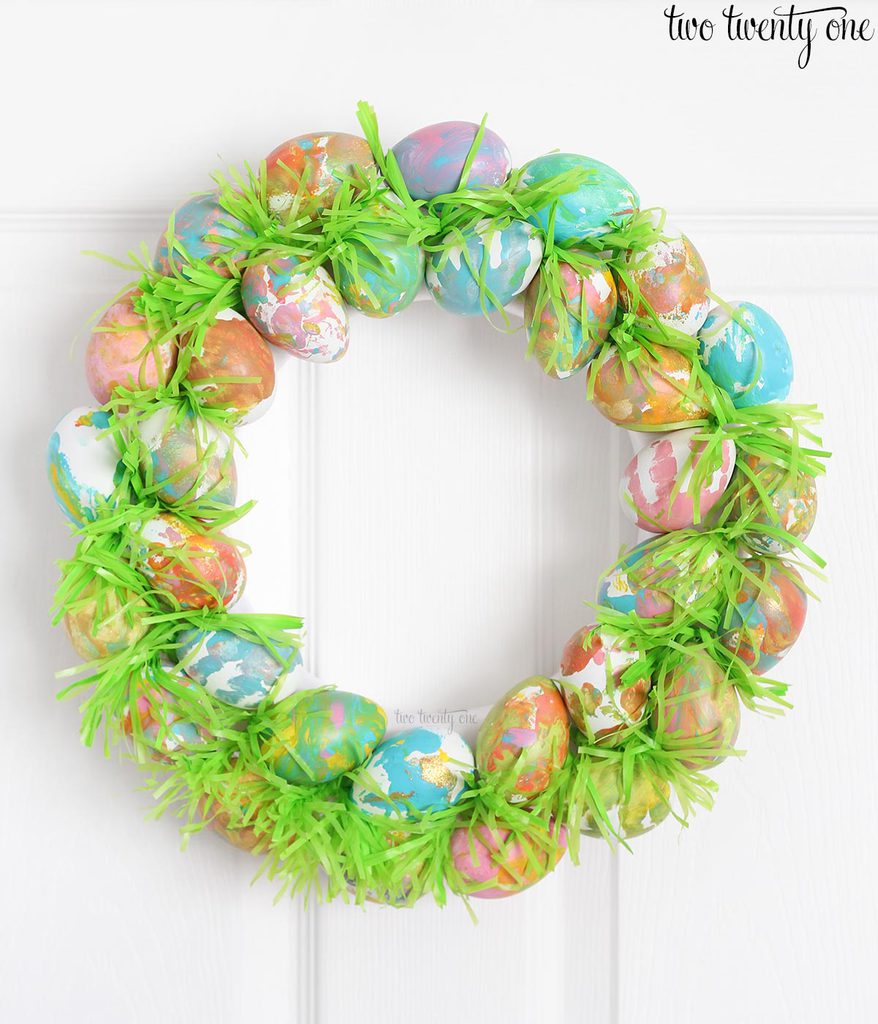 They're not the easiest to see, but I love his handprint eggs the most.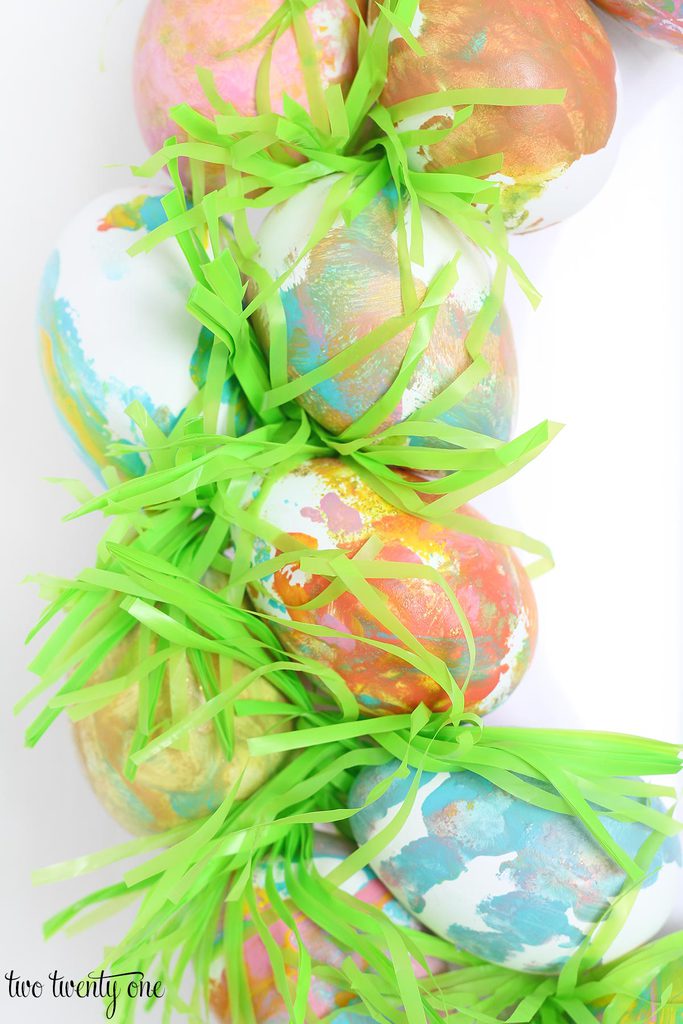 Truth be told, when Owen was getting tired of painting, I rolled some eggs in the paint on his highchair tray. So they were kind of painted by him.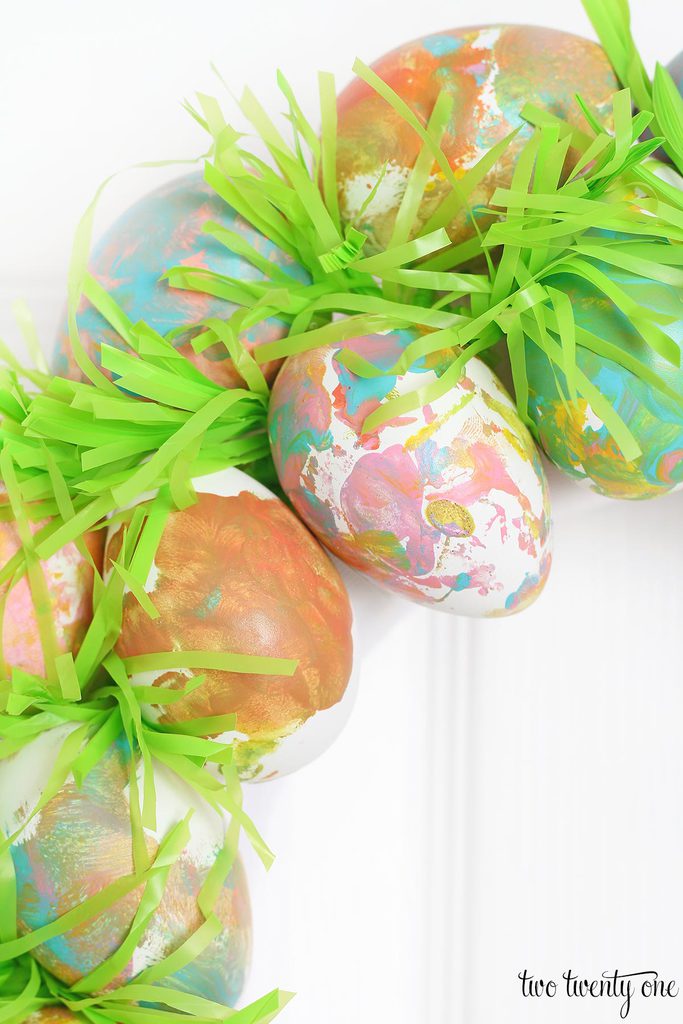 In case you're wondering, yes, Owen got a bath after this crafting activity.
Do you have a favorite spring or Easter craft that you've done with your little(s)?