Dry Erase Board and Desktop Tray
This post is brought to you by Scotch Brand. All opinions are most definitely my own.
Since adopting my beautiful, new-to-me baby (hint: it's not an actual living organism), I've been on a desk organizing kick. You know the feeling when you get a new car or an expensive electronic device? You're extra careful with your new investment and you avoid any kind of dirtiness around it. That's how I feel with my new computer.
I started by making a desktop dry erase board. There's always something I need to do. Whether it's paying The Man or emailing so-and-so back. So instead of constantly making lists and misplacing them I decided to create this handy (and pretty) dry erase board.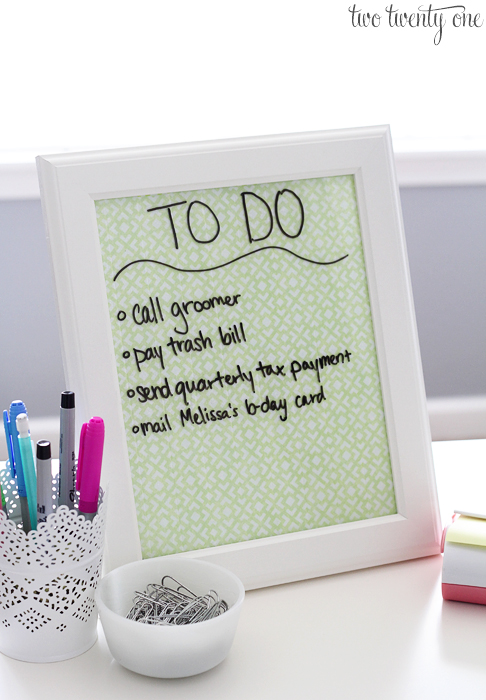 I started with an 8×10 picture frame. I removed and cleaned the glass. Then, to give it some flair, I used some Scotch Expressions masking tape. I lined up the tape and pressed it onto the glass, leaving about 1/4-inch of tape hanging off each end. Then I carefully (dealing with glass here) wrapped it over the edge.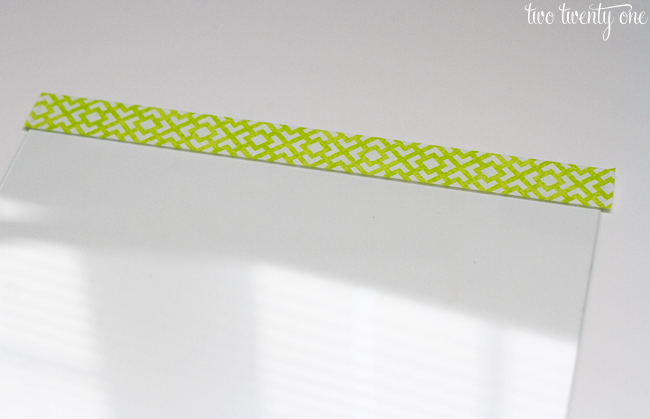 To keep the geometric design going I lined up each row of tape so the design would match up. Once the glass was completely covered, I popped it back in the frame with the taped side on the inside and put a white piece of cardstock behind it to help boost the pattern.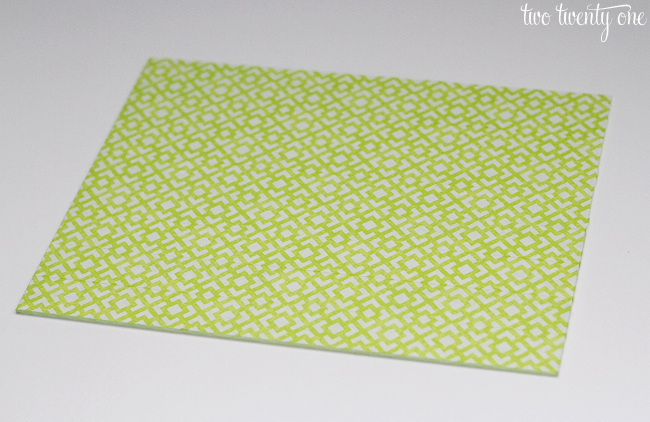 Now I have a place to write my to do list. And it's kind of hard to lose an 8×10 picture frame versus a small piece of paper.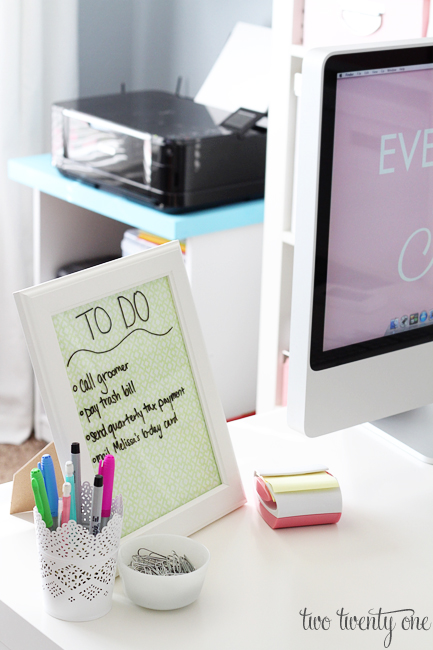 But maybe you don't need to write to do lists because you have a crazy memory. The dry erase board can also function as a tray for office supplies.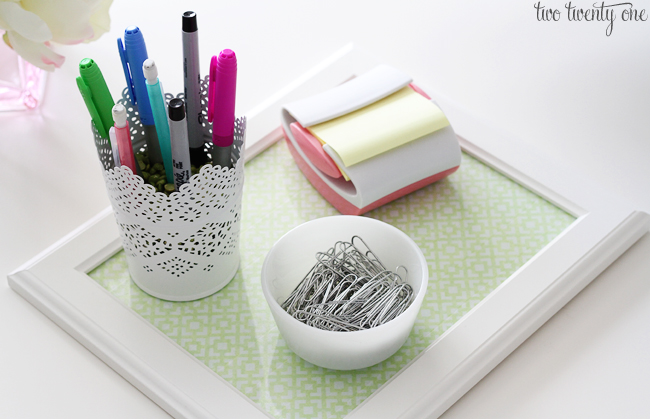 You can never have too many paperclips.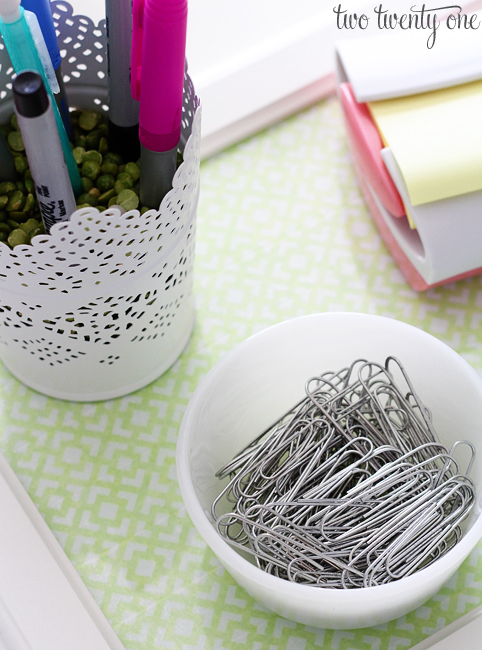 Anyone want to place bets on how long my desk stays nice and neat?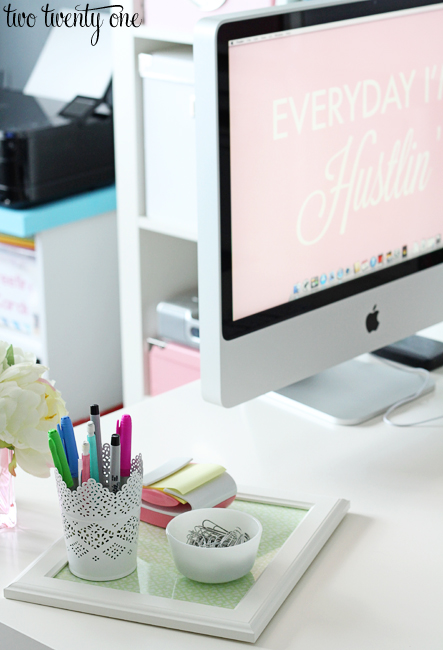 Like I said above, I used Scotch Expressions masking tape for this project. It's amazing how far tape has come in recent years. Anyone else a slightly obsessed with tape as a kid? I would have gone bananas with these back in the day.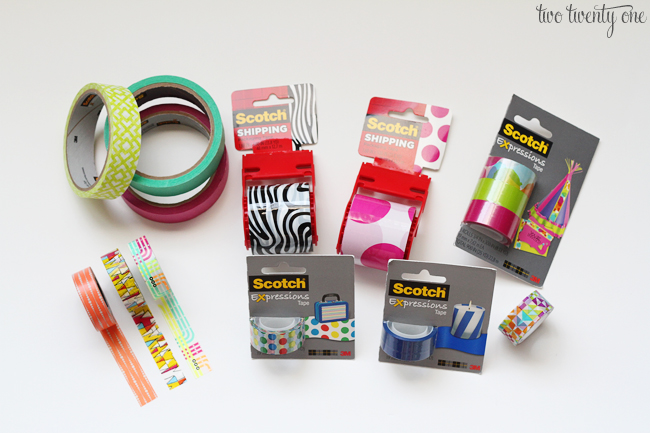 In case you're wondering, Scotch Expressions Tapes come in over 100 colors and patterns and in four varieties– Magic Tape, masking tape, washi tape, and shipping tape. You can find them at office supply stores and mass retail stores nationwide. To find a store near you head to ScotchBrand.com.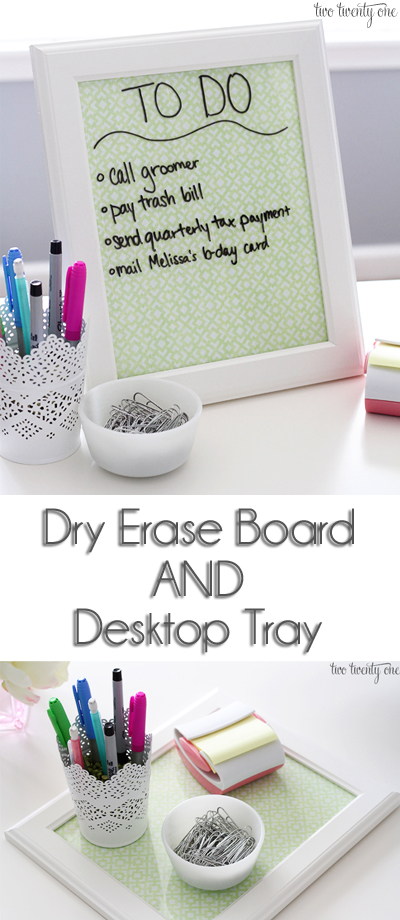 How would you like to get your hands on a Scotch Expressions Tapes prize pack? Use the Rafflecopter widget to enter to win one. Giveaway open to US residents.
This post is brought to you by Scotch Brand. All opinions are most definitely my own.