I'm not gonna lie, I was nervous about Owen's first time flying on an airplane. He's generally an easy-going guy so I was hopeful he'd go with the flow. And he did great for the most part. But you hear all of these flying with a baby horror stories.
So I figured I'd share what we did to make flying with a 10 month old a little easier and less stressful for everyone involved.
Direct Flights
I purposely booked direct flights to and from Seattle, with us leaving out of Chicago because I figured a 4 hour flight going to Seattle and 3.5 hour flight coming home were better than 8+ hours of travel we would've experienced had I booked a flight, which included one stop each way, out of Indianapolis.
The night before our flight we drove up to my parents' house (they live 2 hours East of Chicago) to hang out for a little bit, and then on our way to Chicago, we stopped and had dinner with my best friend and her parents. After dinner, we drove to a hotel near the airport. I use this site called ParkSleepFly.com. You can spend the night before your morning flight, park your car while you're gone and take the hotel shuttle to and from the airport. It cost us around $140. There was a glitch getting our car out of the parking lot and it said we owed $290 so I'm guessing that's how much it would've cost to park our car there while we were gone, not including what the hotel room would've cost. So it's a pretty good deal.
Car Seat or No Car Seat?
We borrowed a friend's Chicco KeyFit car seat for our trip since the safest place for a baby on a plane is in a car seat and we would need to take shuttles in Seattle. Since Owen met the requirements for this infant car seat, we decided to use it because it's lot more manageable than a convertible car seat. I also think putting your kiddo in a car seat makes travel easier for parents. When we would get on the plane Owen was into everything, grabbing the plane safety cards. We basically treated the plane like a car ride. Although we did need to take him out a couple times to change his diaper.
For the most part he did a great job. We had a couple crying episodes, but those were mostly induced by another crying toddler on the plane. The toddler would start to cry, so Owen would look at me, his lip would quiver and he would start crying.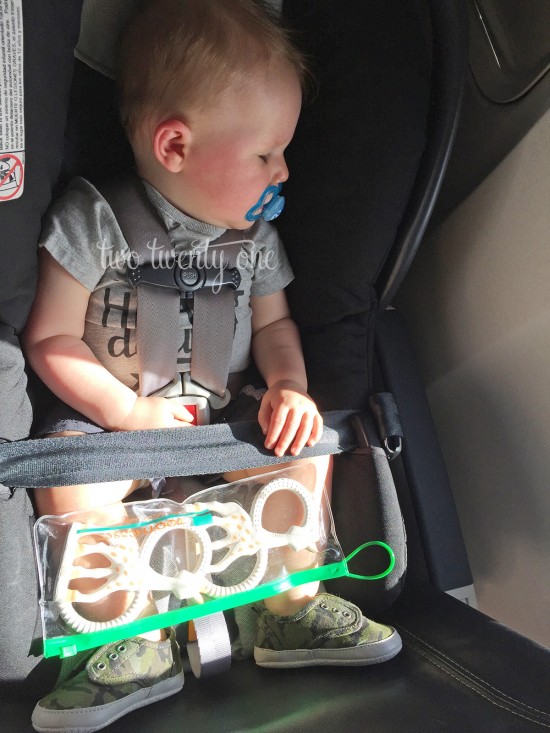 Takeoffs and Landings
For take offs and landings I made sure Owen was either taking a bottle or his pacifier was in his mouth to help with his ears popping.
Bring Toys & Activities
I brought a 3-4 of Owen's favorite, small toys for him to play with, as you can see above. The clear bag is something our dentist gives us (filled with toothpaste, toothbrush, and floss) after a cleaning. Brad gave it to Owen the night before we left to play with. It kept him busy for 30 minutes so I brought it with us since it doesn't take up much space and it perfectly fit two Sophie the Giraffe chew toys.
Owen rarely gets screen time, but when he does he loves it. I've showed him Peekaboo Farm on my phone before during one of his uncontrollable crying fits and he enjoyed it. So I purchased the app for our iPad. I kept it for last resort situations– uncontrollable crying for longer than a minute, after exhausting all other avenues.
We had to whip out the iPad once per each flight. Owen would play for about 10 minutes, get bored, and move on to playing with a toy or his pacifier clip.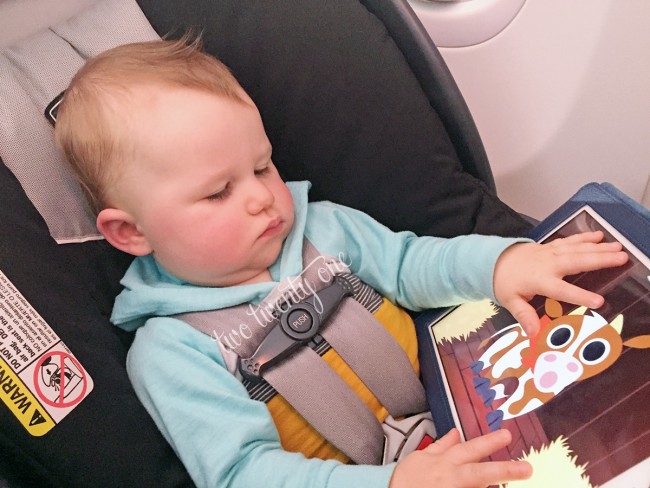 Comfy Clothes
I made sure to dress Owen in comfy clothes for our flights because no one likes sitting in uncomfortable clothes for hours. Stretchy pants for all!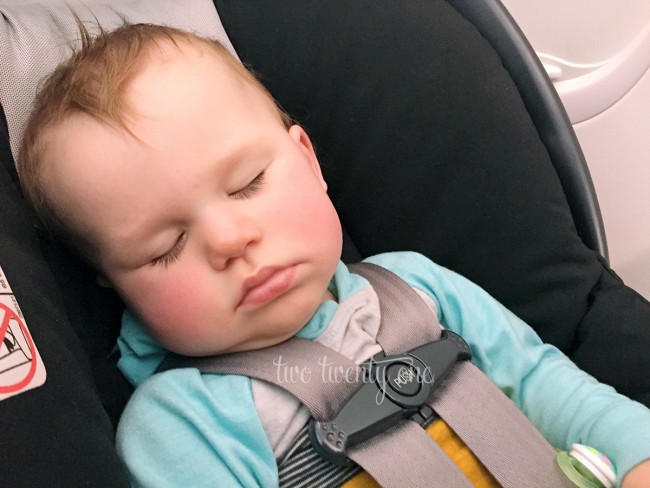 Bring Snacks
Since airport food is generally not that great for you (why so many Burger Kings and McDonald's in airports?) and super expensive, I always bring snacks for us in a smaller cooler that we put in one of our backpacks. And now that we have Owen, I made sure to bring his favorite snacks.
For us, I brought celery, apples (with a little lemon juice to keep them from browning), pretzels, Jif To Go peanut butter, Jif To Go chocolate silk, and trail mix for us. For Owen, I brought teething biscuits, puffs, and some fruit and veggie pouches.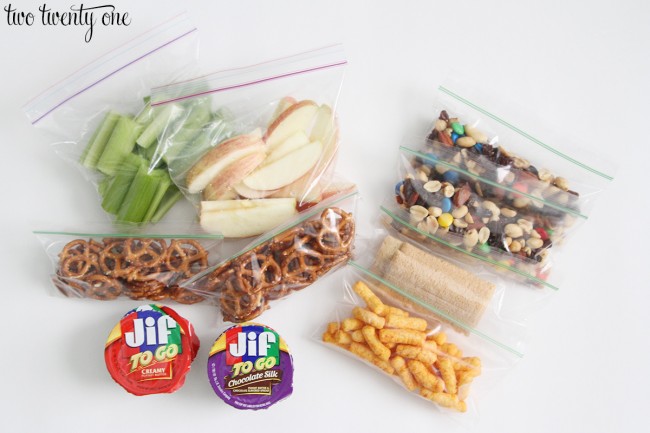 There are a couple more items I brought with us that I forgot to photograph so here they are.
Must Have Products for Flying with a Baby
The diaper changing clutch is nice for quick diaper changes in the airport and plane lavatories. We always travel with pacifiers on clips for obvious reasons– it helps keep them from being misplaced and from falling on the floor and getting gross. I also invested in a gate check bag in order to keep our stroller from getting dirty.

diaper changing clutch • pacifier clip • gate check stroller bag