Outdoor Christmas Decorations
Before I show you what my indoor Christmas decorations look like (Mostly because they aren't done yet. I know. I'm a slacker.), I thought I'd share our outdoor Christmas decorations.
I'm not going to lie, I put up the decorations on November 1st. BUT I didn't light them up until November 28th so don't shoot me. I will also admit that it took me only about an hour, in total, to put up the decorations, which is due to the fact that it was warm and I was able to feel my fingers and face.
Anyway, here's what I was working with when I began.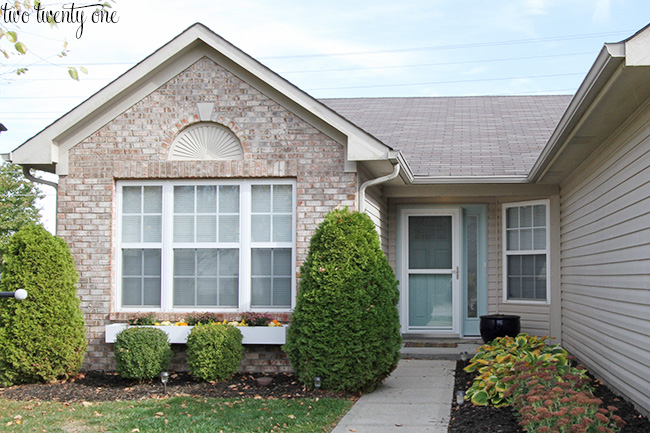 And here's what the front porch looks like now.
I LOVE how the red looks with our new front door color. It's probably why Martha Stewart has those two colors in her home goods line. Leave it to Martha to nail that color combo.
I also broke out my DIY tiered tomato cage Christmas trees (tutorial can be found here).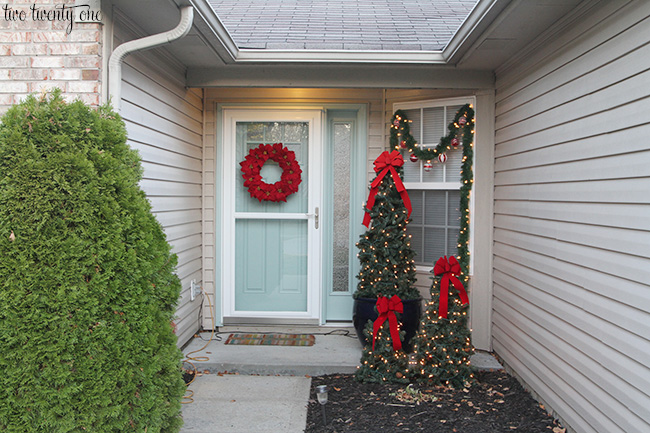 I hung pre-lit garland on two clear Command™ Outdoor hooks that I secured to each side of the window. Then, I hung some ornaments on the middle garland swoop.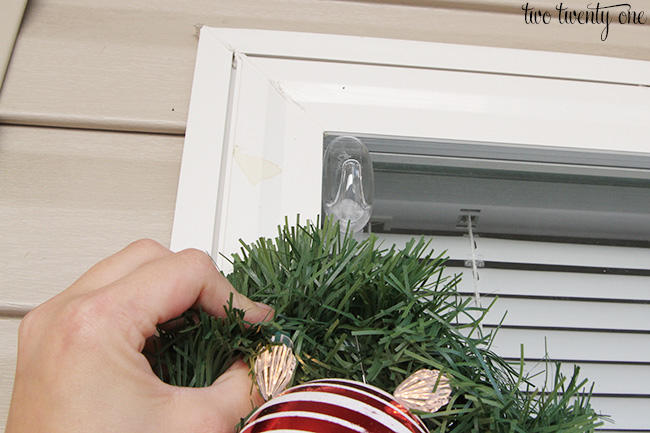 I adhered a Command™ Outdoor Brushed Nickel Metal Hook to the front door and hung the poinsettia wreath I made– tutorial coming soon! It's so easy you could do it blindfolded while eating a Christmas ham and dancing to Bing Crosby.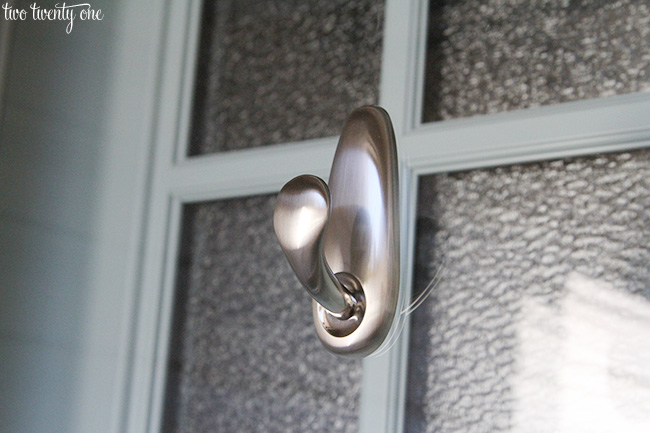 She's a beaut, isn't she?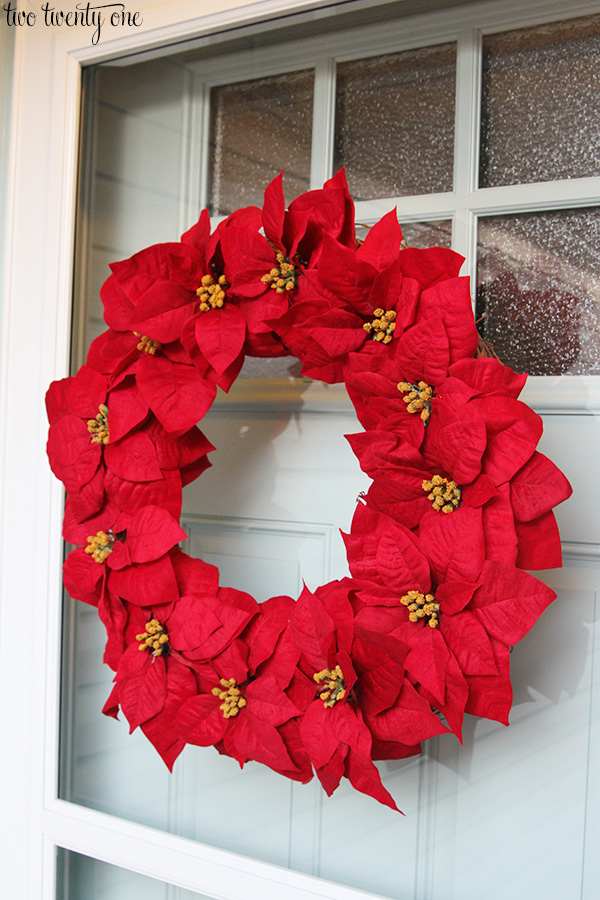 This is the first year I decorated the large front window on our house. Shocking, I know.
I decided to use the same pre-lit garland that I used on the window by the door.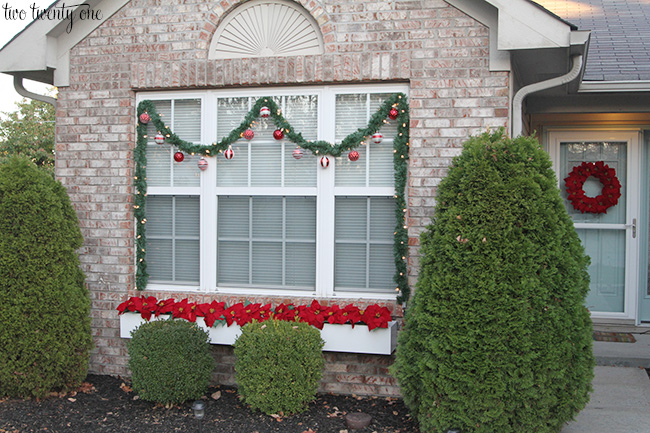 I started by measuring the window with a tape measure. Then I used a dry erase marker to mark the center point of the windows.
Next, I adhered 2 Command™ Outdoor Large Clear Window Hooks to the window, placing one in each top corner. At the center, which I marked with the dry erase marker, I adhered the third outdoor large clear window hook to the window. I waited about an hour before I hung the garland on the hooks.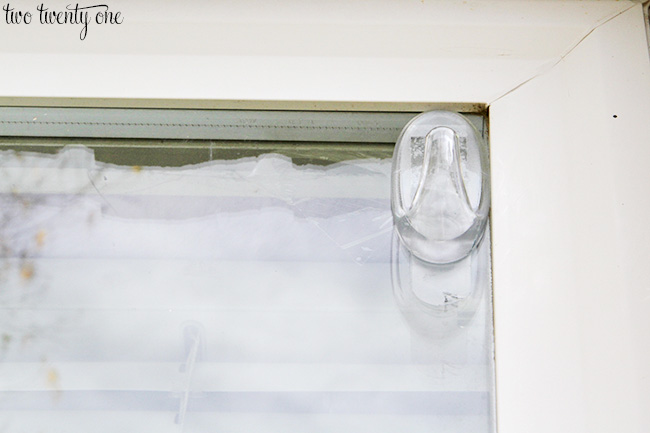 Once the hooks were good and secured, I hung the garland on the hooks and added shatterproof ornaments.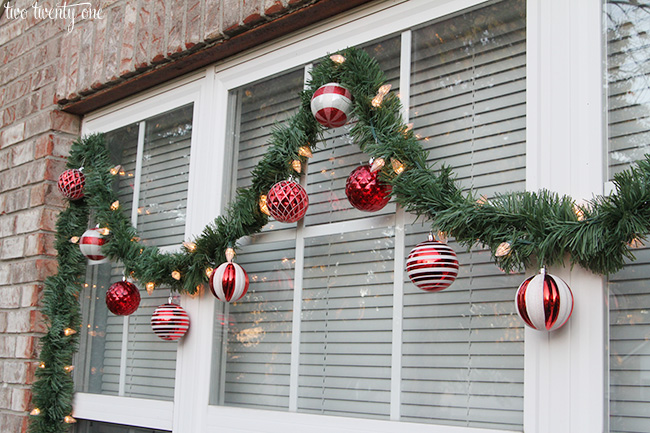 Here's a couple detailed photos of how I hung the ornaments on the garland.
I used regular ornament hooks.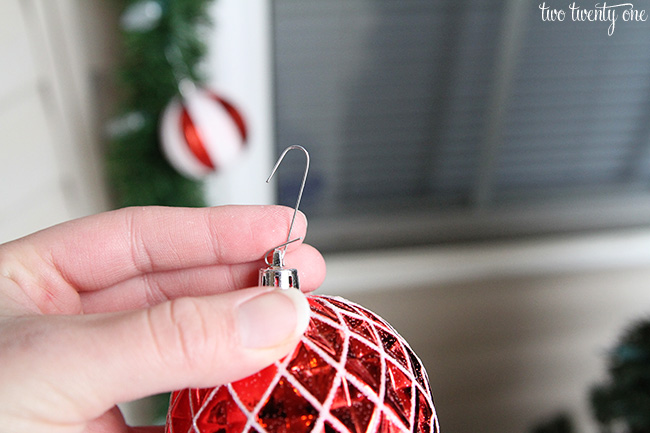 And then I hooked them onto the garland, squeezing the hook as tight as possible so the ornaments won't fall off once the wind kicks up.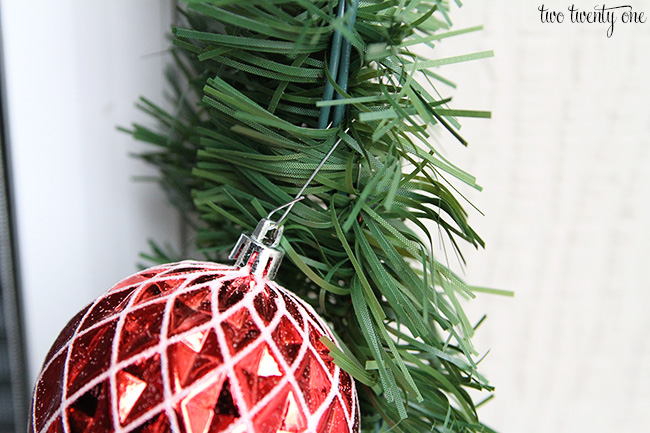 I couldn't neglect our beautiful DIY window box, so I gave it a Christmas makeover with a plethora of silk poinsettias.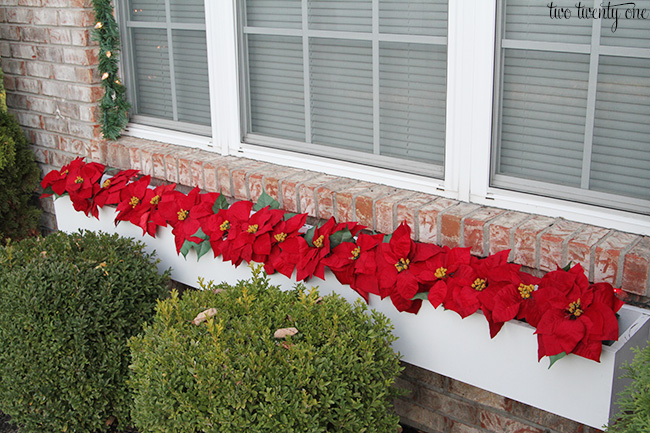 I bought a few bunches of poinsettias at Michaels, cut them, and shoved them into the soil.
To illuminate them at night. I laid a strand of 100 red lights behind them.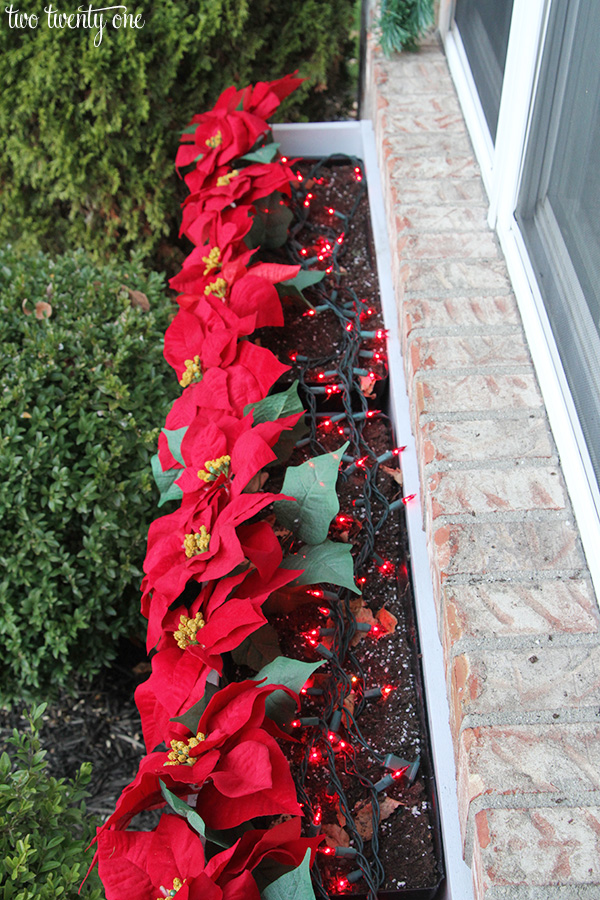 Here's what the final product looks like during the day.
(I don't normally have the lights on during the day, but I turned them on for this pic. Just so we're clear that I'm not a complete energy waster.)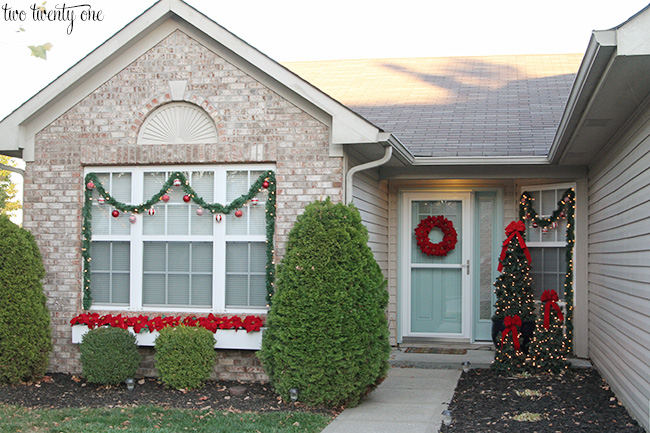 And here's how it looks at night.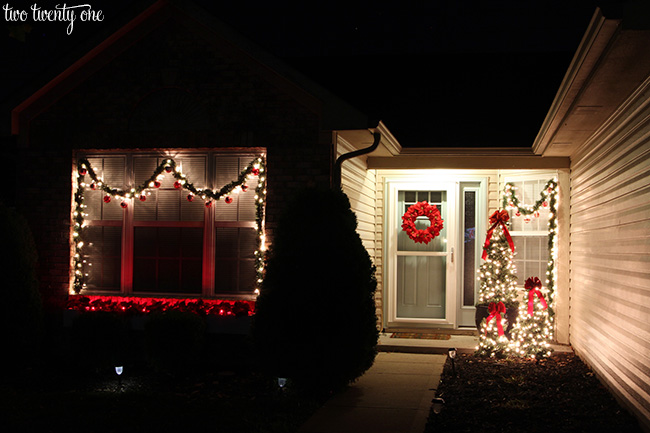 I love how the ornaments look with the lights shining on them.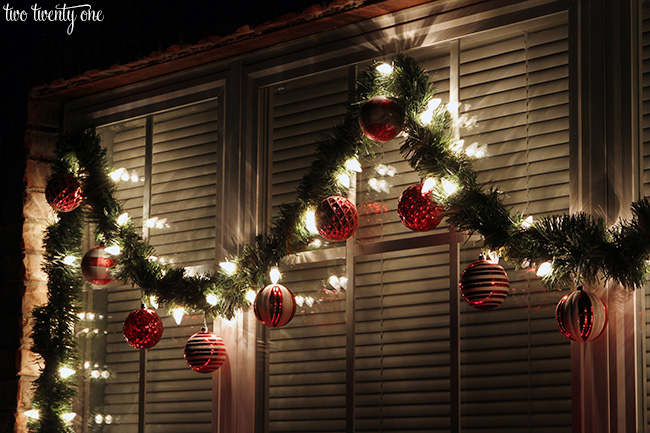 Check out those glowing red poinsettias! Santa will definitely be able to see our house on Christmas Eve.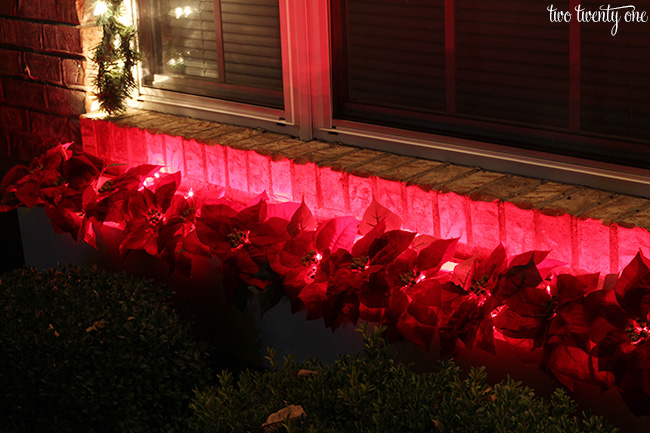 A little FYI: I took the nighttime photos above when our neighbor across the street had some buddies over to watch a football game in his garage. I'm pretty sure they thought I had gone bananas because there I was in our front lawn lugging around my camera and tripod, taking photos of our Christmas decorations in early November. I swear most of our neighbors think I have a few screws loose because only a couple of them know about my secret life on the Internet.
It snowed a couple weeks ago and I snapped this photo and posted it on Instagram and Facebook with the caption, "It snowed therefore I can turn on my Christmas lights. Yep, pretty sure that's the rule." Just look at those glowing tomato cage Christmas trees.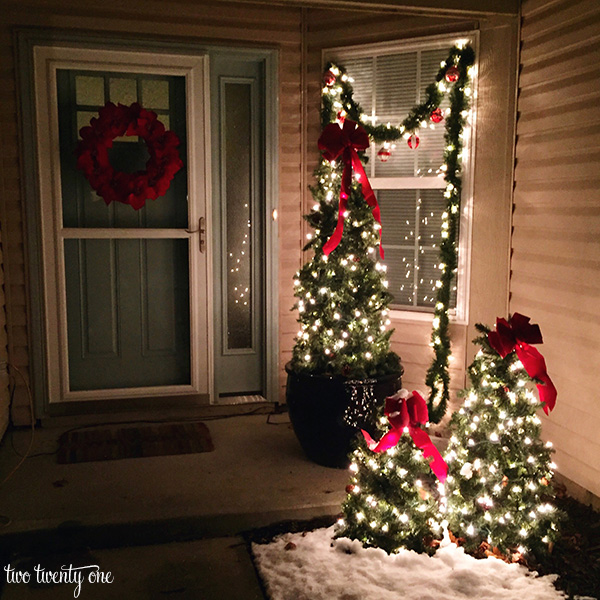 What do you think about the outdoor Christmas decorations? Are you decorating outside this year?
This post is brought to you by Command™ Brand. As always, opinions are 100% my own.