How to Throw a Gingerbread House Decorating Party
The other day, Owen and 10 of some of his best buds and their mommas gathered at our house for a gingerbread house decorating party. Think Christmas party for adults but instead of booze, you put oodles of Christmas candy (or any candy really) and sugary cereal at their fingertips. And after they're all juiced up on simple carbohydrates, their moms drive them home, and then they sleep it off for a couple hours.
It makes for a lovely Christmas craft and just a holiday season in general.
I cooked up this crazy idea a month or so ago, when I clearly had a lapse in sanity. But the party was a lot of fun, everyone had a great time, and there was very minimal crying.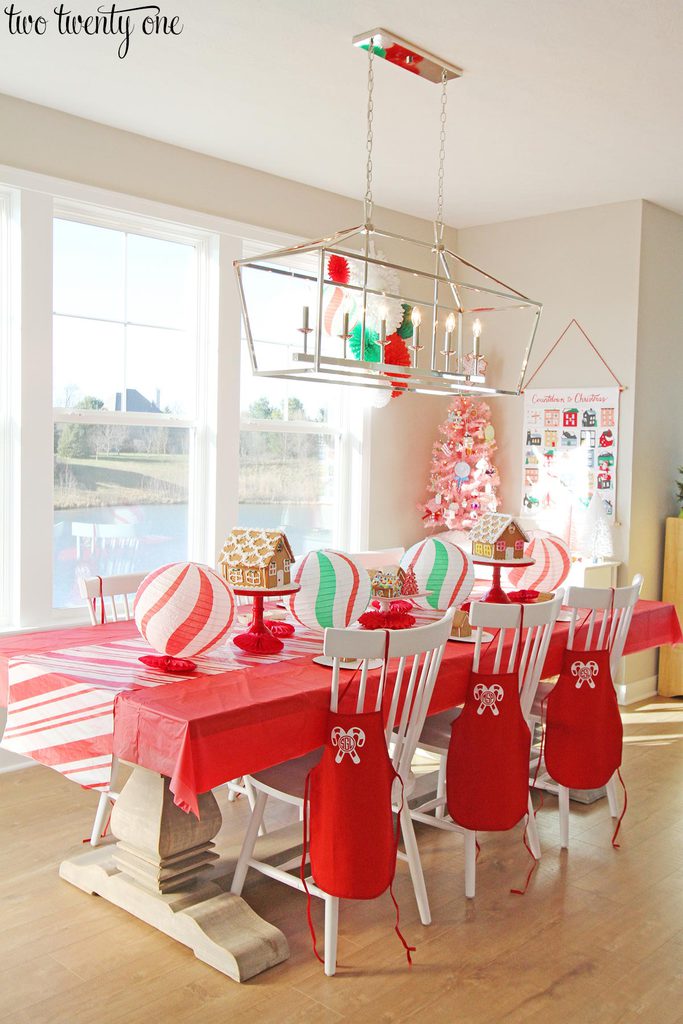 Totally unrelated– yes, I got a new chrome light fixture for above the dining table. It sat in a box in our entryway for nearly 3 months (after I waited months for it to come back in stock) because I'm obviously winning at life right now. But more on it (and the table and chairs later).
Child-Sized Monogrammed Aprons
Because I'm a masochist, I decided to monogram red, child-sized aprons for all the kids. It was a tedious process, but the cuteness outweighed the quality time spent with my Xacto knife weeding iron-on vinyl and ironing the monograms onto the aprons.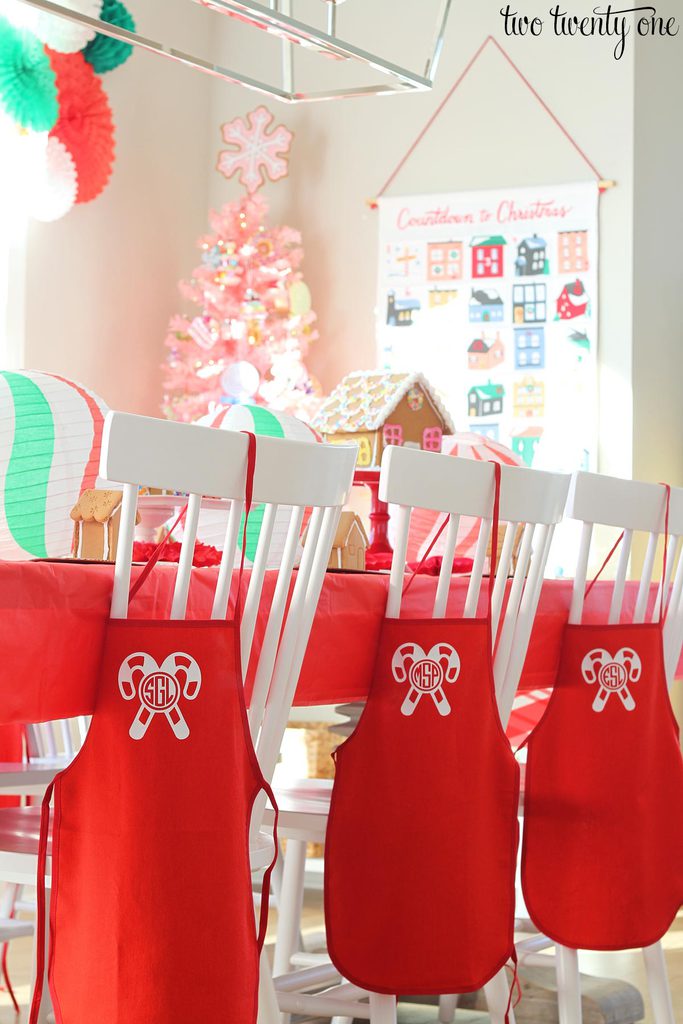 Table Decorations
I decorated the table and windows with leftover decorations from the gingerbread birthday party I helped throw for my friend's daughter's birthday last December. I also picked up two pre-built classic gingerbread houses from Target for $5 each and decorated them.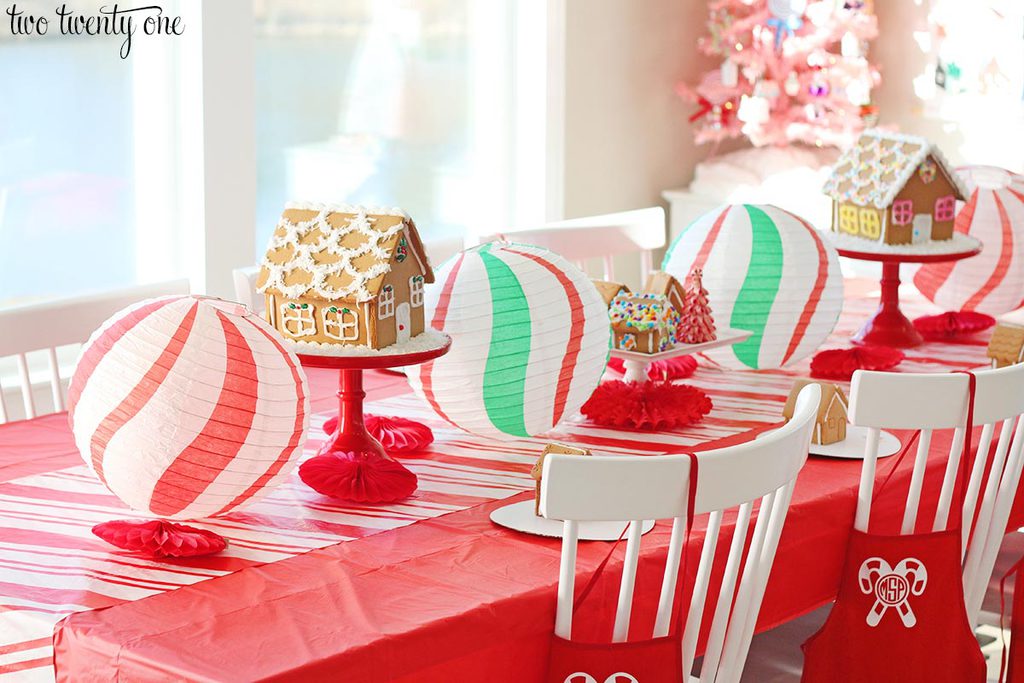 While I decorated my gingerbread houses the other day, Owen decorated this little one– spending an hour meticulously placing all of those candy beads. The only time he made a peep was to ask me for more "glue".
I added two undecorated houses to the cake plate in case a kid broke their house mid-decorating. The red and white trees are ornaments I used in our kitchen last year for Christmas decorations.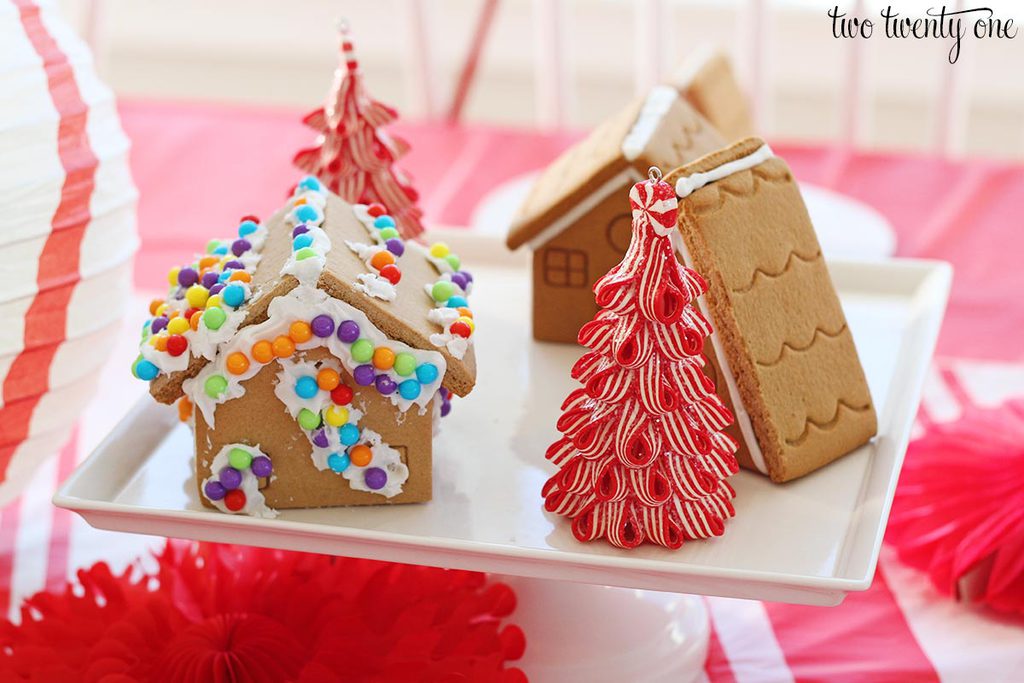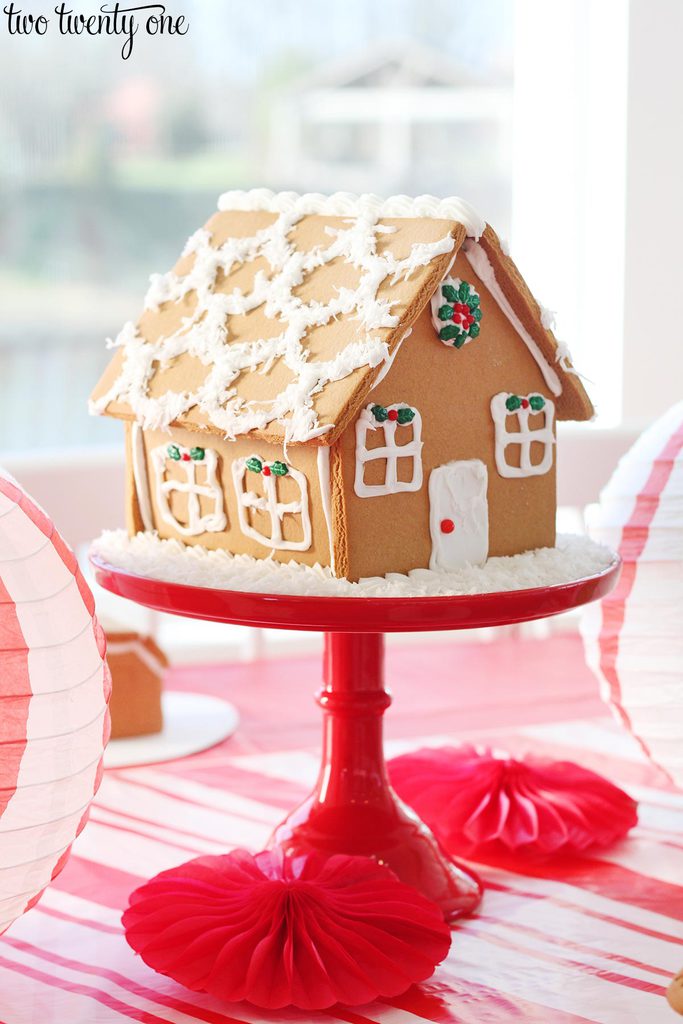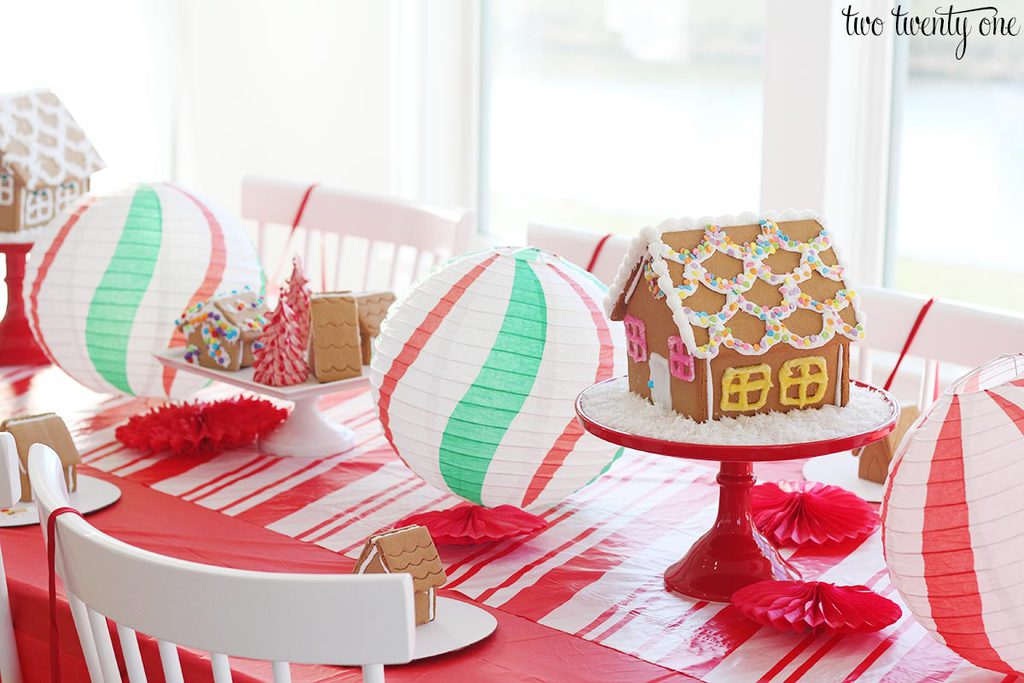 Assembling the Gingerbread Houses
I went with mini gingerbread houses because most of the attendees were 3 years old. And I think most 3 year olds only have the attention span to decorate a mini house. This theory proved to be true at the party. The kids did great but I think they would've really struggled to decorate full-size houses. And if you had the whole "build and decorate" thing, they would have either loved the building or the decorating, but doubtfully both.
I bought a few different mini gingerbread house kits and assembled the houses with hot glue. Then, I piped white royal icing over the seams where any glue might be showing. I glued the houses to 8″ cake boards that came in a cookie plate set. When I placed the houses, I made sure to glue them toward the back of the board so the kids had room to decorate the front yard.
If for some reason you're a psycho, you could do the whole graham cracker, build your own traditional gingerbread kind of thing, but again…I can't stress enough these are 3 year olds. I went with easy and kid friendly here.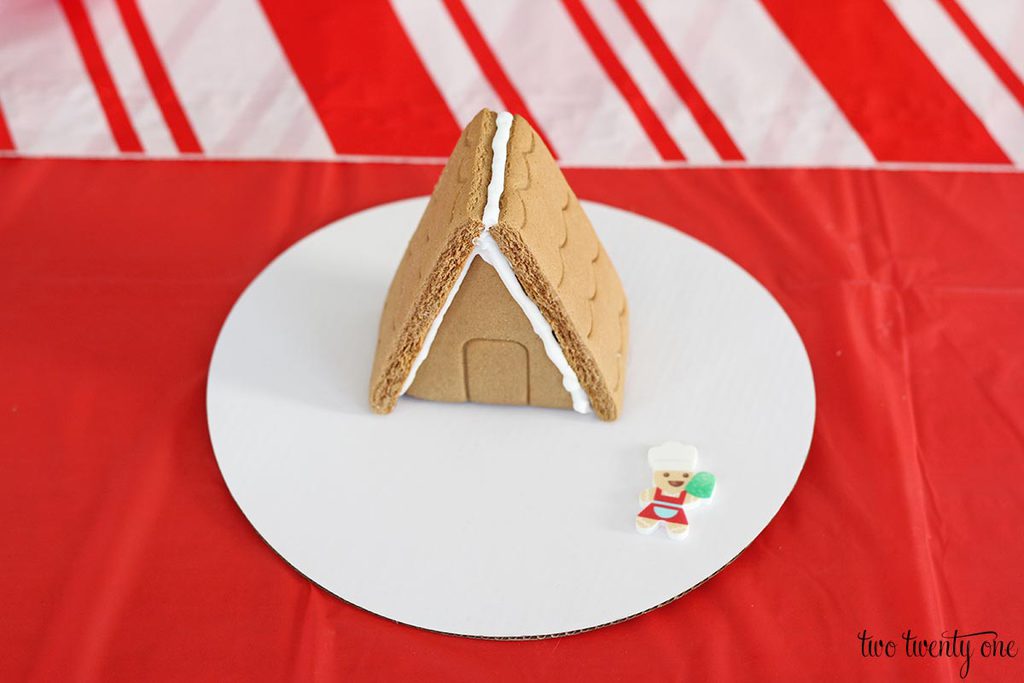 The Gingerbread House Decorations
Each mom brought a candy or cereal for the kids to use for decorations. We had Dots, Fruity Loops, star brite mints, Crunch Berries, snowflake candy decorations, marshmallows, jelly beans, M&Ms, gum drops, Smarties, Nilla wafers, and Peep Christmas trees. I didn't want sprinkles bouncing all over my floors so those were banned from our gingerbread Christmas party. Do that on your own time.
When it came to decorating the houses, I handed the mom's bags of icing and they went around and added icing to the gingerbread houses. Then, the kids would add the candies of their choice.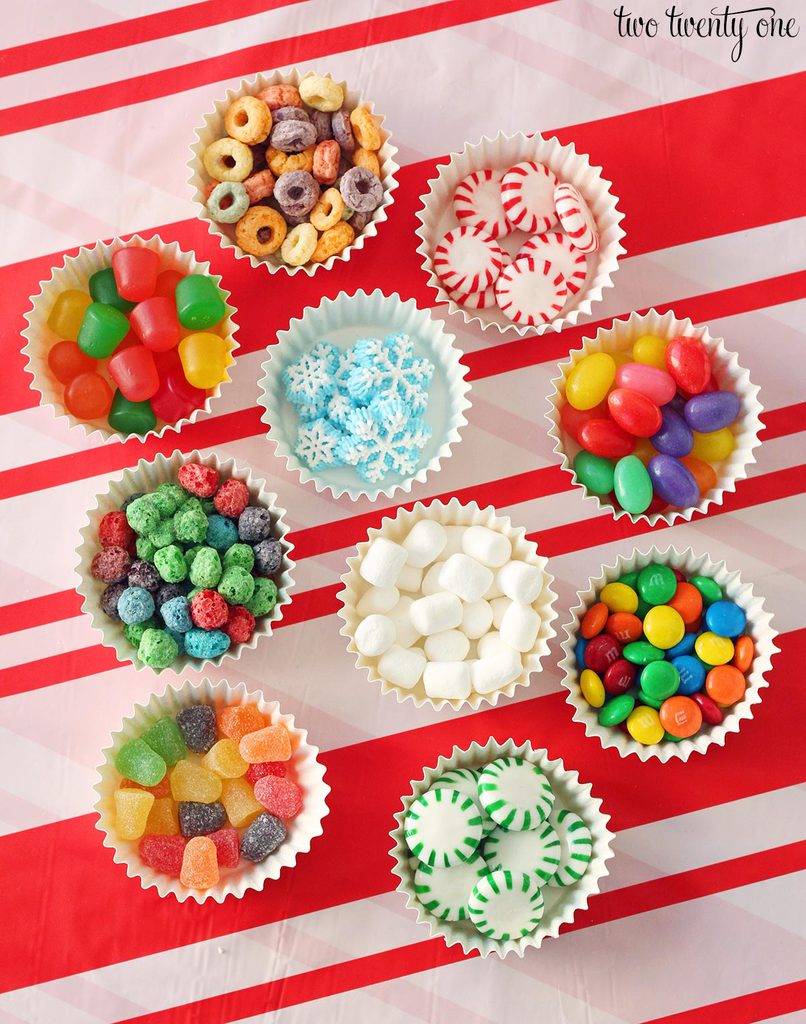 I set up a 'candy processing station' on one end of our island so moms could open up their candy and place the candy in little cups.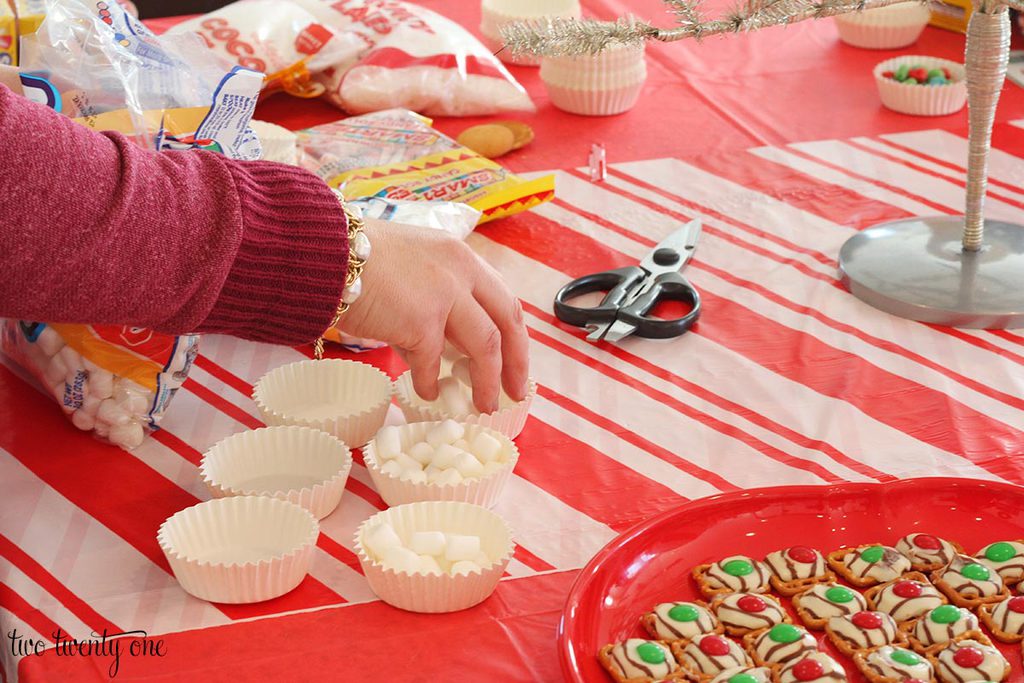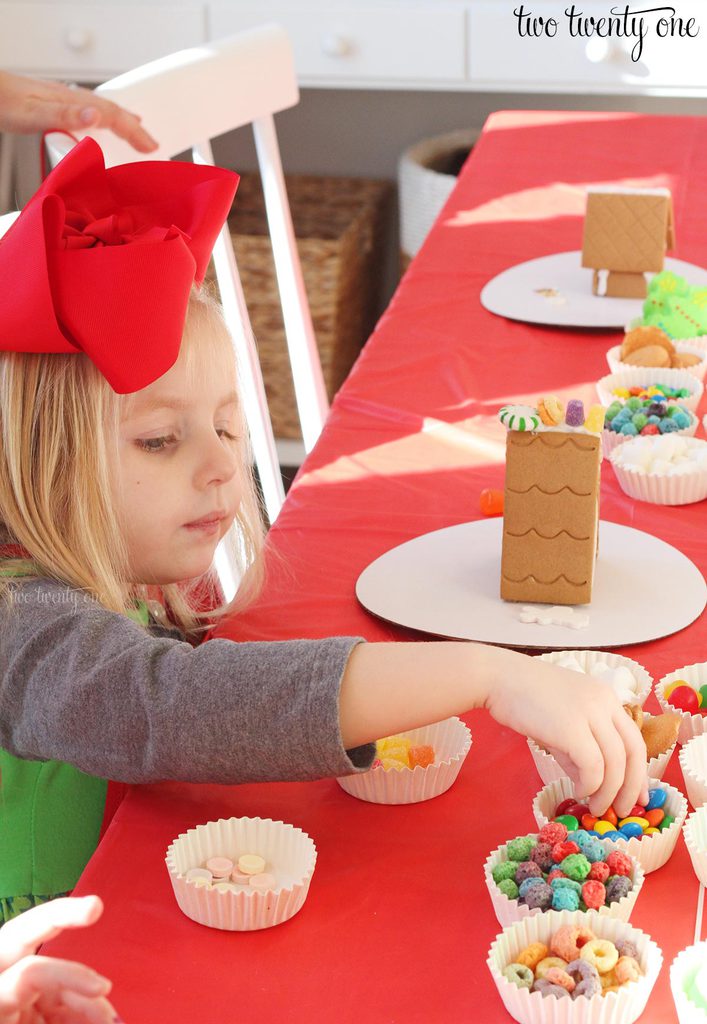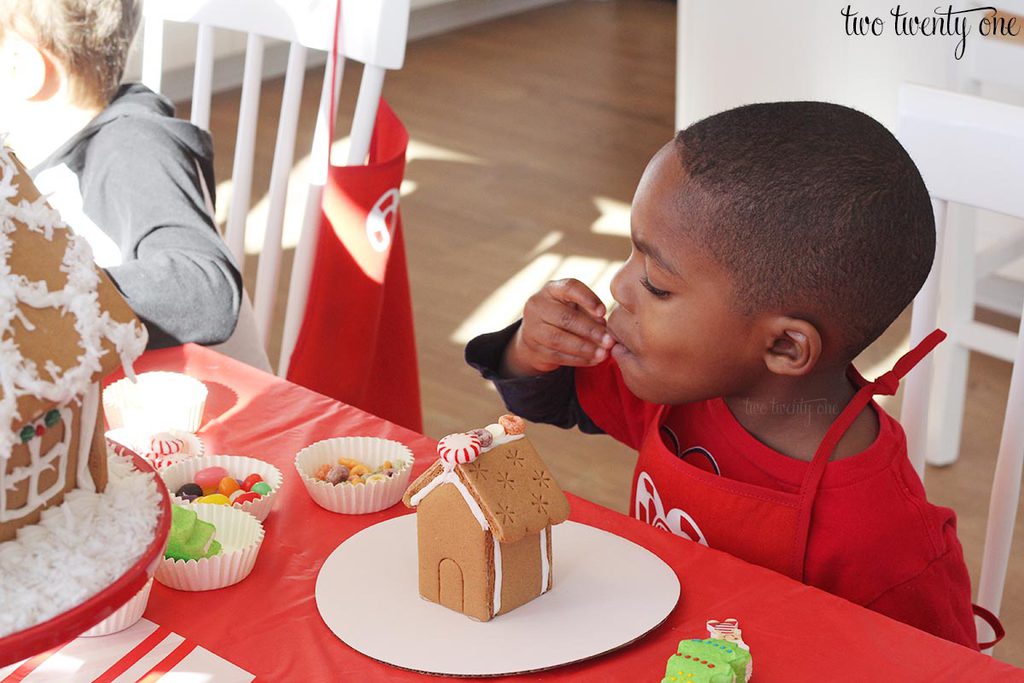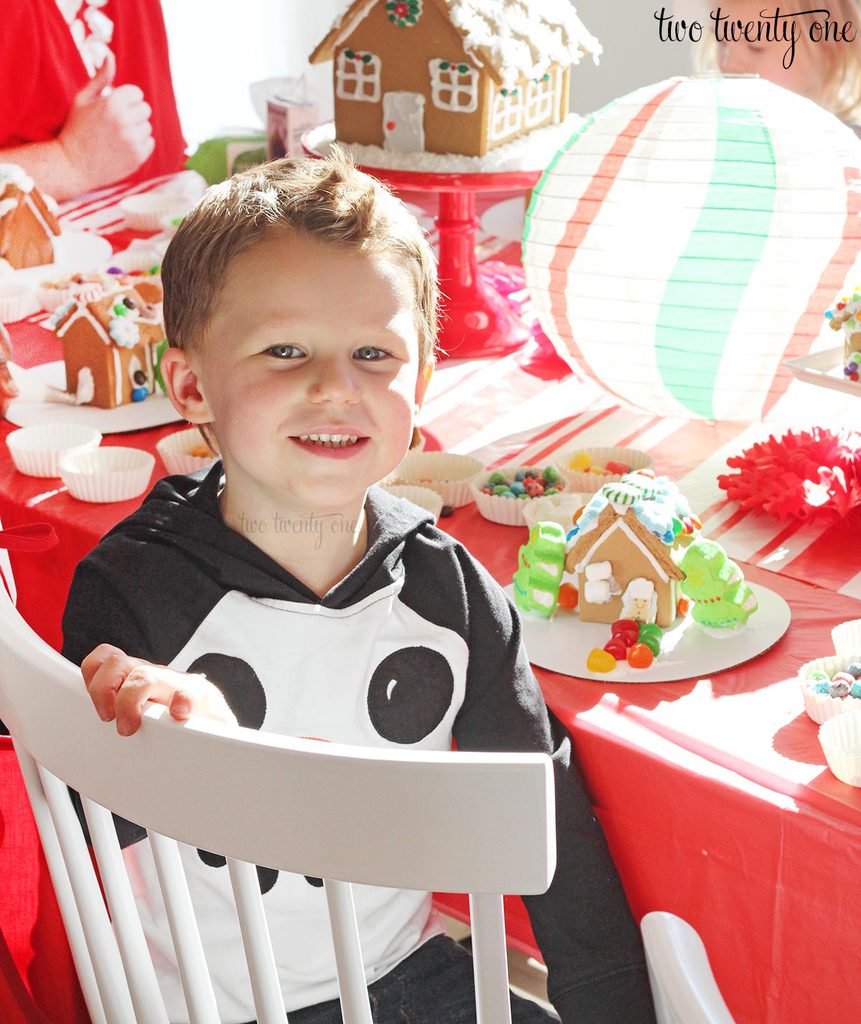 Here's Owen's little gingerbread village masterpiece: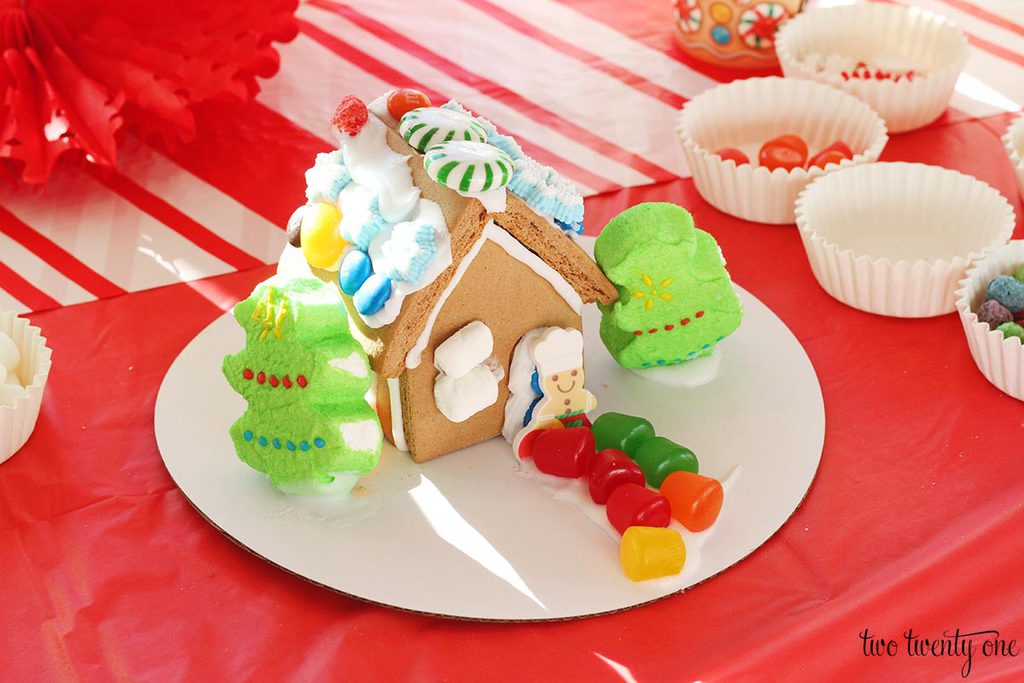 The Food
Qdoba graciously reached out and offered to cater the gingerbread house decorating party, which was a lifesaver. It took all the stress of menu planning, shopping for food, and cooking away– especially after Owen got sick on Monday morning and I ended up postponing the party a day. And when I called my Qdoba store and asked if we could push things back a day they were very accommodating.
They even delivered AND set it up everything (for additional fee, but well worth it). I'm all for holiday baking, but let's be real. They were going to fill up on candy and sweets anyway, so I was trying to provide food that was … not that.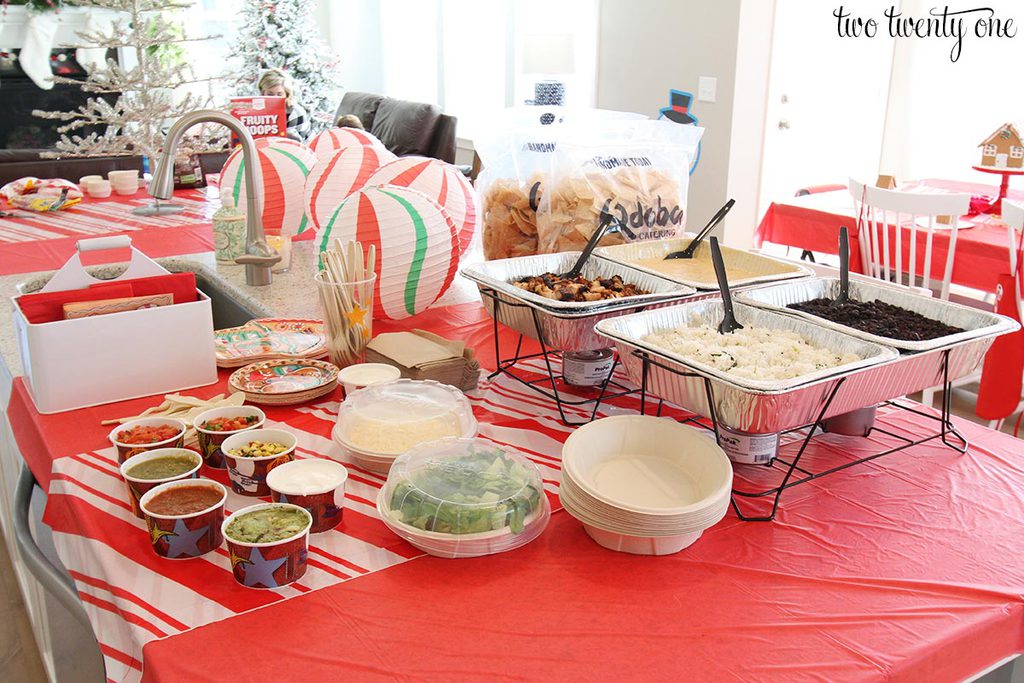 The chips and queso were a big hit.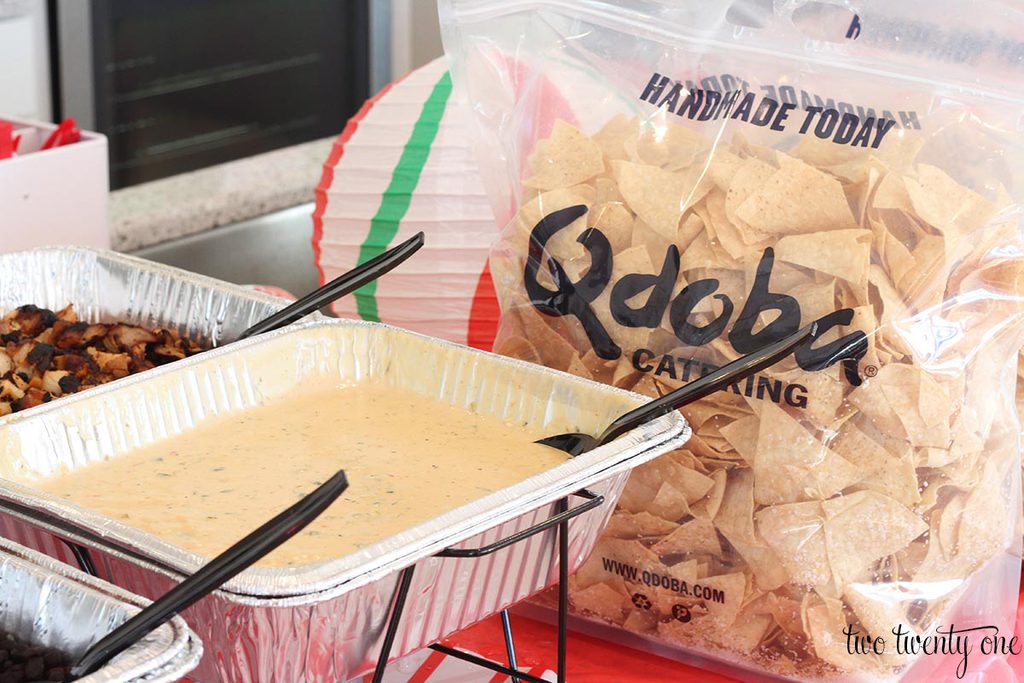 I'll definitely use Qdoba catering again because the food was delicious, and it was a seamless process.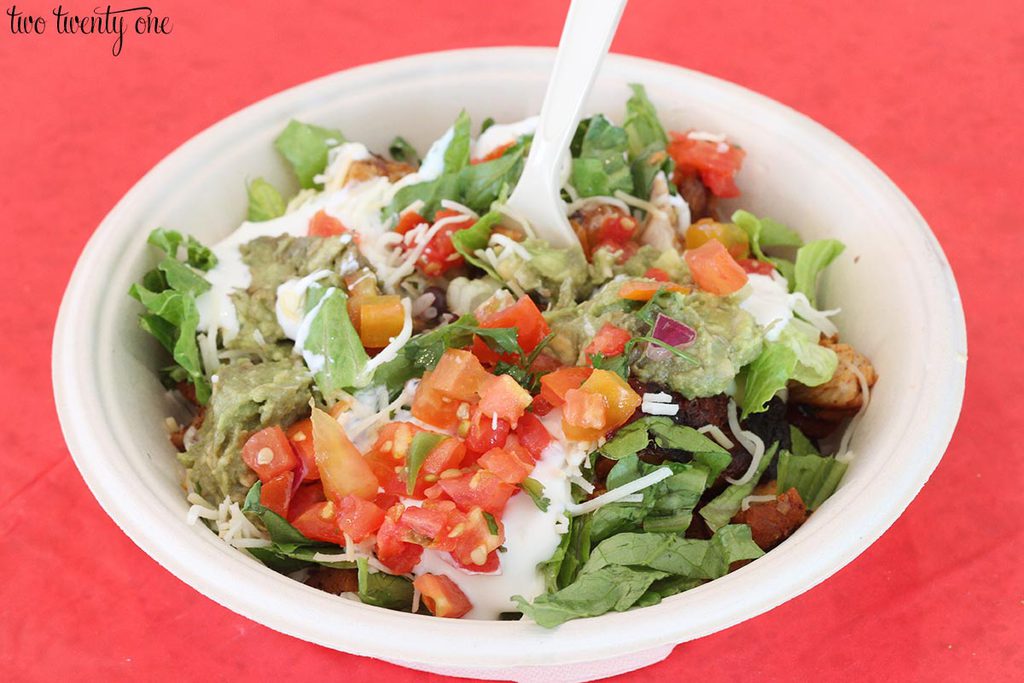 The Drinks
The drink station wasn't too frilly– lemonade, grape juice boxes, and bottled water.
Apologies mom friends– if I can't day drink in my home, neither can you. It's called 'fairness'.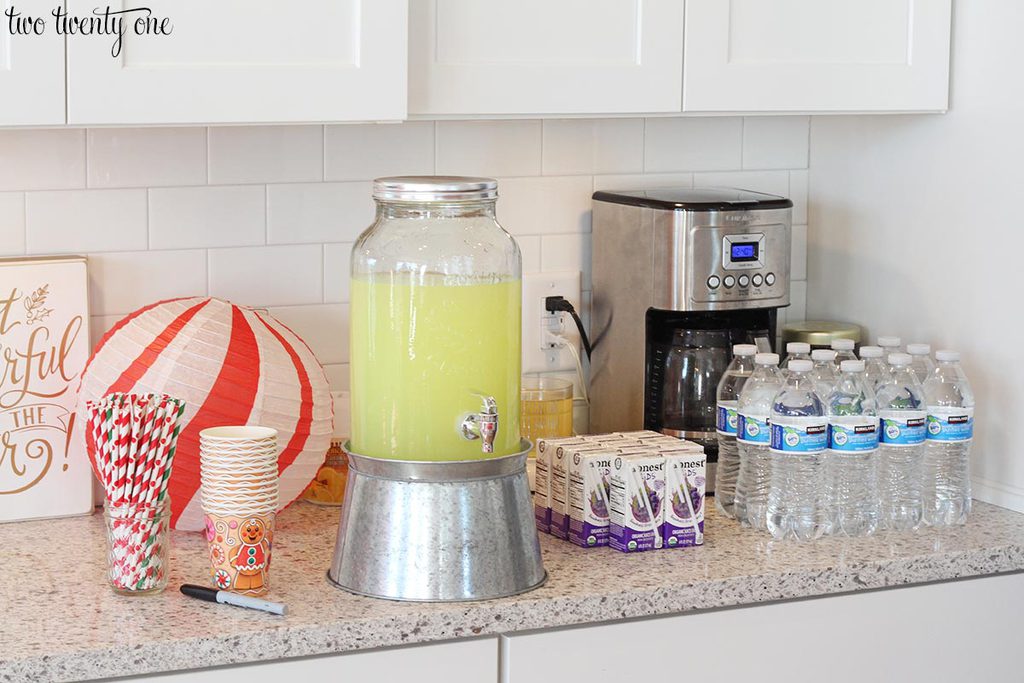 I didn't really decorate the kitchen for Christmas. But I did manage to hang a preserved boxwood wreath, set out a couple red and black buffalo plaid cutting boards, candy cane trees, and my incomplete letterboard. (I've given up searching for the Y, but if you want to provide me a treat for Christmas, you can buy me one.)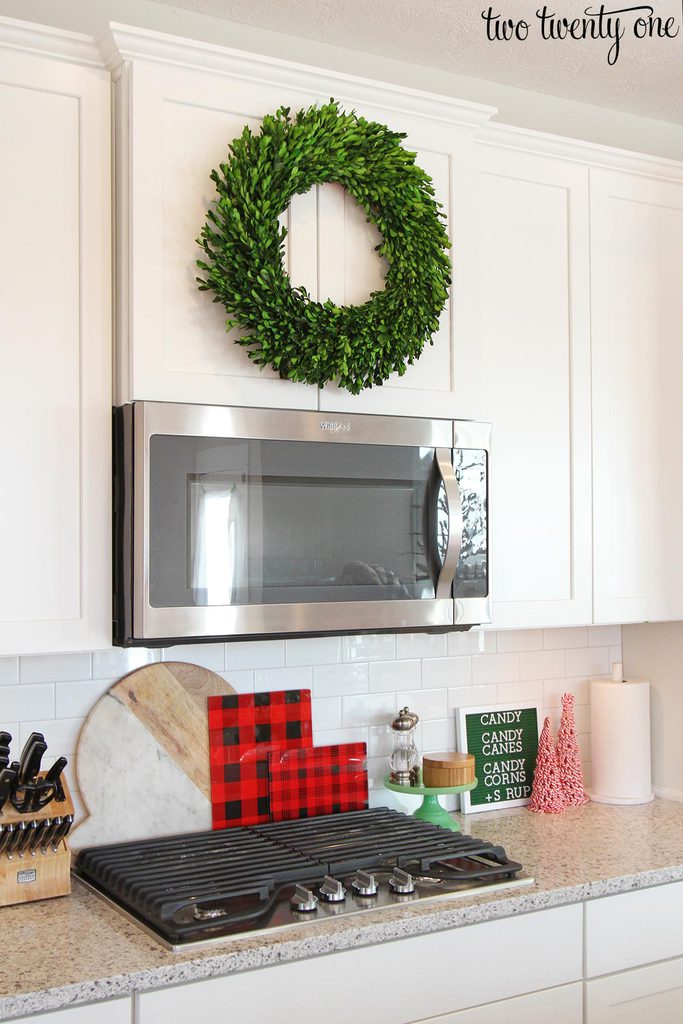 Taking the Gingerbread Houses Home
I purposely went with the cookie trays so the gingerbread houses could be bagged up and easily carried to/from cars.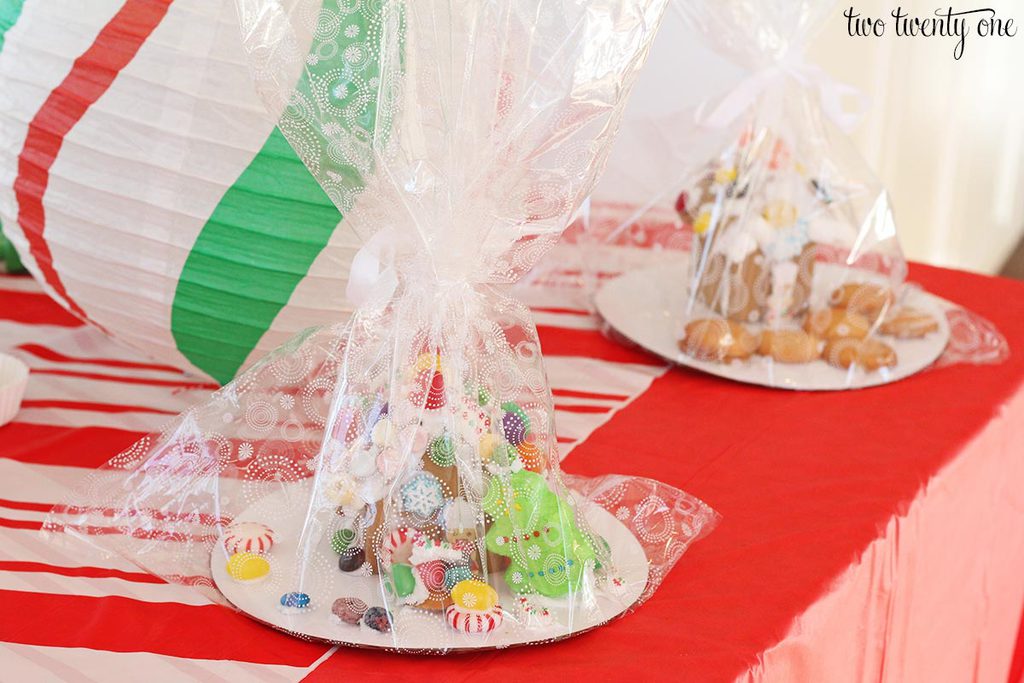 The afternoon ended with the kids playing throughout the house. Later that night, when we got back from the Christmas at the Zoo, I heard the alarm clock in the guest bedroom going off. I can only conclude that a pint-sized party goer snuck in there and activated it.
My kid managed to end up sitting inside a basket while snacking on Nilla wafers with his buddy. These kids party hard.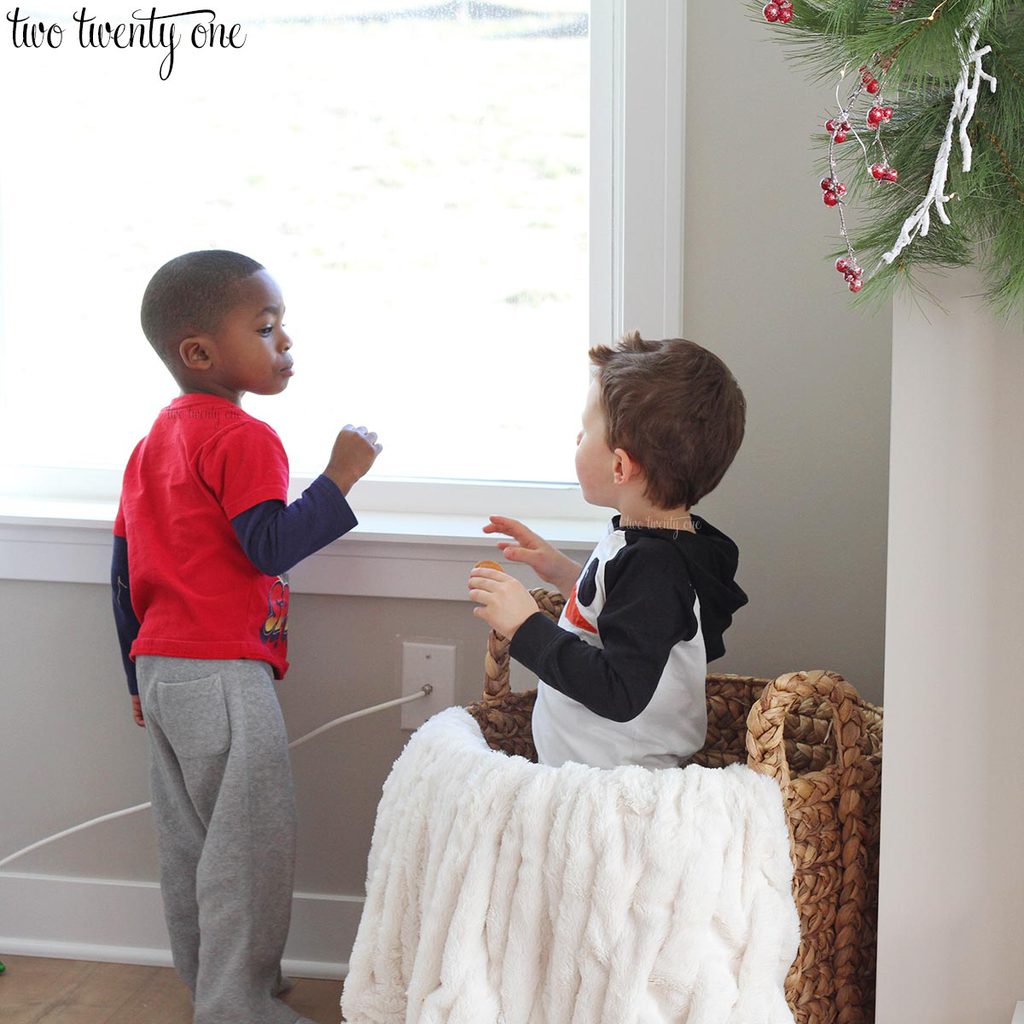 Thanks again to Qdoba for providing all the delicious food!

Your turn to share! What are your best gingerbread house decorating ideas? And please help me feel less alone and affirm the fact that me not doing the whole bake your own gingerbread thing for 3 year olds was the right move. Humor me.