Gingerbread First Birthday Party
Today I'm sharing the gingerbread first birthday party of my secret child with all of you. Yes, I covertly gave birth to a child a year ago and managed to hide that child from all of you.
JK.
Before I get into the meat of the post, I feel like I need to give some back story. If you don't like to read, feel free to scroll until you hit the photos.
Ahem.
I have this amazing friend named Jen. Funny story, she was a reader of this fine blog before we were friends. Yeah, she pretty much stalked and harassed me until I became her friend. Kidding. It was almost 3 years ago when Jen spotted me out in the wild. Brad's parents and youngest brother came up for the day for my birthday, and we went out to dinner. Jen was at the same restaurant eating dinner with her husband. She recognized me, but later said she didn't want to interrupt our dinner. (She's polite like that. But should you ever see me out amongst the general population, feel free to say hi. Unless I'm with my other, secret family. Then please act like you don't know who I am.) I actually saw her because she was wearing this super cute floral cardigan I thought, "Ooh, I want that cardigan." She was also visibly pregnant with her first daughter, Penny, and I was newly pregnant. Later that night, she commented on my latest Instagram photo and said she saw me at dinner. Fast forward over a year later, and we finally met up in person at baby library time (Penny is 6 months older than Owen). I have no clue why it took us that long to connect in person. I mean, she didn't look like the murdering type. Now we text daily, watch each others' kids sometimes (although he watches Owen far more than I watch her kids because I'm obviously more high maintenance than her with all of my doctor and hair appointments), and we get together for playdates once in a while.
Last December, Jen gave birth to her second daughter, Matilda (Tilly). So when Jen started talking to me about first birthday ideas, I kind of went bananas and was all, "OMG I'll help you with the party!" I thought this would be a nice way to help repay her for all the times she's helped me out in the past year by watching Owen while I attended my numerous boob/milk cyst, acid reflux, and root canal appointments. The jury is still out on whether or not she'll want me to help with another party.
Ok, so the party was supposed to take place on Saturday the 3rd at 11AM. I went over to Jen's Thursday night to start setting some things up. She and I spent a good hour and a half putting up the most amazing cake table backdrop you've ever seen. I'll tell you in another post how we put it together. But let's just say the first attempt, yes, I just said first attempt, didn't go very well. Because the next morning Jen texted me a photo of the majority of the backdrop on the ground. Son of a biscuit.
Friday evening rolls around and I headed over to Jen's around 8PM to help her finish setting up the majority of stuff. Earlier in the day, her parents had arrived from Atlanta for the party so they were also there when I arrived. Jen was in the kitchen eating toast and said, "I don't feel so hot. I really hope I'm not getting sick." And I was all, "Meh. It's probably just party stress." I got to work on the cake table backdrop while she rested for a little bit and ate. Fast forward 30 minutes and she texted me basically saying, "Man down! Definitely a stomach bug!" So I texted her back saying it's okay, I'll set things up with the help of her mom and that she should get some rest. I ended up staying until 1:00 AM when Jen's husband and mom basically had to kick me out of the house.
I woke up early the next morning to texts from Jen saying that Penny, her eldest, had started vomiting at 2:30 AM. She decided it was obviously best to postpone the party until the next day.
Then at noon, she said the bug had taken down her husband. Seriously, of all the timing for norovirus to hit a family.
Jen was feeling better by Saturday evening, but her husband and Penny still weren't that great, and her parents ended up driving back to Atlanta because they didn't want to catch the bug. So she ended up calling off the party altogether for Sunday. I felt terrible for her because she had bought food for 30+ people. I suggested having some people over Monday evening so she could use up some of the food. So on Monday night, 5 adults and 5 kids came over for Tilly's gingerbread-themed first birthday party.
Here was the lady of the hour, Miss Tilly. Jen got her the most adorable gingerbread onesie and matching hair bow.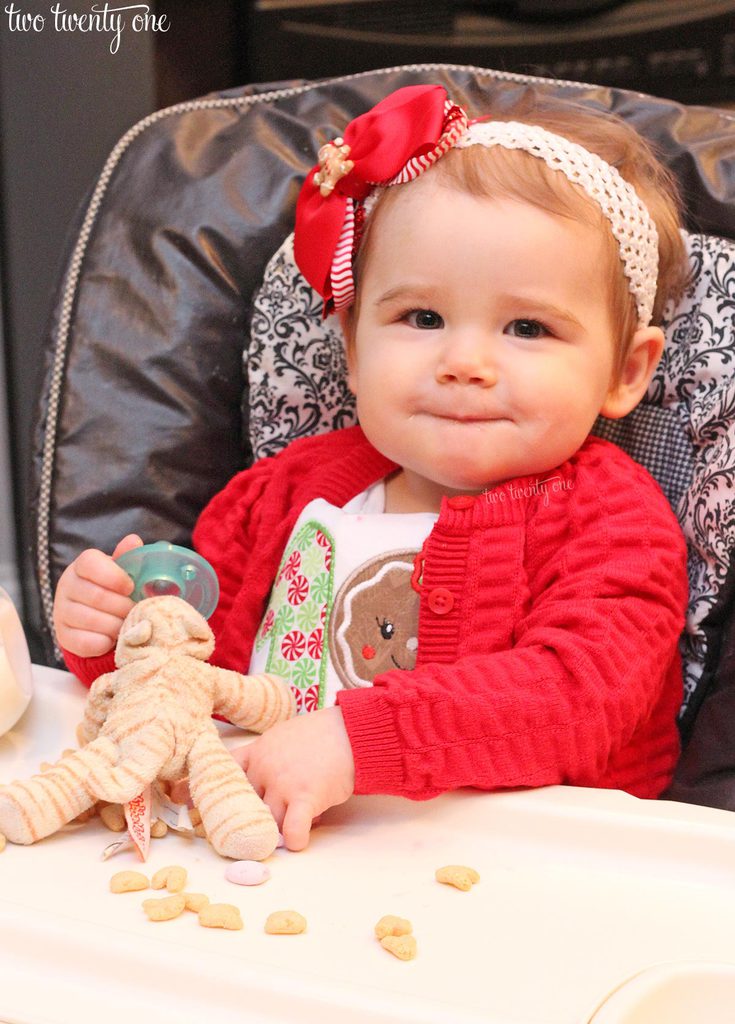 And here was the other lady of the hour– the cake table backdrop.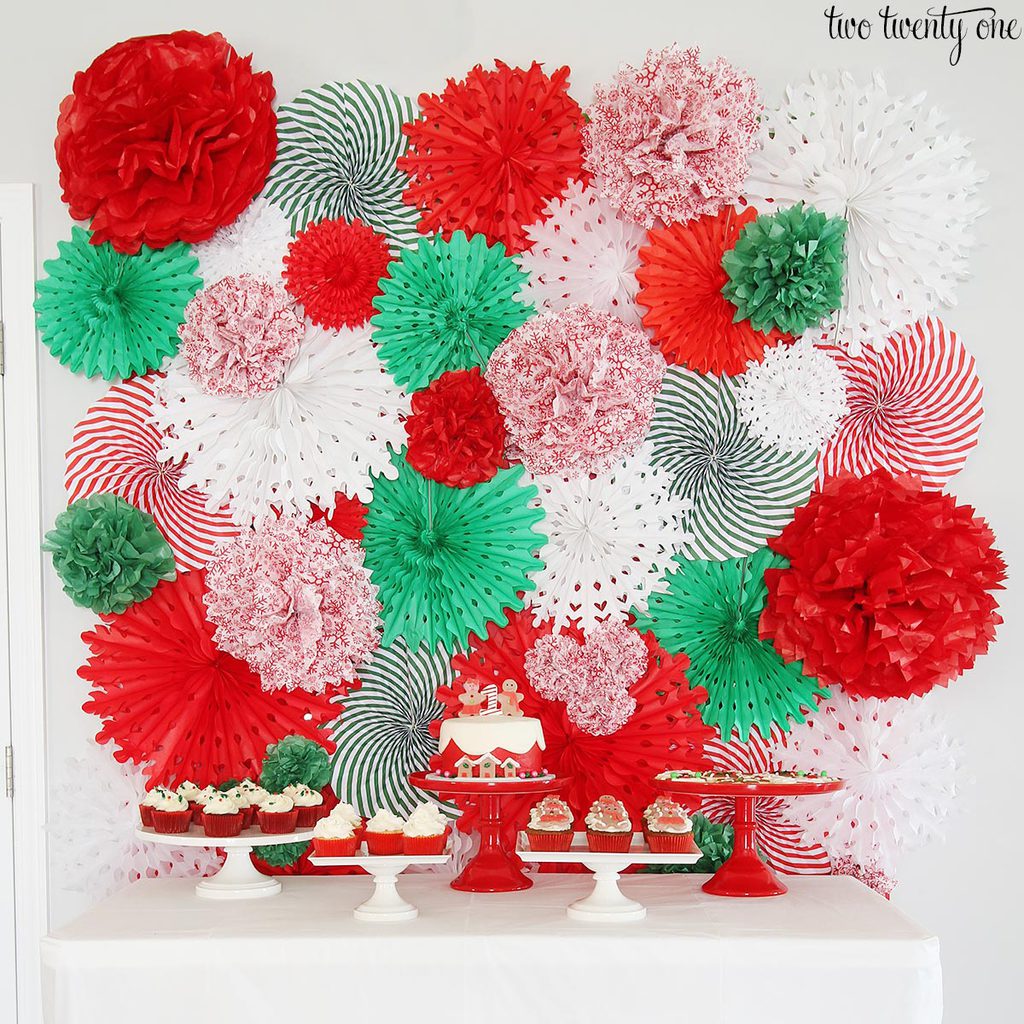 Isn't this the cutest gingerbread smash cake?
I brought over all of my white and red cake stands for the cake, cupcakes, and cookies.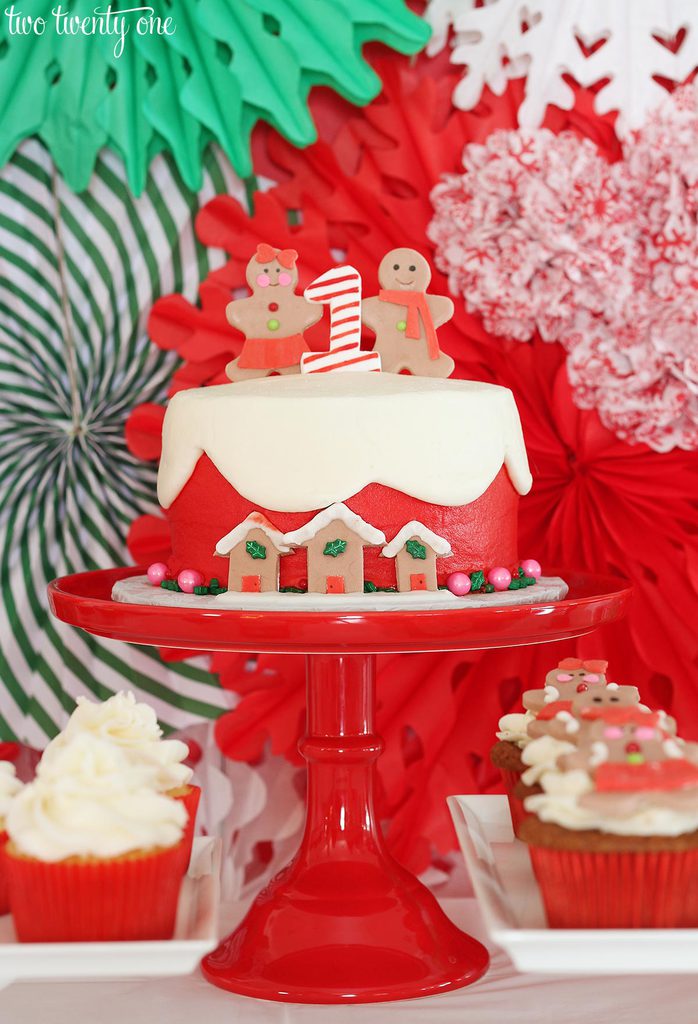 Jen ordered the smash cake, cupcakes, and cookies from a local baker who works out of her home. And everything was absolutely delicious. I know because I took on the tough job of sampling everything.
There were the red velvet cupcakes with holly sprinkles.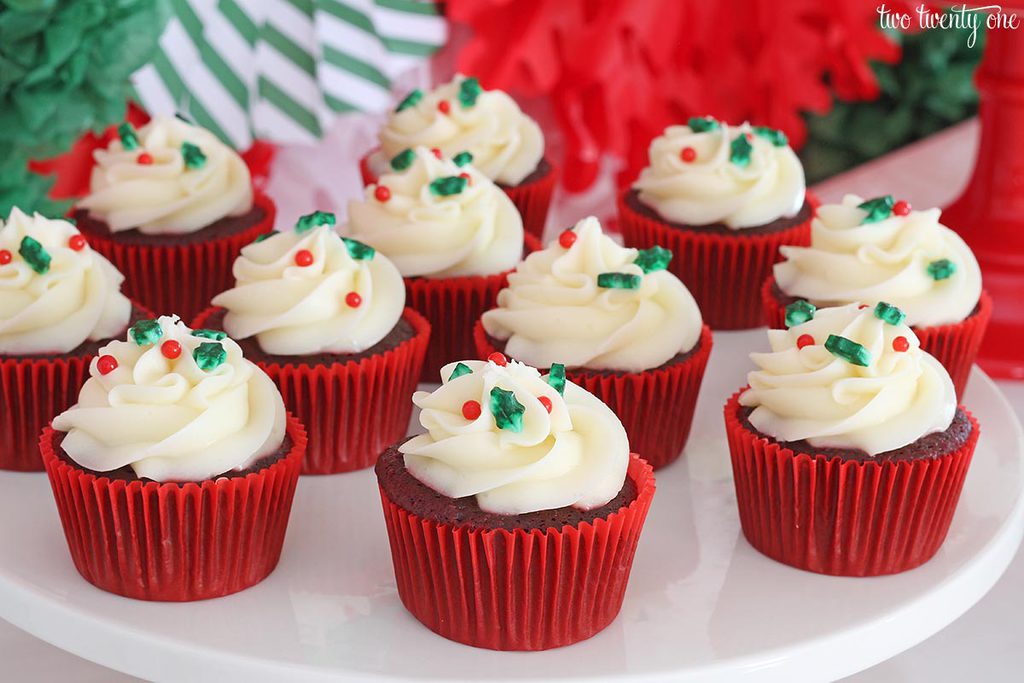 Gingerbread cupcakes with little fondant gingerbread girls and boys on top.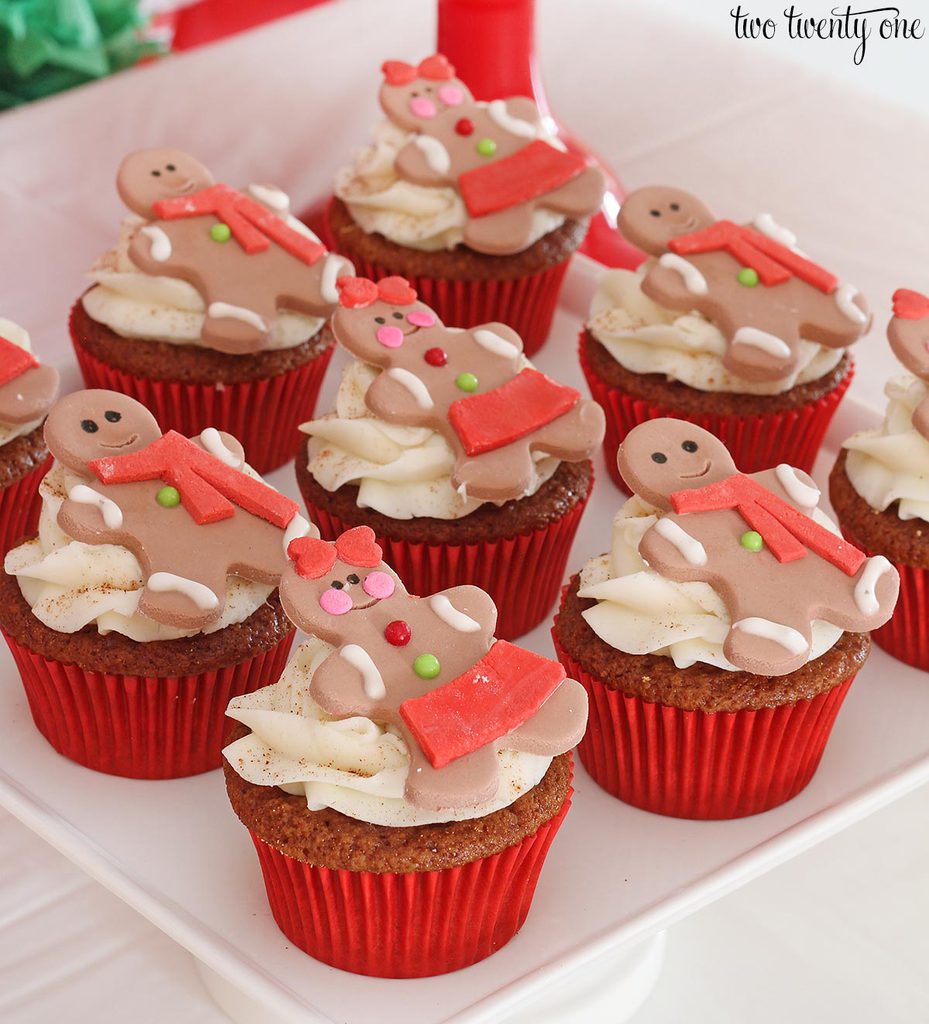 Vanilla cupcakes with salted caramel and snowflake sprinkles.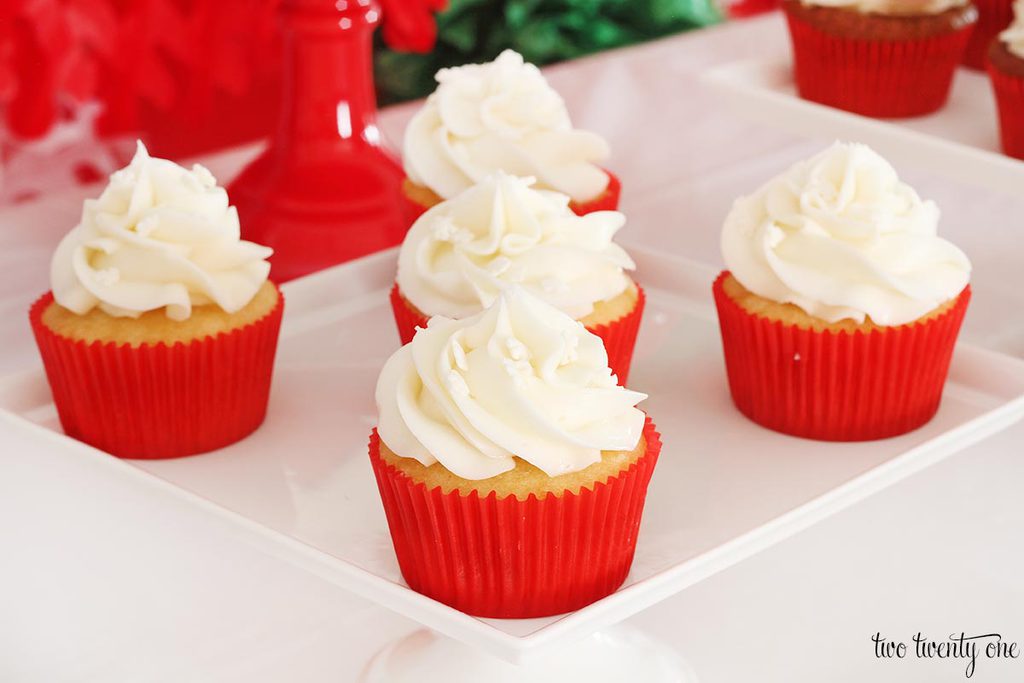 And the most adorable sugar cookies you've ever seen. They tasted incredible, too.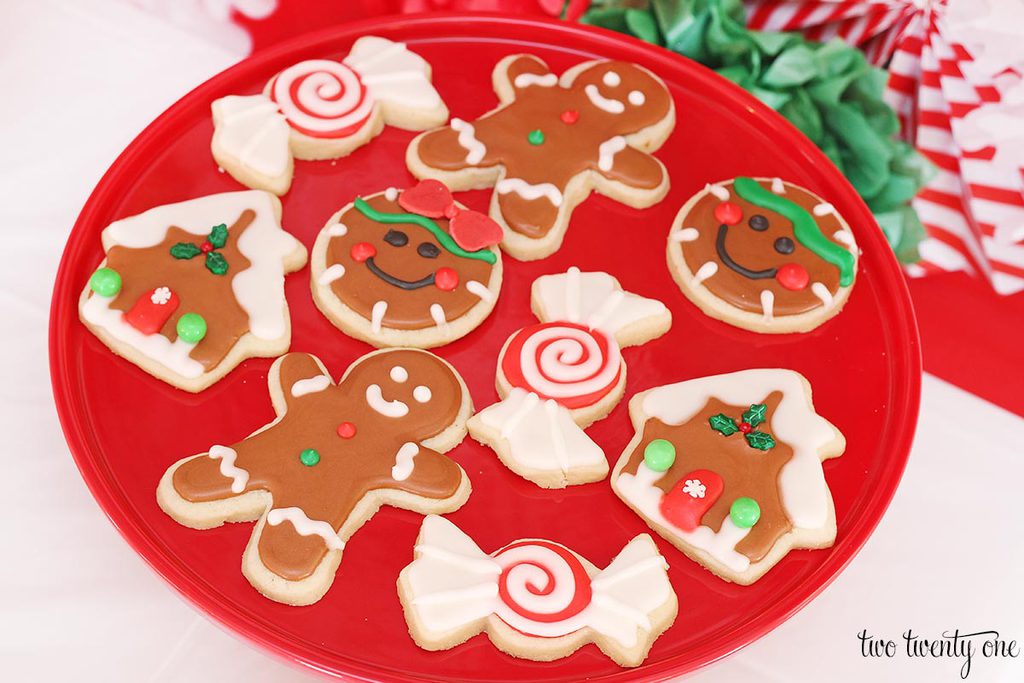 I didn't try the cake, but Tilly seemed to enjoy it.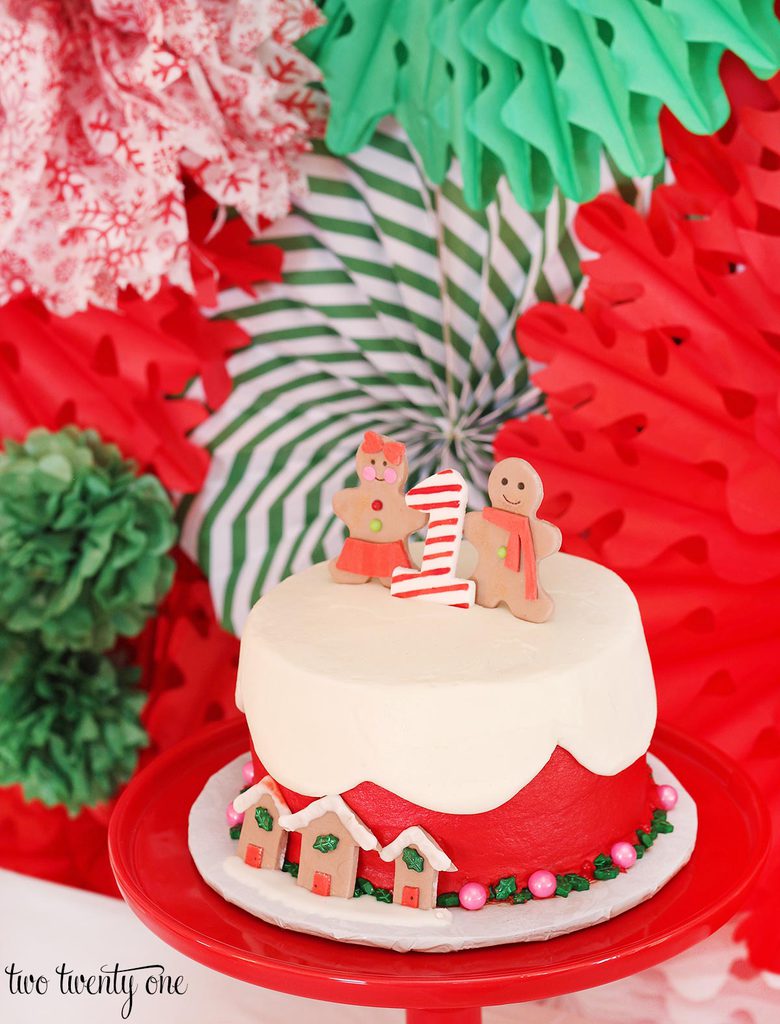 We used various paper fans from Oriental Trading Company for the backdrop. And Jen whipped up some tissue paper pom-poms for added visual interest.
(I'll link everything at the end of the post.)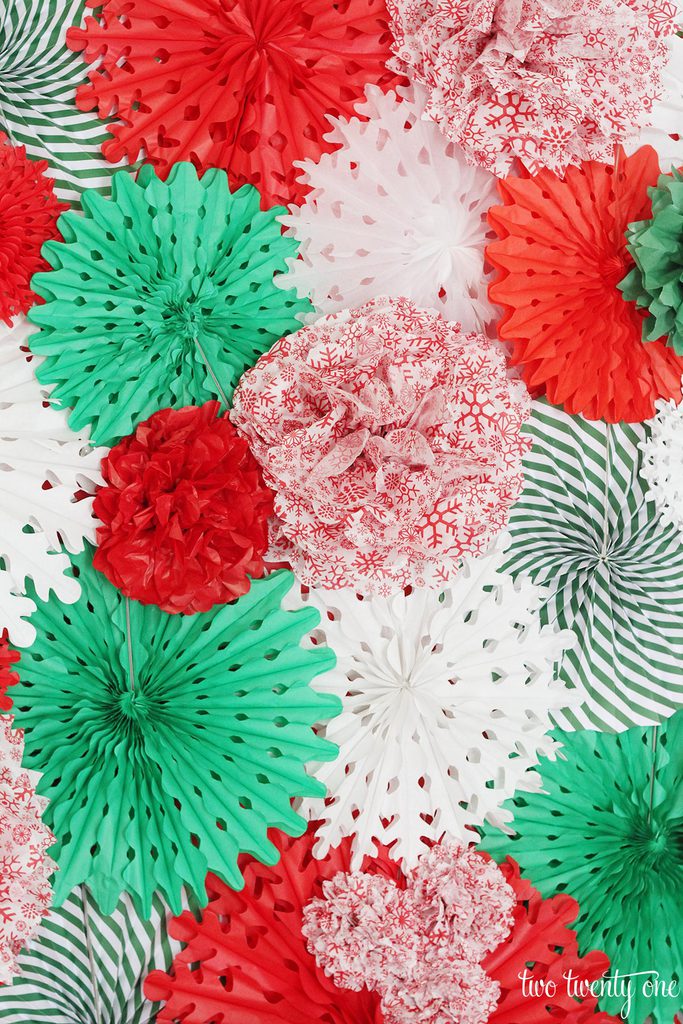 We decorated the drink station with paper fans, tissue paper pom-poms, and peppermint candies I made (tutorial to come).
Jen put lemon and lime-infused water in one of my drink dispensers and sparkling cranberry pineapple punch in the other dispenser.
I'm not much of a punch drinker because I prefer the act of eating my calories, but that punch was damn good.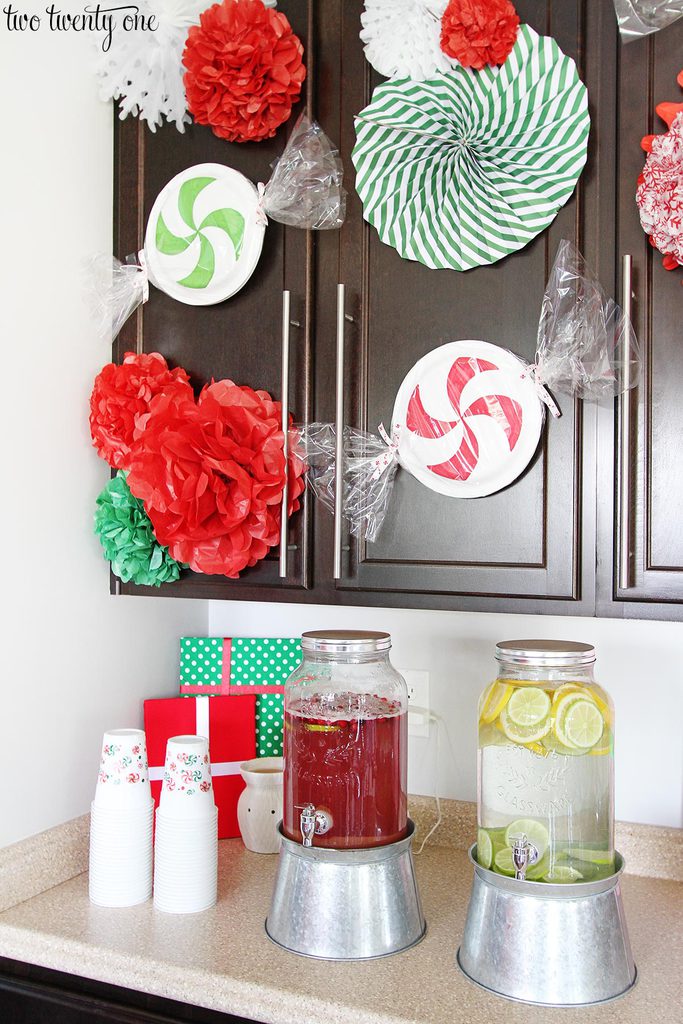 Hot cocoa bars seem to be all the rage this year, so Jen wanted to do one of those. I'll go into more detail about it tomorrow.
I added candy cane striped tablecloth to the island for a festive touch.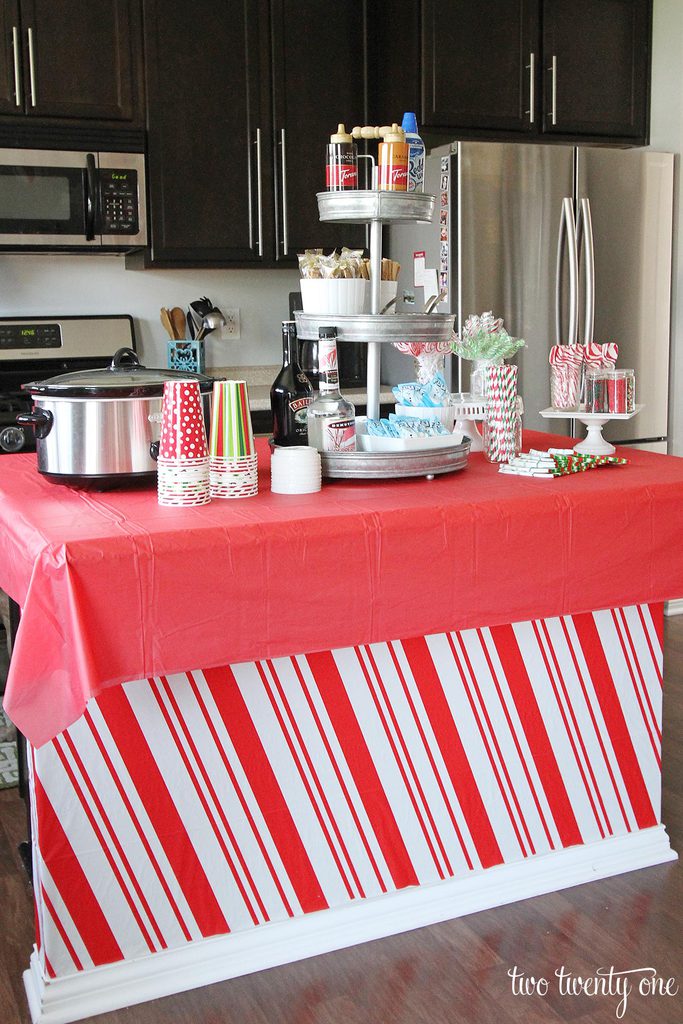 That Friday night while Jen was upstairs getting violently ill, I was downstairs wrapping her living room columns in the candy cane striped tablecloth and hanging tissue balls, snowflake fans, and peppermint paper lanterns from the ceiling with her mom.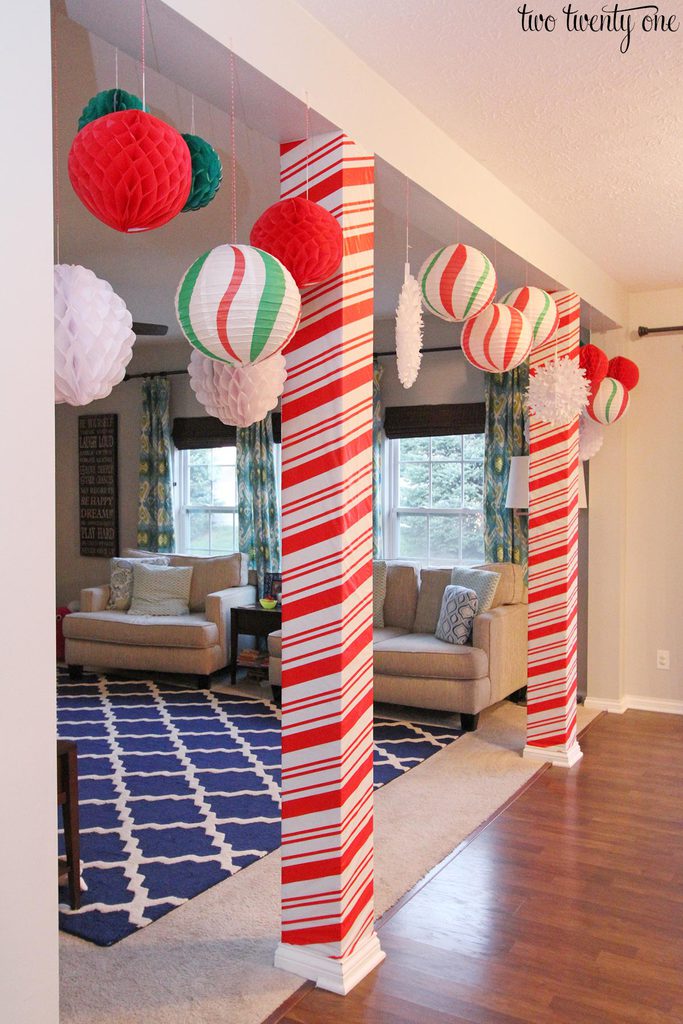 Jen wrapped the frames on her wall above the food table with peppermint wrapping paper. A cute, and inexpensive way, to decorate a space. She also hung some paper lanterns, but some fell.
Disregard the jacked up tablecloth. By Monday we were all pretty partied out.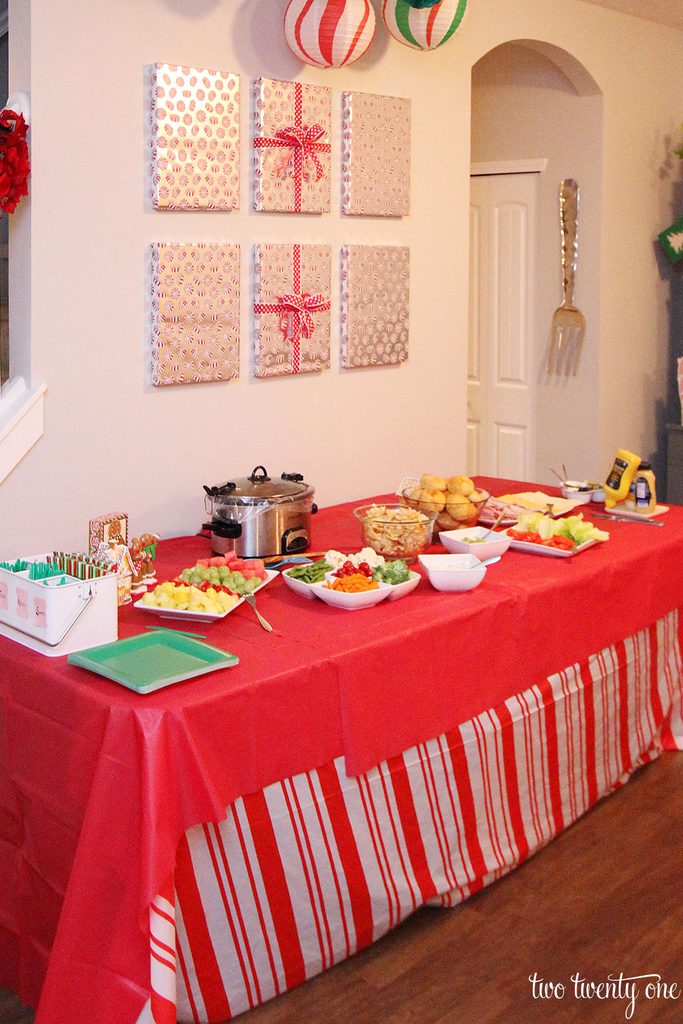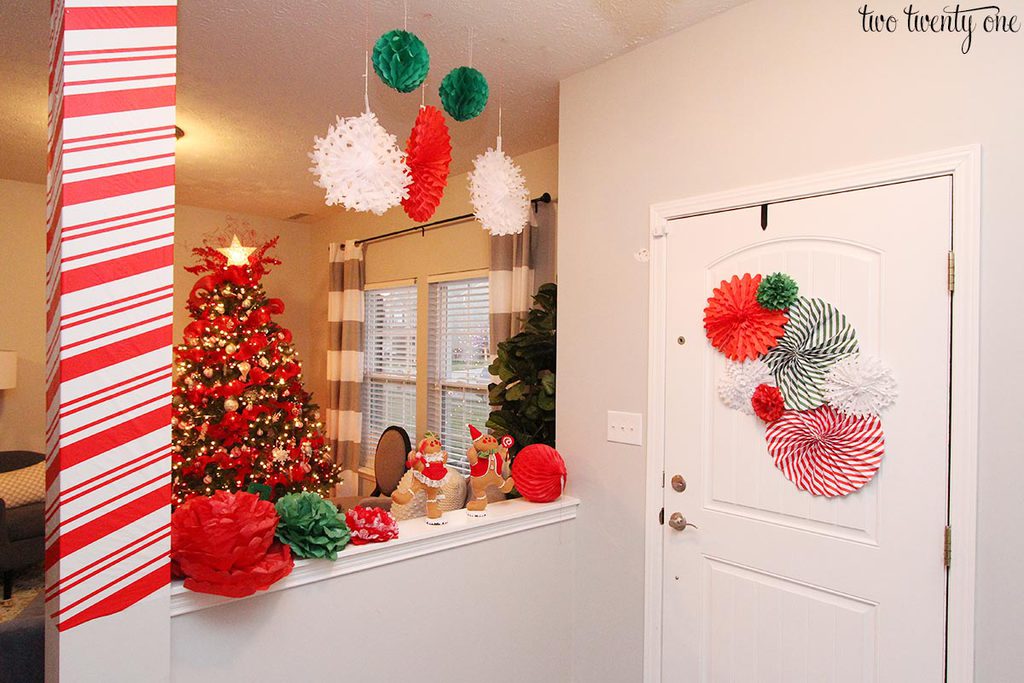 When it came time for cake, Tilly was a little apprehensive but she eventually put on her determined face and got to work on her smash cake.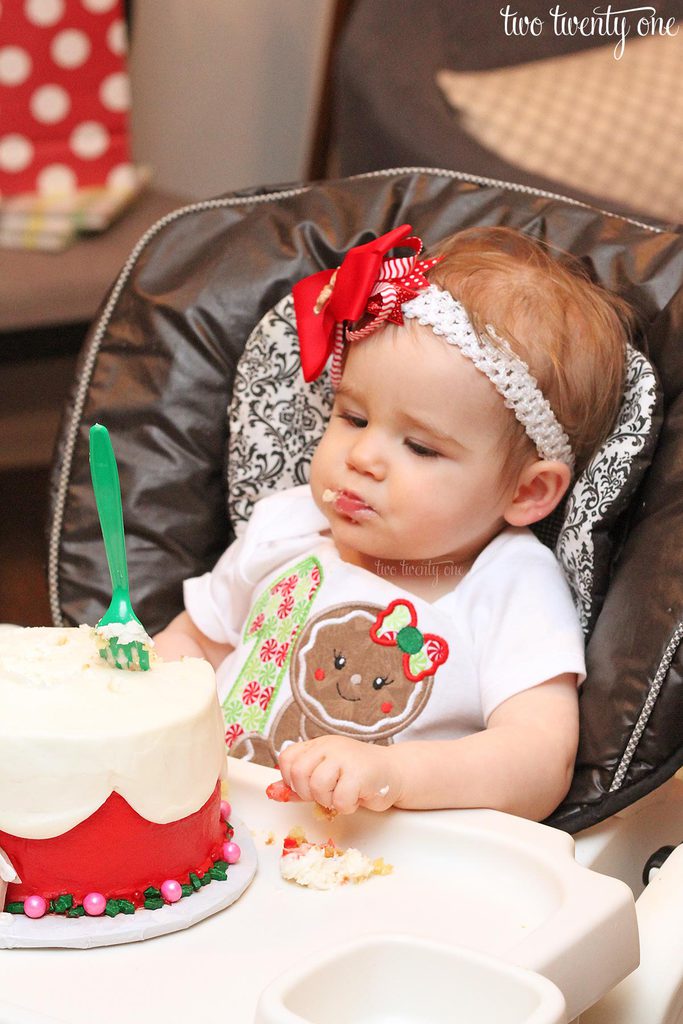 She even shared with the dog.
Since there was so many leftover sweets, people were able to take some things home in these cute gingerbread treat boxes.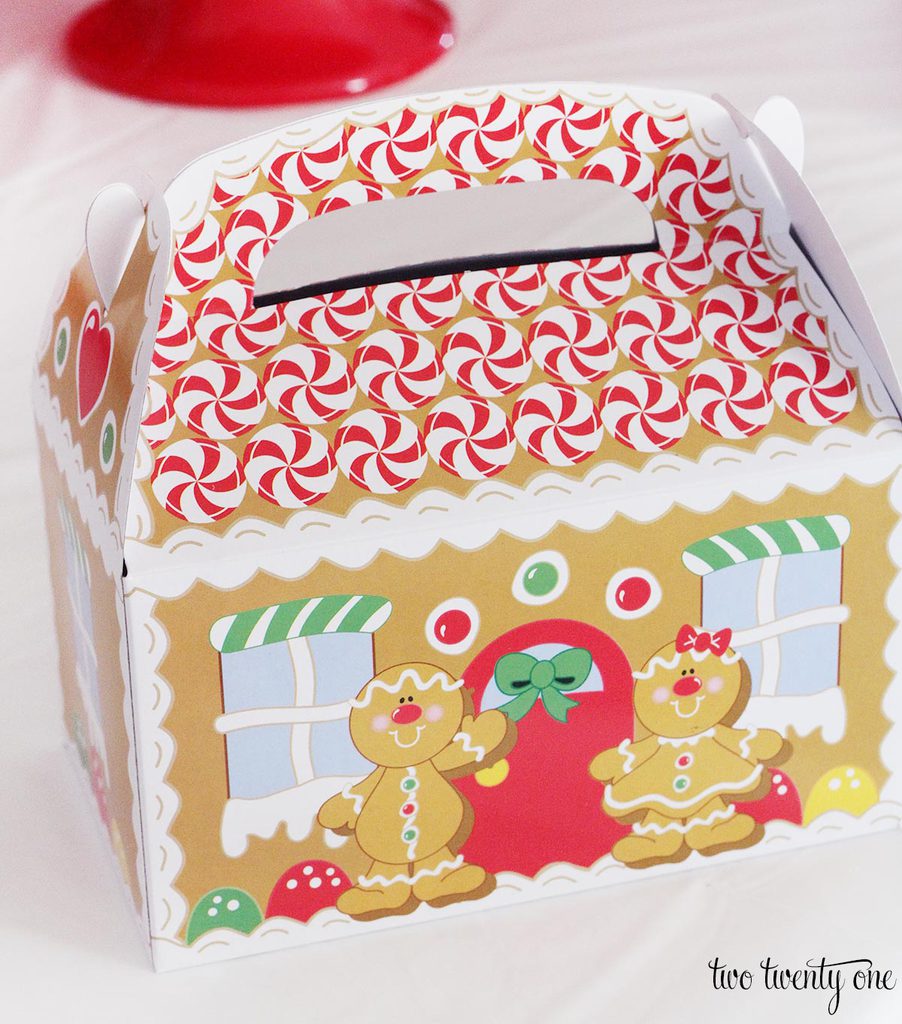 Whew. Quite the crazy party story, huh? In the end, everyone had a great time and we got to celebrate Tilly, which is what mattered most. And I'm happy to report that Tilly came out unscathed from the stomach bug.
Sources (just click on the text to go to the site):
red and green hanging fans • red, green, and white tissue paper hanging fans • red and white snowflake assortment • peppermint hanging paper lanterns • tissue snowflakes • red tissue balls • white tissue balls • green tissue balls • red tablecloths • candy cane striped tablecloth roll • holiday plastic cups • gingerbread house treat boxes
Special thanks to my friends at Oriental Trading Company for providing various party supplies!