Gingerbread Castle Decorating Party
This post is sponsored by Wilton. All opinions are my own.
Two years ago, I started a tradition of hosting a gingerbread decorating party for Owen and some of his closest friends. This year, we decided to change things up a bit and have a gingerbread castle decorating party. And I was honored when Wilton, a brand I've loved since my 4-H cake decorating days, reached out and asked if they could partner with me and supply the gingerbread castles and various decorations and supplies for the party.
We had a lower turn out this year compared to previous years due schedule conflicts and illnesses, but we made the most of it. And honestly, it was much more manageable and quieter with four kids vs eleven. So that just goes to show that you don't need to throw a big, elaborate party for kids to have a good time.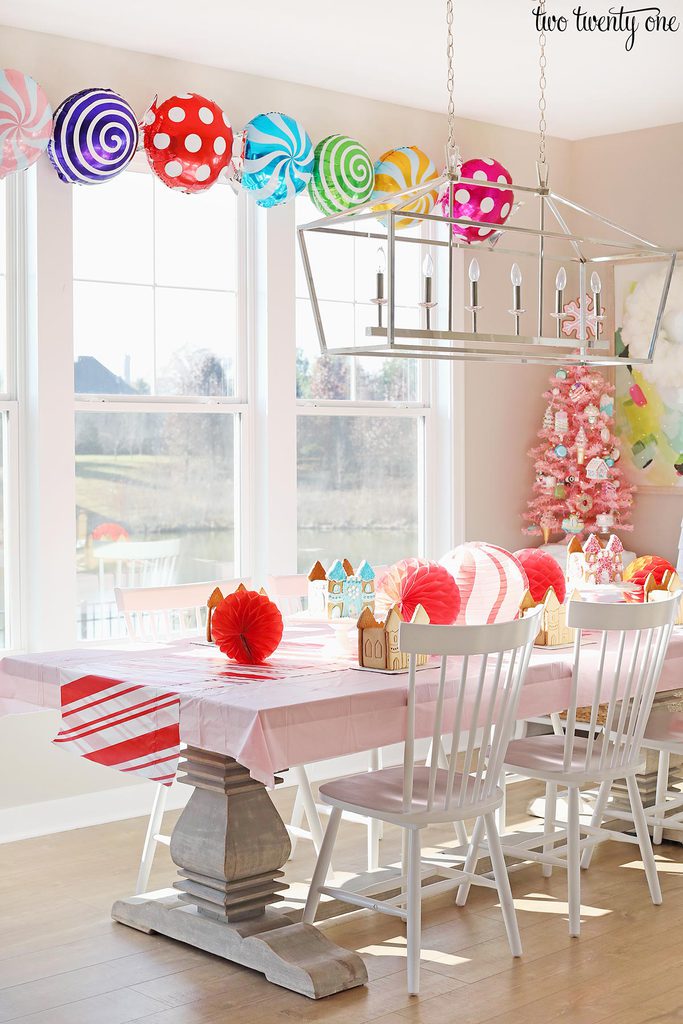 Party Decorations
I'm all for keeping things as simple as possible. I blew up nine candy-shaped balloons and taped them to the top of our dining area window. For the table, I used a pink tablecloth with a red and white candy-striped table runner. Then, I topped the runner with some honeycomb balls and tissue paper fans, a paper lantern, and two gingerbread castles I decorated.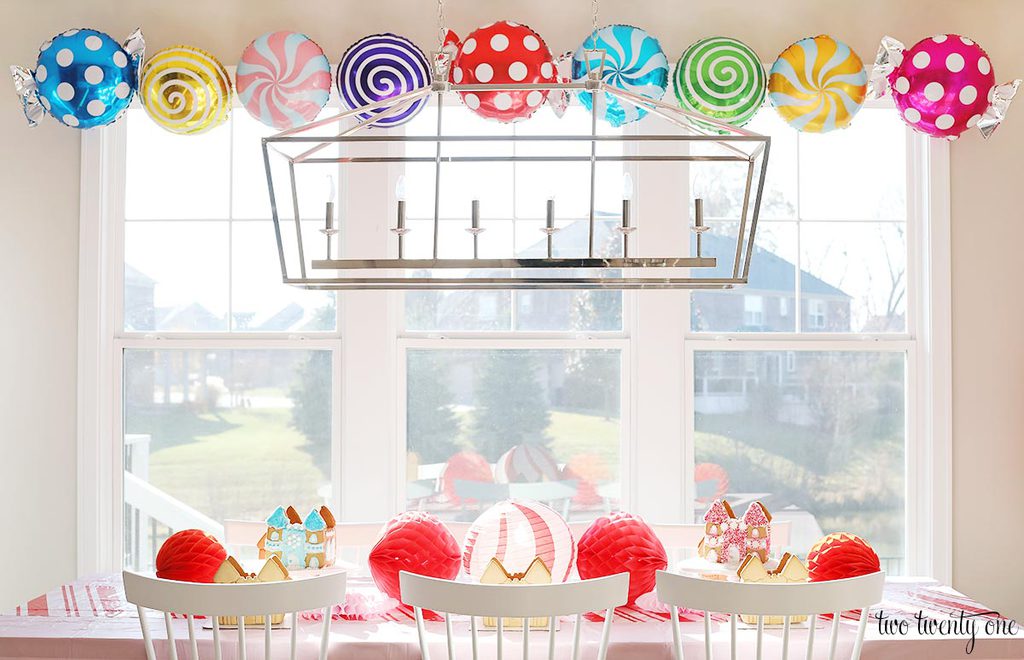 Gingerbread Castles & Decorations
When Owen saw the Build It Yourself Shimmer and Sparkle Gingerbread Castle decorating kits, he was adamant that he and his friends needed to decorated castles this year. I was on board because each kit comes with pre-baked cookies, candies, sprinkles, icing, and decorating bags.
And it's not a gingerbread castle decorating party without decorations! Kids love decorating kits and candy decorations from Wilton. They also love traditional candies. To offset costs, I ask each mom to bring a decoration for the kids to share and use on their gingerbread masterpieces.
Here's some of the great products Wilton sent for the gingerbread castle party: Build It Yourself Shimmer and Sparkle Gingerbread Castle decorating kits, Christmas Gingerbread Candy Decorations, Color Right Food Coloring System, Ready-to-Use Royal Icing, 12-inch disposable decorating bags and Santa and Helpers Decoration Kit.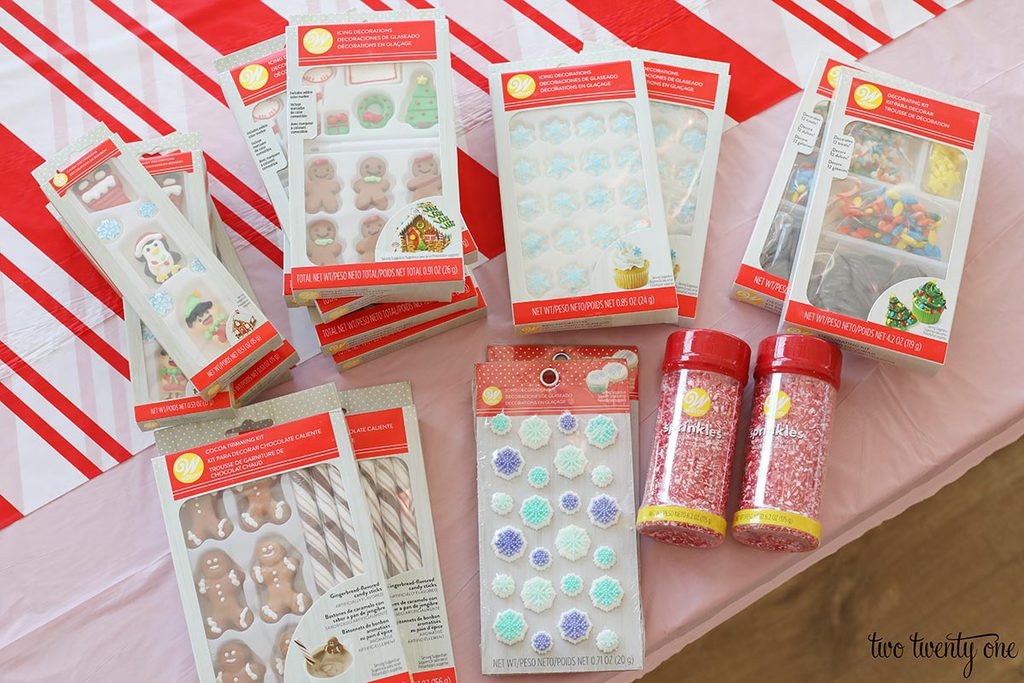 I create a decoration processing station on our island. When the moms and kids arrive, the moms start opening the candy and decorations and placing them into small cups.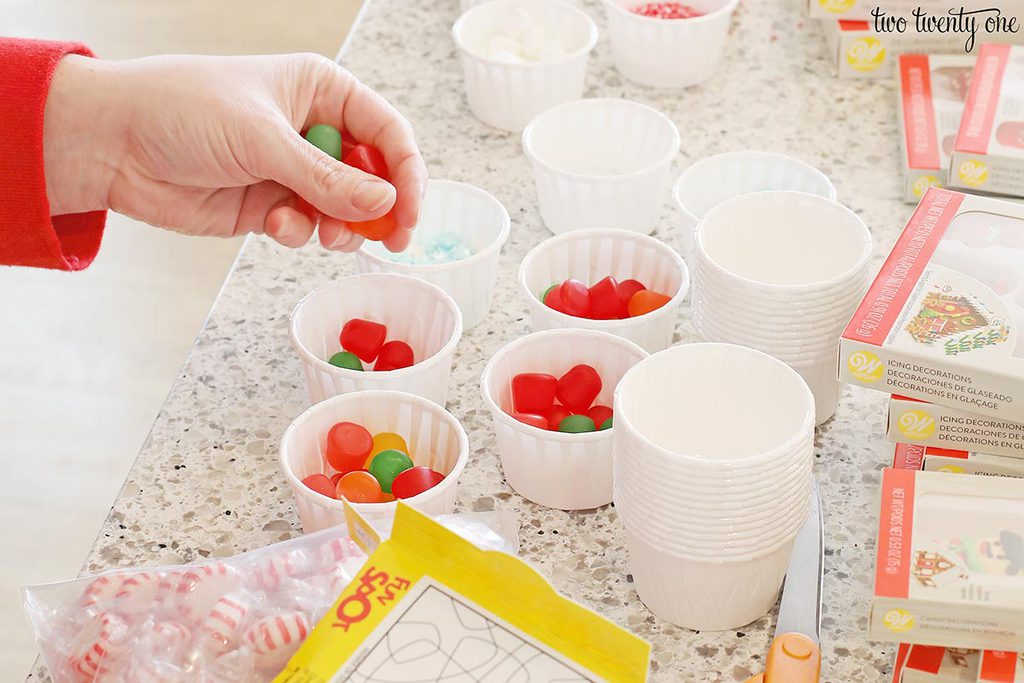 Depending on the number of children in attendance, each child has their own cup for each decoration or they can share.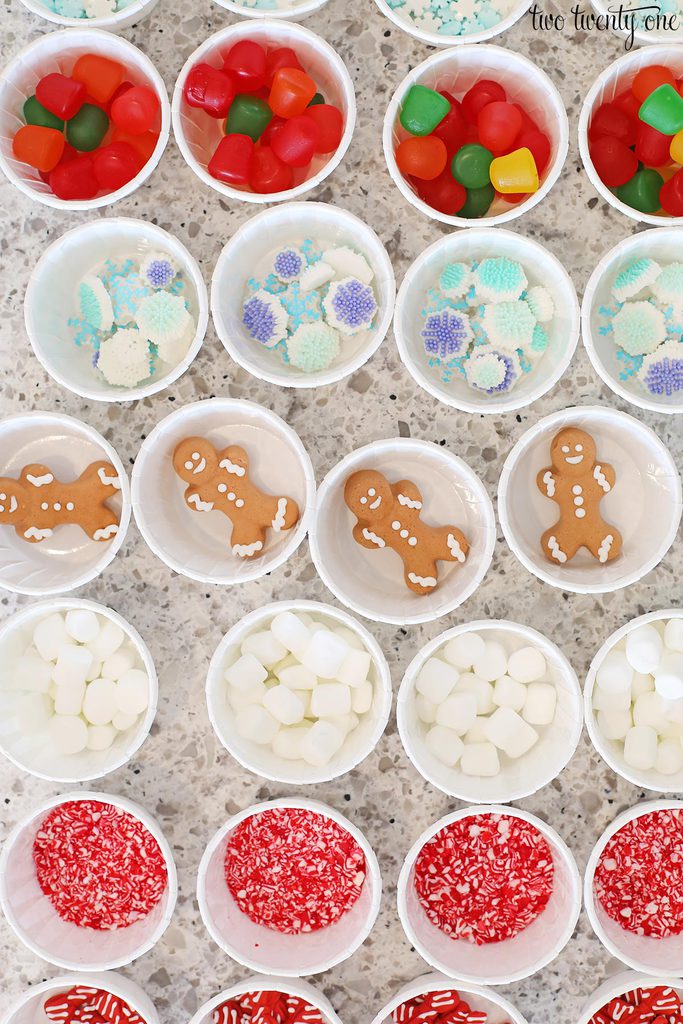 Once all the decorations are divvied out, each child gets their own gingerbread decorating station at the table.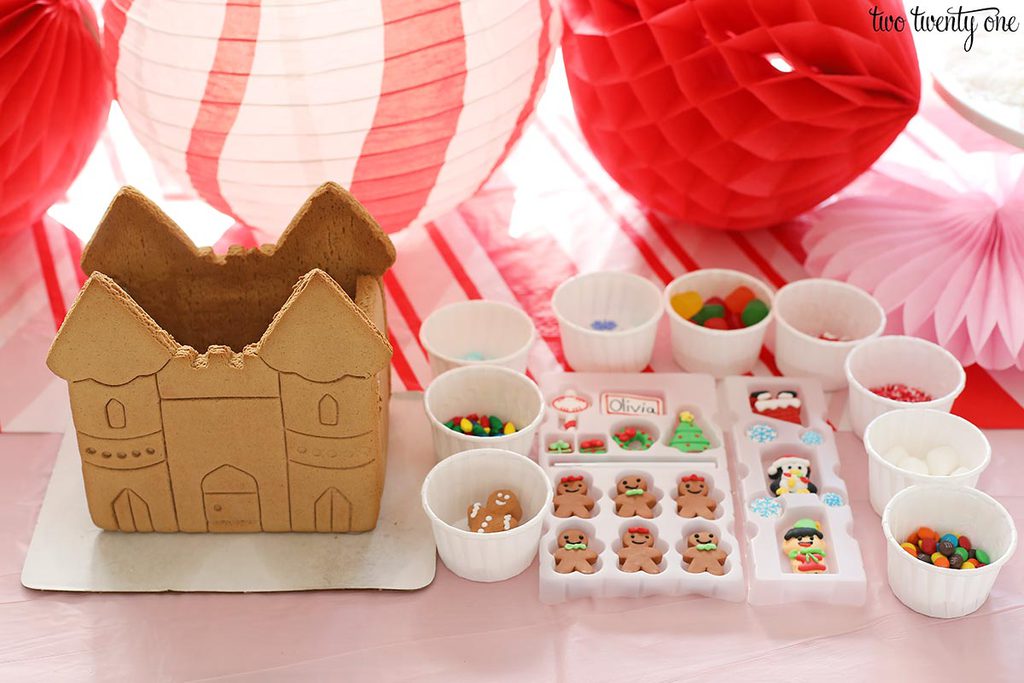 Gingerbread Examples
For some gingerbread castle inspiration, I decorated two of the Shimmer and Sparkle Gingerbread Castles. I did one like the original Shimmer and Sparkle Castle and one in a pink peppermint theme. If you've been around long, you know I have a thing for peppermint around the holidays.
Tip: use an angled spatula to spread the icing.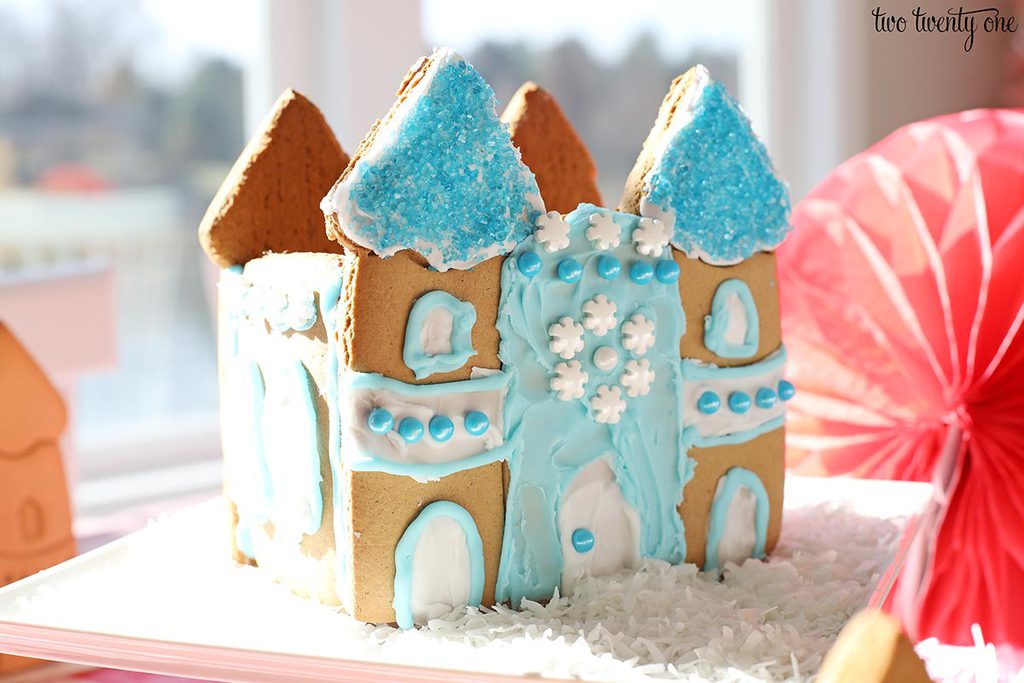 I used the Ready-to-Use Royal Icing and Color Right Food Coloring System to create the perfectly pink icing for the pink peppermint castle.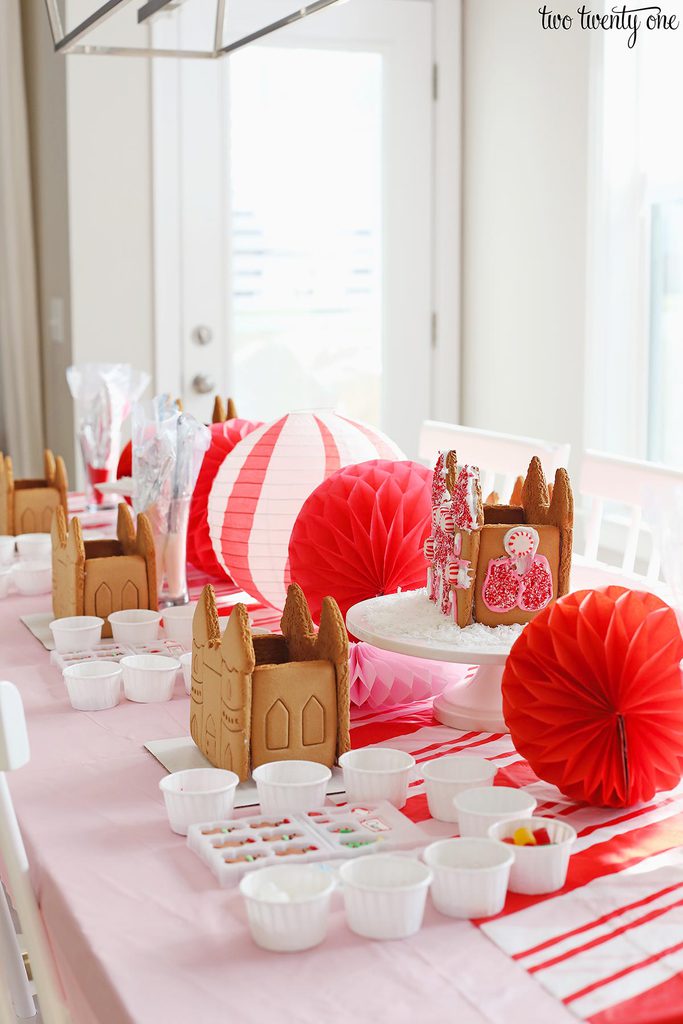 Leave the Icing to the Adults
If you're hosting a party for older kids, they can manage the icing on their own, but for the 6 and under crowd it's probably a good idea to leave the icing application to the adults. I set the icing bags in tall drinking glasses around the table so they're within reach for the adults.
The kids will tell the adults where they want to icing, and then they'll start decorating!
Seriously, how cute is the name plate that comes with the Christmas Gingerbread Candy Decorations Kit? The kids thought it was so cool to put their names on their castles.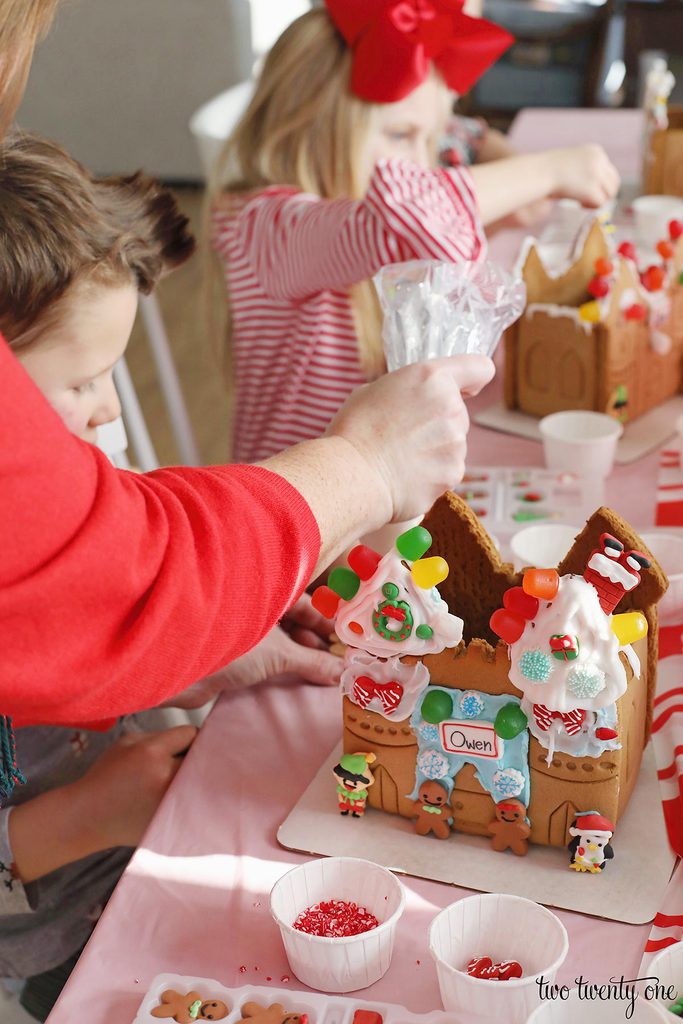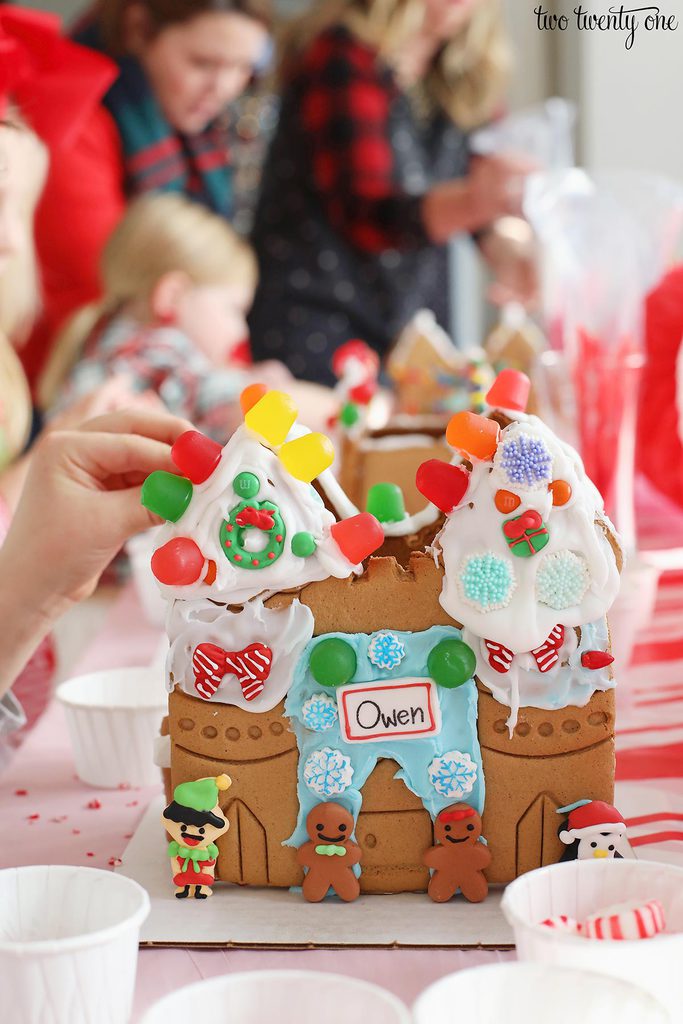 Here's Owen's masterpiece! He won the unofficial award for Snowiest Gingerbread Castle.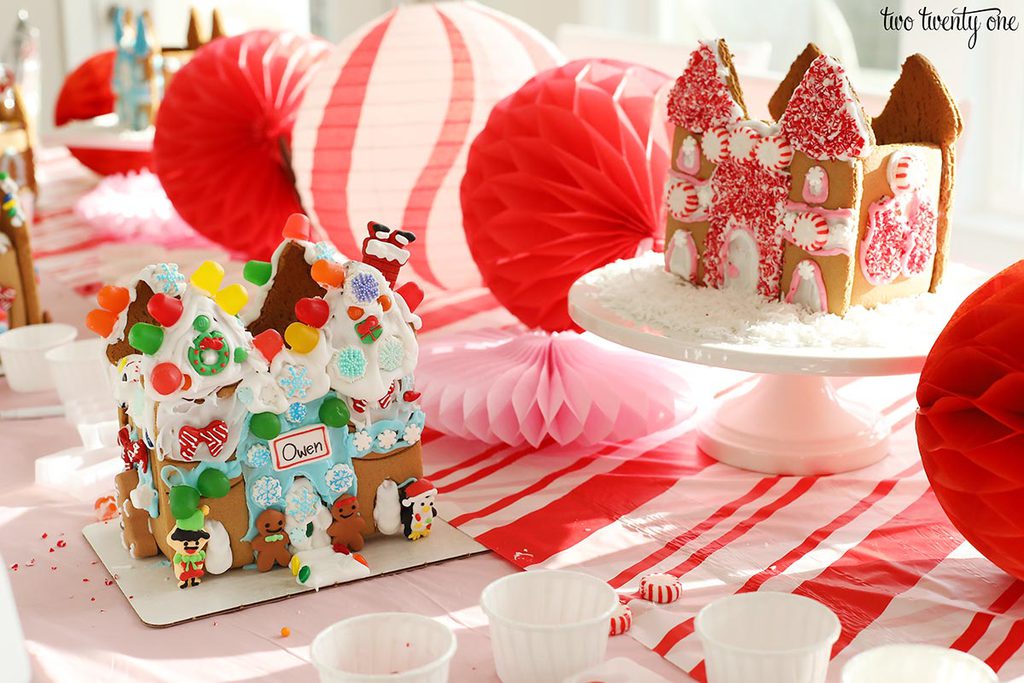 Group Pic
I think it's fun to take a group shot of the kids holding their gingerbread creations. It's a great way to remember the event, especially if it's an annual thing. Plus, it's something they could recreate when they're teenagers.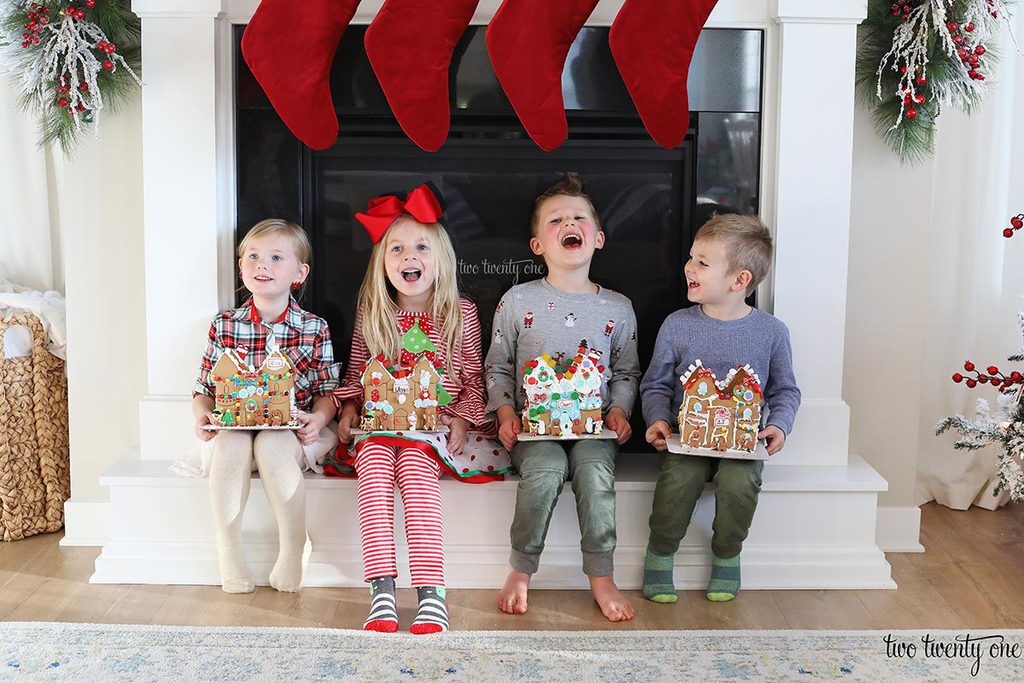 The gingerbread decorating party is one of my favorite holiday traditions. It's so much fun to get the kids together so they can play for a little bit and then add copious amounts of decorations to their confectionary creations. Plus, they get to take the castles home and display them– instant semi-handmade Christmas decoration!
If you're looking for more ideas on ways to decorate a gingerbread house, visit Wilton's Christmas page!
This post is sponsored by Wilton. All opinions are my own.