Red and Silver Christmas Tree
 It's Christmas tree day! That's right, today I'm sharing our main Christmas tree. This year I decided to tweak it a little from last year but still stick with a red and silver Christmas tree. Because neither money, nor Christmas ornaments grow on trees.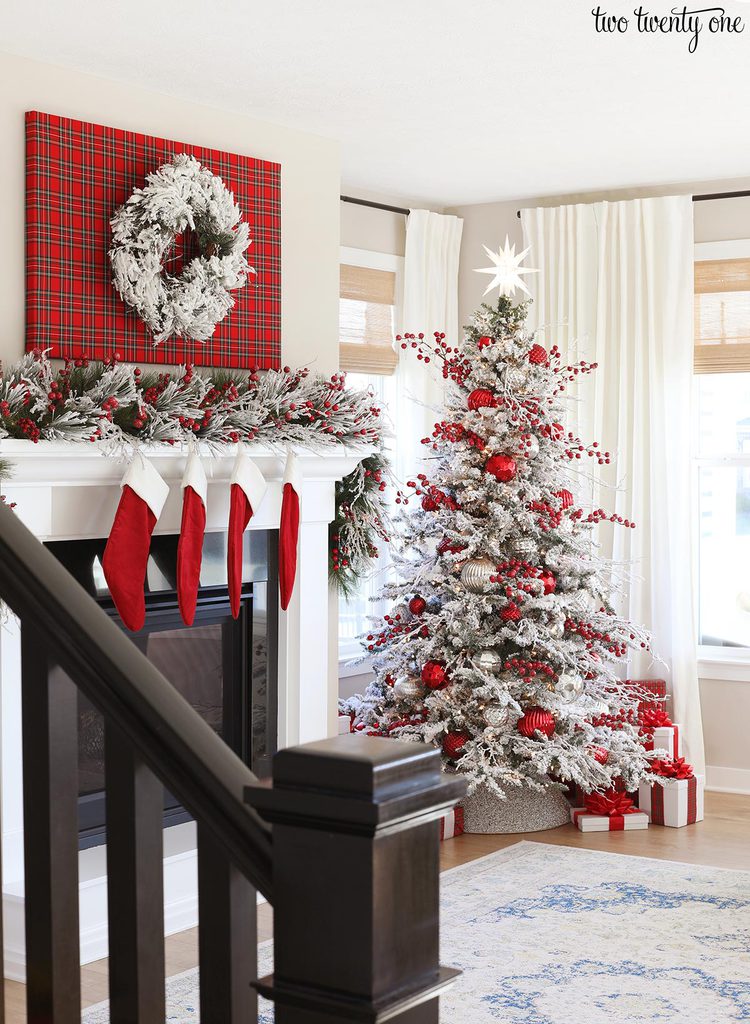 Flocked Christmas Tree
Alright, let's talk about this flocked beauty. I bought this 7.5′ tree in 2017, and I love it. With any flocked tree, you're going to get some shedding, especially when putting the tree up and taking it down. But when the tree is up, it doesn't shed unless someone or something rubs against it. After placing the gifts under the tree, I simply blow on them to knock off any flocking.
Click HERE to buy the Christmas tree!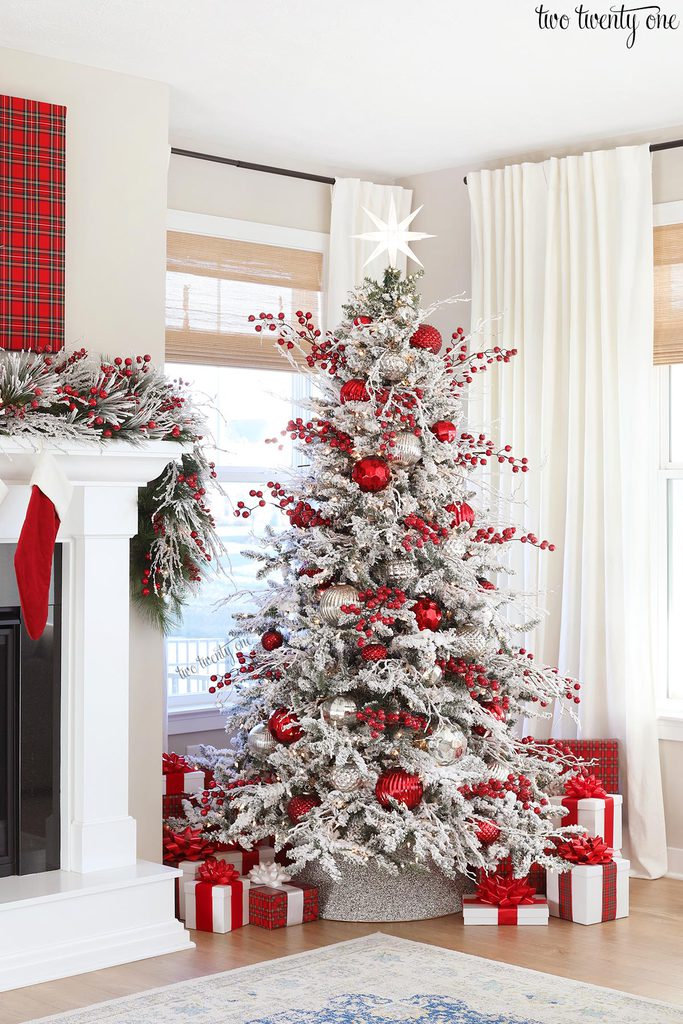 The Ornaments
I added some more red and silver glass ornaments this year compared to last year. I could barely find any ornaments like these at HomeGoods this year. Last year the shelves were overflowing. Needless to say, I'm glad I scooped up as many as possible last year.
When I initially decorated the Christmas tree and stepped back, I had way too many red ornaments on it for my liking. I edited it down and removed a handful of them. So yes, there is such a thing as too many ornaments on a Christmas tree.
Berry and Flocked Branches
I also swapped out my previous berry branches for bigger berry branches. The flocked branches have been used on this tree for three years now.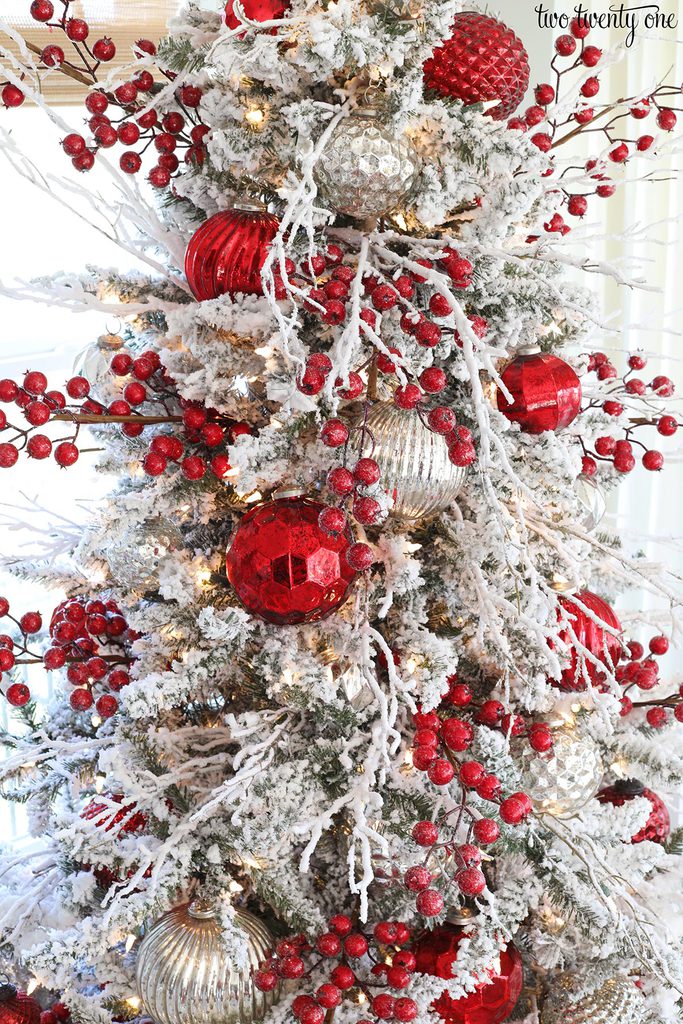 Plaid Mantel
I also decided to tie the Royal Stewart Tartan canvas I made and hung above the mantel into the tree by wrapping some of the gifts with matching tartan paper and ribbon.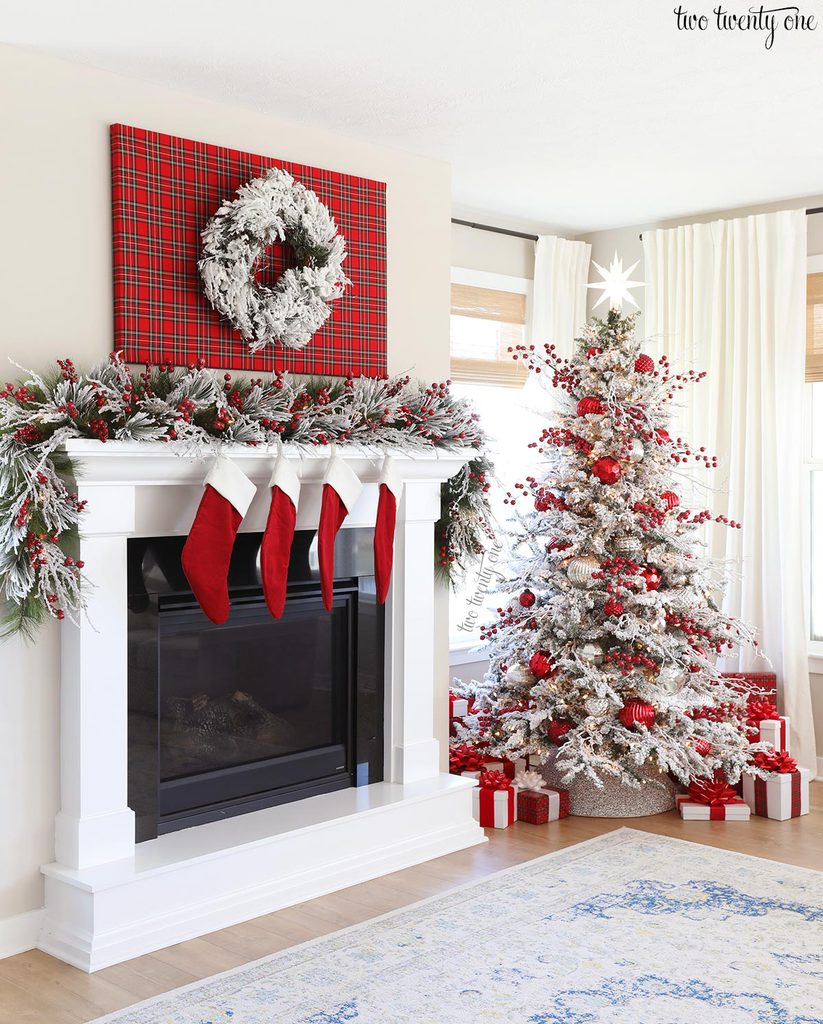 The Gifts
The gift wrap is from Ballard and the ribbon is from HomeGoods. I like to buy white boxes and add the ribbon. No gift wrap needed. You can read more about my gift wrapping hacks HERE.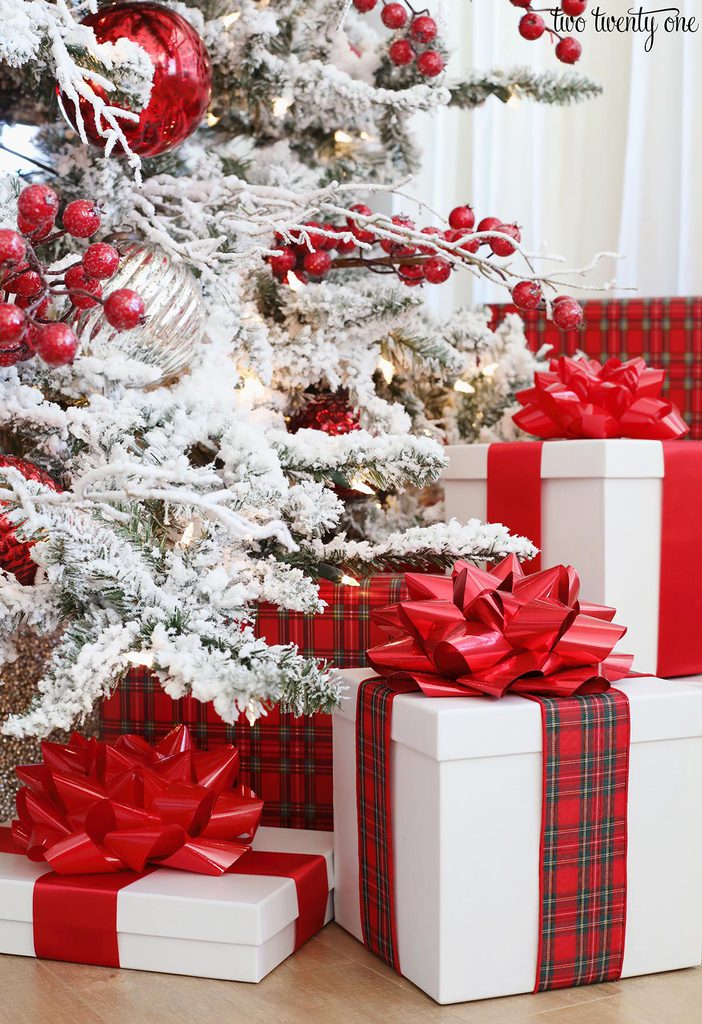 Sparkly Tree Collar
I used the sparkly tree collar upstairs on my glam tree last year, but I thought it would be fun to add more sparkle to this tree this year. Last year, I used a woven basket tree collar on this tree. I bought the sparkly tree collar two years ago from Pier 1 when it went on sale after Christmas. Unfortunately, it's sold out.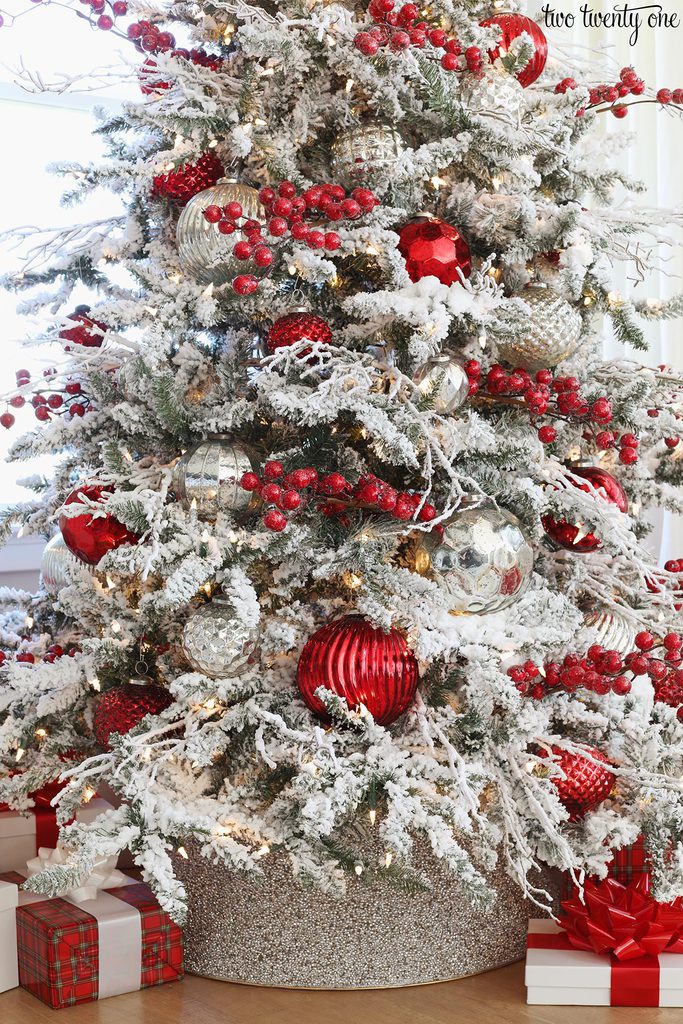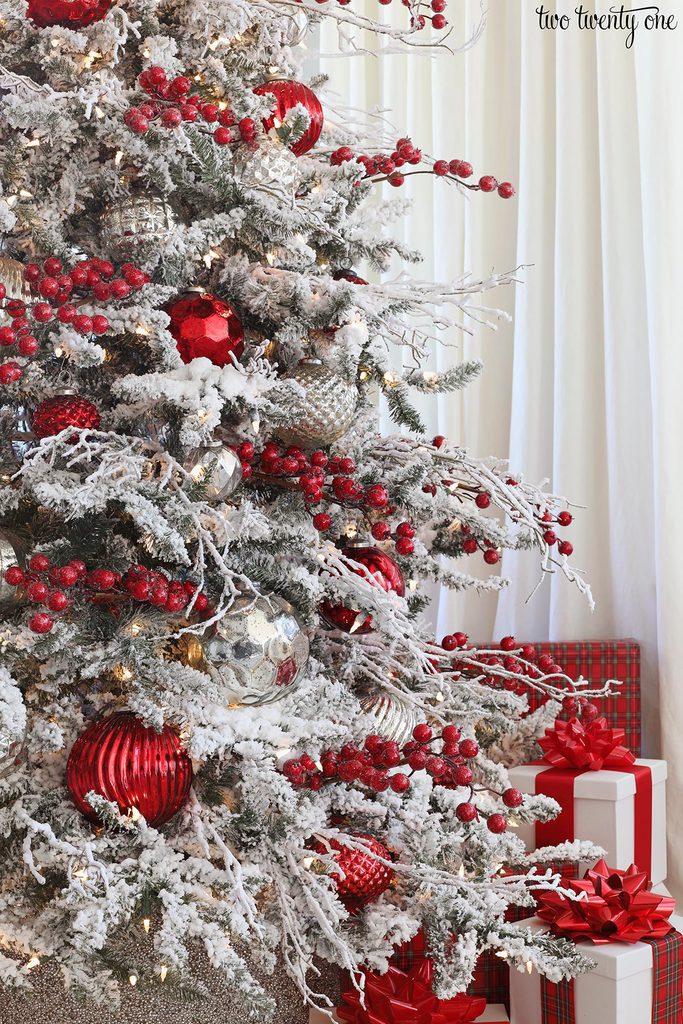 While I love the red, I'm tempted to try something new next year. I've done red for the past three years, so changing things up would be good. But we'll see how I feel next year.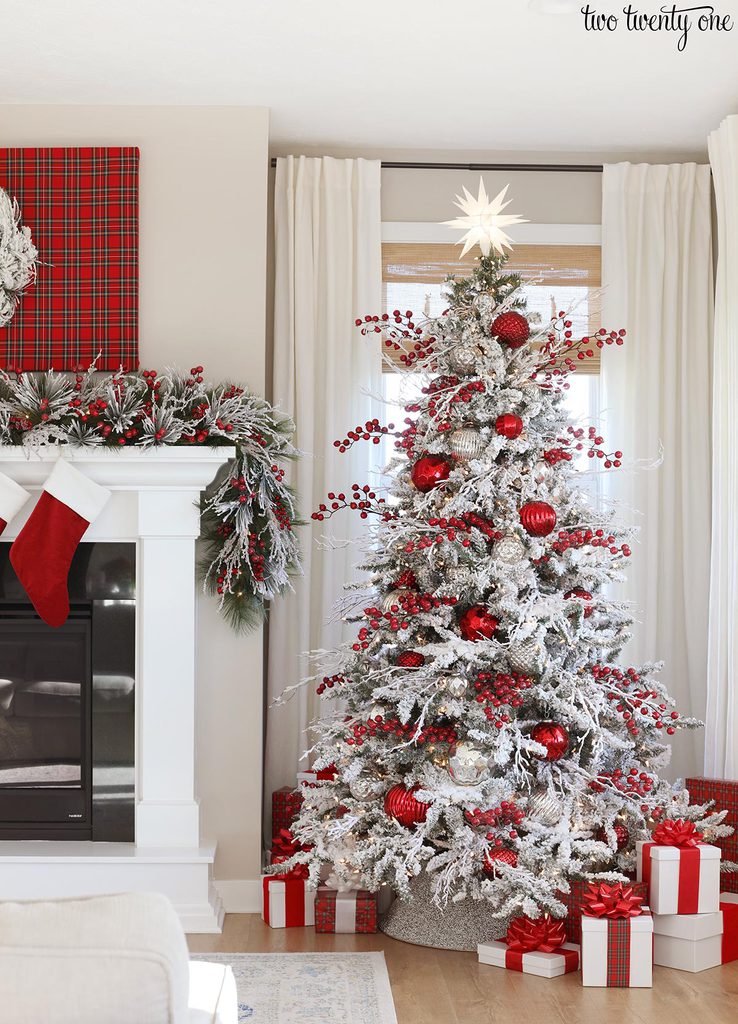 Sources
flocked tree … Wayfair
star tree topper … Amazon
red ornaments … HomeGoods
silver ornaments … HomeGoods
berry picks … Michaels
flocked branches … Michaels
tree collar … Pier1
white boxes … Michaels
plaid gift wrap … Ballard
plaid ribbon … HomeGoods
mantel … read all about it here
woven shades … Home Depot
curtains … West Elm
curtain rods … Bed, Bath, & Beyond