Front Porch Christmas Decorations
Today I'm breaking down all the components of my front porch Christmas decorations.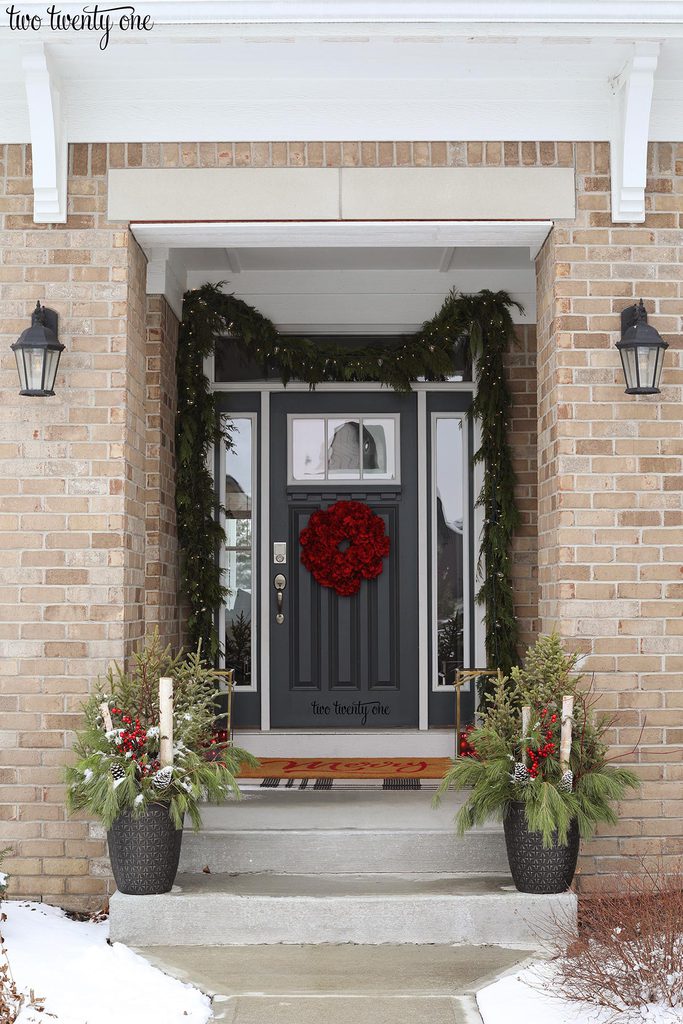 Holiday Greens Planters
When in doubt, always flank your steps with seasonal planters.
 To be completely honest, I wasn't overly impressed with the Costco holiday planters this year. I'd say last year's planters were the best I've gotten. I was going to re-pot and beef these up like I did with my garage planter, but then it got cold and I got even more mentally exhausted so here we are. Don't get me wrong, they aren't terrible, especially for $30. And they last until February/March.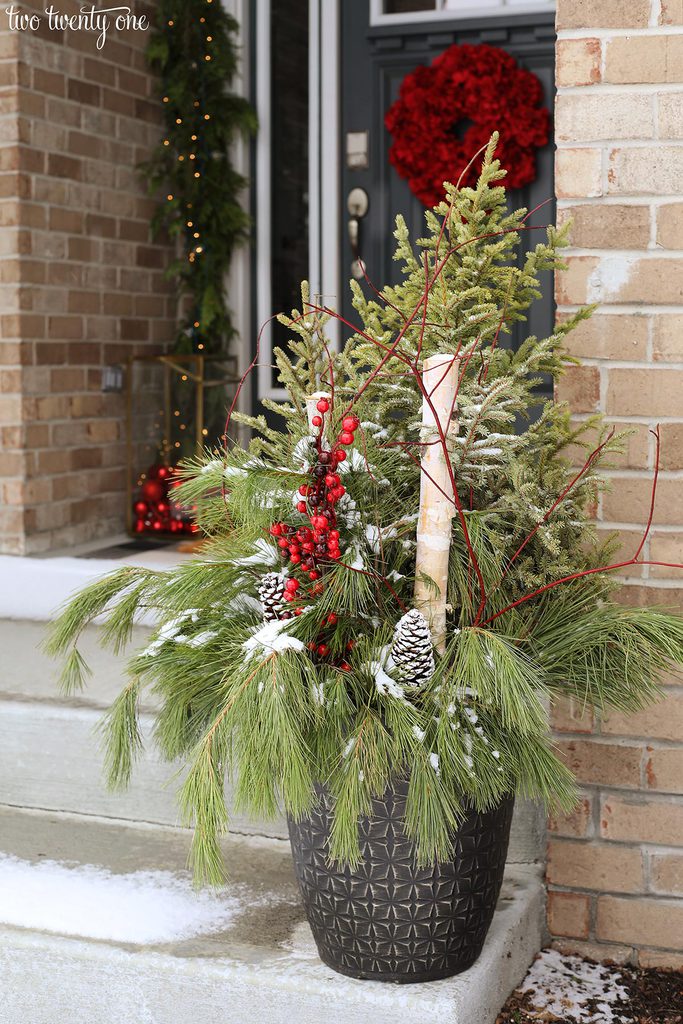 Isn't it so pretty covered in snow?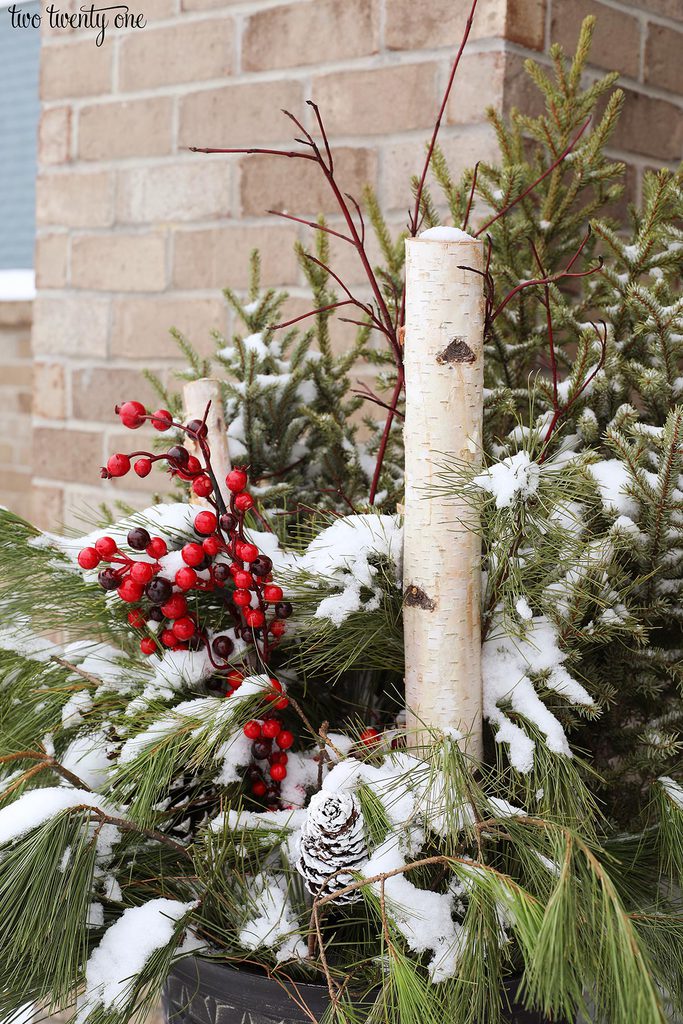 Fresh Cedar Garland
Another Christmas front porch decoration must have: fresh cedar garland. I always get mine at Costco because you can't beat the price. 25 feet of garland for $16-18. I like to go with two strands of garland for a more substantial look. The garland is hung on four nails, two on each side– one garland per each pair of nails.
In years past, I've added a strand of bigger clear bulbs. But this year, I decided to add two strands of regular white lights in addition to the big bulbs. I'll never go back. In fact, next year I may do three or four strands of regular white lights. Keep scrolling to see what I mean.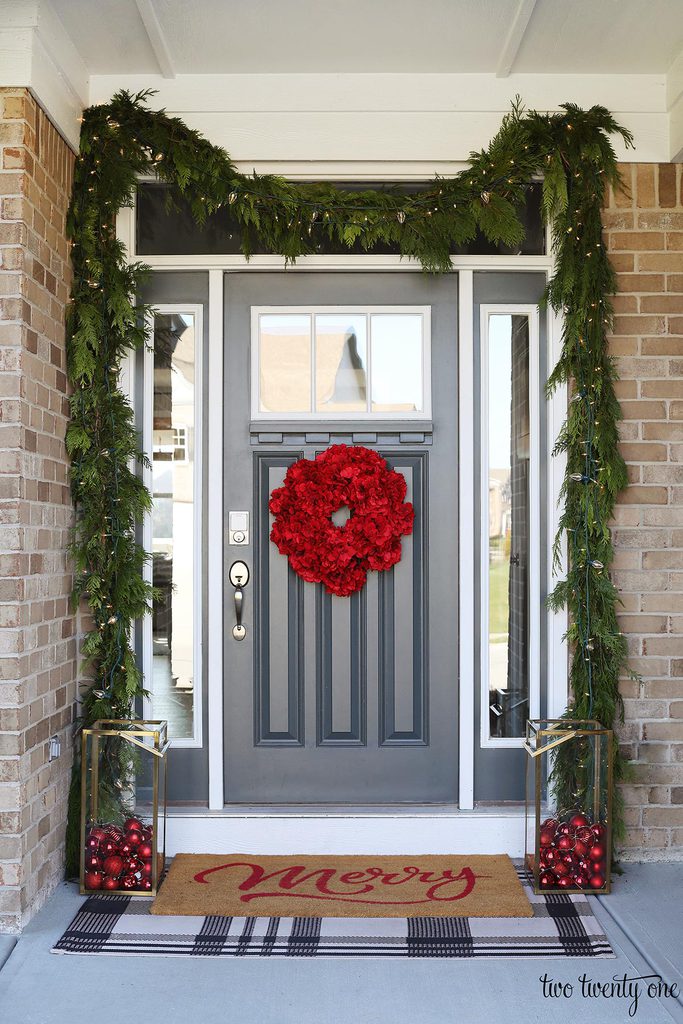 Layered Doormats
You know I love a layered doormat year-round. The plaid indoor/outdoor rug lives in the porch all the time. But for the holidays, I strongly suggest busting out a holiday-themed top doormat. I've had this merry doormat for a few years. I'm pretty sure I'll cry when it's finally time to toss it. Red rain boots added for dramatic effect.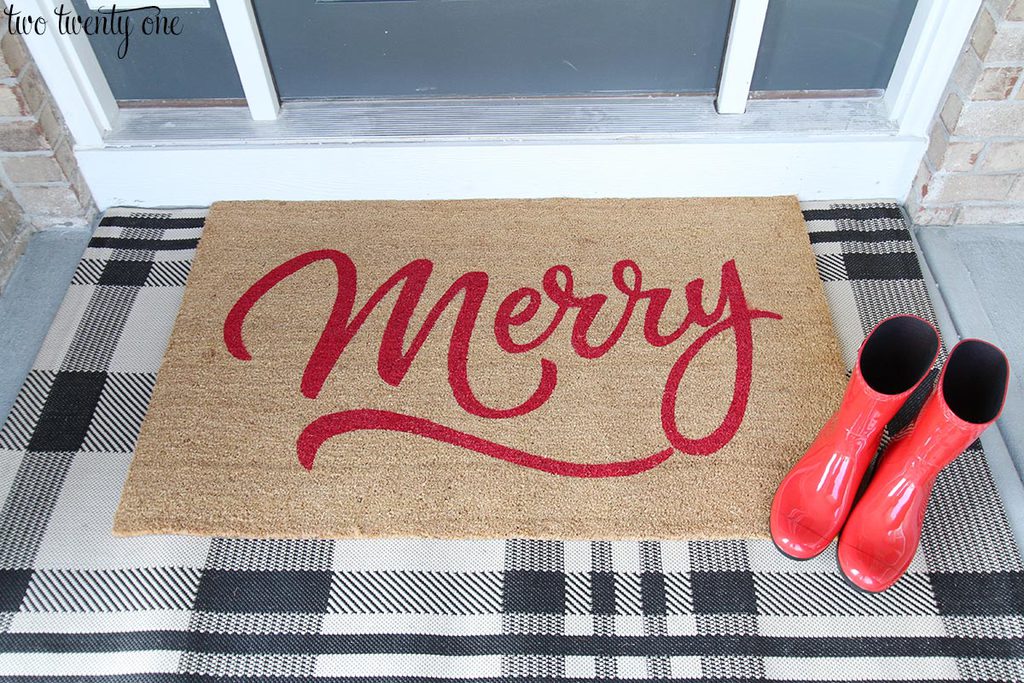 Large Lanterns
These two brass lanterns (similar) are almost always on the front porch. This year, I filled them with red, shatterproof ornaments and two strands of battery-operated fairy lights.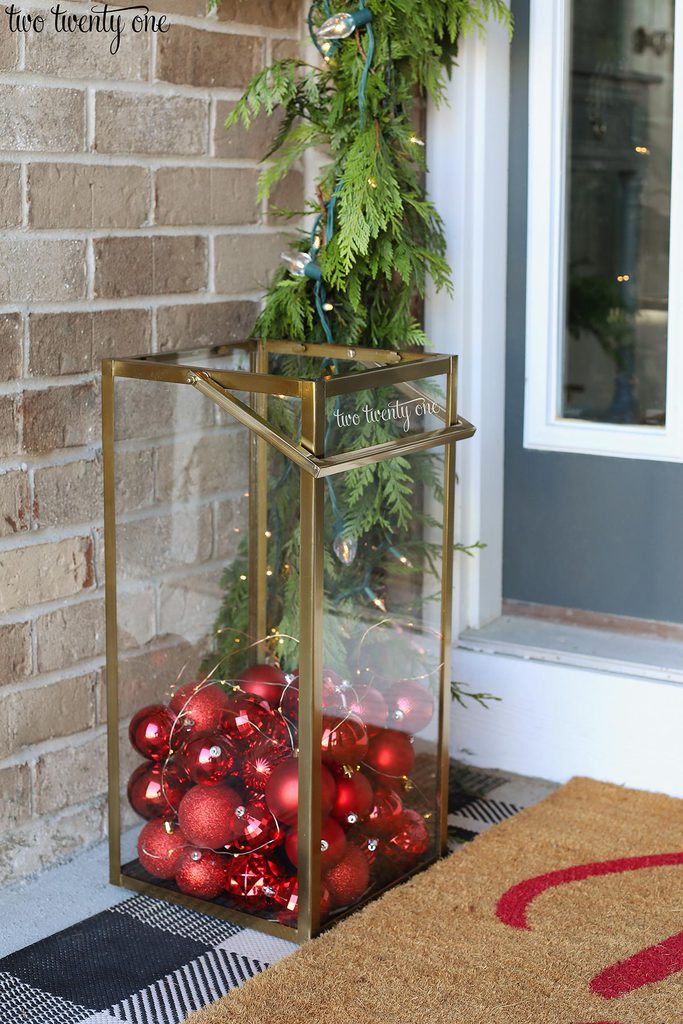 Mixing the different finishes of the ornaments adds dimension and visual interest instead of having all sparkly or all matte ornaments.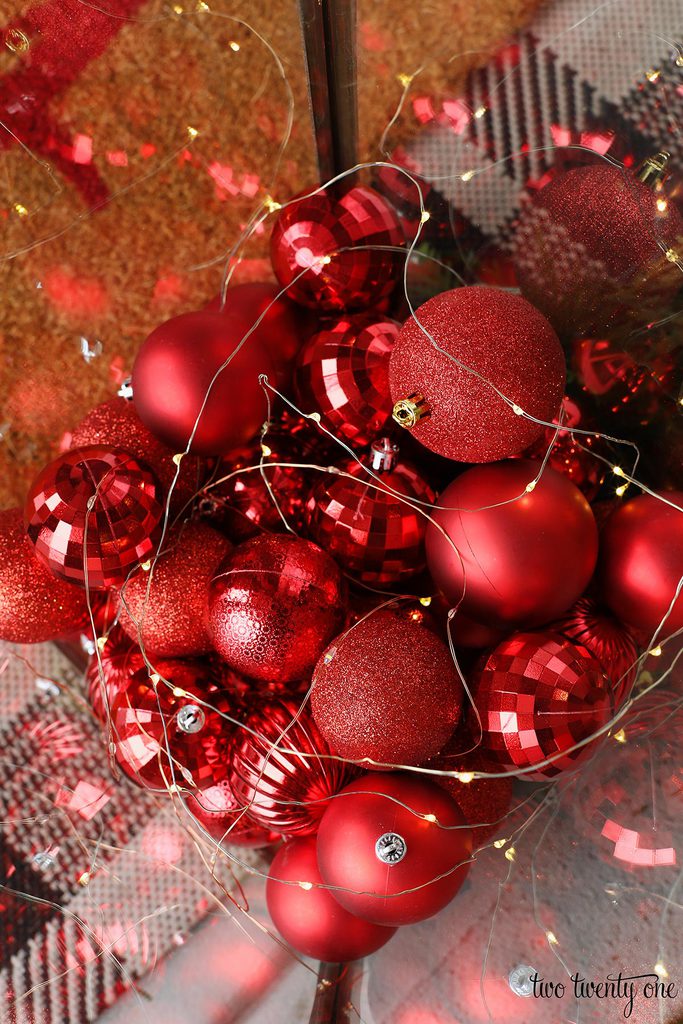 Glow Up
See how much the garland glows at night with the two strands of lights paired with the strand of big bulbs?
Stunning. Absolutely stunning.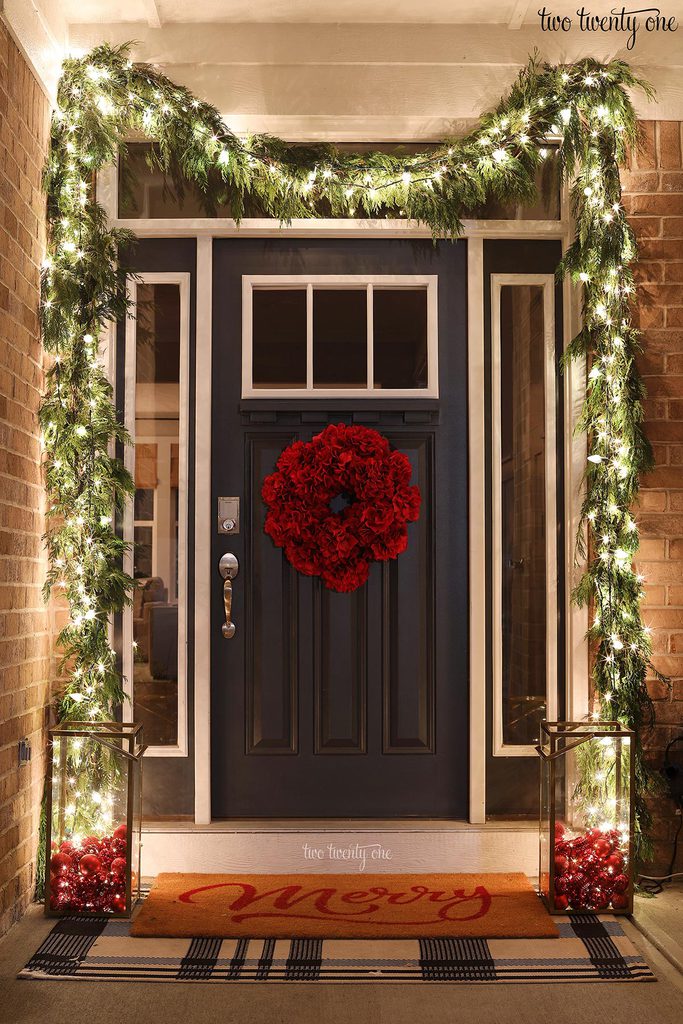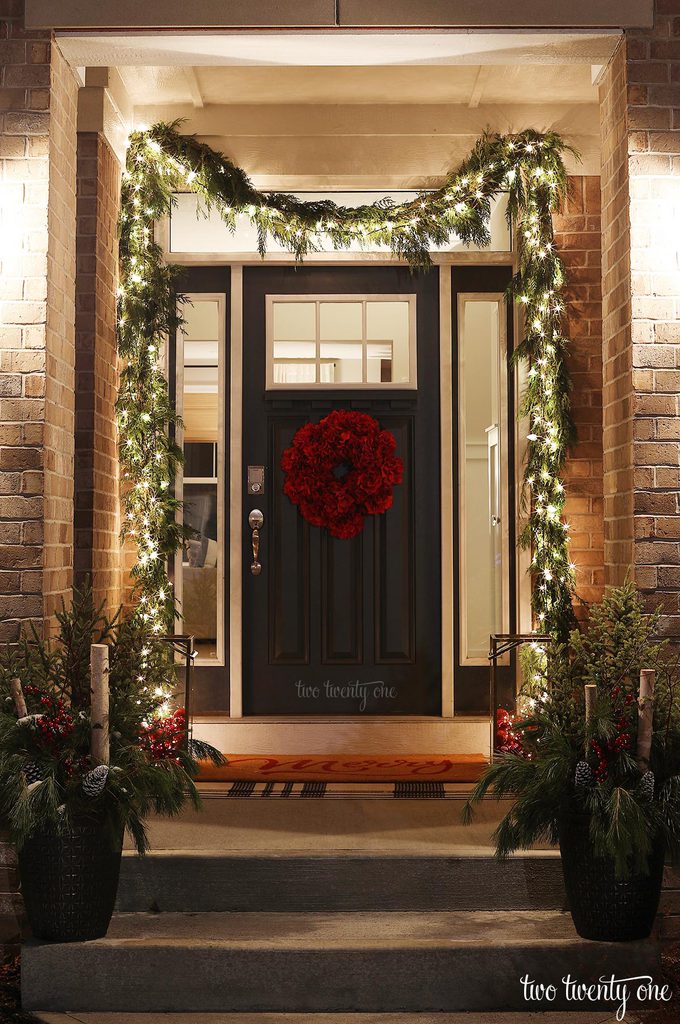 Pretty But Also Normal
And lest you think our front porch is super fancy, I shall leave you with this– a full view of our front porch. We became Christmas inflatable people last year when I put this 6-foot tall Santa, I bought on clearance the year before, on the porch to our children's delight. Emmett is positively smitten with Santa. Every day we have to greet Santa and identify all of his body parts and articles of clothing.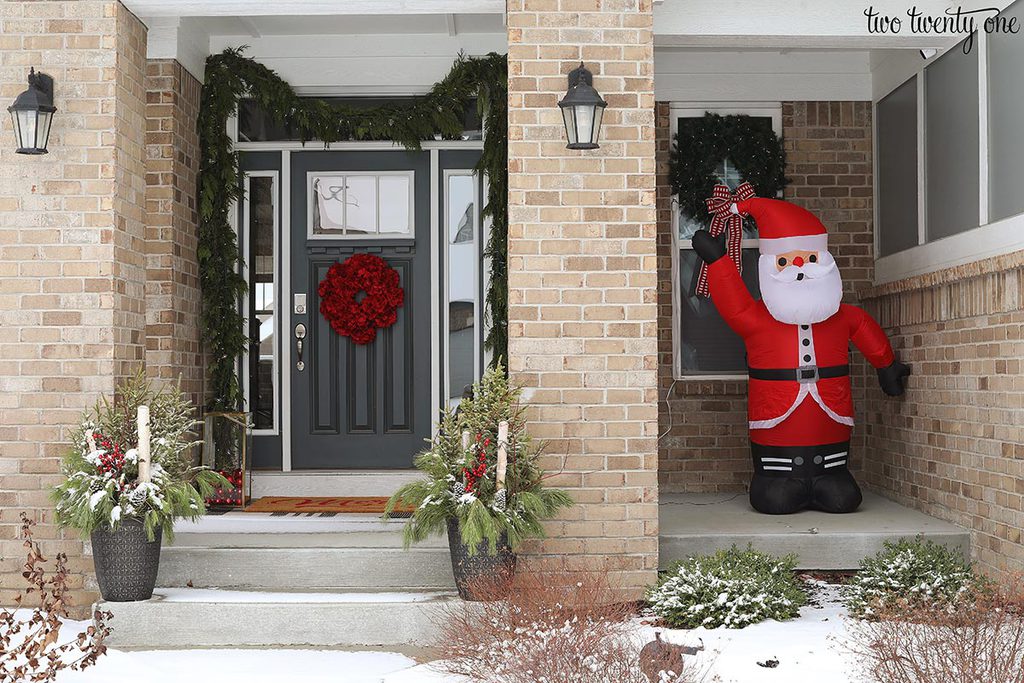 Just goes to show that you can have pretty front porch Christmas decorations but also rock a big Santa inflatable. The best of both worlds.
SOURCES
red shatterproof ornaments (similar)