Since we can enjoy our loft now, I decided to add a Christmas tree up there this year– a glam Christmas tree to be exact.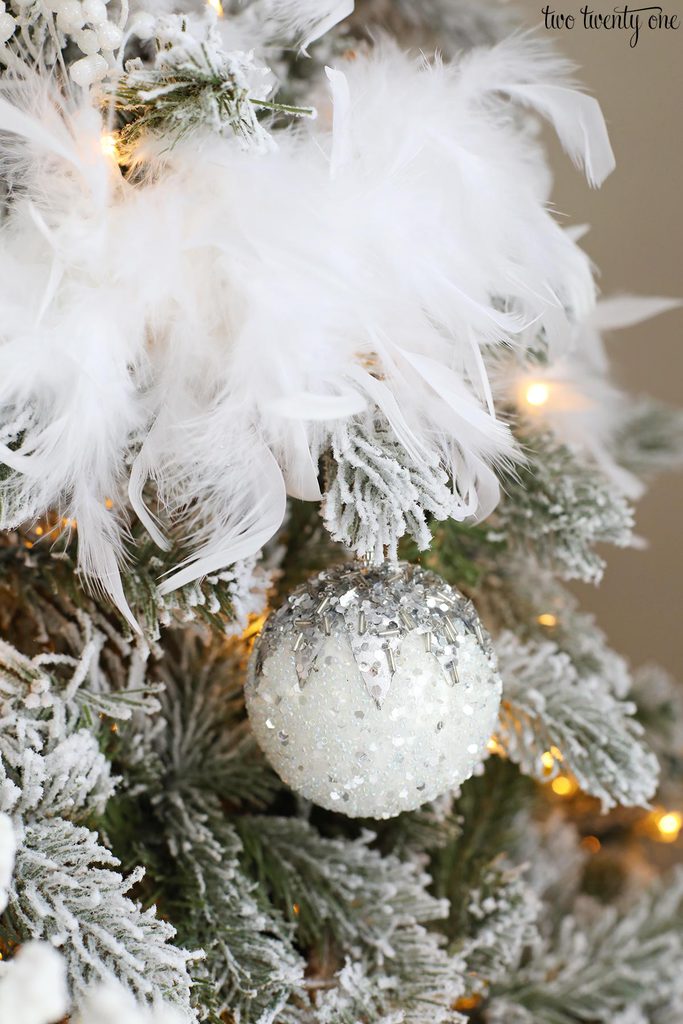 The Flocked Christmas Tree
The tree is a gorgeous pre-lit 7.5 foot flocked pine Christmas tree. The flocking is evenly distributed on all of the the tree, and the flocking didn't shed very much when assembling the fluffing the tree. It comes with 500 warm white LED lights. The tree gets loads of positive reviews on the website. There's lots of photos in the review area as well so be sure to check those out.
If you're looking for a more budget-friendly pre-lit, flocked 7.5 foot tree, I suggest this Christmas tree for $99. Click here!
Click HERE to buy my flocked Christmas tree!


Sparkly Tree Collar
When it came to decorating the tree, I decided to go with a glam theme based on the tree collar I wanted to use. While it was a bit of a splurge, I got it on clearance at the end of last season. Plus, I figure it'll last for years. The color scheme as you can tell was just all the sparkles. Simplest color palette ever.
Click HERE to buy a similar sparkly tree collar!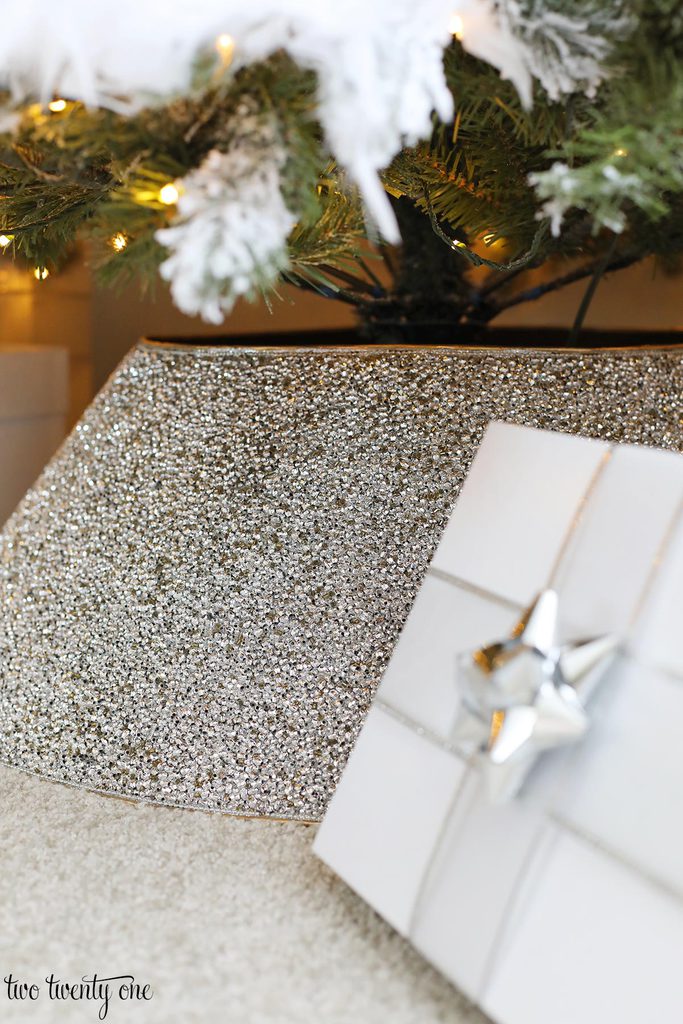 Glam Tree Decorations
I used a lot of Christmas tree decorations from my all white Christmas tree.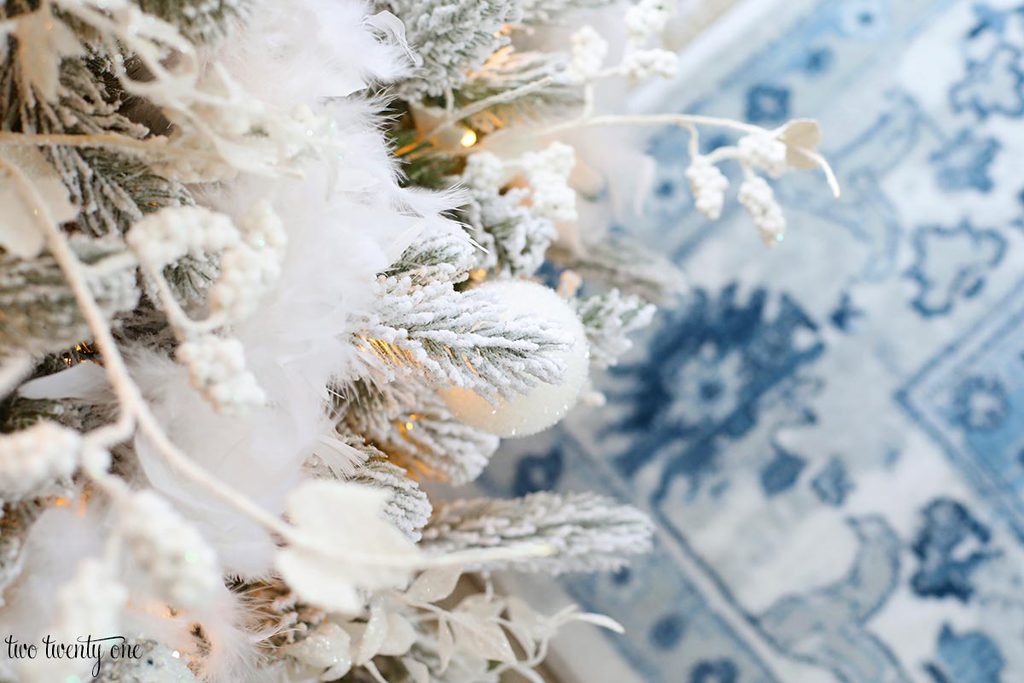 But I worked in some new stuff, like the white feather boas to create the appearance of heavier snow. I had one white boa on hand and I bought four more using 40% and 50% off coupons at craft stores. I cut the boas into smaller sections so I could spread them out on the tree.
Click HERE to buy the white feather boas!
Some of the ornaments are new too. I couldn't resist these disco ball ornaments and white and silver ornaments I spotted last weekend to really jazz up these holiday decorations.
Click HERE to buy the disco ball ornaments!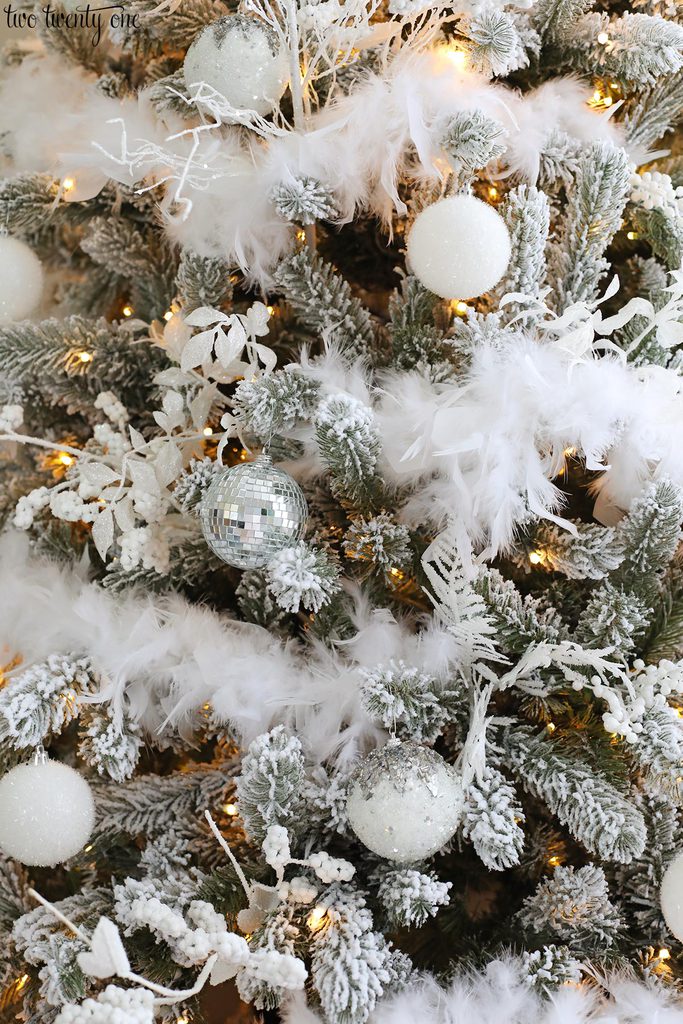 This tree was probably one of the easiest trees I've ever put together. I typically don't enjoy decorating the tree because something always looks off to me and I have to keep walking away and coming back but that didn't happen with this one for some reason. Which officially makes this my favorite Christmas decor of the year. What can I say? I'm easy to please.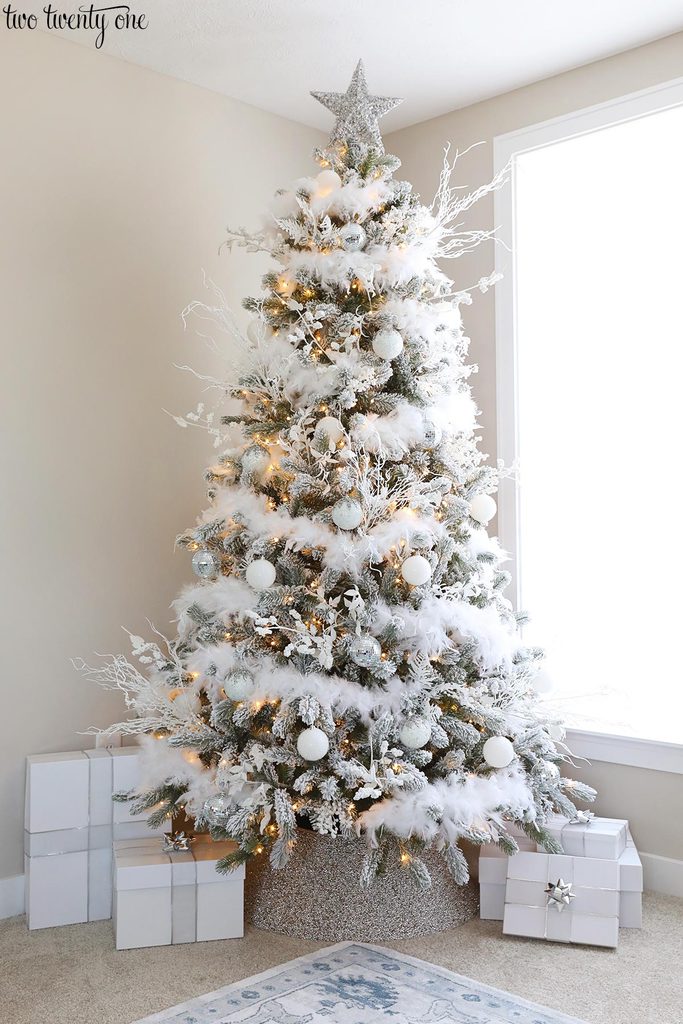 The snowball-looking ornaments are old, but these are similar.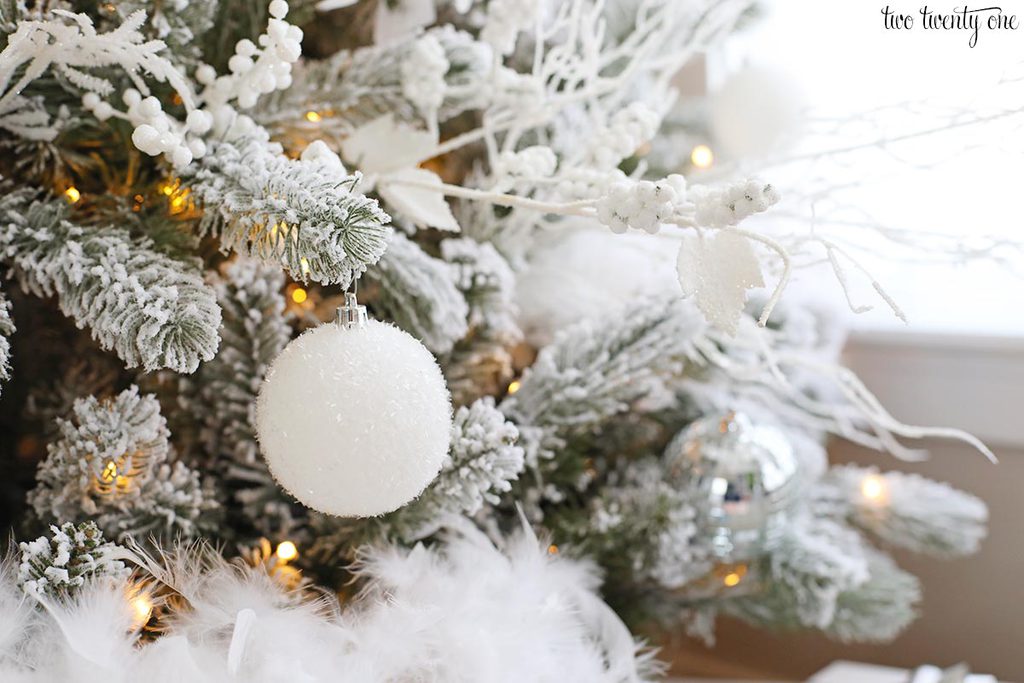 One thing I've learned from decorating trees and one of the best decoration ideas I can give you is to not focus much on ornaments. I really enjoy using picks. In fact, I didn't use any ornaments on my Christmas tree last year— just two types of picks. Just make sure you get out there and grab your picks soon. I've found that a lot of stores don't restock them once they're gone.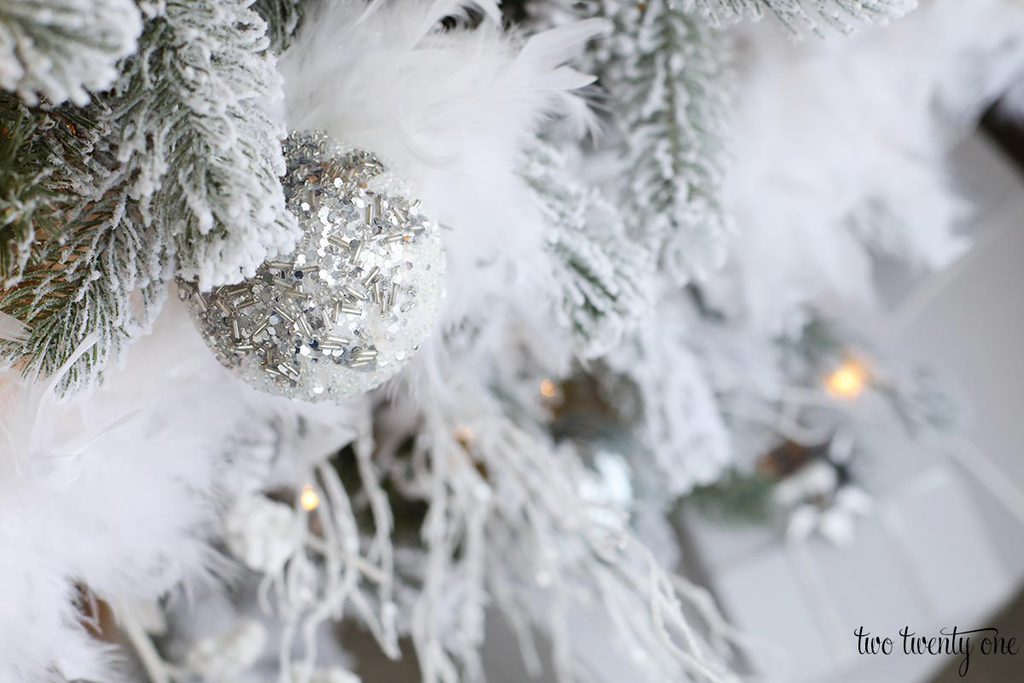 So the tree didn't look lonely, I put ribbon on some white boxes. But now Owen is asking when he can open his presents upstairs.
It's going to be a long month and half until Christmas. Poor kid. It's what comes with the territory when your mom is a home decor blogger for a living.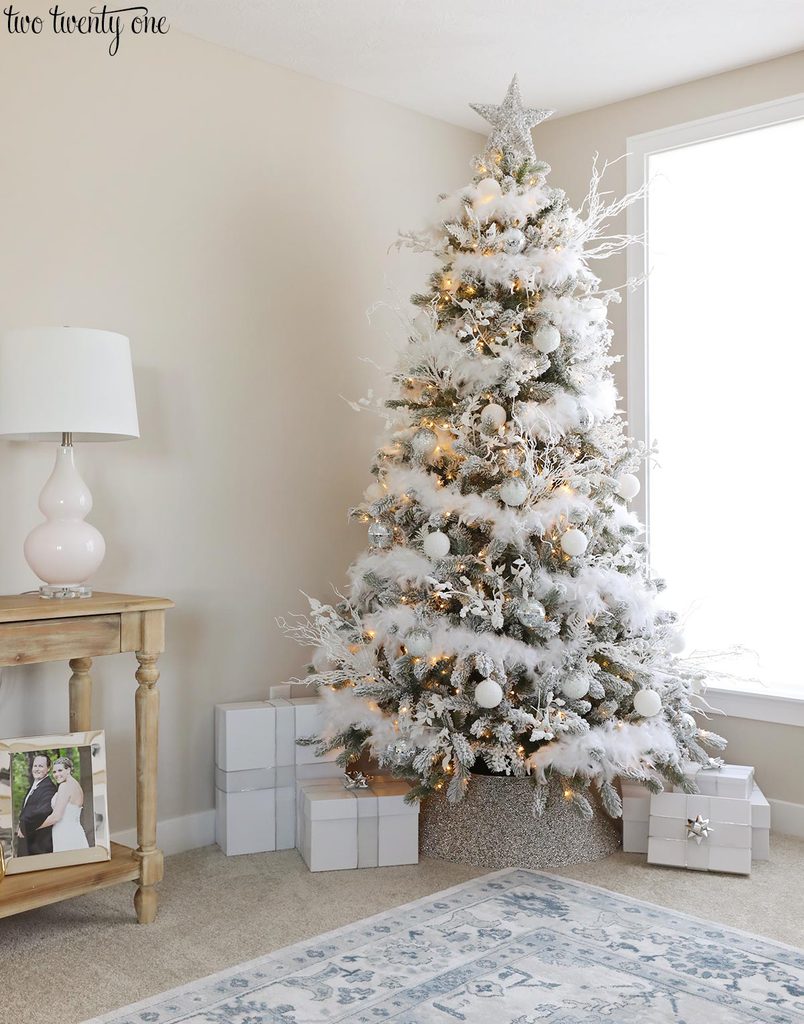 Click here to see my red and silver flocked Christmas tree!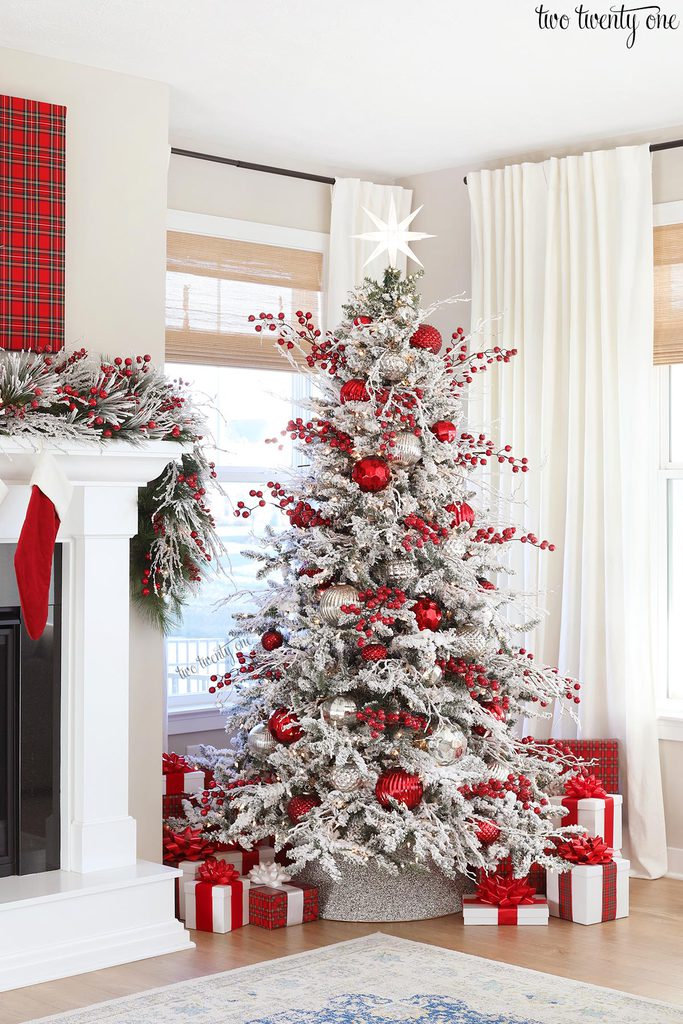 What do you think? Although I'm not too much of a glam girl, I must say that I'm loving the look of this glam Christmas tree for sure!