Loft Makeover: Gallery Wall & Rug
Back in September, I showed you my plan for our loft. I even created this fancy mock up in Photoshop of my vision. Well, I'm back to share more progress– namely the rug and gallery wall.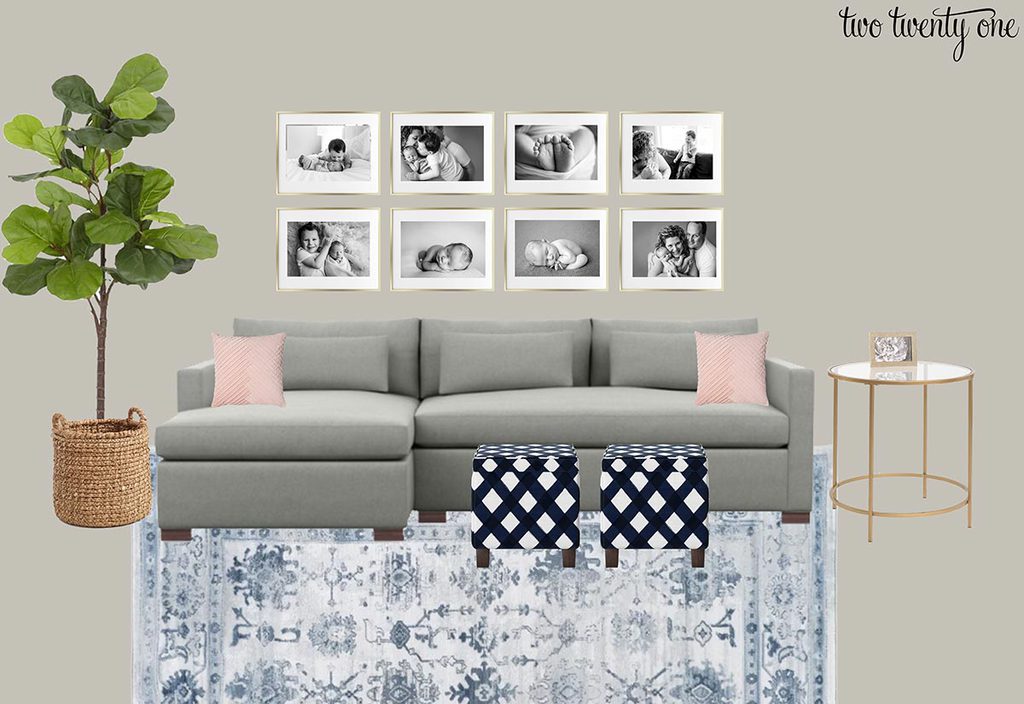 As a refresher, this is where I was in September. Our new Interior Define Charly sleeper sofa sectional had arrived. We went with a sleeper sofa in case we have more than one set of guests visiting us at the same time.
I found a place for my clearance impulse buy ottomans, and I bought that budget-friendly gold satin side table. And let's not forget the fiddle leaf fig I can never kill. It's a splurge, but I got it during a sale, and I used a gift card leftover from Christmas to offset the cost.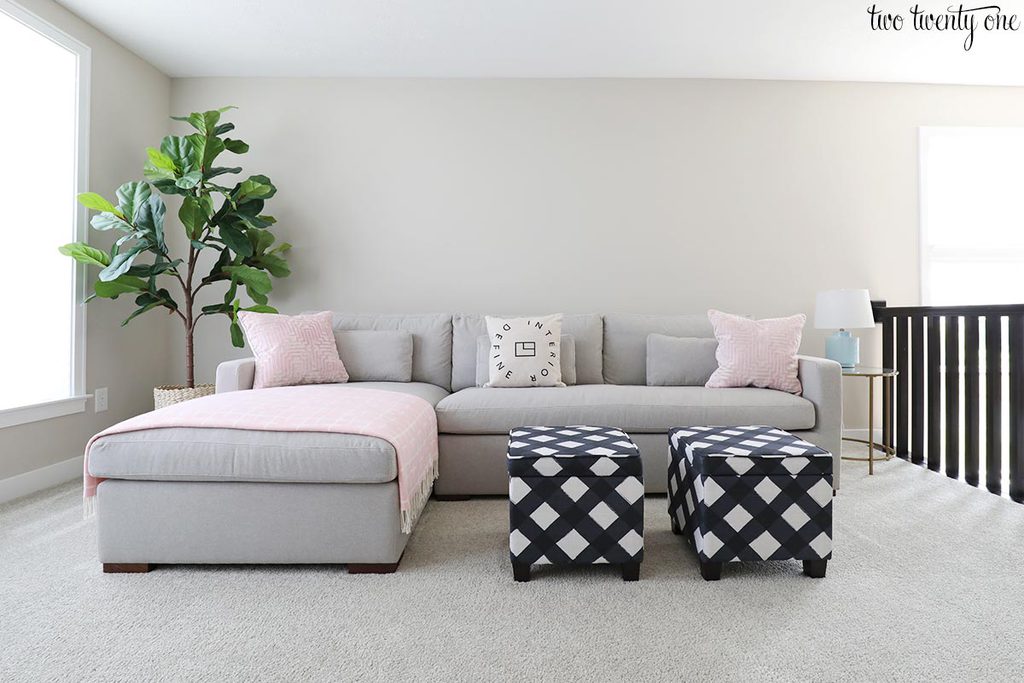 I wanted a rug for the room to help break up all the gray/greige going on. Because the loft is open to our stairway, it's going to be expensive to paint (it'll require scaffolding), so for now I need to work with the current wall color. I think the rug does a great job of breaking up all the neutral colors. It's really soft too!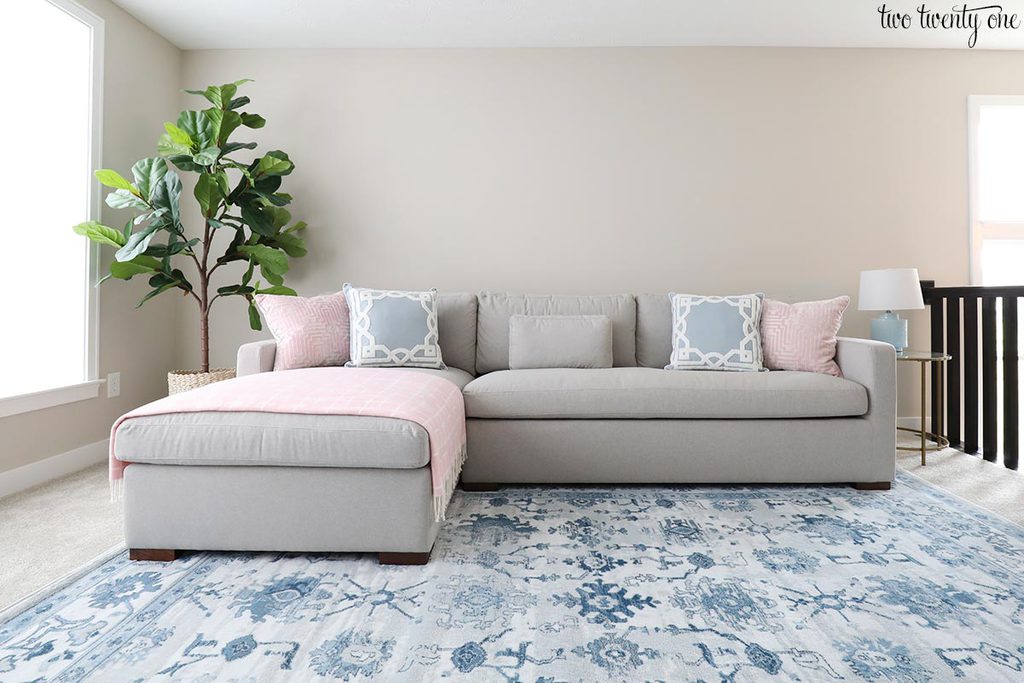 This past Friday night, while my parents were here to help us out after Owen's surgery, Brad and I knocked out the gallery wall above the sofa. Lots of measurements were taken and math was computed and written down in a notebook to create the grid. Don't ask for a tutorial because I'm sure our method was way more complicated than it needed to be.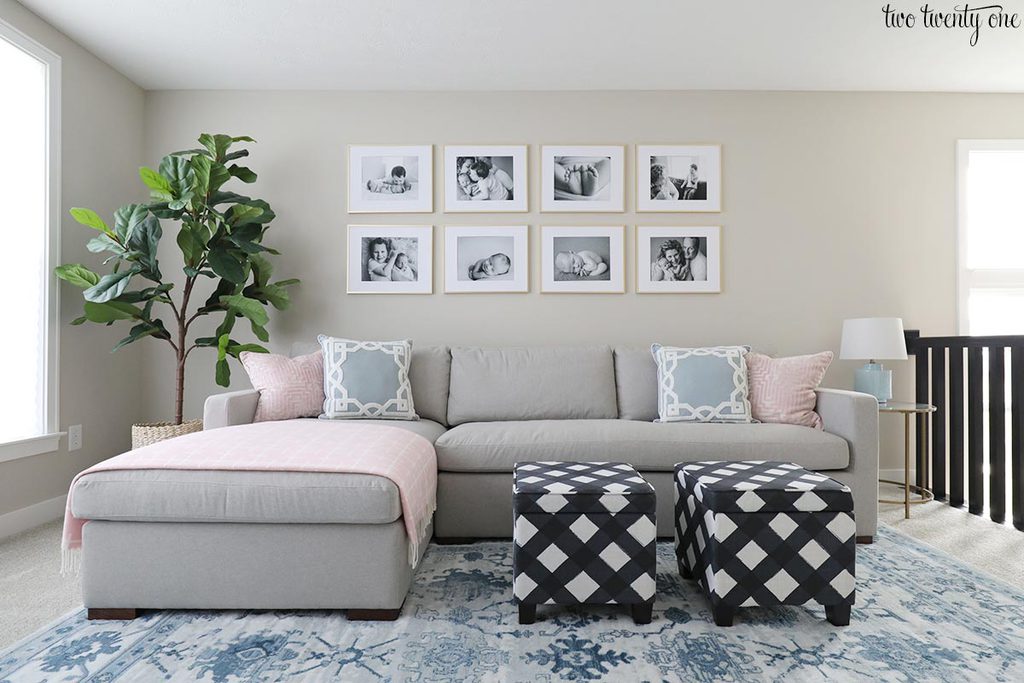 We've spent a small (worth it) fortune on family and newborn photos, and I didn't have any on the walls. This was the perfect spot to create a family shrine. Since it's mostly pics of our kids, I like to call it my "Look What I Made! Wall" Please refrain for coming for me and saying my husband helped create our children too. My job in said creation was much harder than his.
Most of the photos are from Emmett's newborn session and when Owen met Emmett and. And I had to include a newborn photo of Owen (bottom, second to the right). I decided to go with black and white prints so they'd look cohesive. The matted brass frames are a favorite of mine because they're pretty inexpensive but don't look it. For reference, the photos are 11×14, and my preferred photo lab is mpix.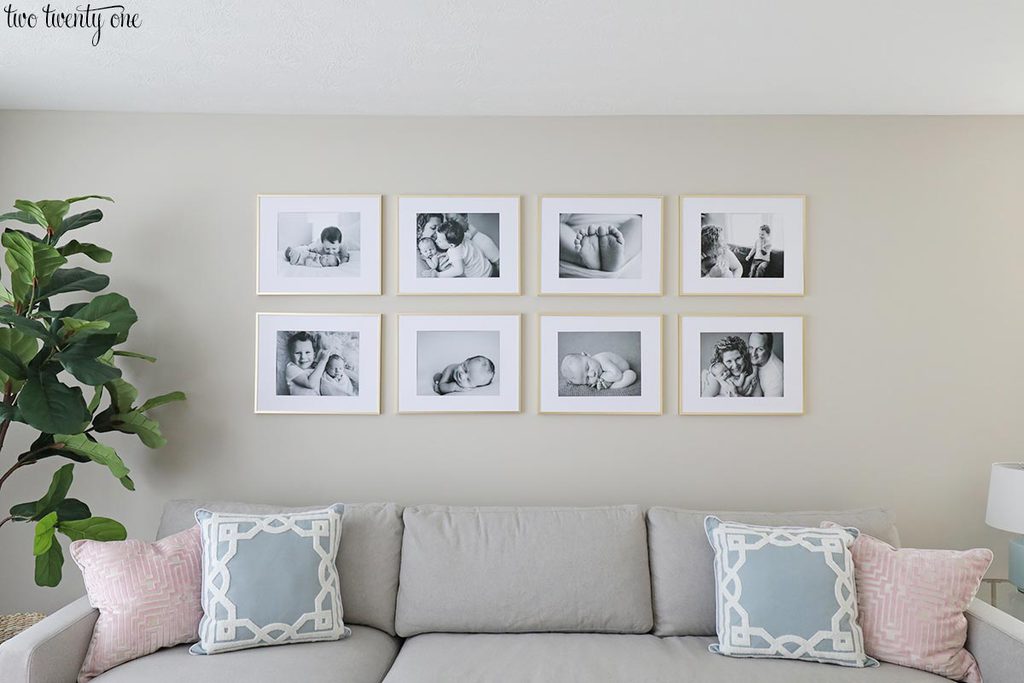 If you're thinking "Wow, there's no glare on those frames!" it's because I'm psycho and took the glass out of the frames so there wouldn't be any glare in these photos. I know, it's crazy but glare in photos bugs me. However, I'm putting the glass back in and leaving it so any future photos of this space will include glared gallery wall frames. You've been warned.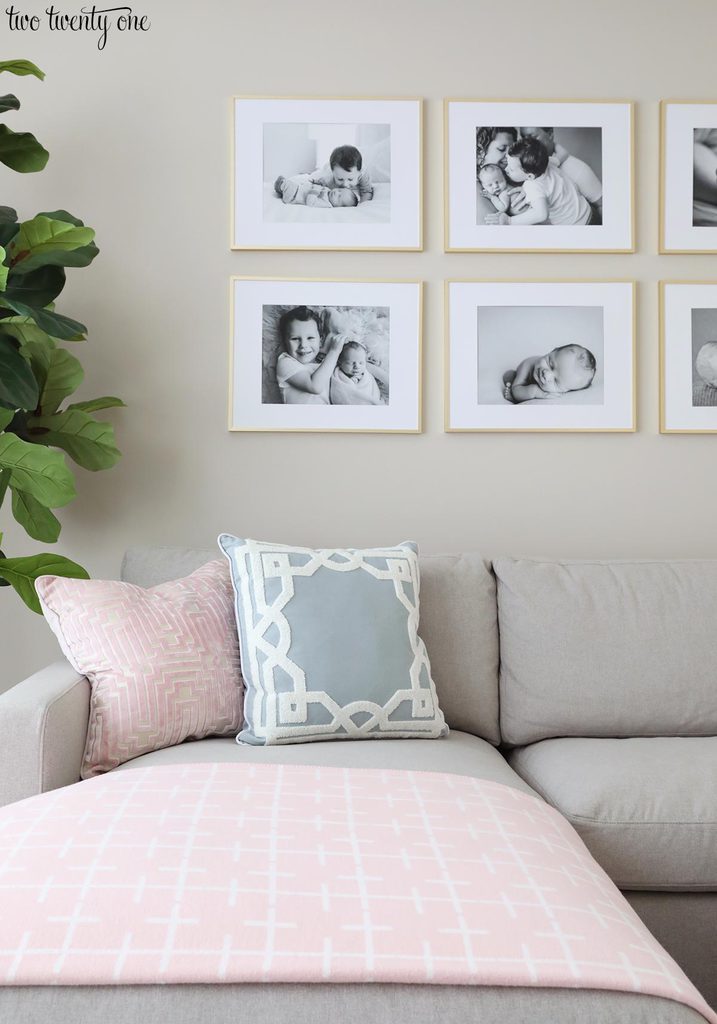 I'm really loving this space. It's very pretty at night with the three lamps turned on. But I still feel like I need to give it more masculinity. I'm sure if I swapped the pink pillows and throw and substituted with another color that would help but I'm surrounded by boys, and pink is my favorite color. I'm hoping the curtains will help it look less pastel and overtly girly.
Here's my list of things I need to finish the room:
• curtains and curtain rods
• permanent window treatments
• ceiling fan/overhead light
• accessories for tables
• chair?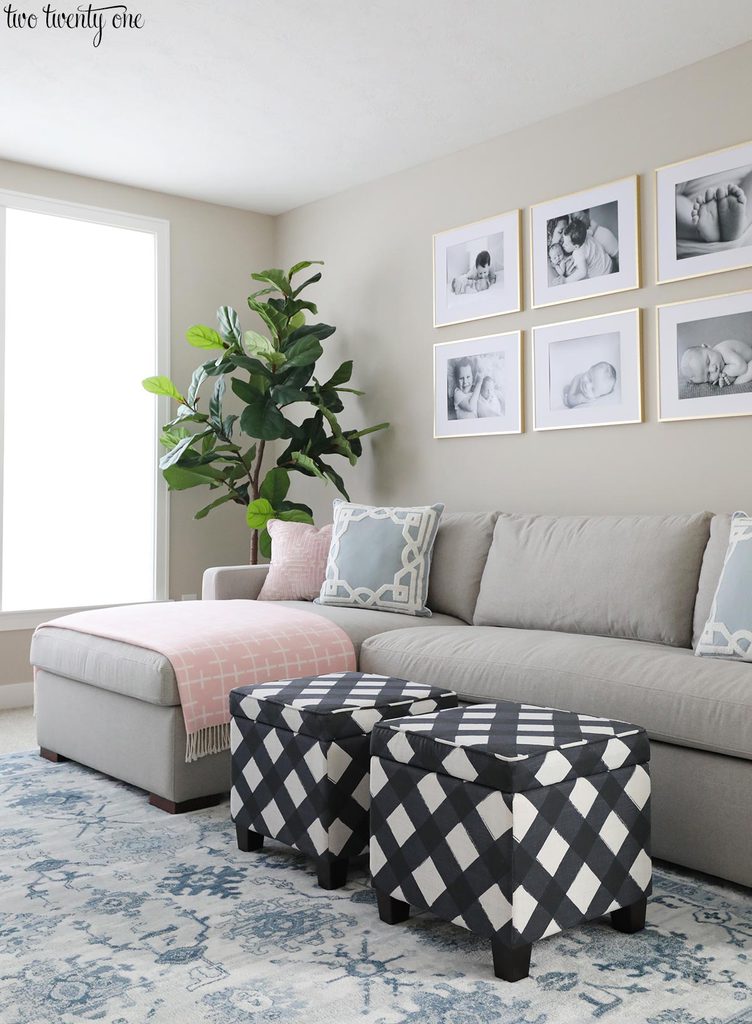 SOURCES
sectional … Interior Define
rug (8×10) … Wayfair
frames … Target
ottomans … Target
side table … Target
faux fiddle leaf fig … Pottery Barn
basket … Target // similar
pink pillows … Target // similar // similar // similar
gray pillows … HomeGoods
pink throw … Target // similar // similar
light blue lamp … HomeGoods