Living Room Picture Ledges
I've said it before, I love the vaulted ceilings in our great room, but they plague me. It's hard to find the right wall art or furniture to fill the large sections of wall. Well, score one more for me because I figured out another area of wall– the space above our love seat. The solution? Picture ledges.
A few months back I saw some picture ledges in a magazine, and I was all "Oh, I can make those." Then, on my last trip to Ikea I spotted these 45 inch, white Ribba picture ledges. For $15 each. Sold. Sometimes it's easier to pony up the cash than to do-it-yourself. If I would have done this project I probably would have spent close to $30 on the wood and paint. And not to mention the 2-3 hours of work I'd have to put into them. There's a little DIY cost-benefit analysis for ya.
Before we get into all the details let me show you what I was working with before. The before and after image made me laugh because it totally looks like one of those weight loss before and afters.
I was basically trying to work with what I had. But as you can see, it definitely wasn't working. To say I love the 'after' is a definite given. The white ledges and frames and the colorful prints brighten up the space. Even the throw pillows I swapped in made this small area more fresh and less dated.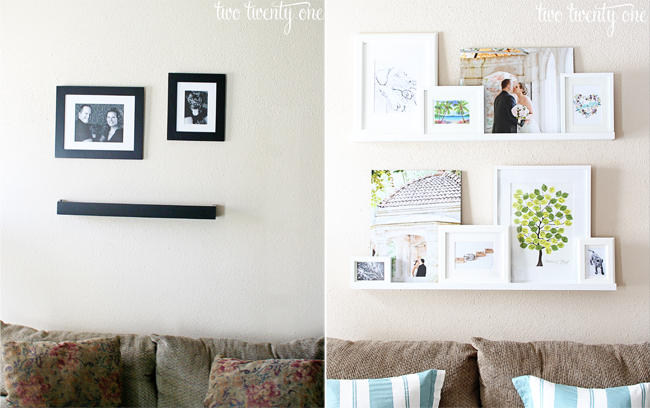 Securing the ledges to the wall was pretty easy. Each ledge comes with three pre-drilled holes. We managed to get the middle screw into a stud, and we used drywall anchors to secure the other two screws. If you plan to install these ledges I highly recommend getting your middle screw into a stud. I don't think the ledges would hold if they were installed with only drywall anchors and screws.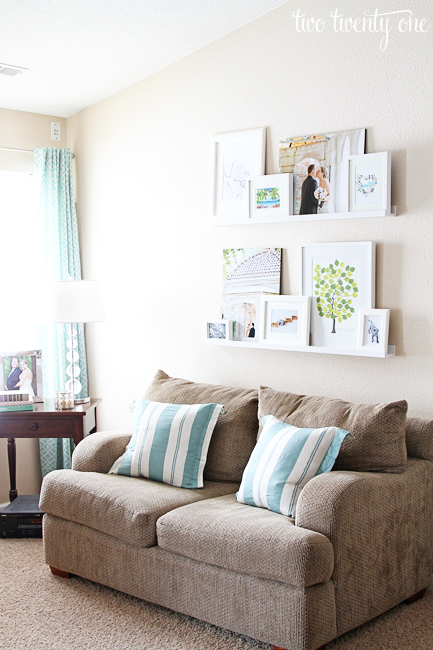 Putting up the picture ledges was a breeze. Styling the ledges was another thing. You wouldn't think it'd take much time but it did. My need to create visual triangles can be time consuming. So pairing my perfectionist ways and my will to include only images that have some sort of meaning to us resulted in an hour or so of switching photos around.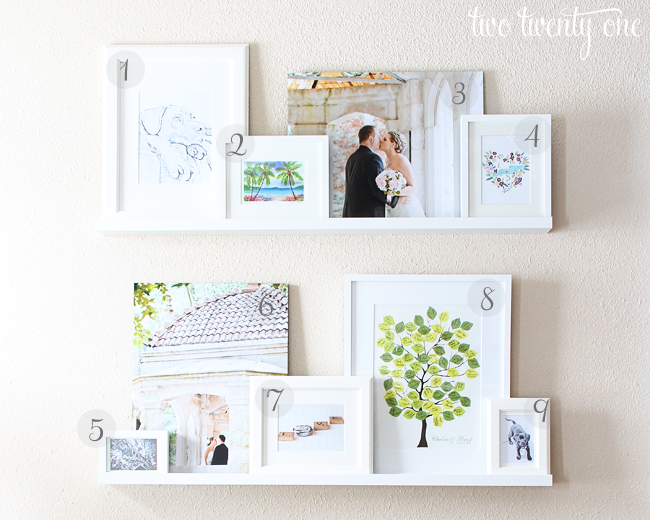 Here's a breakdown of all the photos I used, in case you're interested.
1. Sketch of Jack I created in Photoshop.
2. Reprint of watercolor painting I picked up in St. Martin while on a cruise we took in 2008.
3. Wedding print (where we got engaged and had our first look).
4. I made this custom monogram on the Wedding Chicks blog.
5. Black and white photo of a street sign– it's where Brad and I met in Bloomington. Well, not on a street corner– Brad's fraternity live out house was at the corner of 18th and Lincoln, so the house was always called '18th and Lincoln'. Unfortunately, we don't have a Pretty Woman love story.
6. Wedding print (again, where we got engaged and had our first look).
7. Wedding photo of our rings with Scrabble tiles that make out the word 'love'. Awww.
8. Our wedding guest book tree. I love that thing. It's no longer available from the business I purchased it from, but these are similar.
9. Black and white photo of Jack as a pup.
All of the frames are from Ikea.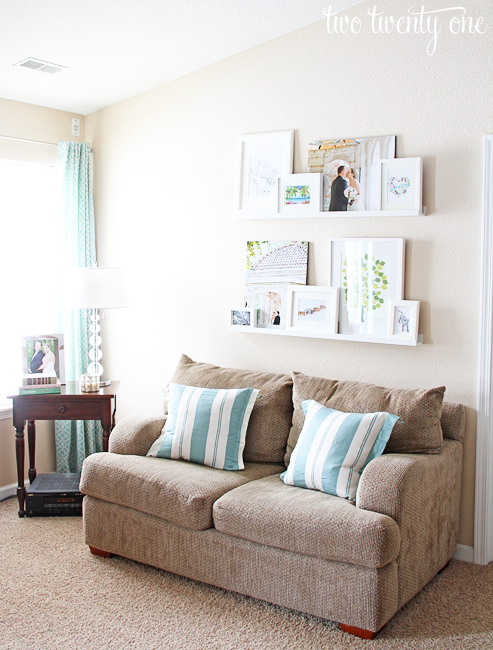 In the end, I spent less than $75 for the entire display. I haven't figured out how to secure everything to the wall yet. But we've had this up for over a month and nothing has fallen off. I'll get around to the securing part eventually. But if you happen to come over and sit on the love seat, you've been warned.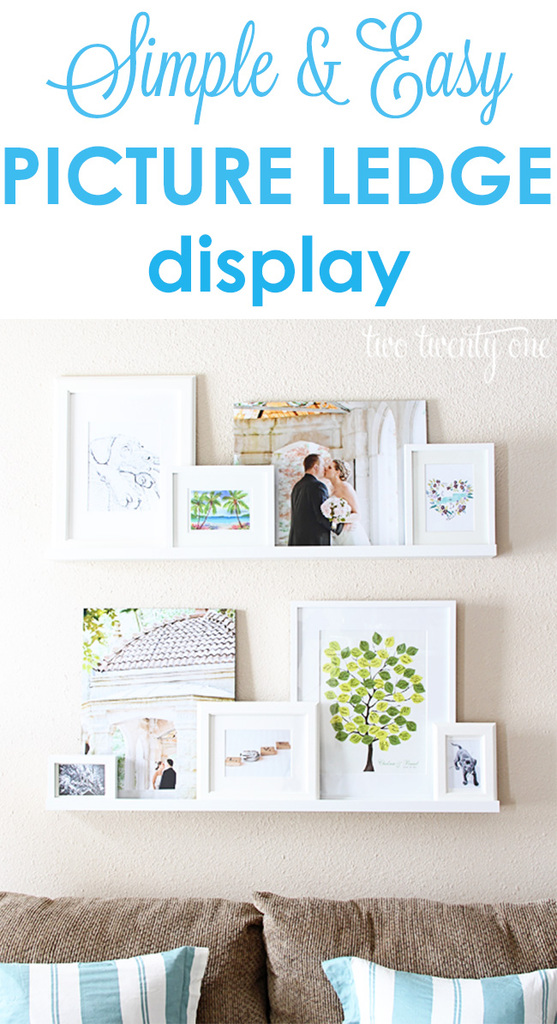 What do you think about the picture ledges?
Have you ever purchased a piece rather than doing it yourself?