Thanks for all your amazingly sweet comments yesterday about my home office makeover reveal. You guys are the bomb diggity.
Today I'm sharing some more details about the makeover and where I purchased everything. And you know how I like transparency, so I'm also sharing the approximate cost of the makeover. I'm going to give the prices of things I specifically purchased for the makeover.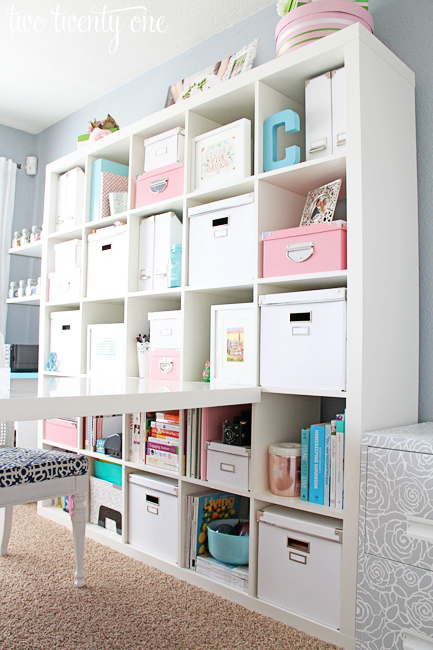 Wall color: Voyage by Valspar… $30
Workstation: 6×6 Ikea Expedit (now called Kallax) shelving unit and Expedit (Kallax) desk… $200 + $50 = $250 (BUT it was technically free to me because I cashed out some credit card points I acquired through paying for our wedding expenses.)
White boxes and magazine files: Ikea Kassett… $55
Pink boxes: Hobby Lobby… $35
Bridal bouquet canvas: Canvas On Demand (Groupon)… $45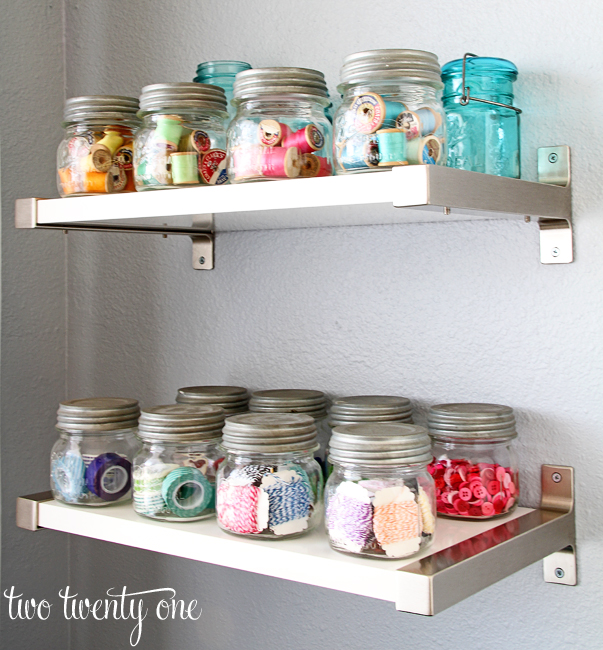 Shelves: Ikea EKBY JÄRPEN/ EKBY BJÄRNUM… $25
Clear Ball mason jelly jars: Goodwill… $12
Turquoise Ball mason jars: Yard sale and Goodwill
Bakers twine: eBay (18 spools)
Washi tape: Target
Vintage thread spools: Grandma
Buttons: JoAnn Fabric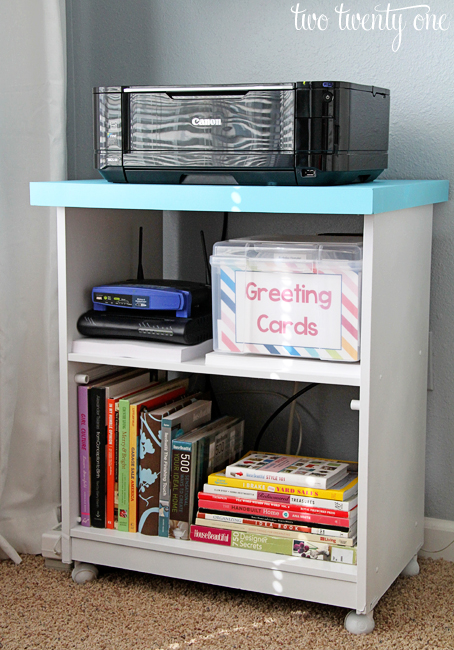 Printer cart: Gift
Greeting card organizer: Gift via Amazon.com (read about it here)
Here's the before and after of the printer cart. I used spray paint to spruce it up a bit.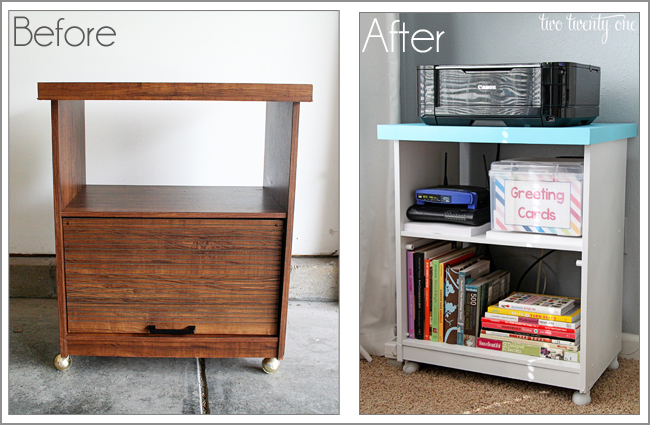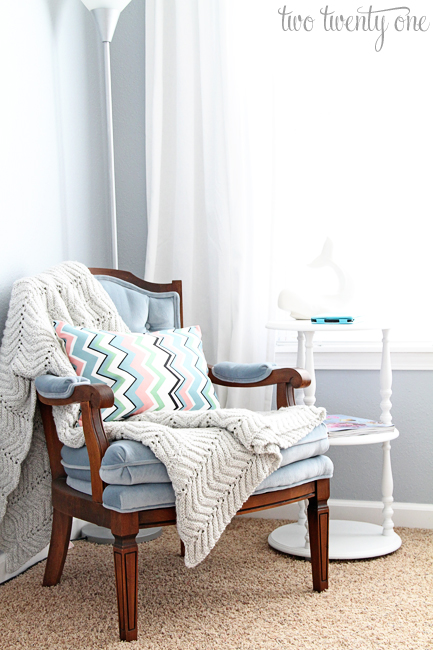 Chair: Craigslist
Table: Goodwill… $9
Whale:  Kohls
Pillow: Home Goods
Blanket: Handmade gift
Curtains: Target… $20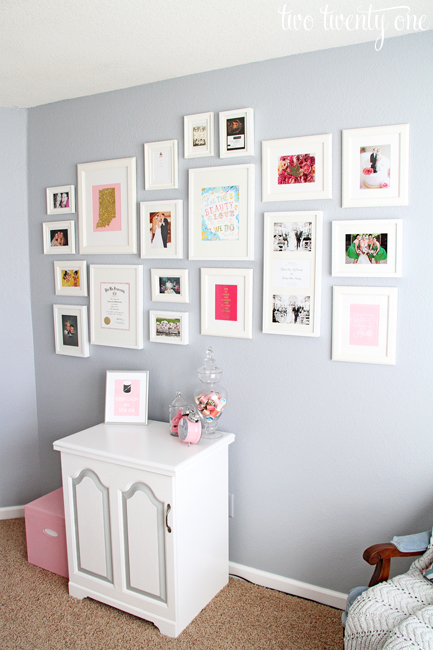 Gallery wall frames: Ikea (full details here)… ~$100
Katie Daisy print: Katie Daisy… $15
Sewing cabinet: Gift… but, the makeover cost around $40 (read about the makeover here)
Pink storage box: Kohls (read about the makeover here)
Apothecary jars: Micheal's and Home Goods
Pink threads: thrift shop and grandma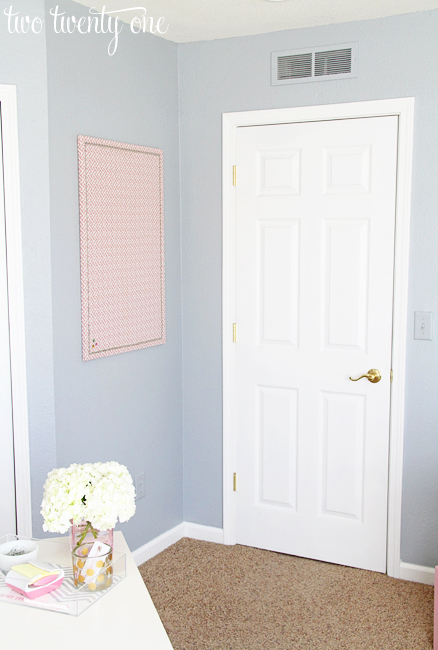 Fabric covered faux nailhead trimmed memo board:  Upcycled old cork board… $12 (read about the makeover here)
Pink vase: Gift
Personalized lucite tray: DIY project… $15 (read about it here)
Gold polka dot candle holder: Target
Small white bowl: Goodwill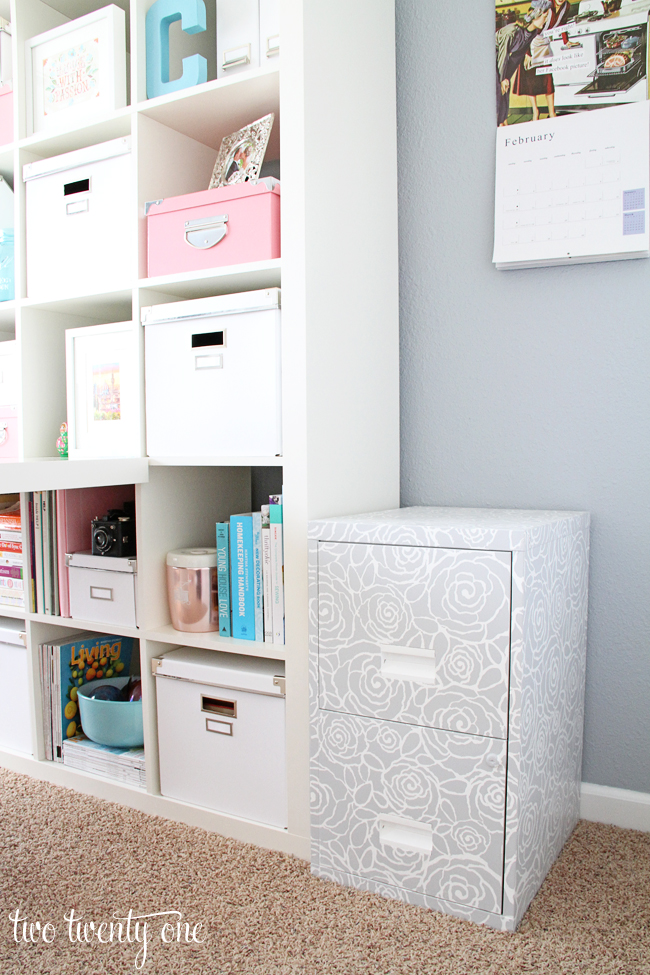 File cabinet: Gift (read about the makeover here)
Calendar: Anne Taintor via Amazon.com… $13
TOTAL AMOUNT SPENT: $651 – $250 (gift card from credit card points) = $401
A room makeover for less than $500? Not too bad.
Who's itching to go to Ikea now?
Any other questions?