Hey guys! Hope you had a splendid weekend and Mother's Day! Our weekend was jammed packed with fun. The highlight has to be our first pilgrimage to Ikea in Cincinnati. Brad even took off work Friday for this momentous occasion. You bet we filled up the back of Brad's SUV before voyaging back to Indiana.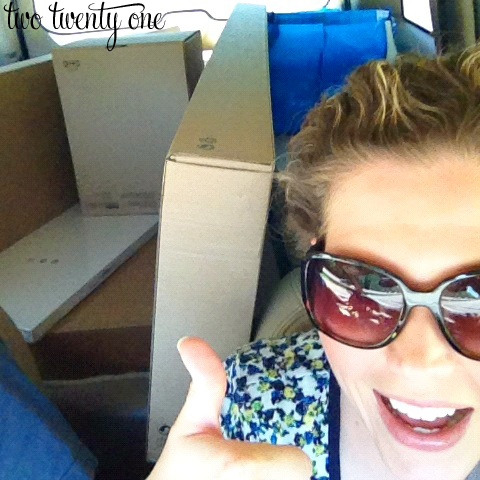 In case you're concerned, I'm not driving in this photo. My phone went all wonky on me and swapped the photo to look like I'm in the driver's seat, taking photos of myself while, apparently, driving with no hands.
So I committed a royal blogger fail. I went to Ikea, and the only photos I have to show you are of our food. I'm sorry. I got so sucked in to looking that I completely forgot to take photos. But I'll assume that many of you have been to an Ikea, and you know what it looks like inside.
We had to try the meatballs and chocolate cake. No disappointment there.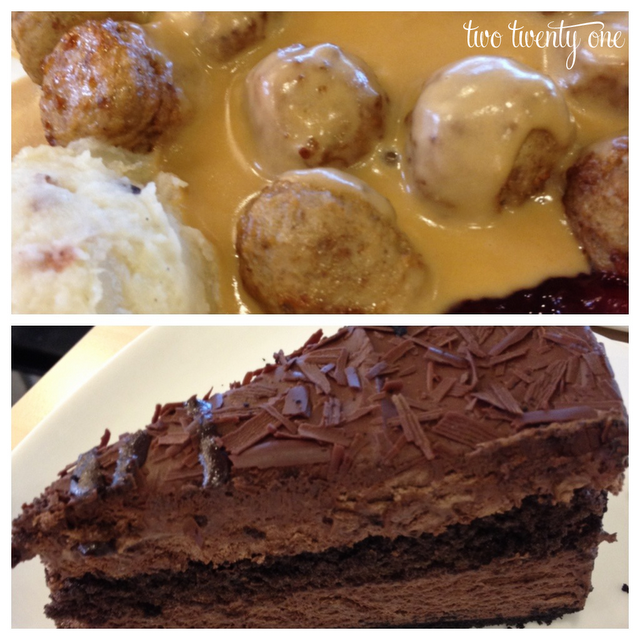 I'll offer you some tips to make up for my lack of photos. Sound good? OK, so if you're a first-timer, take a list. I went on Ikea's website and used my snipping tool to capture the photo, name, and price of each item I wanted. (I also browsed their online catalog and snipped images of things that I wanted to look at.)  Then I inserted the images into a Word document and printed it off.
I'm so happy I did this. It's very easy to get distracted in there. The list helped me stay focused on the things that I really wanted to get. Not gonna lie, I'll probably take a list every time I go.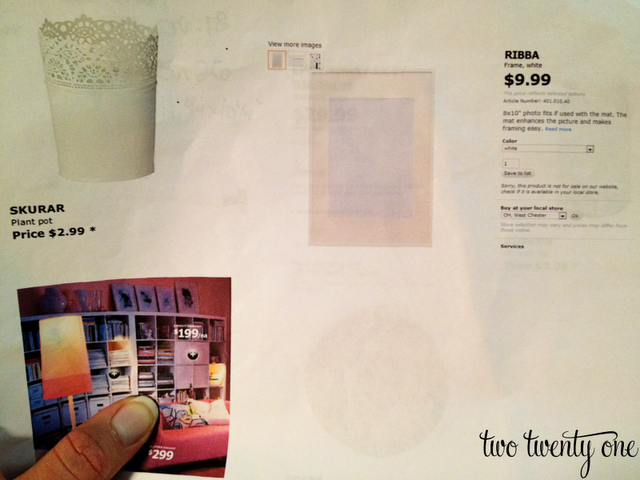 Another tip?
Go on a weekday. We left our house around 9AM on Friday morning and arrived at Ikea around 11AM, an hour after it opened. The place was practically empty for the 3 hours we were there. I couldn't imagine going in there on a Saturday.
If you're driving 100+ miles like us, I'd suggest going on their website and making sure that they have your item(s) in stock. I got a very large, sometimes out of stock item, so I went online Thursday night and made sure that my item was, indeed, in stock.

I can't wait to show you guys what we got! I figure seeing the final products of what we purchased will be more exciting than the items in their boxes.
What's your favorite Ikea purchase? If you've never been, w
hat would you purchase?
Do you have to drive 100+ miles and take a day off of work to get there?
Who thinks Indianapolis should get an Ikea?