I'm going to share my favorite finds from all three retailers here. I'll update this post often so keep checking back throughout the day. Use the Table of Contents to easily navigate to things that are of interest to you.
Keep in mind that now is a great time to grab birthday and Christmas gifts!
And be sure to follow me on Instagram Stories because I'll share things there as well! If a link isn't working, send me a message on Instagram!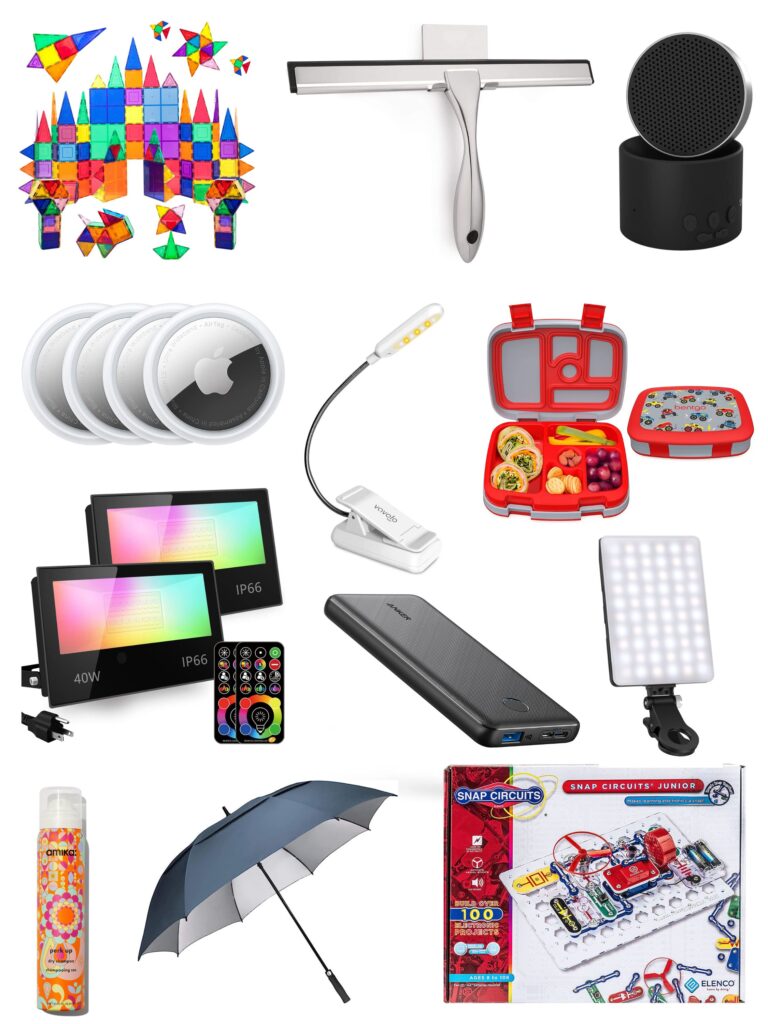 Amazon Prime Days
Travel White Noise Machine
We've had this travel white noise machine for years and LOVE IT. So much so that we own two– one for the kids and one for us whenever we travel. And a few months ago, I started using one every night when I sleep. It's very compact so it's perfect for travel.
Bissell Carpet and Upholstery Cleaner
An Amazon Prime Day staple. I bought our Bissell Carpet and Upholstery Cleaner last year during Prime Days. It came in clutch this past spring when Emmett vomited all over our carpeted hallway upstairs. I'm happy to report it got the stain out. It's on sale for $86!
Apple AirTags
If you follow my Stories on IG you know I love AirTags. I keep them in every day items like my purse and the kids' backpacks. I also use them in suitcases when we travel. You can even buy dog and cat collars that will hold an AirTag. Get a 4 pack of AirTags for less than $89!
AirTag Key Rings
I have all of my AirTags in these silicone key rings. I like that they make it easier to grip the AirTags, and because they are different colors, I can color code each AirTag in my Find My app. Score a 4 pack for less than $9!
12-Inch Shower SqueeGee
This 12-inch shower squeegee is the reason why I don't have to deep clean our shower very often. I know it'll sound excessive to some, but every night, after we're done showering, we take two minutes to squeegee our entire shower (glass, tiled walls and floor).
Waterproof Cellphone Pouch
We love this waterproof phone pouch! It's perfect for a beach or water-related vacation or outing. I used it at Great Wolf Lodge a couple months ago and got some really cute videos of the kids. It's on sale for less than $7!
Bag Hanger
I bought this polished gold bag hanger a few months ago after a friend recommended it. I love how it's compact and doesn't take up much space in my purse. I've used it while out at restaurants, and it works perfectly! A great gift idea! It's on sale for 32% off!
Clip-On Light Kit
I use this clip on light kit for Zoom calls. Is it necessary? No. But it makes me look brighter and more awake. I like how I can clip it on my laptop. It can also clip onto a phone. Grab one for 30% off!
Clip-On Book Light
I originally bought one of this clip-on book lights for Owen to use when we read before bed. Then, I bought myself one to use when I'd embroidery in bed at night. We love a multi-purpose product! It holds a charge for a long time. On sale for less than $10! Some colors are more inexpensive than others so click through the options if color doesn't matter to you.
Snap Circuits
We bought this Snap Circuits electronics exploration kit for Owen last year during Black Friday. He loves it!
Dry Shampoo
My favorite dry shampoo is on sale! With this stuff, I can easily get 7+ days out of a blowout. It's also my stylist's favorite dry shampoo.
Shower Filter
Last year, we installed this shower filter on our primary shower head. It has helped my highlighted hair from getting brassy and our skin feels less dry. Don't forget to click the 15% off coupon!
Mattress Protector
I have these mattress protectors on the kids' beds. They're great for containing any nighttime accidents and they come in clutch when you have a barfer. Emmett exorcist vomited on his bed last year, and the mattress protector did its job. I also used one of our spare mattress protectors to protect his headboard, and I'm glad I did. Make sure you click the coupon!
Womens Blazer
The white blazer I wore for the cocktail party at BHG Stylemaker last year is on sale! It comes in an array of colors.
Shoe Bags for Travel
I bought these transparent shoe bags a while back, and I love them. They're classier than the Target shopping bags I used to put my shoes in when I traveled.
Mini Fan
I originally bought this handheld fan to dry my makeup setting spray. But I've gotten more use out of it than just for that this past summer. It fits perfectly in my purse.
Neck Fan
My neck fan is on sale! A must have for summer.
Initial Necklace
I recently bought two of these initial necklaces with the boys' initials. I took the E charm off of its chain and put it on the O chain so they'd both be on the same chain. They're a decent Kate Spade initial charm dupe.
Outdoor Color Changing Landscape Floodlights
These outdoor color changing floodlights are great! Maximum effect with minimal effort. See them in action here.
Kids Smart Toothbrush Gaming Experience
I recently bought Owen this manual smart toothbrush that turns teeth brushing into a gaming experience for kids. It's on sale for $9! It's so cool, and he actually looks forward to brushing his teeth. You can download the free gaming app on your smartphone or a tablet. Owen uses his iPad. He earns diamonds for brushing different areas of his mouth, and then he can buy things with his diamonds. I'll share a video of him using the toothbrush on my Instagram Stories. They also have a powered toothbrush, and it's on sale for $20. I know lots of dentists say we should brush our kids teeth until they're 10, but by the end of the day with these feral children, the last thing I want to do is wrestle them and brush their teeth for 2 minutes. So I've chosen to phone in this personal care activity. And Owen saw the dentist a couple weeks ago, and they said he's doing a great job brushing his teeth. *drops mic*
Kids Bento Boxes
Emmett's monster truck themed Bento box is on sale! I like that he can open the box on his own so a teacher doesn't have to help him open it or a bunch of small containers.
Air Purifiers
Our air purifiers are on sale! I've never seen them this low. We have the bigger air purifier in our bedroom because it's such a large room. The kids have the smaller air purifiers in their bedrooms. I bought them last fall when we had a lot of allergy symptoms, especially Owen. He'd wake up with a phlegmy throat. But after I put the air purifier in his room, his symptoms improved.
If you buy the smaller air purifier, I highly recommend getting a cover as well. The cover extends the life of the filter. I remove our covers about once a month, shake them off outside, and then wash them in the washing machine and hang to dry.
USB Charging Port
We have this charging port in our office area to charge the kids' tablets and our security cameras. It's nice having two outlets and two USB ports.
Portable Phone Charger
I bought this portable phone charger before I went to Las Vegas last month, and I love it. I can get multiple charges out of it and it charges fast.
Favorite Giant Umbrella
I LOVE this massive 68″ umbrella so much, we own three. Perfect for the bus stop on rainy days and for shade at outdoor sports events!
Landscape Spotlights
Ahhh! My landscape spotlights are on sale! Click here to see them in action!
Magnetic Tiles
Select MagnaTiles and Picasso Tiles are on sale! Owen and Emmett play with these nonstop. And trust me, these things are durable.
Favorite Pillows
Our favorite pillows are on sale! Nearly 150,000 4.5 star reviews. Enough said.
Screen Cleaner Tool
I recently bought this screen cleaner tool to clean my phone and ipad screen. It does a great job cleaning screens. And I like how compact it is. It doesn't come with cleaner, so I added this screen cleaner we use and love to the spray bottle.