Favorite Daily Skincare Products
The last time I wrote about my favorite skincare products was in April, 2020 so I figured it was time to do an updated skincare post. In this post, I break down my morning and night skincare routines. I also share the products I use everyday and where you can buy them.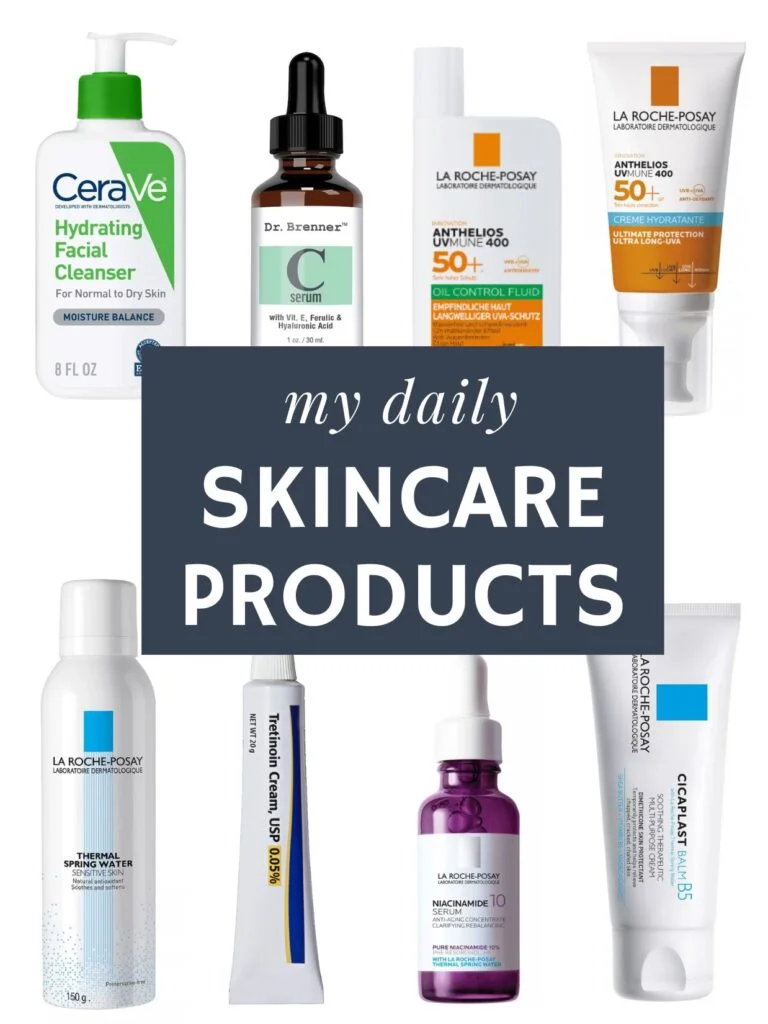 Morning Skincare Routine
My morning skincare routine goes in this order: cleanser > vitamin c serum > sunscreen.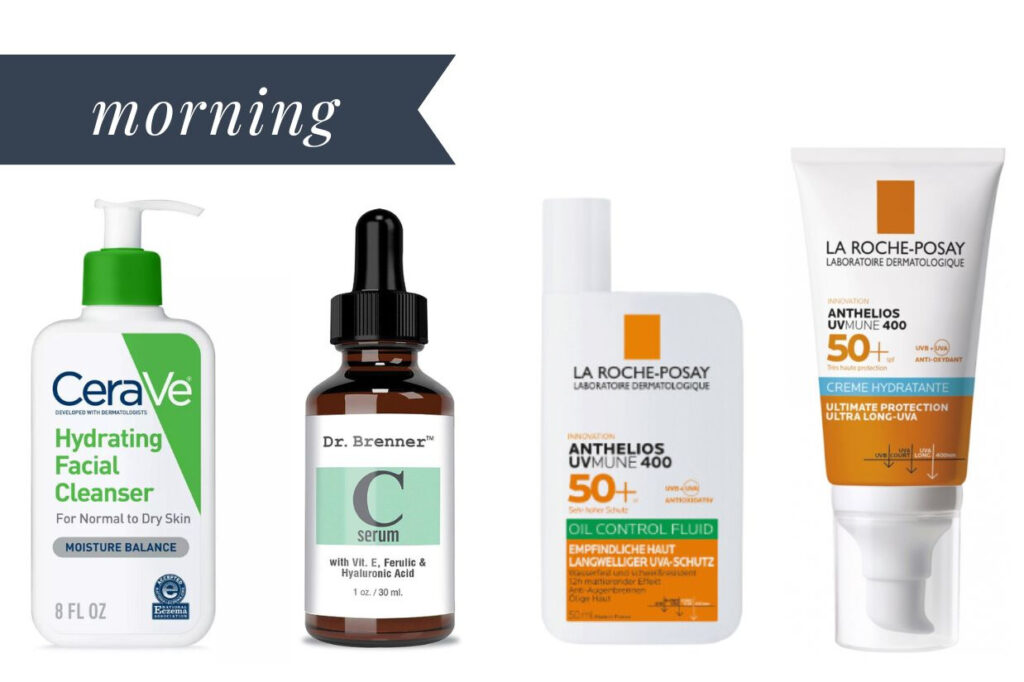 Cleanser
I've been using this hydrating cleanser for a few years. It gently cleanses while replenishing the skin's protective barrier with ceramides. This cleanser is non-comedogenic, so it's great for acne-prone skin. It's also fragrance-free and paraben-free.
Vitamin C Serum
Vitamin C serum brightens, hydrates, evens skin tone, and helps fade hyperpigmentation. The $20 bottle of Vitamin C serum I use is comparable to the $180 SkinCeuticals Vitamin C serum. Warning: my Vitamin C serum smells like hot dog water. But the $180 Vitamin C serum also smells like hot dog water. So I don't know about you, but I'd rather pay $20 versus $180 for hot dog water serum. And don't worry– the smell disapates after a couple minutes.
It's best to store Vitamin C serum in a cool, dark place like in a drawer. You can also store it in the refrigerator.
After cleansing in the morning, I apply Vitamin C serum to my face.
Sunscreen
Earlier this year, I learned not all sunscreen is created equal from my new Instagram friend Melissa, @mrs.derm. Melissa is a great follow– she's no bullshit and very informative. She's also very open about the plastic surgery and laser treatments she's had done and the injectables she uses.
I buy my sunscreen from Europe (at the bottom of the post I share my go-to European retailer). European sunscreens are far superior to US sunscreens because the FDA has yet to approve new UV filters. If you buy La Roche Posay (French brand) sunscreen in the US, the formula isn't the same formula they sell in the EU. The brand has to eliminate the UV filter ingredient from the product before it's allowed to hit the US market.
Ask any reputable dermatologist and they'll tell you the best sunscreen on the market is La Roche Posay Anthelios UVMune 400.
Anthelios UVMune 400 provides broad-spectrum very high UVB/UVA protection and helps protect against damage caused by pollution and infra-red. The sunscreen features MEXORY400, which is the only UV filter against ultra long UVA rays. Ultra long UVA rays penetrate the epidermis the most and are among the main causes of skin aging. Ultra long UVA rays also contribute to the development of skin cancer.
I use two different Anthelios UVMune 400 products depending on the time of year or what's going on with my skin.
Anthelios UVMune 400 oil control fluid is great in the summer. This a liquid sunscreen, so it doesn't have a creamy, moisturizer consistency. It dries with more a matte finish.
I intend to use Anthelios UVMune 400 hydrating cream year-round. The consistency is like a moisturizer, and it dries with a dewy finish. It's been great the past month or so with cooler, dryer weather. I also like using it in the summer if I want a dewy look.
After cleansing my skin and applying Vitamin C serum, I apply 1/2 teaspoon of hydrating cream sunscreen to my face, neck, and upper chest area. If I'm using the oil control fluid sunscreen, I use around 1/4 teaspoon on my face, neck, and upper chest area.
Spironolactone
I didn't include this in the graphic, but I feel I should share for the sake of full transparency that I take 100 mg of Spironolactone, an antiandrogen prescription medication, every morning. I've been on Spironolactone since April, 2019 to treat hormonal facial acne. If you'd like to know more about my struggles with hormonal acne and my Spironolactone experience, I'm open to writing a separate blog post. Let me know!
Night Skincare Routine
My night skincare routine goes in this order: cleanser > thermal spring water spray > tretinoin > niacinamide > cicaplast baume.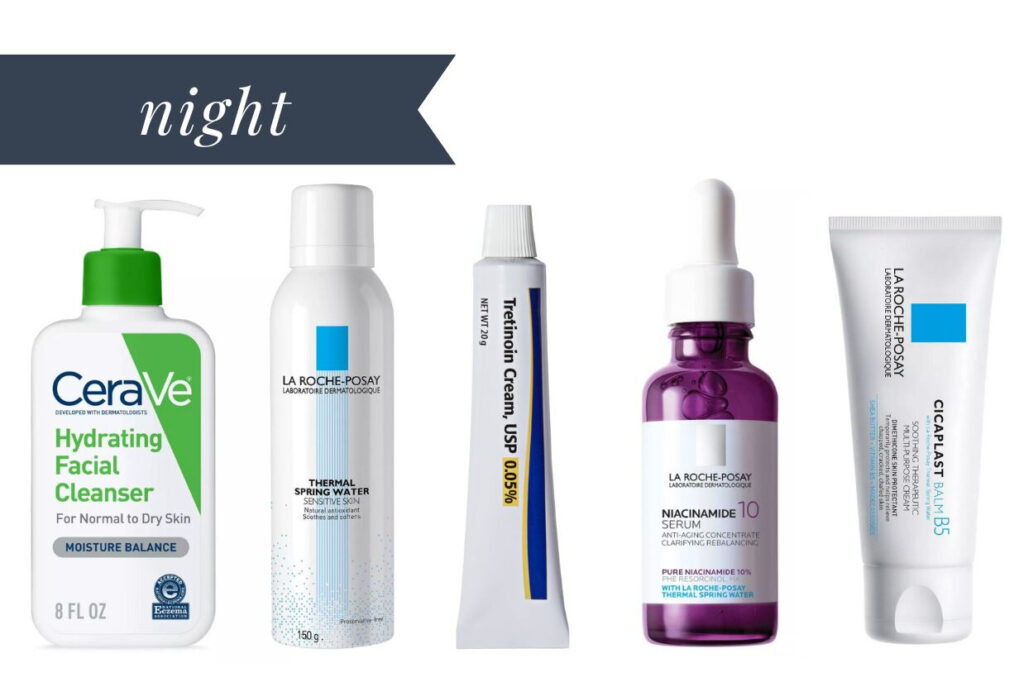 Cleanser
I cleanse my skin every night with the same hydrating cleanser I use in the morning. If I wore makeup that day, I use micellar water to remove the makeup before I cleanse. And to remove my eye makeup, I use an oil-free eye makeup remover. Once all of my makeup is off, I use the hydrating cleanser. At night, I typically massage the cleanser on my face for one minute. Then, I let it sit on my face for an additional minute before rinsing it off.
Spring Water Spray
This Thermal Spring Water spray is one of my favorite skincare products of 2023. My skin is more hydrated and it helps with redness. I know it sounds silly to say I spray water on my face, but I definitely see improvement in my skin after using it.
Thermal Spring Water spray has also helped with my skin drying out after switching from Altreno, a prescription retinoid, to generic Tretinoin. My skin never dried out when I used Altreno because it has additional moisturizers in it, but it was costing me $120 a tube.
After, cleansing I spray the Thermal Spring Water on my face and neck. I let it sit for three minutes while I brush and floss my teeth. Then, I pat off the excess water.
Tretinoin
If you want to fight signs of aging, Tretinoin is the gold standard.
Tretinoin, generic for Retin-A, is a prescription retinoic acid, the strongest type of retinoid. Tretinoin treat fine lines and wrinkles by increasing collagen production. They also treat darks spots and rough skin. Tretinoin can also improve complexion by stimulating the production of new blood vessels in the skin. I also use Tretinoin for the anti-acne benefits. It prevents dead cells from building up and clogging pores.
It takes time to see the results from using Tretinoin. You'll likely start to see results in one to two months or less, but it takes up to six months to one year of daily use to see more obvious and lasting results. So stick with it and be consistent. Use it every night. Every. Night.
Tretinoin comes in different strengths. The most popular strengths are .05% and .1%. I currently use the .05% cream on my face. I'll most likely eventually move up to .1%.
After patting the thermal spring water off of my face and neck, I use a pea-sized amount of Tretinoin on my face. I dot it around my face (forehead, cheeks, chin, nose) and then spread it out. Yes, I even use it under my eyes. I use another pea-sized amount on my neck and upper chest area– dotting it around and then spreading it out.
When I'm completely done with my nighttime routine, I use a pea-sized amount of Tretinoin on the tops of my hands and fingers. I rub my hands together tops touching tops. Then, I put on my nightly hand lotion. I've been using this lotion for decades. During the winter, if my hands are especially dry and cracked, I use this hydrating hand cream instead of my usual lotion.
You will need a prescription for Tretinoin. My PCP prescribed it for me after I asked her to take over my Spironolactone prescription. With my health insurance, I pay $25 for a 45g tube of Tretinoin.
There are telemedicine companies that sell Tretinoin. Nurx, RedBoxRX, and Apostrophe are three I know of. I've never used these companies, so I can't give feedback on them.
Niacinamide Serum
Niacinamide serum improves dark spots, hyperpigmentation, and post-acne acne marks and improves skin tone, resulting in a brighter, more even complexion.
I put Niacinamide serum on immediately after Tretinoin.
Cicaplast Baume
I've been using Cicaplast Baume B5 for a few years as my nightly moisturizer. You may recognize it from My Favorite Skincare post that I published in April, 2020. This stuff is magic.
It's hydrating and calms redness. I wake up in the morning with hydrated, plumped up skin. Cicaplast Baume B5 is non-greasy, fast-absorbing, and non-irritating. It little goes a long way because it's thick.
It's also incredibly healing. During wintertime, the boys have this habit of sucking on their lips and the surrounding skin. After a couple nights of using the Cicablast Baume on that area and the skin is no longer rough and red.
Supplements
In regards to supplements, the only thing I take is a daily women's multi-vitamin. And a few times a week I'll remember to take my fish oil supplement. I don't take oral collagen or peptide products because there isn't enough scientific proof that they work.
Injectables
I get Botox a few times a year. You can read all about it in my blog post dedicated entirely to Botox.
Where to Buy European Sunscreen
There are a handful of websites that ship European sunscreens to the US.
SweetCare
I used SweetCare, which is based in Portugal, in September to order more sunscreen and a couple other things. I got free shipping because my order was over $105. I placed my order after midnight on September 13, and it arrived on the afternoon of September 15. Their prices the best I've seen compared to other EU skincare sites.
Use code 493913676529 for 10€ (~$10.70 USD) off your first SweetCare order. Copy and paste the code when checking out.
I've purchased the following from SweetCare:
Other EU Retailers
I've also purchased from LookFantastic and Care to Beauty. Other EU retailers I haven't purchased from but I've seen others recommend are French Pharmacy, Lovely Skin, and Cocoon Center.