Yesterday I shared how I style my curly hair and the products I use. Today I'm answering all the questions I've gotten about my hair.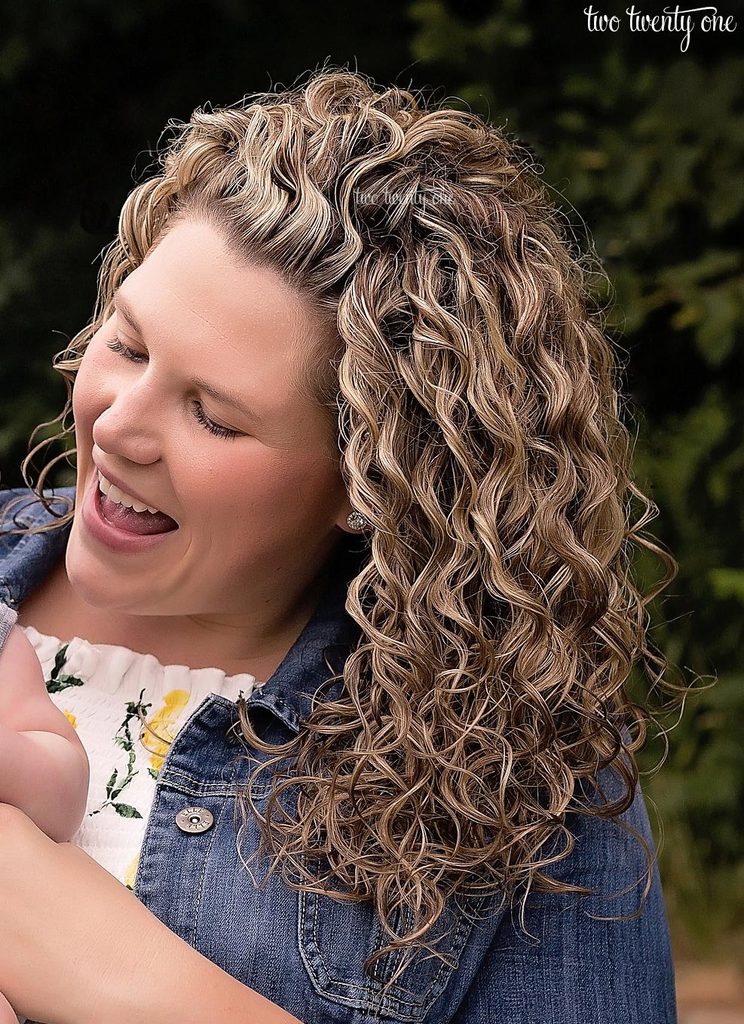 What do you wash and condition with? How often?
I've used Paul Mitchell Extra Body shampoo and conditioner for around 15 years. I typically wash my hair twice a week.
What does your hair look like if you air dry it without products?
Exhibit A:
(sitting in the salon, about to get that new growth touched up because whoa)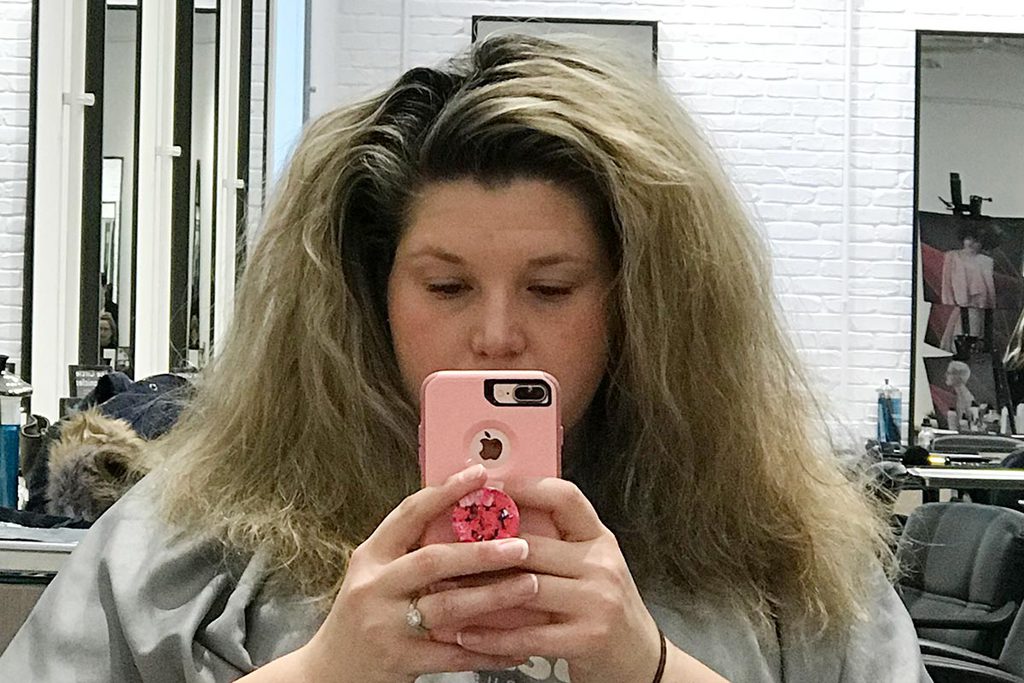 Exhibit B: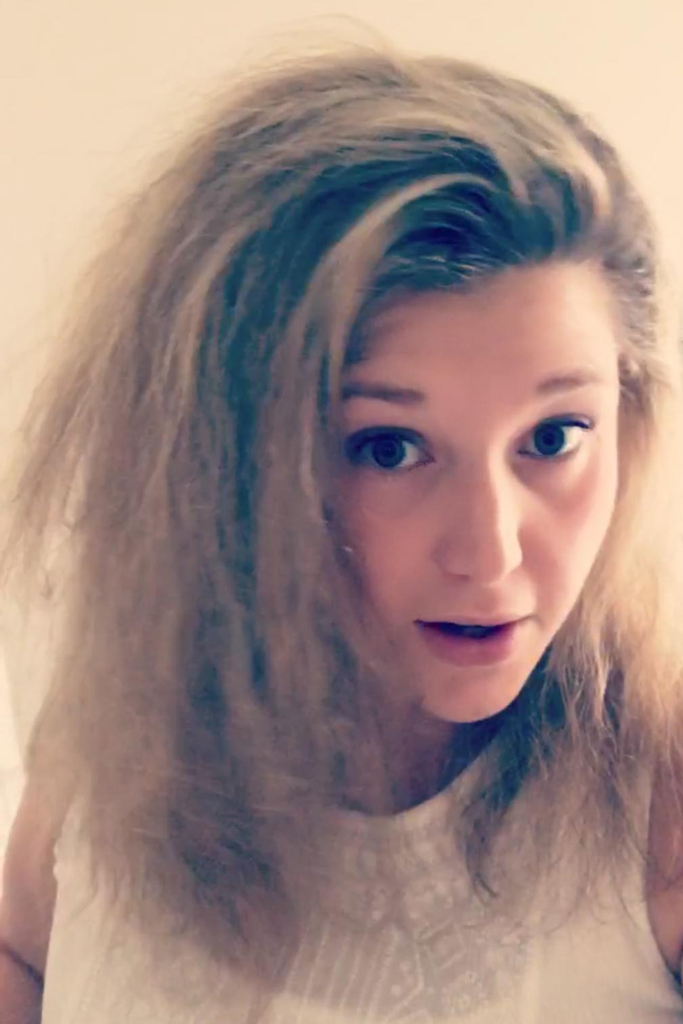 If I don't feel like doing my hair curly or if I don't have time, I'll run some gel through out after I towel dry it. Then, I'll put my hair in a bun on top of my head. My hair will dry with big waves if I do this but it doesn't look the greatest.
But this biggest thing about my curly hair is that it needs to help and guidance of gel and hairspray.
Do you do anything different if you bathe in the morning or night?
I'm a nighttime shower . So if my hair needs to be done for something in the morning, I'll go ahead and style my hair the night before and sleep with my hair sprawled out on my pillow. I'm not a super active sleeper so this usually works out. When I shower the next night, I'll put my hair up on top of my head so it doesn't get wet, and then I'll let it back down when I get out of the shower. If I have something going on in the afternoon or evening, I'll take a shower and do my hair in the morning/afternoon if someone is here to watch the kids or they're guaranteed to nap.
If you do your hair at night and sleep on it, what do you do in the morning?
I flip my hair over, spray it with hairspray, shake my hair out a little, flip it back over, and add more hairspray. (I love hairspray.)
Do you sleep on a satin pillowcase?
No, but I probably should.
 Any tips for making the style last overnight?
Don't move around a lot in your sleep. But you could try wearing a silk cap.
Do you ever have to touch it up with a curling iron?
I don't know how to use a curling iron. I mean, I'm sure I could figure it out, but I don't own one, and I've never used a curling iron on my hair.
How else do you wear your hair besides down with a side part?
Side ponytail, ponytail, on top of my head. Sometimes I'll pin back a little section on the front so it's not falling into my face.
Can you wear your hair straight?
Yes, it gets pretty straight when its blown out. It'll stay straight for a few days, especially if a flat iron is used to set the hair after it's blown out. It can also hold curling iron curls after being blown out.
Dried with a large barrel round brush and hair dryer. Finished off with a flat iron.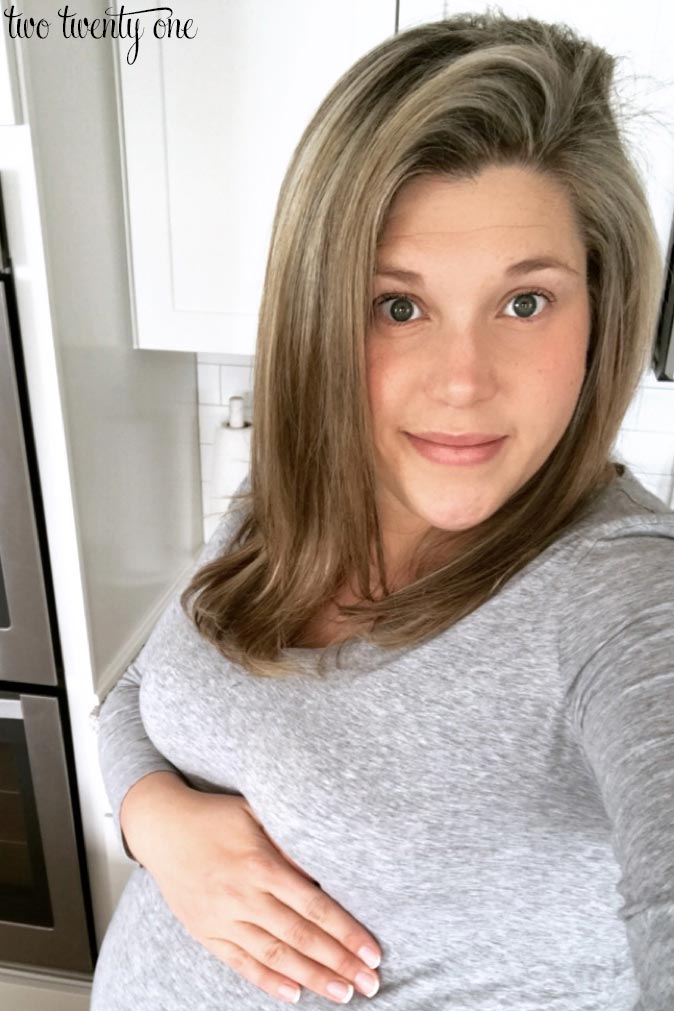 Dried with a regular brush and hair dryer. Curled with curling iron.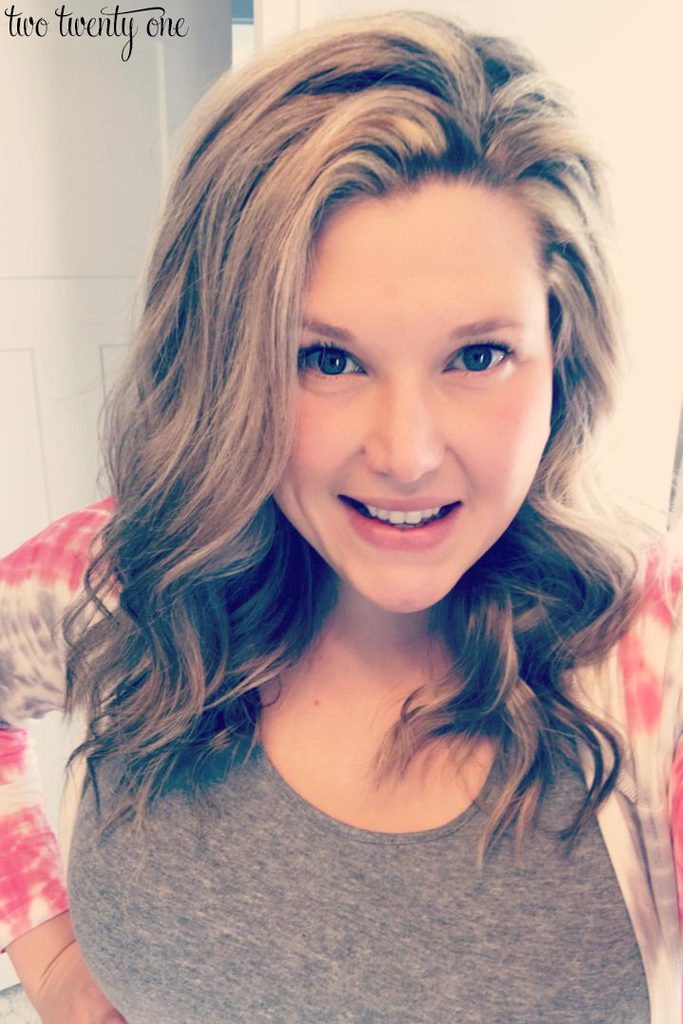 How did you take care of your hair as a kid?
Believe it or not, when I was really young, my mom would perm my hair. My mom loved the look of curly hair, but I don't think she knew my hair could curl because when my hair air dries it looks pretty scary. I have to use product to help guide my hair. I started to use product when I was 12 years old, but I didn't start using the right product and hair dryer with sock diffuser until I was 14. With the sock diffuser, it would take 45-60 minutes to dry my hair. It was pretty awful.
What's your best advice for kids with curly hair?
Keep trying different things and techniques to get your hair how you want it to look. I actually tried my method of doing curly hair on one of the little girls my best friend nannies and her hair looked amazing. But I know getting a kid to sit and have their hair diffused isn't always easy.
How would you describe your hair?
My hair is fine (thinner than a strand of thread), thick, and has high elasticity.
Here's my hair next to a standard piece of black thread. I wouldn't typically take a photo of my hair next to a piece of thread, but I'm attempting to be thorough here.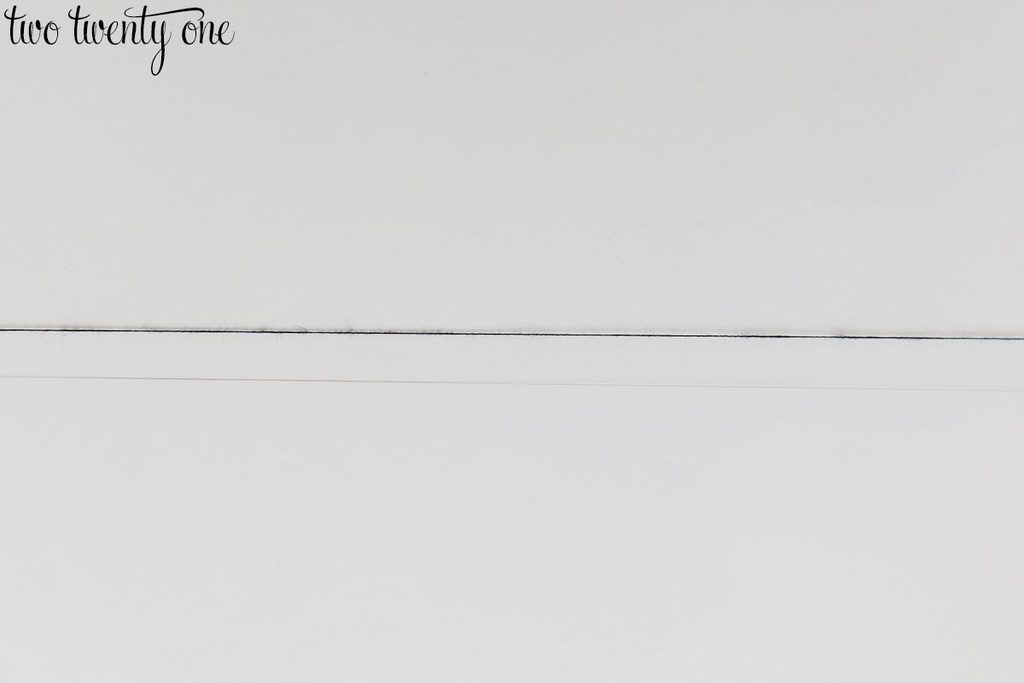 Do you brush your hair?
Only after I wash it when it's wet.
How is your hair cut? Layered? Thinned?
I've been experimenting with growing my hair out, so for the past year or so I've had it trimmed every 4 months. I have some layers. If I don't have layers, I get triangle head where my hair is bigger at the bottom. While my dad used to want to get my hair thinned because he thought it'd be easier to brush (again, my parents had no clue how to deal with my hair), I'm so glad my mom never let him do it. I just needed some leave-in conditioner to help guide that comb through my hair. Call me crazy, but I don't know why anyone would want to have less hair.
Have you had postpartum hair loss? What do you do to combat it?
Here's what happens to my hair: When I get pregnant, it'll start to fall out more than usual. Then it'll almost stop shedding altogether for the remainder of the pregnancy. Now, here's the interesting part– from what I can conclude, my hair stays thicker once I hit a certain weight. I don't lose much hair once I'm over that threshold. So I don't experience the typical postpartum hair loss. BUT once I start to lose the baby weight, my hair starts to fall out more. In high school I lost 85 pounds. As I lost weight, my hair started to fall out so badly that I made my mom take me to a dermatologist because I was convinced I'd soon be bald. I just think it's a whacky thing with my body and hormones. So I have no way of combatting it, for me it boils down to being thinner with thinner hair, or thicker with thicker hair.
I was around 11.5 months postpartum in this pic below. Since my body hates me, I couldn't lose weight while I nursed Owen for 11 months. So my hair stayed super thick until I started to lose the baby weight.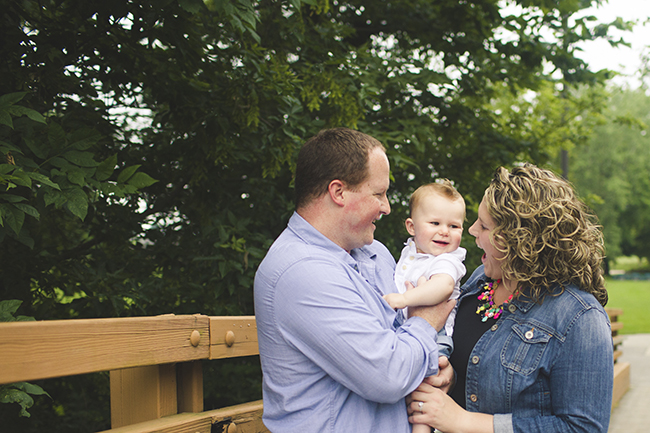 This photo was taken when Owen was 26 months old, and I had lost around 30-35 pounds. My hair is noticeably thinner. It's also shorter because my stylist cut it shorter than I wanted.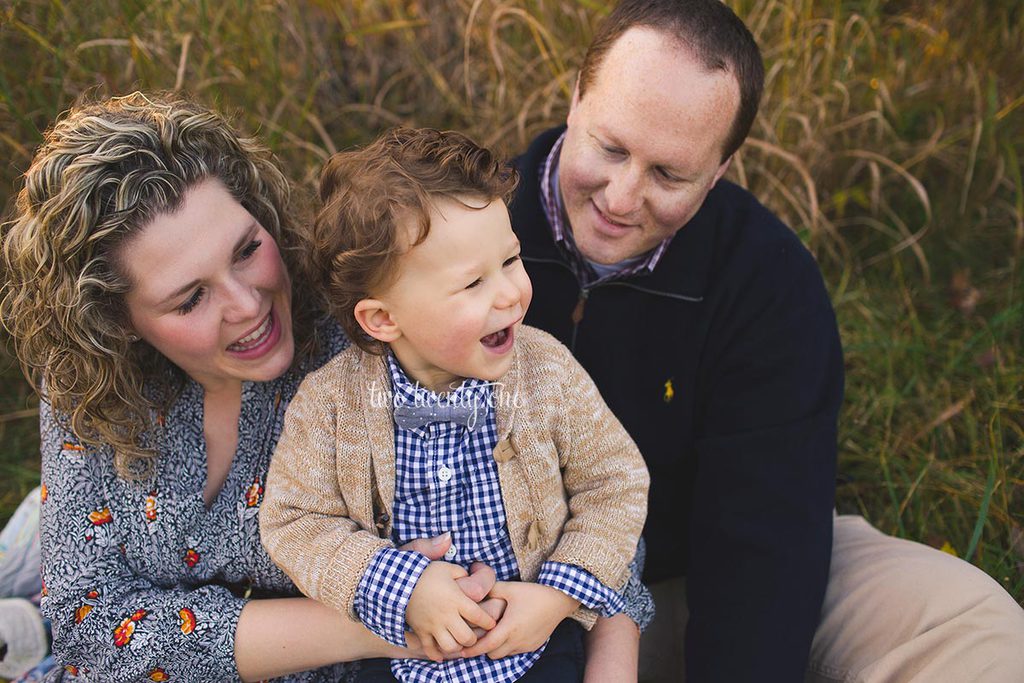 How the heck do you have zero frizz?
I think it's a combination of using the right amount of product for my hair, diffusing, and refraining from touching my hair too much. Although, I am experiencing more frizz since switching to a Davines salon. But my hair has more body. It's perplexing.
Have you traveled to Florida or any other high humidity location?
Hah! I live in Indiana. The average humidity in the morning is ~87% in the summer. Thanks, corn sweat.
How do you style your second day hair?
I typically flip my hair over, spray it with hairspray, shake it out, flip it back over, and add more hairspray. If it's summer and hot AF or I really don't care, I'll put it in a pony tail or on top of my head. My hair is weird, I can wear it on top of my head for a day, take it down and it still looks decent.
What did your hair look like before you learned to style it this way?
I learned how to do my hair like this when I was 14 (middle left photo). I got pretty good at it in college. But it's probably best if I just show you.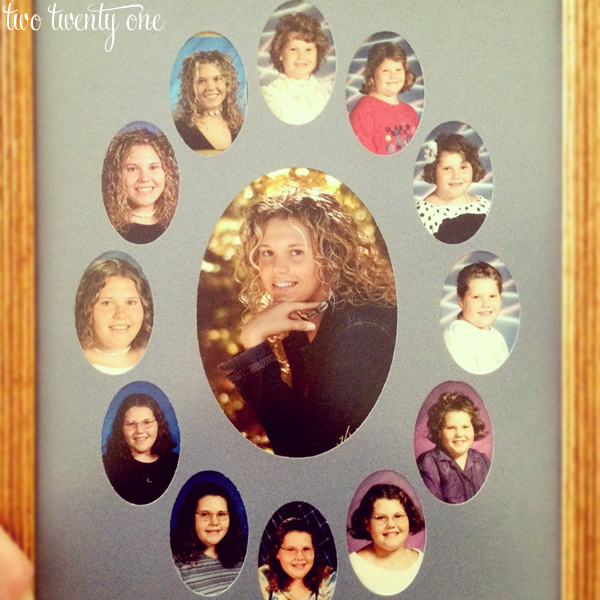 20 years old: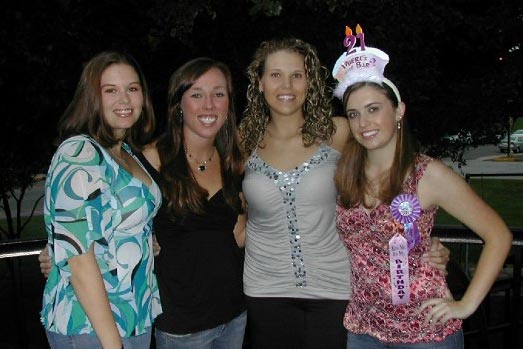 23 years old: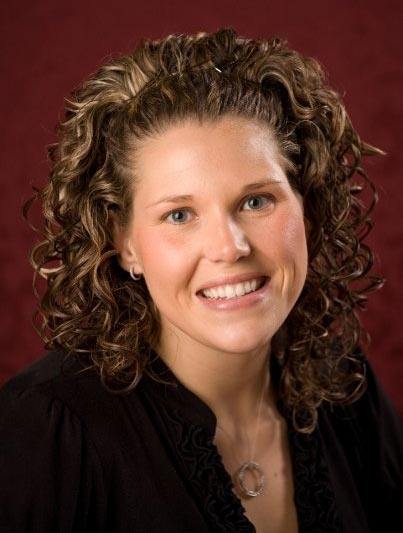 Have you tried the Curly Girl Method?
No. I've been happy with my method and products so I figure why change something that's working?