When The Baby Weight Sticks To You Like Glue
When I was pregnant everyone said, "Oh yeah, if you breastfeed the baby weight will fall right off! You'll be back to your pre-pregnancy weight in no time!"
Those people are lying liars.
Some experts say breastfeeding can burn an extra 500+ calories a day.
That's probably a lie too. Or there should be an * by it disclosing that you may burn the calories but it makes no difference AT ALL.
Because I exclusively breastfed Owen for the first 11 months of his life, and I would only fluctuate +/- 5 pounds. I mean, a lost 20 pounds within two weeks of giving birth but 10 pounds was baby and placenta, and I'm pretty certain the other 10 pounds was water. But after those 20 pounds I was pretty much stagnant.
My body had a death grip on the baby weight– like pry from my dead, cold fingers death grip.
In January, I started Whole30, because it worked for me in the past, but I noticed a dip in my breastmilk supply so I stopped because feeding my kid was more important than fitting into my pre-baby clothes. So I told myself that I'd give it time. And I tried my hardest to accept that I probably wasn't going to start losing the baby weight until I stopped nursing.
My weight really affects my mentality. I've struggled with my weight my entire life, which I talk about in this post. When I'm not happy with how I feel and look, it starts to mess with my head. I could go on and on about the subject but instead of yammering, here are some things that I've done to help me feel better about my post-baby self.
1. new jeans
Instead of attempting to squeeze myself into my pre-pregnancy jeans, which wouldn't be a good look, I broke down and bought two pairs of jeans in the next size up. I didn't have maternity jeans to turn to because I fit into my regular jeans until I was about 20 weeks (I was slow to show) and by that point it was warmer out so I started wearing maxi dresses or dresses with leggings. So don't be afraid to wave the white flag and buy a couple pairs of regular jeans that fit your new mom bod.
2. lashes
Back in November, I decided to try out Xtreme Lashes eyelash extensions after a few of my friends raved about them. And I LOVE them. It may sound silly but they make me feel prettier. When I wake up in the morning and look in mirror I feel better about myself. Not to mention it has significantly cut down on the time I spend putting on makeup because there's no need to curl and apply mascara any more. And I'm not gonna lie, most days I don't put on makeup at all, but I still feel 'put together' because of the eyelash extensions.
Here's some before and after shots of me so you can see the difference. And as you'll probably notice in the photos, I've also started to get my brow waxed every couple months. I'm a fan.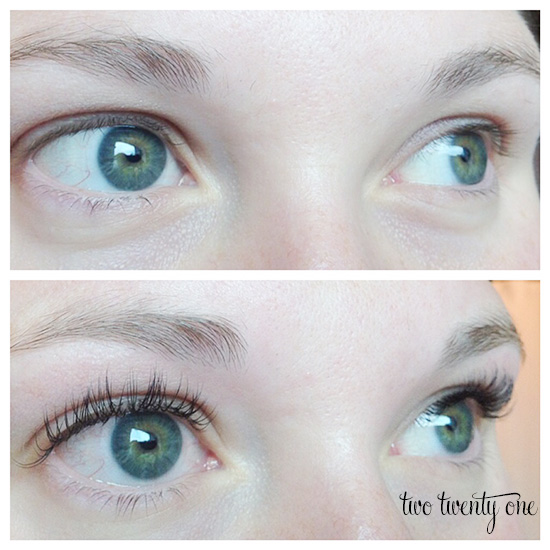 In case you're wondering about the process, each eyelash extension is individually applied to a single eyelash, resulting in a natural appearance. I've had my extensions for 9 months and no one has flat out asked me if I have extensions because they look like real lashes.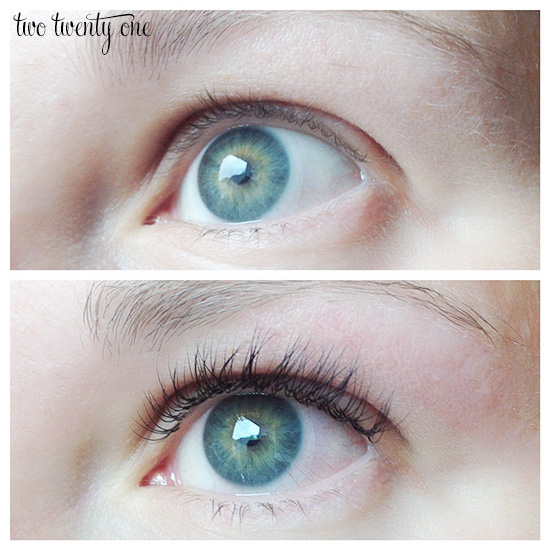 If you're in Indianapolis and considering getting eyelash extensions, you have to check out my lash stylist, Kate, at Rogue Lash By Kate. Kate and her other lash stylist, Steffi, do an amazing job. Tell them I sent you!
Please be careful about where you get eyelash extensions. I've seen some crazy photos of lash jobs gone wrong, so make sure you go to a certified lash stylist.
3. engagement and wedding rings
My engagement and wedding rings haven't fit me since I was about 20 weeks pregnant. My fingers kept swelling because it was getting warmer outside so I decided to hang them up because they were too uncomfortable to wear. They still don't fit. *hangs head in sausage finger shame*
I was tired of looking like Brad's mistress/the mother of our love child. When we'd go out he'd wear his wedding ring and my chubby finger would be bare, so a few months ago I bought a fake wedding set (pictured below) that's similar to mine for around $50. It's amazing how far cubic zirconia has come, my friends. I get just as many compliments on my fake set as I did with my real rings. And I know this probably seems trivial, but I always liked wearing my rings, so being able to wear something similar (that fits) makes me feel better.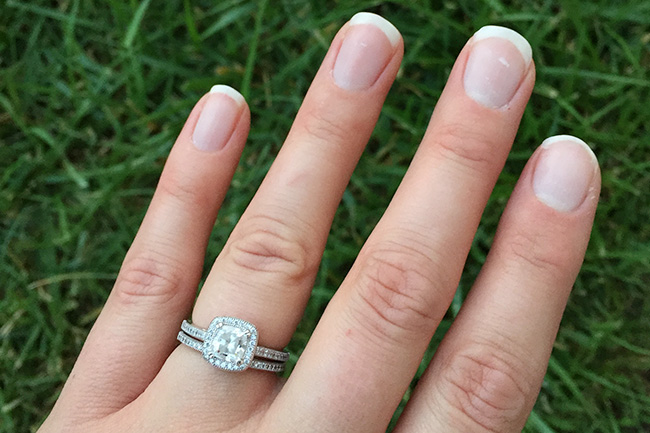 4. group fitness
Back in February I started attending weekly hip hop cardio classes at my gym. I'm sure I look ridiculous 95% of the time, but I nail it the other 5%.
Attending the classes gives me something fun to do every week for a little 'me time'. I get some cardio in without feeling like it's a work out because I get to pop and lock to some great hip hop music. My next goal is to start going to more classes.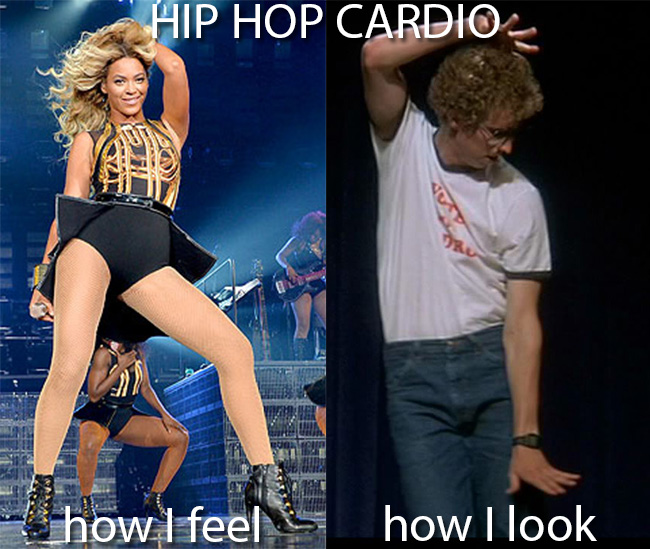 I'm happy to report that since ending our breastfeeding journey a little over a month ago, I've lost 10 pounds without trying super hard. So if you're breastfeeding and the baby weight isn't melting off like everyone told you it would, don't get down on yourself. I never regretted choosing to breastfeed Owen. I'm so thankful breastfeeding worked for us and how it bonded us together. I'd do it again in a heartbeat.
Why did I share all of this? Because I've mentioned in different social media posts about my struggle and people have commented saying they're in the same boat and they're glad they aren't alone. So I thought I'd share what I've done to give myself a little bit of a boost.