In Owen's 7 months of life, we've taken four 3 hour road trips with him to visit our families and one 2 hour road trip to visit a friend. While I wouldn't consider ourselves total pros, there are things we wouldn't travel without and things we've learned to do.
Let's talk about the stuff first.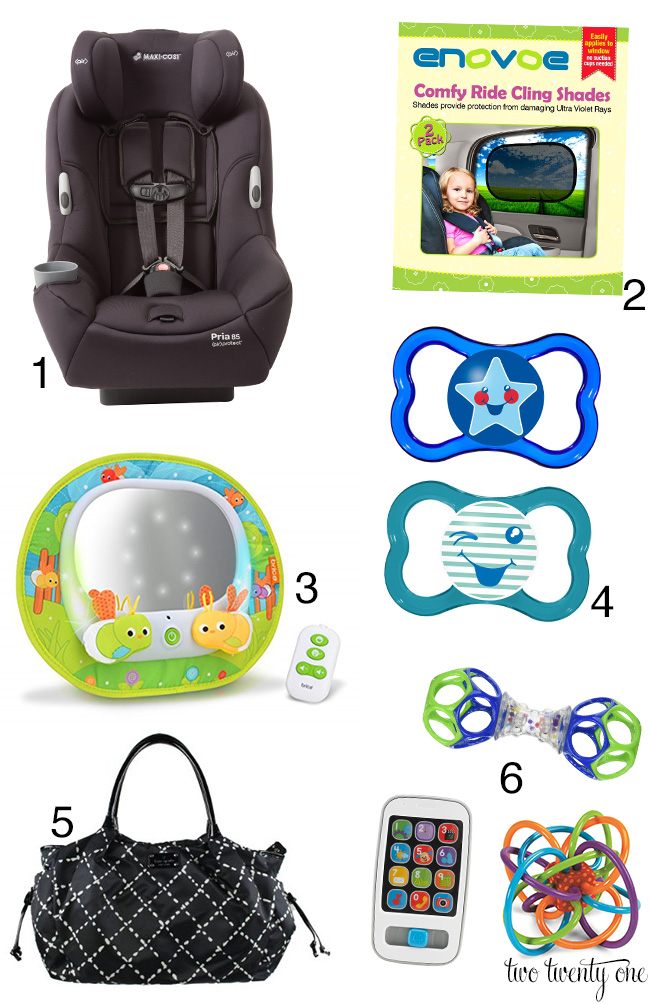 1. Car seat
This is a no brainer because your baby should always be properly restrained in a car seat. The Car Seat Lady is a great resource, and so is Car Seats for The Littles on Facebook.
Owen transitioned out of his infant car seat and into a convertible car seat a month ago because he was tipping the scales at 21 pounds. We have a Maxi-Cosi Pria 85 in my SUV, and we really like it. It's rated for 14-40 pounds rear-facing and 22-85 pounds forward-facing, so it's the only convertible car seat we'll need. Another thing we love about it is the easily removable seat pad– there's never a need to uninstall the seat or rethread the harness to get the pad on and off.
2. Car sun shades
Both of our cars have tinted windows, but we've found that we need a little more shade for Owen. I put these car sun shades on Owen's Christmas list and Brad's aunt and uncle gifted them to us. I like them because they stick to the window without needing suction cups.
3. Musical car mirror
I registered for this musical car mirror because some friends recommended it. It works great during the day as a regular mirror. But it also lights up and plays music, and it comes with a remote so you can control it from the front seat. We only turn it in when Owen starts to get really fussy. It usually distracts him enough to calm down and fall asleep.
4. Pacifiers
We never leave home without pacifiers but especially on road trips. Owen typically uses one for 10-15 minutes after he falls asleep and then spits it out.
5. Diaper bag
We also never leave home without Owen's diaper bag. You can read about how I organize the diaper bag here. And we always have our baby car kit in the car.
6. Toys
There are specific toys we keep in the diaper bag and car. To me, it makes them kind of special toys– ones he gets to play with when we're out and about, unlike toys he gets to play with all the time at home. Owen's favorites are: Oball Shaker, Manhattan Toy Winkel Rattle, Fisher-Price Smartphone.
Now I'll share some tips, which will probably be no-brainers to some people but I'm going to put them out there.
Travel During Nap Time
If possible, we try to travel during Owen's nap time– so either in the late morning or afternoon. We also try to wear him out before getting in car before a road trip.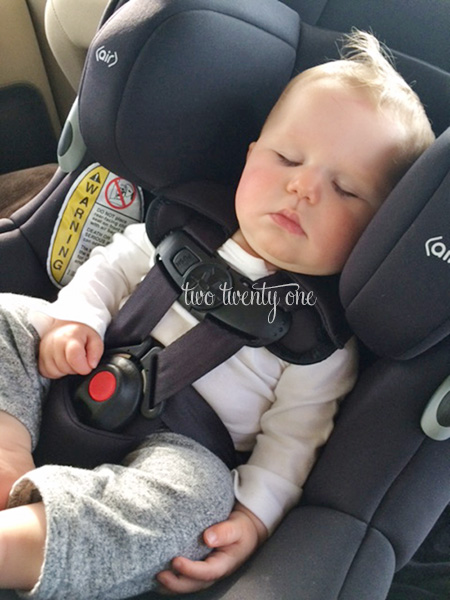 Feed Baby Right Before Leaving
We load up the car and have everything ready to go before I nurse Owen. Right now he goes 3-4 hours between feedings so it usually works out perfectly with feeding right before we leave and then feeding when we arrive. Back when he was little and eating every 2 hours we had to stop during two road trips because he couldn't make it the full 3 hours.
Fruit & Veggie Pouches
Now that Owen is eating food, I keep a couple fruit and veggie pouches in his diaper bag in case he gets hungry when we're out and about or in the car. When we traveled for Easter this past weekend, I fed him a pouch while we were in the car. I'd never give him something solid because I'm too afraid of him choking.
Comfy Clothes
Do you like traveling in uncomfortable clothes? I doubt it. So dress your baby in comfy clothes. Owen usually travels in a onesie and stretchy pants.
Sit In The Backseat*
*As long as you're not traveling alone with baby. Don't attempt to drive from the backseat. That's dangerous.  I can usually get away with sitting in the front seat with Brad when we travel, but sometimes I have to move into the backseat to entertain and comfort Owen. To give myself more room to stretch out, I'll move the front passenger seat up.
Happy travels!
This post contains affiliate links.
Funds from affiliates help pay for web hosting, domain registration, email delivery, and other fees to keep twotwentyone.net up and running. Thanks for your support!