I finally came through– I'm sharing how to style curly hair. Well, my curly hair, specifically.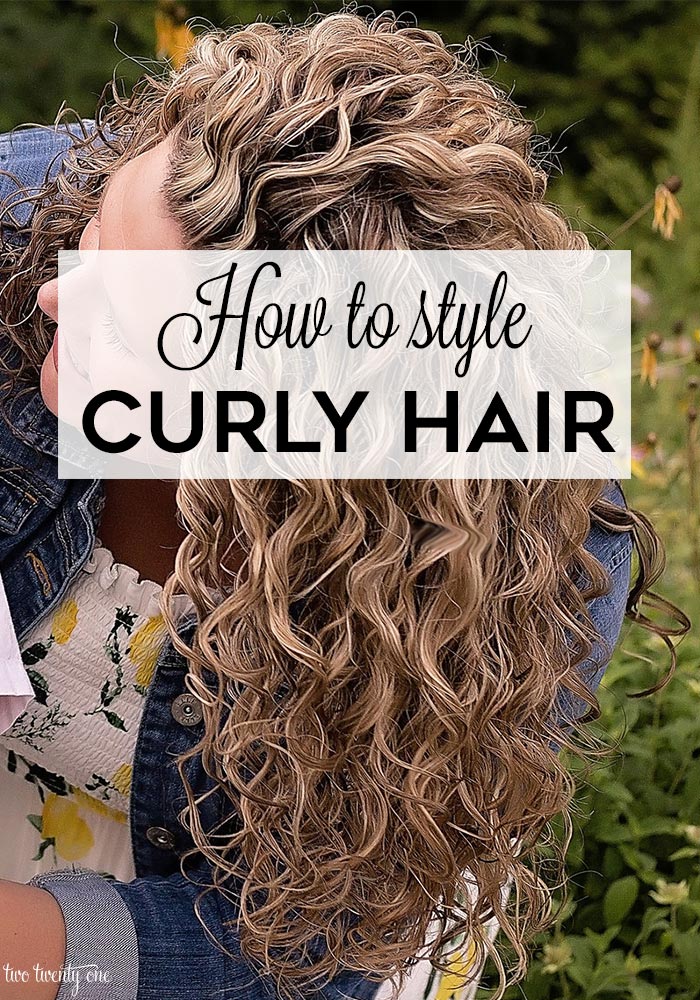 This is probably the most requested topic I've had in my 8 years of blogging. It's not that I've been trying to keep this a top secret operation. I just know I look awkward AF when I'm doing my hair (the things we do for beauty), and I was slightly self-conscious about putting photos of myself on the Internet in the act. Also, I'm not a beauty blogger. But because I love you, I gave in and asked a friend to stand in my shower and photograph me doing my hair. And then I did a lot of cropping. It's called compromise.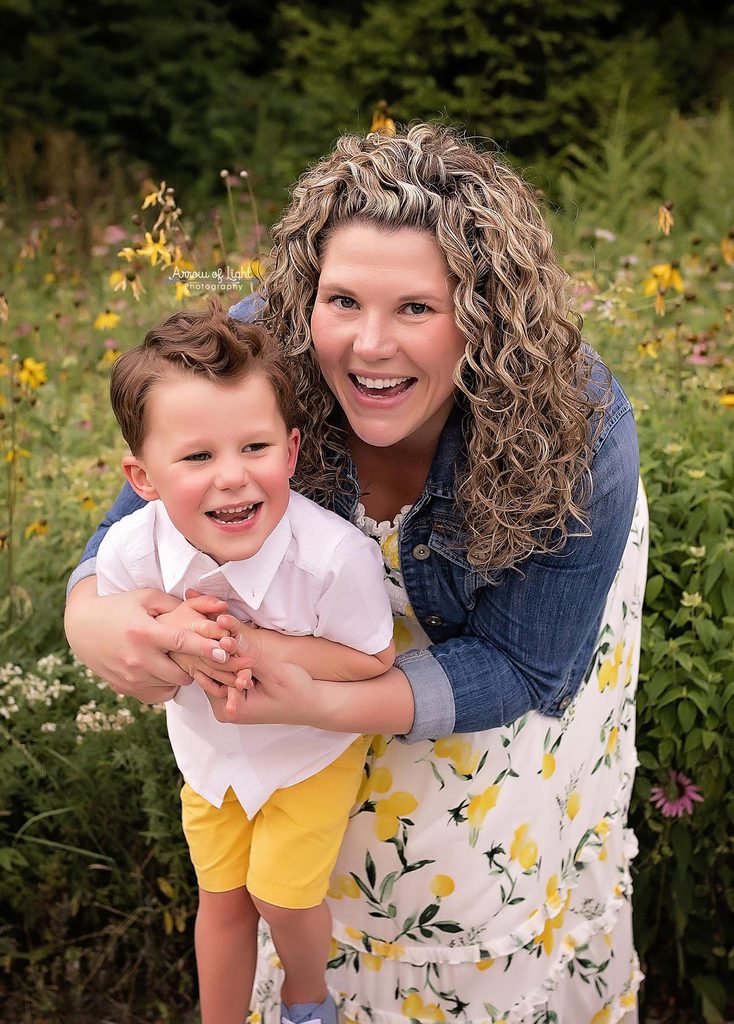 A Little Curly Hair Background
To give you a little background on my hair, I didn't learn how to style it this way until I was 14. I started out using Redken No. 8 Contouring Lotion, but they discontinued it around 2010. And I did what any person would do, I bought as many bottle of contouring lotion I could find and saved them for special hairstyling occasions. I went on a years-long quest to find products that could recreate how I got my hair to look while using the contouring lotion. I tried everything– from DevaCurl to random gels I'd grab at Target. In all, I dropped hundreds of dollars sampling products. In a way, this little experiment was good because I definitely learned what will (gels and hairspray) and won't (mousse, creams, balms, lotions, serums, etc.) work with my hair.
Around 2013, my hair stylist recommended Kenra products. At this time, they had a strong hold gel– 23. So I would use the 17 gel and the 23 gel but with a different hairspray. But then they discontinued the 23 gel. I immediately went on ebay and bought all the 23 gels I could find so I could stockpile them. Hello, flashbacks to 2010. I was talking with another hairstylist and she recommended using the Kenra 25 hairspray with the 17 gel. I started experimenting with that combination, and I loved the results. I've been using it ever since. And so help me, if Kenra ever discontinues those products I will orchestrate a riot and expect all of you to participate.
I hate taking selfies, but I was having a good hair day.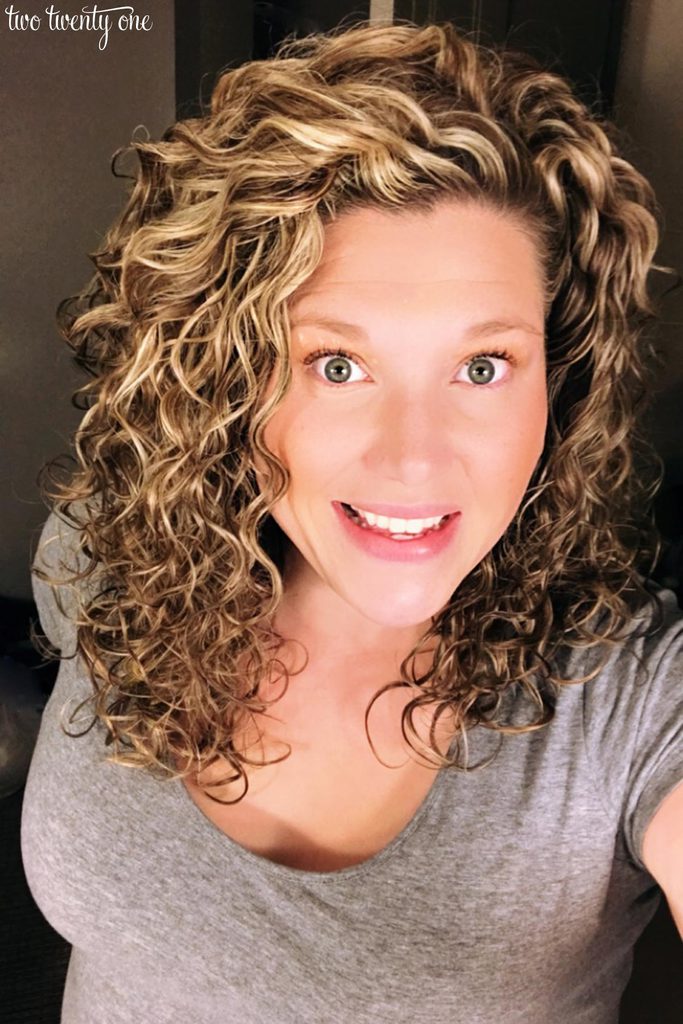 Products & Tools
shower filter
To keep my hair from drying out and getting mineral deposits, I have this shower filter installed on my shower head. It also helps improve the condition of your skin and nails.
leave-in conditioning product
I never had to use a leave-in conditioning product until we moved into our new house. We still need to install a water softener, so if you have no issue with easily running a brush through your hair, skip this product.
hairspray
My favorite hairspray holds up to 120 hours, 24 hour high humidity resistance, 25 mph wind resistant, flake free.
firm hold gel
I've been using this gel for years. It's alcohol-free, non-drying, non-flaking, helps extend the life of color
hair dryer
Hands down, my favorite hair dryer. I can dry my thick hair in 15-20 minutes. It's a bit o a splurge, but mine has lasted for at least five years.
diffuser
A diffuser is a curly-haired girl's best friend. It lifts hair to add volume and natural ions help style curls without frizz.
hairbrush
I use a regular, oval cushion hairbrush. I've tried wet brushes, and I'm not a fan.
shampoo & conditioner
A few years ago, I switched to a new shampoo and conditioner. I feel like this brand works a lot better on my curly, highlighted hair.
hair mask
Since I only wash my hair once a week. When I condition my hair, I mix the conditioner with a hair mask. When I want to do a deep conditioning, I mix the conditioner and hair mask together, apply it to my hair, cover my hair with a plastic cap, leave it on for 10-15 minutes and then rinse.
purple shampoo
Since I have blond highlights, I mix purple shampoo in with the regular shampoo every other wash.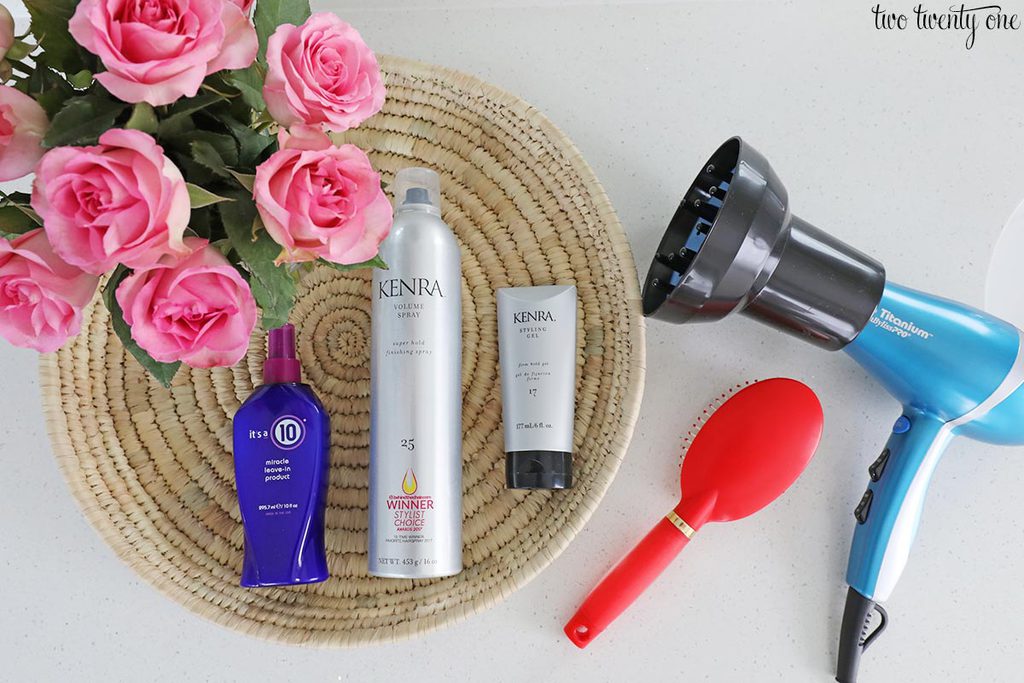 Washing
I typically shampoo and condition my hair once a week. I don't towel dry my hair after washing it. Instead, I squeeze out a decent amount of water and put my hair in a bun on top of my head so I can towel off the rest of my body and get dressed.
How to Style Curly Hair
1. Leave-In Product
With very damp hair, flip your head over, spray on some leave-in product if your hair tangles easily and brush your hair out.
Note: For me, there's a sweet spot for how wet my hair needs to be for it to look exactly how I want the finished product. I want a little bit of water to drip out of my hair when I'm scrunching my hair (Step 5). If my hair isn't wet enough, I'll add water from the bathroom faucet to my hair.
Another note: I do Steps One – Six with my head over our shower because it's messy. At our old house, I put my head over our master bathroom garden tub– the only use that tub served.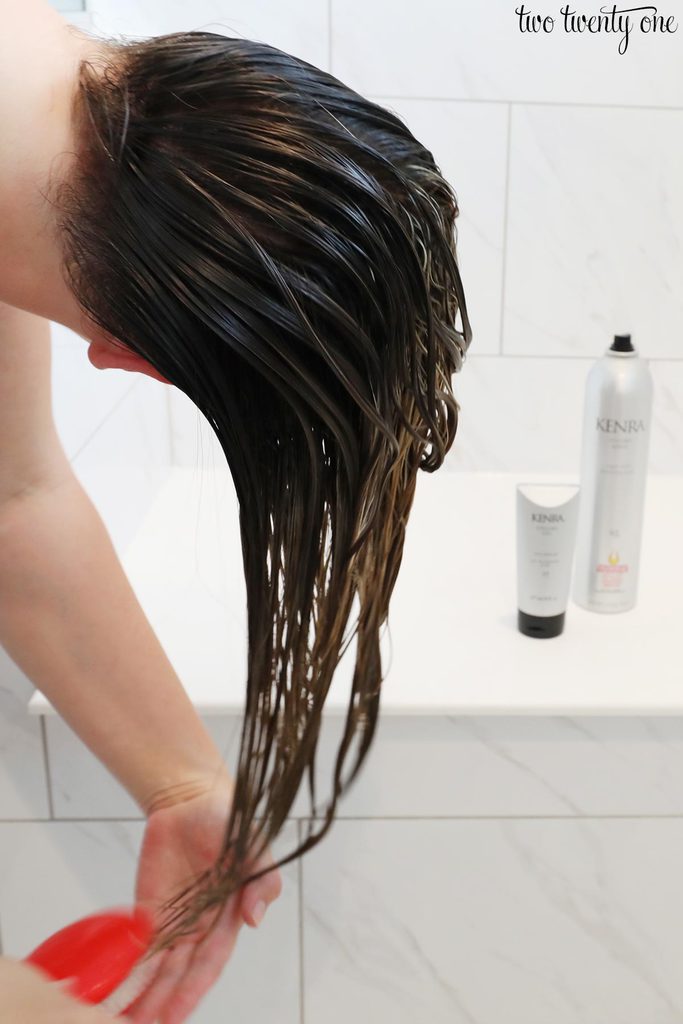 2. Apply Gel to Hands
Apply the gel to your hand. Rub your hands together to disperse the gel onto both hands/fingers.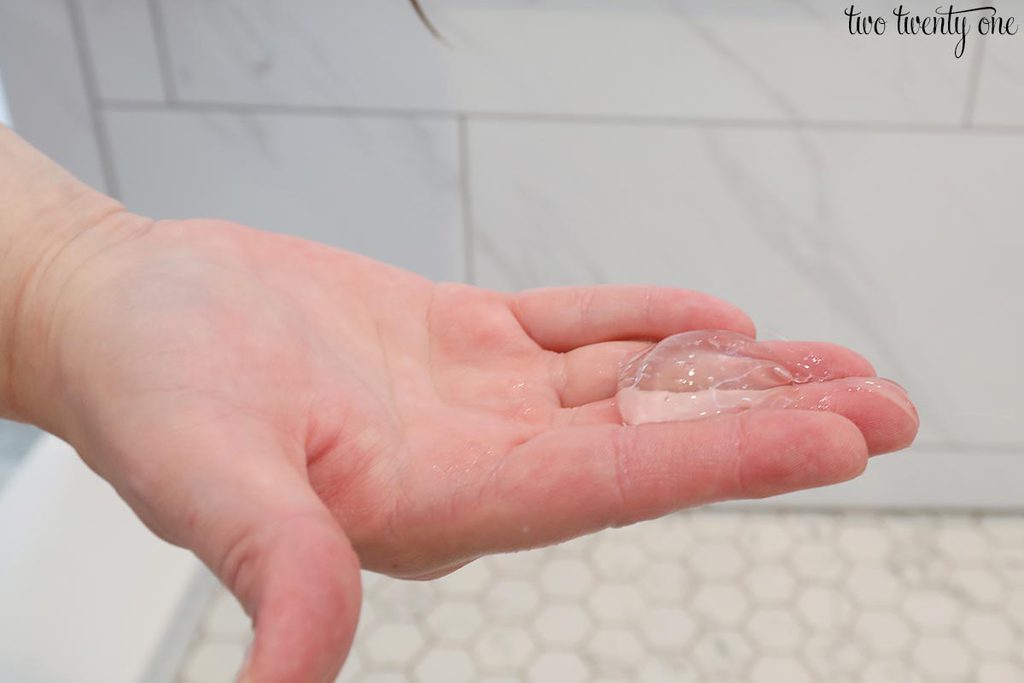 3. Apply Gel to Hair
Apply the gel to your hair by starting at the rooting and pulling down your hands down to the ends of your hair. Repeat if needed– dependent on hair thickness and length. I typically run three sets of gel through my hair.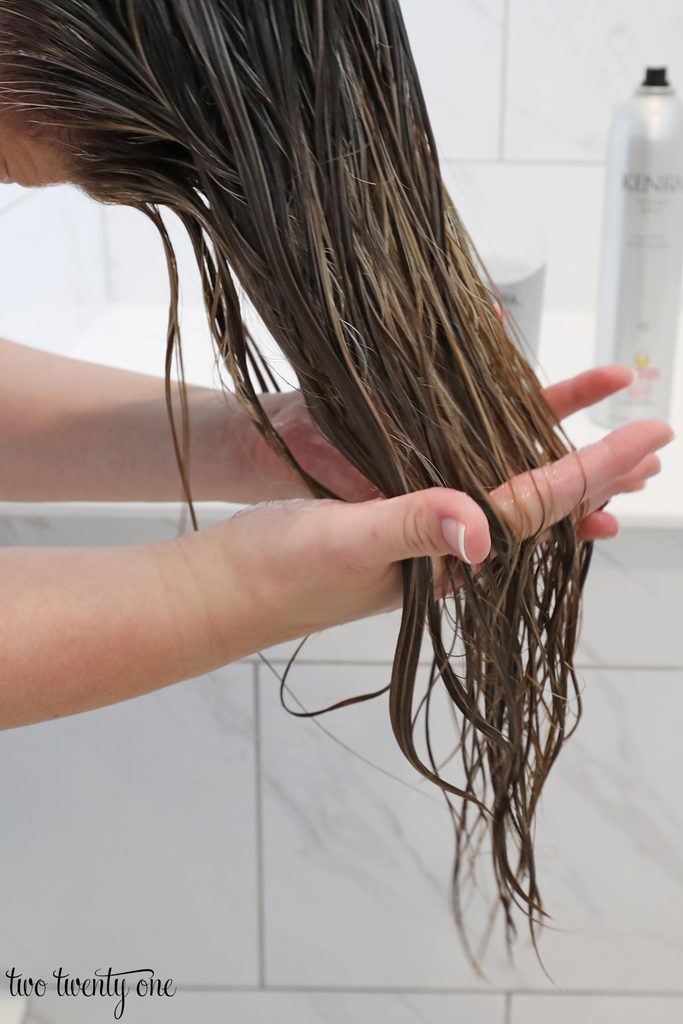 4. Scrunch
Scrunch your hair with your hands. Do this by taking your hands at the ends of your hair and move the hair up to your scalp. Do this gently but firmly. If you get too crazy, it causes the hair to get frizzy. It's a marathon, not a sprint.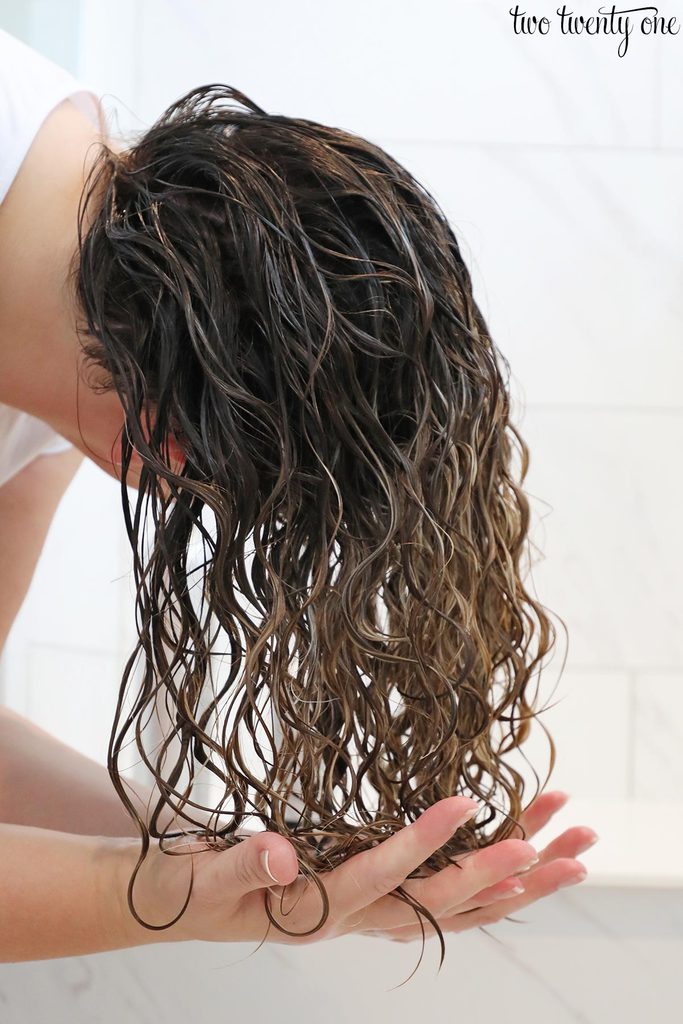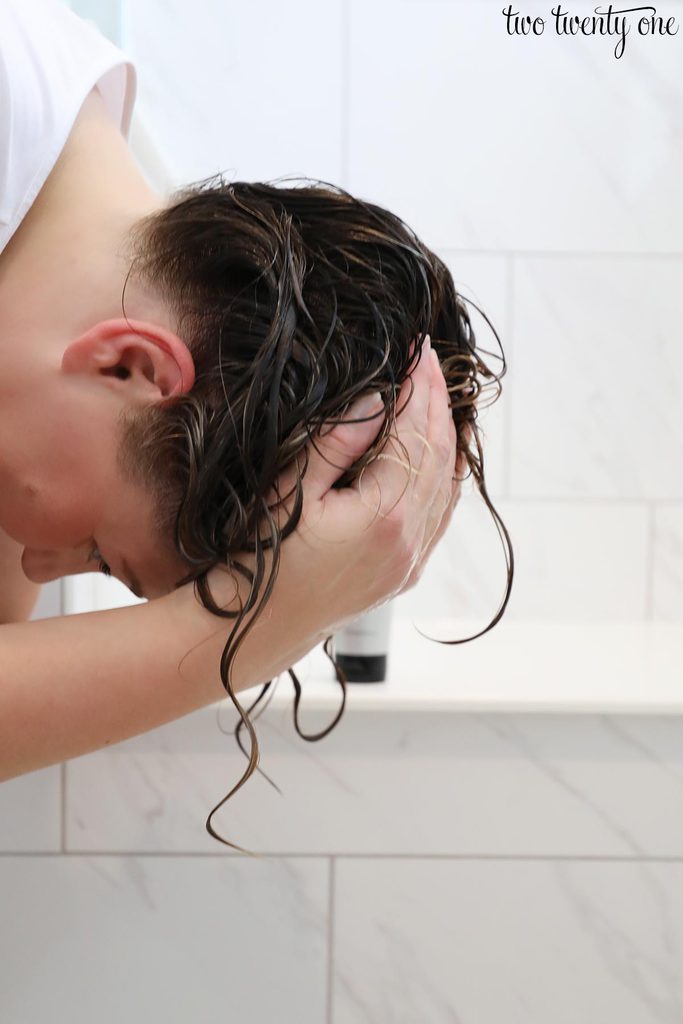 5. Hairspray
Spray your hair with hairspray, and then scrunch your hair some more.
6. Diffuse
Diffuse your hair with your head flipped over until dry. I start by doing a once over my hair using high heat and high speed settings, hovering the blow dryer over my hair but not touching it. Then, I turn the settings to medium heat, medium speed. I repeatedly move the diffuser around my head, spending about 10-20 seconds on each section.
I diffuse my hair with my head flipped over to add more volume. Since it takes 15-20 minutes to dry my hair, I sit on the toilet (with the seat down) and my head between my legs. It's a good look. You can also sit on a chair. I used to drag one into the communal bathroom at my sorority house in college. This pissed off a decent amount of girls, but hey, you gotta do what you gotta do.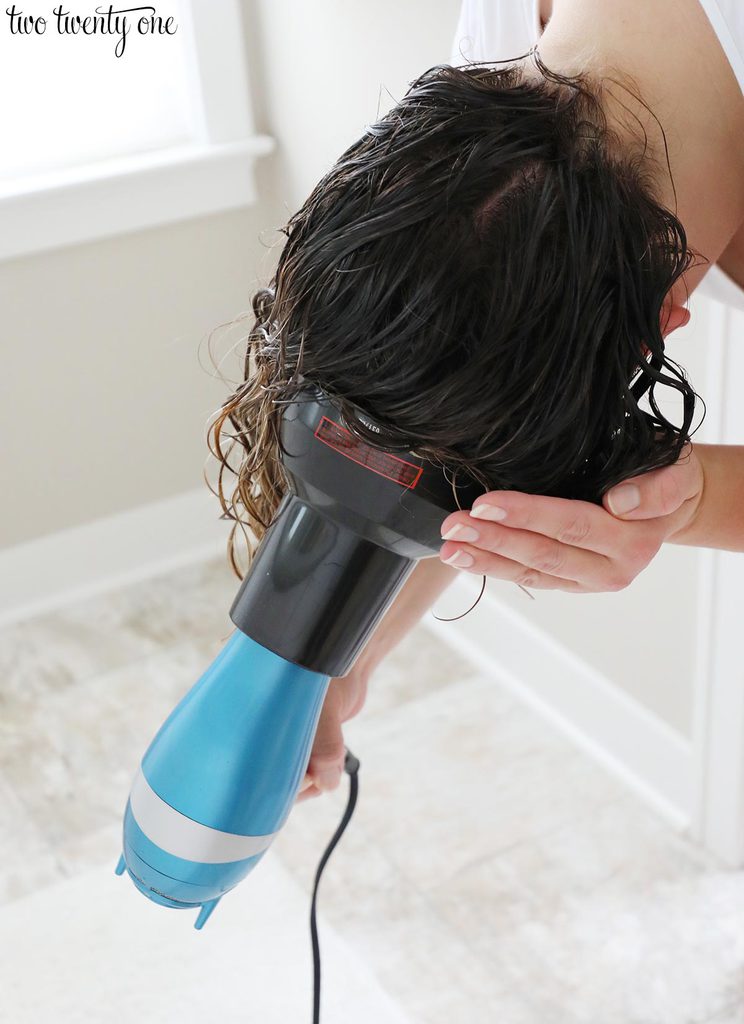 7. Hairspray
Spray hairspray on your hair as it dries, as needed.
(I'm sitting on my toilet in this photo. Like I said– lots of cropping.)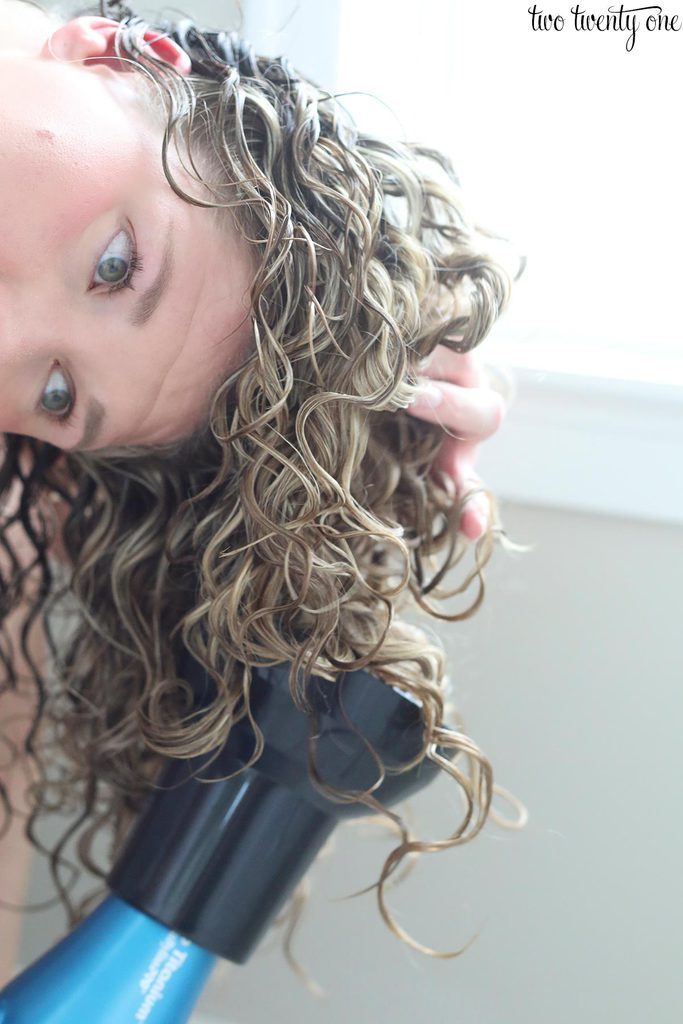 8. Tousle
Once your hair is dry, keep your hair flipped over. Tousle the curls a little by removing the diffuser (be careful, it'll be hot) and blowing out your hair for 30 seconds, moving the hairdryer around your head.
9. Arrange Curls
Flip your hair over and begin arranging your curls. There's no real instructions with this step– I see which way my hair is wanting to part and go with it. Then, I'll use hairspray to keep things in place so my hair isn't falling into my face.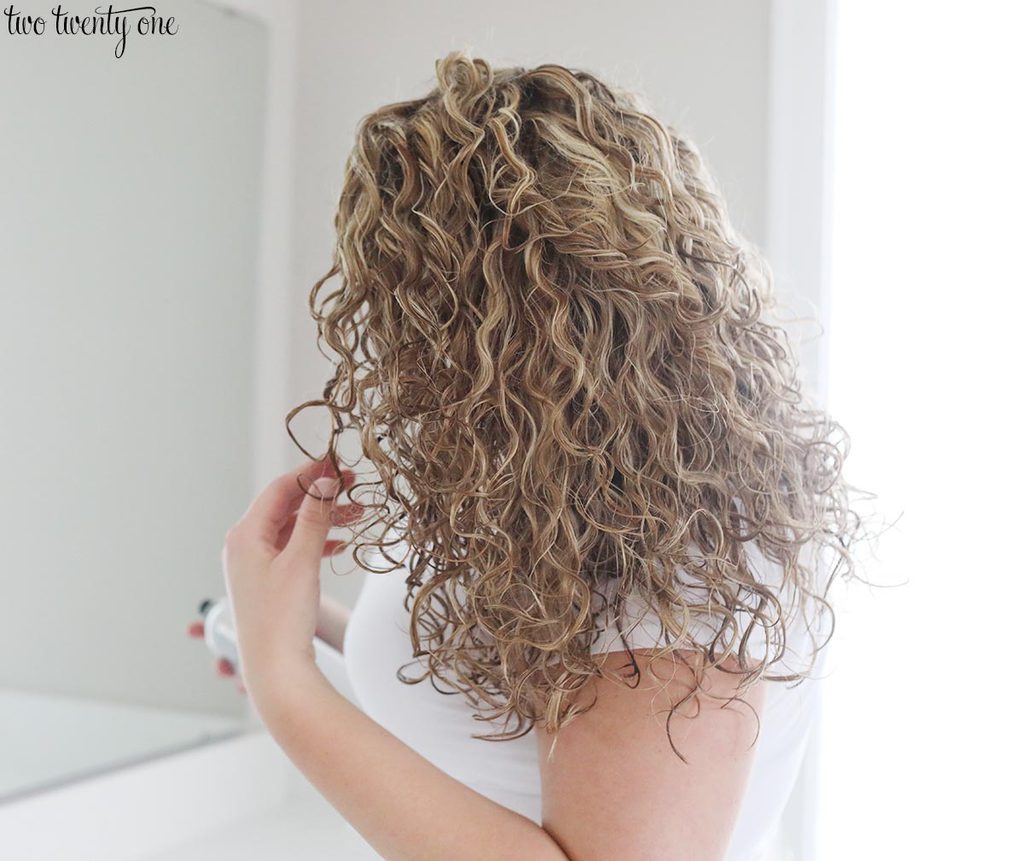 If I'm being completely honest, I don't like how my hair turned out in the photo above. It looked too stringy for my liking but that's the thing with my curly hair– I never really know how it's going to turn out.
While I use a lot of product, I wouldn't say that my hair ends up feeling or looking crunchy. I do like it firm in the beginning because I try to get as many days as possible out of my hair. And if it starts out firm, I can make it last a good 6-7 days. During those 6-7 days, I will freshen my hair up with hairspray to keep everything under control. I will say that my favorite hair days are typically day 3-4.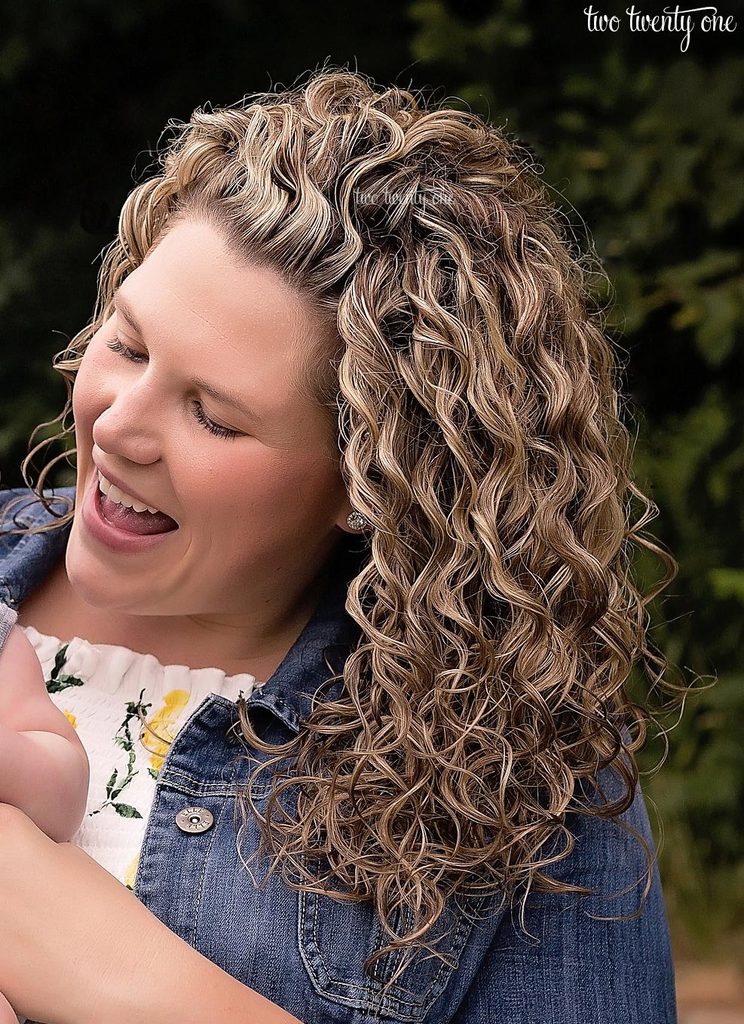 Troubleshooting
Hair is Too Firm
Use less product.
Hair is too wet prior to scrunching.
Hair is Too Frizzy
Use more product. Start by using more gel.
Hair wasn't wet enough prior to scrunching.
Touching your hair too much or not being gentle enough with the diffuser while drying your hair.
Hair is Firmer at the Ends Than the Base
Not enough product is being applied to the base of the hair.
Trial and Errror
If your hair doesn't look the way you want it to the first time, keep trying. I think sometimes curly hair needs time to adjust to new products and a new method of styling. And my hair doesn't always turn out how I want it. I've been known to wash my hair again and start over. I actually did that at midnight the night before I went into the hospital at 5AM to have Emmett (it was too frizzy the first time I styled it). Just imagine my 39 week pregnant self bent over the tub re-washing my hair, and then restyling it. The second time turned out damn good, if I do say so myself.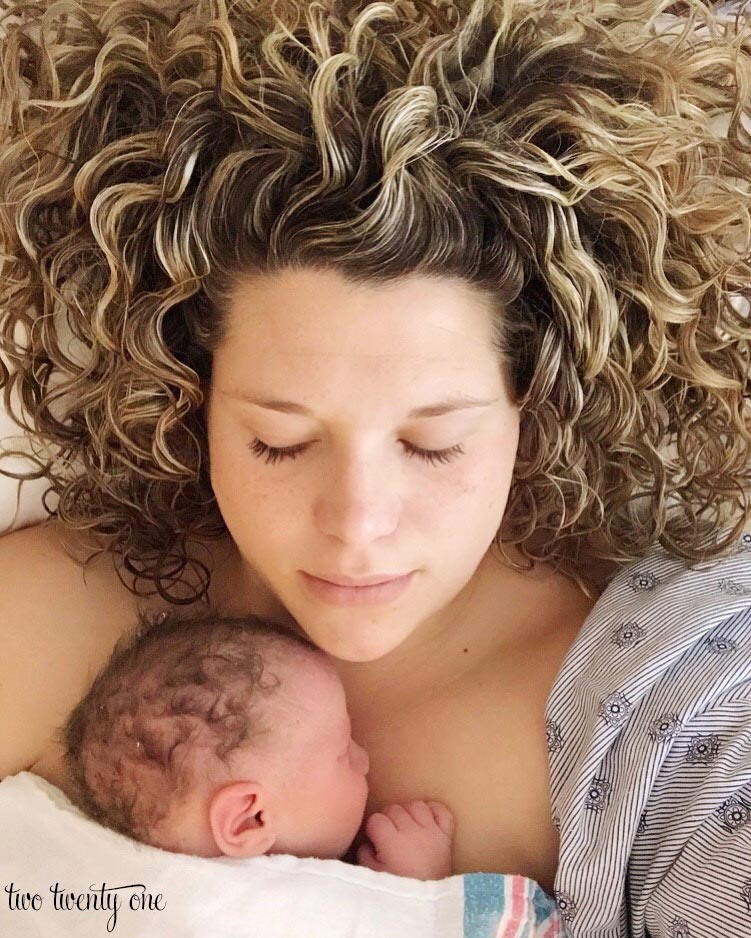 Sleeping with Curly Hair
I'm a nighttime showerer (I don't like going to bed feeling dirty), so I usually do my hair before bed. I'll sleep with my hair sprawled out on my pillow– kind of like the pic above. Sometimes I'll go to bed with my hair, sans product, in a bun on top of my head, rewet my hair in the morning, and style it. But I prefer to knock it all out before going to bed. I don't use a special pillow or pillowcase. Although I'm tempted to try a silk bonnet or silk pillowcase because I've heard good things.
This is how my hair looked after I slept on it before going into the hospital to birth Emmett.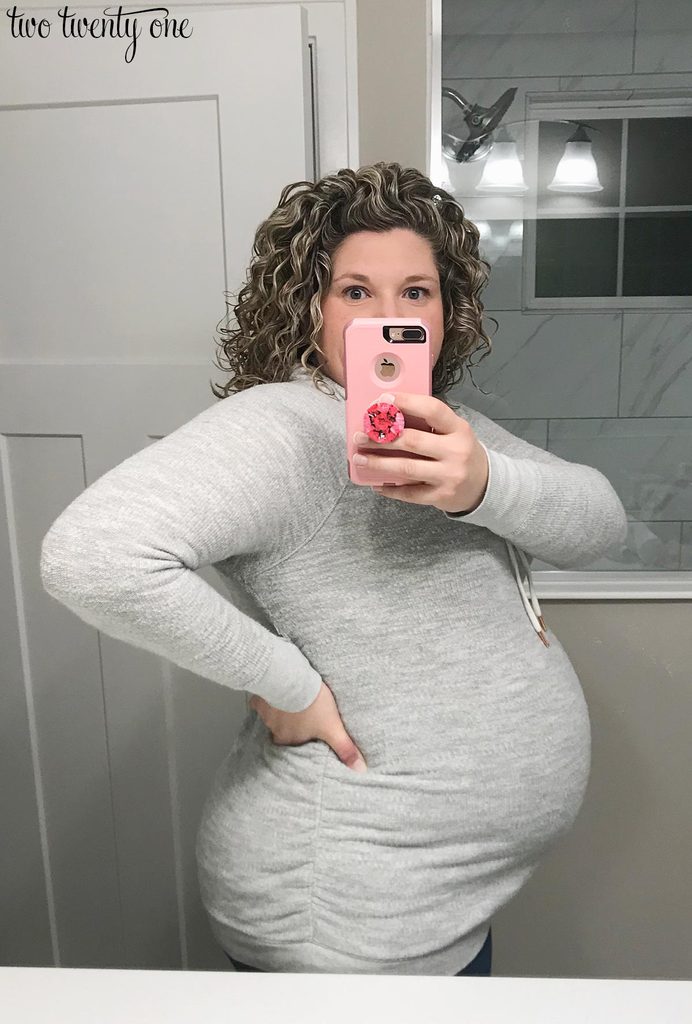 And here's how my hair looked two days later when we came home from the hospital.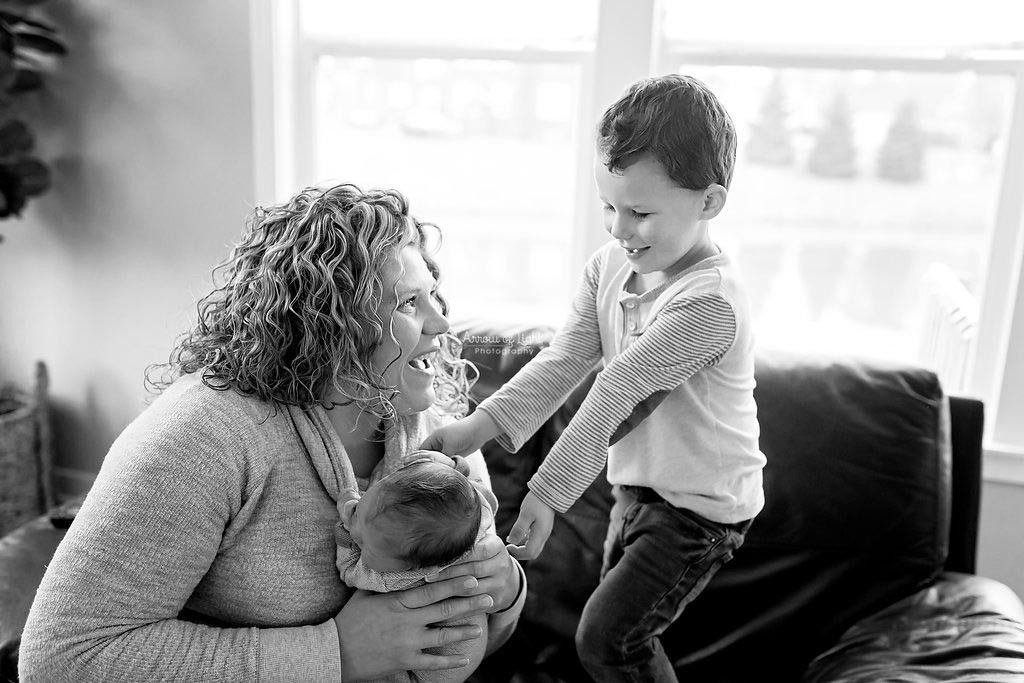 Click here to read my FAQs about my curly hair!
And if you try this out, let me know! I'd love to see pics of your gorgeous curls!