This post is sponsored by BEHR® and POPSUGAR.
Back when we bought this house in 2009 I was an overzealous, 24-year-old, first-time home buyer (stop doing the math and trying to calculate my age– I'm 32). And I knew I wanted a blue master bathroom with crisp, white towels in a basket, but back then I didn't know much about paint colors– see the first color I painted our kitchen.
While the blue wasn't awful, it really screamed 'BLUE', especially on sunny days. Over time, I started to get annoyed by how blue it was. So a few weeks ago I decided it was time to change the color. Mostly because I was tired of the BLUE and partially because it had been almost 9 years since I painted our bathroom, so it was time.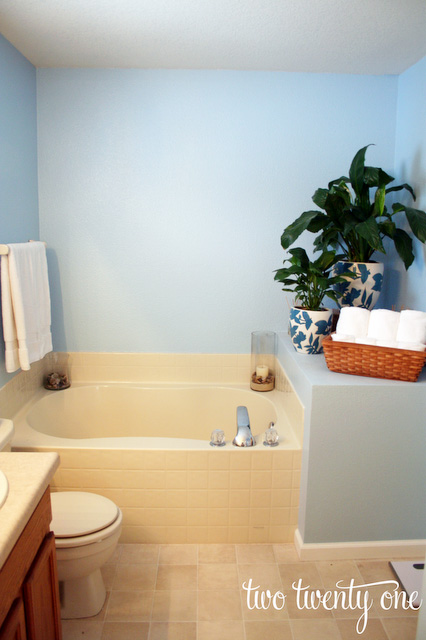 When looking at colors, I wanted to stay with blue because I thought it worked best with our (not-by-choice) almond-colored bath fixtures. But I wanted more of a blue-gray.
Putting the colors side by side shows how blue the old color was, and how the new color, BEHR Oceanic Climate N470-2, is more of a muted blue-gray.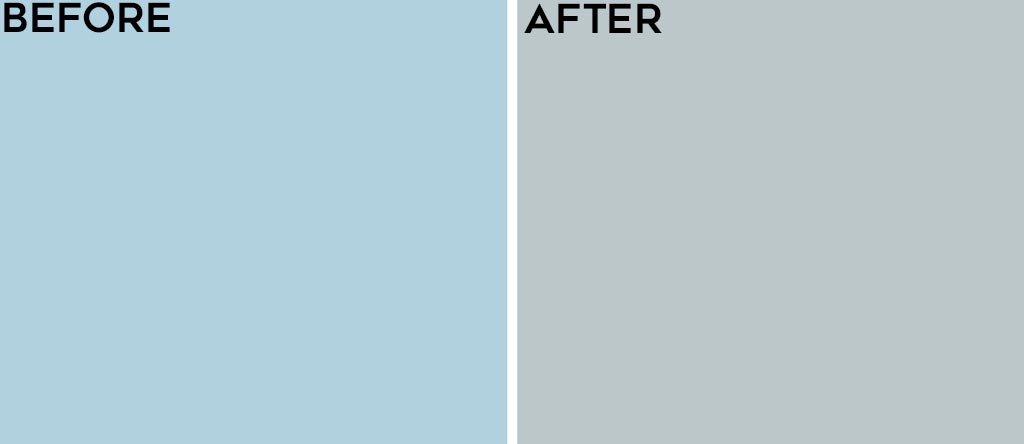 I used BEHR MARQUEE® Interior Matte Paint, which is BEHR's most advanced paint and primer in one, in Oceanic Climate. I went with a matte finish because I don't like the look of our textured walls, and using matte paint helps de-emphasize the textured appearance.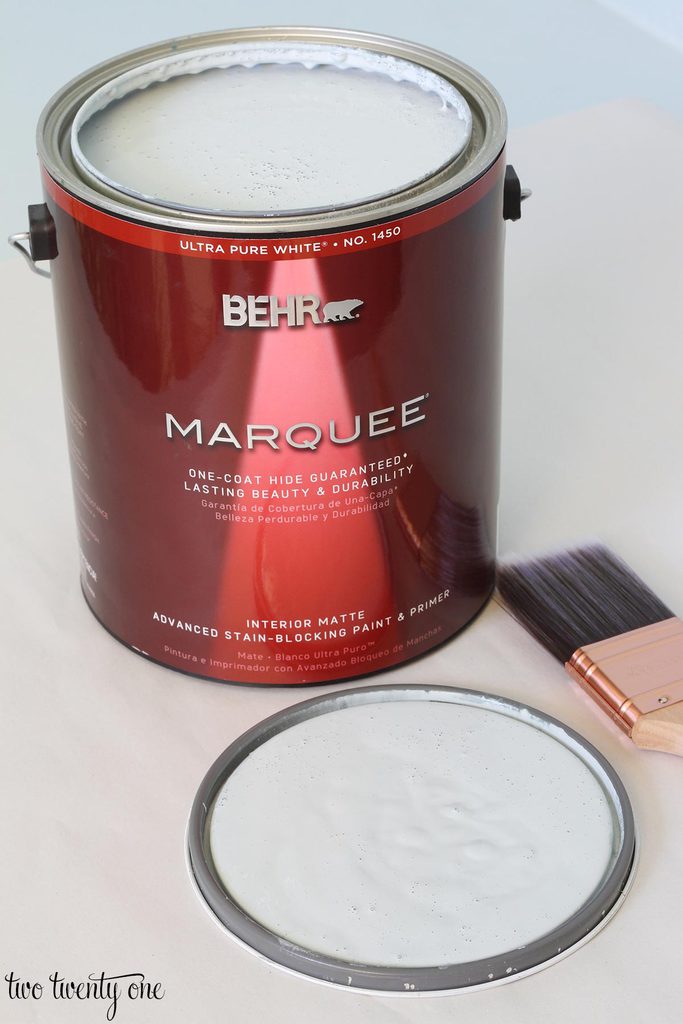 I love how the color turned out. It looks great with our white towels, as well as the almond-colored bathroom fixtures.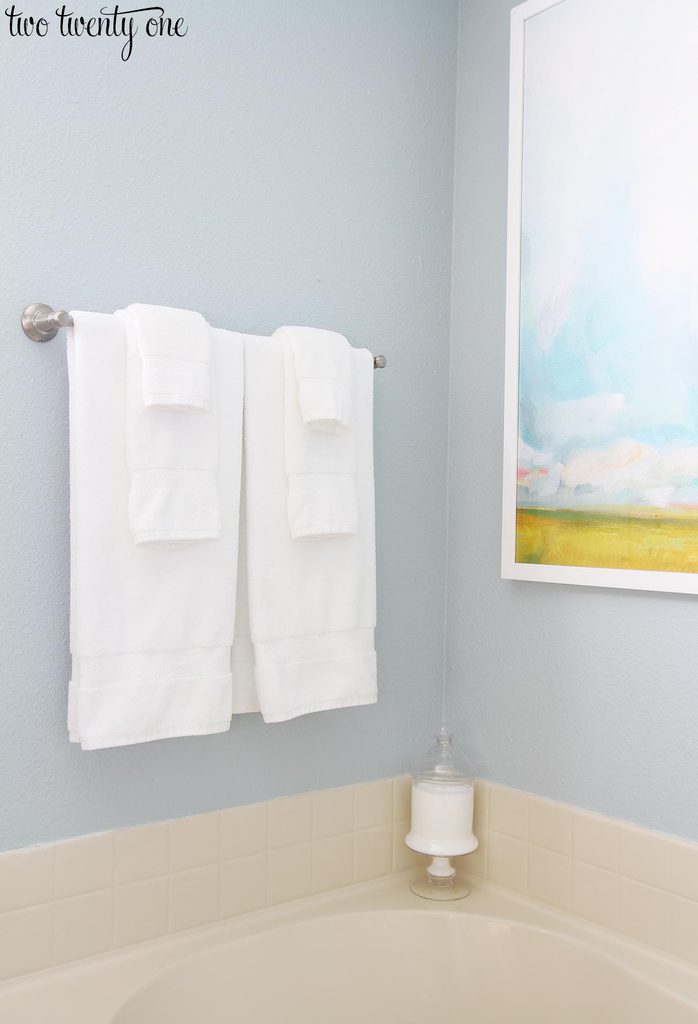 Since our vanity is wood, I tried to bring in a couple brown elements, like this wooden tray and the basket on top of our toilet. I needed to put my cotton balls, cosmetic rounds, and cotton swabs somewhere, so I decided to display them in some pretty containers.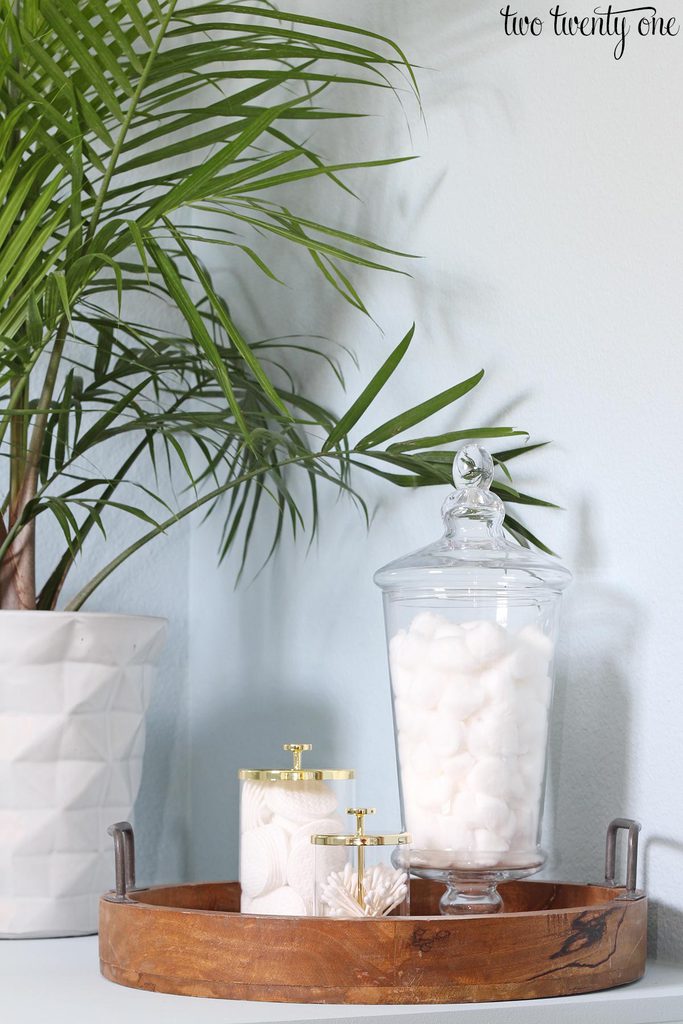 The large, 54″x40″ print fills the space well, along with the majesty palm. I didn't want to take away from the art print, so I chose a white, faceted planter.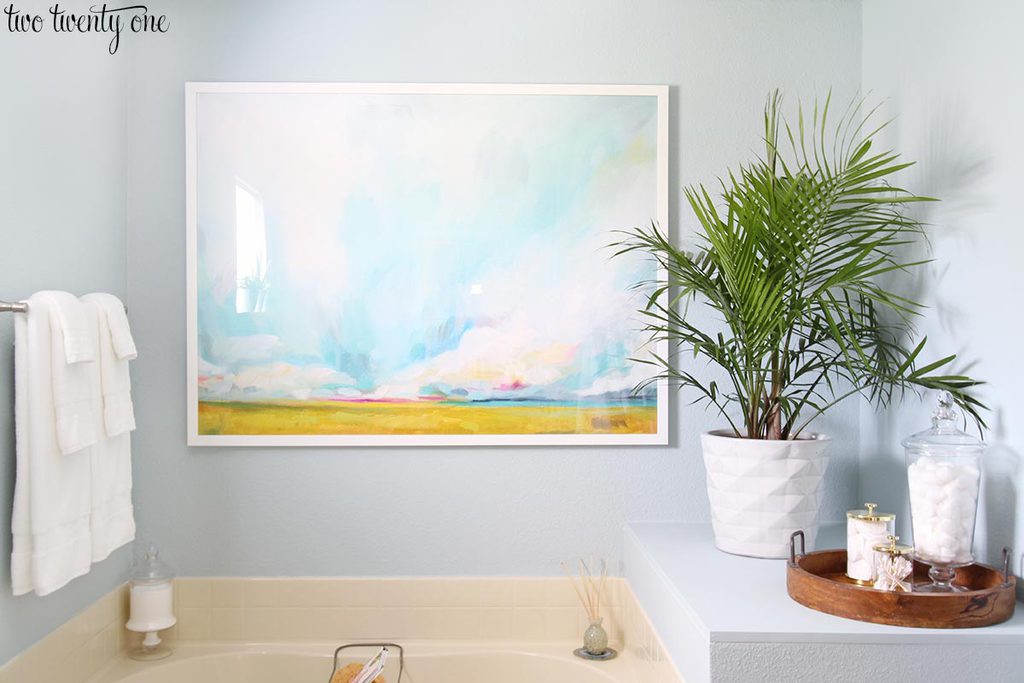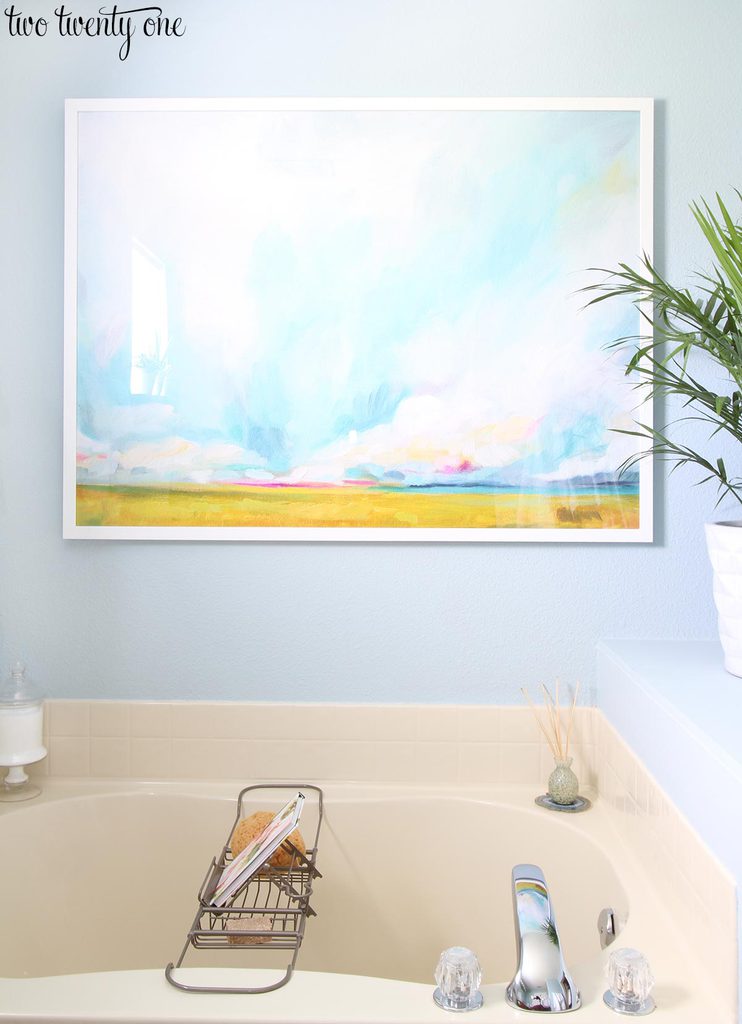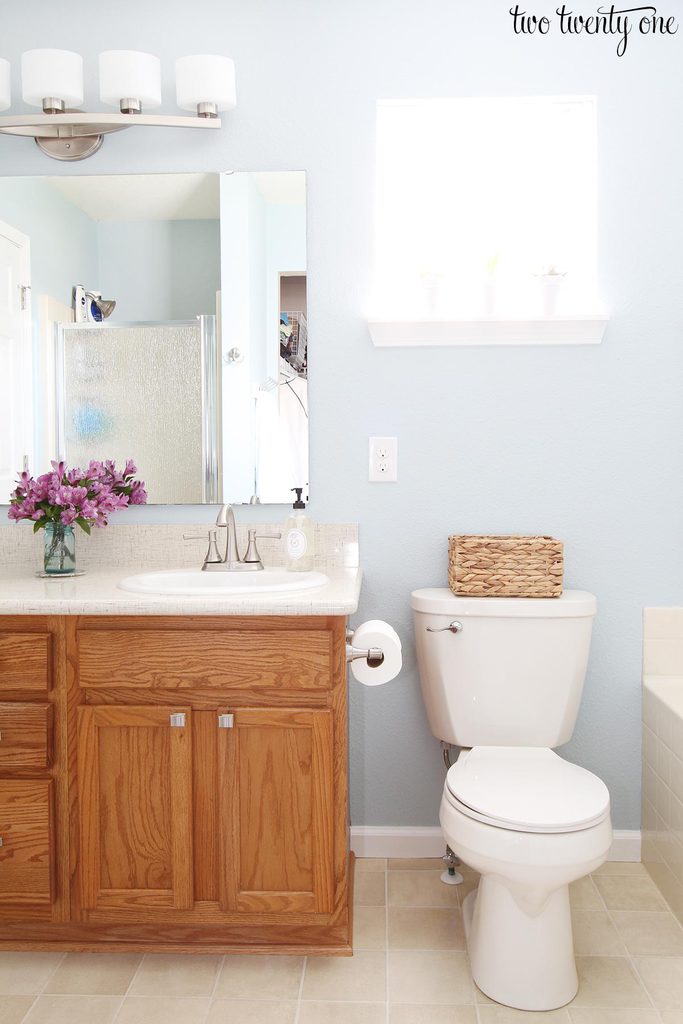 The palm only requires 3-4 hours of indirect light a day so it's perfect for the bathroom, which has only a tiny, south-facing window.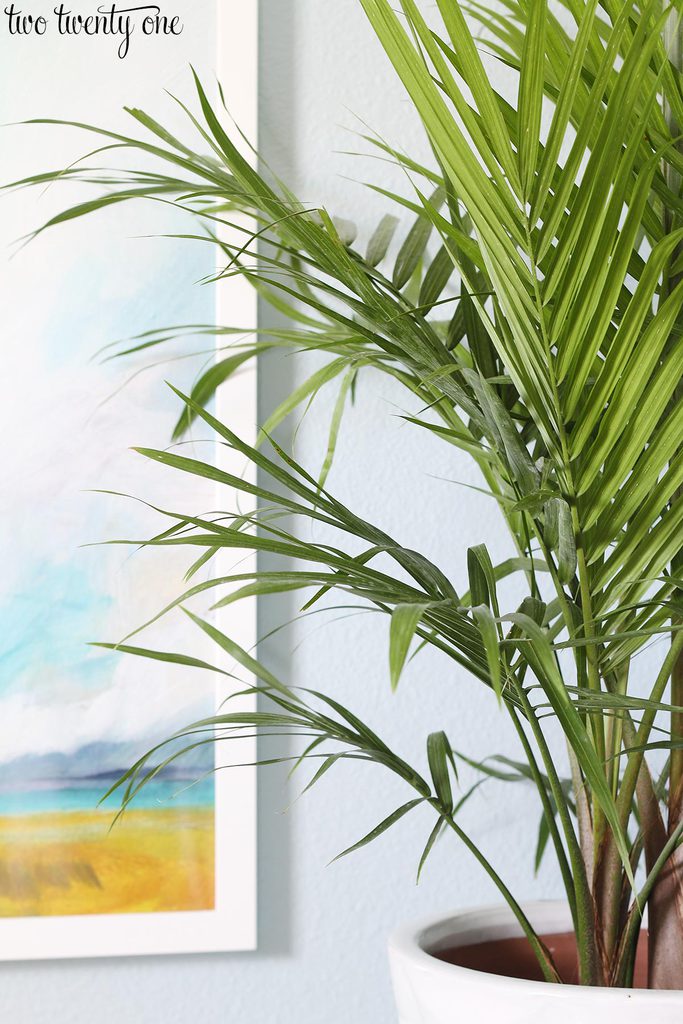 Since this window is the only spot in our house that gets the most sunlight throughout the day, I put two succulents an aloe plant in the windowsill.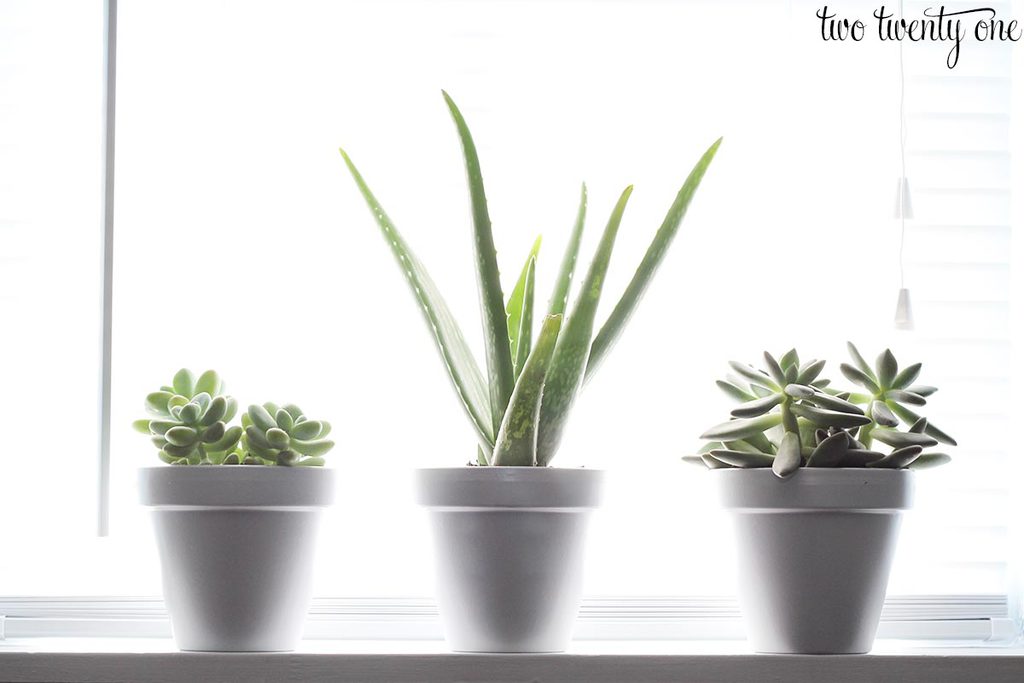 I like having a vase of flowers on the vanity– they make me feel better when I have to drag myself out of bed after nights when I only get 5-6 hours of sleep. These are my go-to alstroemeria, which cost $4 and last for 2 weeks. A great investment, in my opinion.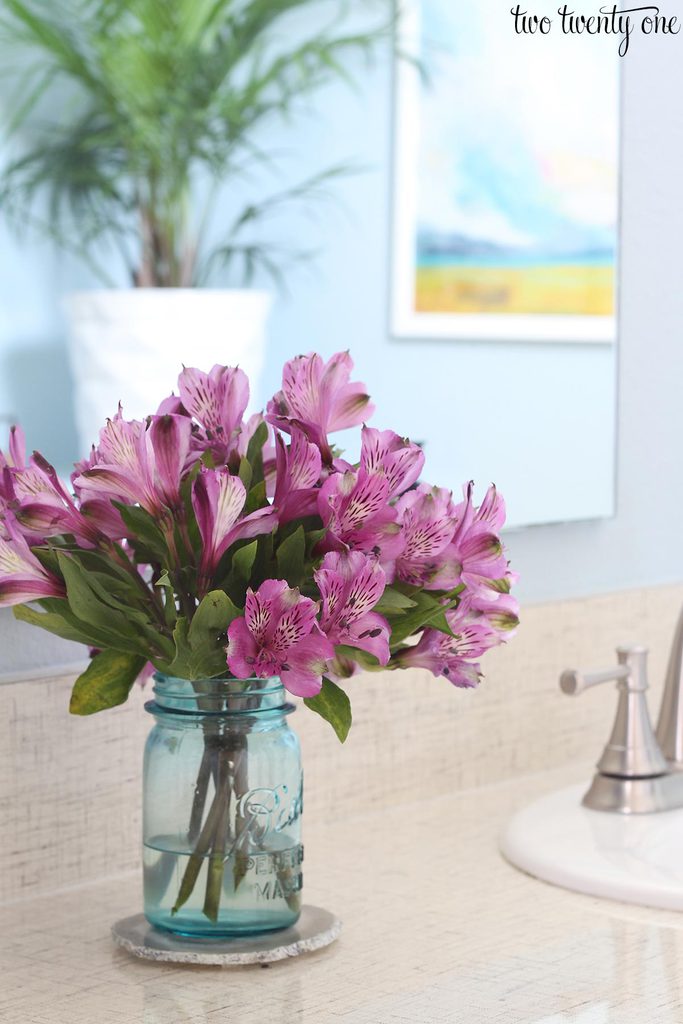 Here's a view of the entire bathroom. It's a good-sized master bathroom for a house our size.
I really like how the room came together with the new wall color, art print, and plants.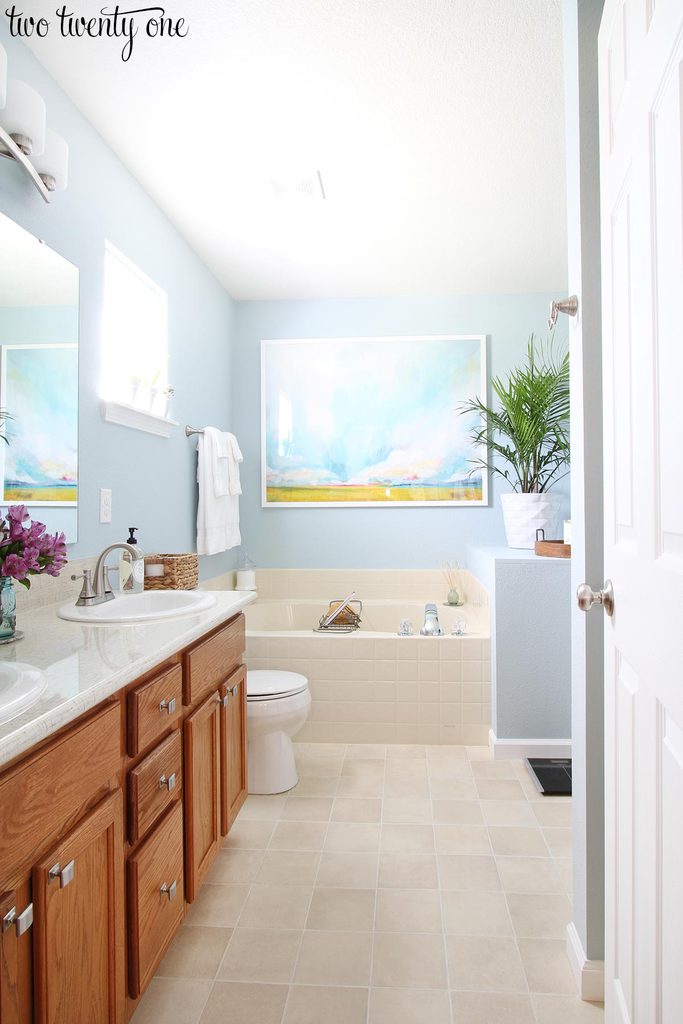 I'll share all the bathroom sources in the next blog post!
This post is sponsored by BEHR® and POPSUGAR.