Hey, friends! I hope you had a splendid weekend!
After showing you our guest bathroom and a glimpse of our living room many of you started pounding your voyeuristic fists on your laptops and chanting "We want more! We want more!" So I decided to succumb to the peer pressure and show you another room. But, please, be warned. Oh dear, be warned.
When we bought our house every room was painted the same color. Beige. This is what the kitchen looked like when we toured the house the second time. Mmm, take in all that honey oakliciouness.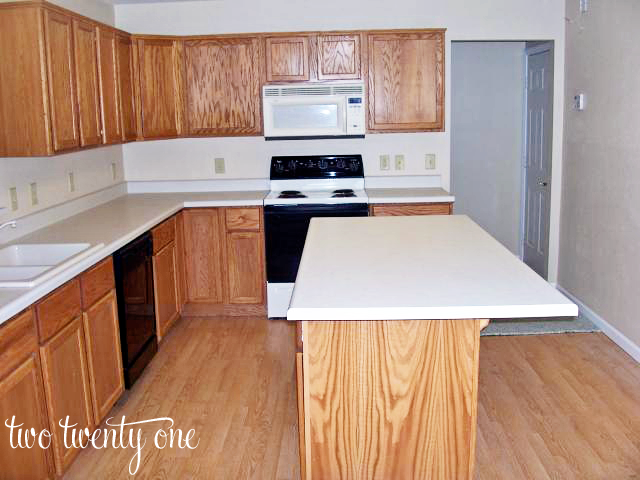 There are aspects of our kitchen that I love. I love the size of the room, the island, the storage space, and the layout. But there are things I don't love– all the honey oak, the cheap wood laminate floors, the florescent light, and the FLORESCENT light.
Before we moved in I was all like "I'm going to paint the kitchen green!" I really don't know what my 24 year old self was thinking. I'm going to blame my decision on being an excited 24 year old new home owner. Legitimate excuse, I think.
So I painted the kitchen Valspar's Emerald Isle a week before we moved into the house. The sample swatch looks nothing like how the color looks on a wall. Trust me.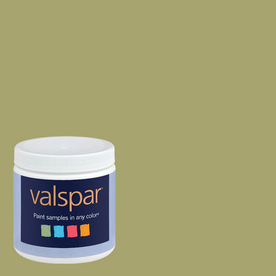 Please don't adjust your monitor because this is for real, people.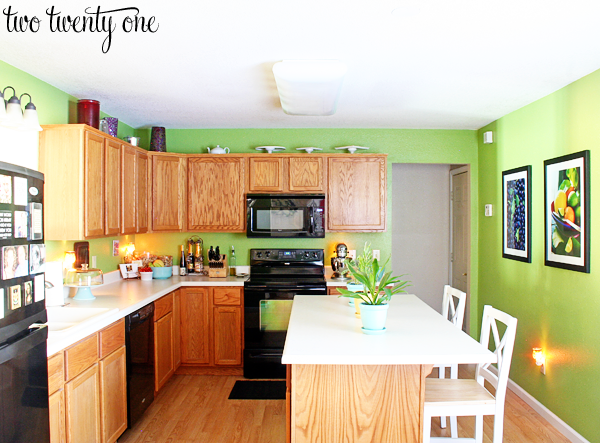 The color is more of a green apple, in my opinion. And at first, my 24 year old self loved it. But then I turned 25.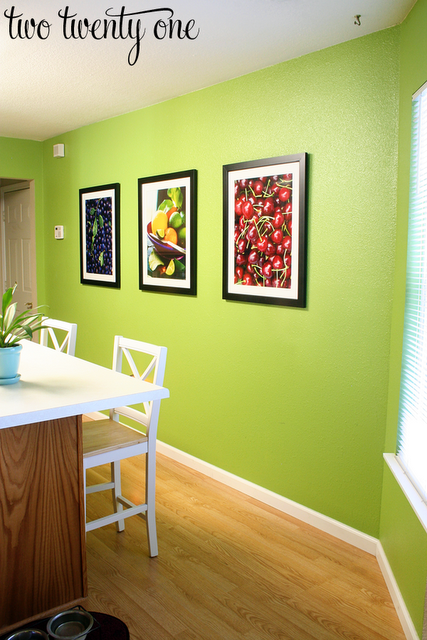 I just grew tired of all that green. I was over it.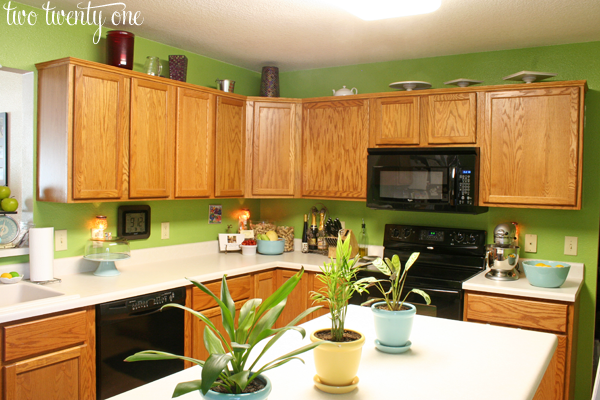 Brad and I have talked about painting our kitchen cabinets white since we've moved in. That's our big fall project. Knowing that we'
re going to paint the cabinets I thought about the new color I wanted to paint the kitchen. But I'll tell you more about that later this week when I show you our newly painted kitchen. I'm sure the suspense is going to kill you.
In closing, I hope we can still be friends after I've shown you our 2009-2012 kitchen.
Ever paint a room, love the color you painted it, only to hate it later on?
What room(s) in your home would you like to paint?
What color do you think I painted the kitchen?