This year I added a little Christmas cheer to our kitchen- emphasis on 'a little' because it's a working kitchen. In fact, while I was cleaning the kitchen for the photos in this post, I said to Brad, "This is why people don't cook– they don't want to dirty their kitchen… We should just get a caterer's kitchen like the ladies on Real Housewives. So I can have a cooking kitchen and a pretty kitchen." He said yes but I think he was being sarcastic. Rude.
After viewing my kitchen, you can check out all the other blogger Christmas kitchens because like my with Thanksgiving tablescape, my friend, Tammy, organized a group of holly jolly bloggers for another holiday tour. And if you're stopping by from Inspiration for Moms, welcome!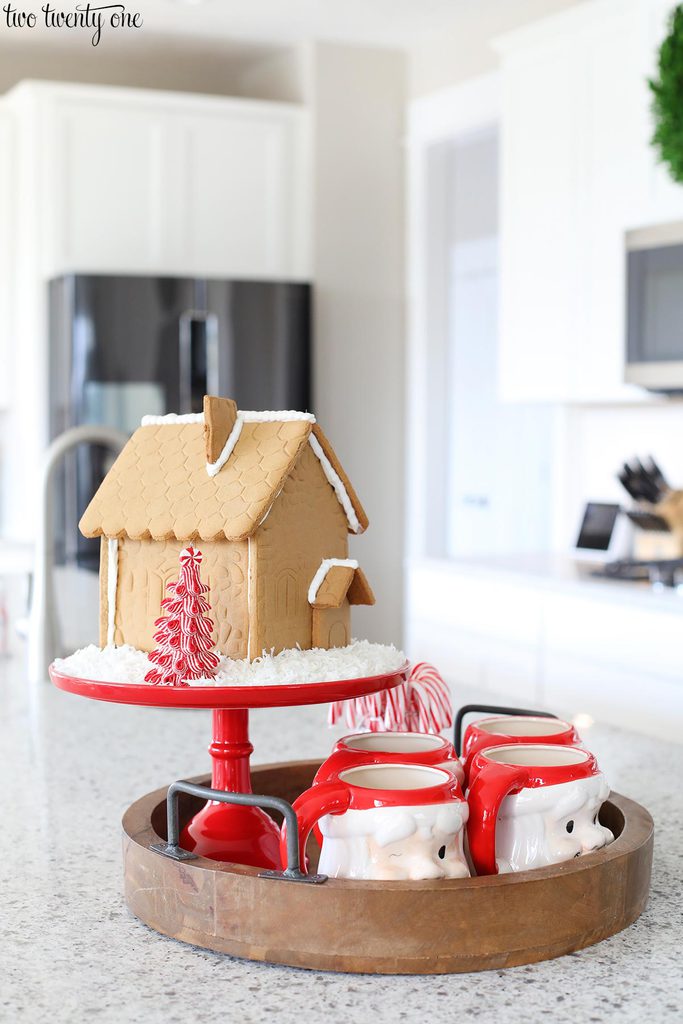 There's a wreath above our cooktop and microwave year-round now. I feel like it breaks up all the white cabinets. But you know what else would help with that? Hardware. Which I have in a box. It's just finding the time and persons to watch our children so Brad and I can install said hardware on the cabinets. Anyway, back to the wreath. This preserved boxwood is 2-3 years old and still looking fresh. It's hanging on a clear Command Brand hook on the right side door that slightly overlaps the left door. I'm mentioning this because people always want to know what kind of voodoo I do to get wreaths to hang on the cabinets.
I added two red and black buffalo check cutting boards behind the cooktop for a little Christmas cheer.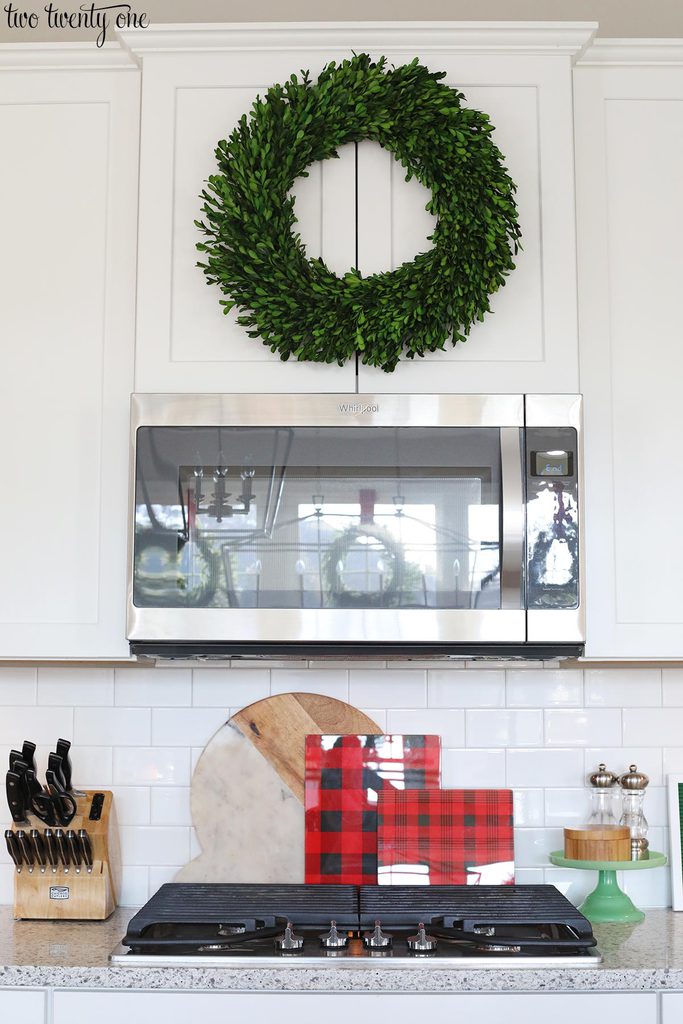 An update to the kitchen I haven't yet shared is our new pendant lights. I scoured the Interwebs for almost two years looking for the perfect pendants, but I could never find them. So, at least for now, I settled on these, which match our dining area light. And right now they're on sale for 60% off— less than what I paid.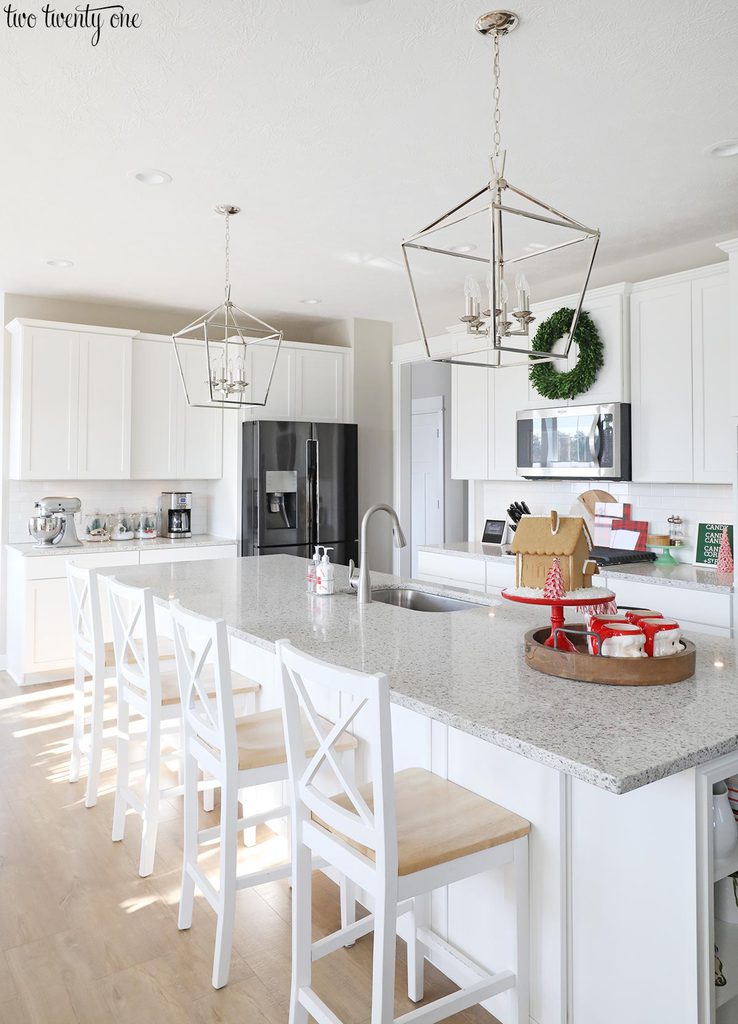 Let's be honest, is your kitchen even decorated for Christmas without lidded glass jars filled with fake snow, bottlebrush trees, and small ornaments to create Christmasy scene? I think not. Bonus points for fairy lights.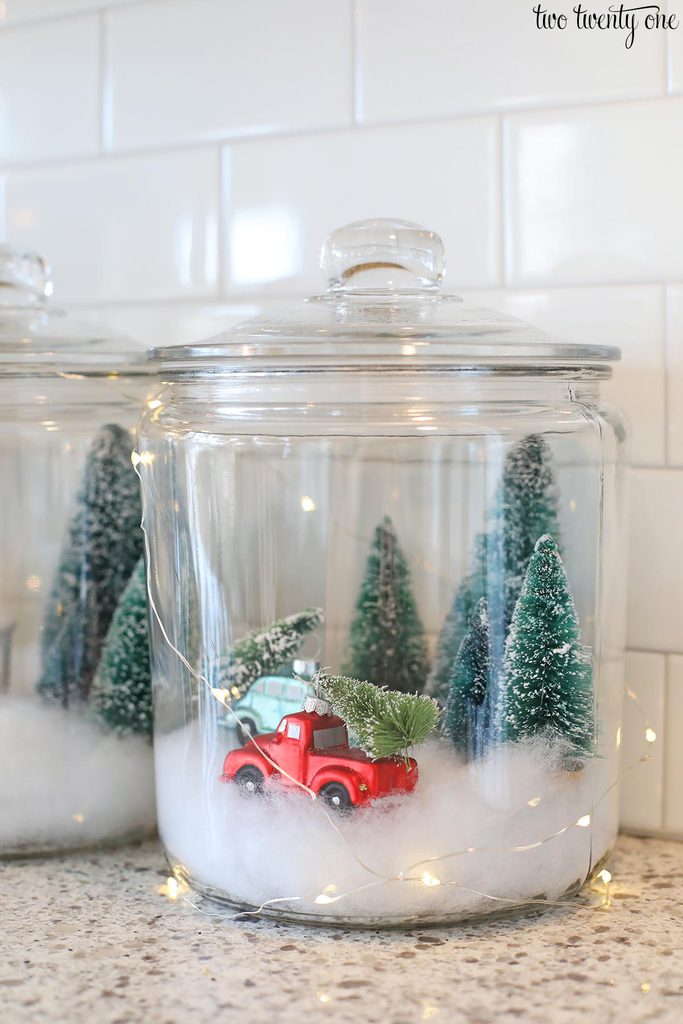 Everything inside the jars is from Target this year, except the fake snow– that's from JoAnn Fabric. And trust me, I little goes a lonnnng way. So if you're tempted to buy more than one big bag of fake snow. Stop yourself and walk away.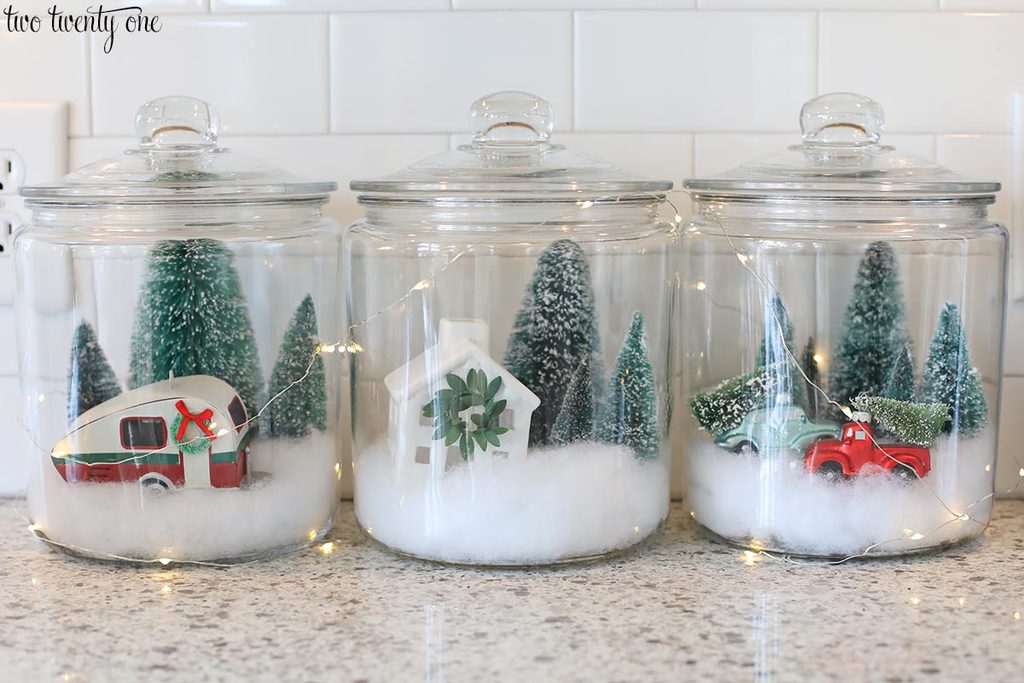 Let me say, the pre-made $10 gingerbread houses at Costco are well worth the money. Not only is there no assembly required (other than the chimney and door + awning), but they come with a decent amount of icing and decorations. Owen and I didn't have time to decorate ours before I took these photos, but you better believe we'll be tackling it this week. I like to surround my gingerbread houses with a little shredded coconut for a snowy effect *said in a Martha Stewart voice*.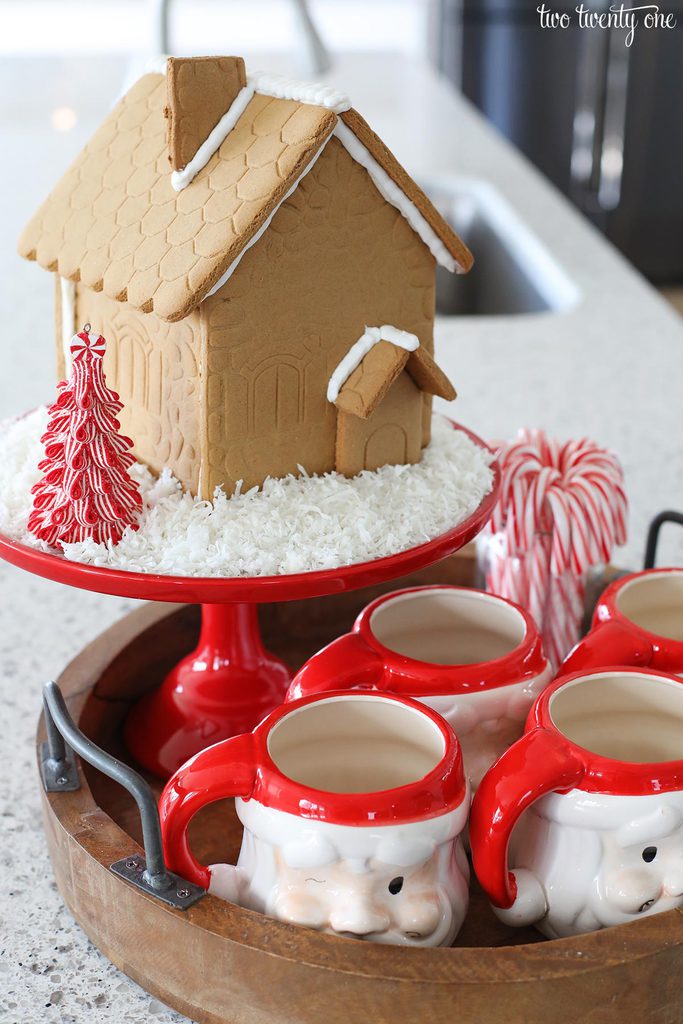 Full disclosure, I put out this letter board last December for the gingerbread house decorating party I threw for Owen and 10 of his pals. And then I put it away and brought it back out for this year. I still haven't found a 'Y' for 'syrup' that's the right size but I'm improvising the best I can, okay?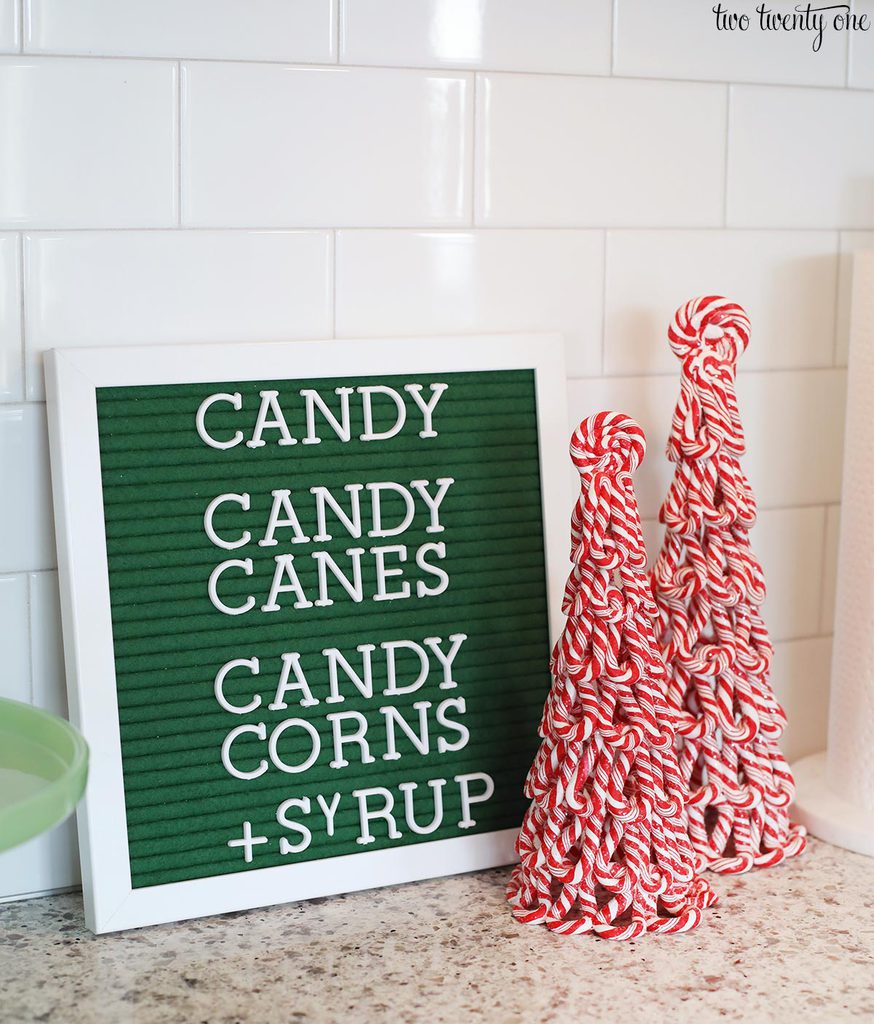 Sources
wall color … SW Worldly Gray
flooring … Wayfair
lights (polished chrome) … Wayfair
stools … Walmart
mixer … Target
coffee maker … Target
boxwood wreath … Target
glass jars … Oriental Trading Co. // similar // similar
bottlebrush trees and ornaments … Target
buffalo check cutting boards … Macy's, circa 2016 // similar // similar
letter board … Michael's, circa 2017 // similar
candy cane trees … I can't remember // similar
wooden tray … HomeGoods // similar
red cake stand … HomeGoods // similar
santa mugs … Oriental Trading Co. // similar // similar
pre-made gingerbread house … Costco
Need more Christmas kitchen inspiration? Head over to my friend Tammy's blog, Pink Peppermint Design, to continue today's tour. And be sure to check out the other Christmas kitchens throughout the week!
Pink Peppermint Design | House by Hoff | Monica Wants It | Meme Hill Studio | Inspiration for Moms | Two Twenty One
Hymns and Verses | RemodelaCasa | Southern Hospitality Blog | Southern State of Mind | Meaningful Spaces
11 Magnolia Lane | Life On Cedar Lane | Follow the Yellow Brick Home
Decor to Adore | This is Our Bliss | Refashionably Late | A Stroll Thru Life