Winter Wonderland Dining Room
Merry Christmas Eve Eve!
For the past couple years I've been using silver and white decorations on my late grandparents' antique buffet and my $125 Craigslist dining table and chairs that I made over– and never blogged about because I hated painting those damn things. So the whole space looks awesome with our all white Christmas tree this year if I do say so myself.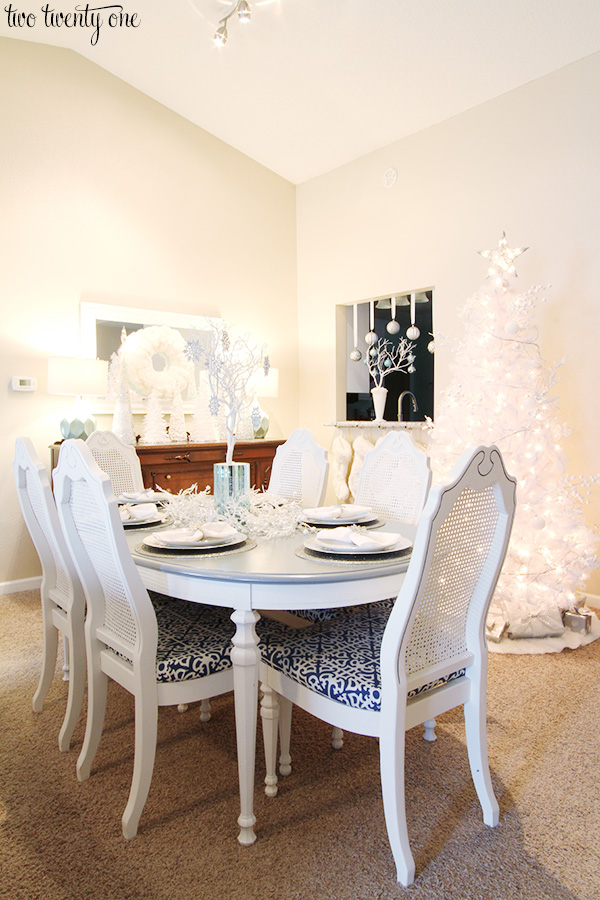 I've been using manzanita branches in my Christmas decor for years. While they aren't the easiest to store, they're inexpensive and perfect for adding height to a table, which we need because the ceiling is so high in our great room.
I bought this manzanita branch from this website, and then I spray painted it white. Then, I stuck it a vase with Styrofoam and added snowflake ornaments.
Quick, easy, inexpensive, and pretty. Just how I like it.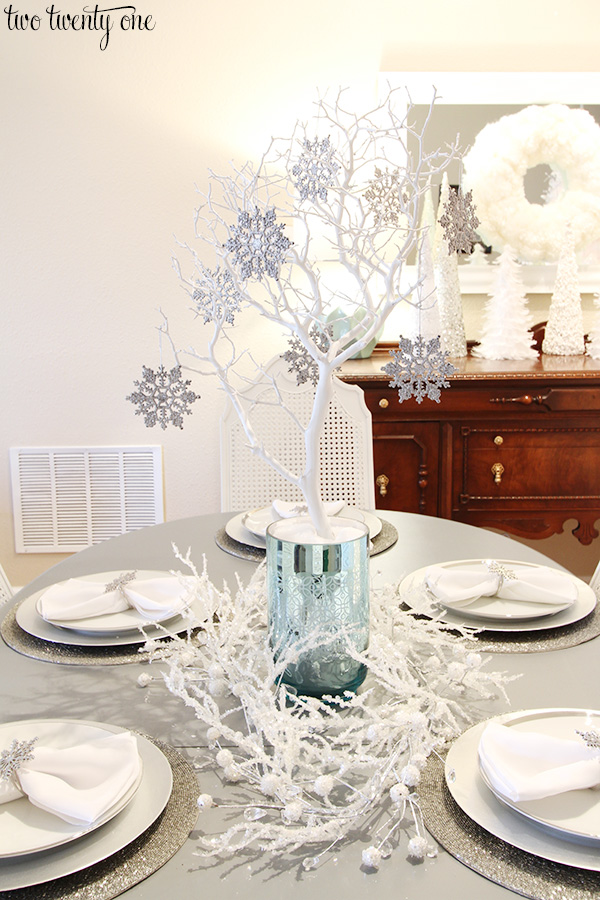 I've also used the same place settings for the past couple years. Although this year I decided to use my late aunt's Crown Jewel silver moon platinum china dinner plates that she willed to me.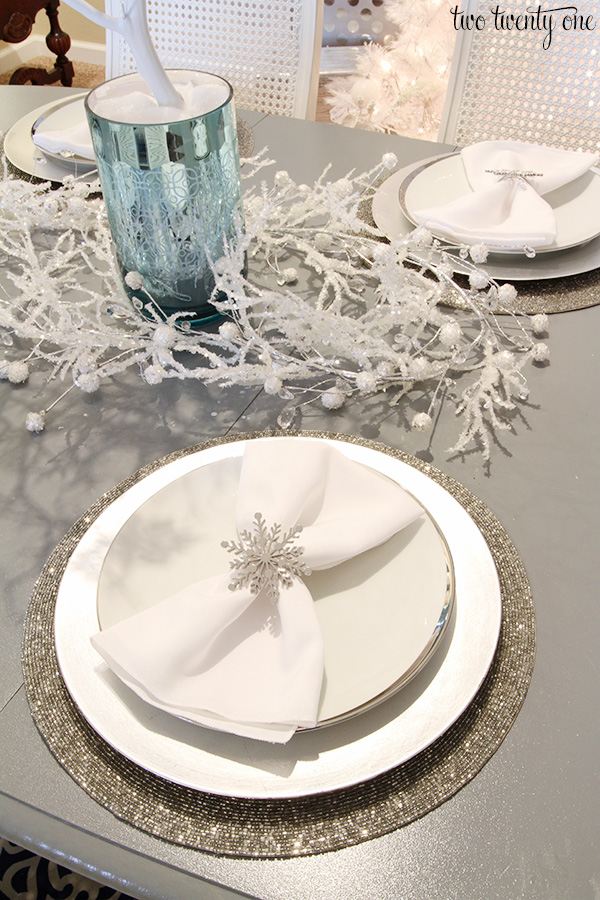 Last year I used china I found at a thrift store, but it's gold rimmed and I really wanted all silver this year.
Keep thrift stores in mind when looking for inexpensive china to use for place settings.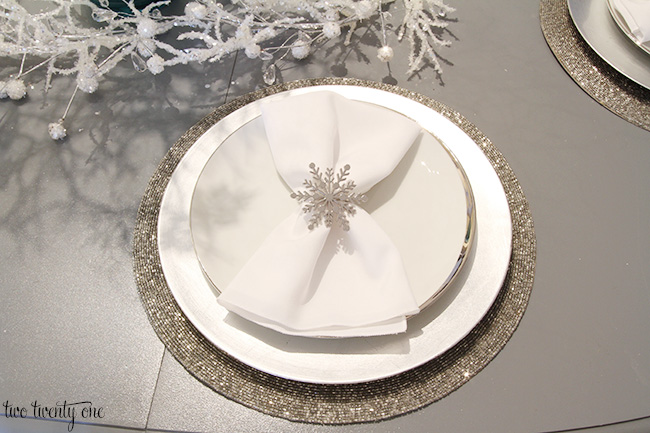 I picked up the sparkly tree garland at Pier 1 last month on Black Friday for 30% off. I figure I can use it for different purposes for years to come since it's pretty basic.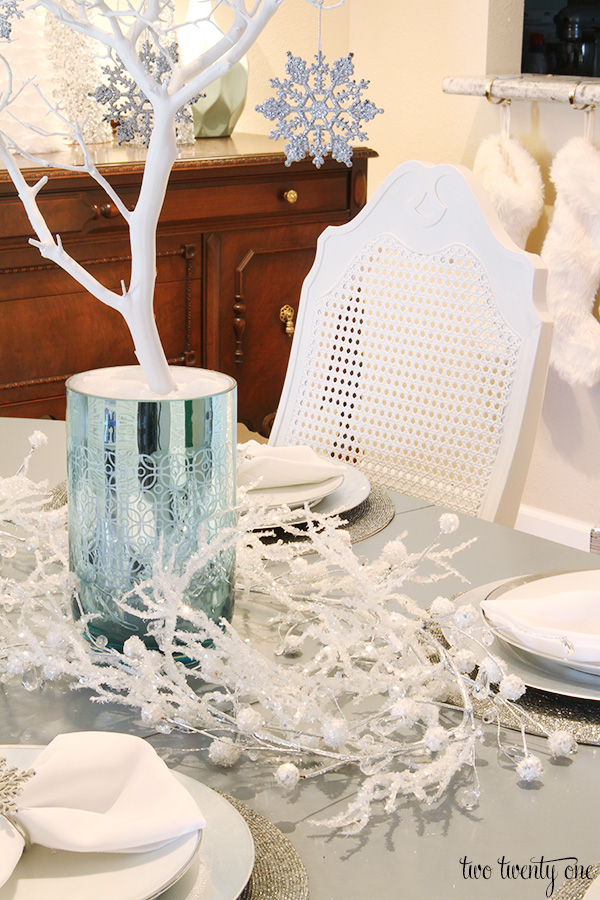 The best place to put our Christmas tree has always been in the dining area of our great room.
Where we have to put the tree kind of throws things off a bit because we have to move the dining table over to accommodate for the tree, but we make it work.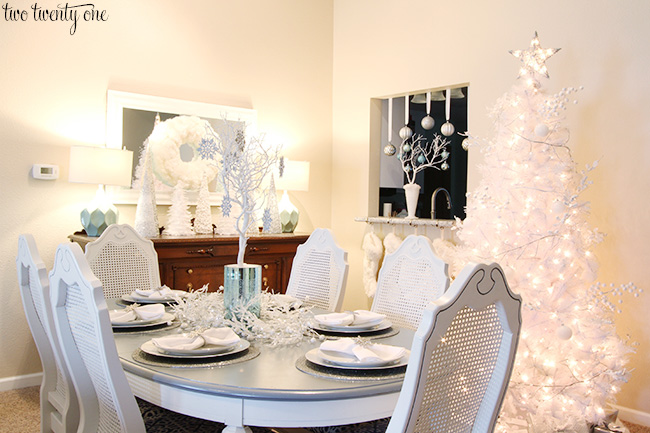 I've been putting white and silver trees on our buffet for a couple years. I think they look really good with the buffet and lamps.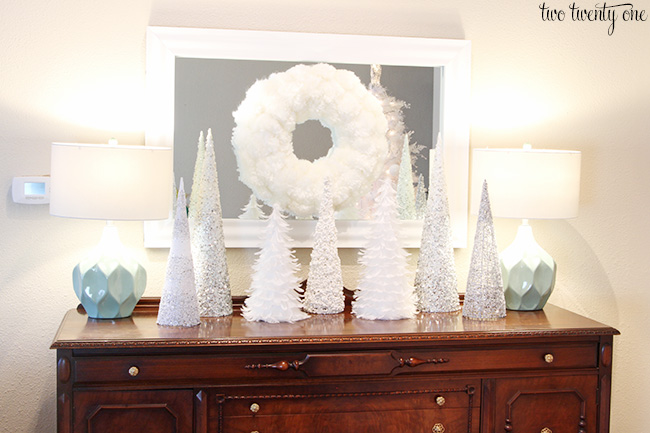 I added two new trees this year (the one on the far left and one in the middle). I also changed the wreath on the mirror. For the past couple years I used a smaller, white feather wreath. But when I spotted that fluffy yarn wreath at JoAnn Fabric this year I couldn't resist buying it when it was 60% off.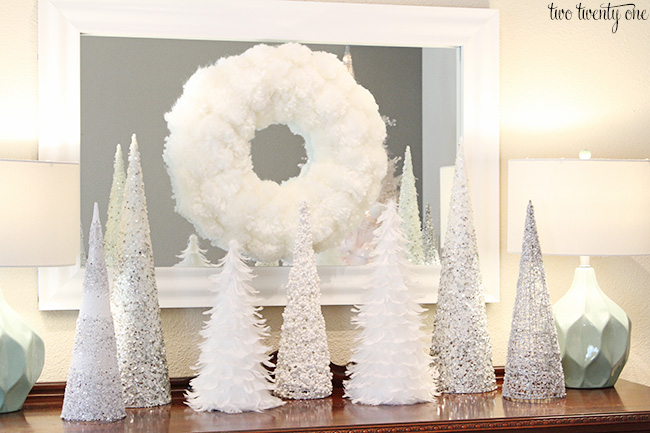 This is seriously the quickest and easiest Christmas decor. It takes minutes to secure the wreath to the mirror with a small Command hook and to put the trees on top of the buffet.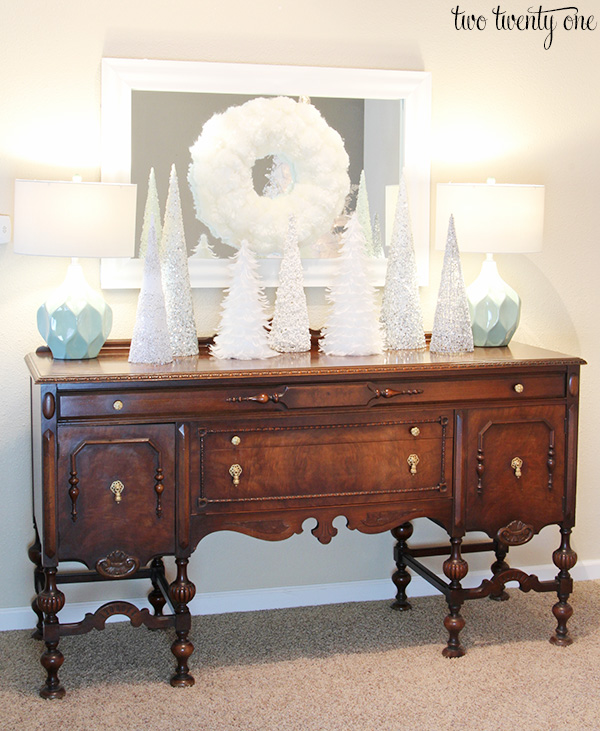 I jazzed up the pass through by hanging some ornaments from the top with white satin ribbon. I also put a manzanita branch in a vase and hung some ornaments on it.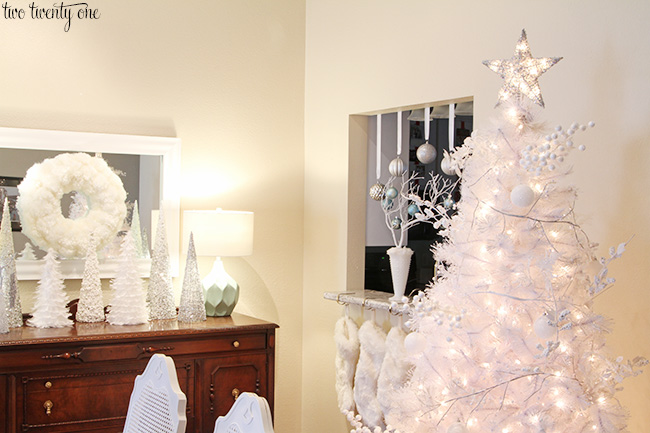 I really love how this space came together this year. While it's mostly white and silver, there are hints of turquoise and mint with the lamps, vase, and ornaments.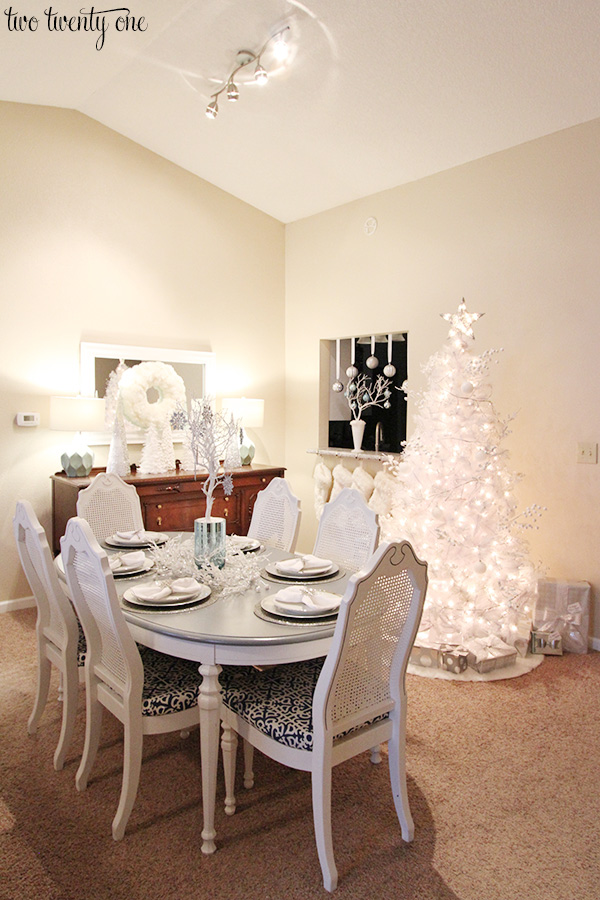 Sources:
The only new things I got this year were the sparkly tree garland (Pier 1) on the dining room table, the far left (Michael's) and middle (HomeGoods) trees on the buffet, stockings (Target), and the yarn wreath (JoAnn).
dining table and chairs: Craigslist, repainted and reupholstered by me
placemats: Kohl's
chargers: Michael's
china: Crown Jewel Silver Moon, gifted
napkins: Sorry, I can't remember
snowflake napkin rings: Kirkland's
vase:  Hobby Lobby
dining table manzanita branch:  Blooms and Branches
snowflake ornaments:  Sorry, I can't remember
white sparkly tree garland: Pier 1 | this year
buffet: belonged to my grandparents
lamps: HomeGoods
wreath: JoAnn | this year
cone trees: Michael's, Target, HomeGoods, JoAnn Fabric, Walmart
ornaments hanging in pass through: JoAnn Fabric
pass through manzanita branch: Craigslist
vase: thrift store
ornaments hanging on manzanita branch: Sorry, I can't remember
stockings: Target | this year