Confession: This was last year's Christmas tablescape. And FYI, my spellcheck is lighting up "tablescape", indicating that it is not, in fact, a word but I don't care.
Tablescape, tablescape, tablescape.
Yeah, so I never shared this last year because the holiday season of 2013 was straight up bananas for me. I was working my day job, newly impregnated, super busy with blog stuff, my stepdad was in the hospital undergoing surgeries, and it was the holiday season, which is crazy anyway.
To be honest, if I do find the time to set our dining room table this year, I probably won't stray too far from this look. I basically did the same thing with the buffet this year. Spoiler alert: you can see it on Instagram (I'm @twotwentyone).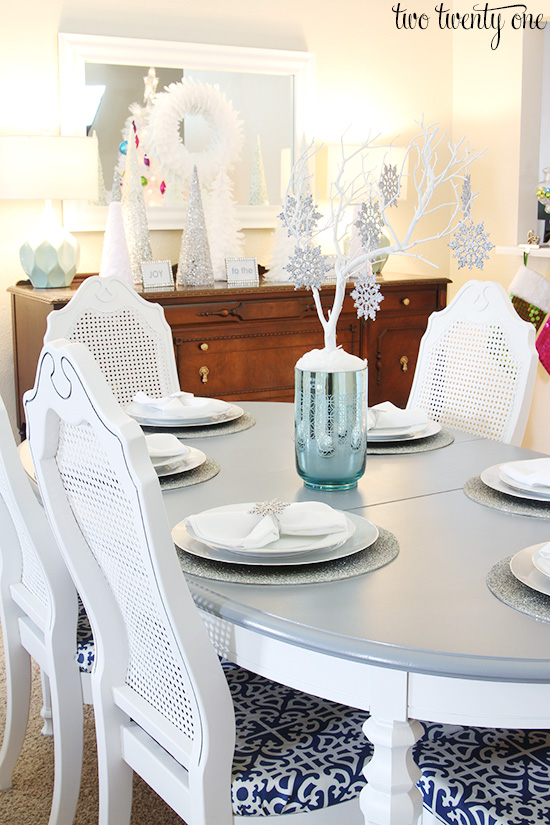 You know another thing I never officially shared? My Craigslist dining room table and chairs makeover. If you're interested in reading about that process let me know in the comments, and I'll do a post on it.
As you can see, this tablescape is pretty simple, BUT since it doesn't scream "CHRISTMAS!" I kept it out throughout last winter. Silver, white, and snowflakes FTW.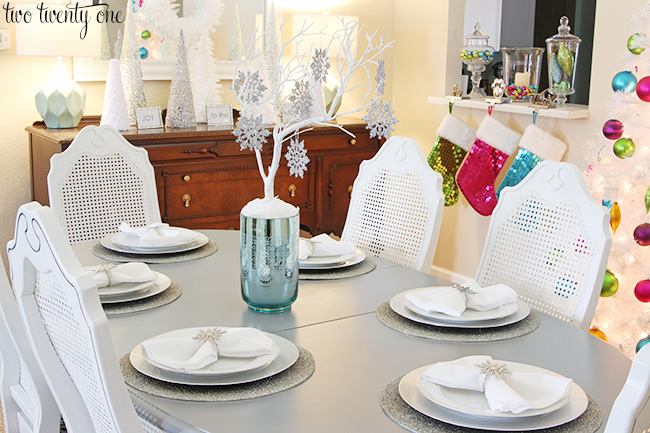 In case you're wondering, I'll break down the table settings for you.
placemats:  Kohl's
chargers:  Michael's
china:  thrift store
napkins:  Sorry, I can't remember
snowflake napkin rings:  Kirkland's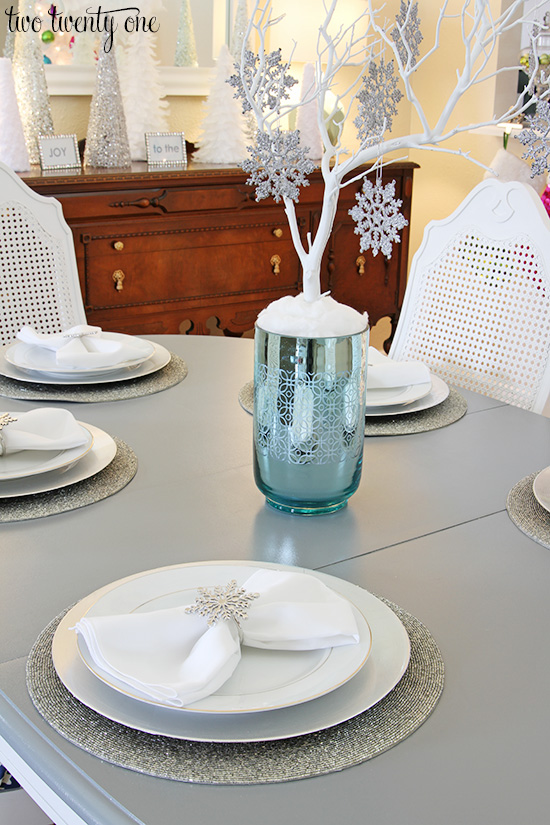 If you're looking for a cheap set of china, hit up thrift stores or garage sales. I always see them at both.
I got this specific set on half off Saturday at a thrift store I have refused to frequent since July, 2013. It rhymes with "Foodbill". You can read more about my abstinence here.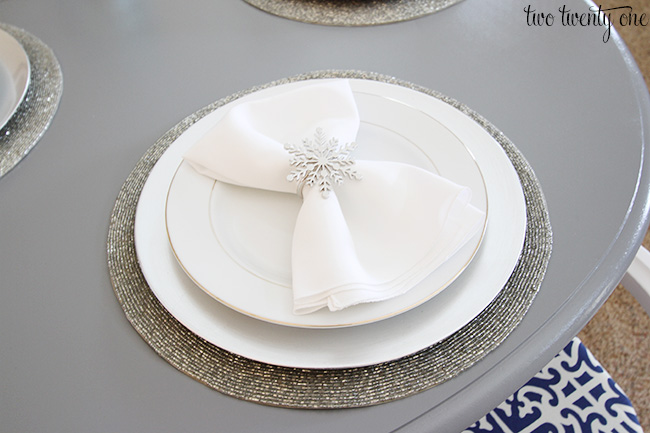 Guess what? I made the executive decision to put up my white Christmas tree again this year but I added some new ornaments.
Another spoiler alert: you can see the new ornaments on Instagram. See, there are perks of following me on Instagram. Plus, I post adorable photos of Owen.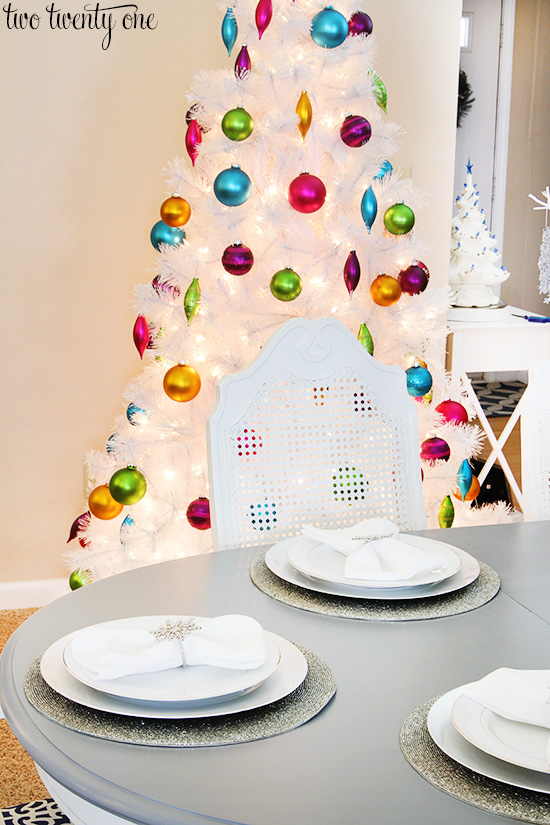 I've been sticking this manzanita branch in this vase for a couple years now. Why? Because I think it looks awesome.
vase:  Hobby Lobby
manzanita branch:  Craigslist
snowflake ornaments:  Sorry, I can't remember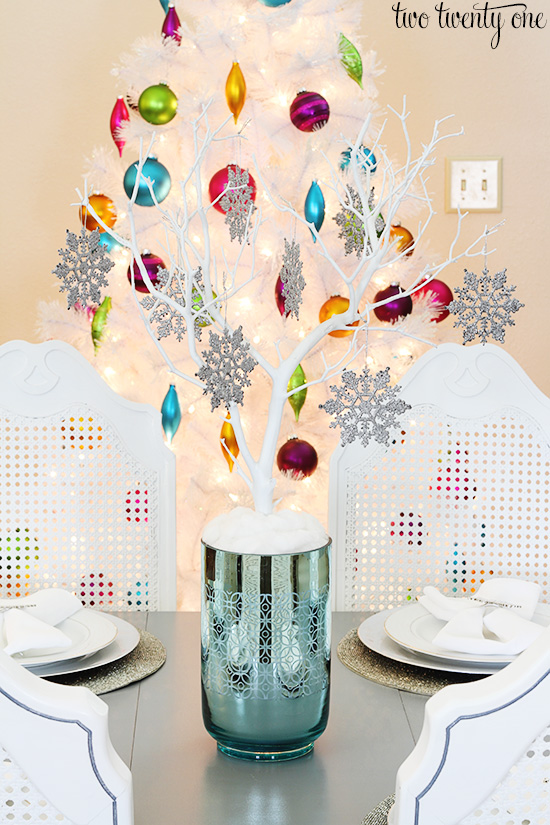 There you have it, my Christmas tablescape circa 2013. I hope you can forgive me for not sharing it last year.
In case you're curious about other things shown in the photos, you can read about the buffet here and the Christmas tree here.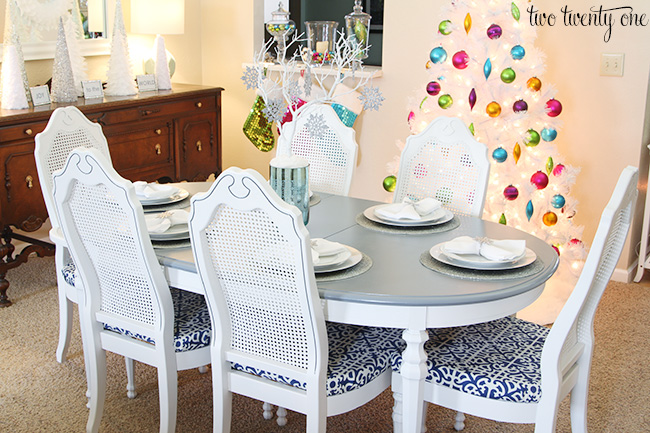 If you enjoyed this post, check out my other Christmas posts. It's Friday. I'm sure your boss won't mind.