I decided to decorate Owen's room for Christmas this year. I kept thinking of ideas, and I just couldn't stop myself.
So yes, it looks like Christmas threw up all over my two year old's room, but I absolutely love it.
I'm a sucker for sentimental things, so in true Chelsea form, I integrated some old and new items into his room for the holiday season.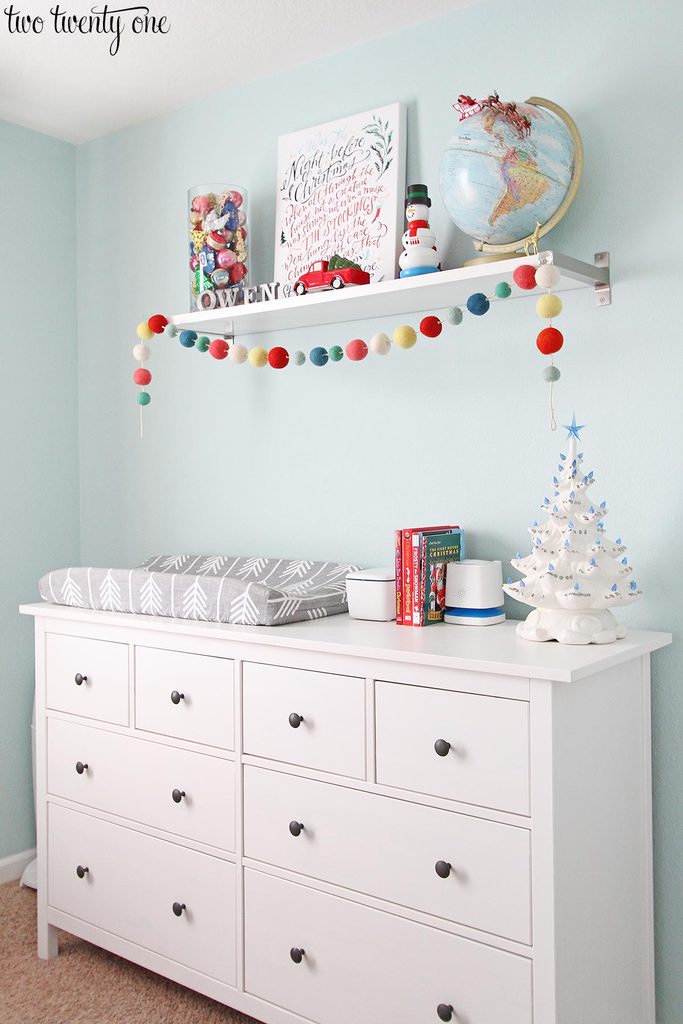 My late Aunt Patricia made a ceramic tree for my brother and me when we were little. My brother has a tree with red birds and my tree has blue lights. Every Christmas, my mom would put the trees in our bedrooms. I always looked forward to the day I could put my tree in our kid's room.
Since putting it in Owen's room, he asks for us to turn it on at nap time and bedtime. Melts my heart.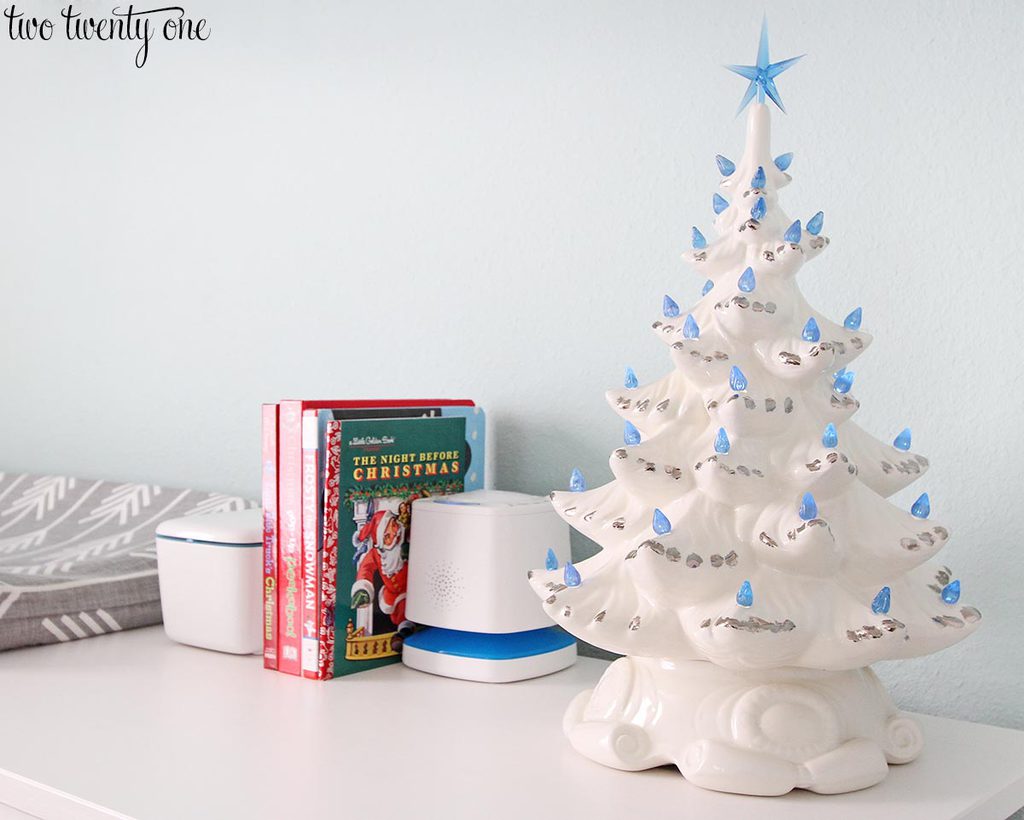 The shelf above the dresser/changing table has some old and new things.
The felt pom garland is one of my favorite additions to the shelf.
Owen enjoys batting at it like a cat during diaper changes. Whatever works to keep him still.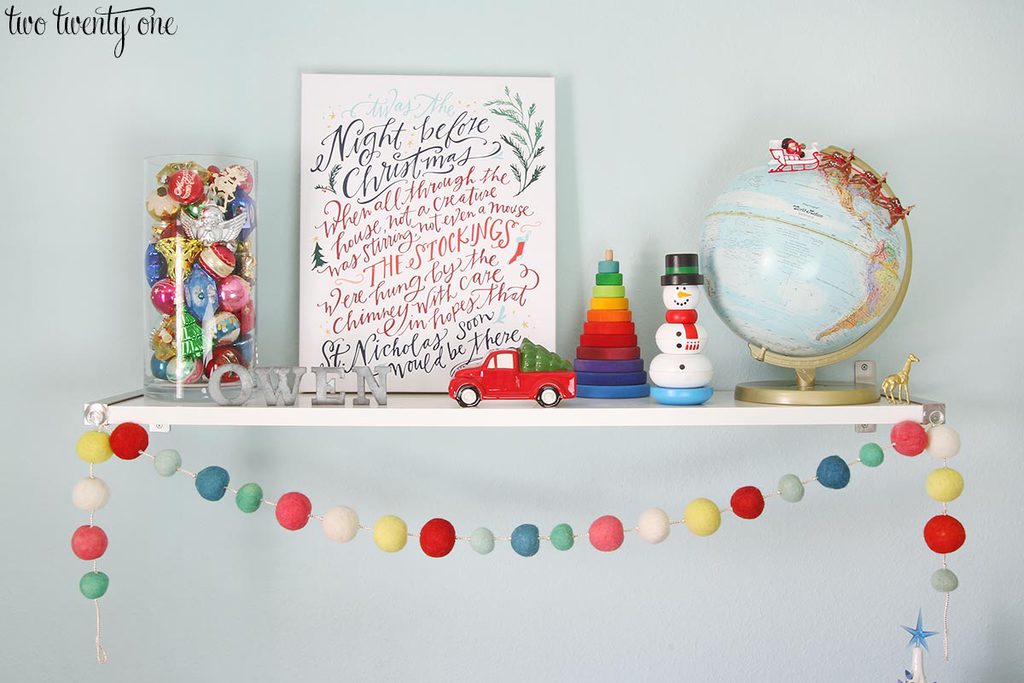 I filled this vase with some of my late Grandma Mildred's Christmas ornaments. I'll always remember her live Christmas trees. I'm glad my half sister kept them for me when she was cleaning out my grandma's basement.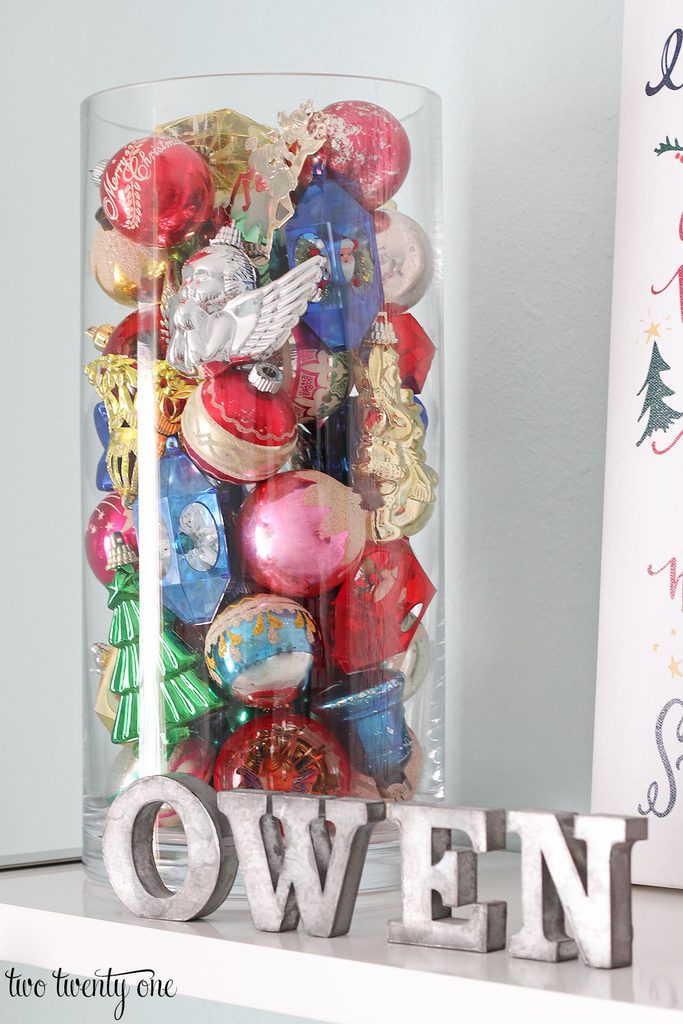 I'm in love with this Lindsay Letter's Night Before Christmas canvas. It fits perfectly into Owen's colorful room. I hope it's something he'll cherish for years.
You can get 10% off your Lindsay Letters order by using the code TwoTwentyOne10.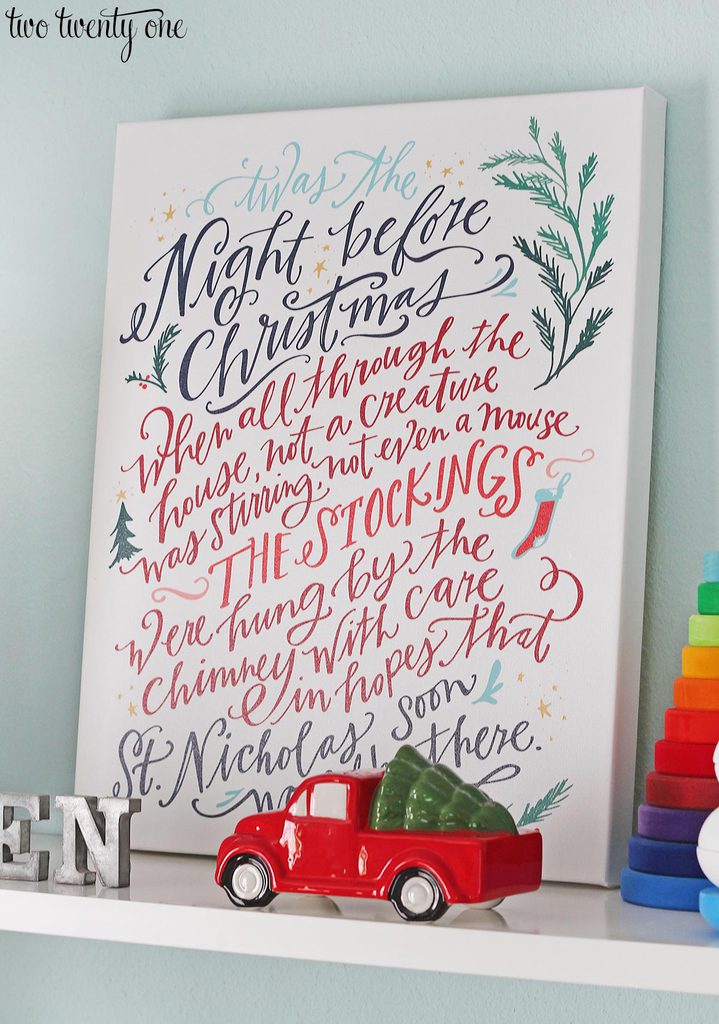 I spotted the little red truck (similar) in the Target dollar spot. Thankfully Owen is content with just admiring it for now. The rainbow stacker always lives on the shelf, but I added the snowman stacker for a seasonal touch.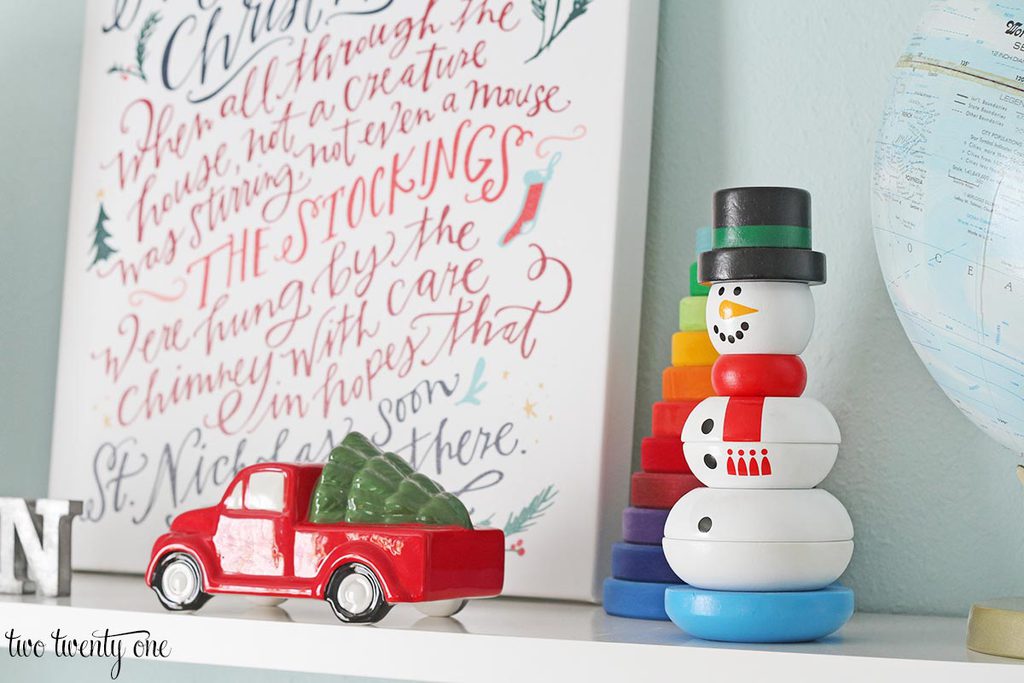 This was one of the ideas that came to me– put a miniature Santa and his reindeer on the globe.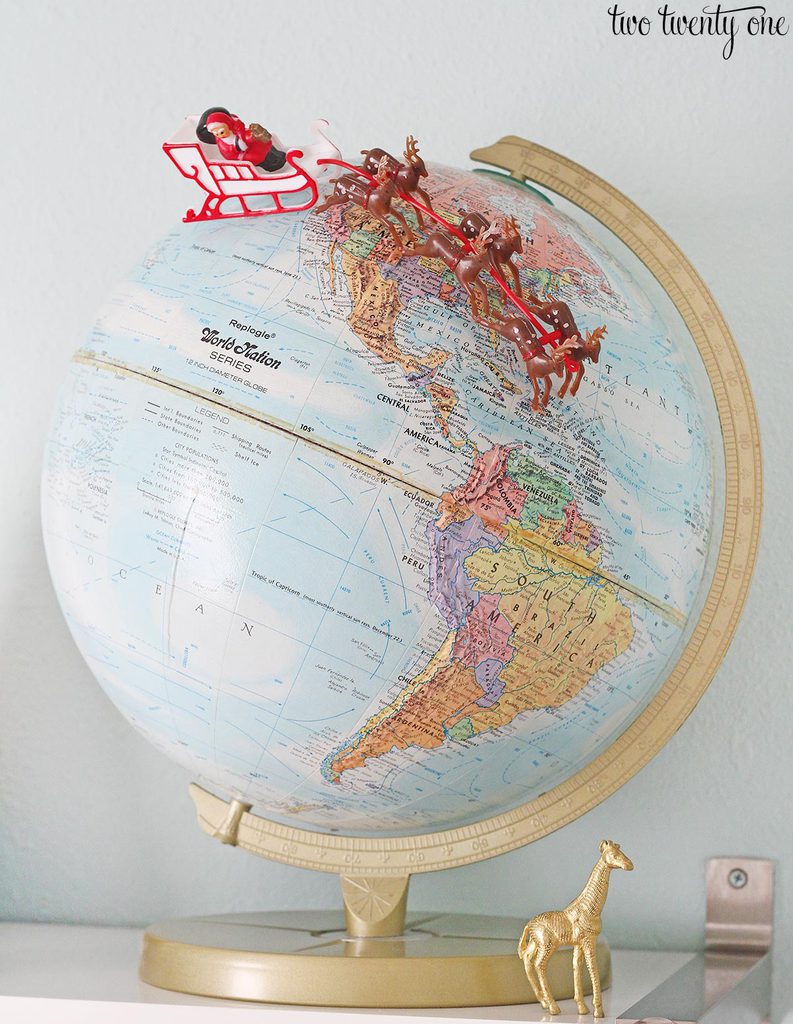 I mean, honestly, isn't that adorable?
Well, minus the evil-looking expression on Santa's face. And the fact that it looks like he's holding a bundle of dynamite. Minor details.
I attached the sleigh and reindeer to the globe with these, in case you're wondering.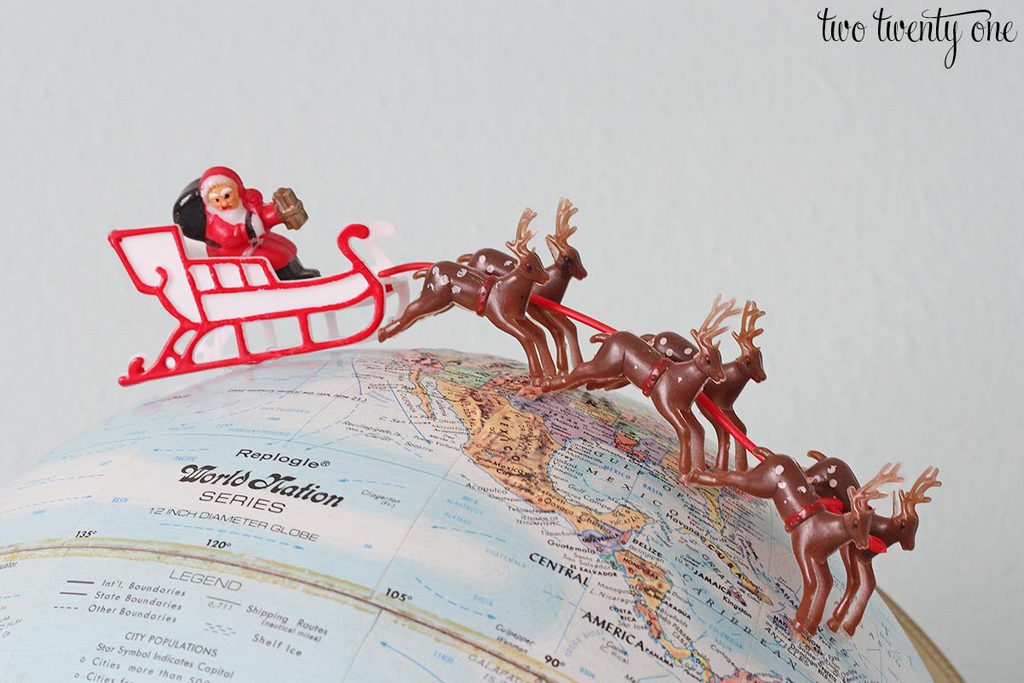 I love this Christmasy corner.
I added a pom pom marled knit throw to the glider, wooden advent calendar to the side table/gardner's stool, and I even fashioned a Santa beard for, Louie, the giant Costco bear.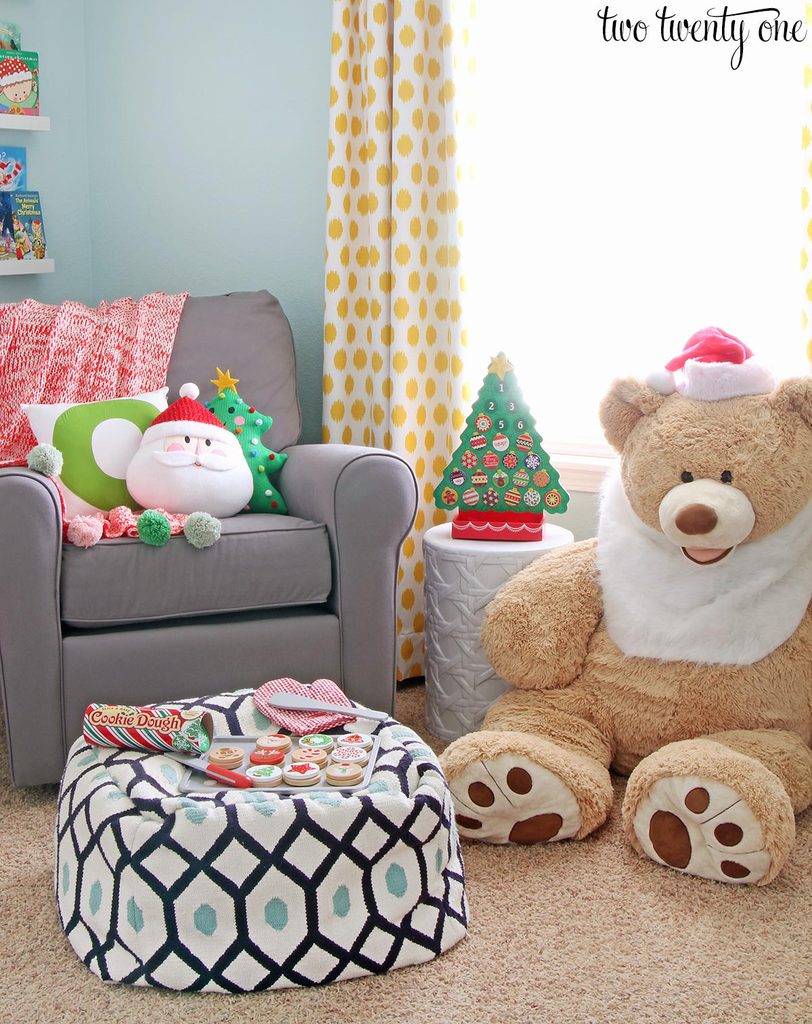 Here's my little elf checking out his Daniel Tiger Christmas book.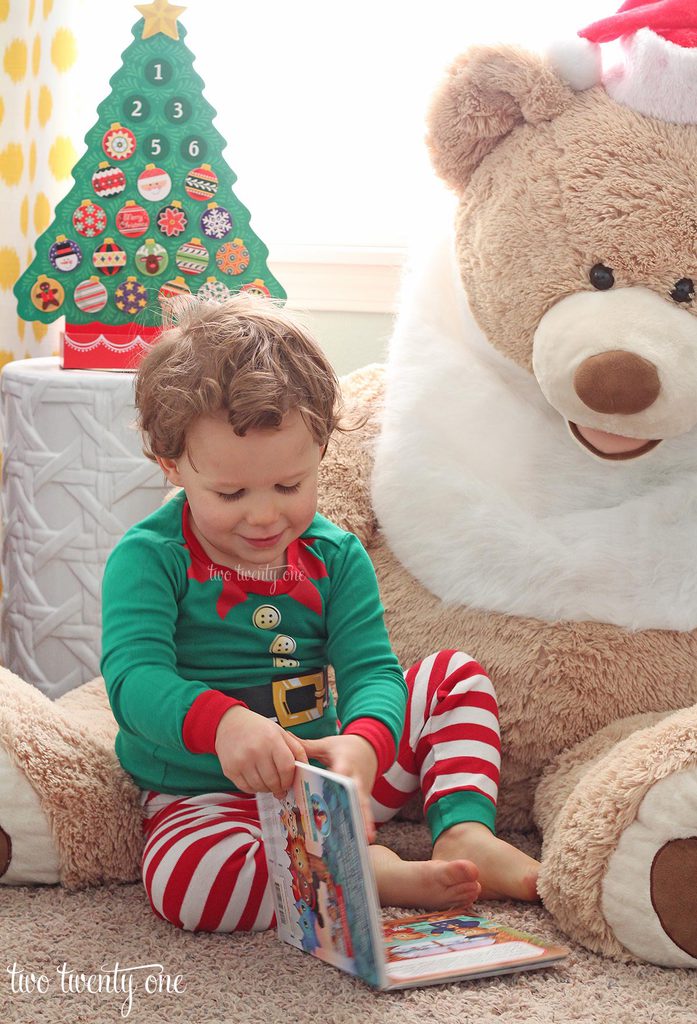 The wooden Christmas cookie set was mostly for Owen and partially for me.
Why didn't they have this cute play food when I was a kid?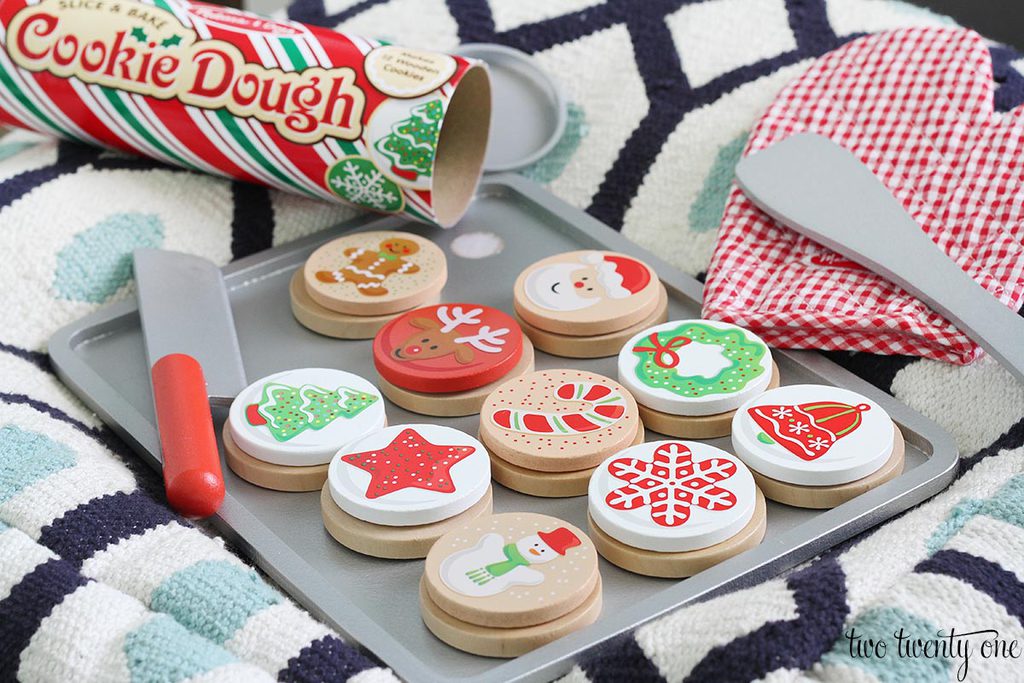 When I saw the Santa and Christmas tree pillows, I knew I had to get them for his room.
Owen loves the Santa pillow. He's always snuggling with it, sleeping with it, and even demanding to take it in the car when we go somewhere. Thankfully, he's good about leaving the pillow in the car. Because no one wants a germy Santa pillow.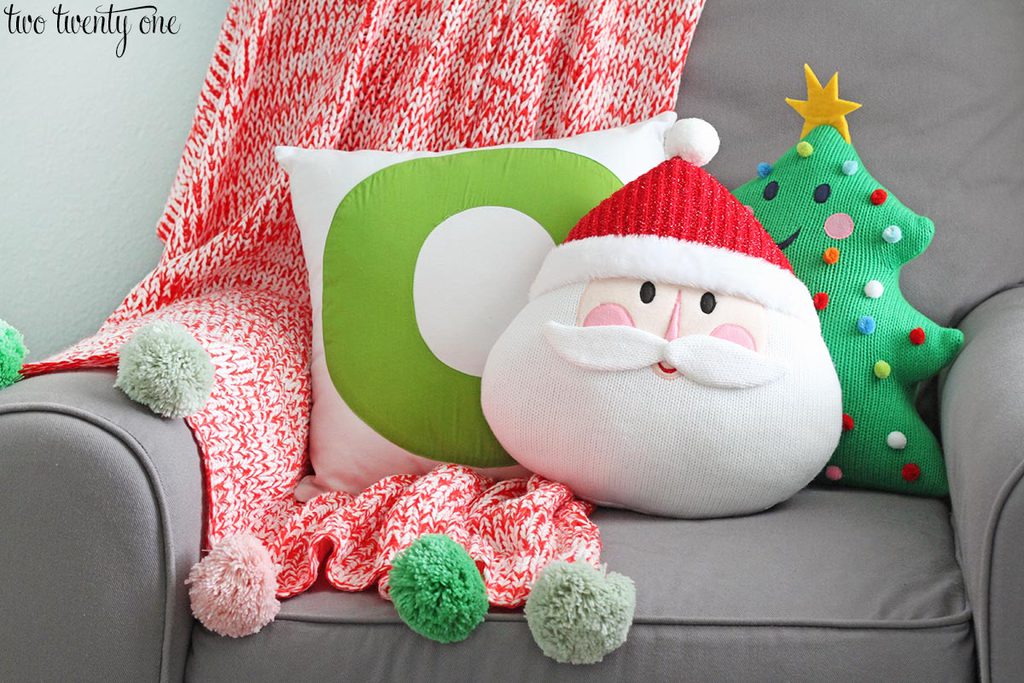 The book ledges behind the glider are filled with Christmas books we've collected over the past two years.
I'm all about using what I already have for decor, and books are the perfect way of adding art to kids' room walls.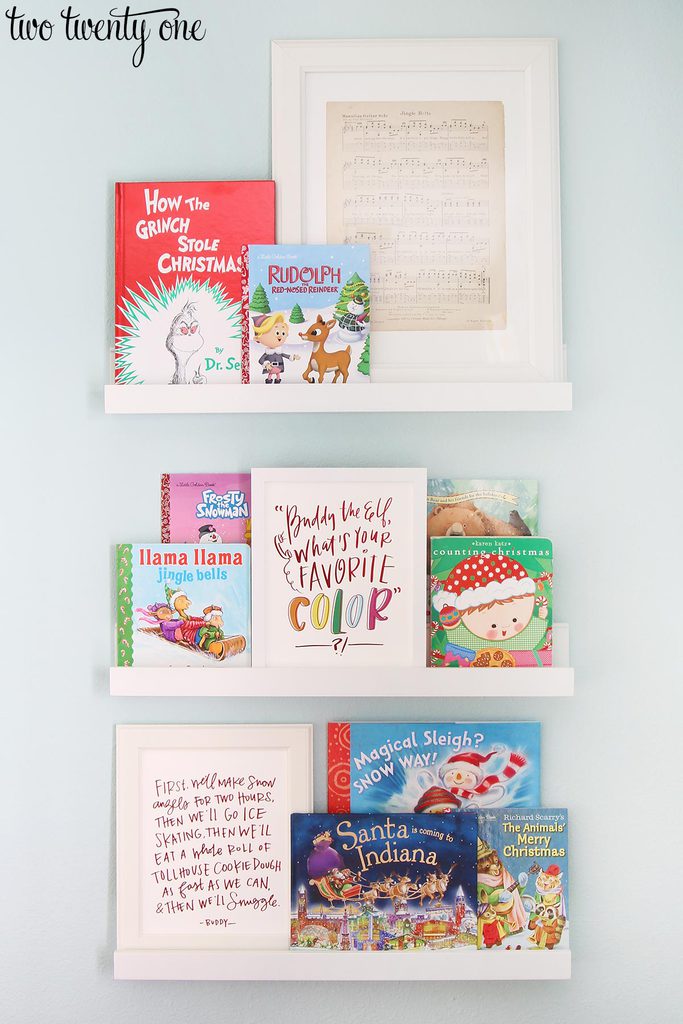 I framed this Christmas sheet music that belonged to my late Grandma June. Told you– sucker for sentimental stuff.
You may remember that I also framed some of her sheet music covers that live in Owen's room year-round.
I also added this adorable Buddy the Elf print from Lindsay Letters.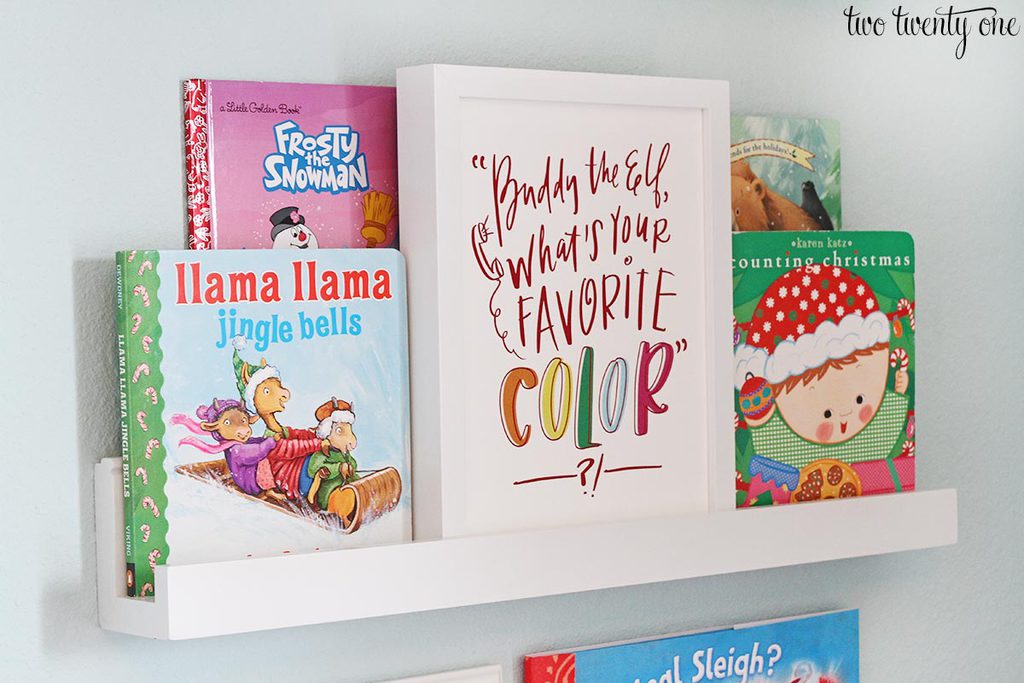 And this Buddy the Elf print.
Owen got this tree blanket as a gift from a friend last year. I like how it works for Christmas and winter in general.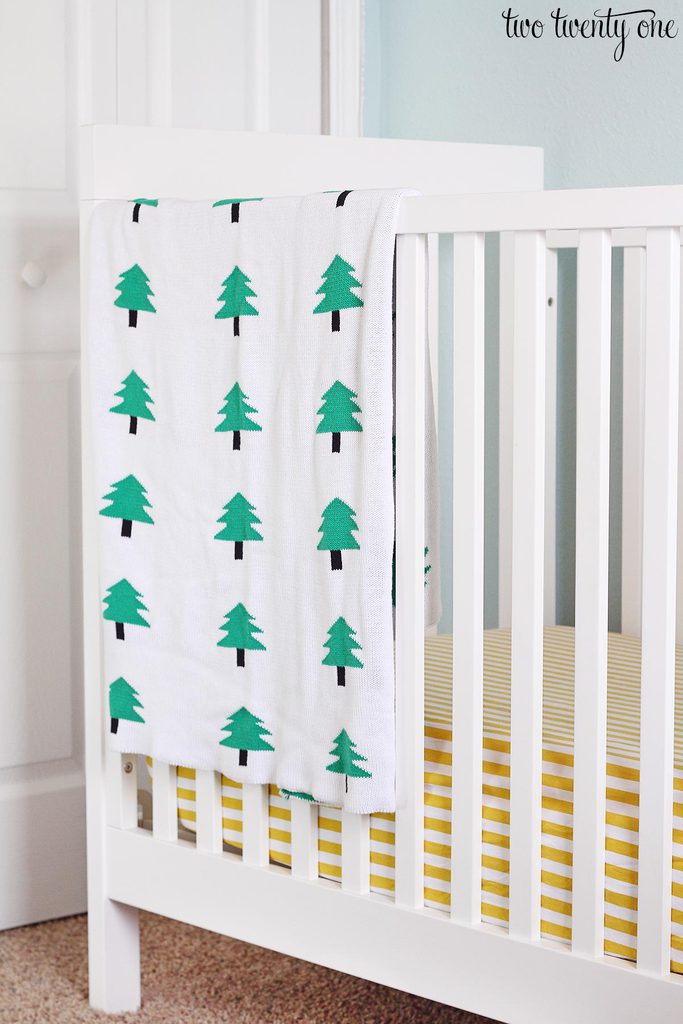 When I said 'Christmas threw up all over his room' I meant it.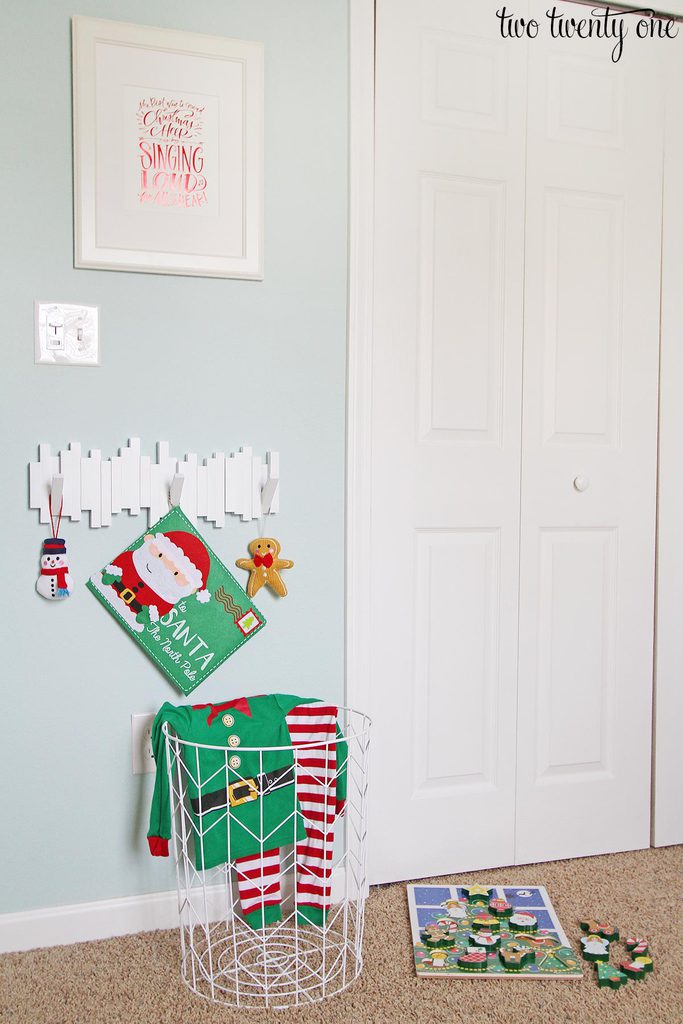 I buy Owen a pair of elf pajamas (similar) every year. You saw the pic above– can you blame me?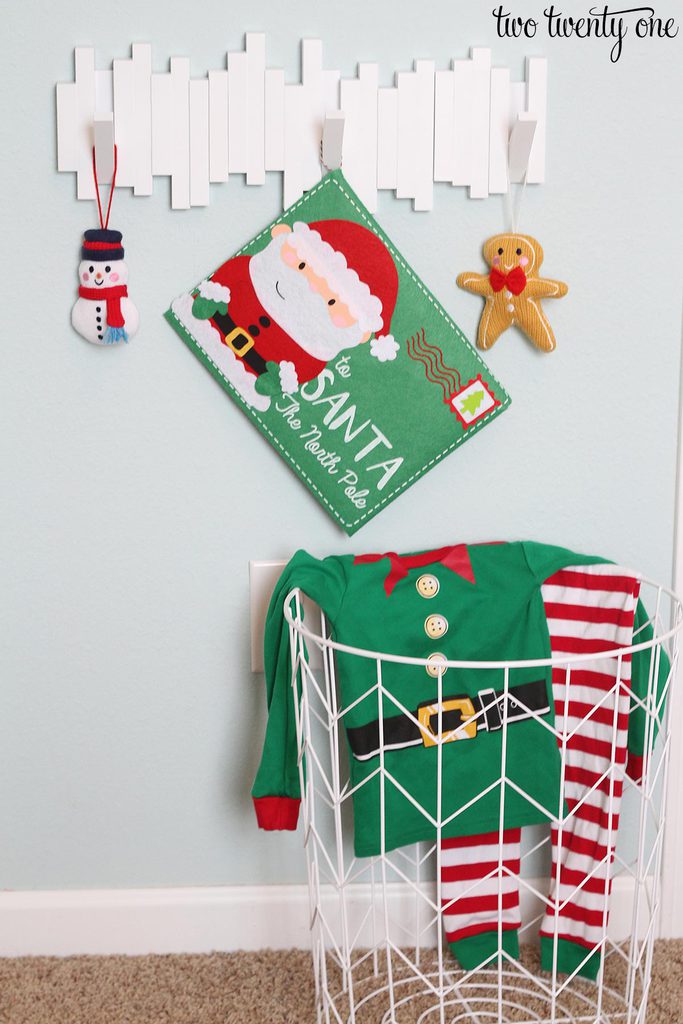 The snowman and gingerbread man were Target finds. As was this really cute felt envelope, which I spotted in the dollar spot.
I'm telling you– the Target dollar spot is on fire this holiday season. If I only I could get my paws on some of those white, ceramic houses.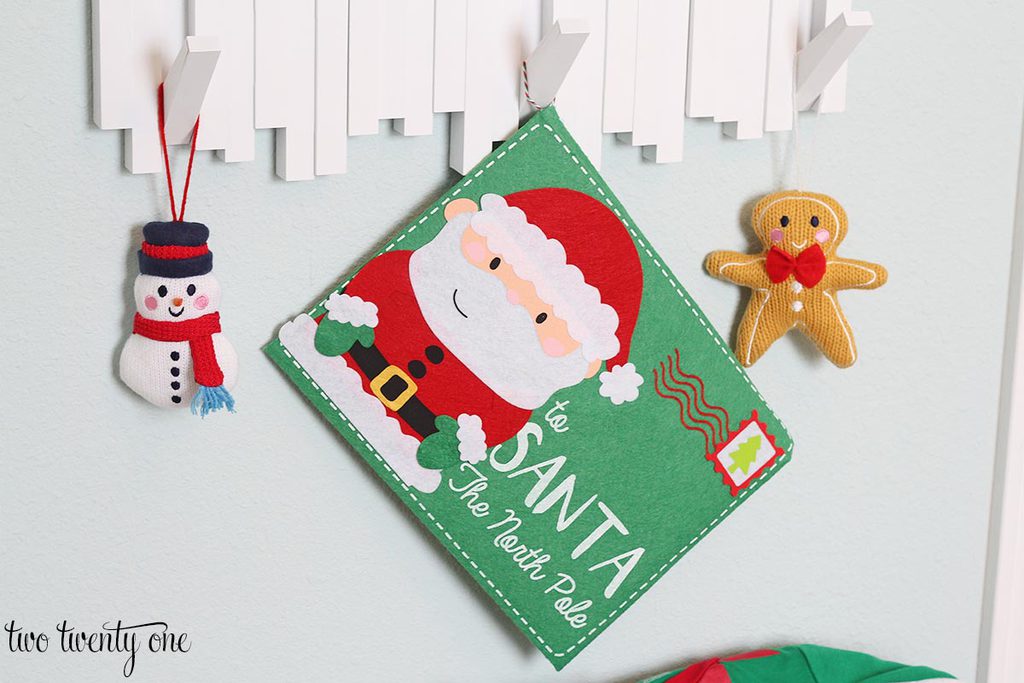 He LOVES this chunky wooden puzzle. And to me, it's worth every penny to hear him name everything. Every time he places Santa he says "Santa! Ho ho ho! Merry Christmas". And then I die from the cuteness.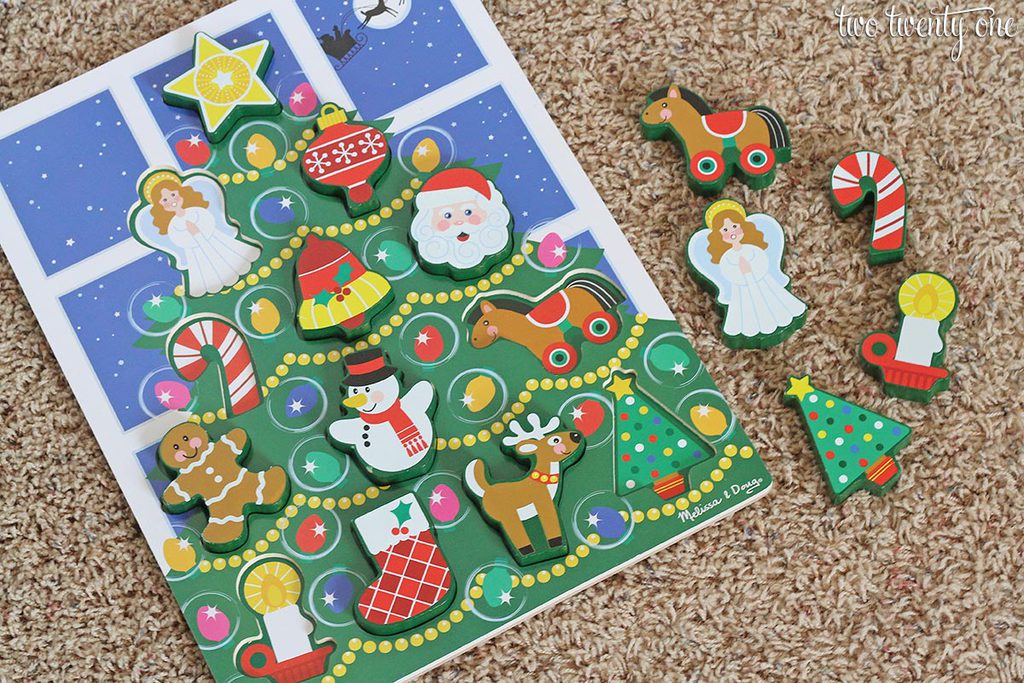 And I couldn't pass up this classic Buddy the Elf quote print, also by Lindsay Letters.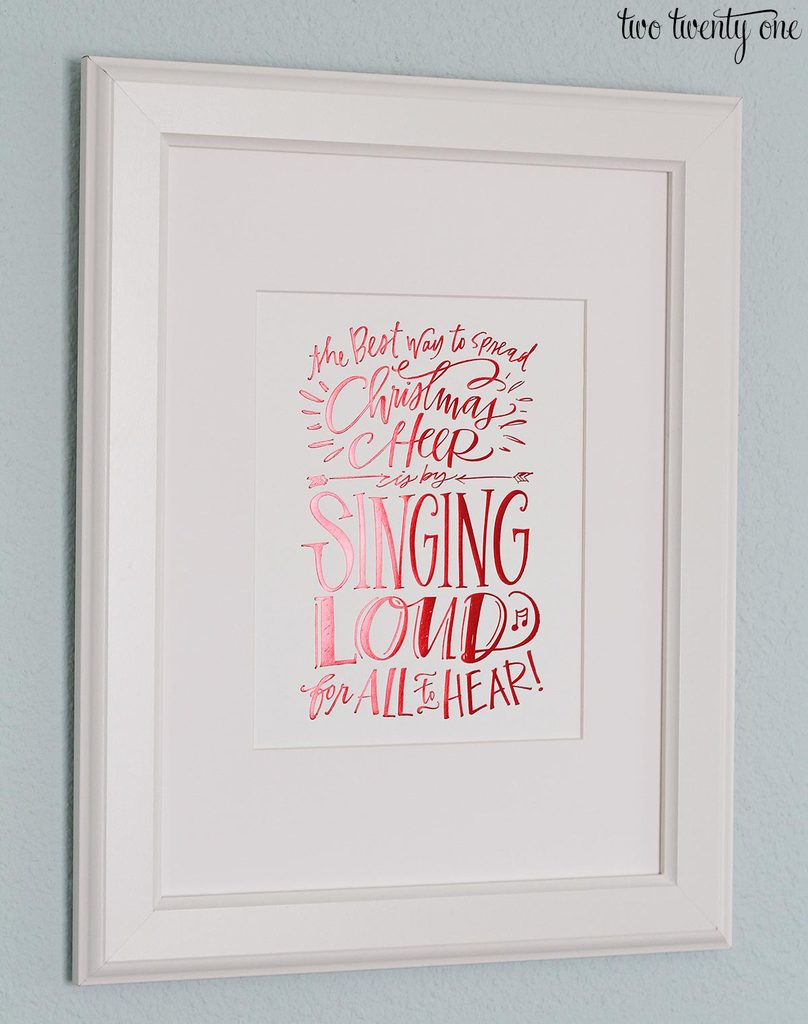 I may not decorate his room for Christmas to this extent every year, but I definitely had fun doing so this year.
In conclusion, here's my elf working on his fitness with a side-lying leg lift AND reading.
That's talent right there.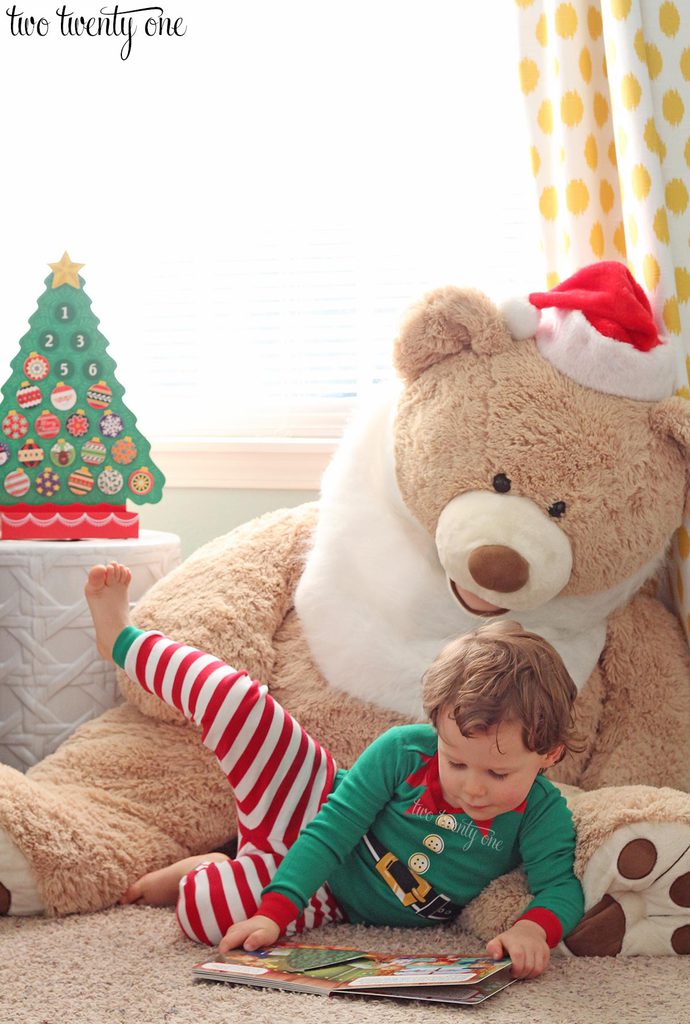 This week I'm joining up with some of my blogging friends to share a part of our holiday home for the All Through the House Tour.
I can't wait to take in all this holiday inspiration…
Tuesday, December 6th
The Happy Housie / Life on Virginia Street / Two Twenty One
Rain on a Tin Roof / The Turquoise Home / Making it in the Mountains
Wednesday, December 7th
Maison de Pax / In My Own Style / Willow Street Interiors
Making Home Base /Bless'er House / House by Hoff
Thursday, December 8th
Nina Hendrick Design Co. / Just a Girl and Her Blog / Place of My Taste / Sunnyside Up
The Blissful Bee / Oh Everything Handmade
We hope you enjoy all of the beautiful Christmas decor inspiration!

This post contains affiliate links.
Funds from affiliates help pay for web hosting, domain registration, email delivery, the occasional bottle of wine, and other fees to keep twotwentyone.net up and running. Thanks for your support! I appreciate it!