Owen's Bright and Colorful Nursery
When I was pregnant one of the most frequent questions I was asked was, "What's the nursery theme?" I would begin by answering with my general color scheme. But I would almost always get puzzled looks. Maybe it's because I wasn't saying "Blue! With whales!" or "Grey and white. With chevron!" So I started saying with a smile, "The theme is that there isn't a theme." Then I would usually get something along the lines of "Oh. I'm sure it'll look great!"
I decorated Owen's nursery solely on what I liked because I knew I would be spending a good amount of time in this room. And let's be honest, this is the short amount of time in his life when I can dictate almost all of his choices for him.
In terms of furniture, I couldn't go crazy because the nursery is a rather small bedroom. 10 ft. by 11 ft. to be exact. (I use a special lens to fit the room into photos, like the one below, so the room appears larger than it actually is in some photos.)  So the main pieces in the room are the crib, dresser, and glider. I can't tell you how many times I measured out the space and put down painters tape to map out where I would fit the furniture.
I didn't really know where to start with planning out the nursery because I didn't have anything I was working around like a piece of artwork. I did know that I wanted to paint the room a shade of blue. After purchasing approximately 10 samples, I settled on Sherwin Williams Tidewater. It's a gorgeous light blue color with a hint of green in certain light. And I'm thankful Sherwin-Williams was willing to gift us the paint.
Want to know where I got a specific item in the nursery? Check out the source list here!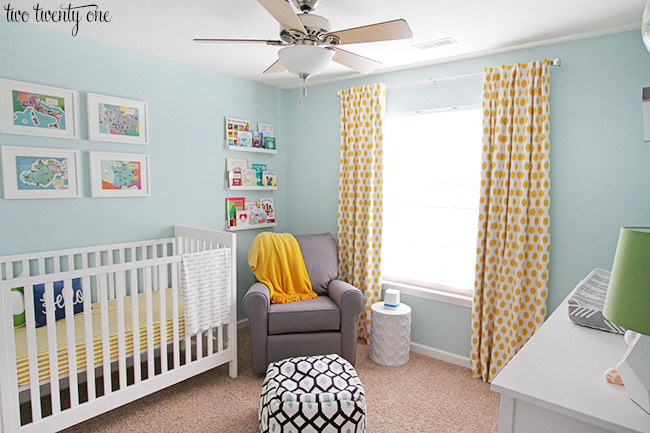 Want to know why I had to wait so long to reveal the nursery? This guy right here– the glider.
I ordered the glider/recliner from Buy Buy Baby, as a gift from my parents. Well, when it came time to deliver the chair it had magically disappeared. The manufacturer said it had delivered it to the BBB store. BBB had no record of the delivery. So BBB had to rush order another glider for me, which still took 7 weeks. The manager at BBB handled the situation well. She had a loaner glider delivered for me to use until mine arrived, and she offered to refund half the price of my glider for my troubles. There was a minor issue with them charging my debit card instead of refunding the $300+, but they cleared that up after I brought it to their attention. Oof.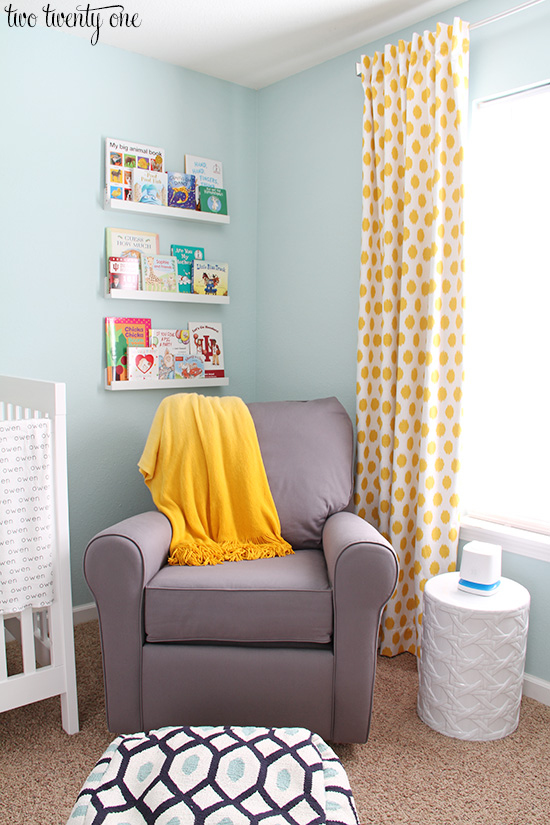 I knew I wanted to put up book ledges because, as a former teacher, I love children's books. For my baby shower, my mom asked guests to bring a book in lieu of a card. I think this is a brilliant idea. Instantly build your baby's library.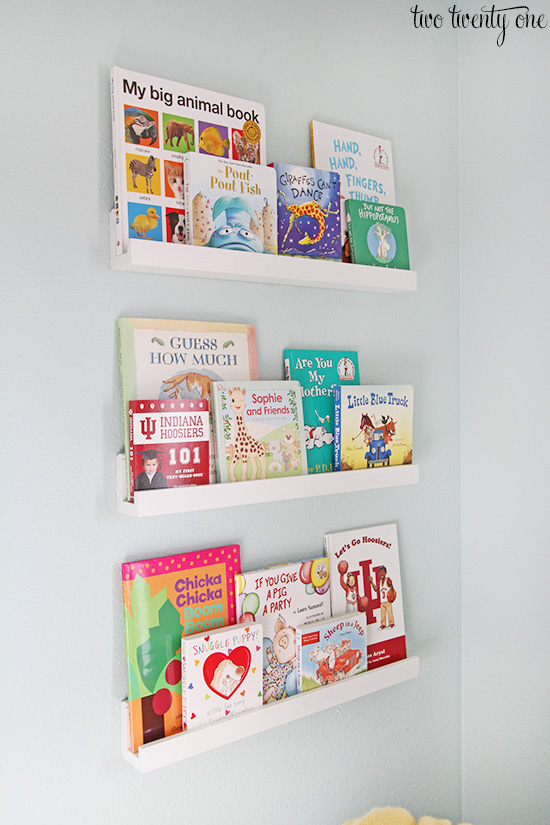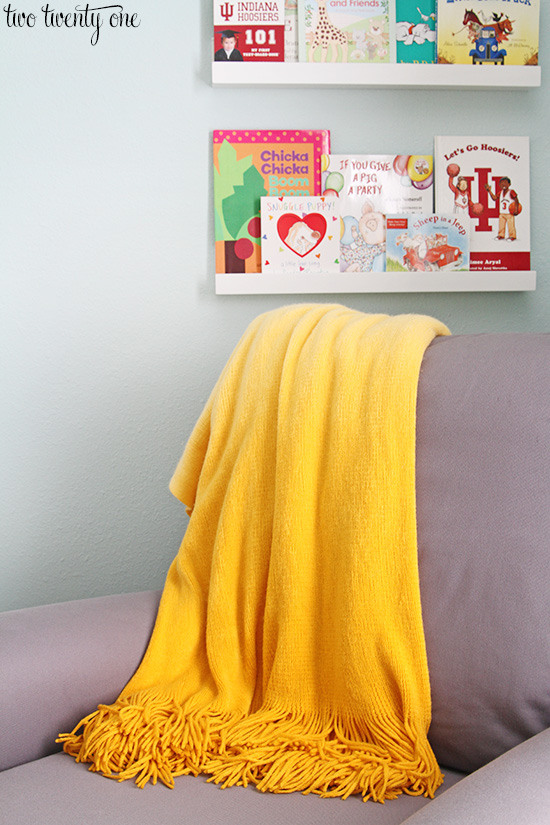 I must have looked at 500 white cribs before I decided on this one from The Land of Nod. I wanted one that had clean lines, not a lot of fancy business going on, and could convert to a toddler bed. Success. And I'm so thankful that The Land of Nod wanted to partner with me on some of the nursery items.
Deciding on bedding was tortuous. I ended up going with a yellow and white striped crib sheet. The yellow matches the yellow in the curtains almost perfectly.
I was going to make a crib skirt but then I gave birth. But I think the crib looks good without a skirt.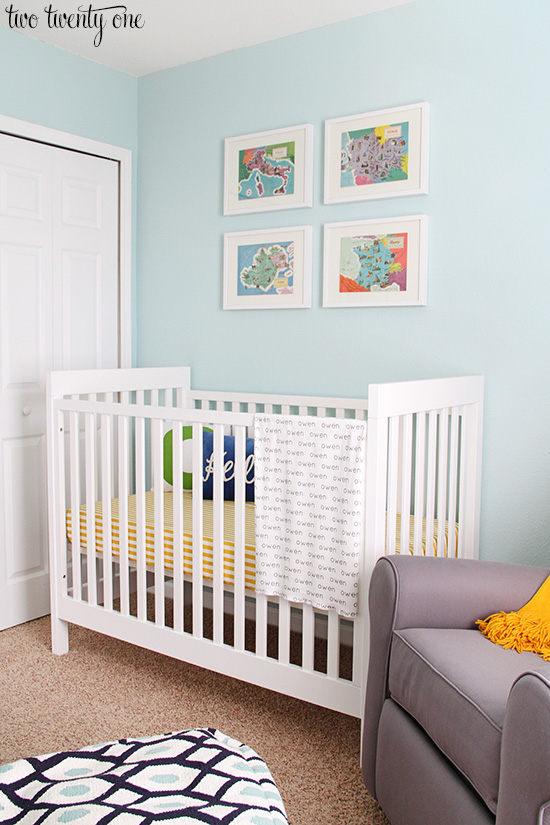 Disclaimer:  Owen doesn't currently sleep in his crib. I'm well aware that babies aren't supposed to sleep with anything in their cribs. These pillows are purely for decorative purposes.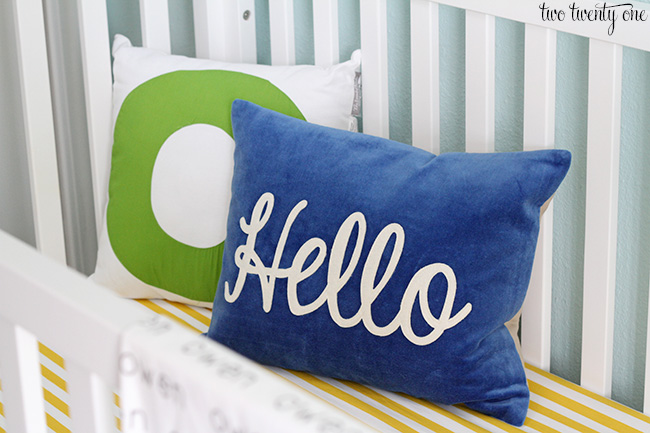 It may not look like it in this photo, but yes, we are able to fully open the closet doors.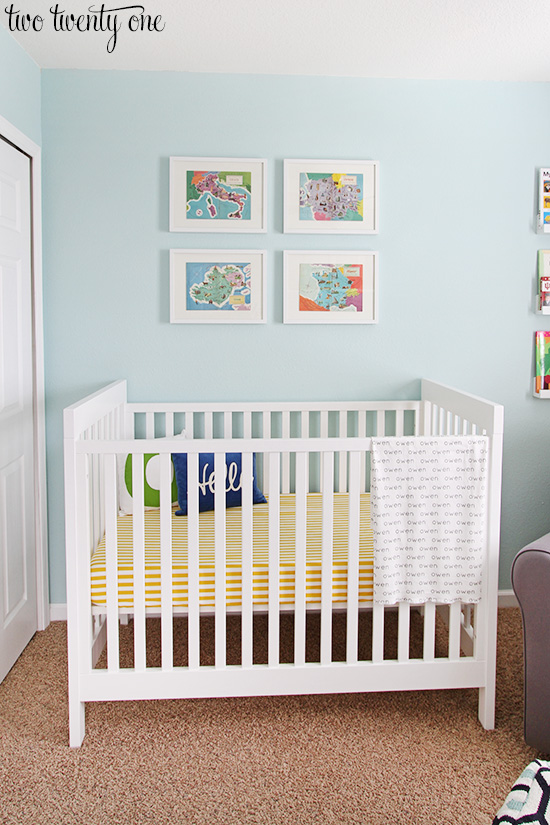 I found the artwork above the crib on ebay. My initial plan was to hang a vintage pull down world map above the crib, but I never wanted to pay how much people were asking.
 During one of my late night ebay searching sessions I came across these vintage world programs. So I bought a couple lots and picked out the countries I wanted– Ireland, Germany, France, and Italy.
I opened the programs up so the front and back are showing and framed them without destroying the booklets.
Brad and I are both of German and Irish decent. I actually lived in Ireland for 10 weeks my senior of college. While living in Ireland, I was able to travel to France and Italy. So the countries I chose have some meaning to us. Hopefully I'll be able to drag Brad and Owen over to Europe one day.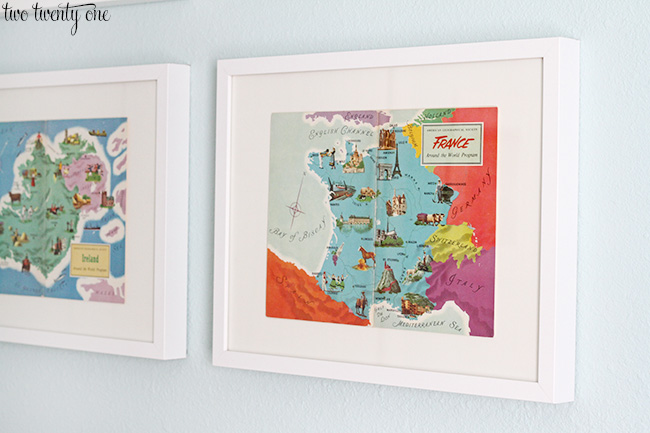 I utilized this little area between the bedroom and closet doors by hanging a multi-hook rack for Owen's bath towel and other miscellaneous items. It's also the perfect spot for his hamper.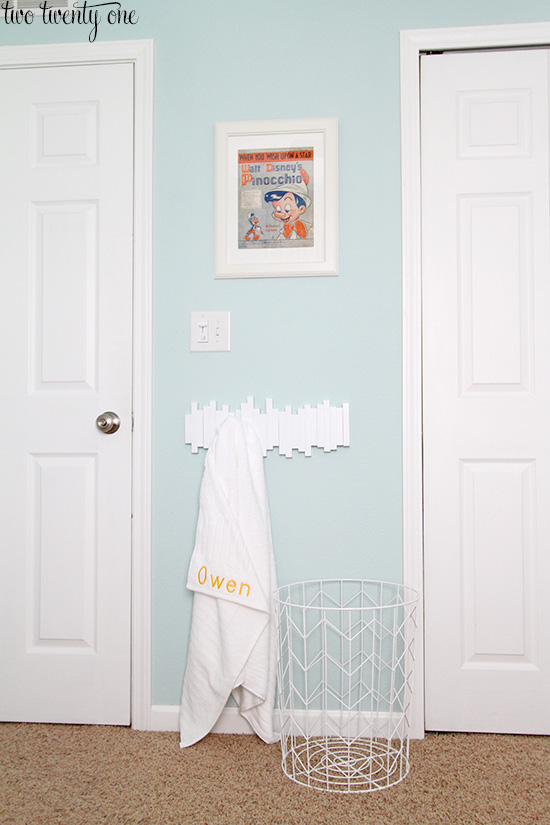 This vintage sheet music cover belonged to my late Grandma June. I found it while going through a box of sheet music in my parents' basement last year. I actually posted a photo of it, along with two other covers, on Instagram a couple days after finding them, with the caption "Wouldn't these look awesome framed and hung in a nursery?" Foreshadowing FTW.
I looked it up and this particular sheet music was copyrighted in 1940.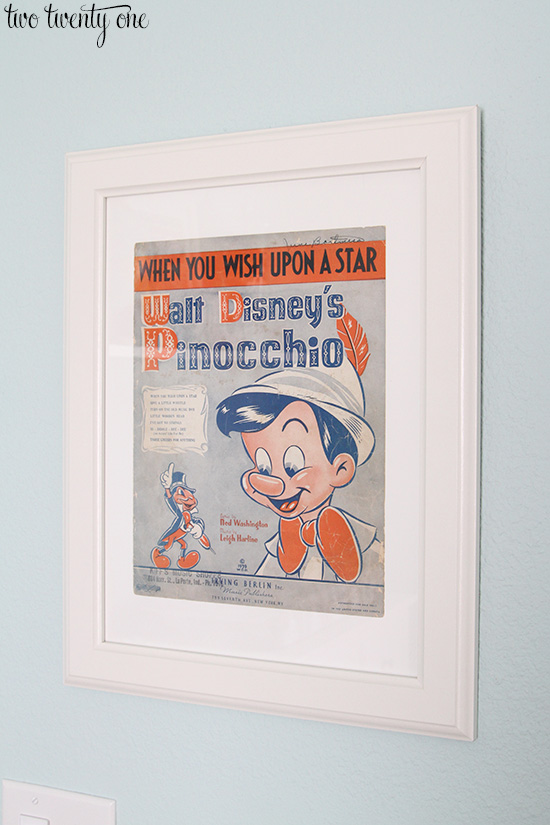 I love how she wrote her name on it. I always loved her handwriting.
I'm so happy there's a little piece of her in Owen's nursery. He would have been her first great grandchild, and she would've loved him to pieces.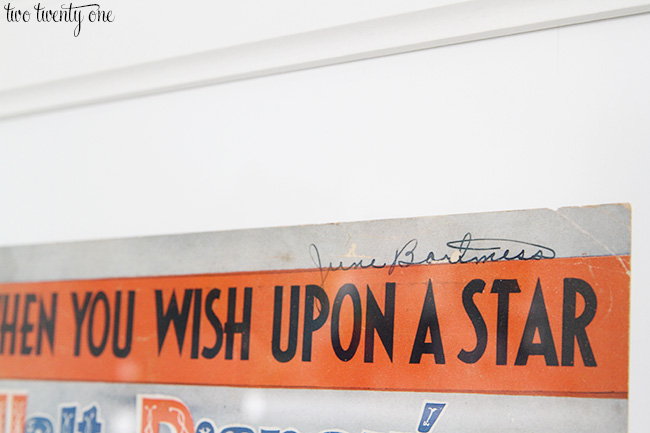 One of my biggest nursery tips: use a dresser as a changing table.
We love the height of this Ikea Hemnes dresser. Brad and I are both tall people so it's perfect for us.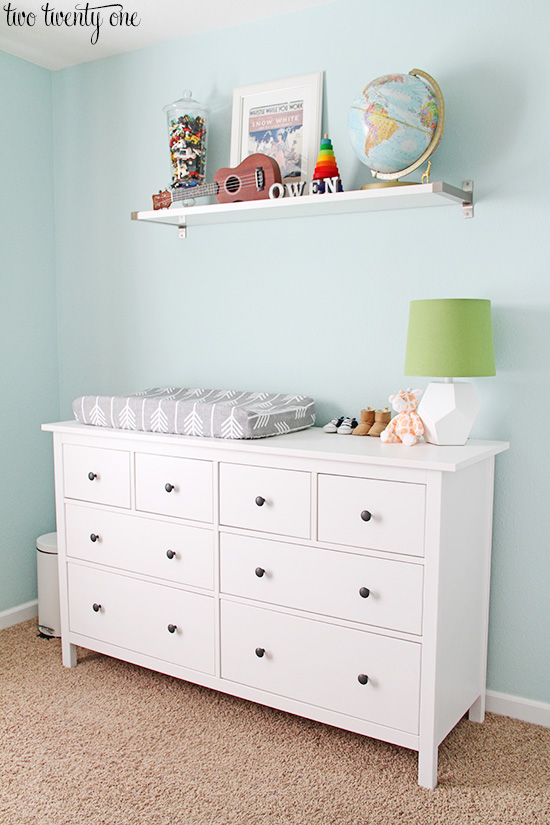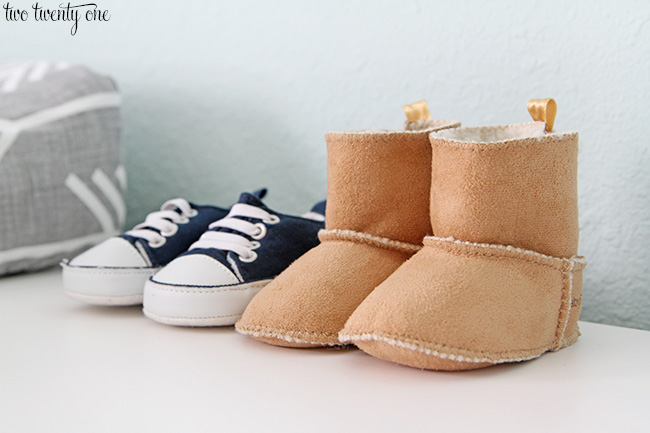 Since we're tall people, we had to make sure we put the shelf high enough so we wouldn't smack our heads on it. So far, so good.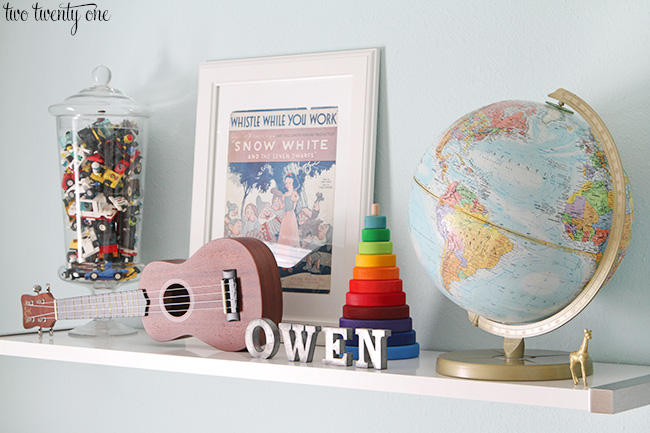 I love mixing old and new, especially if the old is sentimental to us in some way. You probably know this by now if you're a regular reader.
This apothecary jar is filled with Brad's Lego creations from his childhood. I actually had some extra space at the top when I was filling it, and Brad was all "I can make more!" So he channeled his inner 8 year old and whipped up a couple more cars. I have a feeling he's going to love reliving his childhood Lego days with Owen in a few years.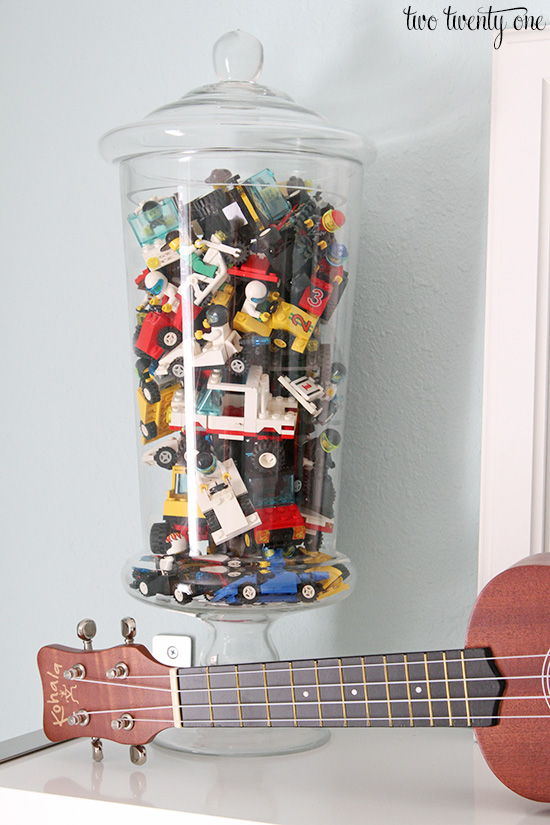 Brad plays guitar so he's getting excited about teaching Owen one day. We picked out this ukuele for Owen's first musical instrument. But I've already caught Brad scoping out half size guitars.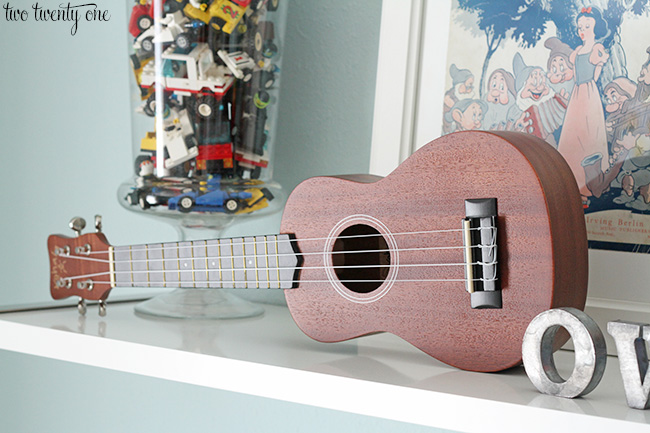 The Snow White and the Seven Dwarfs sheet music cover is another one that belonged to my Grandma June.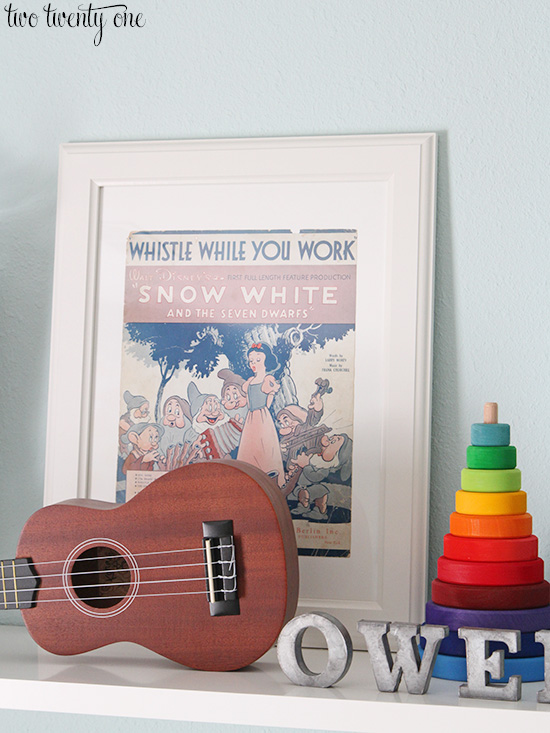 I picked up these zinc letters while on our California babymoon. I'm all about bringing back souvenirs that are useful or have some sort of meaning from vacations. (I pass on kitschy sweatshirts and snow globes.)  And oddly enough, this was the only souvenir I brought home from California.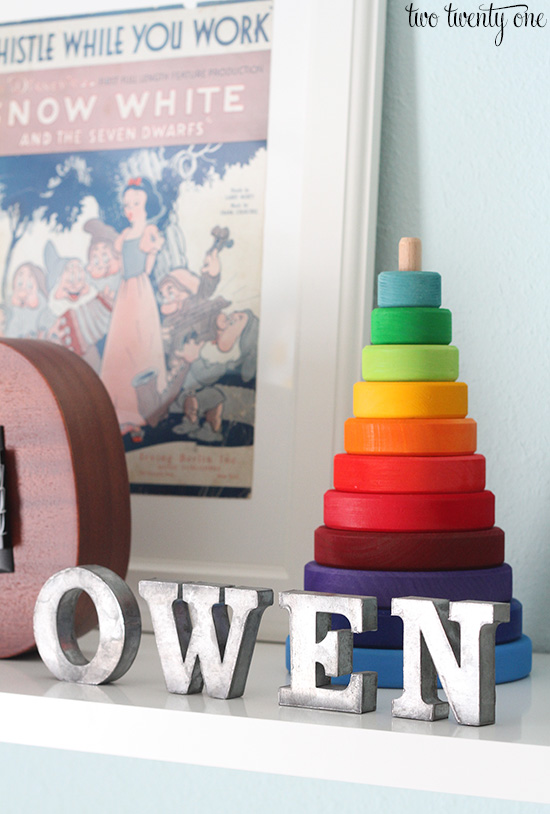 Again, with the old and sentimental– this globe was Brad's growing up.
The miniature brass giraffe was part of a gift given to me from my best friend after I told her I was knocked up.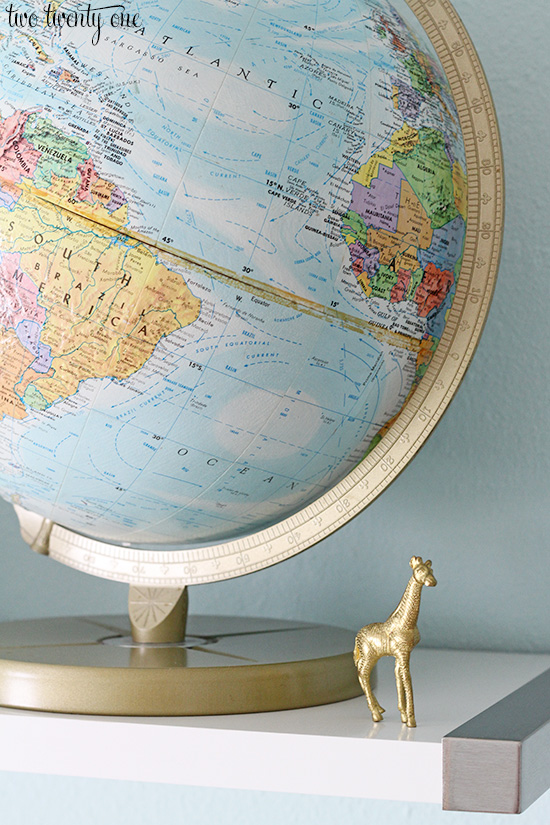 My lovely mother helped me make these black-out curtains. It's tradition that she help sew nearly all the curtains in my house.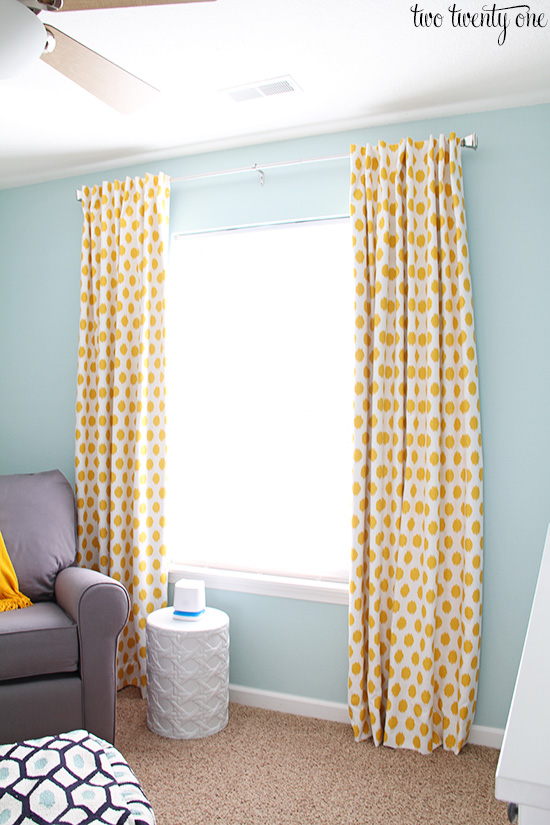 Choosing a fabric was another painstaking decision. But one day I grew tired of hemming and hawing and pulled the trigger on this fabric. I'm so happy I went with it because I love it. Owen digs it too. I catch him gazing at it while he nurses.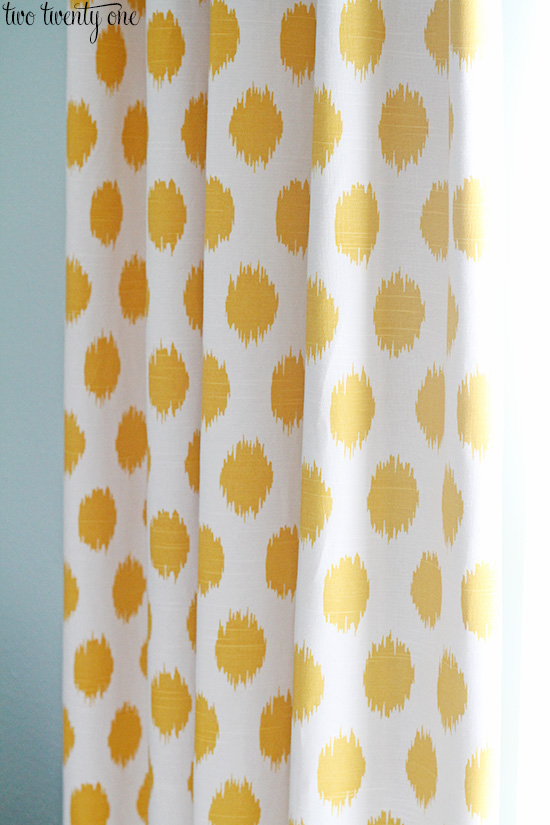 Brad's dad came up a few months ago and helped us install the ceiling fan.
Another nursery tip: put your main light fixture on a dimmer.
I loved being able to dim the light really low during late night feedings. Who wants a blaring light in their face at 4 AM?
Now I dim it in the morning when Owen wakes up for his feeding and it's still not very bright outside. We also dim it at night when we get Owen ready for bed.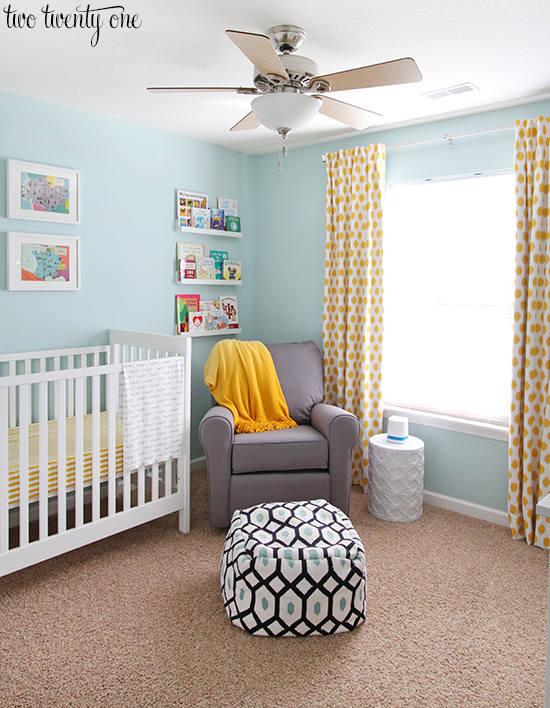 There you have it. Owen's bright and colorful nursery!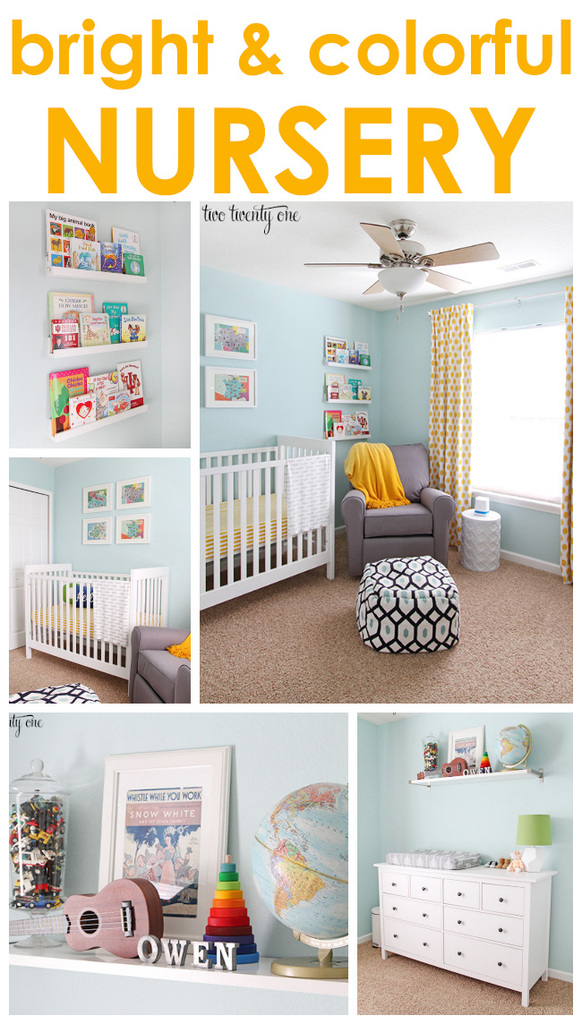 Want to know where I got a specific item in the nursery? Check out the source list here!
Check out my most popular baby-related posts below!