Chocolate Chip Cookie Cake
Every Valentine's Day I make Brad a giant heart shaped chocolate chip cookie cake. It's what I call a mutually enjoyable gift. Because let's be honest, he doesn't eat it all by himself.
Well, I shared the photo on social media this past weekend and some people asked me to post the recipe. I jokingly said that they could use the recipe for next year, but I was assured that some people would put it to use sooner rather than later.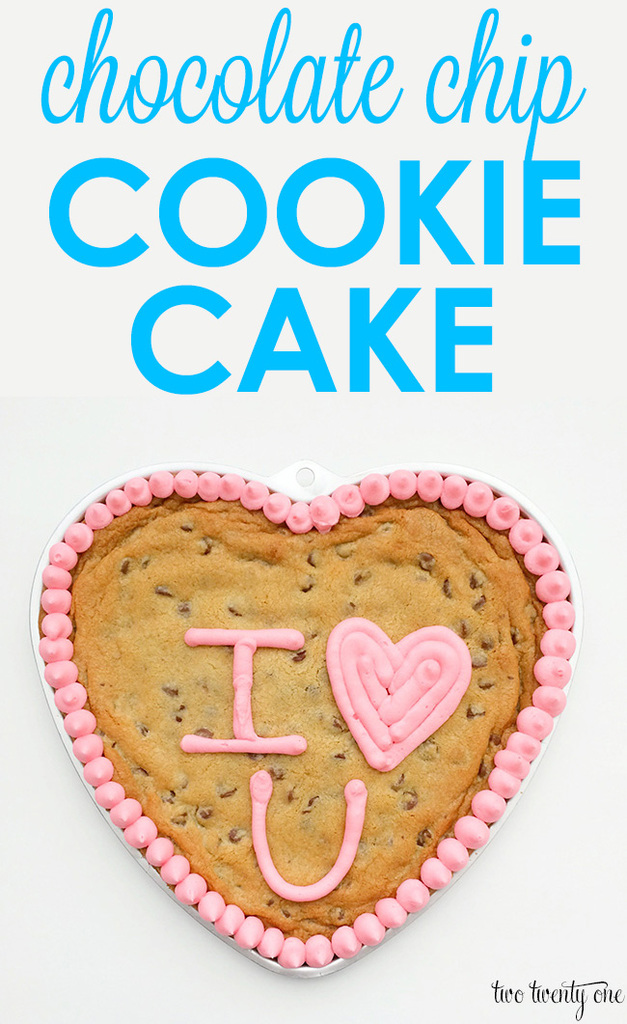 Thankfully, I took some photos of the baking process. I did this so I would be prepared to post about the cookie cake next year before Valentine's Day because that's the only time of year I bake a giant cookie cake. I know, what's wrong with me? Giant cookie cakes should be a monthly thing.
Alright, let's get into some of the logistics of giant cookie cake baking.
I bake the cookie cake in a heart shaped pan (found here). Because the batter spreads, I leave about an inch of space between the cookie cake dough and the edge of the pan. With this particular cookie cake, I could've spread the batter a little close to the edges.
In case of spillage, I put the pan on top of a baking sheet.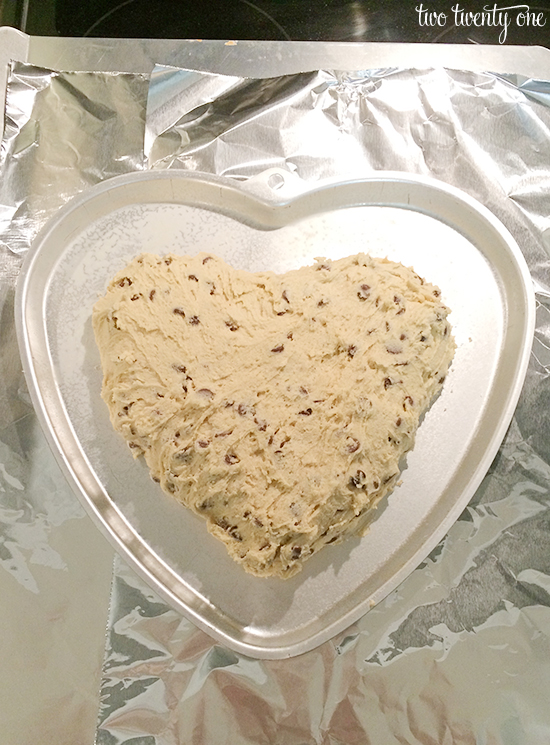 While it's baking, I sometimes jiggle the pan, with an oven mitt on (of course), to get the batter to spread a little.
I also recommend staying close to your oven during the final minutes of baking. I often have to keep adding 2 minutes to the baking time, check the cookie cake, and add another 2 minutes. When I think it's ready, I test it with a toothpick.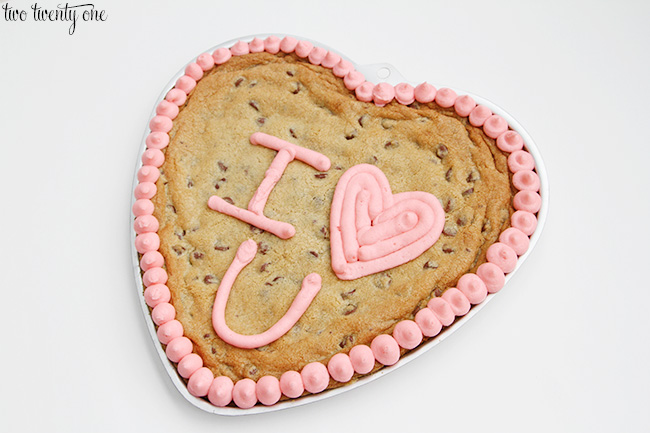 It took me a whopping 2 minutes to decorate the cookie cake with a disposable cake decorating bag and size 12 tip. It's not my best work, but Brad cares more about taste than aesthetics.
FYI, if you're looking for a starter cake decorating kit, I like this one. And if you're not interested in making a heart shaped cookie cake, here's a round pan.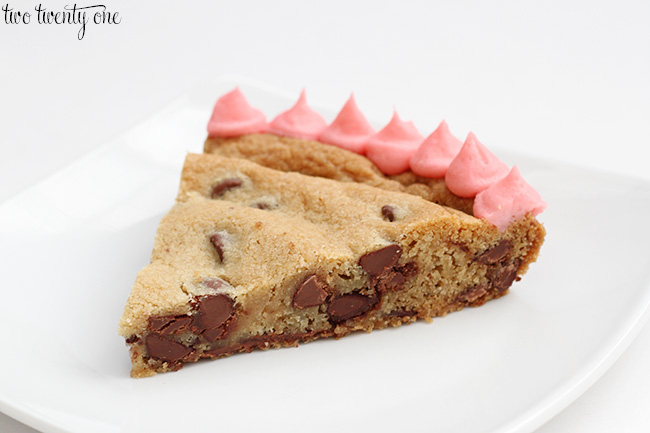 I like to use 1 cup of semisweet chocolate chips and 1 cup of milk chocolate chips when a recipe calls for chocolate chips. But you're more than welcome to use 2 cups of either.
The optional icing recipe should be enough to decorate your cookie cake like how I decorated mine. If you love icing, you can double the recipe.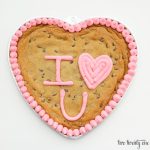 Chocolate Chip Cookie Cake
How to make a delicious chocolate chip cookie cake!
Keyword:
chocolate chip, chocolate chip cookie cake, cookie cake, valentine's day
Ingredients
Cookie Cake
1

cup

butter

softened

3/4

cup

brown sugar

packed

3/4

cup

sugar

1 1/2

teaspoon

vanilla

2

eggs

2 1/4

cup

all-purpose flour

1

teaspoon

baking soda

3/4

teaspoon

salt

1

cup

semi-sweet chocolate chips

1

cup

milk chocolate chips
Icing (optional)
1/4

cup

butter

softened

1 1/4

cup

powdered sugar

1

tablespoon

milk
Instructions
Cookie Cake
In a large bowl, cream together butter, brown sugar, and sugar.

Add vanilla, followed by eggs, one at a time. Mix well.

In a separate bowl, combine flour, baking soda, and salt.

Gradually add flour mixture to large bowl.

Spread mixture in 11.5" by 10.5" heart shaped or round pan, or 14 inch pizza pan.

Leave approx. 1 inch of space between dough and pan to allow for spreading.

Bake at 375 for 25-35 minutes.

You may need to gently shake pan while baking to get dough to spread.
Icing
Add more sugar or milk to get desired consistency.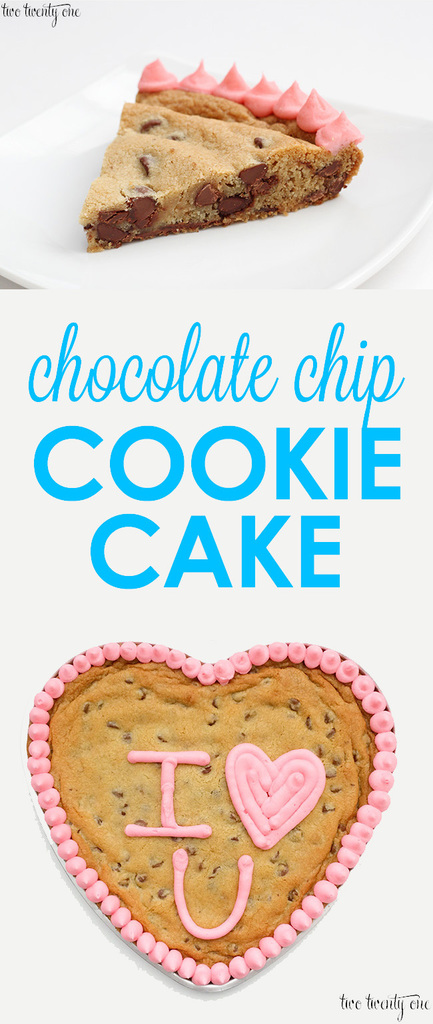 This post contains affiliate links.