Not gonna lie– I was pretty lazy with my Valentine's Day decorations this year. I blame Christmas. Christmas exhausts the decorating portion of my brain.
Seriously, I think I spent a total of 10 minutes on this vignette. You won't offend me if you say that it looks like I spent 10 minutes on it. Well, maybe you will, so just keep that to yourself.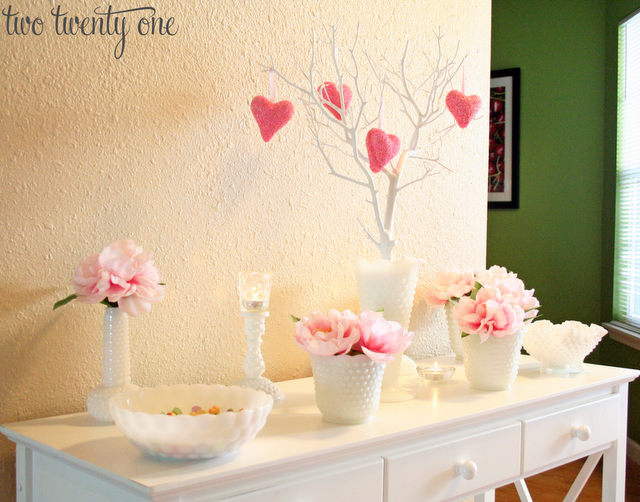 I also think this is a good time to tell you that I have an obsession. An obsession with hobnail glass, especially milk glass. Yep. I love it. If hobnail glass was a person we'd be best friends. I love it so much I met a man in the parking lot of a McDonald's to buy a turquoise hobnail cream and sugar set off of him. Did our transaction resemble a drug deal? Hmm, probably. Did I care? Heck no! It's Fenton, it's rare, and now it's mine. All mine.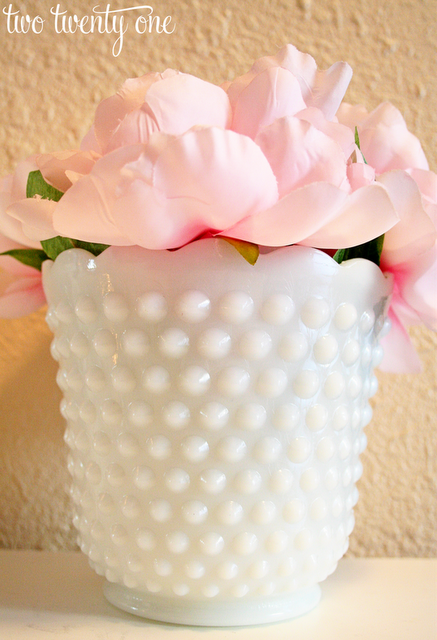 I thought that Valentine's Day would be the perfect opportunity to showcase my hobnail milk glass

obsession

collection. So I rounded up 
all
most of my milk glass and got to work.
I grabbed the manzanita branch from my Christmas centerpiece and slapped it in a milk glass vase. Then I added the pink heart ornaments– a Hobby Lobby Valentine's Day clearance find from last year. I plopped some leftover
 artificial pink peonies from our wedding in the vases, and I threw some conversation hearts in the bowls. I went the extra mile and added some tea lights for dramatic effect.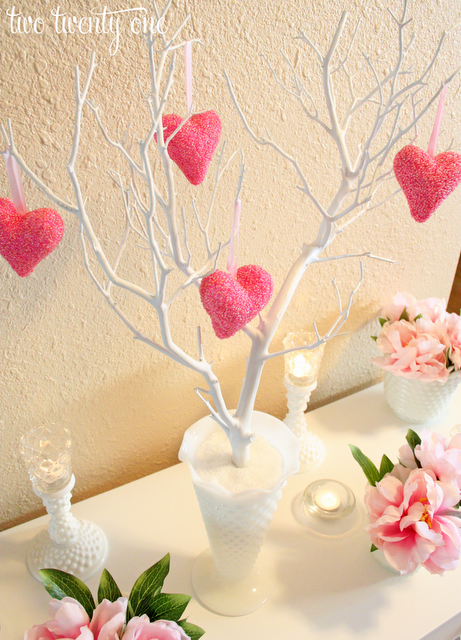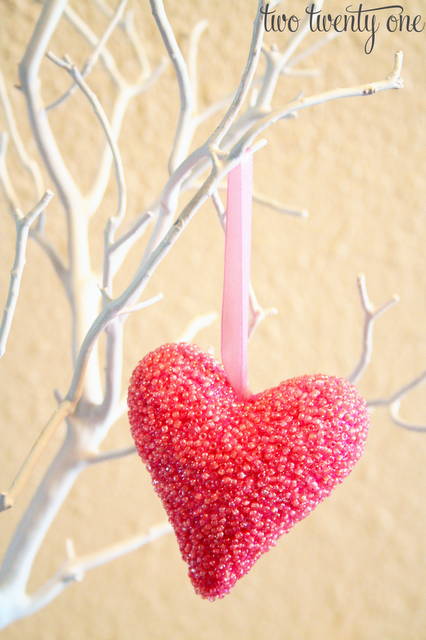 How did you decorate for Valentine's Day this year?