Instead of tossing out some paper plates and calling it a day, I figured I'd class it up this year with legitimate Thanksgiving table decor. And, I've teamed up with a gaggle of talented bloggers for a Thanksgiving table setting tour. So if you're stopping by from Inspiration for Moms, welcome!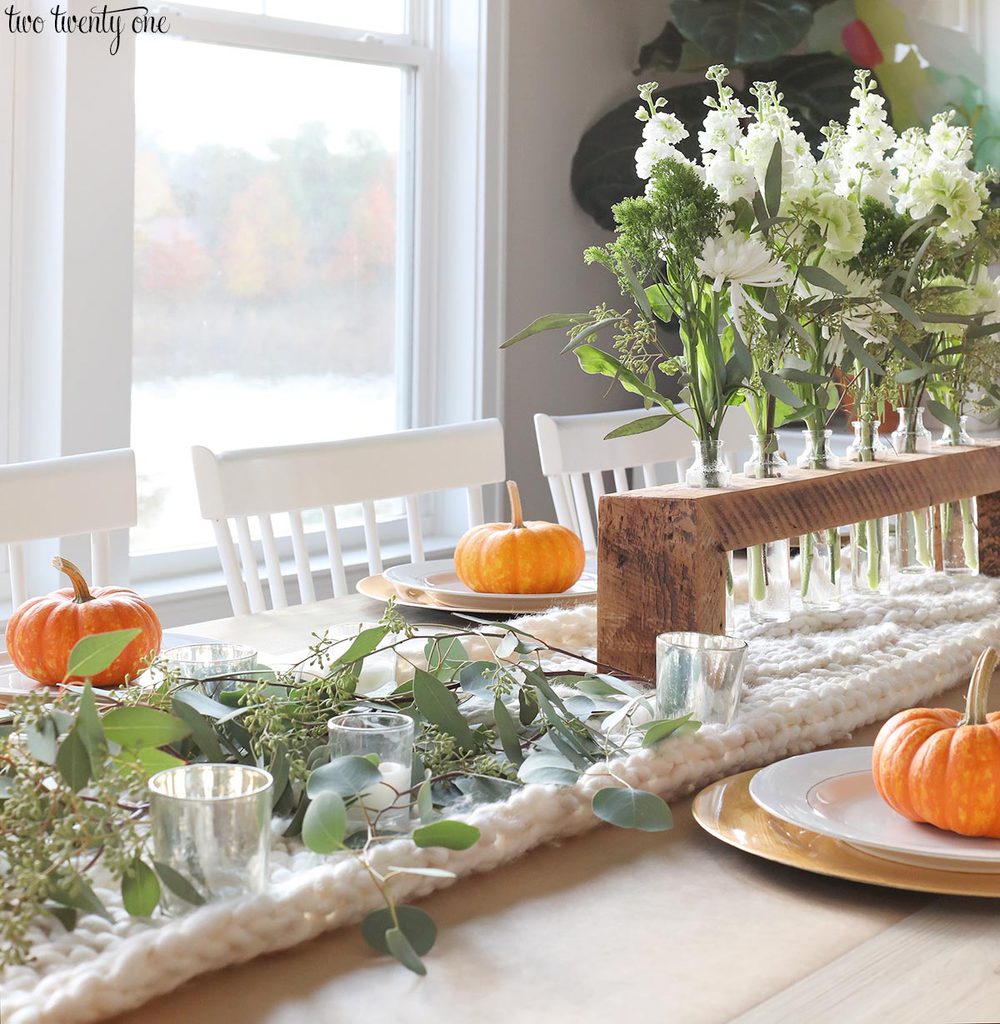 Believe it or not, I didn't spend very much on this Thanksgiving tablescape. The kraft paper, greenery and flowers, and the gold chargers are new to me. But that's it– I had everything else on hand.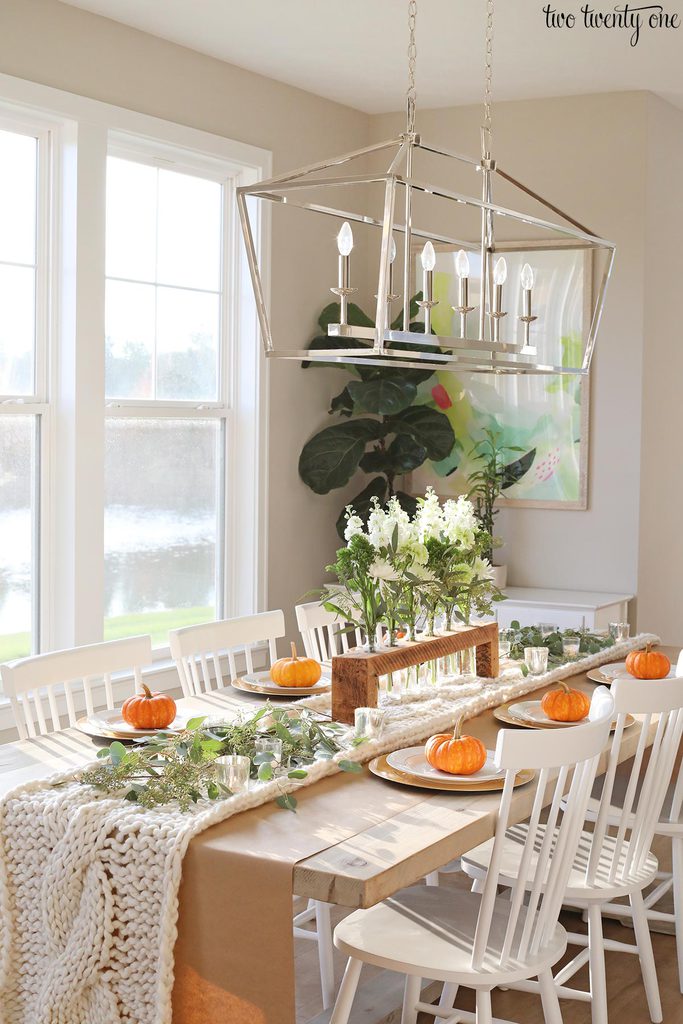 I filled my usual dining table centerpiece with a $12 bouquet of grocery store flowers. And I added $3 stock filler and some eucalyptus to beef it up a little.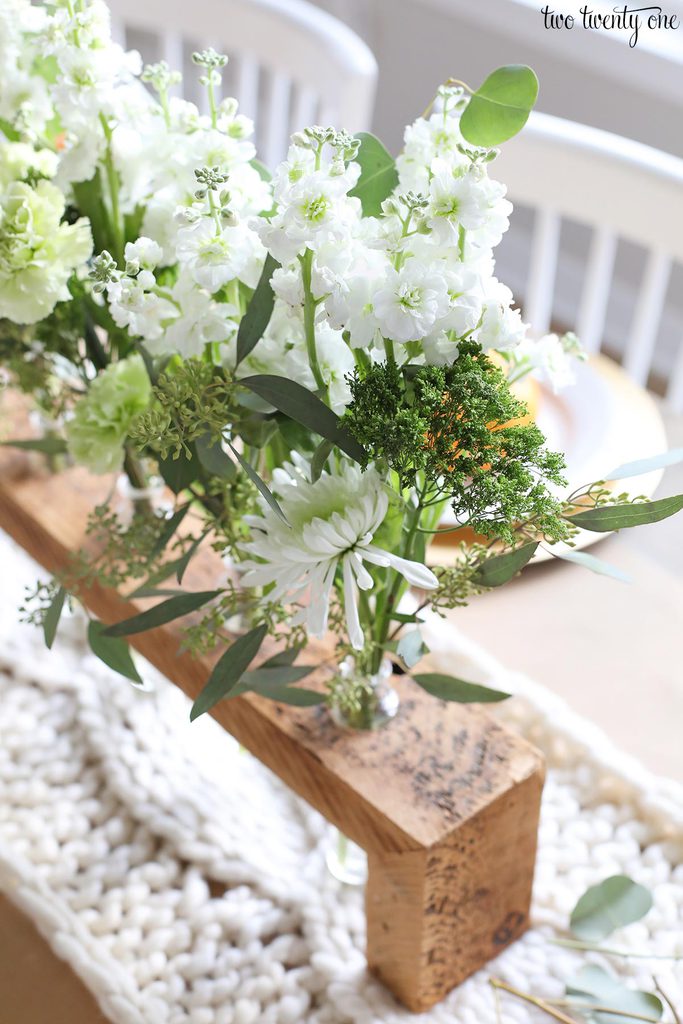 Speaking of eucalyptus, it's just so damn pretty. I need a paint company to bottle up that color so I can slap it on my walls.
I mixed two bundles of silver dollar eucalyptus and seeded eucalyptus from Trader Joe's, placing them on top of my cable knit table runner. Then, I scattered in some mercury glass votive holders and plain votive holders. You can never go wrong with candles, folks. Never.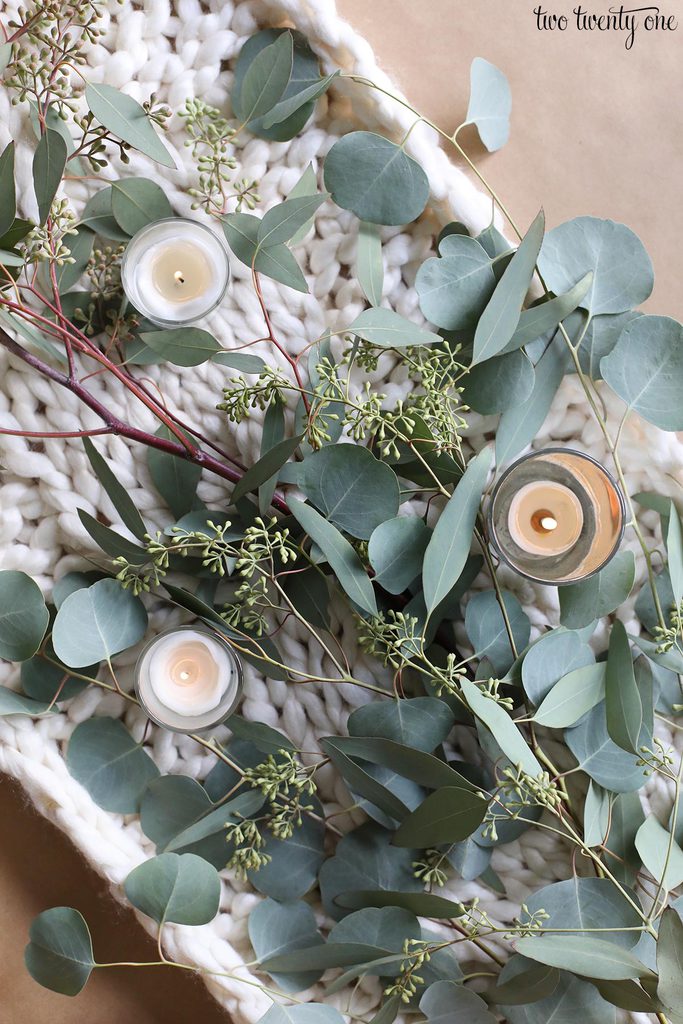 Now I know the centerpiece isn't conducive for Thanksgiving conversations, so all I'd have to do is remove it from the table and spread out the greenery and candles a little more. But if you don't want to engage in conversation with your racist uncle who's seated across from you, leave that tall centerpiece in place.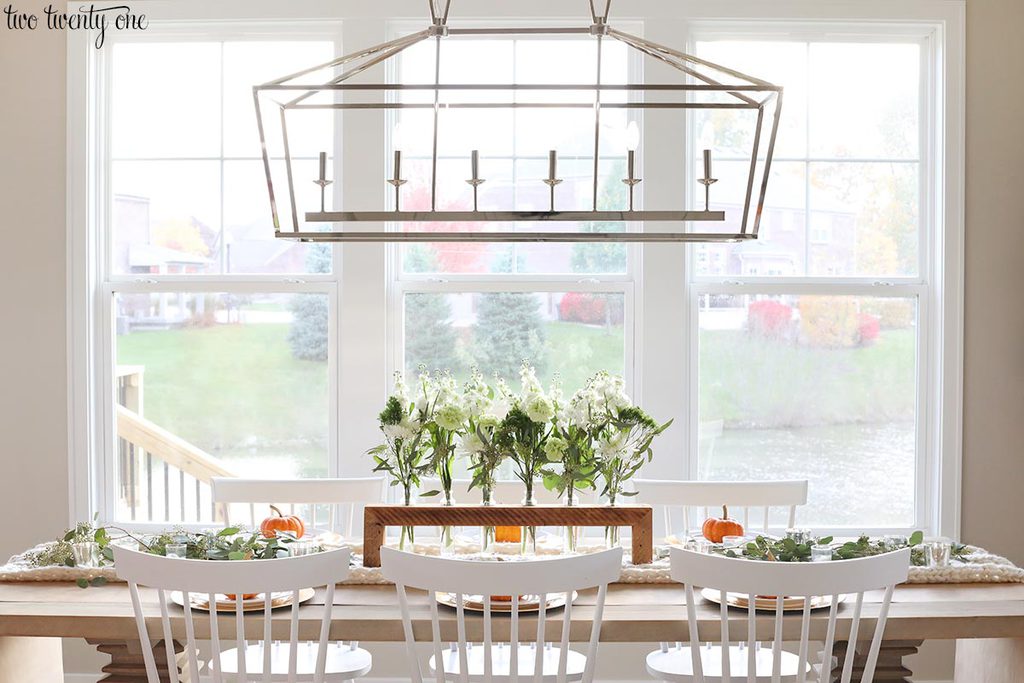 The gold chargers are a new addition to my arsenal because I only have silver chargers. I've had the gold rimmed plates for years– a thrift store find. Seriously, if you want to get some nicer looking china that you don't care about, go to a thrift store or garage sales. I wash this stuff in the dishwasher. It's fiiine.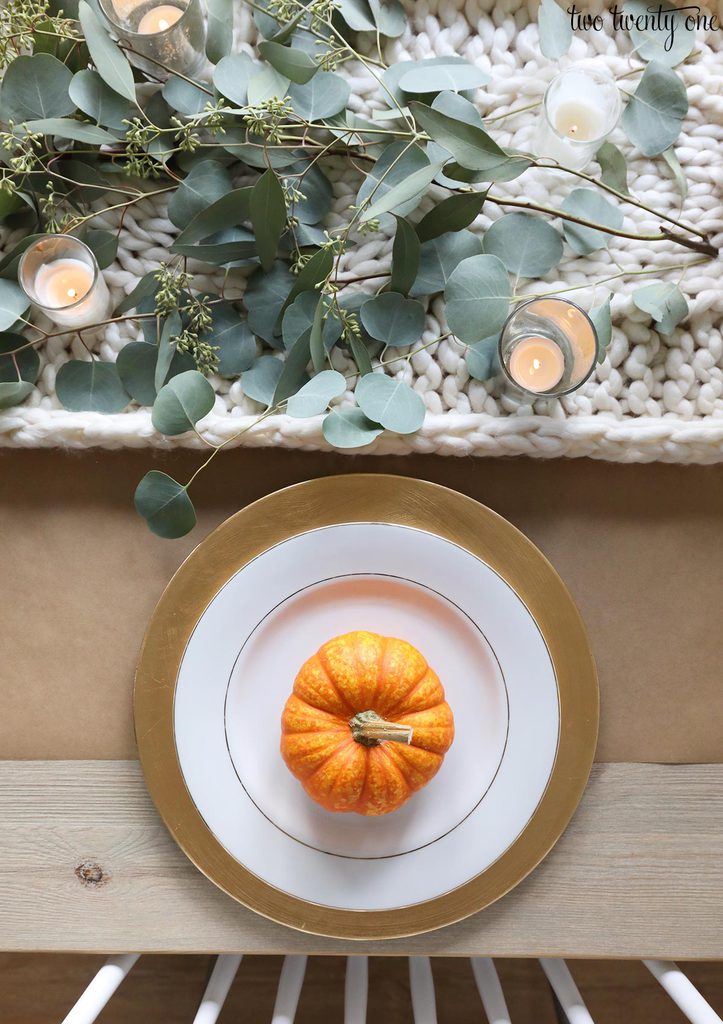 While orange isn't my favorite color, I wanted it to be known that this is an autumnal table so I threw a little pumpkin (gourd?) on top of every plate.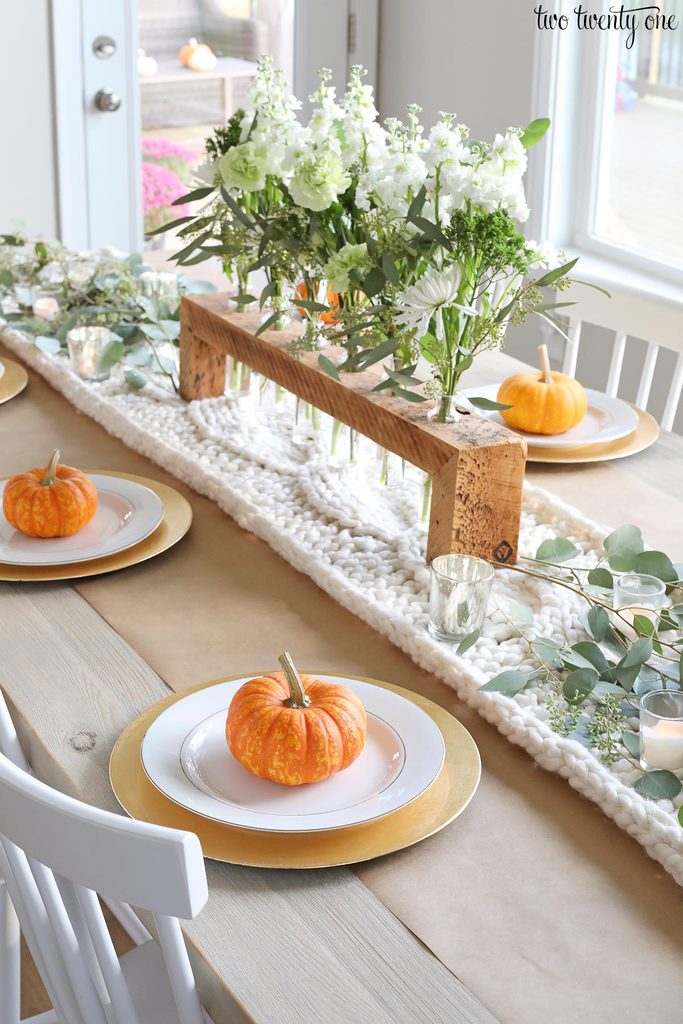 Golden hour FTW.
I thought the knit table runner would look lonely by itself, so I used some kraft paper underneath.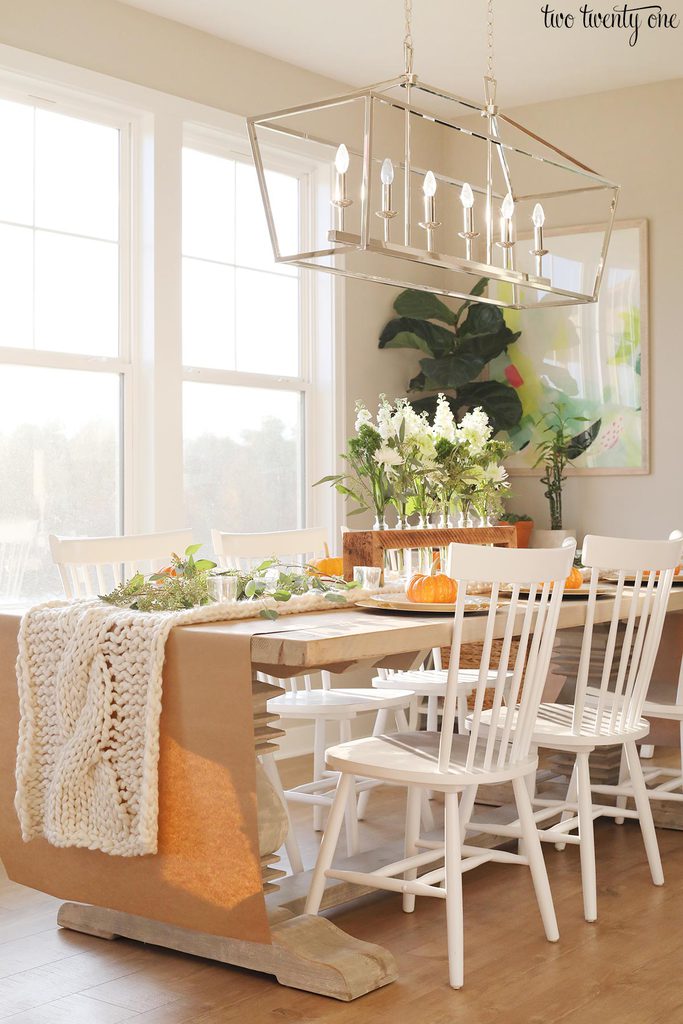 I love these plain votive holders and mercury glass candle holders because they can be used year-round, and they don't take up much space in my cabinet when they're stacked.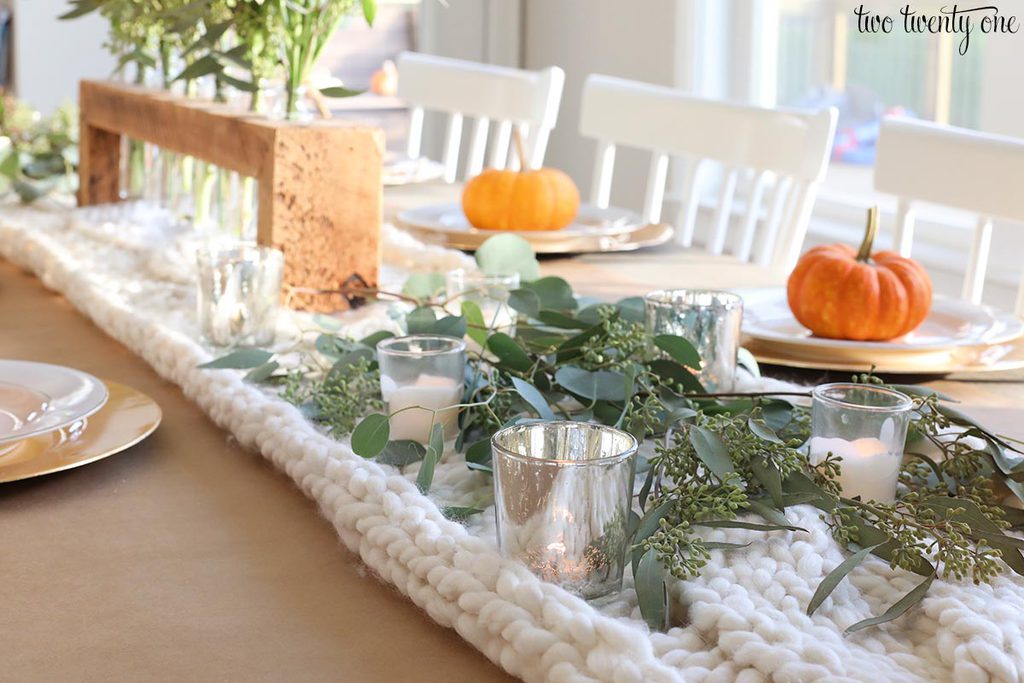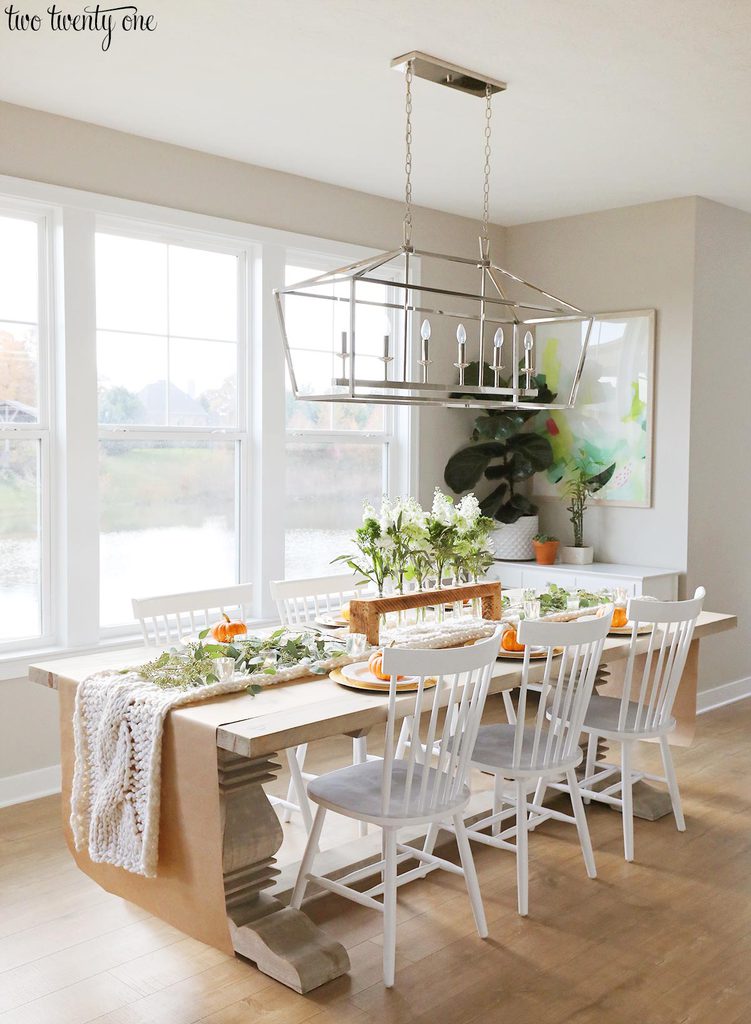 SOURCES
wall color … SW Worldly Gray (flat)
trim color … SW Ultra White (semi-gloss)
flooring … found here and here
chrome dining area light … found here
dining table … found here
dining chairs … found here
wooden bud vase … found here
artwork … found here
cable knit table runner … Crate and Barrel, circa 2017
kraft paper … Michael's
flowers and greenery … Trader Joe's and Kroger
plain votive holders … Michael's
mercury glass votive holders … Michael's
chargers … Michael's
plates … thrifted