Gift Guide: Personal Favorites
Today I thought I'd share my go-to, personal favorites. Most of these are products I've used for years and are staples in my daily or weekly life.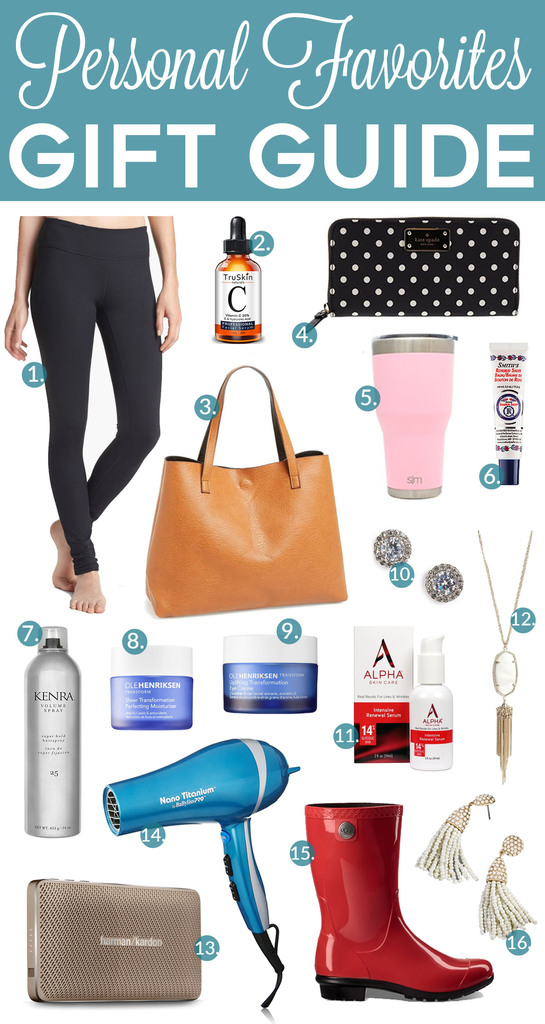 1 / 2 / 3 / 4 / 5 / 6 / 7 / 8 / 9 / 10 / 11 / 12 / 13 / 14 / 15 / 16

1. Leggings
Hands down, this is my favorite leggings brand. I've had three pairs for about five years, and they still look brand new. Yes, they're on the pricey side, but they last forever. They make sizes XXS-XL and 1X-3X. Maternity leggings are also available. They're also on sale right now! With free shipping and free return shipping.
This is my other favorite leggings brand. If you want your butt to look 100, get a pair. I have a pair of these— perfect for date night or a night out with girlfriends. Or preschool pickup. They come in sizes XS-3X. Note: I bought them when they were on sale. I'll keep my eyes peeled and share on IG Stories if I see them go on sale soon.
2. Vitamin C Serum
Vitamin C serum is necessary for collagen production and it brightens the skin. I've been using this serum for a couple years, and I love it. It doesn't have a smell to it, which I prefer. My skin routine at night goes as follows: eye cream, Vitamin C serum, moisturizer. A couple nights a week I throw in glycolic acid, but I'll get to that in a bit.
3. Tote
I LOVE this reversible faux leather tote. I bought my first one a couple years ago, and it held up extremely well with daily use. It looks more expensive than it is, and I always get compliments on it. I especially like it because I can easily transfer stuff (my wallet and cosmetic/catch-all bag) from the diaper to the tote.
4. Wallet
I'm a total sucker for Kate Spade wallets because they're so damn cute, and they hold up well. I really like the Neda and Lacey styles because they hold a lot and there's a zipper closure so stuff isn't falling out.
5. Tumbler
I always try to drink 80-100 ounces of water a day, and even more when I'm nursing. I find that it helps to have a cute, durable tumbler. This is my favorite 30 oz. double-walled tumbler. It keeps my water cold for a long time. I haven't tried it with hot drinks, but I'm it works fine. I have the blush color, but it comes in 20 other colors.
6. Lip Balm
Like I said, my makeup is very basic. I don't wear lipstick, lip stain, or whatever is all the rage right now. I've stuck to this lip balm for years. It has a slight tint of color, and it has a nice non-sticky consistency. I even put it on before going to bed every night.
7. Hairspray
As a curly-haired gal, hairspray is rather important to me. A few years ago I had to completely change my hair products the product I used for 14 years was discontinued. Then, a different product I was using for hold was discontinued. I never thought I'd find products that would get my hair to behave how I liked it. And then I found this hairspray and fell in love.
8. Moisturizer
I've only been using this moisturizer for a few months, but I really like it.
9. Eye Cream
Same with the moisturizer, I've only been using this eye cream for a few months but I really like it. I always say you're never too young to start using eye cream. While we're on the topic, I bought myself this skincare sampler set during the Sephora VIB sale– and it's even cheaper right now. I'm excited to sample the 12 different products, and then see if there's full-size versions I'd like to buy.
10. Earrings
These are my everyday earrings. I scored them during a Nordstrom sale a couple years. I love them. They're not too big, not too small. And they look real. If you're on a tighter budget, these earrings are nearly identical and a fraction of the price.
11. Glycolic AHA Acid
I've been using this glycolic AHA acid 2-3 nights a week for a couple years. It helps with collagen production, reduces the appearance of fine lines and wrinkles, evens texture and tone, and helps to shrink my pores.
12. Necklace
I don't wear a lot of necklaces, but this is my absolute favorite one to wear when I want to class things up a bit. I have the ivory mother of pearl/gold version, and it goes with everything. Yes, it's pricey (I scored mine last year during a Black Friday sale), but it's something I intend to wear for years. Plus, it's a great gift to put on your Christmas list if it's something you wouldn't buy for yourself.
13. Bluetooth Speaker
I use this gold bluetooth speaker to listen to music in my office. I like that I can also use it for phone calls as well. The sound is good, and I love the gold color. Note: I won mine at a work conference.
14. Hairdryer
With my old hairdryer, it used to take me 30-35 minutes to dry my hair. And no one has time for that nonsense. Then, I asked for this hairdryer for Christmas a year or two ago. Now, I my hair dries in 15-20 minutes. I recommended to a close friend of mine with straight hair, and she loves it too.
15. Rain Boots
I have wide feet so finding a good rain boot has been rather difficult for me. Until I came across these rain boots and fell in love. They're comfy, keep my feet dry, easy to take on and off, come in some really cute colors, and they're a fraction of the cost of Hunter boots. They're also wide calf friendly. I love them so much, I own a black and a red pair. But I get more compliments on the red pair, in case that's important to you. Click here to see the rain boots in more colors and finishes. They also have a taller style.
16. Earrings
These are my current favorite fancier earrings. I love how versatile they are, and they go with almost anything. I'll also add that they aren't heavy, which is a plus.