I don't think I've ever done two I'm Lovins in the same month. Such a momentous occasion.
Keep scrolling to find out about my current faves.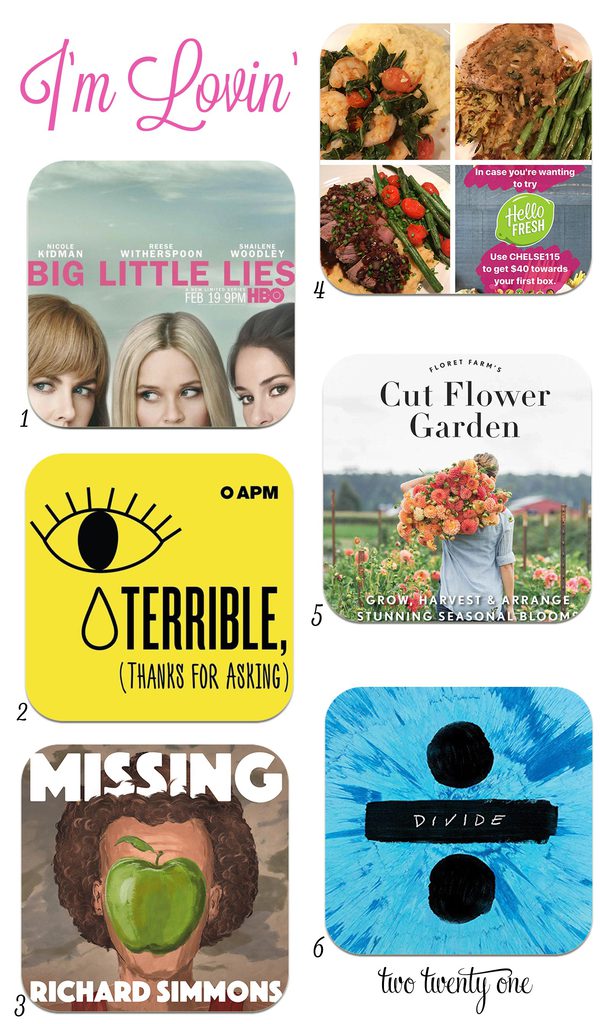 1. Big Little Lies
I started watching this new HBO mini series a couple weeks ago on a whim. And I'm hooked. It's actually based on the same-titled book by Liane Moriarty. I don't want to give away too much of the plot (don't Google it or you'll ruin it for yourself!), but here's a summary from verizon: "a darkly comedic tale of murder and mischief in the tranquil beachfront town of Monterey, Calif. Amidst doting moms, successful husbands, beautiful children, and stunning homes exists a community fueled by rumors and divided into haves and have-nots, exposing fractured relationships between husbands and wives, parents and children, and friends and neighbors. Told through the eyes of three mothers — Madeline, Celeste and Jane — the series' narrative explores society's myths regarding perfection and its romanticization of marriage, sex, parenting and friendship. Reese Witherspoon, Nicole Kidman and Shailene Woodley star as the three prominent "mothers of Monterey." I'll also add that they filmed on location on the Monterey Peninsula so the scenery is gorgeous.
 2. Terrible, Thanks for Asking podcast
I devoured this podcast a couple weekends ago. It's a deeper podcast so if you're not in the best mood, I'd suggest waiting until you're in a better mental place. Because I'm pretty sure I cried a little during most of the episodes. But it's not like I was sad the rest of the day.
Here's the official description: You know how every day someone asks "how are you?" And even if you're totally dying inside, you just say "fine," so everyone can go about their day? This show is the opposite of that. Hosted by author and notable widow (her words) Nora McInerny Purmort, this is a funny/sad/uncomfortable podcast about talking honestly about our pain, our awkwardness, and our humanness, which is not an actual word. The episode topics vary– death, death of a spouse, suicide, sexual assault, postpartum depression, miscarriage, mistakes, war, murder, traumatic brain injury. I can tell that I'm really selling you.
While I didn't love every episode, certain things resonated with me. One in particular was in episode 2 at the 41:35 to 43:30 marks. And I really enjoyed episode 8.
3. Missing Richard Simmons podcast
I started this podcast the other day. It's really interesting, and at times, humorous. In case you didn't know, Richard Simmons hasn't been seen in public for over three years. One day he just stopped showing up to teach his group exercise classes. And he simultaneously cut off contact with his closest friends. The podcast host, Dan Taberski, a former exercise student and friend of Richard, tries to find out what happened to Richard.
 4. Hello Fresh
If you follow me on Instagram and you watch my stories, you've probably seen me blabbering on about Hello Fresh the past two weeks. Now, I've never hidden my lack of meal planning. In fact, I wrote a post about it. Since I stink at meal planning and Brad isn't much of a cook, we decided to try out a meal delivery service. We're giving Hello Fresh a shot this month, but we might try a different service next month so we can compare and contrast. So far we've liked every meal we've tried from Hello Fresh. They offer a classic meal plan and family meal plan. We do the classic meal plan where we get 3 meals a week for 2 people. Each week there's 6 meals for us to choose from– we choose 3. Then once a week, a box is delivered containing the ingredients and detailed recipes to make the meals. We still have to wash and prep the vegetables and herbs, but it's nice not having to shop for everything and to not think about what we're having for dinner. Also, since we already purchased the food, it forces us to make the food. Plus, these are new recipes to us so we're excited to try them out. Shoot, in the past two weeks we've eaten steak, shrimp, chicken, pork chops, and fish. That never happens.
I'm going to add that I'm not being paid to say this. I looked at a few meal delivery services and Hello Fresh was one that had the most appealing food to me. If you'd like to try Hello Fresh, you can save $40 on your first box by using the code CHELSE115. Again, this isn't sponsored, I just want you to be able to save $40 because I didn't know about discount codes when I initially ordered so I paid full price.
5. Floret Farm's Cut Flower Garden
If you aren't following @floretflower on Instagram, you're missing out. Floret Farm is a family-run flower farm in Washington. I actually had the chance to meet Erin, one of the co-owners, at BHG's Stylemaker event last fall. After listening to a panel she was on, I approached her and asked if she could help me identify one of the varieties of peonies I grow. (Since most of my peonies are from established peony plants belonging to family members, no one knows the exact names.) Erin couldn't tell me but suggested a website. She also complimented my peony growing skills, which made my day. Anyway, back to the book. She wrote this beautiful book, which covers planting, cultivating, and harvesting advice; how-tos for bouquets, garlands, and wreaths; and other tips.
6. Ed Sheeran – Divide
Divide has been on repeat in my car the past couple weeks. Yes, I still listen to CDs. Yes, my car is old enough to have a CD player, but it's a SIX CD player. So there. It's a really good album. I personally like the Irish references.
Are there any shows, podcasts, books, or albums you're enjoying?
Happy St. Patrick's Day! Enjoy your weekend!