NYC & Better Homes and Gardens Stylemaker 2016
I considered the following titles for today's post:
Fun In NYC & How Do These Things Always Happen to Me?
How I Embarrassed Myself, AGAIN, in Front of the Second Celebrity I've Ever Met
Reasons Why I Shouldn't Be Allowed in Public
But before you read this post, you HAVE to read about last year's trip to NYC and the Better Homes and Gardens Stylemaker event. Seriously, if you haven't read it, read it first. It provides immense context. So if you haven't read it (it's an awesome read), please go here and do so now.
A couple weeks ago I got up at 3:40AM, left my house at 4:15AM, drove to the airport and boarded the earliest flight of my life.
Don't lie. I know your phone alarm page looks just like this when you have an early morning flight.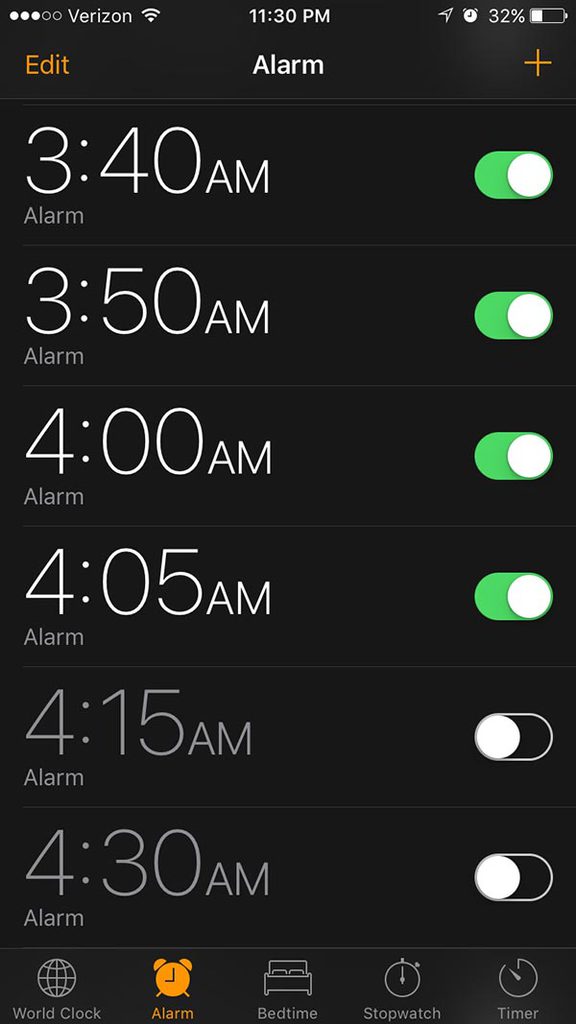 I purposely chose the earliest flight because I wanted to get into NYC around 8AM so could have the entire day to sightsee with my buddy and hotel roommate, Jamie, whose flight got in around the same time as mine. I had never toured around NYC before so I was really excited to spend the day taking in the sights.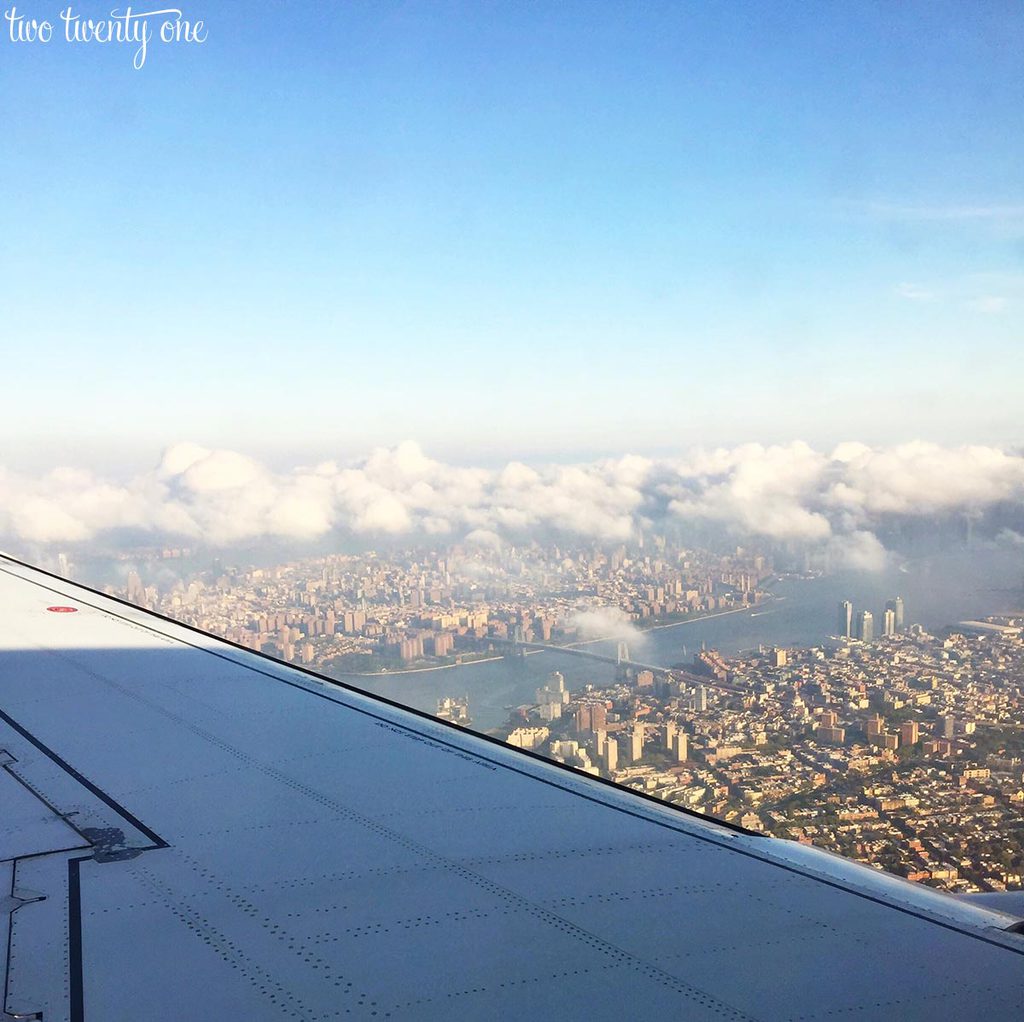 After taking an uber to our hotel, Jamie realized she left her phone in the uber. So we had to activate the find my iPhone app on my phone and attempt to reach the uber driver. Thankfully, he was able to drop off the phone about 30 minutes after Jamie realized it was missing. I told her she best throw him a $20 and she did.
After the missing phone excitement, the nice guy at the front desk of our hotel recommended that we take a double decker bus tour. It sounded like a great way to see a bunch of stuff so we went for it. On our way to catch the tour, we were able to pop into Grand Central station.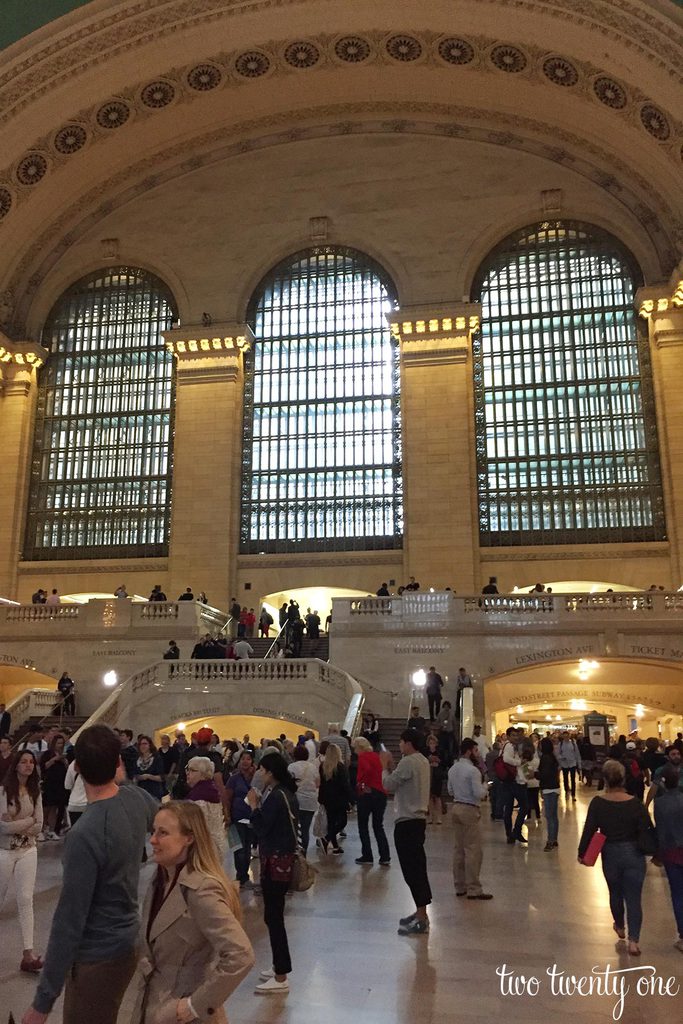 We started the tour in Times Square. The weather was perfect for a double decker bus tour. It was overcast most of the so we didn't need sunglasses until the mid-afternoon. And it was cool enough during most of the day to get by with a light jacket. Although it did get a bit chilly toward late afternoon while riding on top of the bus. Come to think of it, the sun only came out when we were at the 9/11 Memorial.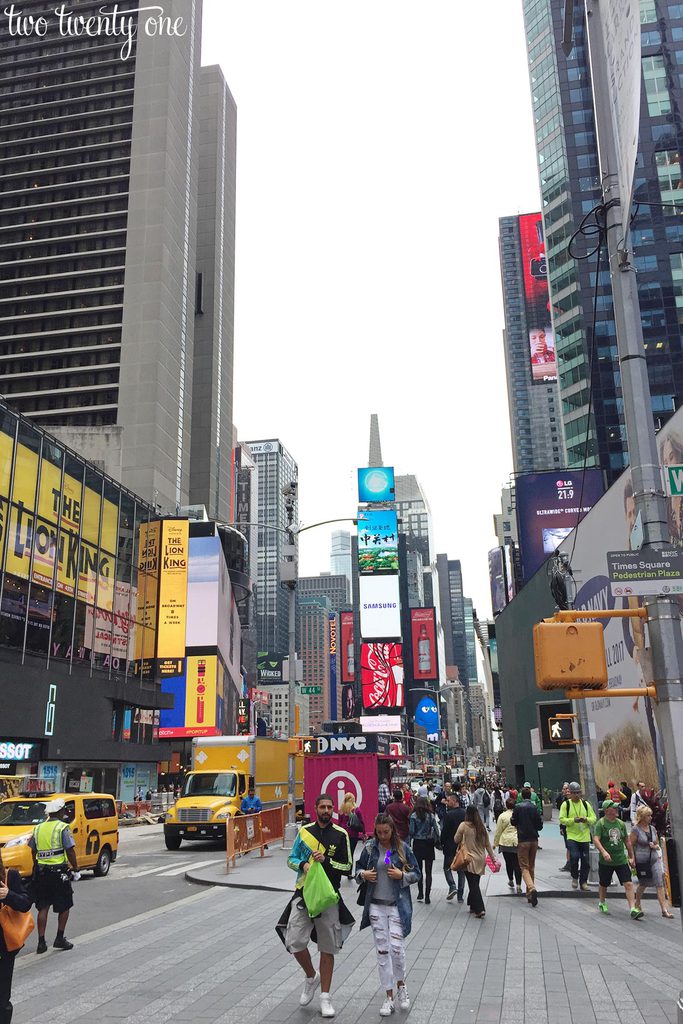 We did the downtown tour, which goes by/through Times Square, Garment District, Bryant Park, Empire State Building, Koreatown, Flat Iron District, Noho, Soho, Financial District, Battery Park, Ellis Island, 9/11 Memorial, Tribeca, Chelsea, Madison Square Garden.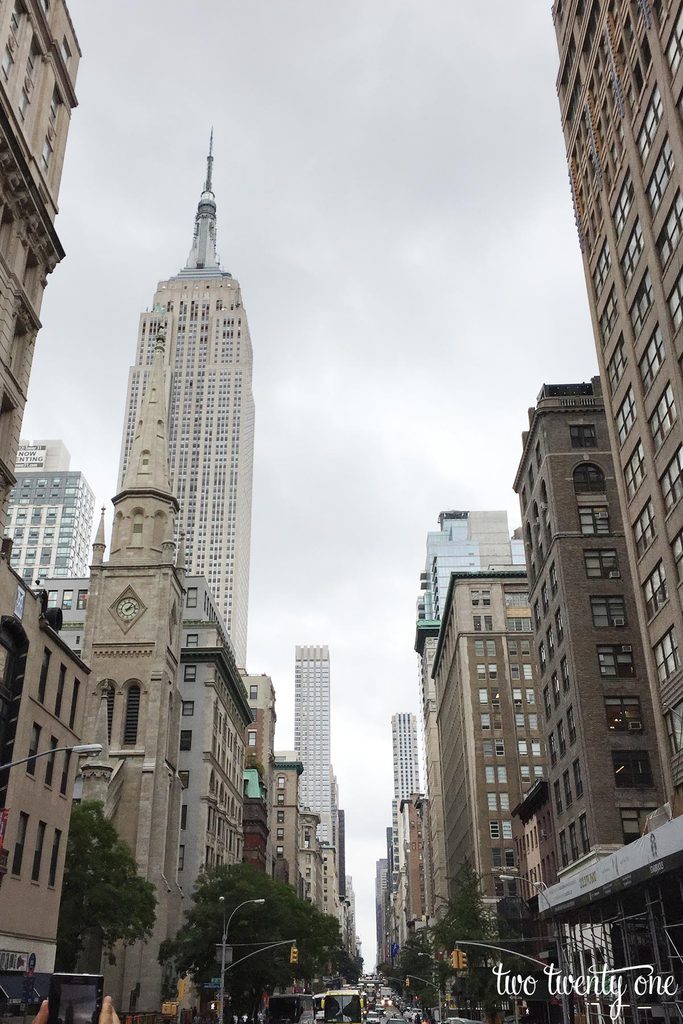 We loved our particular bus tour because it's a hop on, hop off tour. Meaning you could get off at one of the stops along the route to see something specific and then hop back on the bus. We got off the bus to see Ellis Island and the Statue of Liberty.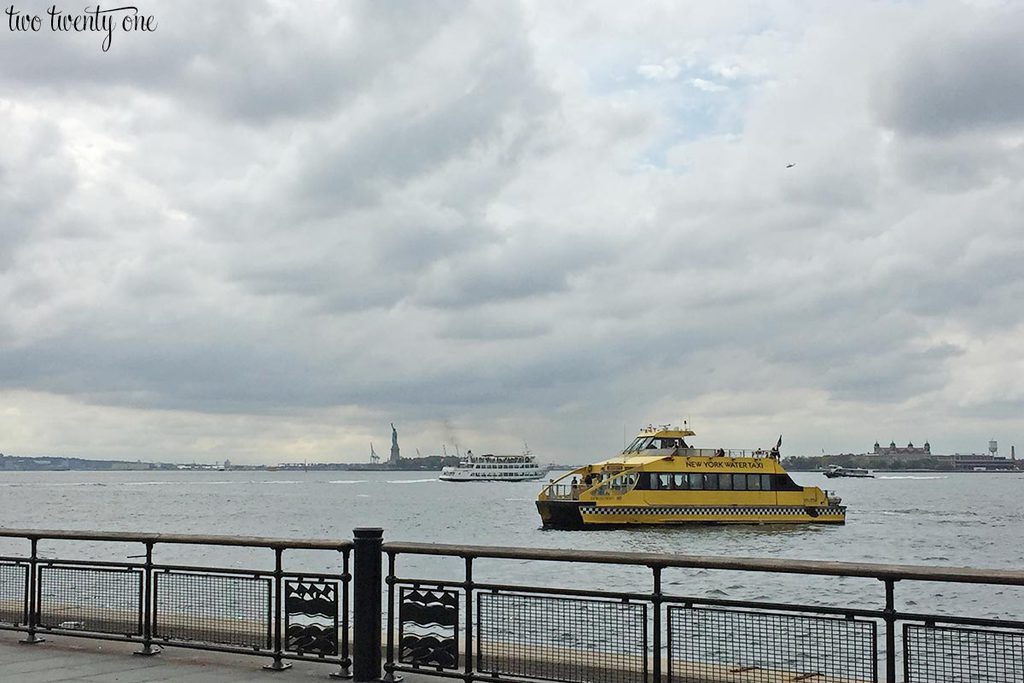 Then, we walked the Greenway up to the 9/11 Memorial where the South Tower once stood.
I was a junior in high school on September 11, 2001 so I vividly remember everything about that day.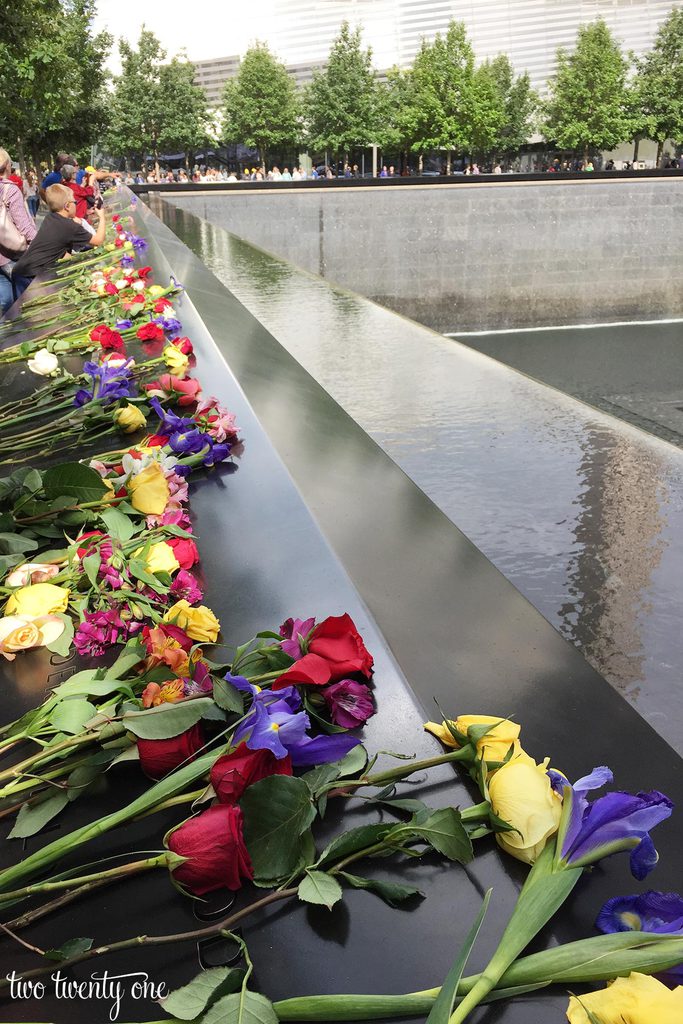 See, the sun came out. And a rainbow formed across the water.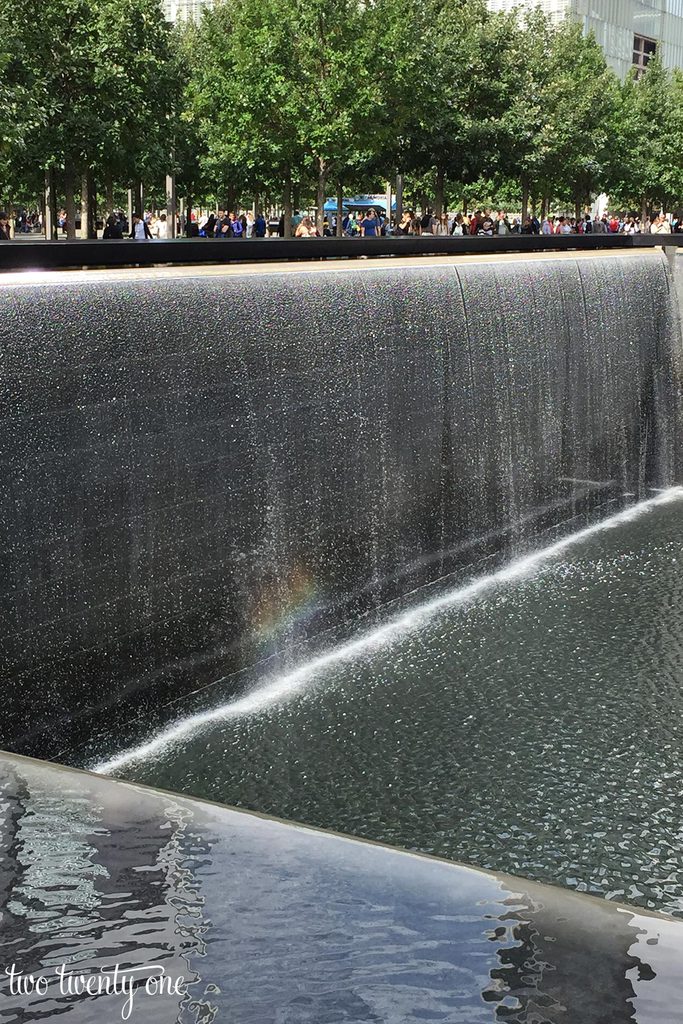 You can see the rainbow very clearly in this video I took.
If I could use one word to describe the memorial it would be somber. I swear it was the quietest place I had been in the city that day. Or maybe the water feature drowns out all the noise. Either way, it's something to experience.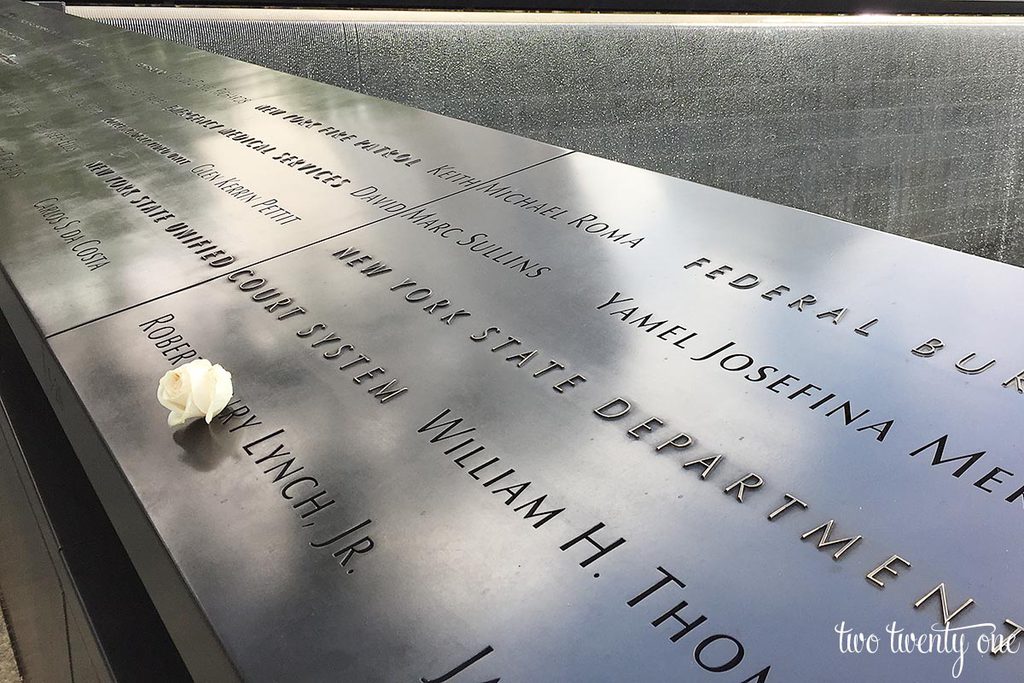 One World Trade is stunning in person.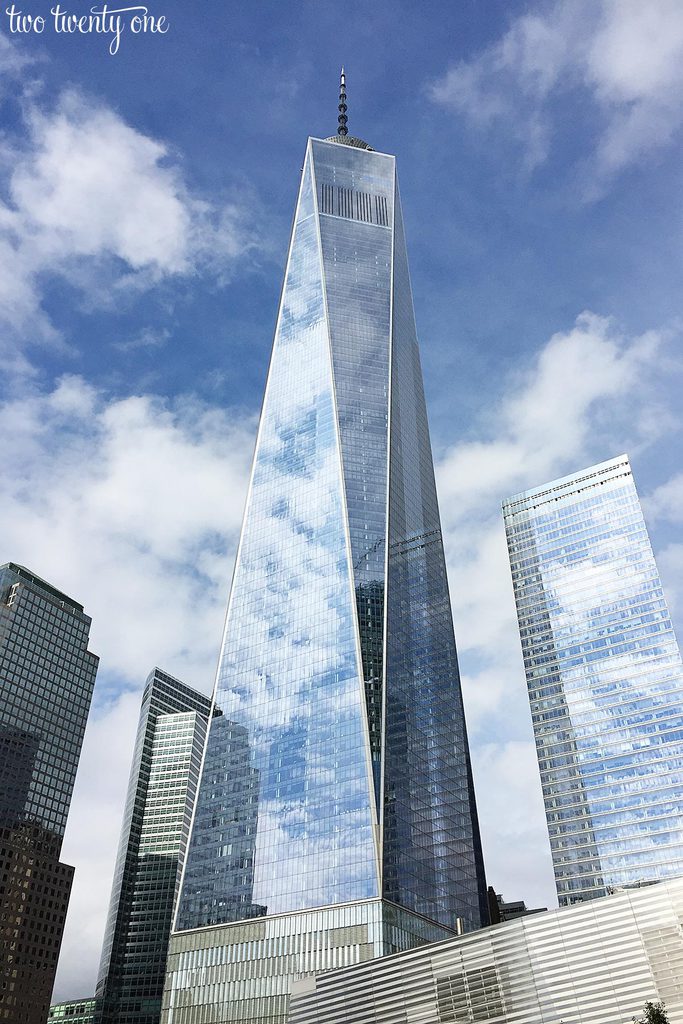 After the completing the downtown loop on the bus tour, we hopped off at the stop closest to our hotel and walked the rest of the way.
See, not long after we left the 9/11 Memorial the clouds rolled back in.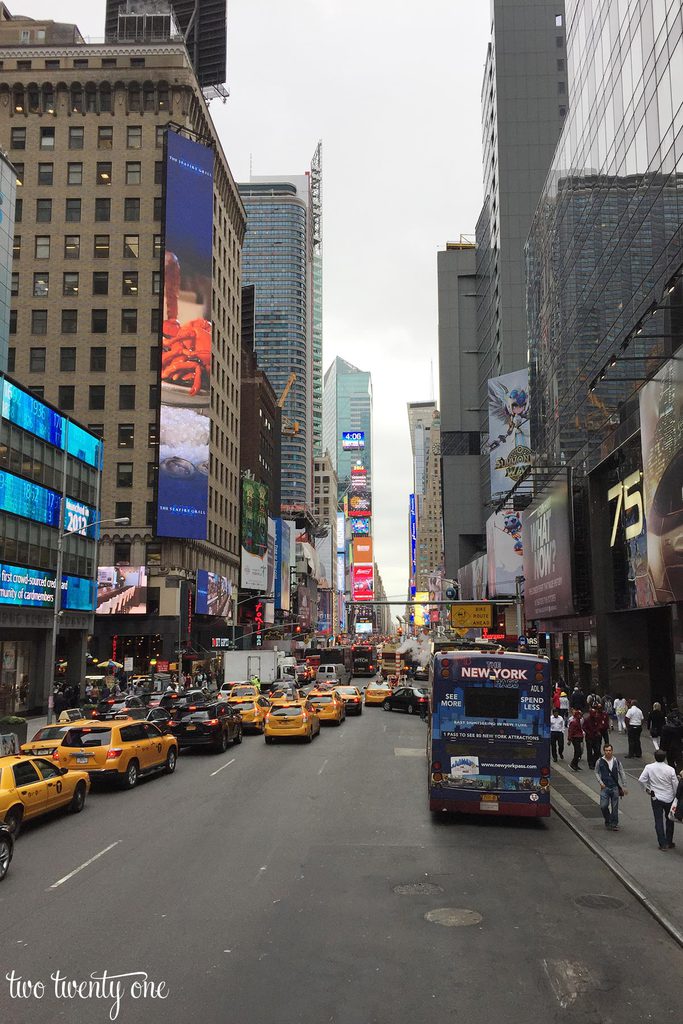 But not before stopping to grab an ice cream from a Mister Softee truck.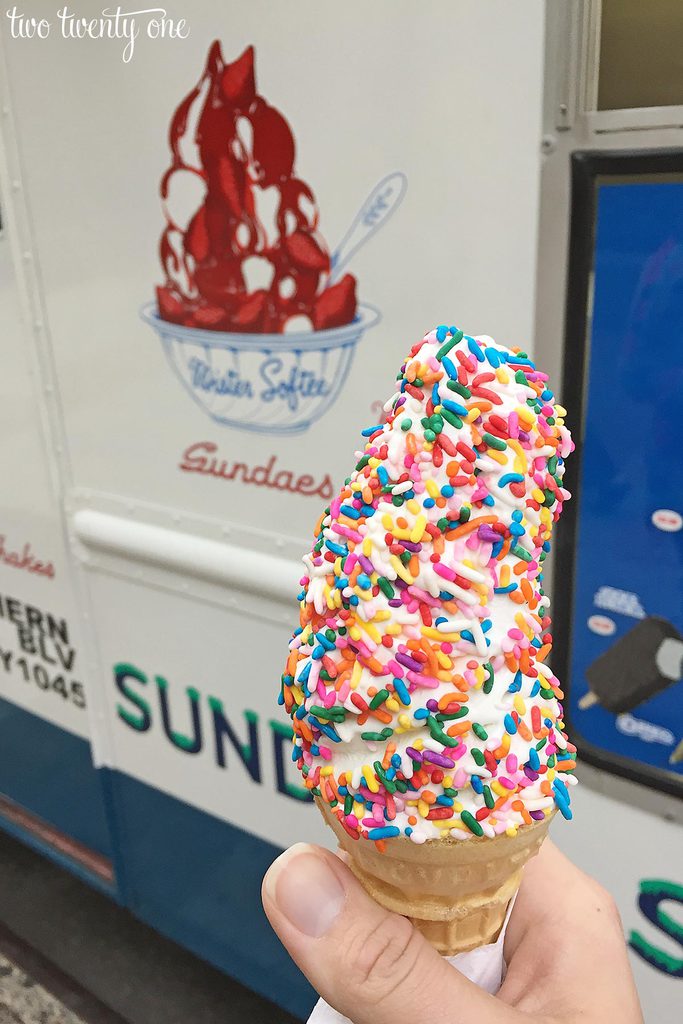 Wednesday night Jamie and I met up with Tammy, Sarah, and Heather for dinner at Javelina, a Tex Mex restaurant with awesome margaritas and queso.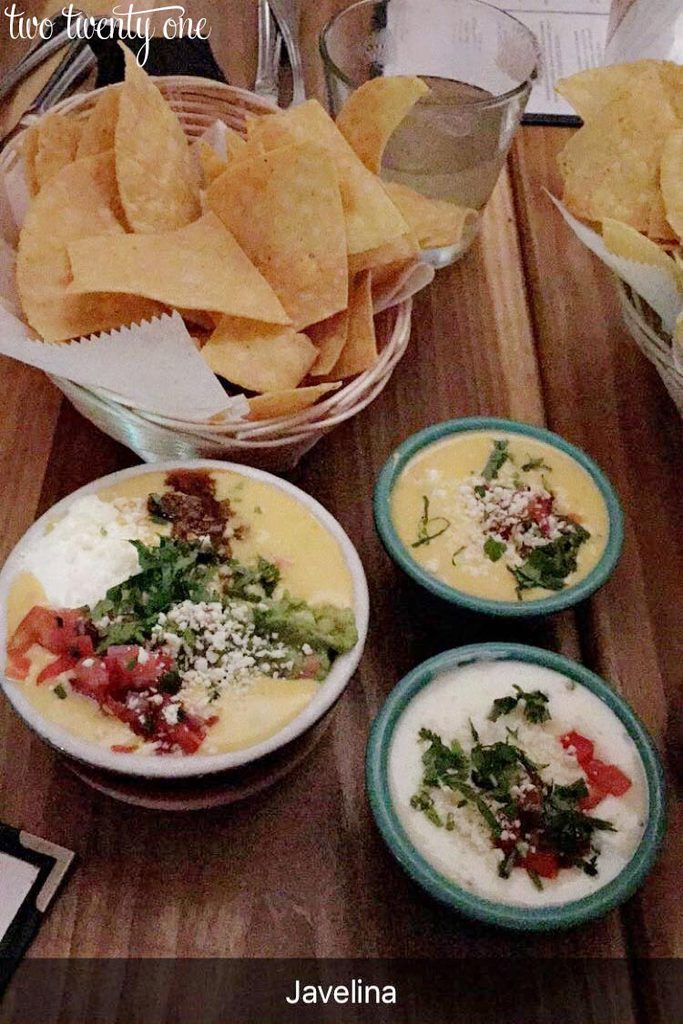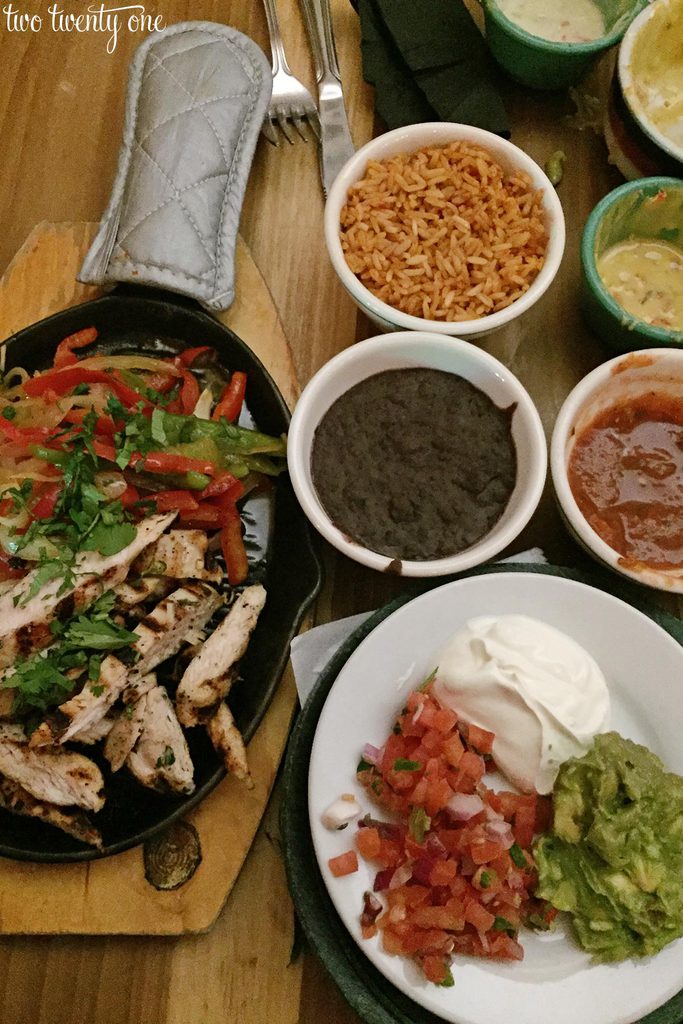 Thursday was the Better Homes and Gardens Stylemaker event at the Gramercy Park Hotel, which was a couple blocks south of where we were staying.
I love the Stylemaker event because it's a more intimate affair than blog conferences. About 70-80 bloggers attend, as well as BHG editors, and other panelists.
Here I am checking in to the Stylemaker event on Thursday morning. I'm not gonna lie, my hair was on point that day, especially considering I hadn't washed and styled it since Tuesday night. God bless my hairspray.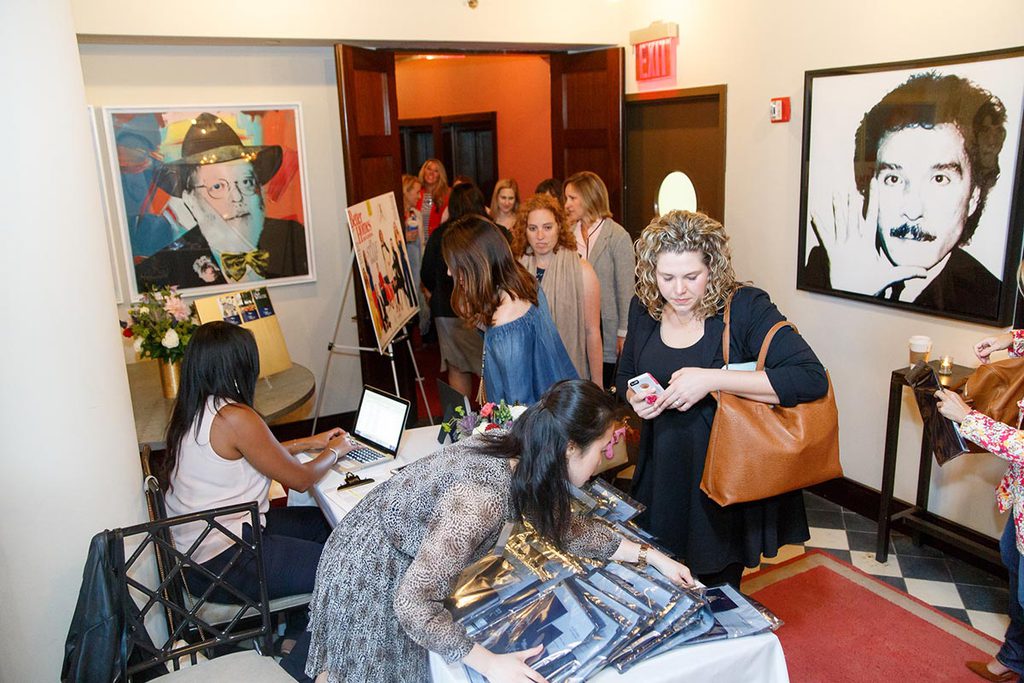 The event space at the hotel was beautiful. This room was styled by Crate and Barrel.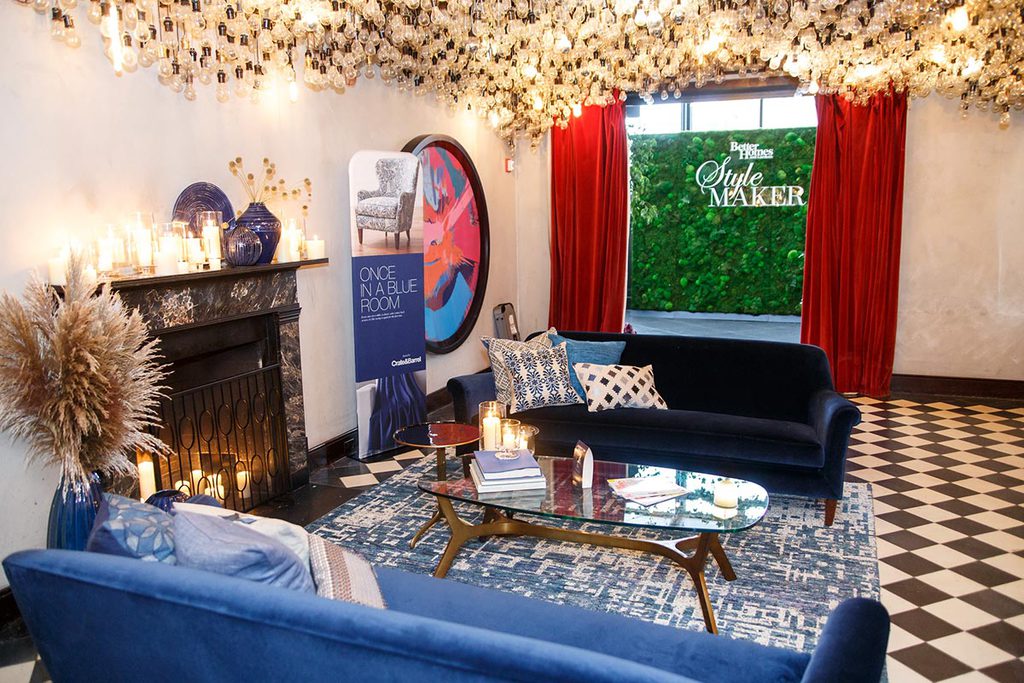 The entire ceiling in one of the rooms was covered with lightbulbs.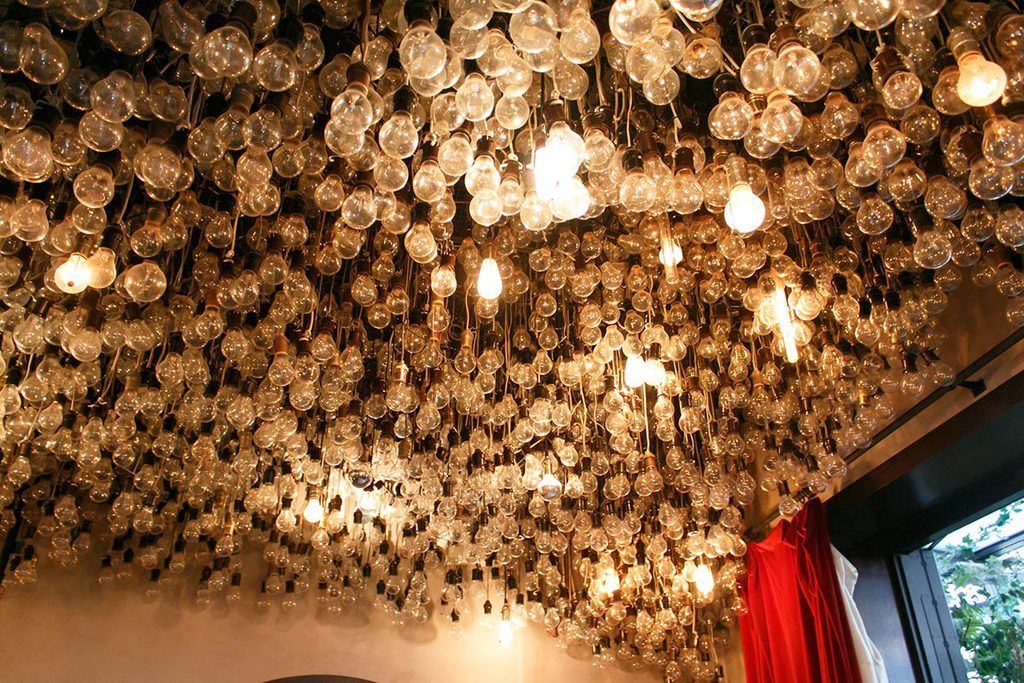 And the terrace didn't disappoint either.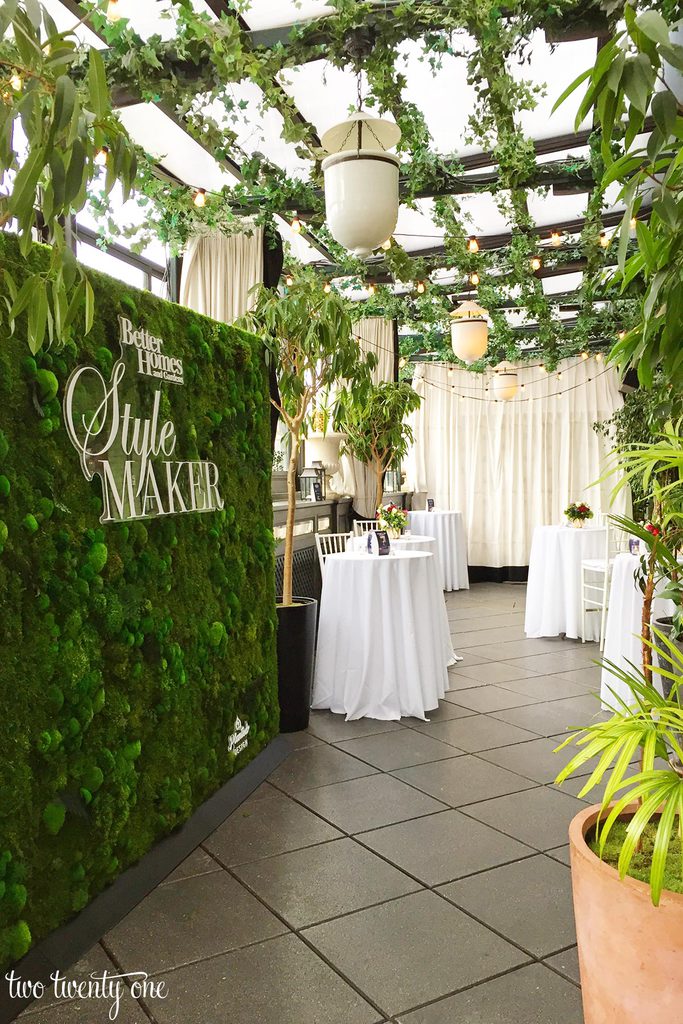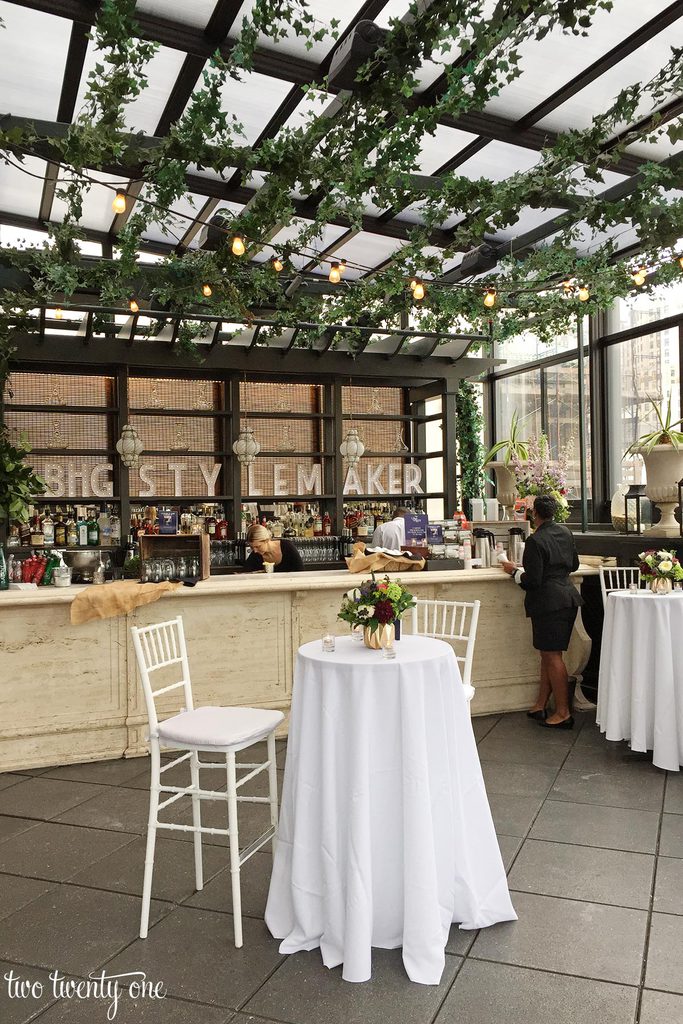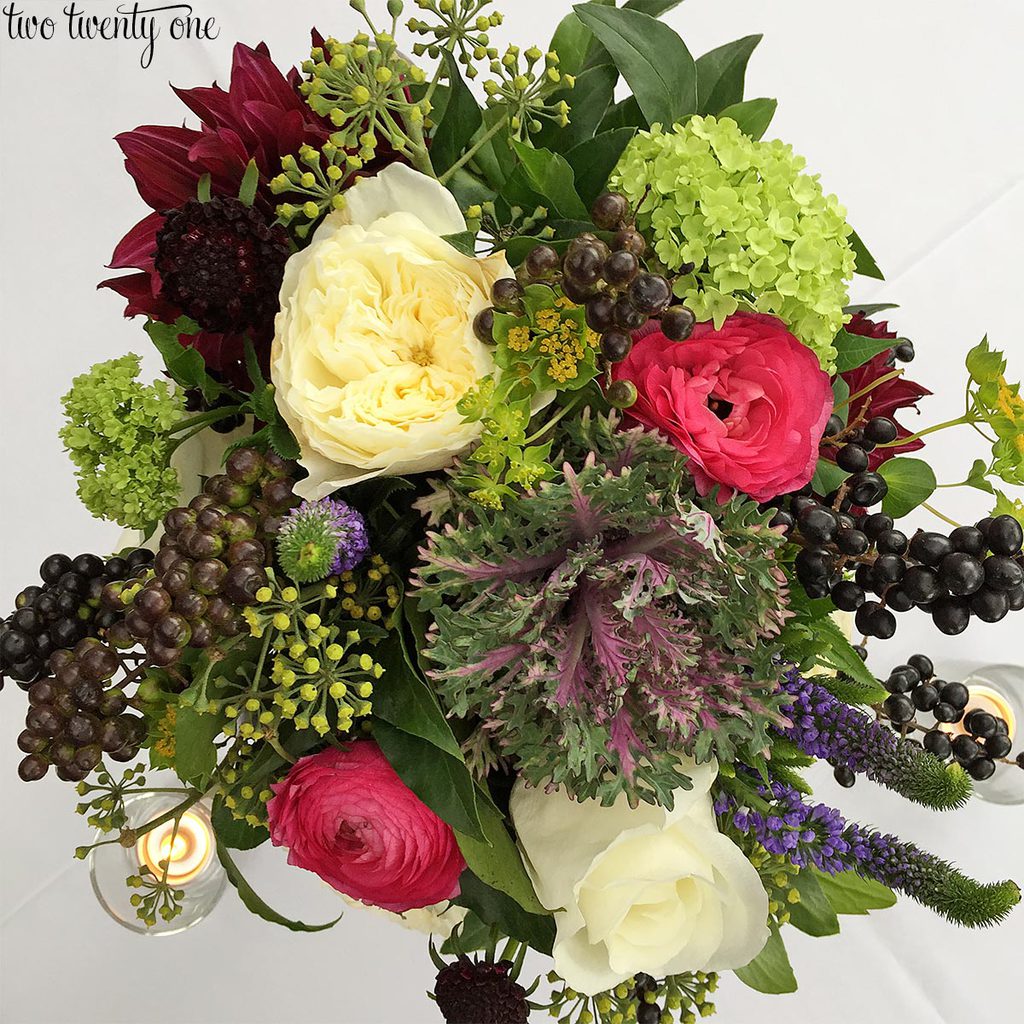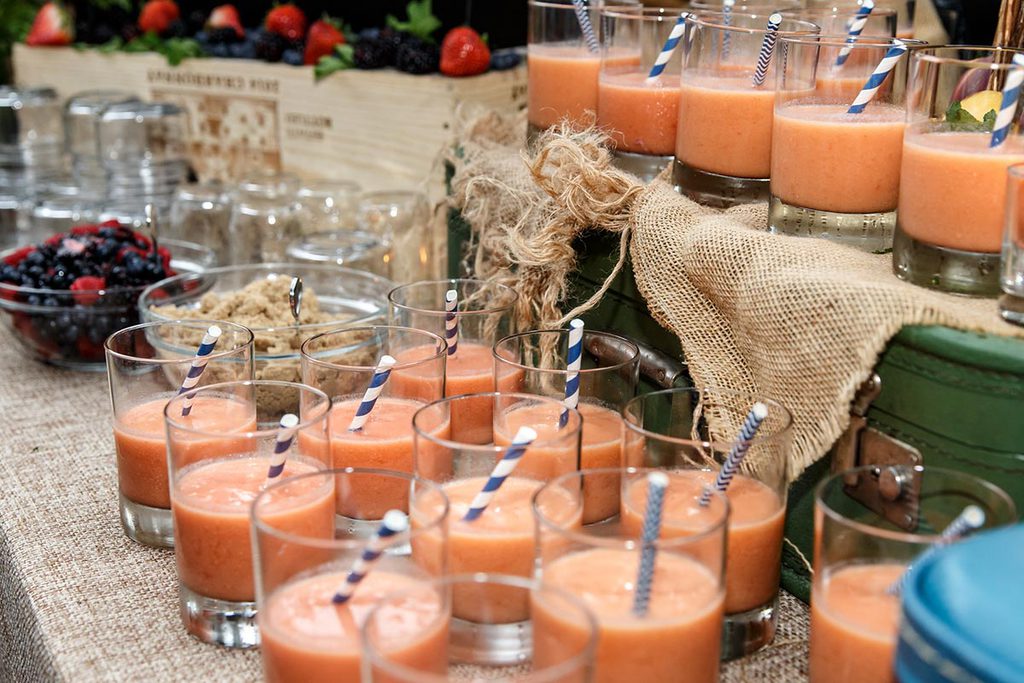 To kick things off, Jill Waage, BHG Executive Editor, and Stephen Orr, BHG Editor-In-Chief, announced the Stylemakers magazine, which will publish four times a year.
The morning keynote was Grace Bonney from Design*Sponge with Stephen Orr.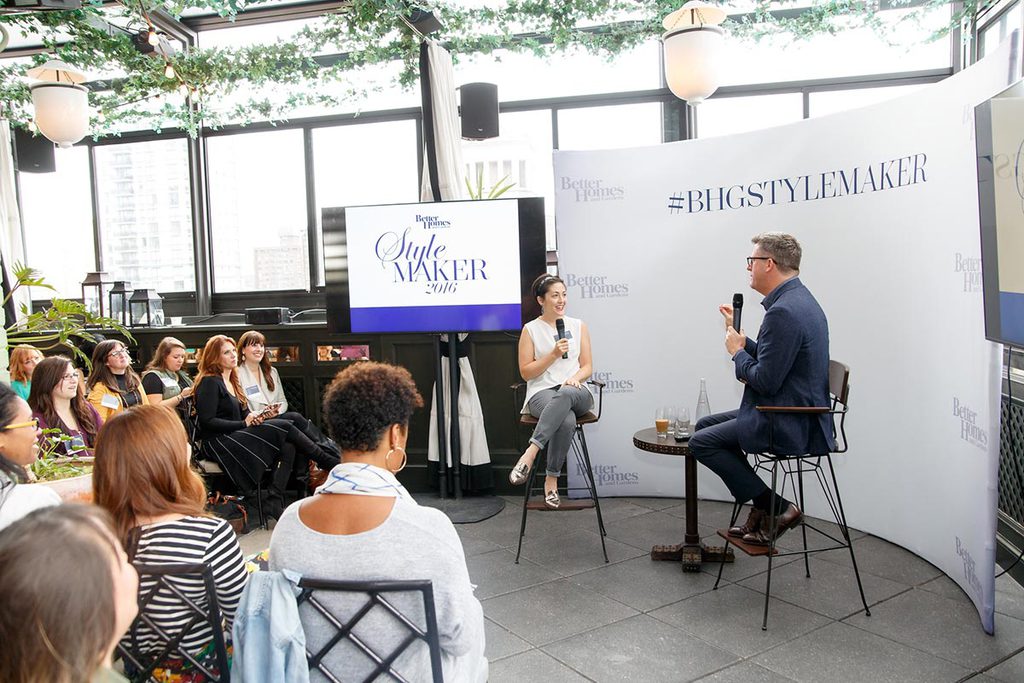 My favorite session was Flower Powerhouses which was hosted by the amazing Eddie Ross. The flower powerhouses were Frances Palmer, Emily Thompson, and Erin Benzakein. You know I'm really a 70 year old gardening loving woman deep down, so listening to these ladies talk about florals was a treat. I may or may not have texted Brad during the session and said, "I will have a cutting garden at our next house."
After the session was over, I asked Erin, who you should definitely be following on Instagram, if she could help me identify a variety of peony I grow. She couldn't tell me the name of it but gave me a website that could help. Annnd she also complimented my peony growing skills.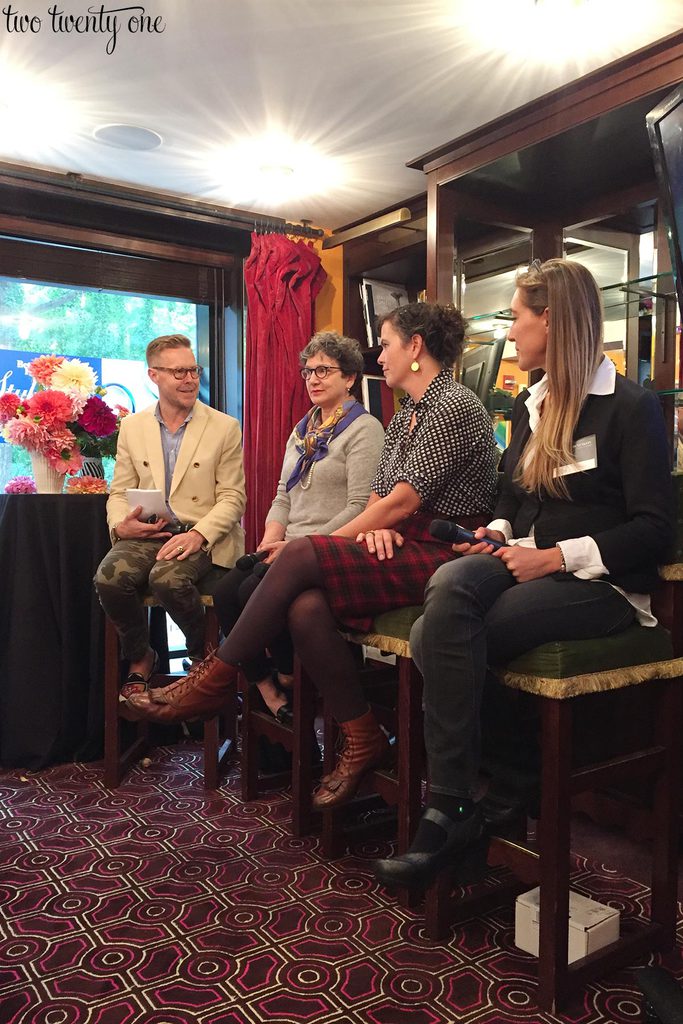 I love me some Eddie Ross. He's another one of my IG faves. If you haven't already, put his gorgeous book on your Christmas list.
Also, I look pregnant in this photo, but I'm not currently with child. And now I'm questioning every time I've chosen to wear that dress.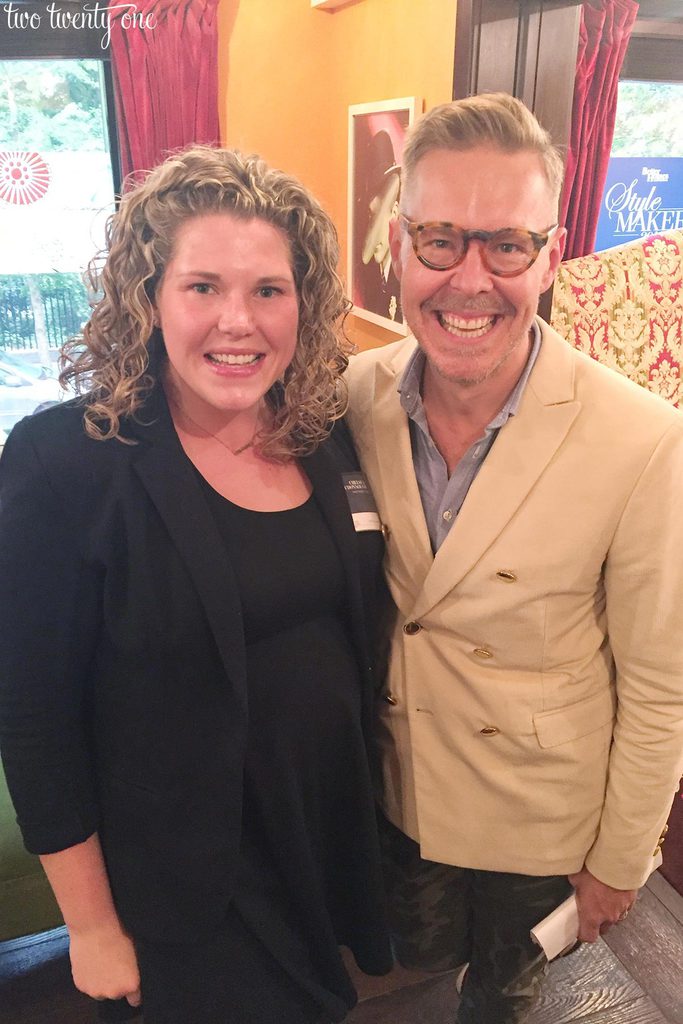 The food styling at the event was impeccable.
I now require all my meals to be displayed on top of wooden crates and burlap-draped vintage luggage.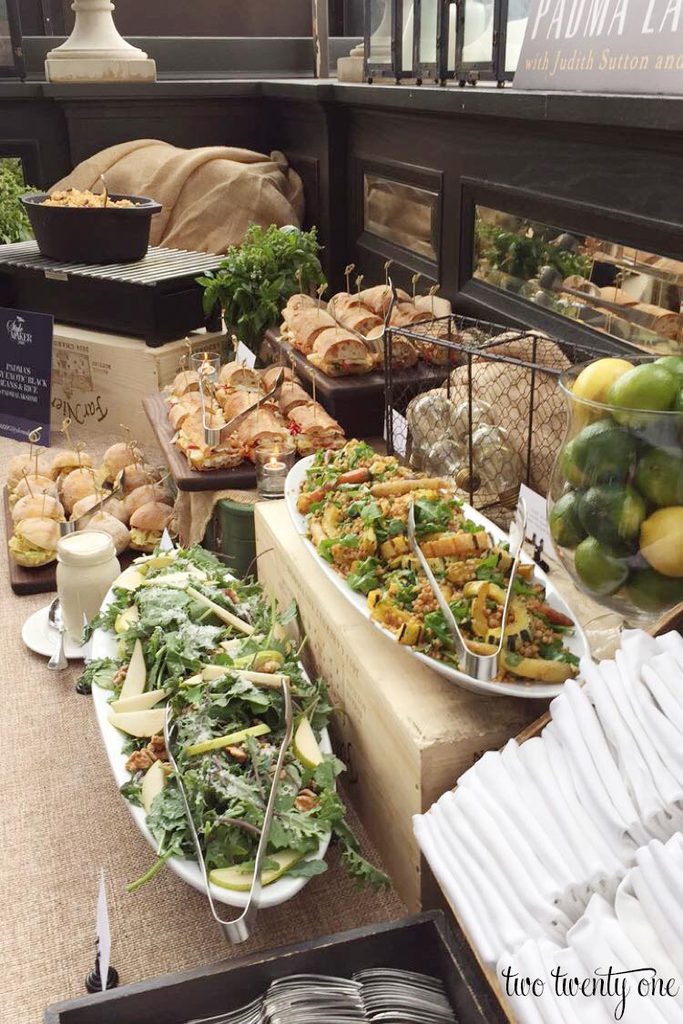 Excuse me, but who's that tall glass of water is in the lower left corner?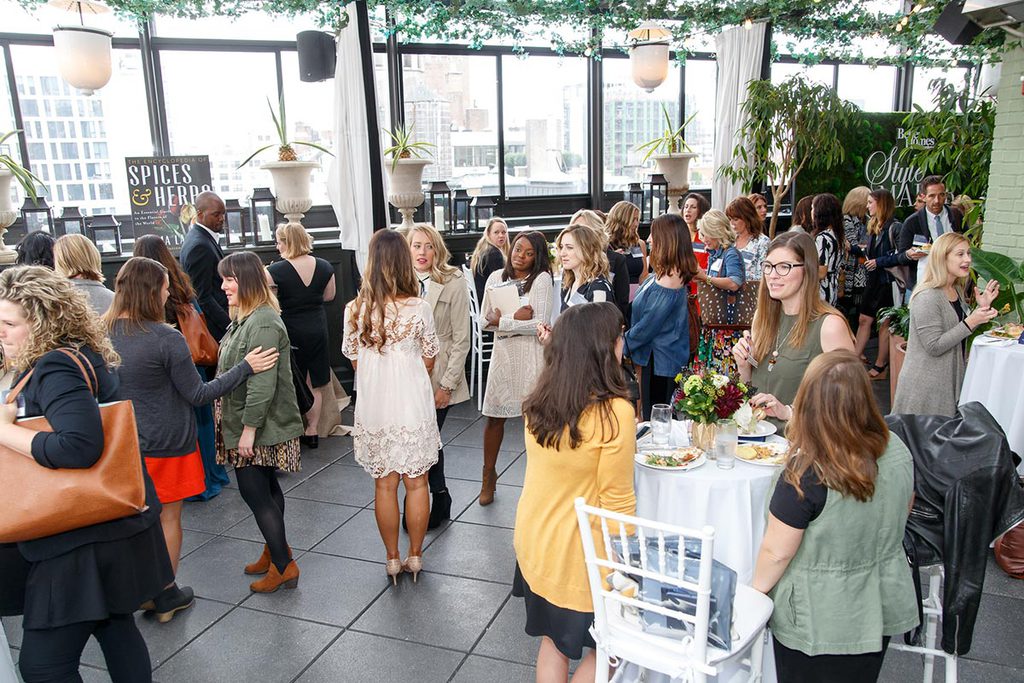 This is what it looks like when you attend an event with bloggers. We're either on our phones, or looking at others' phones. Blogging is basically a disease where you become addicted to the feeling of having a mobile device in your hand.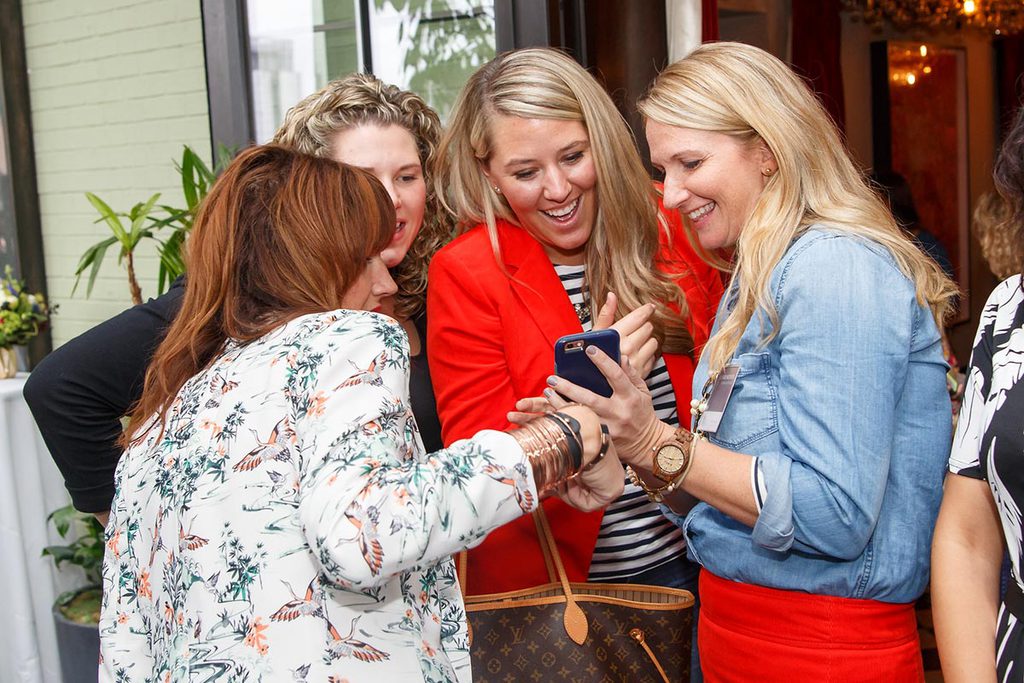 Again, the food was beautiful.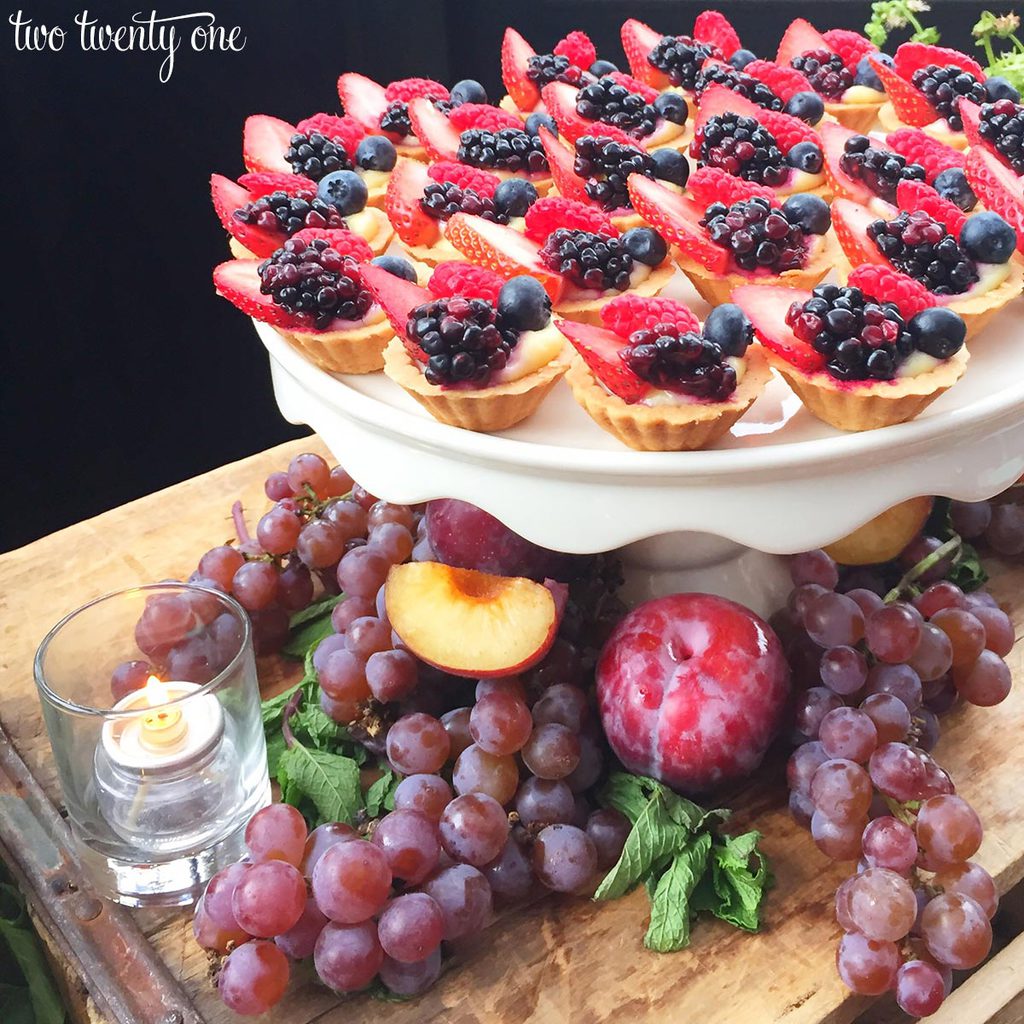 The only thing missing from this drink was vodka.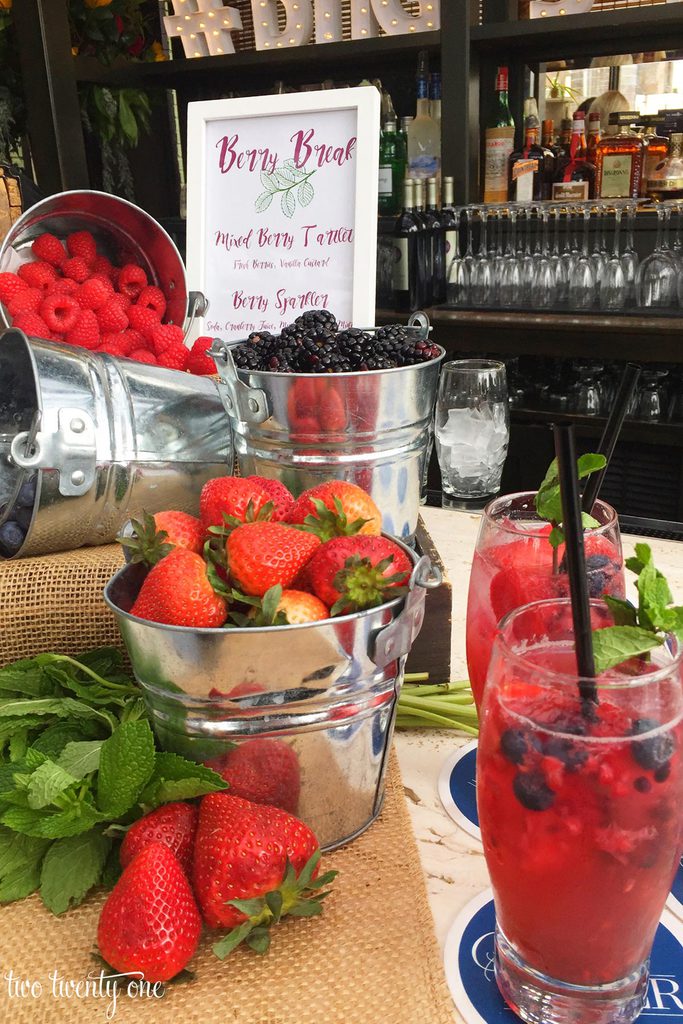 The afternoon keynote was Padma Lakshmi, host of Top Chef, with Joe Yonan from the Washington Post.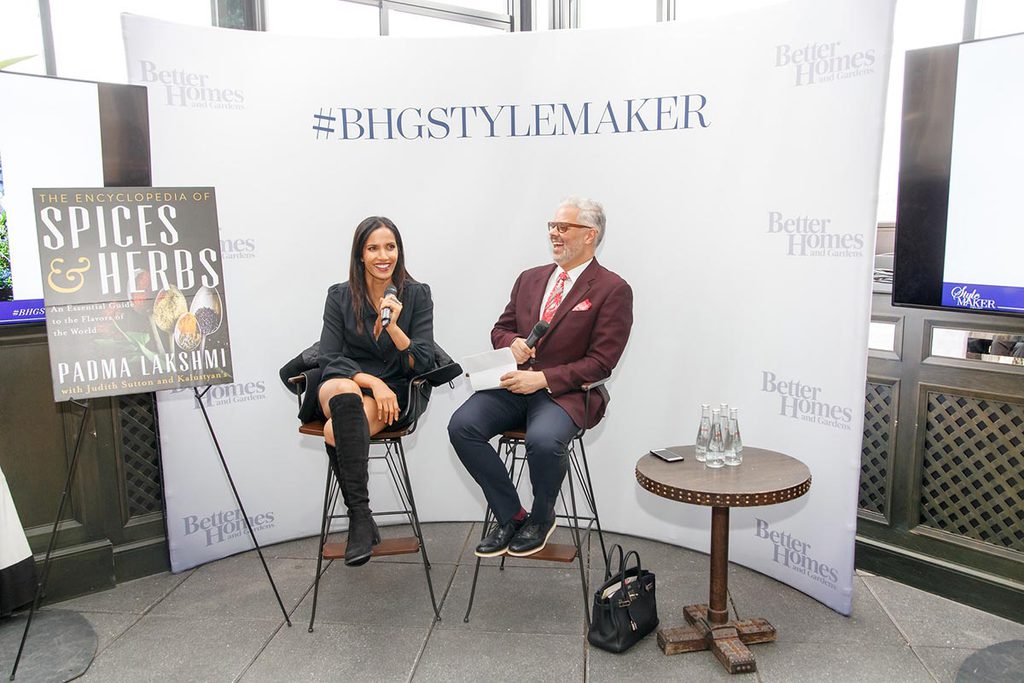 And up until this point I was doing so well. So well, you guys. I had only said or done a couple slightly embarrassing things. I was so proud of myself. And I even posted this photo and caption on Instagram and Facebook. A few hours before what I'm about to tell you, I had even posted this photo and caption on IG and FB. I was even starting to think, "Man, this is going to be a boring recap post." I shouldn't have mocked the universe.
Right before the keynote started, Jamie said she was going to get something to drink with caffeine because she was starting to drag. I agreed and asked her to grab me a Diet Coke. She came back, handed me the Diet Coke, and the keynote started. A couple minutes into Padma's keynote, while everyone is attentively listening to her and Joe, I decided to open the aluminum bottle and take a drink.
I don't know how it happened, but after twisting the cap partially open, I dropped the bottle on the hard tiled floor.
There was a THUD followed immediately by POP and a SHHHH sound. Then, the bottle began rolling down the aisle with the head of the bottle pointed directly toward the bloggers sitting across from me. They started to shriek and squawk as the Diet Coke sprayed them like a moving, busted sprinkler head.
At this point, everything was in moving in slow motion for me. A million things were running through my head:
"OMG, why is this happening?!"
"What if I fall out of my chair in front of all of these people as I attempt to grab this explosive bottle of carbonated beverage?"
"Should I just throw myself on top of the bottle so it'll stop spraying everyone?"
I managed to grab the bottle, while staying in my seat, by putting my hand on the top of the bottle to stifle the fountain of Diet Coke. In the process, I started to spray myself. Later, some people said they couldn't believe how fast I was able to grab the bottle. While Jamie, who was sitting next to me, said it felt like it went on for eternity.
After the carnage everyone, EVERYONE was looking at me with shocked looks of "WTF just happened?" or most likely, "WTF, Chelsea?" While I profusely apologized to the four women I just doused with pop. Thankfully, I consider all of them to be my friends so they knew it wasn't intentional.
Then, Padma said, "Mazel!" followed by a brief synopsis for the people who couldn't see what had just happened and couldn't understand why women were screaming.
In the meantime, one of the BHG editors ran some napkins to me, and I said, "Thank you but give those to them (my victims), not me."
The aftermath: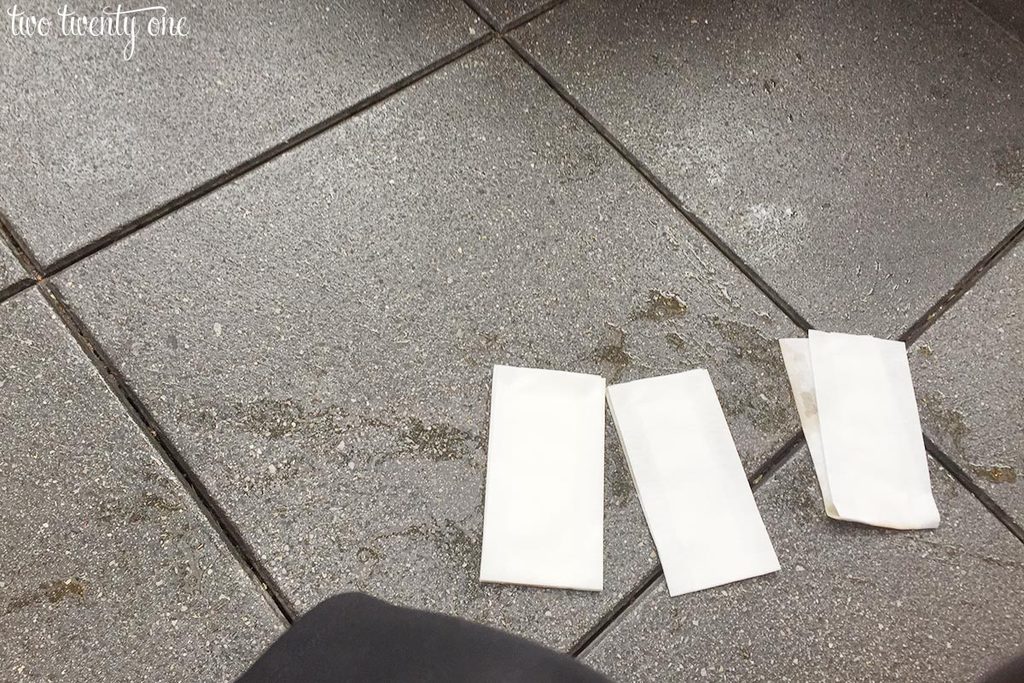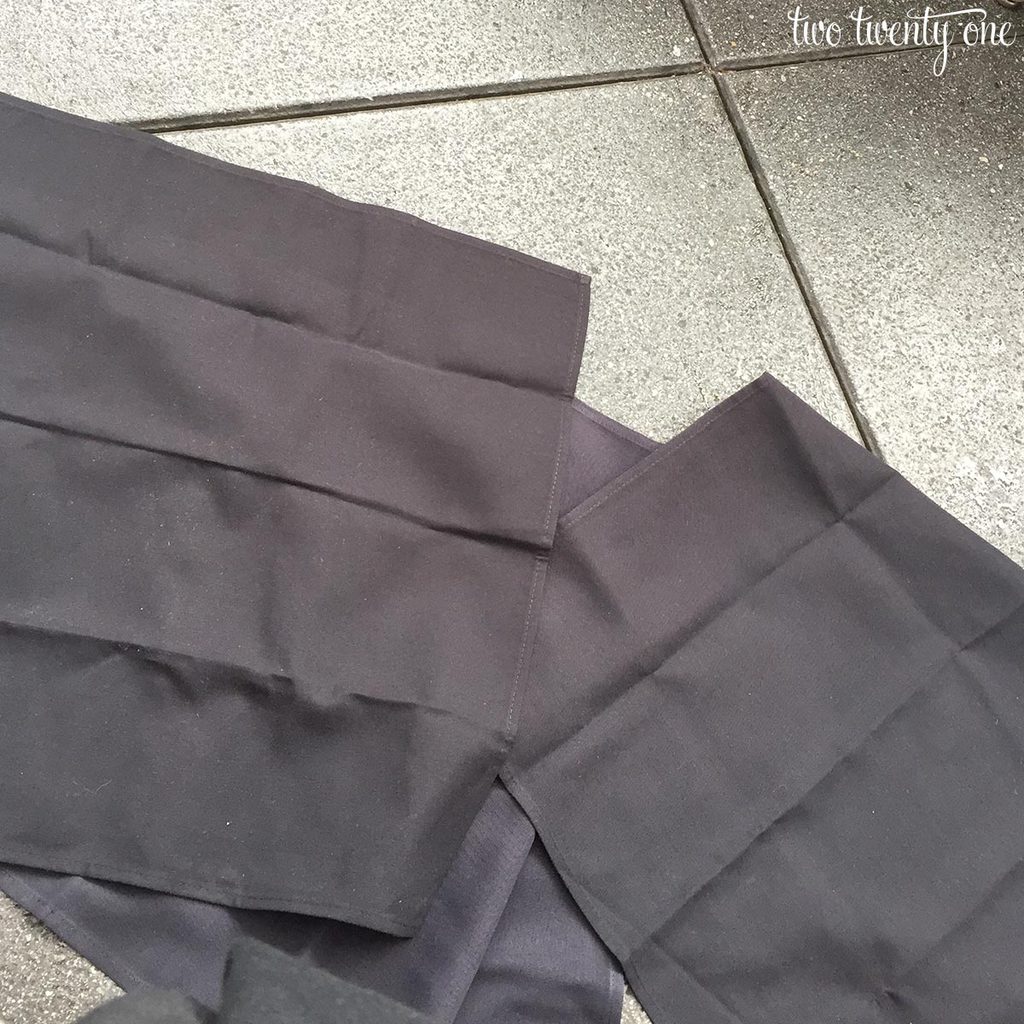 Then, Jamie whispered to me, "I promise I didn't shake that up before giving it to you."
I know this wasn't the most polite thing to do when I was supposed to be listening to the keynote, but I had to tell someone what I had just done. So I texted Brad, who wasn't feeling well and was attempting to take a nap, my best friend, and my friend, Jen. Here are the conversation excerpts.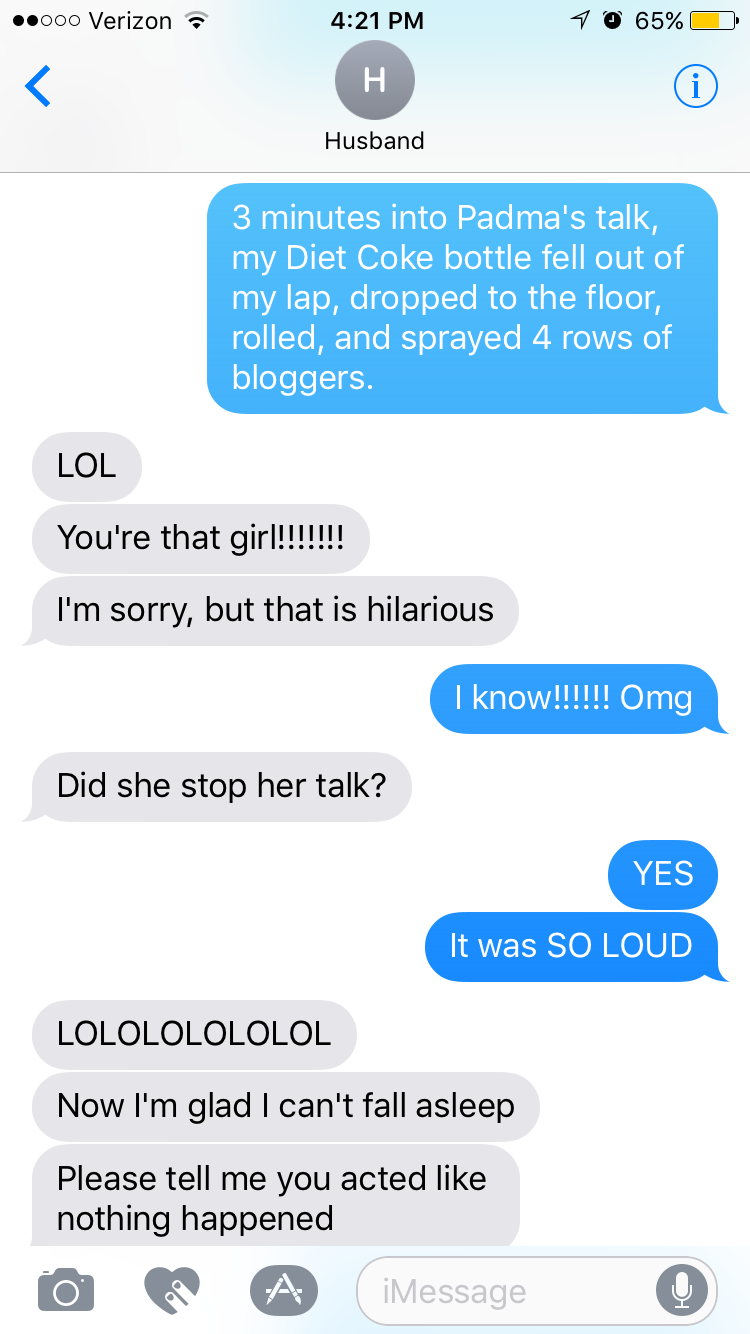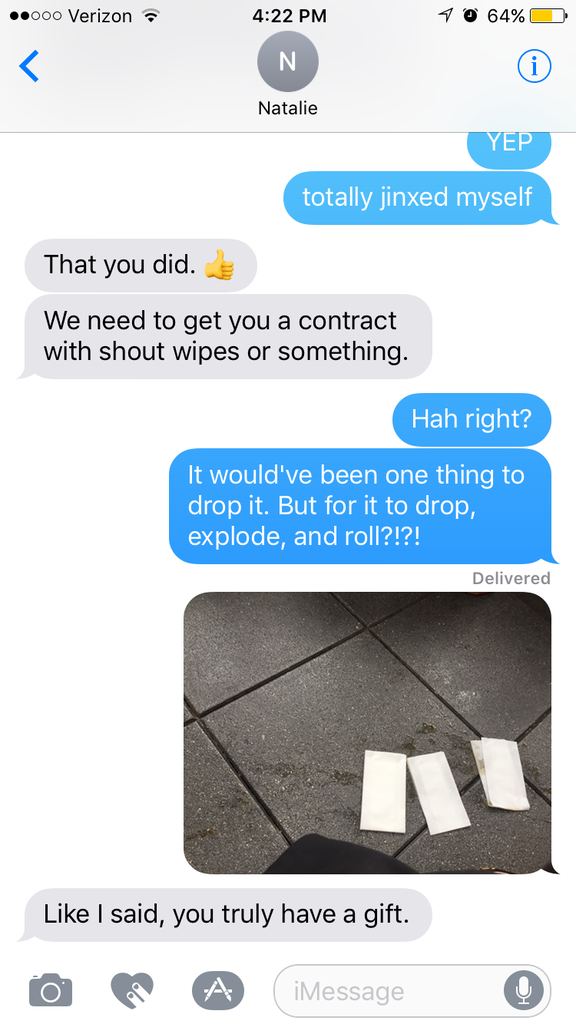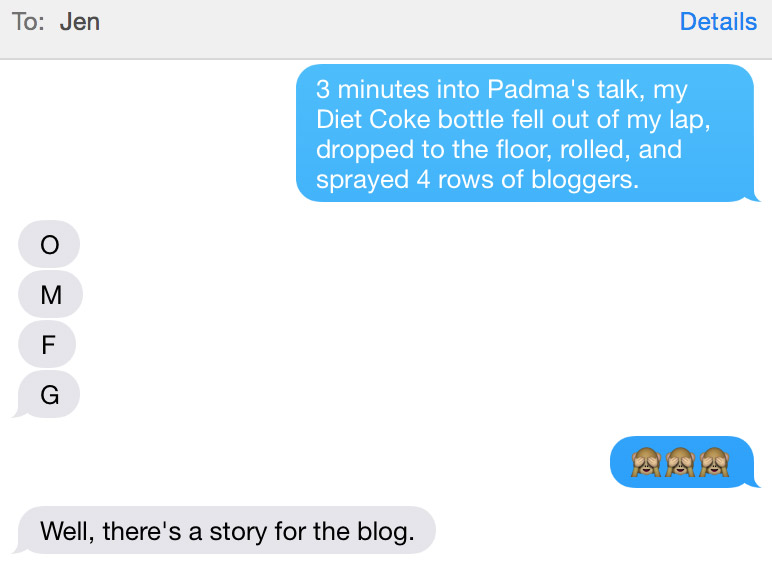 Like the plane incident from last year, I kept replaying the events in my head, and I'd started to silently laugh to myself. Later, one of the bloggers who involuntarily participated in my Diet Coke wet t-shirt contest said it was one of the most hilarious things she'd been apart of.
After the keynote, there was an hour-long break for people to freshen up before the cocktail hour. Then, we all headed back to the terrace for a couple hours of cocktails.
 I swear I'm not a giant. And Taryn definitely wasn't needing to look up at me while I speak. She was totally looking at the skyscraper out the window behind me.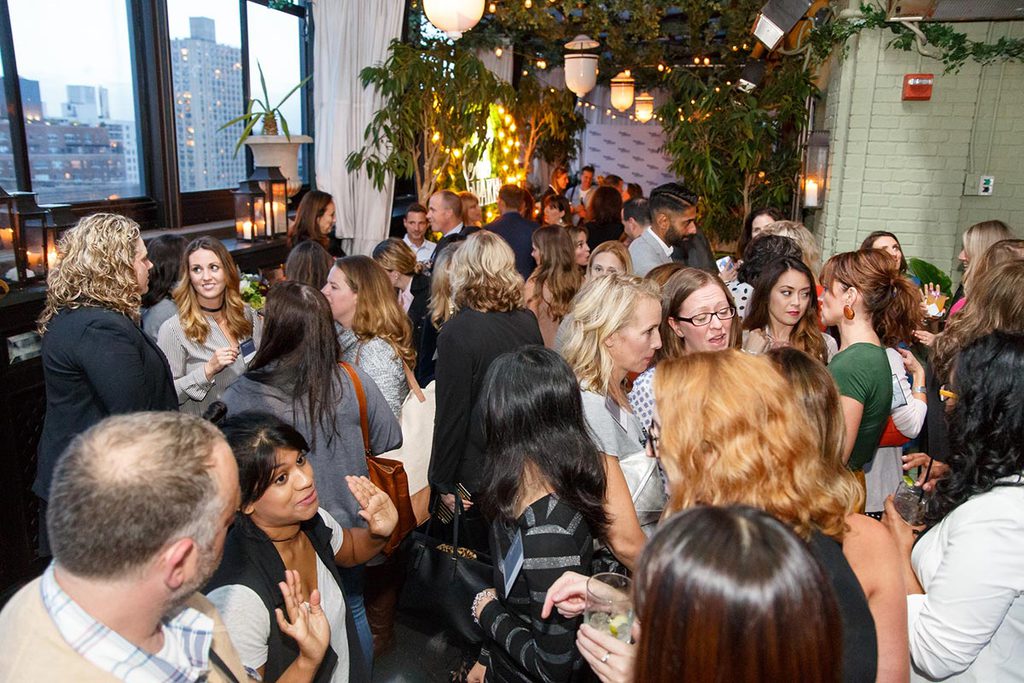 The photographer captured this moment perfectly. I looked up and Padma was just staring at me and smiling, so I obviously smiled back because I started to feel awkward for her. I think it was making Taryn feel uncomfortable, too.
(Just kidding, I have no idea what any of us were smiling about.)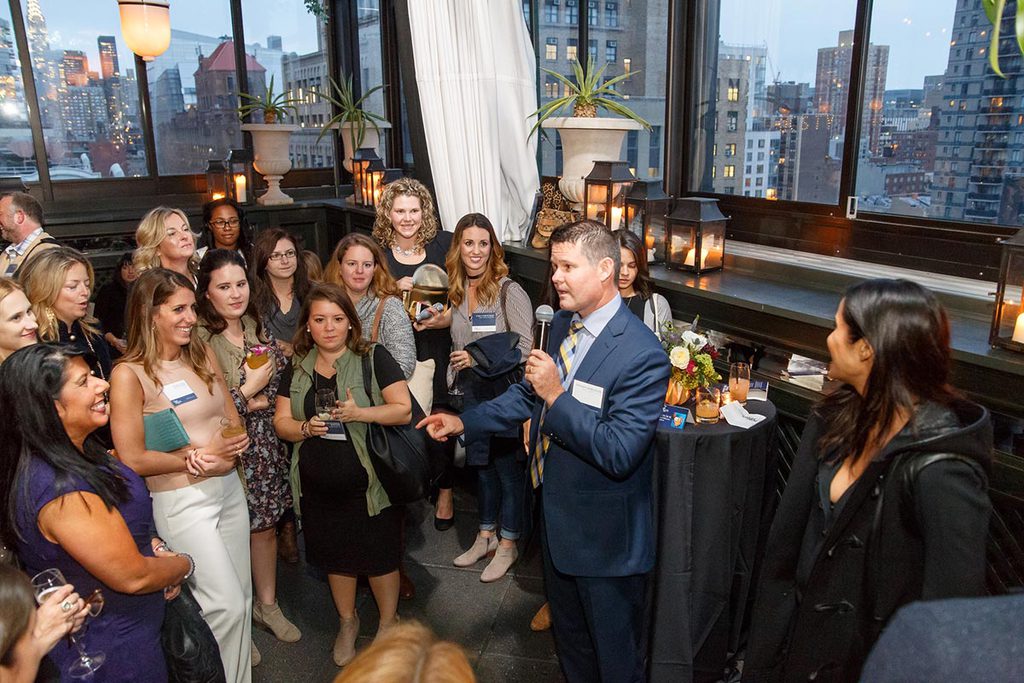 Then it came time for people to line up and get a chance to say hi to Padma and snap a pic with her. I'll never turn down a pic with a celeb because it legitimizes me to my real life friends who still think my blog is some sort of online diary.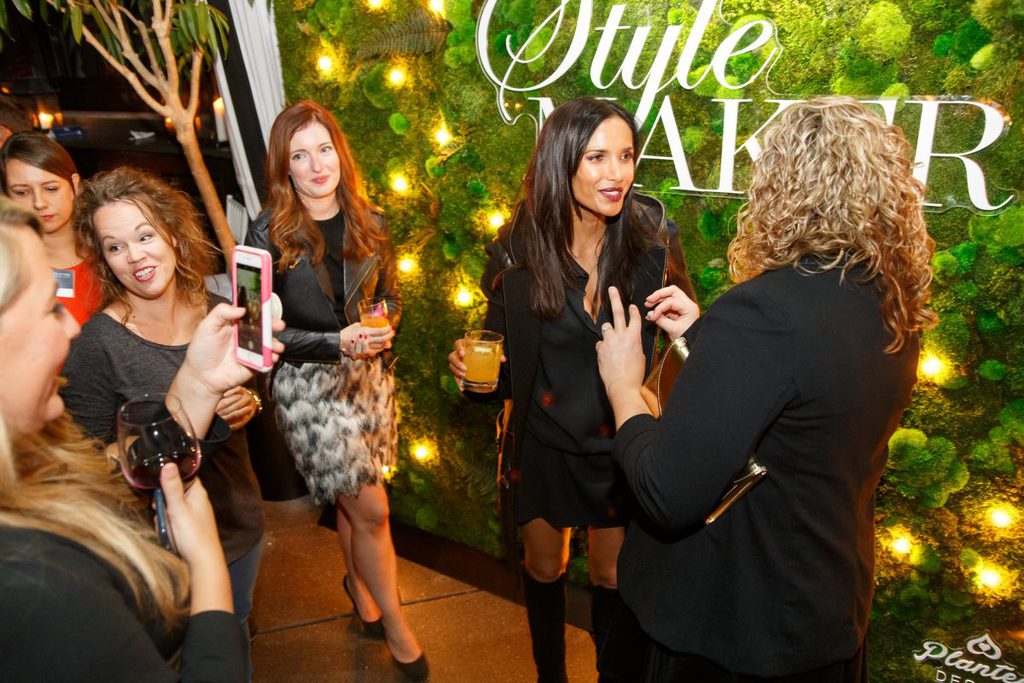 Here's how it all went down.
Me: "Hi, I'm Chelsea. I'd like to apologize for interrupting your speech this afternoon."
Padma: *perplexed look*
Me: "I'm the exploding Diet Coke girl."
Padma: "Ohhh! That was you!?"
Me: "Yes. Yes, it was."
Padma: "I'm always doing things to embarrass myself. I'm always tripping and falling down."
Me: "Oh yeah, me too. But the hilarious thing about the whole Diet Coke thing is that last year on my flight to this event I went to open my water bottle and it started to spray all over everyone around me. I basically created an impromtu wet t-shirt contest in aisle 13."
Padma: *laughs* "Oh, so this your schtick."
Me: "Basically."
Padma: "Well I thought it was a great ice breaker. I felt like the atmosphere was more relaxed afterward."
Me: "Oh, you're welcome. I actually meant to do that so you'd be more comfortable."
As I was talking with Padma, Sarah was snapping photos. And I know how much you enjoy my gifs. So I made one so you can see what it looks like to have a conversation with me.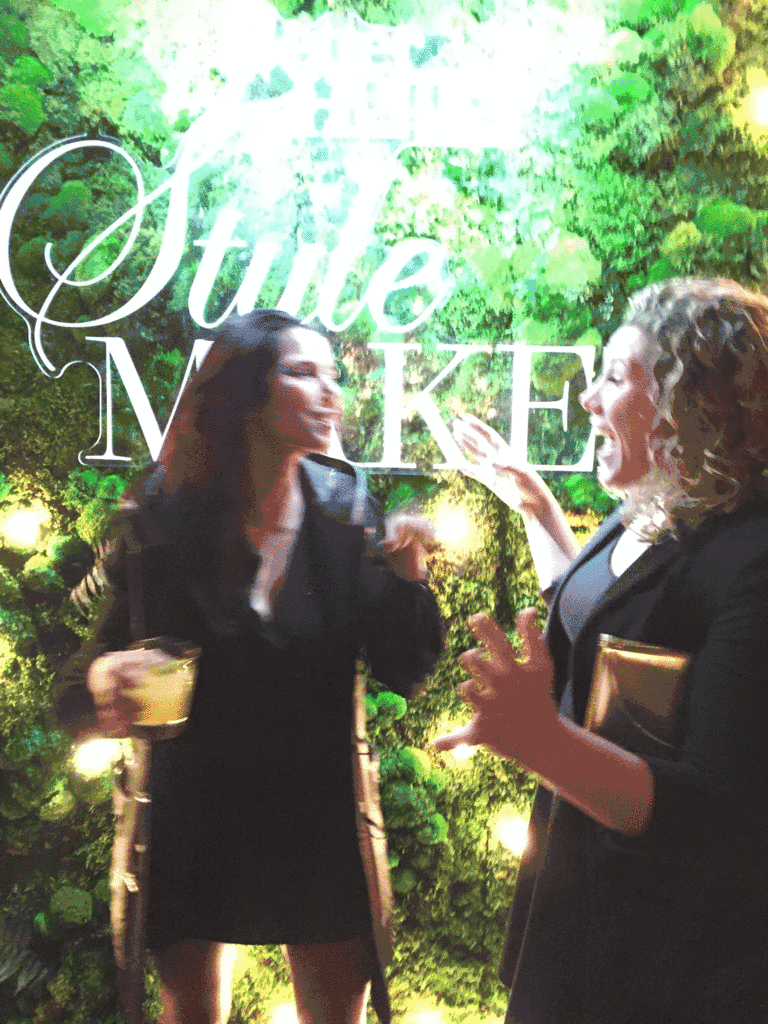 As you can see, I was honored to have my photo from last year splashed on these info tents that were displayed all over the event. (I did a little Photoshopping so you could actually see the photo.)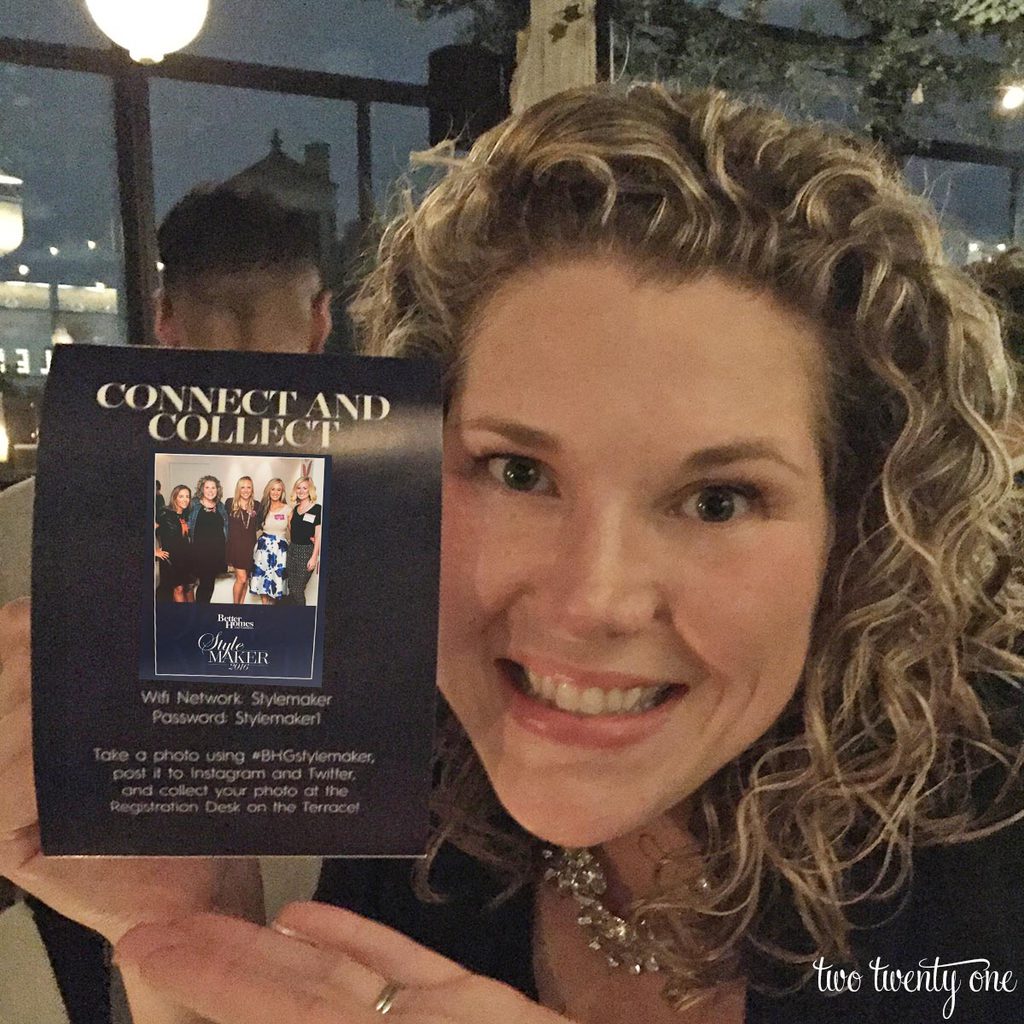 And for fun, here's some selfies of me with a couple of my blog friends.
Kelly and me.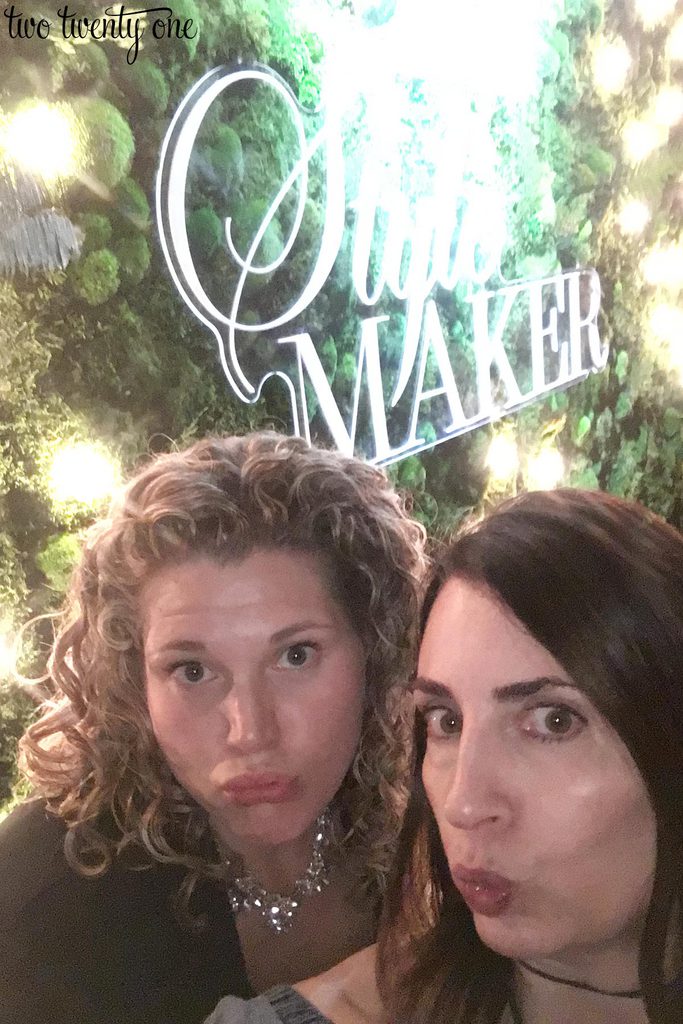 The professional photographer took this awesome photo of Charlotte and me.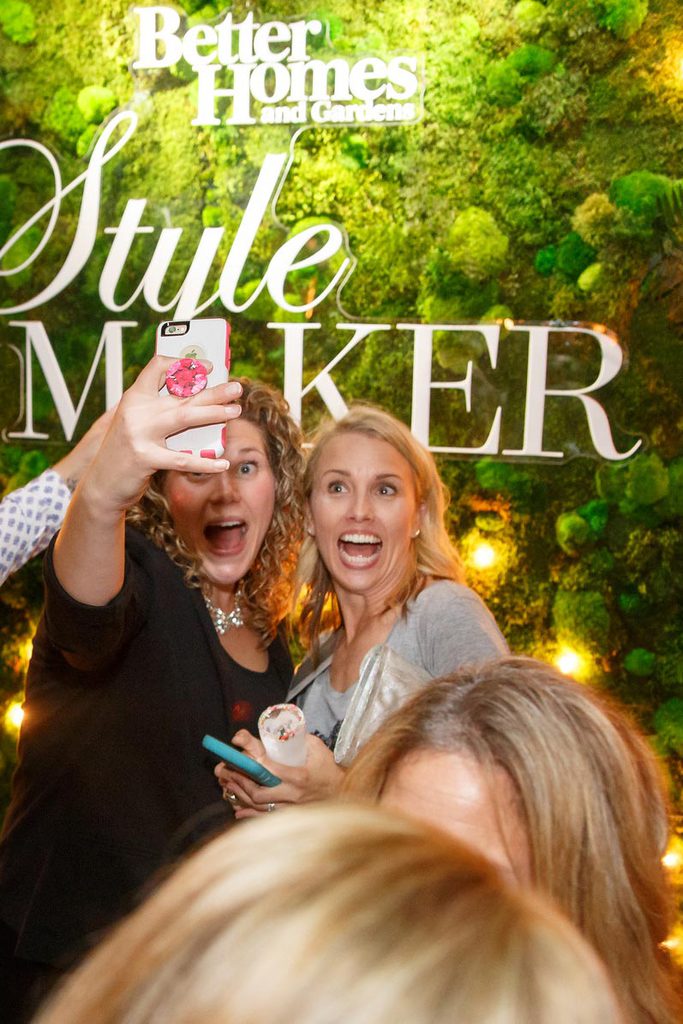 Here's how the photo turned out. (Keep in mind I was using the front facing camera so that's why it's reversed.)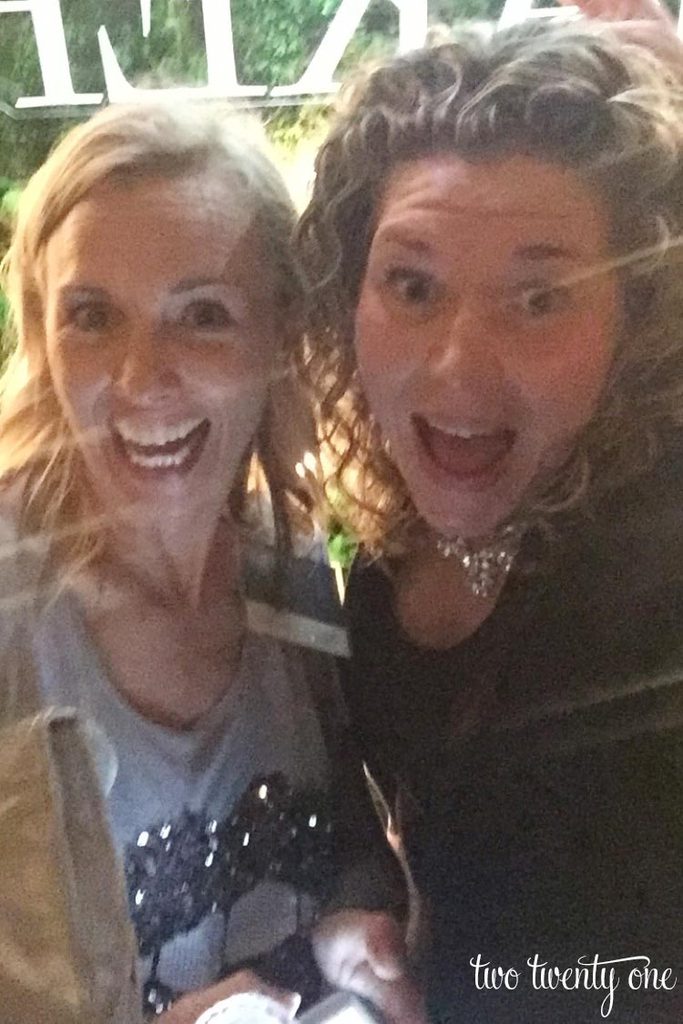 There was a private shopping event and champagne brunch at the Soho Crate and Barrel on Friday morning, which was a lot of fun. It was also Jamie's 40th birthday! Unfortunately, we didn't get up in time to go to Rockefeller Center to hold up a sign on the Today Show.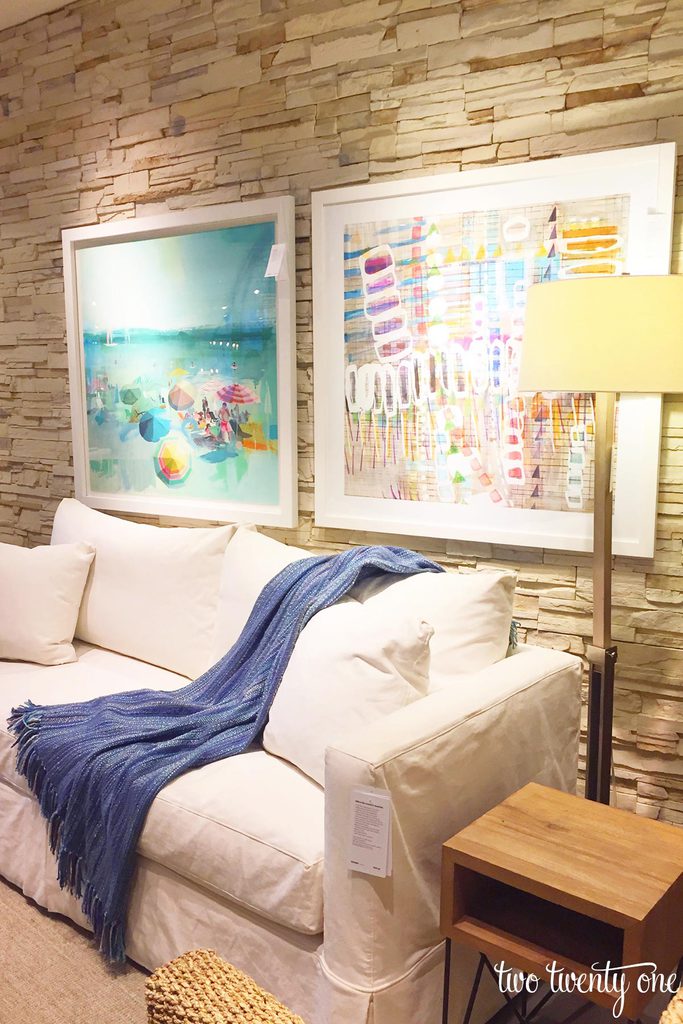 I even managed to recreate my Anthropologie incident from last year. But this time it was a picture frame instead of a candle. Thankfully, the picture frame didn't break.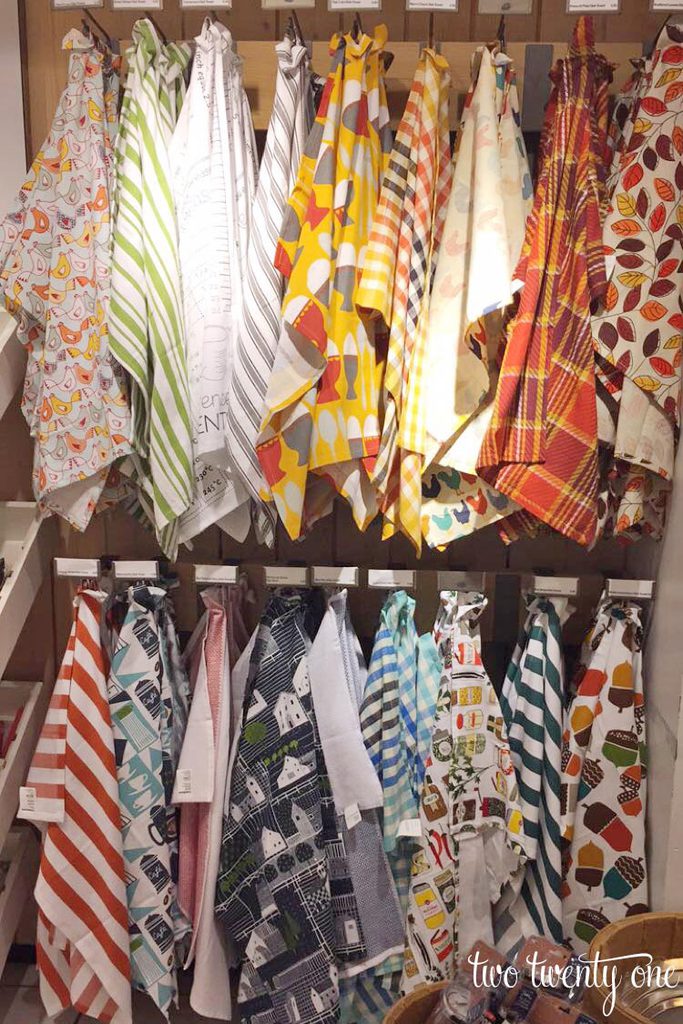 I purposely chose one of the later flights on Friday so I could spend the rest of day seeing more things. Apparently Mother Nature had other plans for me because it rained all damn day. We didn't see much because it wasn't very fun being outside, but Jamie and I managed to make it to Times Square to buy some souvenirs for our families. And to make things worse, flights were getting canceled and delayed.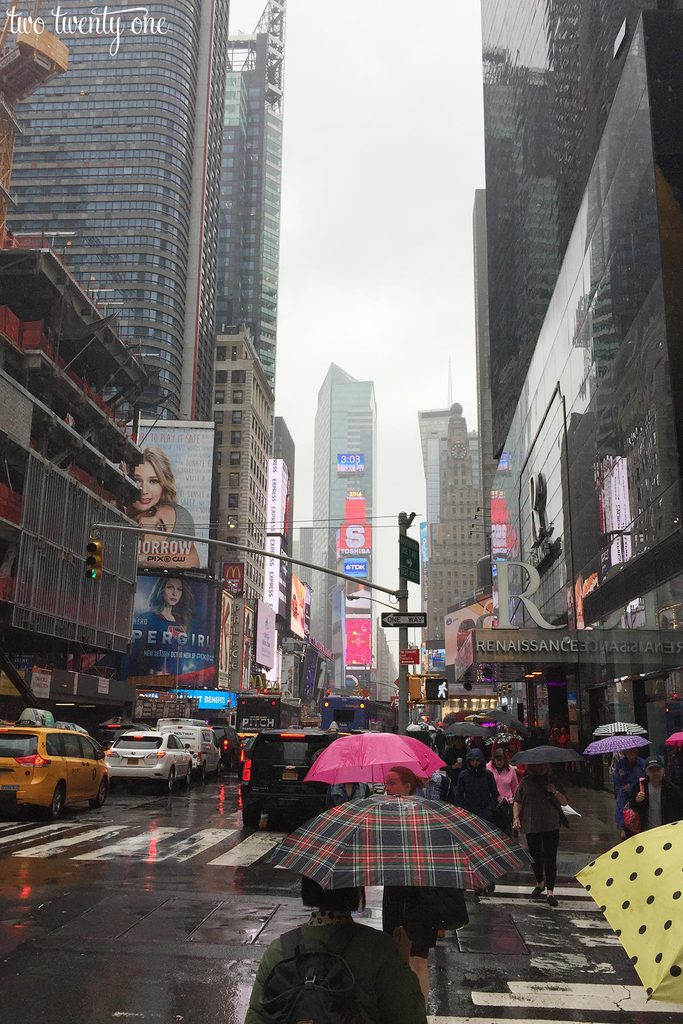 My flight ended up being delayed, and Jamie's was canceled. She ended up booking another night in the hotel.
The nice guy at the front desk of our hotel had a bottle of wine brought up for us.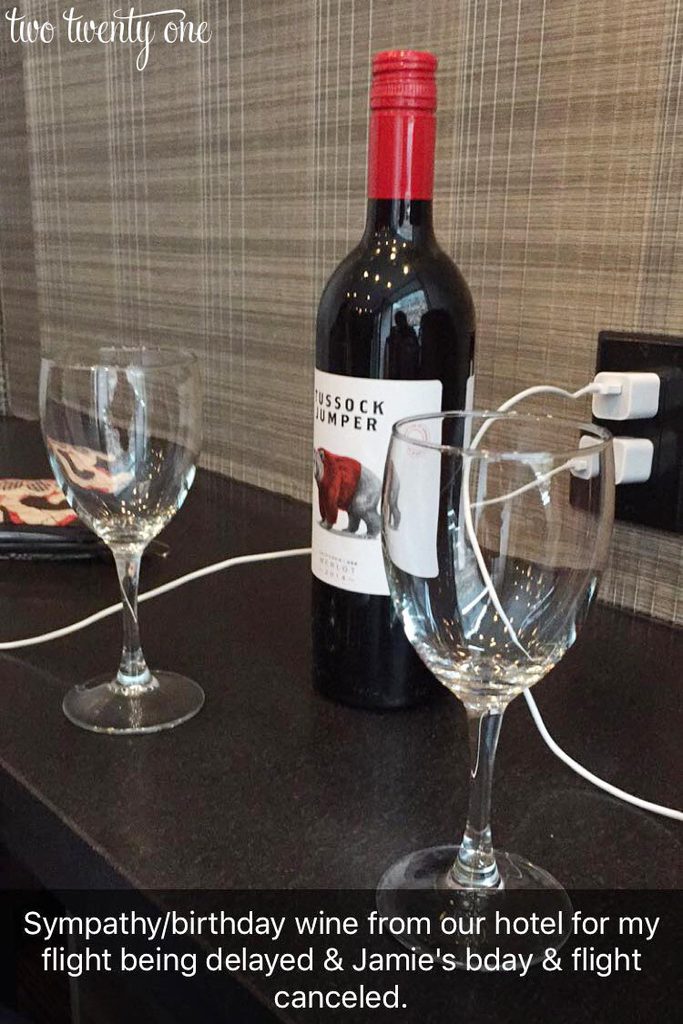 When I got to the airport after the most expensive uber of my life ($84!), the ticket agent said there was room on an earlier flight but my bag would most likely not make it onto that flight. So I would get to the Indy airport and have to wait for my bag. While I was making my decision she said, "Oh, the window closed. I definitely can't get your bag on that flight now." I was fine with it because I already had it in my head that I would be flying out of New York at 10PM. Well, I ended up flying out at 10:30, and right when we landed I got a notification saying that my bag was waiting for me at the Delta baggage claim office. It had made it onto the earlier flight.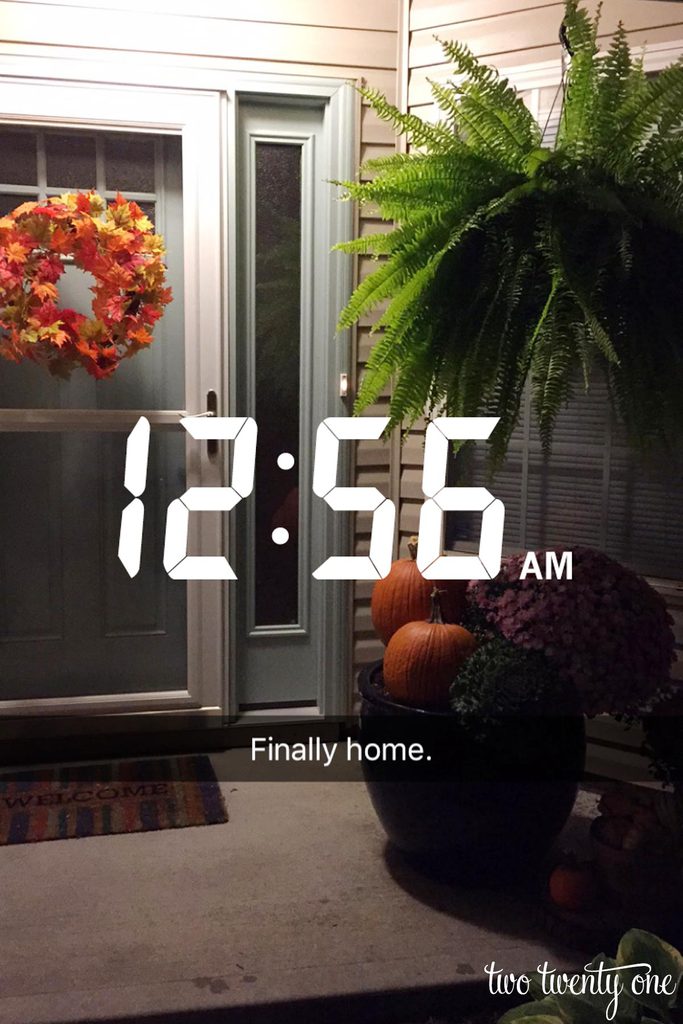 So my bag had time to be searched by TSA AND make it onto the earlier flight. Flying is so much fun!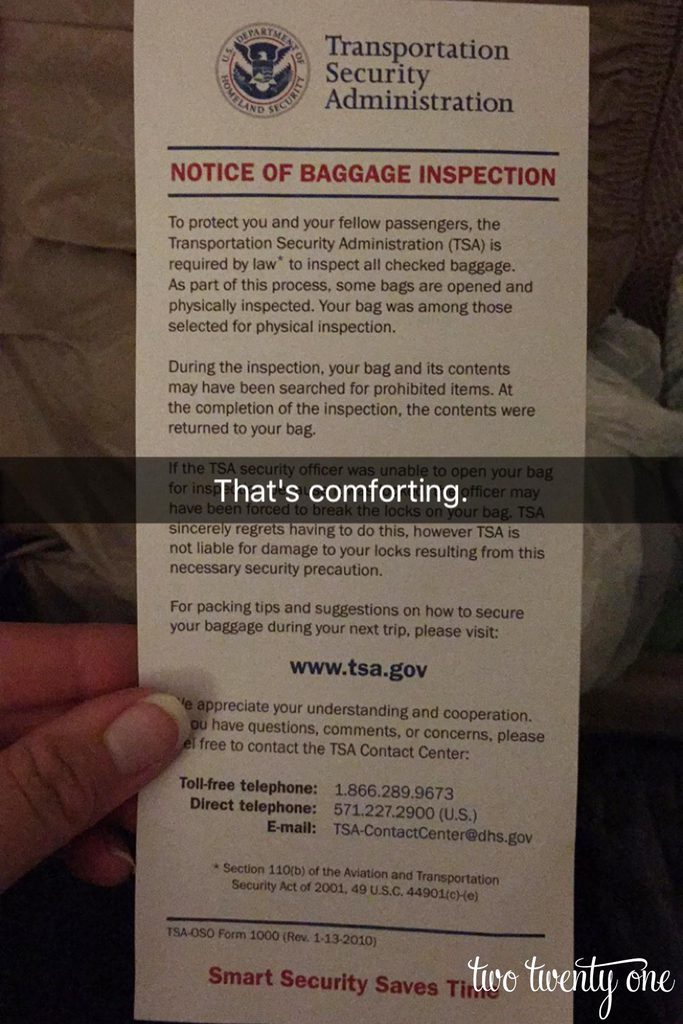 In case you're wondering about what I wore to the BHG Stylemaker event, the blazer is Target circa 2012 (similar), the dress is Old Navy circa 2012, the leggings are my favorites and they come in sizes XXS-XL and 1X-3X, faux leather tote is from here, and the gold clutch is vintage.
All photos without a watermark were taken by David Keith Photo.
All photos with a watermark were taken by yours truly's iPhone 6.