Pregnancy, The Nursery, The Nugget, And More!
Recently, people have asked various questions about various topics so I thought I'd address everything in one giant word-filled post. So get your spectacles ready.
Pregnancy
I'm currently 33 weeks preggo, and things are cruising along. My doctor keeps telling me this is a "solid pregnancy". My blood pressure is good. Weight is good, although I always disagree when my doctor says this. I passed my gestational diabetes test with flying colors. The only minor issue is my hemoglobin level, which is slightly low so I've had to add an iron supplement to my daily prenatal vitamins.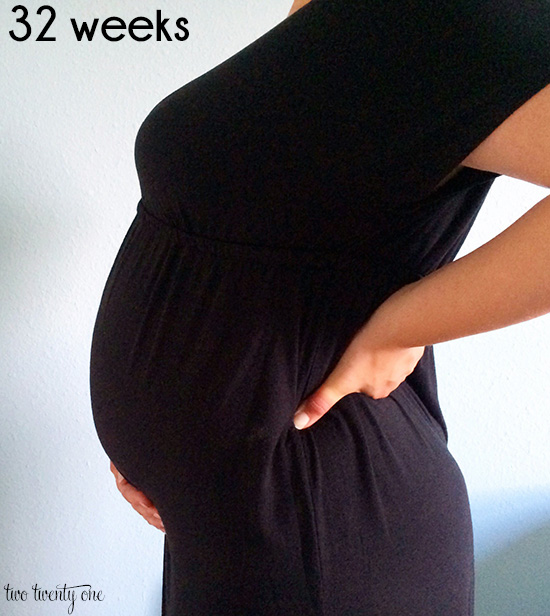 The nugget is doing well. He's measuring 9 days ahead and is head down. He gets the hiccups almost daily and prefers to move around in the early morning, late afternoon, and from 11PM-1AM.
While I can't say that I love being pregnant, the only symptoms I can complain about are the swelling/water retention (thank you, summer heat and humidity) and Carpal Tunnel. Seriously, Carpal Tunnel is no joke. I wake up throughout the night because my hands hurt so badly. Sometimes I have to get up, walk around and shake my hands to get the numbing, tingling pain to go away so I can go back to sleep only to repeat this in a couple hours. I'm pretty sure it's the nugget training me for multiple middle of the night wake up calls.
I live in maxi dresses and yoga pants. I haven't purchased any maternity clothing. I can still fit into most of my pre-pregnancy clothes, but if needed, I just go up a size. But I haven't bought many new clothes since getting pregnant. And while these maxi dresses aren't the best quality (they pill easily), they're good enough for me for now, especially when they're on sale.
Nugget's Nursery
If you've been holding your breath for a nursery reveal sorry you've passed out by now. You might as well breathe because I won't be sharing the reveal until after the nug is born.
Why am I torturing you so? Well, two key pieces of furniture for his nursery won't be delivered/ready to be picked up until a week before his due date. Brad and I went to order the glider when I was 27 weeks, thinking that it would take 6-8 weeks for the glider to come in because that's typically how long it takes for furniture to be made. But no, apparently it's a special, fancy glider that takes 12 weeks to produce. So keep this little tidbit in mind when ordering items for your nursery. There was also an issue with the crib so we won't be getting that until early-August. Since these are key components to the nursery it wouldn't make sense to do a reveal until they are present.
What has been completed in the nursery thus far? I painted the room a couple weeks ago so we can check that off the list. Brad put together the shelving unit for the closet and the dresser/changing table on Father's Day. My mom and I started on the blackout curtains over the weekend. And that's it. I obviously have things that need to be hung but the placement of some of these items is dictated by where I end up putting the glider and crib in the room.
So here's my plan, which can always change because babies are unpredictable, yet adorable, little beasts. I plan to do a big nursery reveal after the nugget is born. Then, I'll do other posts about other aspects of the nursery– how the blackout curtains were made, organizing all the baby stuff, etc. I'll work on a lot of this before he's born so I can take a mini maternity leave from the blog after he's born. The plan is to have posts written and scheduled to publish so I don't have to be photographing, editing, and writing with a newborn dictating all aspects of my life. So know that after he's born, I will be posting and monitoring the blog. I just don't want to be scrambling to write posts while learning the motherhood ropes. I hope to stick to the regular Monday, Wednesday, Friday schedule but please don't come after me with pitchforks if I go down to two posts a week for a little bit. I run this blog 100% on my own– I don't have contributors, a ghost writer, or an assistant so please cut a sister some slack if I skip a few posts. I may have some guest bloggers squeezed in here and there but I'll try my best to make it fun and not boring.
Nugget's Name
We're not revealing the nugget's real name until he's born. But don't feel left out, we're keeping it a secret from our family and friends too. We figure we'll keep something a true surprise.
I plan on sharing his first name on the blog but that's it. I've debated calling him a nickname in order to protect his identity (I watch way too much nightly news and think the world is filled with creepers) but I think it'll be too hard to keep that under wraps. But you never know, the name I say is his name could be a fake name… Tricky, tricky.
The Nugget, The Blog, And Social Media. Oh my.
Brad and I are still in talks about out how much I'll share about the nug on the blog and social media. He's Brad's kid too so he gets a say in all of this. We have decided that when I share photos of the nug, whether on the blog or social media, I'm going to have my watermark plastered on them. I hear way too many stories about psychopaths stealing photos of bloggers' children and claiming that they are their own children. Seriously, who does this? So if you hate watermarks, I'm sorry– you'll have to deal with it if you want to see images of my kid. I know watermarks won't necessarily stop deranged people, but I'm hoping it will deter them.
Preparing for The Nug
Brad and I have taken three classes– labor & delivery, newborn care, and breastfeeding. We interrogate meet with our potential pediatrician today. I got my Tdap (tetanus, diphtheria, pertussis) shot a few weeks ago, and Brad will hopefully get his today. Our family members and closest friends have been instructed to make sure they're up-to-date on their Tdap vaccine.
We're done traveling on the weekends (we've been out of town 3 out of the 4 weekends in June) so we can focus on getting projects done around the house and to give my swollen ankles and feet a break. They tend to puff up considerably after long car rides even with super sexy compression socks and stopping and walking around.
We still need to get some crucial items– crib mattress, carseat, stroller. But we'll hopefully check those off our list in the next couple weeks. I still need to pack my hospital bag. I'm taking suggestions on what I absolutely need to bring. Fill me in in the comments section, mommas.
Jack And The Nug
I've been reading a lot of articles to get ideas on how to prepare Jack for the nugget's arrival. We're starting to do some things now and will continue to do so until our new roommate arrives. If what we do seems to work I'll definitely do a post about it. If Jack has major issues with his new brother we intend to hire a trainer to work with us and Jack. We would never give up on him without trying every possible thing first.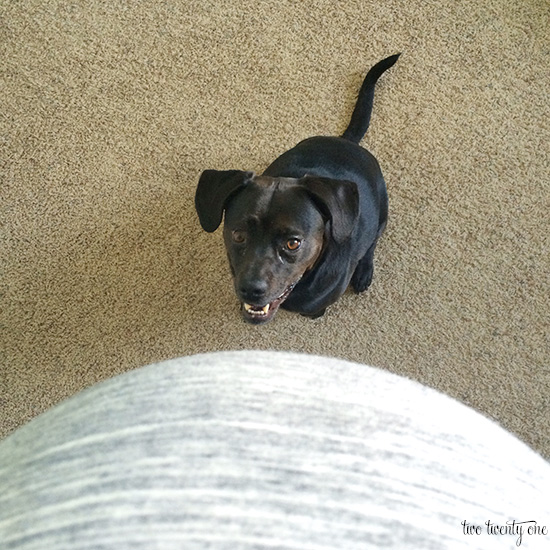 Alright, that's about it. I hope you all will support the decisions I have outlined in this post. If not, too bad– keep it to yourself. (I say that with love.)
So, what do I absolutely have to pack in my hospital bag?