Favorite Feeding Products + Some Tips
I've gotten a lot of questions about the feeding products we use with Owen so I figured I'd just write a post about the topic.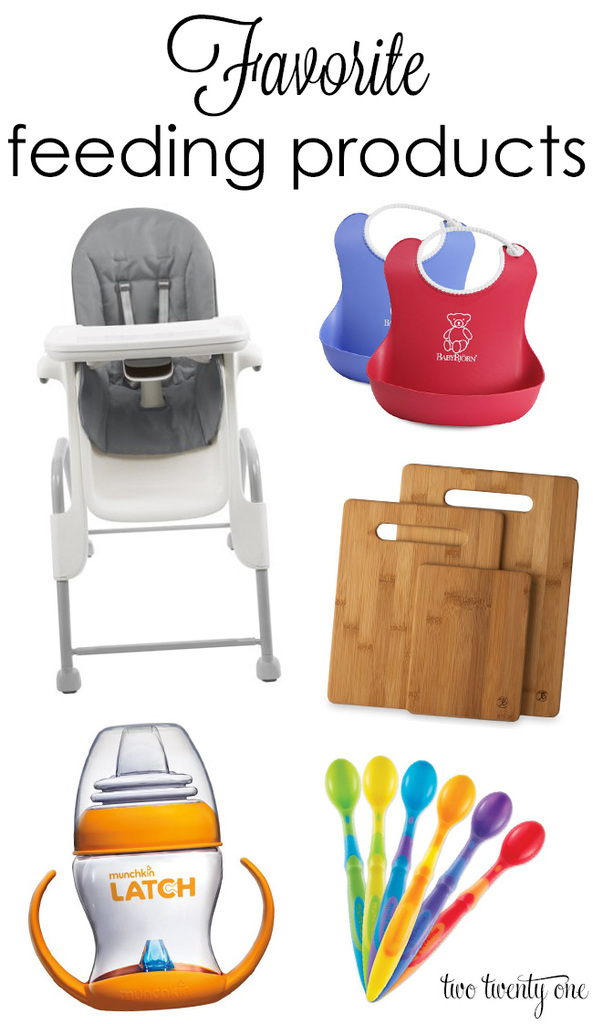 1. highchair
We have the oxo tot seedling highchair (found here), and we love it. It's easy to clean– the cover pops off with the buckles and straps attached, which is nice because we all know the tiny crevices in those buckles are magnets to food particles. And the tray cover is removable and dishwasher safe. While I'm not a huge fan of the aesthetics of highchairs, I get past that with this chair because it's pretty streamlined. I also like that it has wheels because I can move Owen from our dining room to the kitchen because sometimes I'll give him something small to eat while I prep the rest of his meal. If you don't have any need to move your kiddo around, I have friends who like the oxo tot sprout (found here), which is a sleek, wooden highchair.
2. bibs
I love these bibs by BabyBjorn (found here). They catch almost all of the food Owen drops. And he'll even dig around the in trough, as we call it, for any leftovers he might have missed. They're also very easy to clean. And while they may not look super comfortable, Owen doesn't seem to be bothered by them.
3. cutting board + knife
I didn't invest in fancy schmancy baby-related food prep products. To cut Owen's food into the appropriate sizes, I use one of our bamboo cutting boards and a knife from our knife set. I'm so 1952. When he was younger, I would puree some of his vegetables and fruits with my immersion hand blender set, but I already owned that.
4. cup
I've yet to find a straw cup that I love. We have this one, but I'm still undecided about it. We're going to try these cups soon. But I LOVE this transition cup (found here), and so does Owen. I'm not overly concerned that he's still drinking from it because he can drink from a straw and an open cup, it's just finding cups that he can use without getting liquids all over our house.
5. spoons
That's right, we're not 100% baby led weaners. Hah. Weaners. I still feed Owen oatmeal in the morning with a spoon. Gasp! And I'll feed him applesauce because, seriously, how are you supposed to pick up applesauce with your hands? I really like these Munchkin spoons (found here). The price is pretty sweet, too– 6 spoons for $2.92.
In case you're wondering, we used Dr. Brown's bottles (both plastic and glass) when I'd sneak away from the house to do glamorous things like get my hair done or go to dinner with friends. I also highly recommend the Dr. Brown's microwave steam sterilizer bags (found here) for those days when you forget to run the dishwasher and have no clean bottles. Or when you're traveling with your kiddo. They're also great for cleaning breast pump parts. And I don't think you can beat 100 uses for $5.99.
6. bib with sleeves
I'm editing this post to add this handy bib. It's great when kiddos eat really messy foods, and you don't want to give them a bath afterward.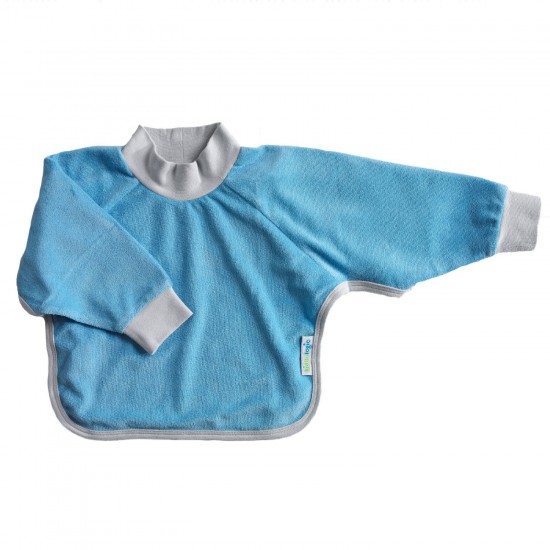 How about a handy dandy tip?
I store Owen's bibs and a package of baby wipes on the back of his highchair.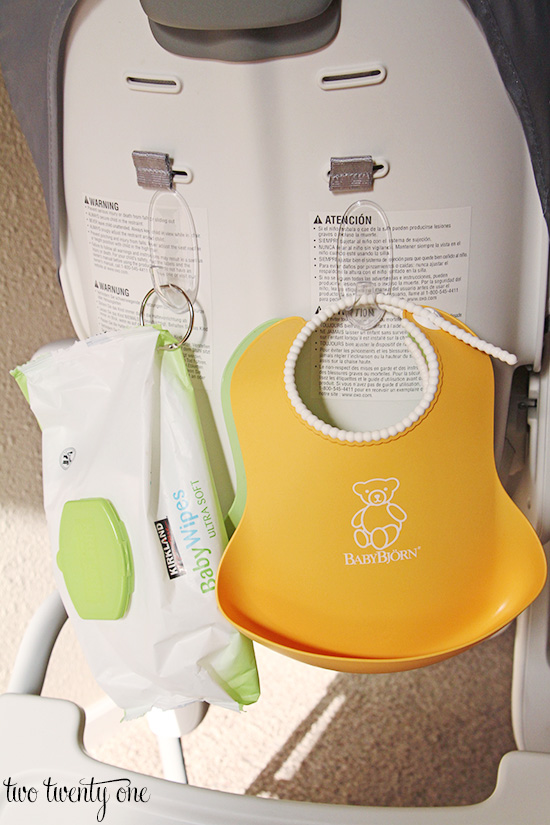 I took two large, clear Command Brand hooks and adhered them to the back of the highchair.
I never use a full Kirkland wipe package because it would be too heavy. I'll wait until a package is about half way empty, punch a hole with my hole puncher, thread a binder ring through, and hang it on the hook.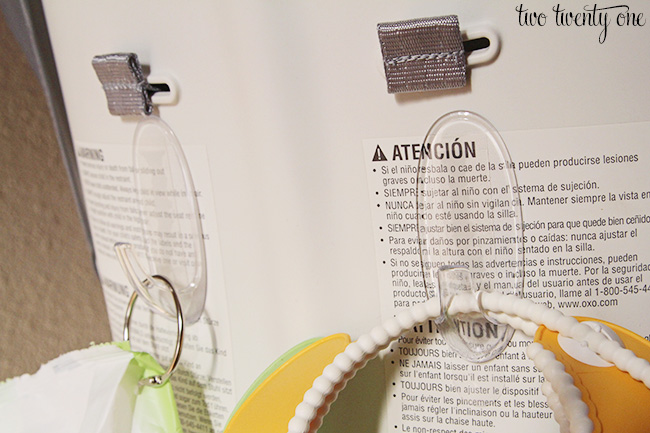 After every feeding, I use a wipe to clean Owen's face and hands, bib, and tray. Then I'll hang the bib back on the back of the highchair.
If you're interested in the products I love for eating out at restaurants, see this post.
Check out all my most popular baby-related posts below!
What are your favorite feeding products?
This post contains affiliate links.