One thing I'm going to try to do more often is share updates on rooms in our house that I've previously shared. I think it would be nice to revisit rooms and see how they've changed over time, even if I didn't do a complete overhaul. Plus, it'll give me motivation to tidy up some spaces in our house because that's definitely needed. So let me know if there's a room you'd like an update on.
Today I thought I'd share our walk-in pantry. Can you believe it's been almost two years since I shared the pantry makeover? Bananas.
Let's start from the very beginning. Here's what the pantry looked like before I organized it.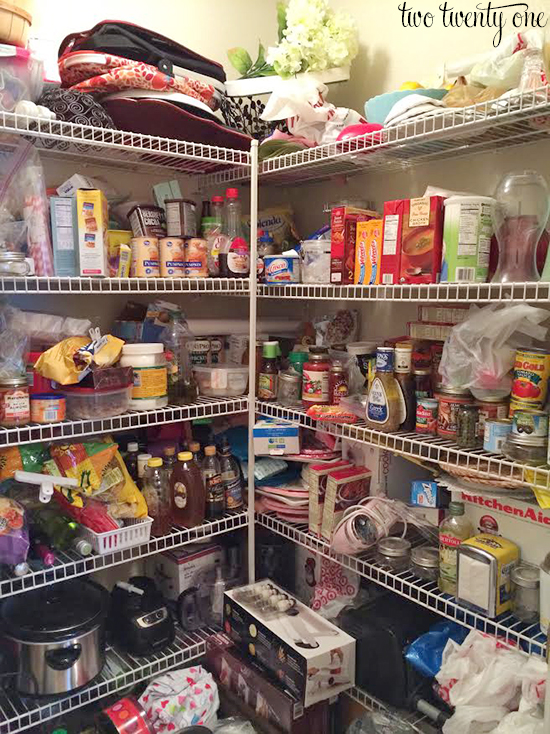 Woof.
And here's how the pantry looked after I spent a day organizing it while riding out the Polar Vortex.
In case you're wondering, the storage bins can be found here.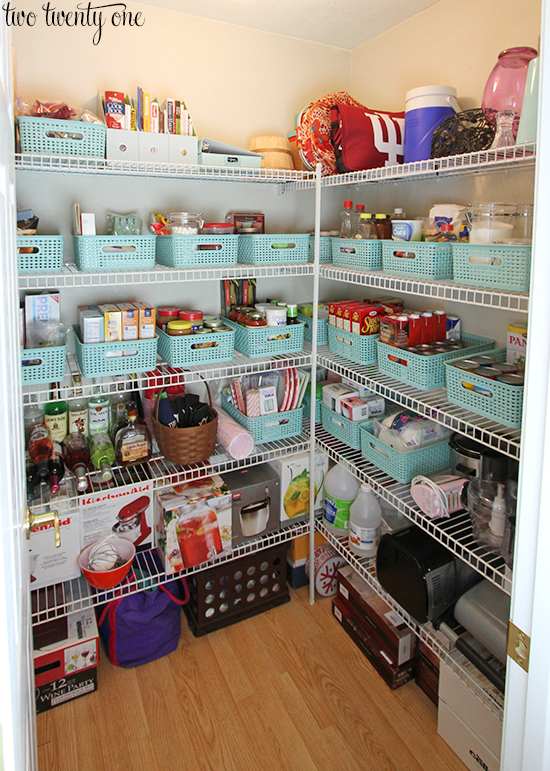 And here's how it looks today.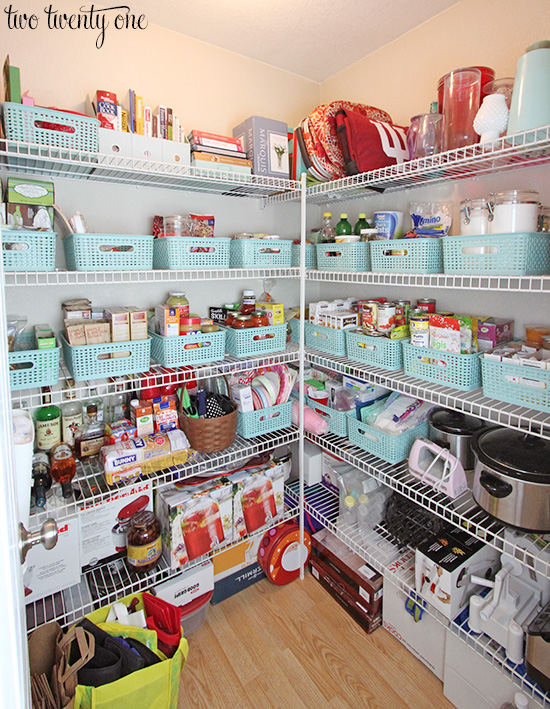 I feel like I should post a side-by-side and make you play Spot the Differences.
Nothing drastic has changed with the pantry, but I've had to do some rearranging.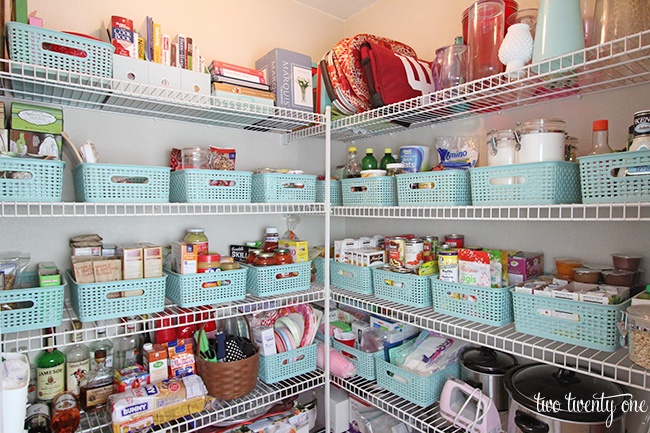 The biggest area of change is the addition of baby food, which I can't really call baby food anymore because I have toddler now. So toddler food.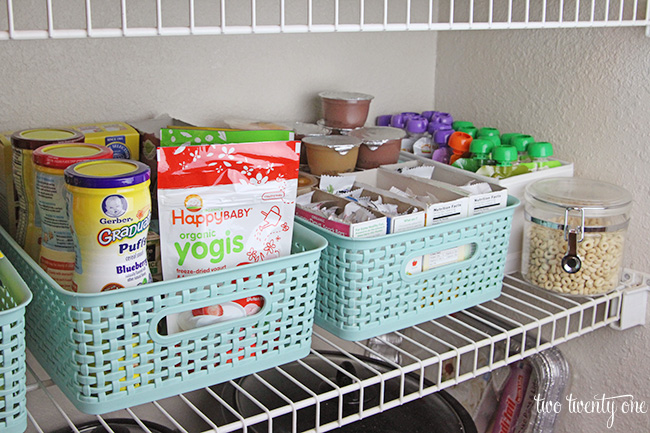 I condense Owen's cereal bars, teething biscuits, and fruit leather bites into the boxes they come in. I just rip the tops of the boxes off. Now, if I wanted to get all fancy on you, I could've covered the boxes with washi tape or spray paint and glitter, but I'm busy lady these days and I prefer sleep over bedazzling boxes no one will see.
I remove his applesauces and mandarin oranges from the packaging and stack them behind the boring boxes.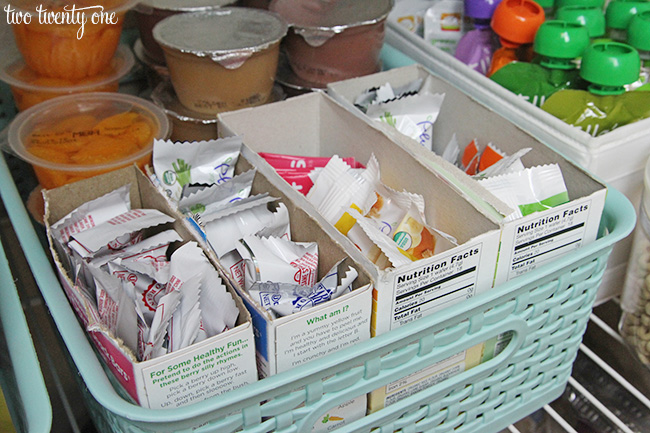 Sometimes fruit & veggie pouches are the only way we can get Owen to eat his vegetables, so I stock up on them when they're on sale at the store. I organize them in one of my handy dandy Skubb organizers. I know, I know, it doesn't match the other pantry containers but the rebel in me says when the Skubb fits, use it.
As you can see, I have some Joe's Os (Trader Joe's version of Cheerios– $1.99 for a big box) in a container. When I buy a new box of Joe's Os, I fill about ten snack-sized baggies with the cereal and store them on top of the applesauce. Why do I do that? They're easy to grab and toss in the diaper bag when we're going somewhere. Because what kind of stereotypical parent travels without Cheerio-esque cereal? Then I fill the container we keep near Owen's high chair. I usually put him in the high chair and throw some cereal on the tray while I prep his meal without having to wrangle him. What's leftover goes in that container in the pantry, and I toss the box in the recycling.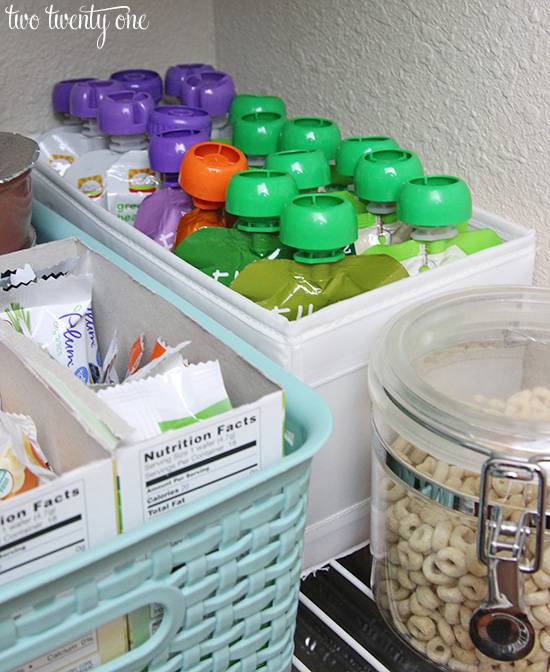 This area looks about the same, only less Stove Top and more couscous because Owen loves it with chicken and diced tomatoes.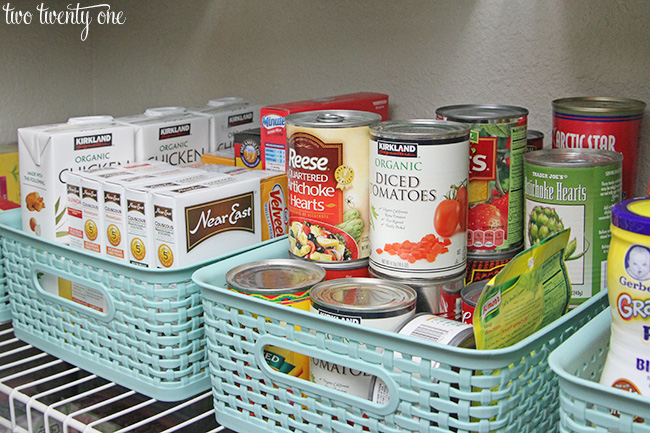 The bottom section of the pantry is pretty much the same. I got another drink dispenser, so that's new.
We gave our toaster oven (unrequested wedding gift we never used) and George Foreman grill (too cumbersome and hard to clean) to family members. What replaced those two items, you ask? A spiral vegetable slicer (they're all the rage), a FoodSaver, and my brother bought me a mandoline, which I haven't even used yet but I don't think he reads the blog so let's keep that between you and me. To be honest, I always forget I have it so I just use a knife to slice stuff.
There's also two gallon-sized bags with newborn bottles and nipples and breast milk storage bottles. Tear. I didn't know where else to put them so I just tucked them into an empty spot.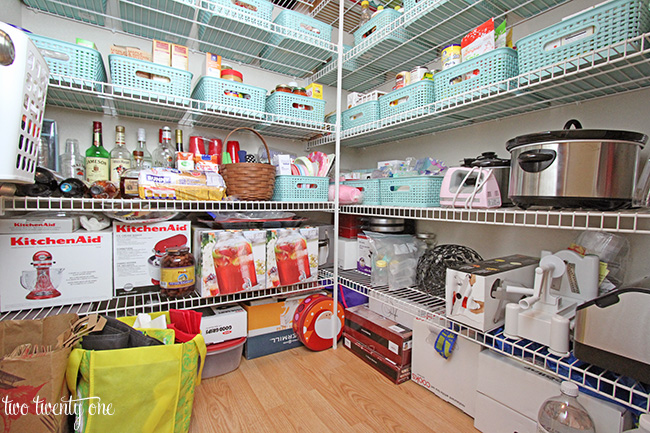 This section hasn't changed much. I bet if you compared photos, you'd see that we've barely touched that booze in two years. We're such boring people now. That and we usually stick to beer.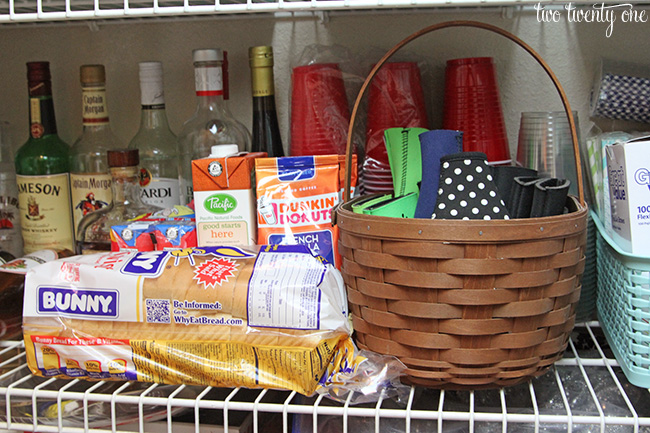 I did put three nails in the wall to hang our grilling basket and plastic bag organizer. The organizer is from IKEA but I can't find it on their website, so here's a similar one.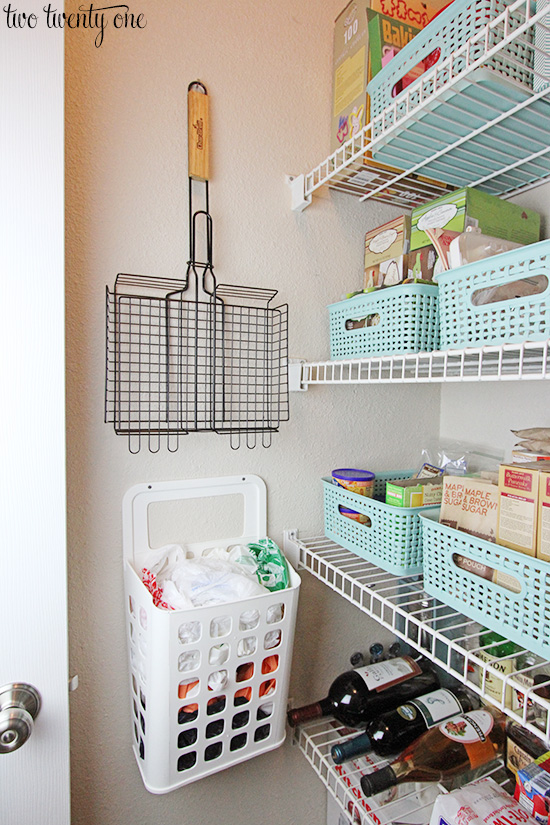 Our brown paper bags (yeah, I'm that lady who shows up to Trader Joe's without her reusable bags all the time) and reusable bags reside below the plastic bag organizer.
And why yes, that is a 3.3 pound jar of kalamata olives on the shelf. You can never have too many kalamata olives.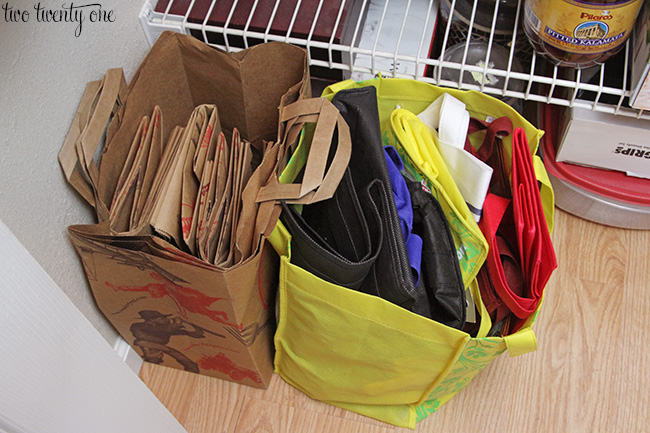 I got a handful of questions about snacks in the initial pantry posts (the reveal and how everything was organized). Someone even asked me where we put all our chips, which made me chuckle. Truth is, we don't do a lot of snacks around here.
Exhibit A: our snacks.
Almonds, cashews, and some granola bars.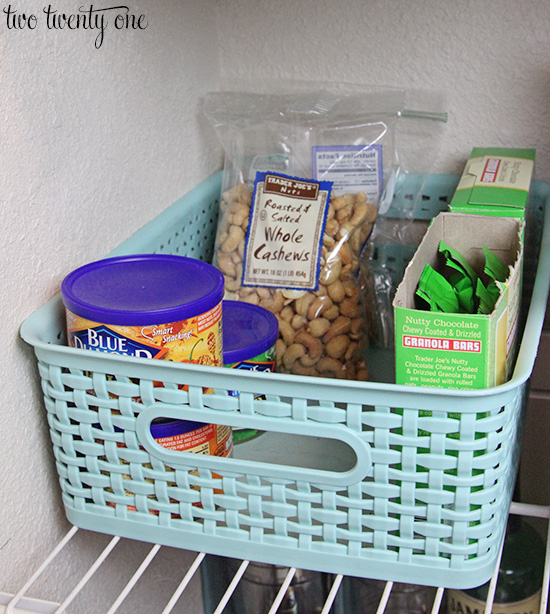 It's kind of funny because whenever friends or family stay with us they ask what we have to drink, and the answer is always the same: water, coffee, beer, wine, or liquor. We don't keep milk (Owen isn't a fan and Brad and I don't drink it), juice, or pop in our house. I'm sure our friends and family think we're beyond lame. Minimal snacks and no pop. We're so un-American. But if you want to get hammered– we're your people!
I will say that when I know we're having company that I try to buy things I know our guests like. I'm not a total jerk.
Well, that's about it for the pantry update.
If you'd like to know how I organize the pantry in further detail, like exactly what is in each bin, see this post.