Clever Car Organization Hacks and Other Ideas for Busy Families
Keeping an organized car with kids can be a challenge. I'm sharing my tried and true car organization hacks to maximize your vehicle space and make life easier for the entire family.
Center Console Car Organization Hacks
Most car center consoles are insanely hard to organize because it's a giant void of space. Stuff gets thrown in there like a purse. So why not treat it like a purse? Enter, a large purse organizer. Genius, right?
The purse organizer has numerous pockets to store smaller objects. It also has a zippered pouch and two bigger pockets. Make sure to measure your center console to see what size purse organizer will be the best fit.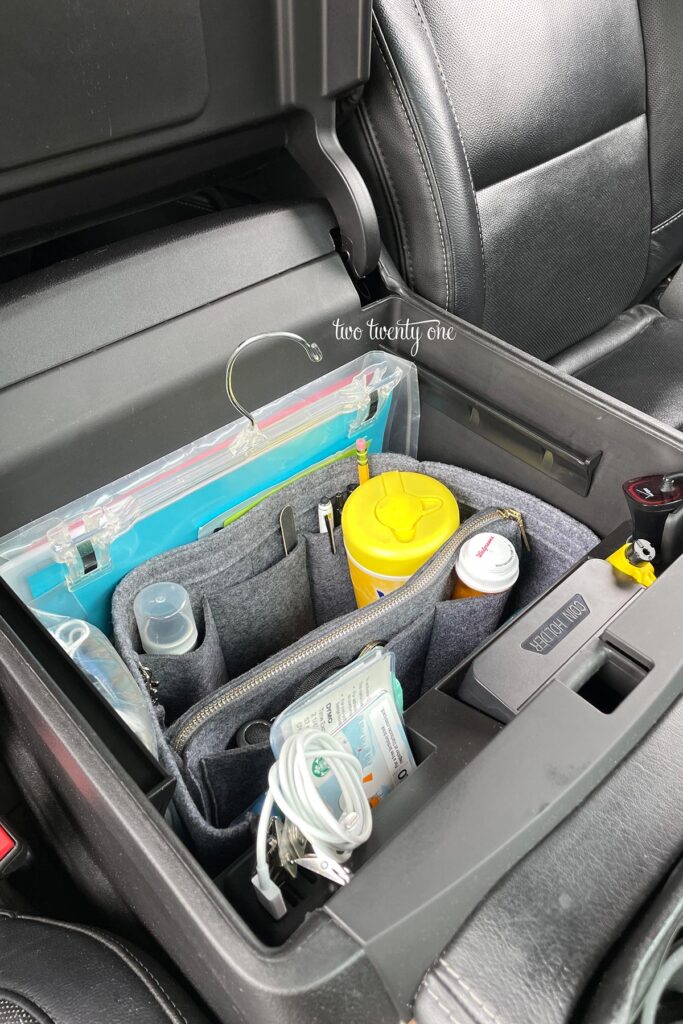 What to Keep in the Center Console
Items you need easy access to on a somewhat regular basis should be stored in the center console.
car charger cords
Starbuck's gift cards
masks
important car documents stored in a plastic folder
carline pickup sign hung on a pants hanger (I hang it on my rearview mirror)
What to Keep in the Purse Organizer
Smaller items can be stored in the purse organizer. With nine pockets, there's a spot for everything! And no excuse for clutter.
Wet Wipes
flashlight
seasonal car air fresheners
hairspray
nail clippers
emery board
pens & pencils
coin purse with some extra money
lotion (in a prescription bottle)
more Wet Wipes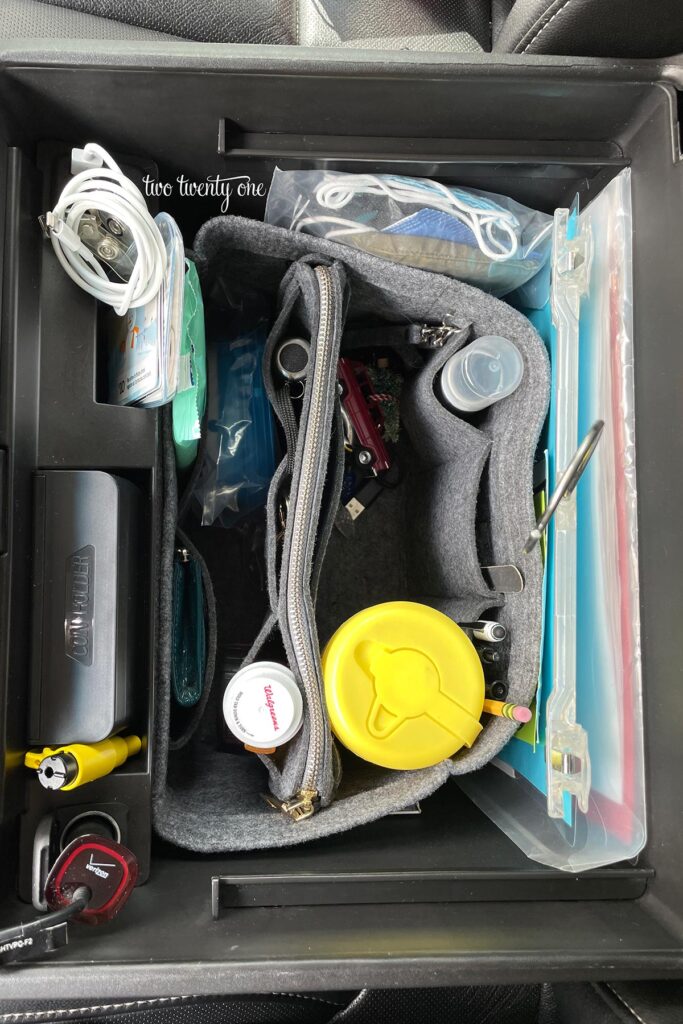 Trash Can with a Lid
Tired of trash and tissues piling up in your backseat? Invest in a trash can with a lid. This garbage can even comes with pockets to store tissues, baby wipes, etc. The cup holders sized tissue box containers fit perfectly in the big, front pocket. This thing definitely comes in handy for road trips.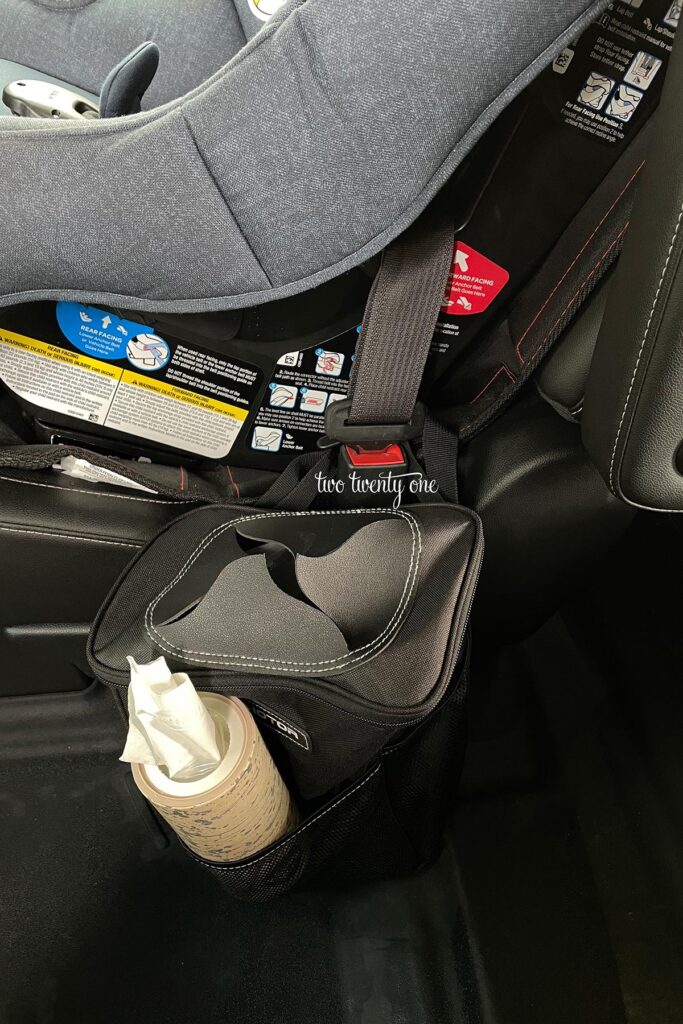 Trunk Must Haves
Keep things simple in the cargo area with only a handful of items. That way you have more open space in the trunk for groceries, sports equipment, FBMP finds, laundry basket, etc.
blankets
picnic blanket
ponchos
reusable shopping bags
cargo organizers
umbrella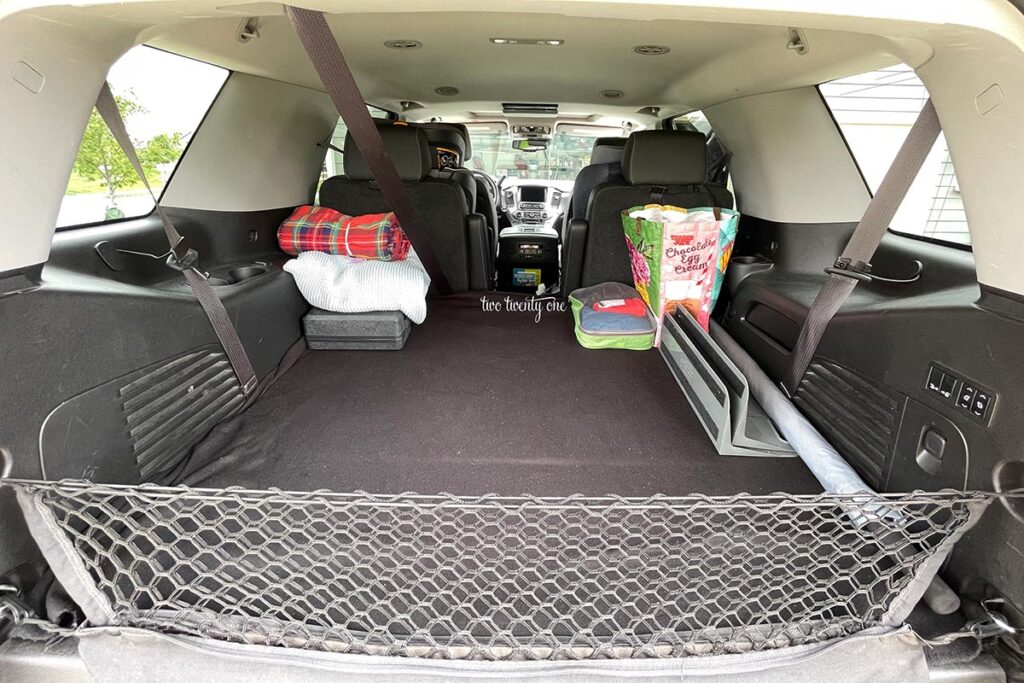 Umbrella
A giant umbrella is a must. Keep one in your car for rain and for instant shade. A large umbrella is also great to have when baking in the summer sun at kids' sports games.
Cargo Organizers
It's so annoying when you put groceries in the trunk and by the time you get home things have rolled out of the bags. Or when you make a trip to Trader Joe's and the tall bags tip over. To keep groceries in place, use cargo organizers.
These Stayhold Cargo Organizers have strong Velcro on the bottom which cling to cargo space carpet. They're great because you can customize your cargo space by creating compartments with the organizers.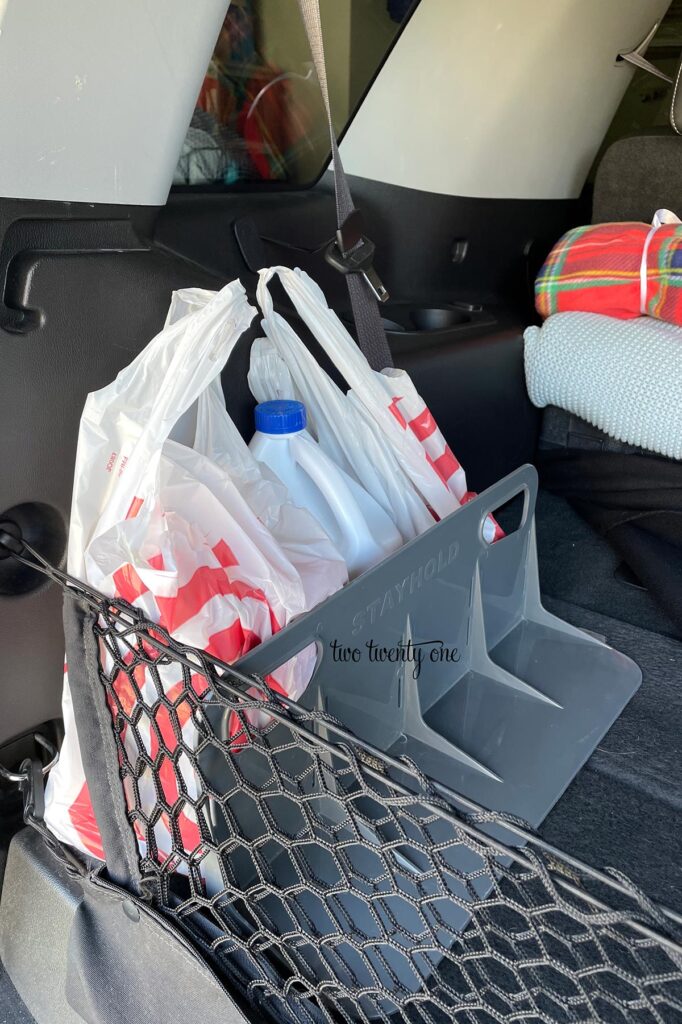 Organized Hidden Trunk Compartment
The hidden trunk compartment is a great place to store items you won't need often, or hopefully at all. Not all cars, SUVs, or trucks have this handy space, but if your vehicle has one, definitely take advantage of it.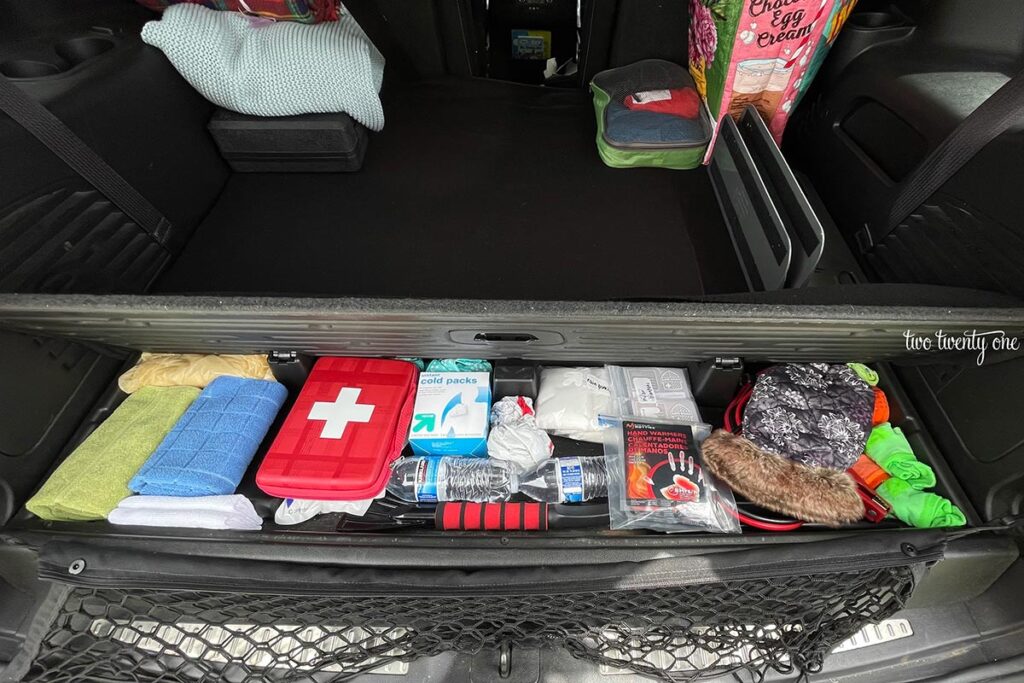 What to Keep in the Hidden Trunk Compartment
towels
small umbrella
grocery bags
water
sunscreen
bug spray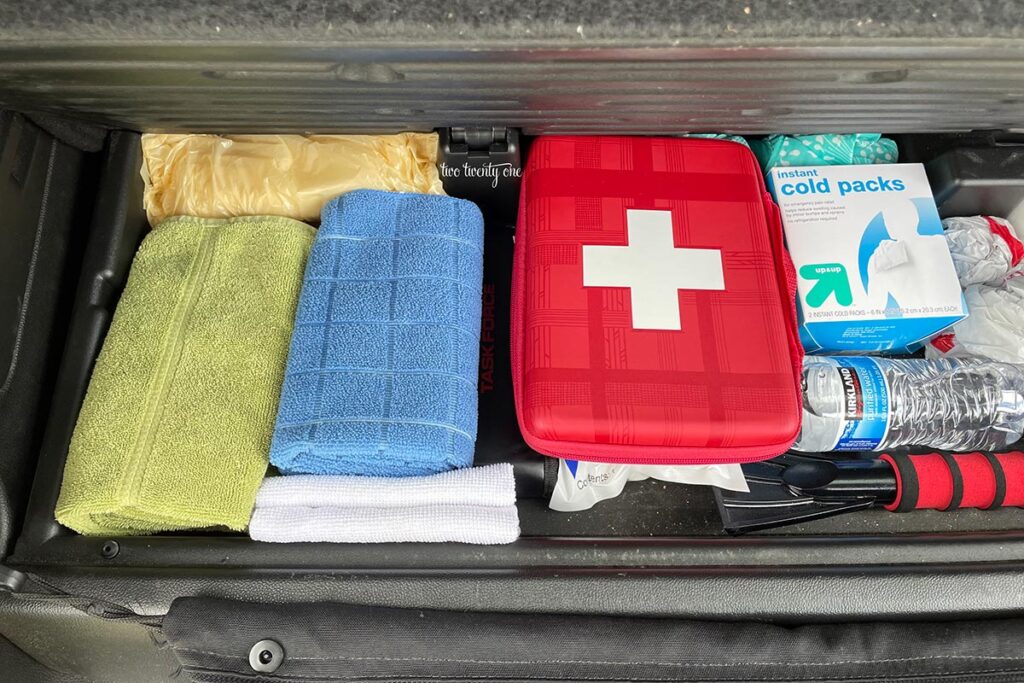 Another car organization hack is to keep plastic drop cloth is great to have when you bring home plants from the nursery. They're often wet on the bottom from watering. The plastic drop cloth keeps the trunk dry and free of dirt.
Spare towels are great to have for drying off wet slides at the playground or cleaning mud off of kids' legs.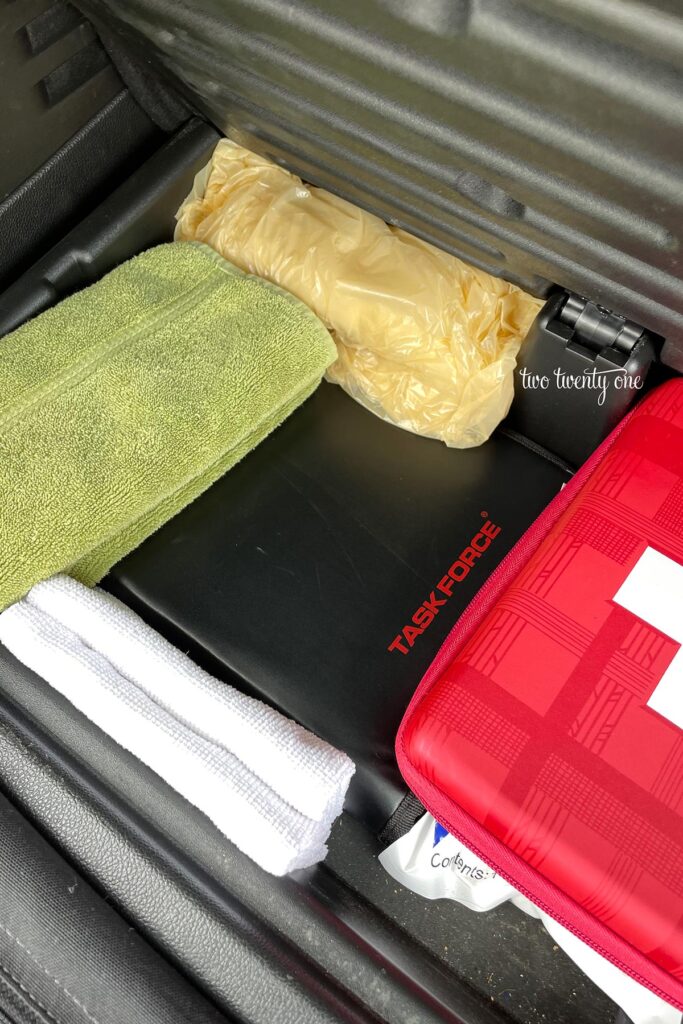 With kids, you never know when they're going to fall down and scrape their knee or bump into something, so it's best to keep a first aid kit and some instant cold packs in the car.
Keep ice scrapers out of the way by storing them in the hidden compartment during the warmer months.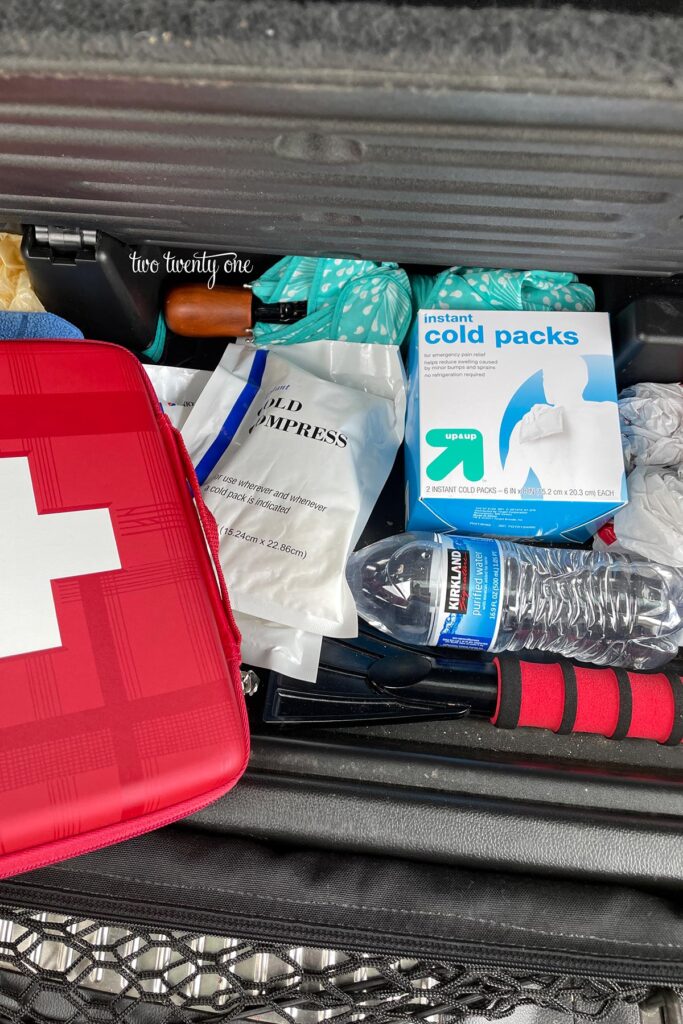 Hopefully no one ever has to use mylar blankets, hand warmers, or even jumper cables. But they're great to have in the car just in case.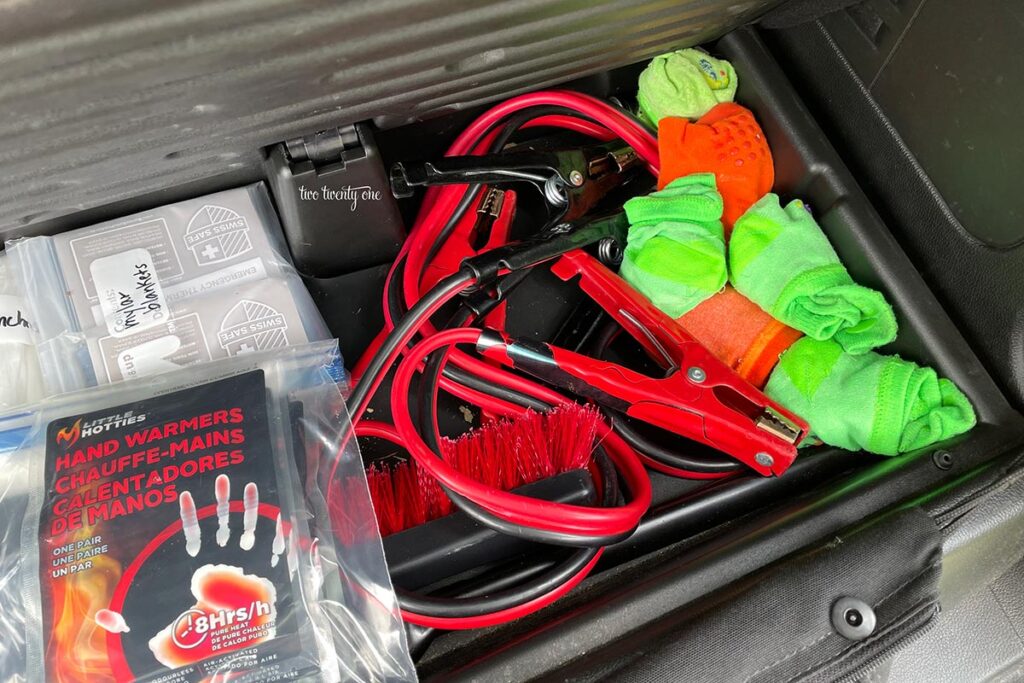 More Car Organizations Hacks and Other Organization Tips