Organized Homework Station
This post is sponsored by Better Homes & Gardens at Walmart. All opinions are my own. 
School is in full swing around here! So it's the perfect time to create an organized homework station– a place for all the pencils, glue sticks, crayons, and markers. Last fall, I put together a homeschool area for Owen, but with him doing in-person learning this year, I decided to tackle the small office area by the playroom.
So here are some of my tips for creating an organized area for all things school and crafts.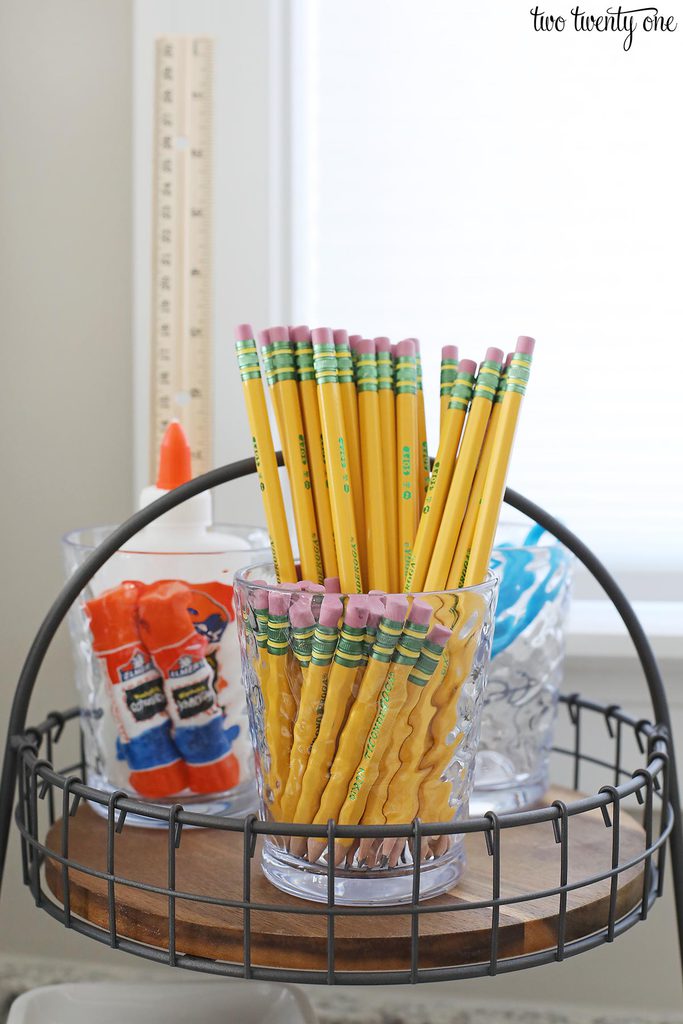 Keep Everyday Items Handy
To keep everyday items, like pencils, glue, and scissors accessible, I put them in clear tumblers. And to keep those organized, I set them on a tiered tray. That way if Owen needs to do some homework while I cook dinner or while Brad works on his laptop, we can move the tiered tray to the kitchen island and Owen can work in the kitchen.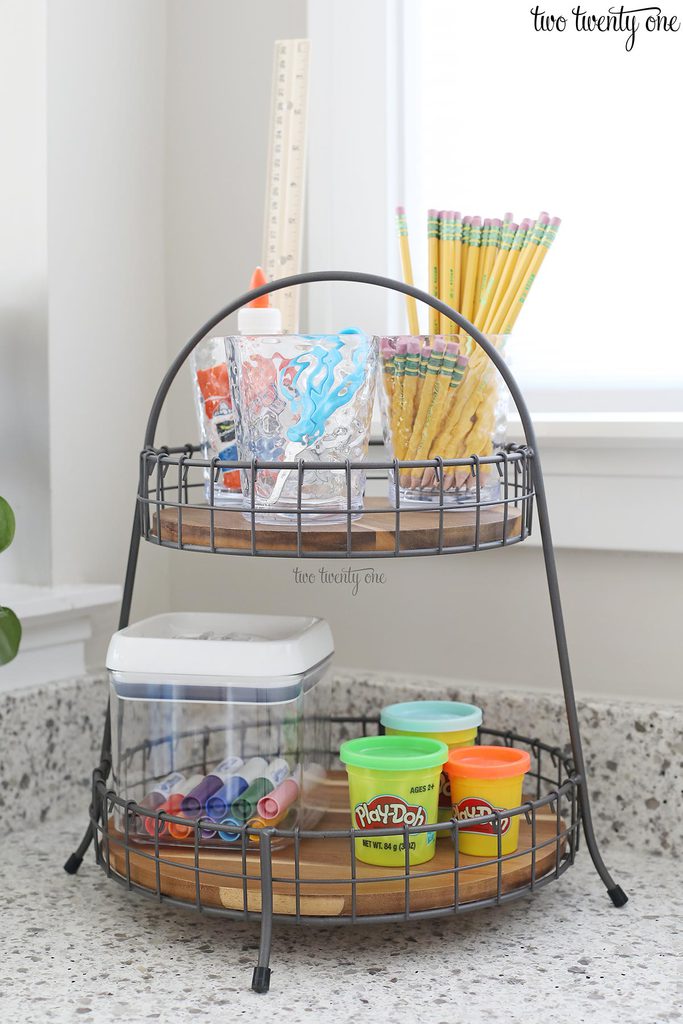 Ditch the Boxes
It never fails that the marker and crayon boxes always get torn or otherwise destroyed. To solve that issue, I put he colored pencils, crayons, markers, dot markers, and dry erase markers in their own clear containers. I used these and these. The clear containers have an easy to open lid for little hands. But I could see them being a struggle for two years. I don't see that as a bad thing though.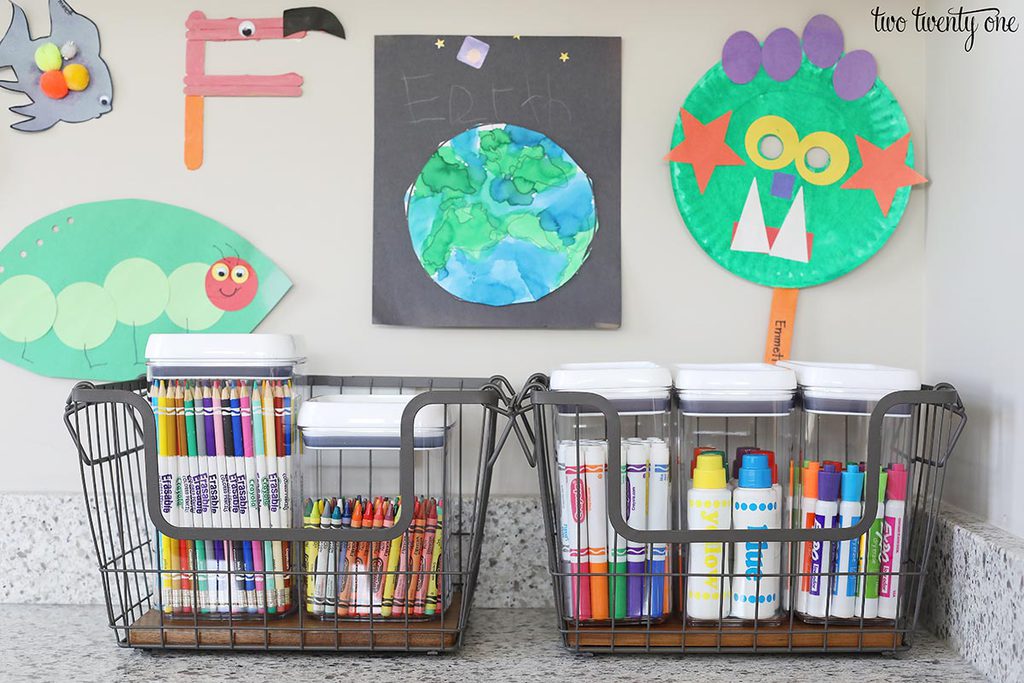 Cozy It Up
To cozy up the space a little, I added a small tabletop lamp. And to attempt to protect it from harm, I put it inside a wire and wood tray. The lamp is the perfect size for this space. Plus, it puts off a good amount of task light.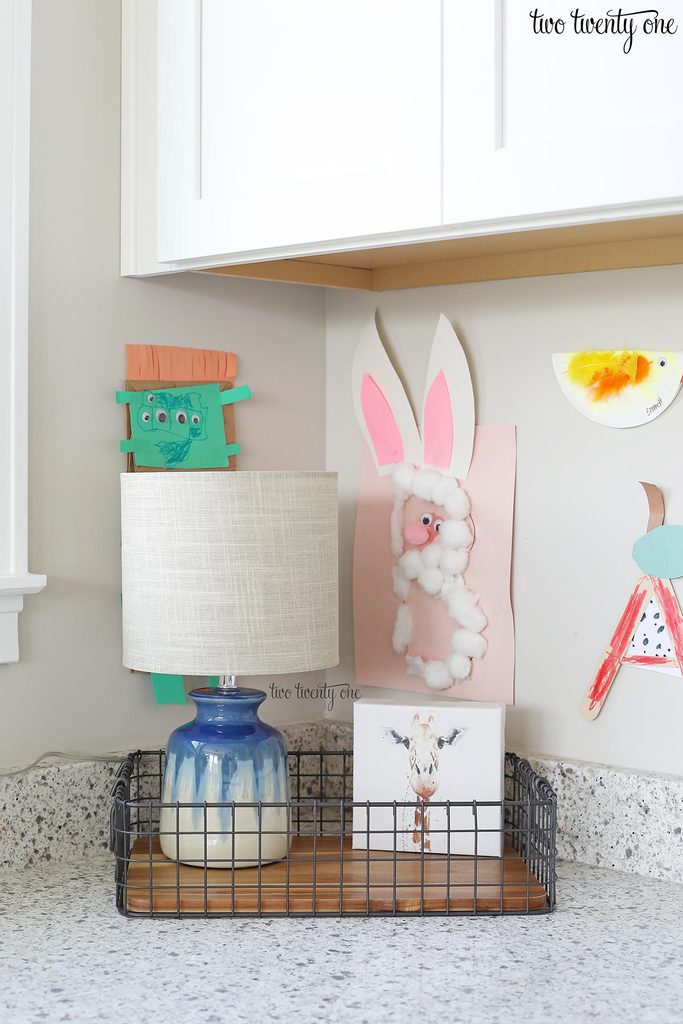 A Place to Sit
I opted to go with simple, white chairs in the homework station. Two chairs can fit somewhat comfortably in this area, but for the sake of photos, I only kept one. I know some people are scared of white with kids, but trust me, these show less dust and scuffs than darker chairs.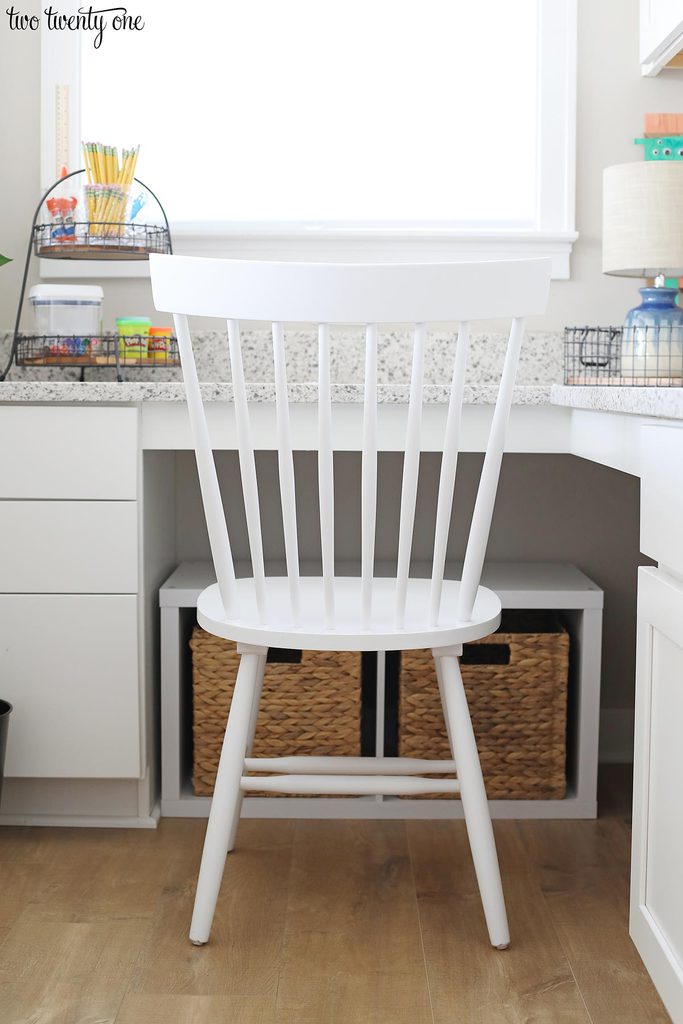 Additional Storage
You wouldn't think we'd need more storage in this area, but we do. The cabinets house all of our miscellaneous craft supplies, board games, and other random things. Plus, the cabinets are rather small. So I added these white, 2-cube storage organizers and hyacinth baskets under the desk area. I intend to store school papers and crafts that we need and want in the baskets.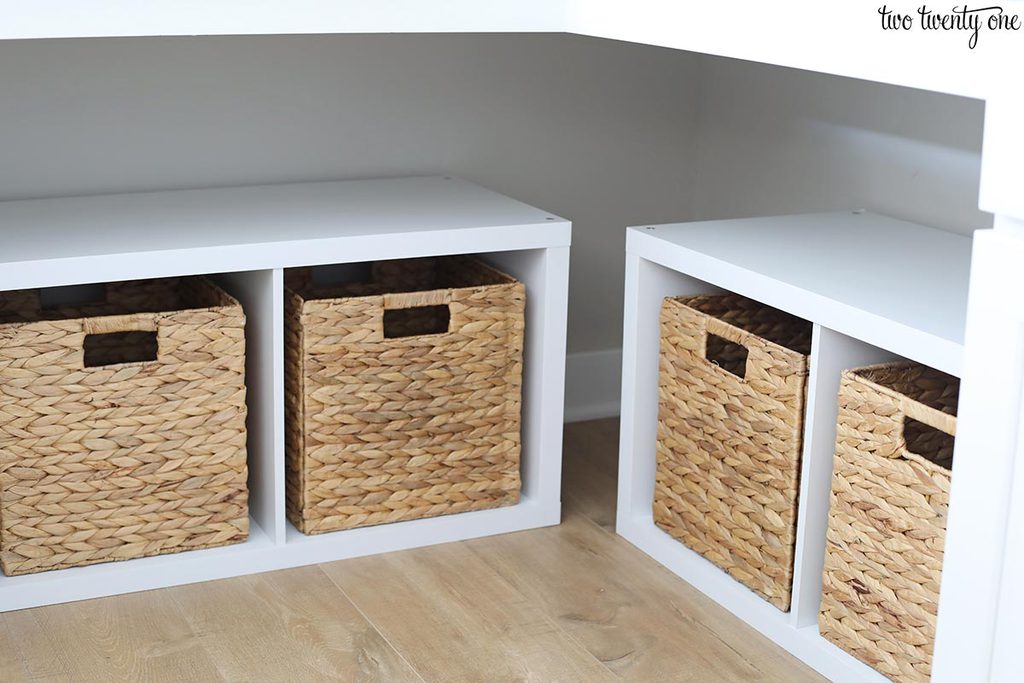 Make It Theirs
We have shelves between the two upper cabinets in our homework area. I chose to decorate it with their toys and LEGOs Owen has built. Owen actually prefers him up there because he can climb on the counter and reach the shelves while Emmett can't.
I used their crafts and artwork to decorate the backsplash area. I love seeing their art displayed here.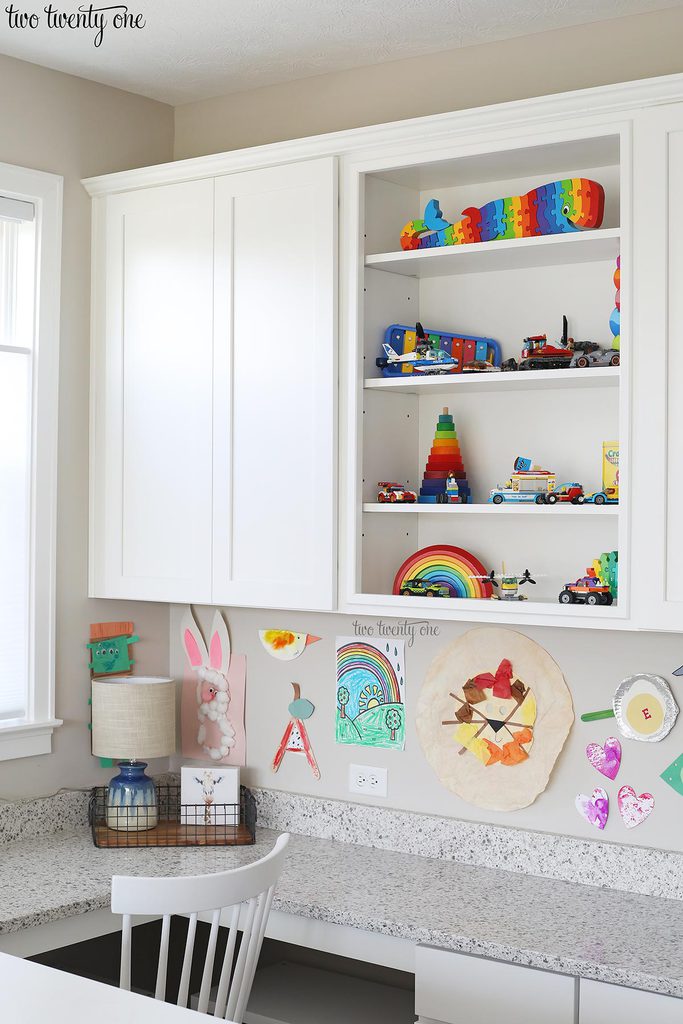 I'm really liking how this space turned out. I'm hoping that by giving things designated containers and spots, it will help keep the kids organized and this area area tidy.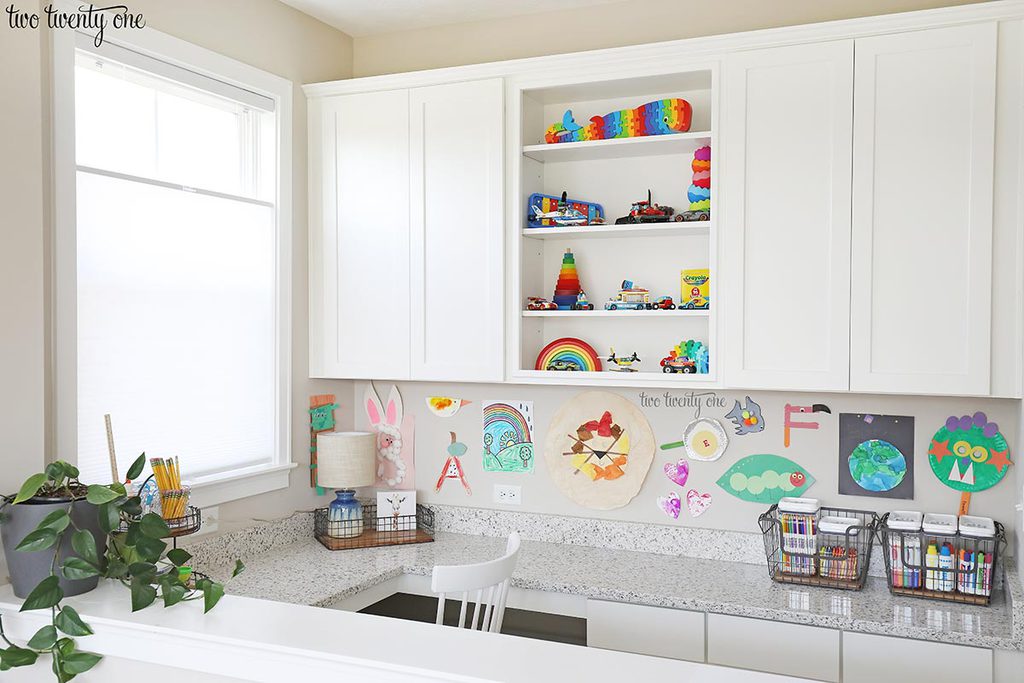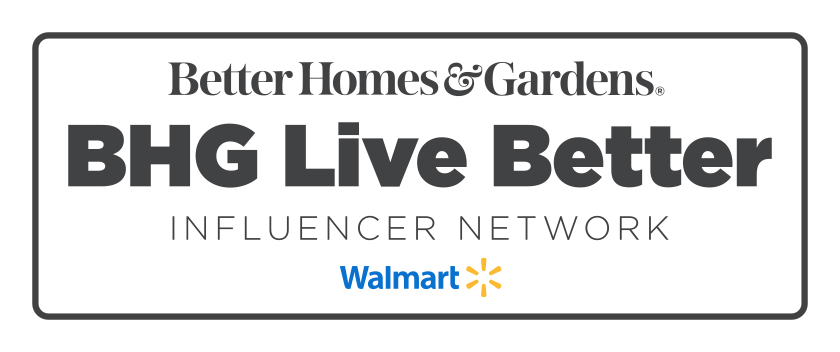 This post is sponsored by Better Homes & Gardens at Walmart. All opinions are my own.