Hey guys! My apologies for the brief intermission but I needed a week to catch up on stuff and recover from the busiest 5 weeks I've had so far this year. I was away from home 4 out of the 5 previous weekends (and my parents were here visiting the one weekend I was home), which made it difficult to keep up with things because this is still a one-woman show.
Alright, moving on to today's post about our newly organized hall closet that I decided to tackle over the weekend.
I needed to organize this closet like 2 years ago, but it's just so easy to shut the door and forget there's a mess in there. You know what I mean?
But I was starting to get annoyed with myself because I knew I was wasting precious real estate in the closet. Especially when my child has 5,000 toys clogging up our living room and guest bedroom. So I went to work.
NOTE: This is real life. I literally opened the door and snapped this photo. No staging was necessary.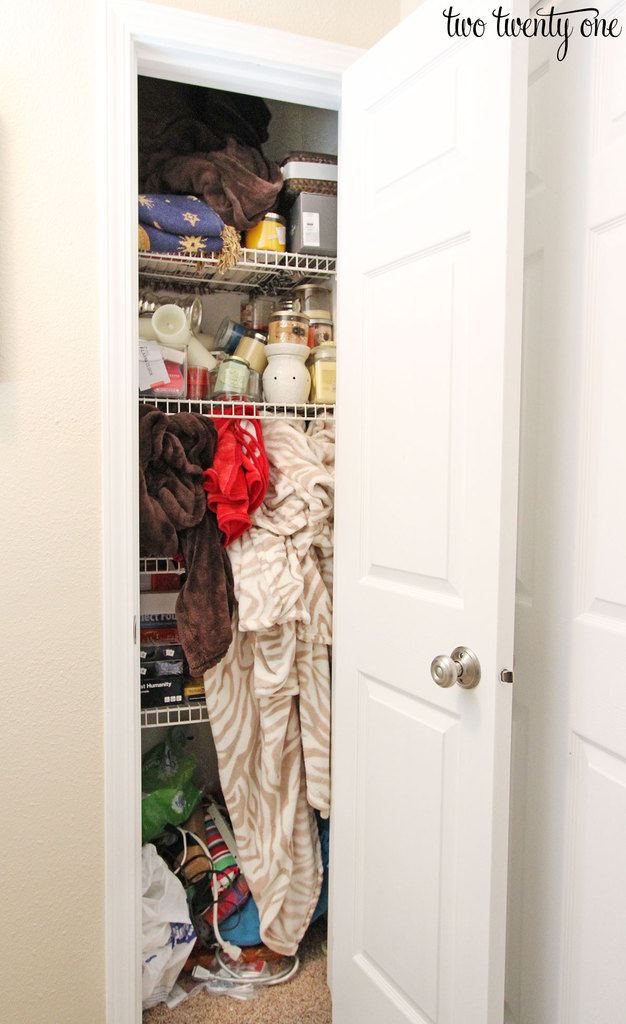 Because our bedroom linen closet is so large, I'm able to store all of our guest linens and towels in that closet. And I store all of Owen's linens in his dresser. So this hallway closet has always been a catch-all.
There's blankets we use when we're snuggling up to watch TV. And as you can see, we've accumulated quite a few over the years.
There's my candle shelf which had gotten out.of.control.
More blankets.
Our board game shelf.
And the bottom was full of a bunch of random crap like extension cords, cushions, an unused wreath, and an empty Pier 1 bag.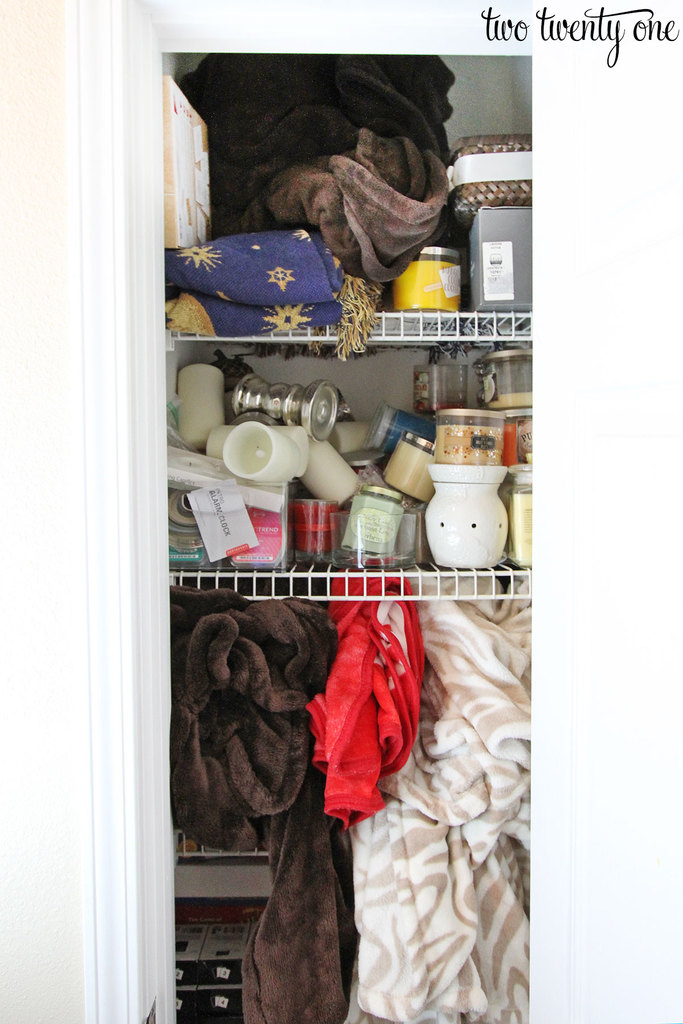 While I was cleaning out the closet I even came across things I had forgotten about.
Like my Wonder Woman snuggy and Sh*tHead game (I Photoshopped 'POOP' onto the box so it would be less offensive– you're welcome), both white elephant gifts.
I have a picture of my mom and stepdad playing Sh*tHead in our driveway. I'll have to dig up that gem.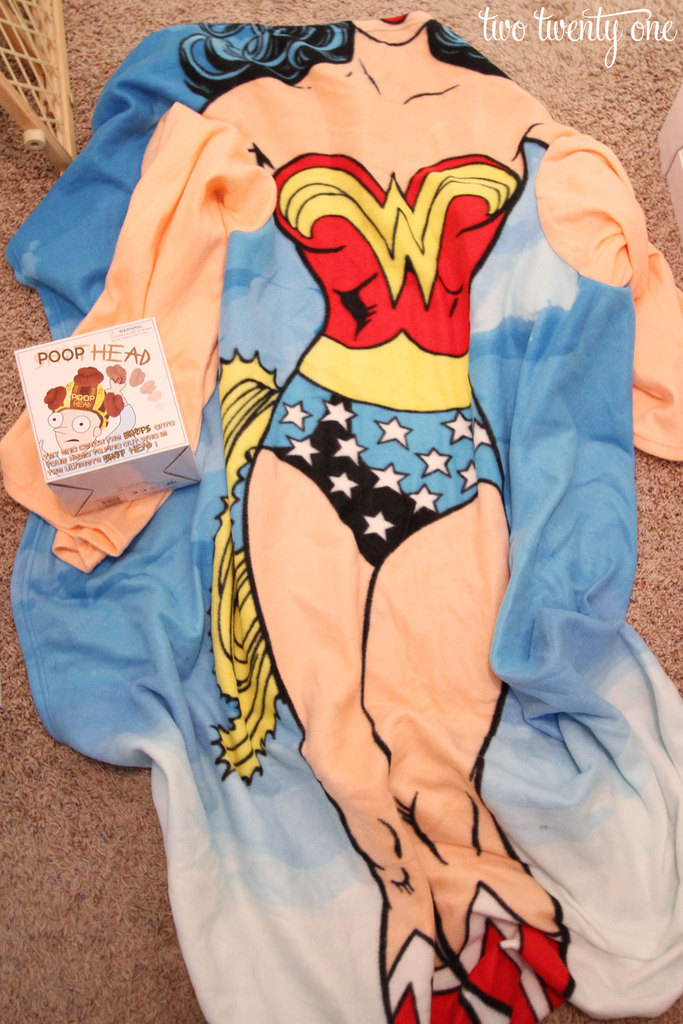 After filling two 'donate' boxes and relocating some items, here's how the hall closet looks now.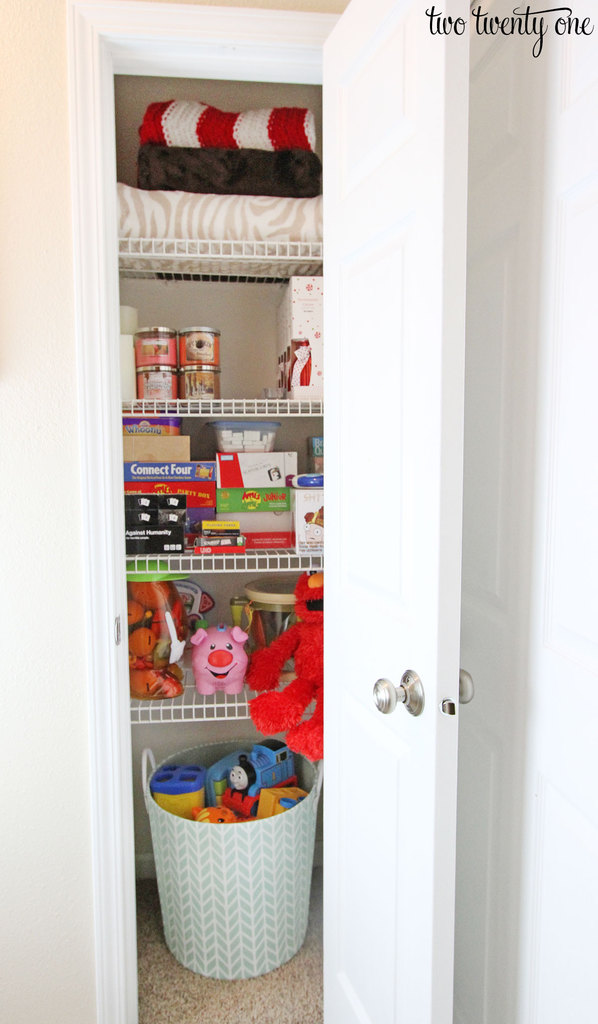 I decided three TV blankets in this closet was sufficient.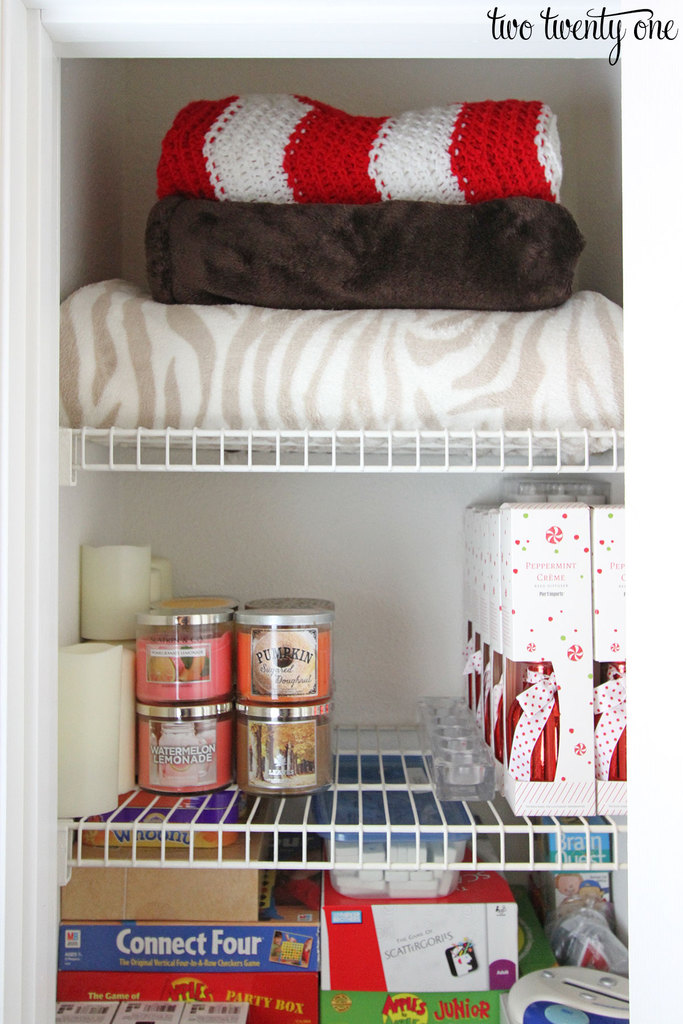 As you can see, I was merciless when it came to my candle shelf. I gave all of my Scensty bars to a friend and donated candles I knew I'd never put on my candle warmer. (I don't like burning candles because they're so dirty.)
Now, I know what you're thinking. Yes, that's a crapton of peppermint creme reed diffusers. But I can explain myself. Friends and family know I love that scent, so last year I was gifted with at least 8 of those bad boys.
So friends and family, if you're reading this, I have more than enough peppermint creme reed diffusers. Thanks, love you!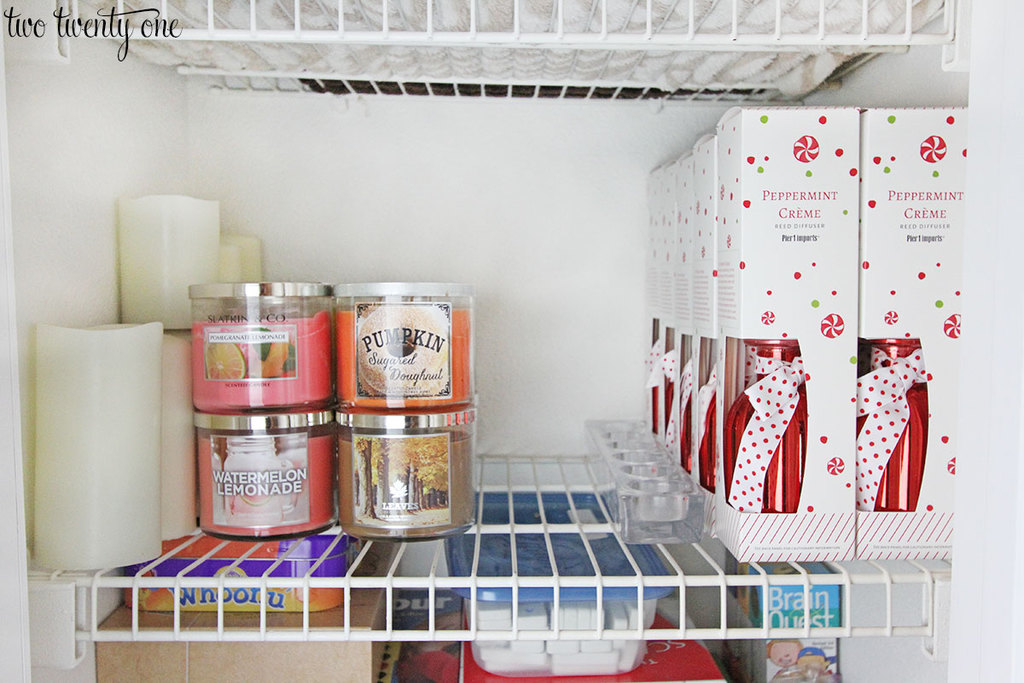 The game shelf stayed the same, I just moved the games up one shelf.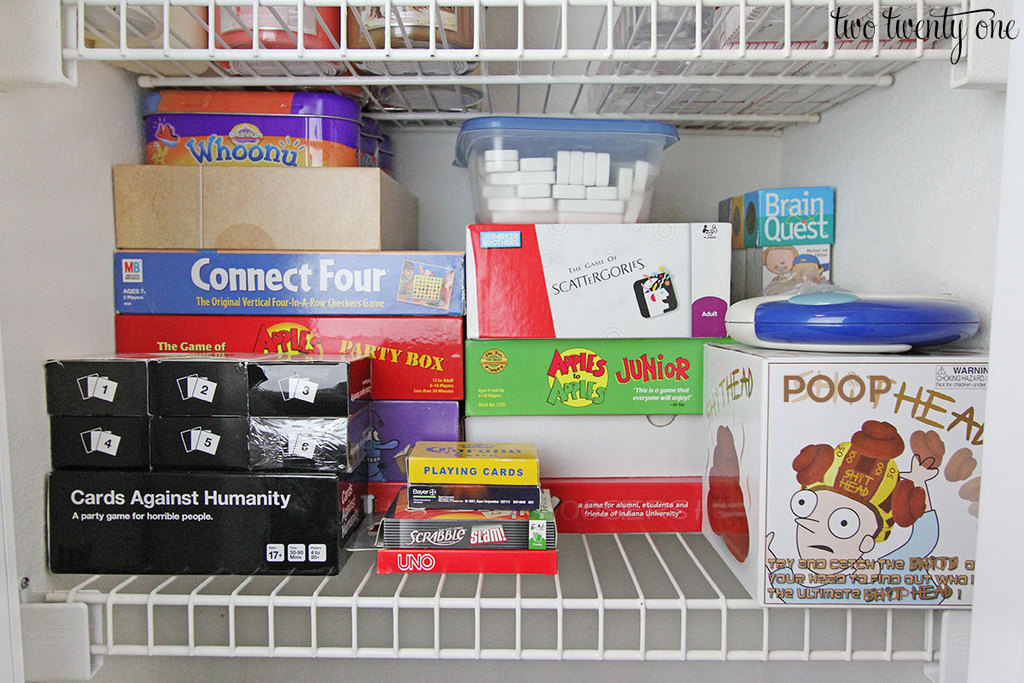 The former game shelf is now a shelf for some of Owen's toys. And I used this pretty laundry basket to store more toys in the bottom section of the closet. I actually bought the laundry basket forever ago at HomeGoods (I asked readers on my 221 FB page to vote between this basket and another), so I'm excited to actually have a purpose for it.
Storing some toys in the closet is to relieve some of the toy congestion in our living room because we don't have play room. Some of these toys were also being stored in our guest bedroom– like I said, 5,000 toys.
Putting the toys in the closet is also helpful when it comes to rotating Owen's toys. If you don't know what toy rotating is, it's when you hold back some toys and swap them out after a couple weeks. This way he's not overwhelmed with too many toys and so he's excited to play with toys he hasn't seen in a while.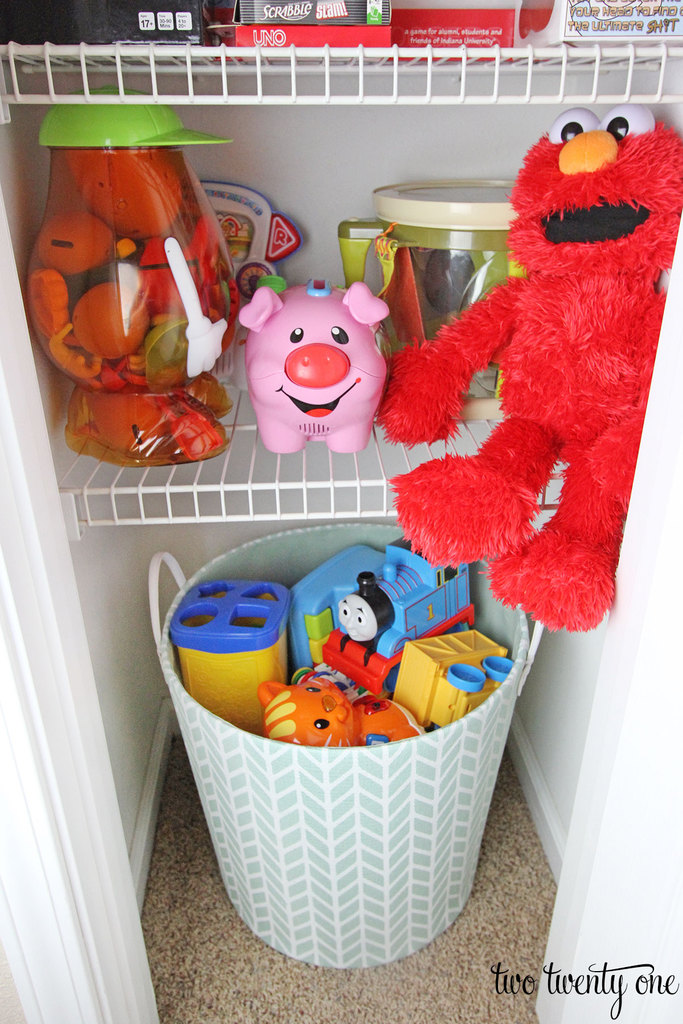 In case you're curious about the toys, I've linked to them: Mr. Potato Head, driving toy, piggy bank, drum + instruments, Elmo, similar shape sorter, piano, Thomas the Train, cat.
I attempted to take some photos of the closet after Owen's nap, and of course he was all, "What?! You've been holding out on me?!" and began playing with toys he hasn't seen in a while.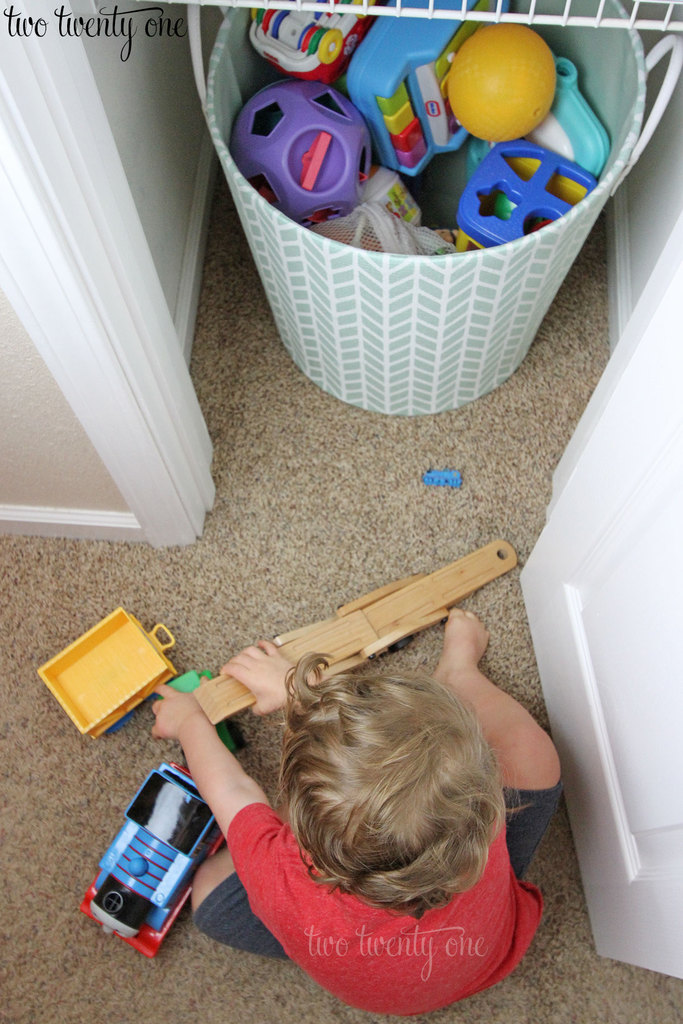 I'm pretty sure these closet toys will come in handy when he's having an especially whiny day. I'll just open the door, and say, "OMG, look at all these new toys!" And fingers crossed that'll stop the whining for at least 20 minutes.
So let this closet organization be a lesson in doing what works for you and your family. This closet is technically a linen closet, but I don't have enough linens to fill it, so I'm making it work for us.
You know what's great about this little makeover? It cost all of $17, which was dedicated to the laundry basket purchase.
This post contains affiliate links.
Funds from affiliates help pay for web hosting, domain registration, email delivery, the occasional bottle of wine, and other fees to keep twotwentyone.net up and running. Thanks for your support! I appreciate it!