Added Master Bathroom Storage
I feel it's best I start this post from the beginning.
Our master bathroom is a nice bathroom. There's a double vanity, Roman/garden tub, and shower stall. Plenty of amenities for the masters of the house.
But the layout is kind of weird. The shower stall is directly to your right when you walk in the room. So when you open the door, it covers the shower stall, which is fine. (The walk-in closet entrance is on the other side of the shower stall.)  The double vanity is to your left. And in directly in front of you is the bathtub and, what I've deemed, the wonky space.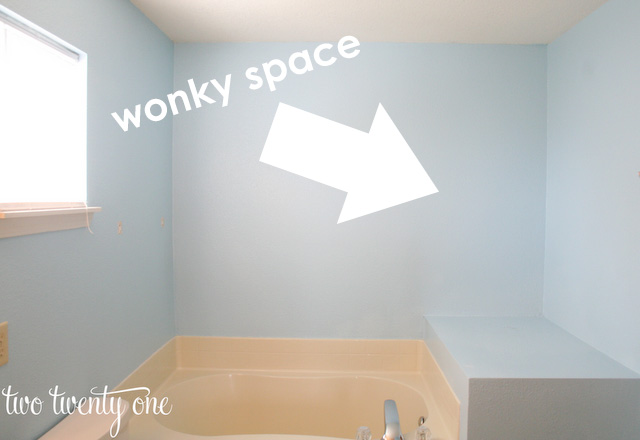 When we first moved into the house I jazzed up the wonky space with some Peace Lilies and nicely rolled towels in a basket. Very spa-like, no?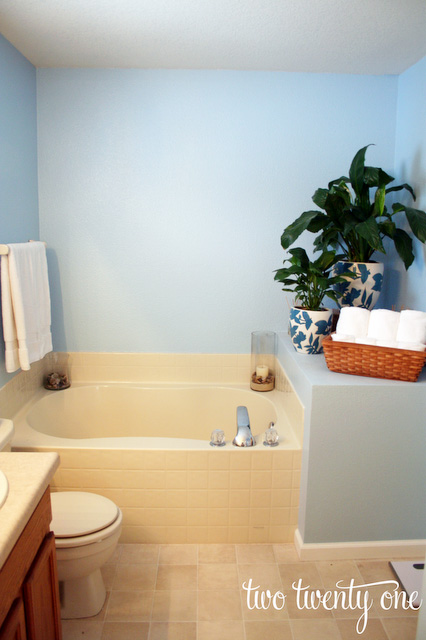 Then the time came for me to kill the Peace Lilies. I mean, I didn't do it intentionally. It just kind of happened. And the wonky space became a catch-all hot mess.
I wrote in this post a couple years back how I'd love to put in built-ins. I even created the awesome rendering below.
Yeah, that never happened. We weren't about to tackle that job because the walls aren't level, and I'm too cheap to pay someone to install built-ins in our builder grade house. Not worth the investment to me.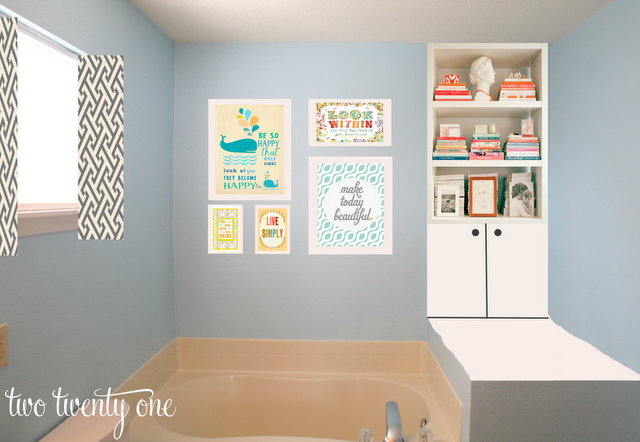 So I grabbed a plastic storage drawer to store all the stuff that was inhabiting the wonky space. You know, to clean the place up a bit.
It worked but it wasn't very attractive. Very college apartment-esque.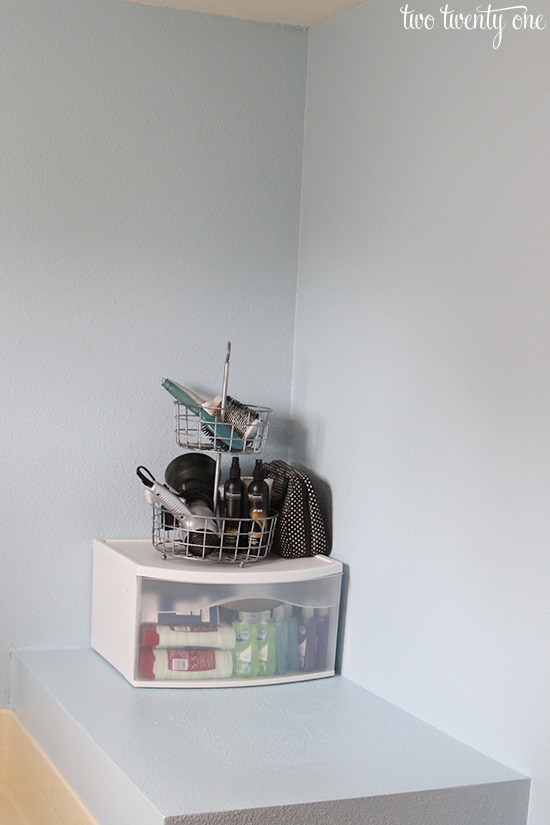 Then I got the lightbulb idea to put a storage cabinet in the wonky space to make more suitable and attractive storage.
In the words of Tim Gunn, it's my attempt to make it work.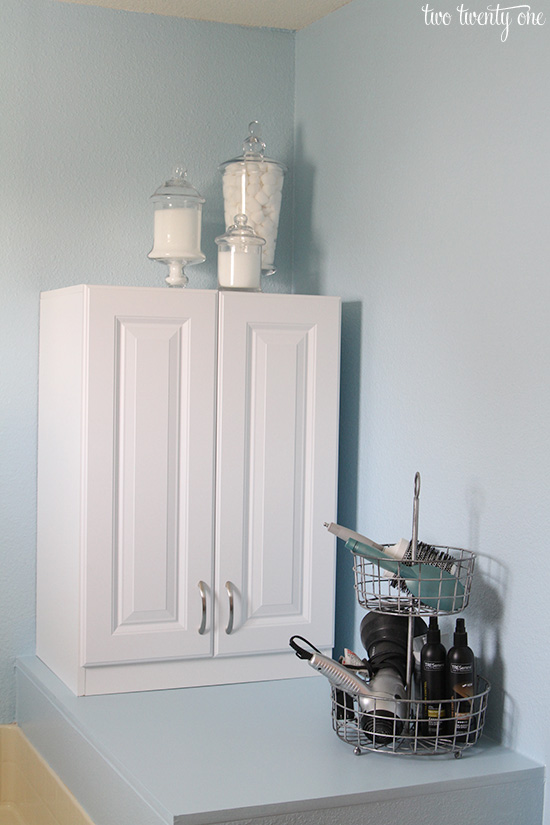 You'd think this would have been super easy. Get a $80 storage cabinet from Lowe's, put it together, slap it on top of the wonky space. WRONG. Nothing in this house is level or 100% flat. And the orange peel doesn't help. So when we put the cabinet on the wonky space it wobbled around like a 21 year old on their birthday.
In order to level the wonky space, we had to use plaster, add a 3/4-inch piece of MDF, sand, caulk, and paint. Since I doubt many of you have a special space like this in your home, I'll spare you all the gory details and photos.
I will say we're really happy with how it looks now. And the new cabinet provides tons of additional storage– something I think we're definitely going to be needing more of once our roommate arrives.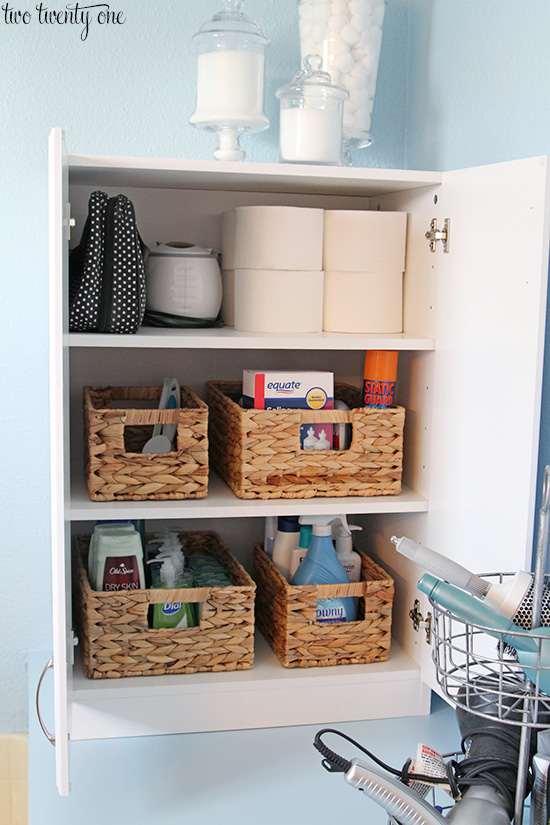 For the record, I'm not an extreme coupon hoarder. But I will buy certain things I know we'll use when they're on sale. Like $1 Dial soaps from Kroger.
The new cabinet easily holds my makeup bag, ultrasonic jewelry cleaner (LOVE this little guy), toilet paper, toiletries, contact solution, soap, shampoo, lotion, and other random bathroom items.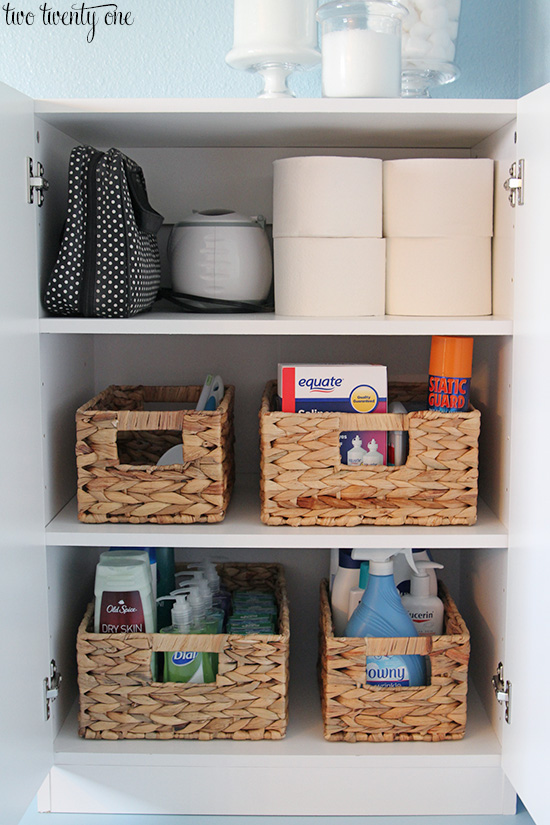 Since we're tall people, we're able to easily reach the cabinet. But I wanted to make it easy for us to grab things toward the back of the cabinet, which is why I invested in the baskets. We can easily grab a basket, slide it out, and get what we need.
In case you're wondering, the baskets are Allen + Roth from Lowe's.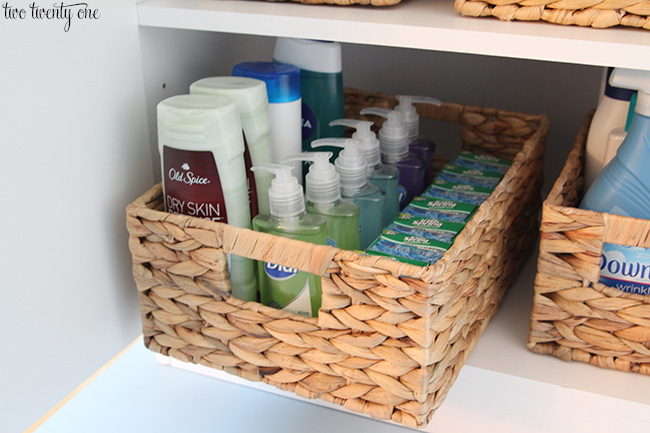 So there you go, the tale of the wonky space in our master bath. Now I just need to find some artwork for the large space above the tub.
You can find more DIY ideas from the other amazing Lowe's Creators & Influencers!
Follow Lowe's on Instagram, Pinterest, and sign up for the Creative Ideas magazine and app!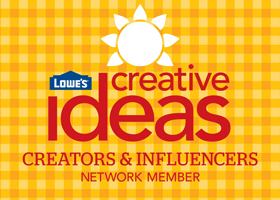 As a Lowe's Creative Ideas Creator, I was provided a gift card to cover the cost of materials for my project. All opinions are 100% my own.