I swear I'm the most random person when it comes to organization. Is my sock drawer organized? Nope. My closet? Shyeah right. Spice cabinet? Hah! But are my greeting cards organized? Oh, you betcha. Seriously. There's something wrong with me.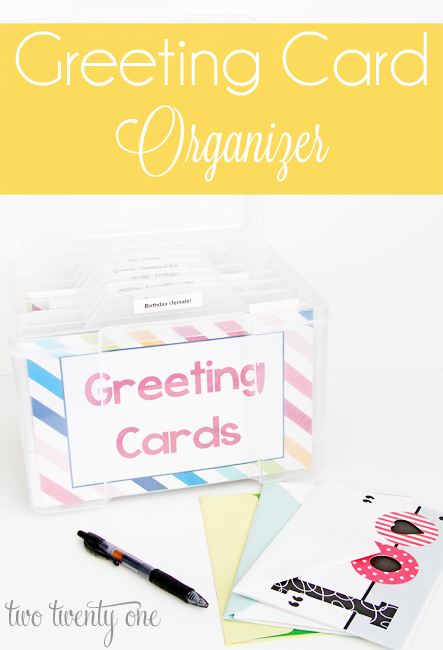 Now, you may be asking yourself, "Who the heck hoards greeting cards?" Um, this chick. If I have time to kill in Target I'll peruse the greeting card aisle in attempt to find the best cards, especially birthday cards. Because really good, funny birthday cards are hard to come by. I'm notorious among my closest friends for sending them cards on their birthdays. I'm like their sweet grandma friend, always remembering their birthdays. Although I doubt their grandmas send them birthday cards with unicorns farting rainbows or awkward band nerds on the front. I can use the term 'band nerd' because I played the clarinet from 5th to 10th grade. Third chair. Booyah.
For the longest time I kept my greeting cards organized in a big binder. I sectioned off the binder by greeting card topic (birthday, get well, wedding, etc.) and stored the cards in those clear plastic page protector jobbies. It worked for a while, but cards would fall out and I started to run out of room.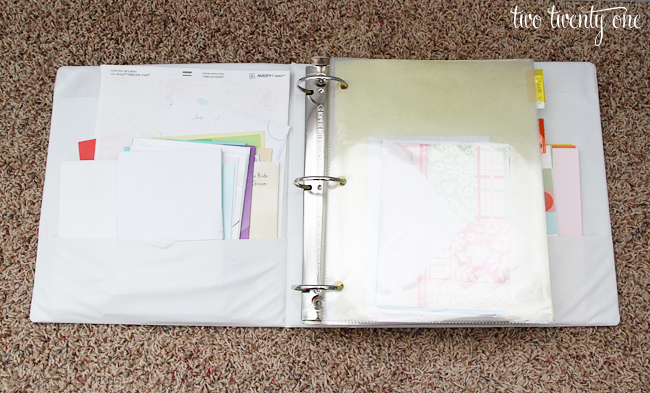 A couple years ago I came across a greeting card organizer on Amazon.com and added it to my Amazon wishlist. Side note: I highly recommend creating an Amazon wishlist for Christmas and birthday gift ideas. People don't even have to buy your item from Amazon, but they can mark on the list that they purchased it from somewhere else. You'll never have to worry about people asking what you want because you can direct them to your list. Anyway, back to the greeting card organizer. This Christmas one was all mine, thanks to Brad's lovely grandparents.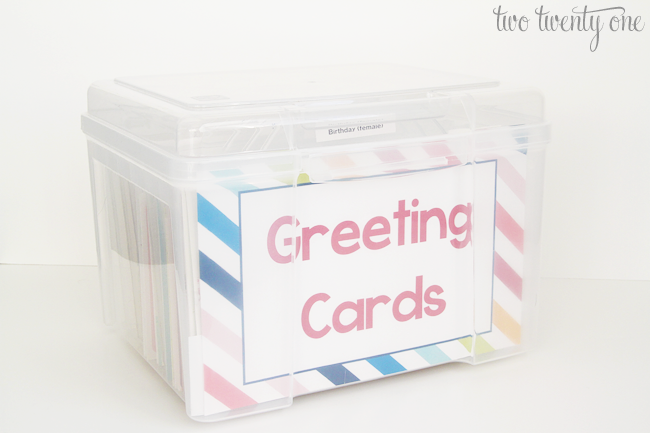 It's a lovely little plastic box that features removable separators that can be labeled (I used my label maker). I had to double and triple up some categories, but I'm fine with that. I even made a cute little sign to put in the front of the container. Since I'm pretty much the sweetest person on earth, you can download one for yourself here.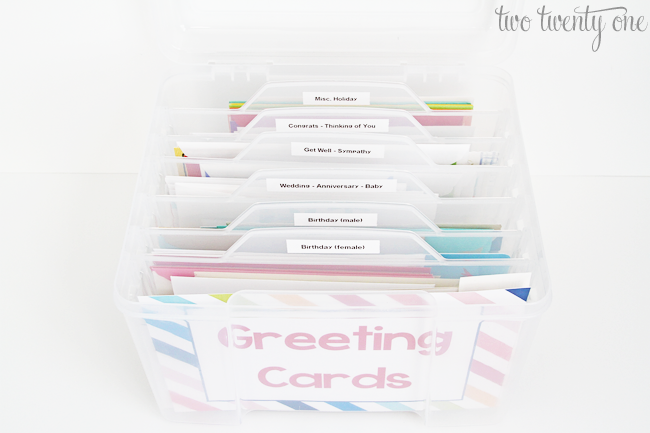 This greeting card organizer is available on Amazon for $16.68 ($8.73 plus $7.95 for shipping). You can also find greeting card organizers at The Container Store from $9.99 to $14.99.
Some may think this is teetering on overly-organized, and I get that but I like always having cards on hand. Who wants to run to the store and spend 10-15 minutes trying to find the best card when they have other things to do? Not I. But then again I'm a weirdo, and I have a thing with getting the most appropriate greeting card to convey my feelings.
Are you a greeting card hoarder?
Do you organize random things before tackling more obvious organization projects?
Are you more of a sentimental or funny card giver?