I'm sharing my 2013 home goals today in order to hold myself accountable for getting stuff done around the house this year. It's like those people who resolve to lose weight and tell you to slap the donut from their hand if you see them indulging. Seriously, I need to be held accountable. Slap the proverbial donut from my hand.
Now, onto the goals.
Goal #1: Paint the bathroom vanities.
I'm over the honey oak. The end.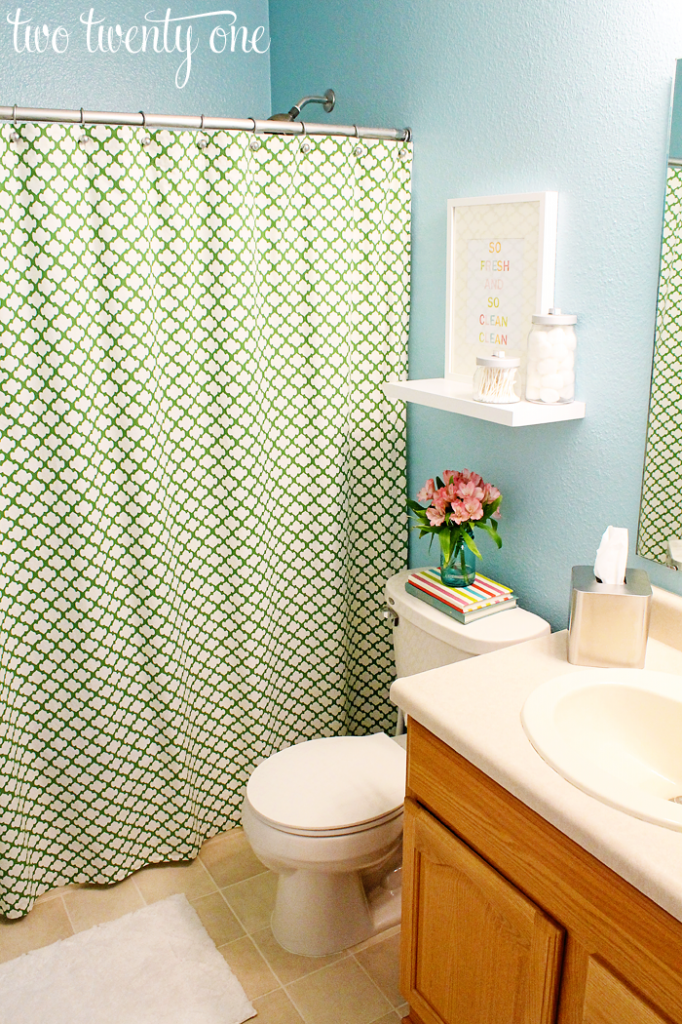 Goal #2:  Revamp our master bedroom walk-in closet.
We want to move the current clothes racks higher and add some lower clothes racks and extra storage.
Goal #3:  Finish the kitchen make-over.
I painted the kitchen in August. Now it's time to paint the cabinets and island and add a back splash. I have some other ideas floating around in my head, but I can't share them because I want it to be a surprise.
Goal #4:  Organize our pantry.
Seriously. It's a hot mess.
Goal #5:  Get the dining room section of our great room together.
This includes finishing the 7 piece dining set I've been working on for four, yes, FOUR months. I'm the worst at starting projects then going all ADD and moving on to another project. Maybe this should be one of my New Year's resolutions– get a handle on my DIY Project ADD. I also need to move my late grandparents' antique buffet into the dining room (it's currently in the garage with the dining set) and decide if I want to paint it. Like the kitchen, I have some other ideas but they will remain a secret. Here's a before photo of the dining set.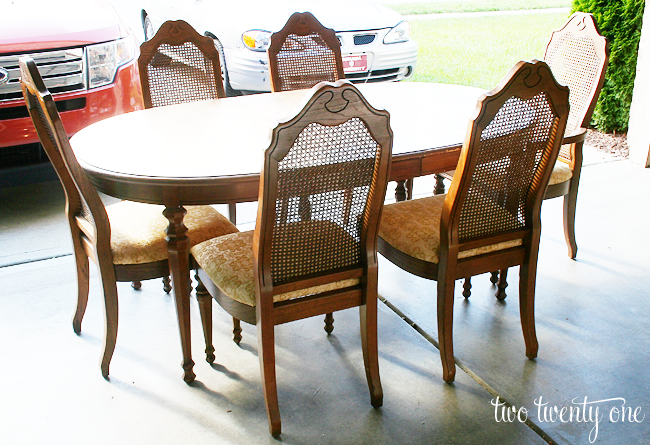 Goal #6: Add shelving in the laundry/utility room.
Now that we have a new water softener, there's an empty space in our laundry/utility room where the brine tank for our old water softener used to be.
Goal #7: Finish my home office/craft room.
Uh, I've been working on this room for well over a year now. I'm telling you, I have a severe case of DIY Project ADD. But seriously, I've been working on this room the past couple days. I'll hopefully finish it by, hmmm, May. Here's a before photo of the room. Please don't judge me.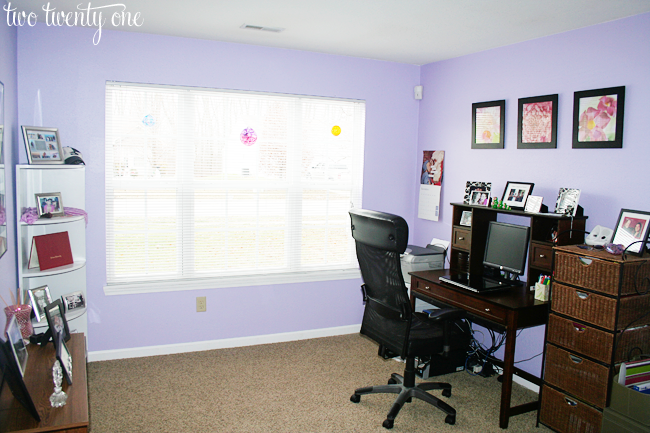 Goal #8:  Add additional shelving in home office/craft room closet.
I need more storage for all of my sewing, craft, and home decor stuff.
Goal #9:  Freshen up our master bedroom.
I don't want to share my idea because I'd want it to be a surprise.
Goal #10:  Paint the great room.
I would have done this a long time ago if I didn't need scaffolding. With the vaulted ceilings, the walls are 12-13 feet in most places. Anyone know how expensive it is to rent scaffolding? I'm afraid to use a tall leaning ladder because I don't want to risk damaging the walls.
So there you go. My lofty goals for 2013. I figure I have a year. But we'll see how much I can get done. Feel free to tweet or Facebook message me and ask me if I'm doing work. Just don't be annoying about it.
What are some of your home goals for this year?
Do you suffer from DIY Project ADD? We should start a support group.