I don't know about you, but I like free stuff. You know what's free? Rainwater. Which is why we invested in a DIY rain barrel last year for our vegetable garden. Seriously, why pay for water when you can be über hipsters and harvest your own rainwater?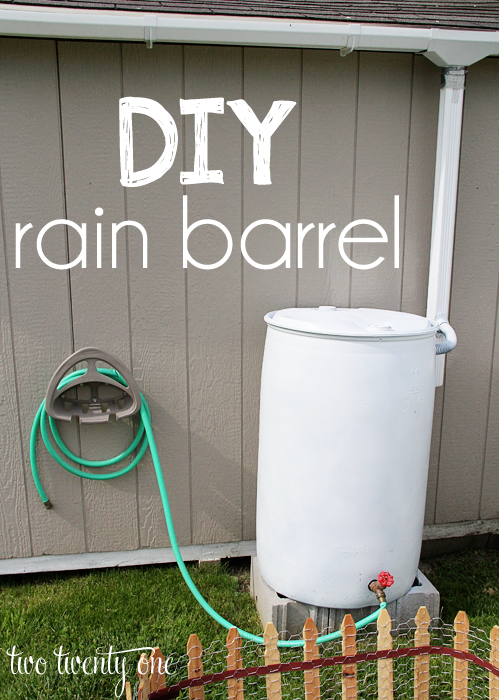 My parents and brother have had their own rain barrel watering systems for their vegetable gardens for a few years so it was only natural that Brad and I jump on the hippy train.
Last summer my parents brought us a 58 gallon food-grade barrel. They purchased 4 barrels for $50 from Reusable Barrels, located in Niles, Michigan– about 30 minutes from my hometown. Reusable Barrels ships barrels, but if you don't want to deal with that Google "food grade barrels" and see if something near you pops up. This is apparently how my mom found them.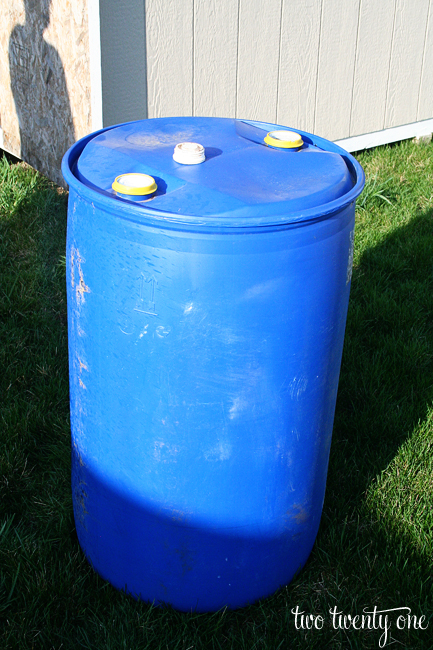 Now this is important, if you want to make your own rain barrel you need to get a food-grade barrel. Think about it. Do you really want to use a drum that used to contain motor oil housing your vegetable garden's water supply? Me thinks not. Our barrel once held balsamic vinegar. That's a whole lot of balsamic.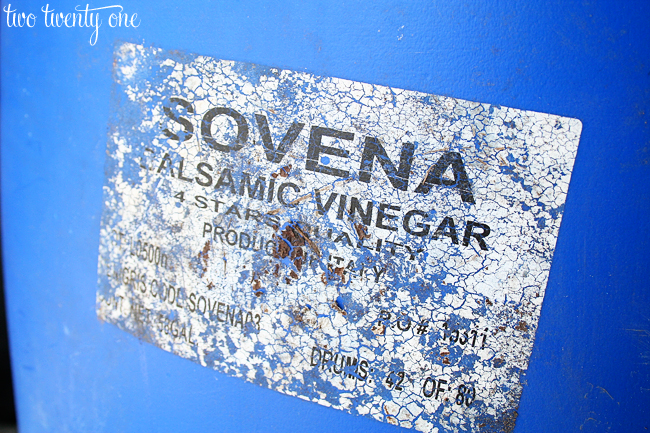 Before we got busy on the barrel we needed to hang a gutter and downspout on one side of our shed. I'm not going to get into all the details about that (unless a bunch of you comment saying, "we want more, we want more!"). But I'll add that you'll need to put a debris catcher where the gutter meets the downspout. You don't want rotting leaves traveling down the downspout and into your rain barrel.
We also laid out three cinder blocks for the rain barrel to sit on.
Brad picked up a rain barrel kit– very similar to this one. After rinsing out the barrel, he began drilling a hole in the side of the barrel by the downspout.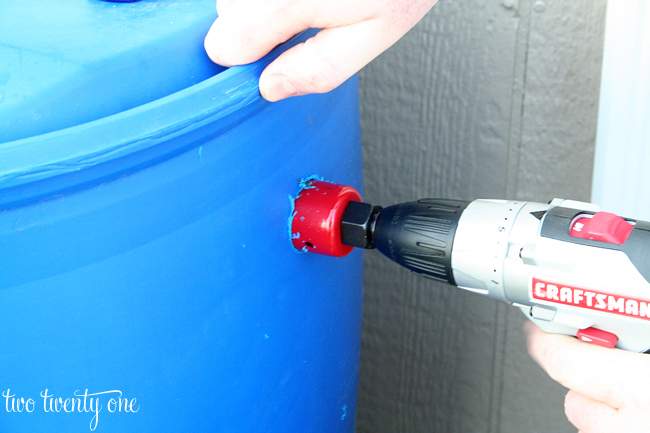 Then, Brad drilled a hole in the downspout.
Note: we didn't seal the bottom of the downspout. When it rains some of the rain goes into the hose that connects to the barrel and some falls to the ground. If we're supposed to get a heavy rain I'll put a bucket under the downspout so we can collect that water. I'm crunchy like that.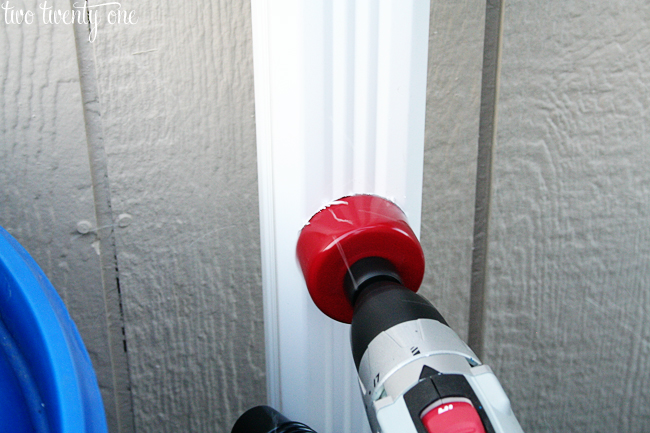 Next, we connected the downspout to the rain barrel with the plastic hose provided in the kit.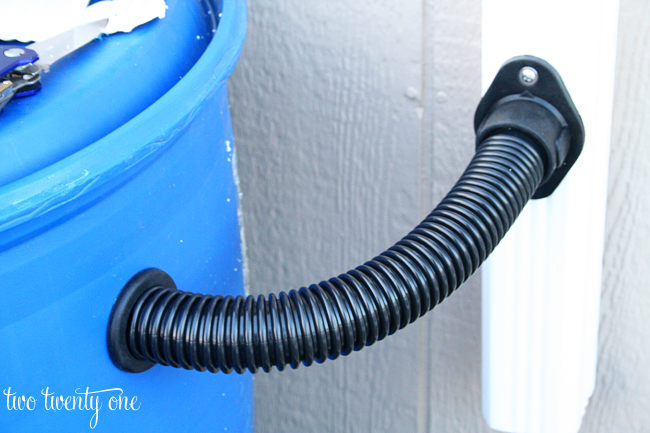 Then, Brad drilled another hole at the bottom of the barrel and installed the spigot.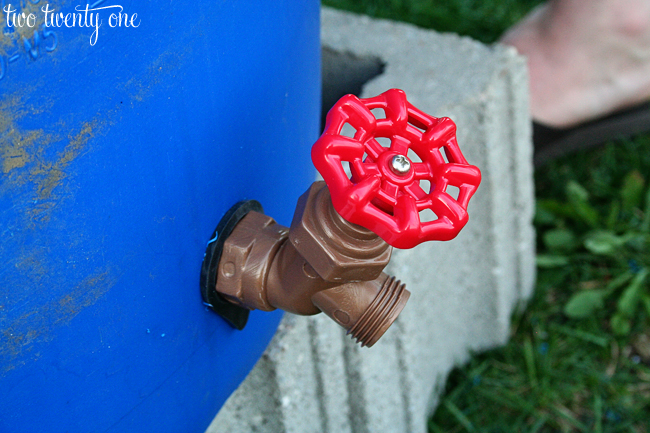 Brad also drilled an overflow hole but I don't have a photo of that.
Edit: I mentioned the overflow hole to Brad while I was writing this post at 10:30 PM last night. He said he should probably go out and take the cap off of the overflow. Good thing I said something because the barrel was pretty full from all the rain we've had.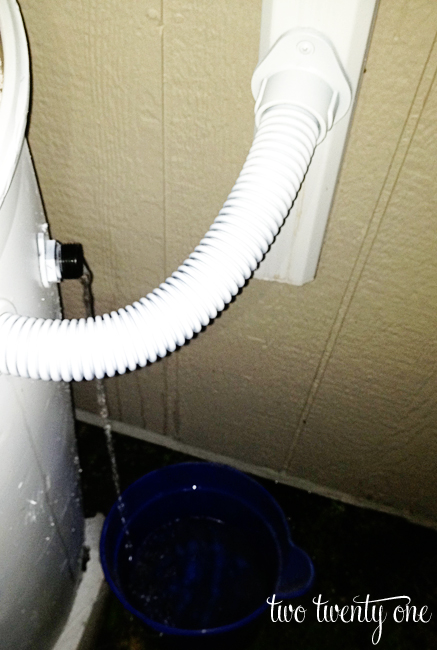 Here you can see the rain barrel on top of the cinder blocks. This is for water flow purposes. You know, gravity and stuff.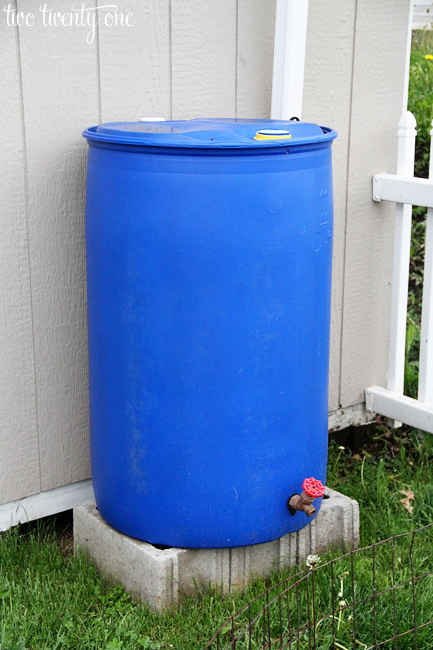 We attached a hose holder to the side of the shed to keep the hose organized. And a couple weeks ago I spray painted the in-your-face blue barrel white so it would blend into our yard a little better.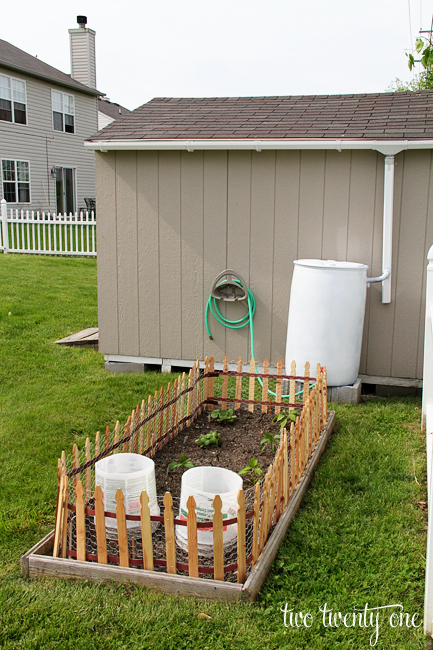 We used the rain barrel as much as possible last spring and summer. We had a crazy drought so we didn't get to use it as much as we would have liked. Especially when our $85 water bill came in– that's double what we usually pay. And as for the winter months, we drained and disconnected the barrel and stored it in our shed.
In the end, I think we invested about $80 into this project (gutter and downspout materials, barrel, kit, hose, hose holder, spray paint), which is pretty good. I spotted a 58 gallon rain barrel at a home improvement store for $138, and that didn't include the gutter and downspout, hose, and hose holder.
We'll most definitely get a return on our investment with the money we'll save on our water bill. Plus, harvesting your own rainwater is all green and earth loving.
Do you have a rain barrel water system?
If not, do you think you'll invest in one for your garden?
Or is this too granola and kombucha for you?
Stalk away!