How to Dry a Rained-In Car
Yep. I'm speaking from experience on this one. It all started on Saturday when my handsome, weekend mechanic changed the oil in our cars. After I drove my car off the ramps I parked it on the street so Brad could work on our other cars. I was going to move my car back into the driveway when he was done, but it started to rain so I decided I'd move it in the morning. While Brad and I were watching this documentary (yeah, we're worldly like that) later in the evening, I sat up and said, "Did I roll up the window on my car?" Thank goodness I threw on my rain boots and ran out into the pouring rain because no, no I didn't roll up my window. And it had been pouring rain for four hours. FOUR HOURS.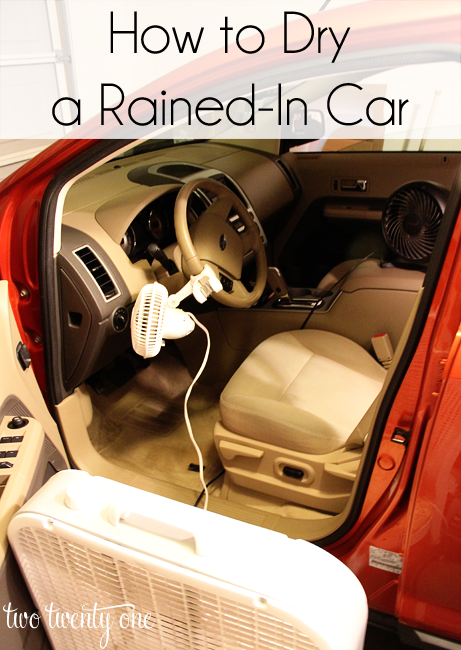 So here are my handy tips for drying out your rained-in car:
1. Curse.
2. Roll up the window and get the car into a covered area ASAP.
(I backed my car into our garage.)
3. Sit on towels when you move your car. This will help soak up some of the water and kind of keep you from getting a wet butt.
4. Towel off as much water as you can.
4. Grab a Shop Vac and turn it to the 'wet' setting. Vacuum the crap out of the wet areas of your car– seat, floor, everything. Be sure to get all the electronic-related areas (window/door/mirror buttons, door speaker, etc.). Don't have a Shop Vac? Buy one. Seriously. The small ones are around $30. Money well spent.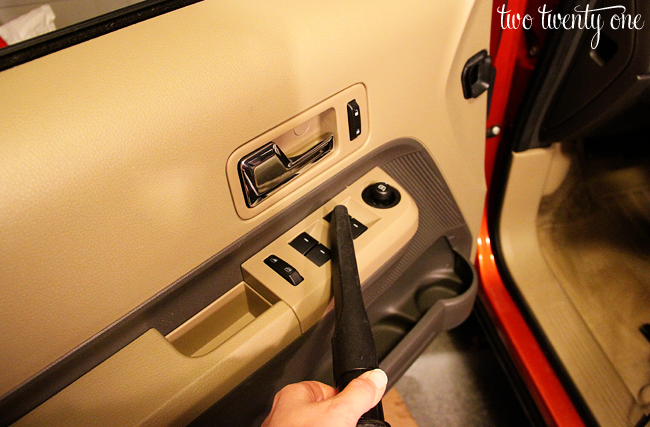 5. After you've done all you can do with the towels and vacuum, grab as many fans as possible. (I went with a fan trifecta.) Turn on the fans. Open the door with the window that was rolled down. Position the fans on the areas that were saturated with water. Roll down the other windows in the car for better circulation. Air flow is very important because it will help thoroughly dry out the car and prevent mold.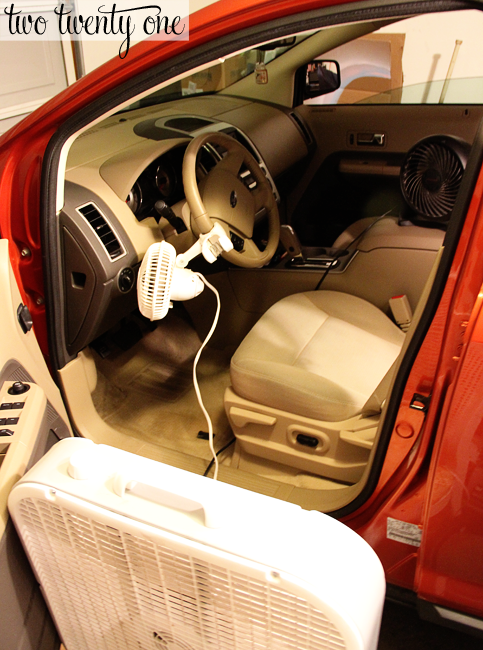 6. Wait.
As of late Sunday evening, the fans have been blowing for 24 hours. I plan to leave them on for another 18-24 hours for a total of 42-48 hours. If some spots are still wet today I'll grab my hair dryer and get to work.
If you have a dehumidifier that can be easily moved, you can put it near the car. Someone suggested Damp Rid, which is available at big box stores. I ended up getting these Damp Rid bags that I hung from the hanger hooks in my backseat.
Can't get your hands on Damp Rid? Put a few boxes of opened baking soda (available in the baking section of any grocery or big box store) in your car. If you have to drive around, I'd suggest putting them in a separate container so they don't tip and spill all over your car.
If you can't move your car into a garage, I'd suggest letting your car idle (again, outside, not in a closed environment) with the windows up and the air conditioner turned to the max setting. The air conditioner will help pull the moisture out of the air in the car.
Have you ever done this?
Any additional tips?
Be sure to check out my other popular organization and cleaning posts below! There's tons of great stuff to pin to read later!