Baby Organization and Nursery Organization Tips
12 baby organization tips to make life with an infant a little easier.
Let's be honest, life with a baby can be quite stressful. Sleepless nights, balancing schedules, and there's the whole taking care of a tiny human thing. In this post I share helpful baby and nursery organization tips and tricks to make your life easier with your little bundle of joy.
1. Utilize the Space Under the Crib
Need extra storage space? Utilize the area under the crib. You can use baskets to store items and slide the baskets under the crib. If you don't like the look of baskets or you want to store larger items you don't need to access all the time, use a crib skirt to hide everything under the crib.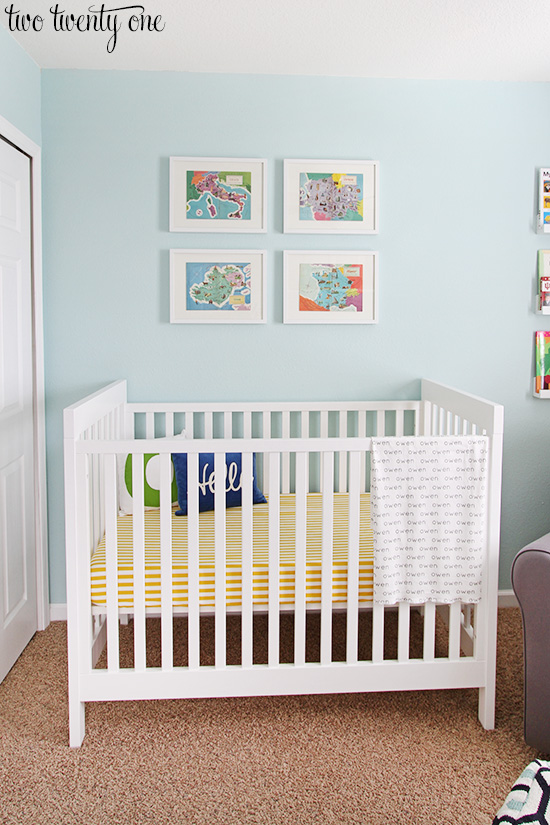 2. Use a Dresser as a Changing Table
Use a dresser as a changing table. Buying a lone changing table just doesn't make sense to me. You might as well make your furniture serve double duty. And did you know most changing pads come with a security strap that you can secure to the backside of the dresser?
I love our IKEA Hemnes dresser in white stain. You can't beat the $229 price tag. It fits perfectly in Owen's small, 11′ by 10′ nursery along with his glider, crib, and ottoman. If you're super tight on space, IKEA makes a smaller three drawer version. You could use the top drawer for diaper changing items and the other two drawers to store other baby things. Click here to see how I organized every drawer in his nursery dresser.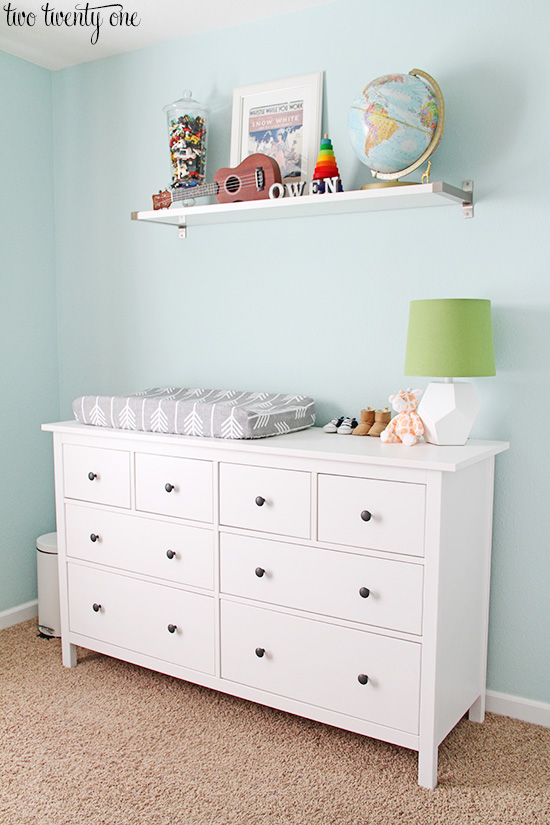 3. Drawer Organizers are a Must
Invest in drawer organizers. I love these drawer organizers for keeping all those smaller baby items nice and neat in drawers. They're super versatile and inexpensive.
Want to learn more about how I organize Owen's dresser? See here.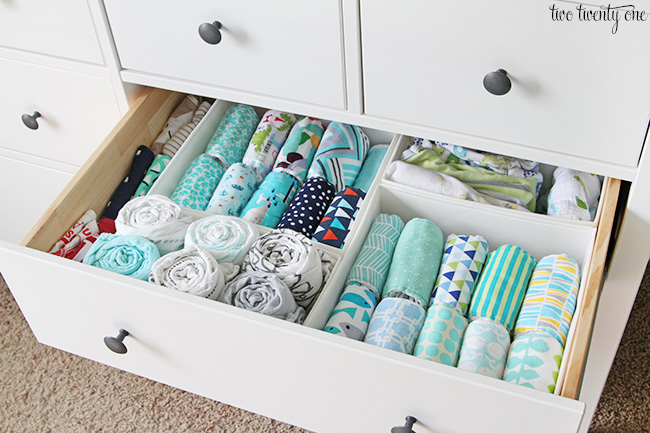 4. Add a Shelving Unit to the Closet
One of my top nursery organization tips is to put an inexpensive shelving unit inside the nursery closet. This keeps the closet organized and provides additional storage for books and toys. Plus, if needed, it can be removed one day and used somewhere else. When we moved, we took this one with us.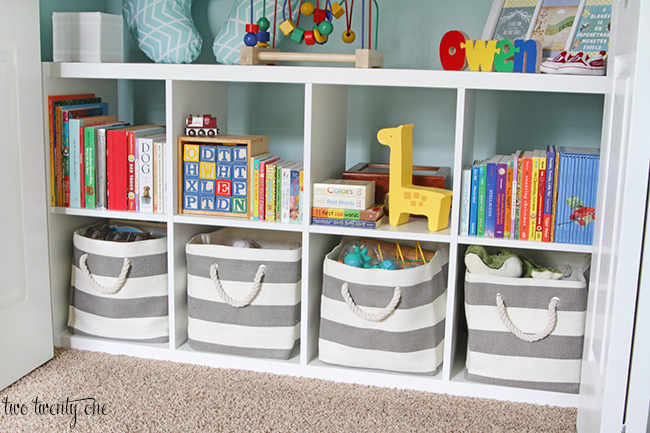 5. Removable Storage Bins are Your Friend
These storage bins are great because they have handles that little hands can hold onto and pull. The bins are also made of soft material so, unlike wire baskets, if a kiddo falls onto one it won't hurt and no damage is done to the bin. They're also handy for dragging out, playing, putting the toys back in, and then putting the bins back into the shelving unit. Making clean up much easier!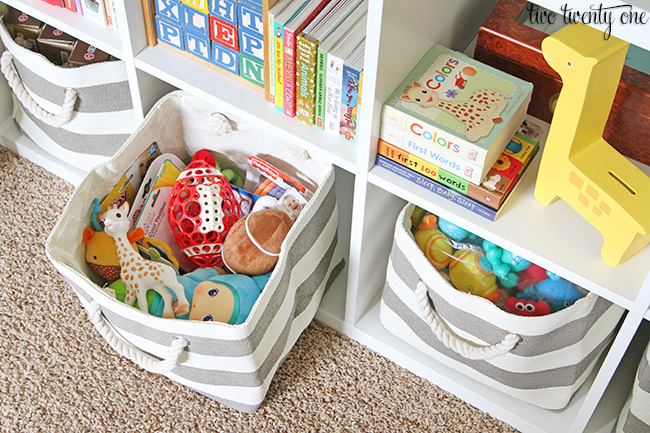 6. Bins, Bins, and More Bins
When it comes to nursery organization bins are key. Organize items on the top shelf of the closet in bins. Items are hidden away, and they're easy get them down.
Want to learn more about what I put in those green bins and how I organize Owen's closet? See here.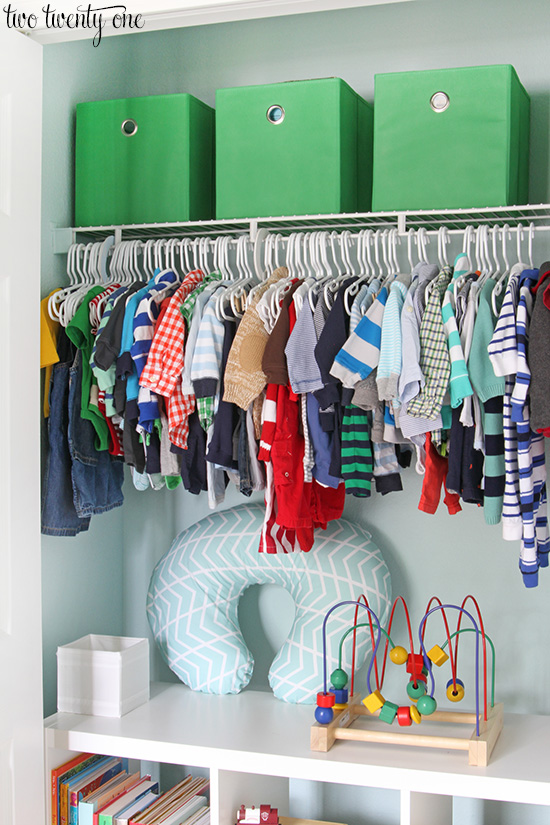 7. Grab Some Clothespins
Instead of buying separate pants hangers, use clothespins to hang baby pants on regular baby hangers.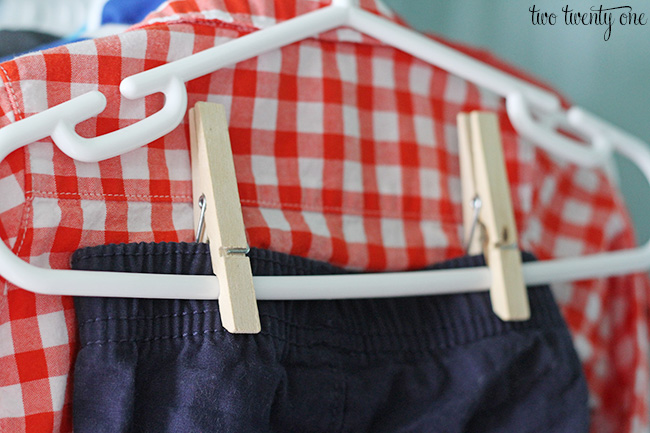 8. Stay Organized with Clothes Dividers
Another organization idea is to use baby clothes dividers to organize all those baby clothes. You can make your own like I did, or buy them.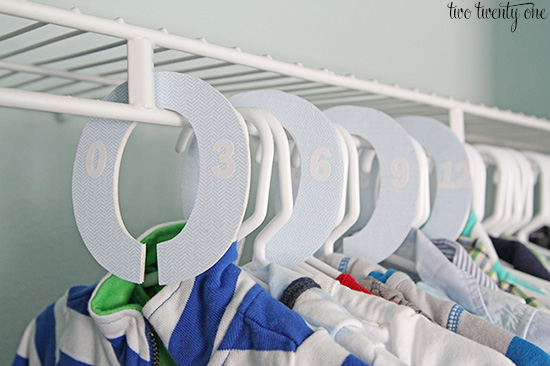 9. Baskets, Baskets, Baskets
It's not all about nursery organization– there's other places in your house that need organizing. Baskets are your friends. Use them to store toys around the house. I like to use nice woven baskets from HomeGoods or Target to store toys in our living room. And if you really want to make it look like there aren't toys in the basket, throw a blanket and pillow on top. No one will ever know.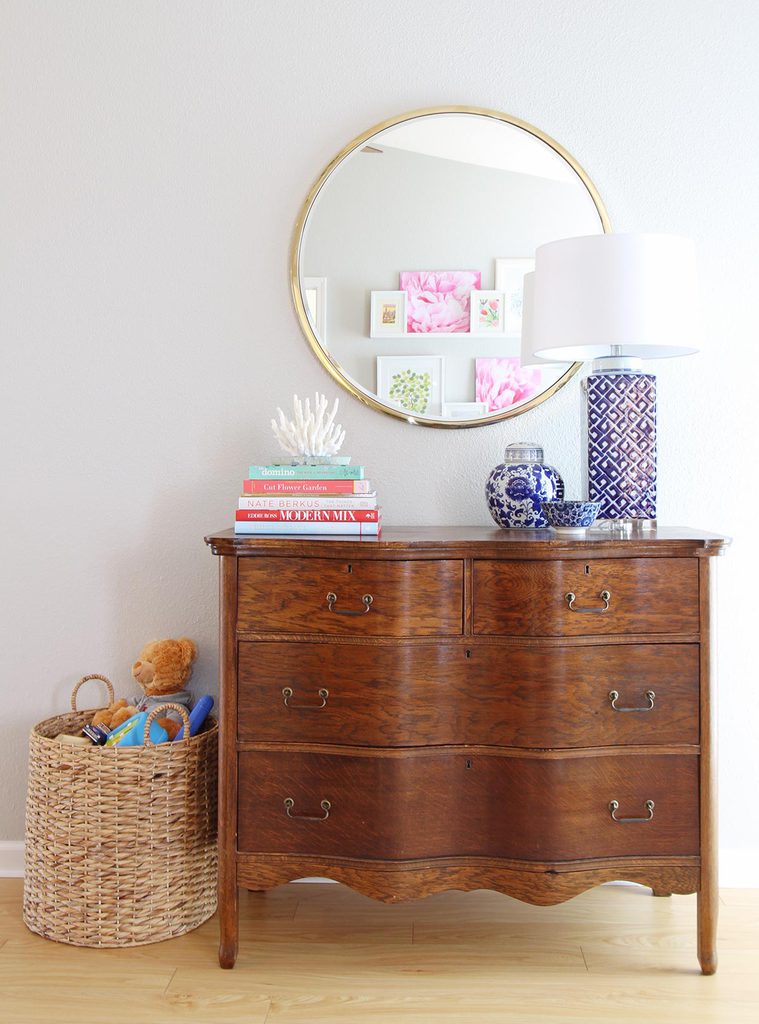 10. Stocked Baby Organization Basket
Keep a stocked baby basket in your common area.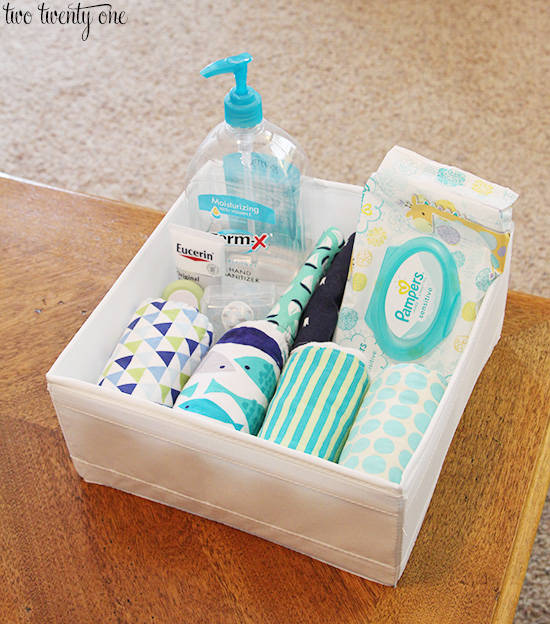 If you live in a multi-level home, set up a diaper changing station or keep a changing pad, diapers, and wipes on each floor of your home. We set up a changing table on our first floor after I had our second child. Since it's a two-story house, we didn't want to have to change the baby on the floor or walk upstairs. So we bought an inexpensive changing table and set it up downstairs. Click here to read all about it and how I organize it.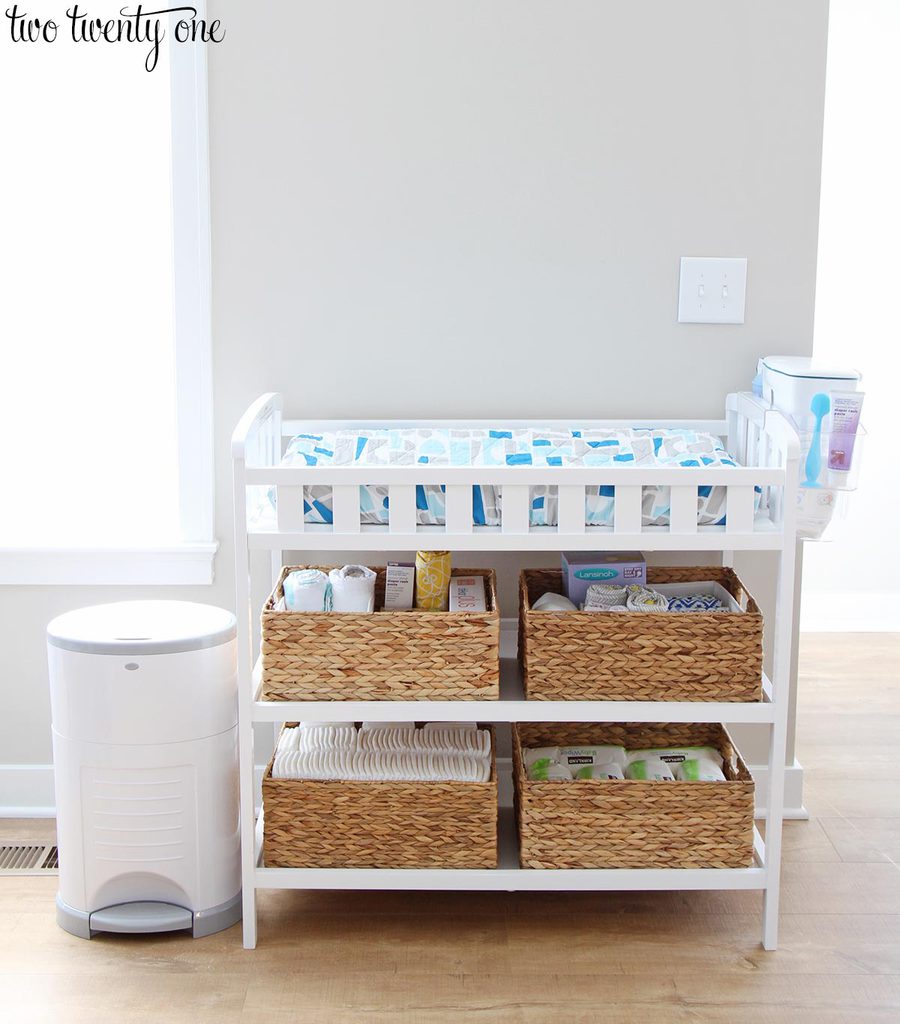 11. Store Extras in the Garage
If you have the space in your garage or basement, invest in a shelving unit to store extra diapers (and other random things). Be careful with storing wipes in the garage though, they will freeze in low temps. I store Owen's diaper wipes in his nursery closet.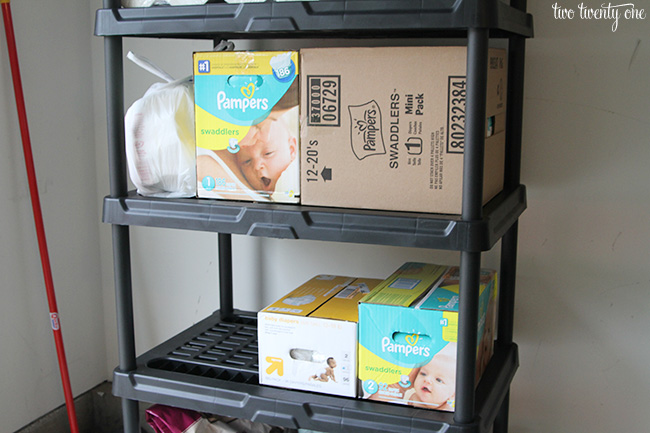 12. A Good Diaper Bag is Key
Invest in a good diaper bag with compartments and plenty of space. Use smaller bags to corral smaller items inside the diaper bag.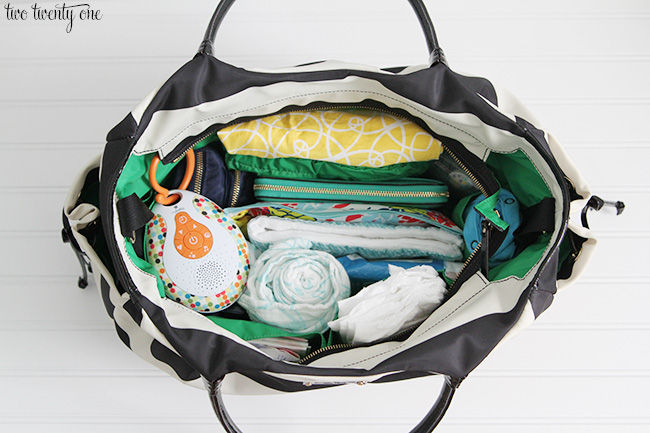 Baby Organization Boot Camp
I hope you found these baby organization tips helpful. For all things baby, please visit my baby page.
And be sure to follow along on Instagram (@twotwentyone) for more tips!
Want to know where I got specific things? See this post.
PLEASE anchor your furniture and electronics! A child dies every two weeks as a result of a tip-over incident. I strongly encourage you to read my blog post on how to anchor furniture and electronics HERE. Let's keep our babies alive and well.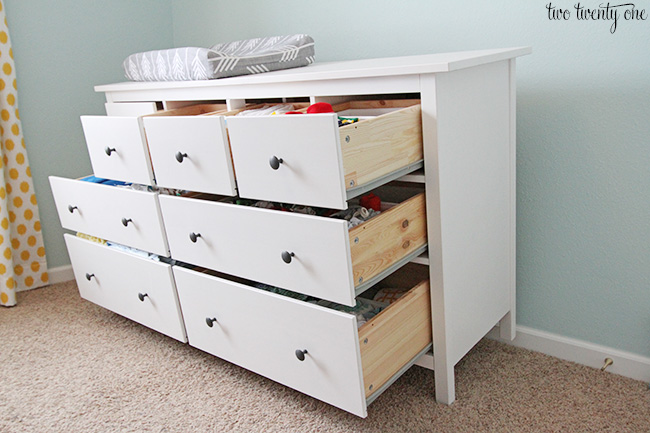 I recreated my baby registry HERE if you'd like to check it out!
Check out my most popular baby-related posts below!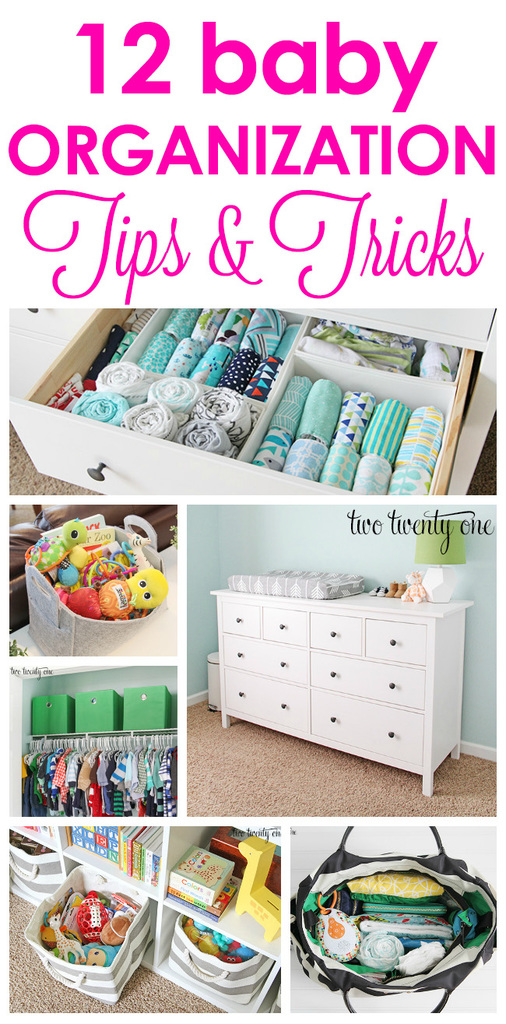 This post was originally published in February, 2015. It was updated in March, 2020.